Dear friends,
North, south, east, west …. this last post about our great New Zealand Road trip, is to share some highlights, make some observations and thank all my friends and family who made it such a fun, fascinating and fabulous trip. We travelled through both the South and North Islands and covered some 10,000 km in our red Kia Sportage ….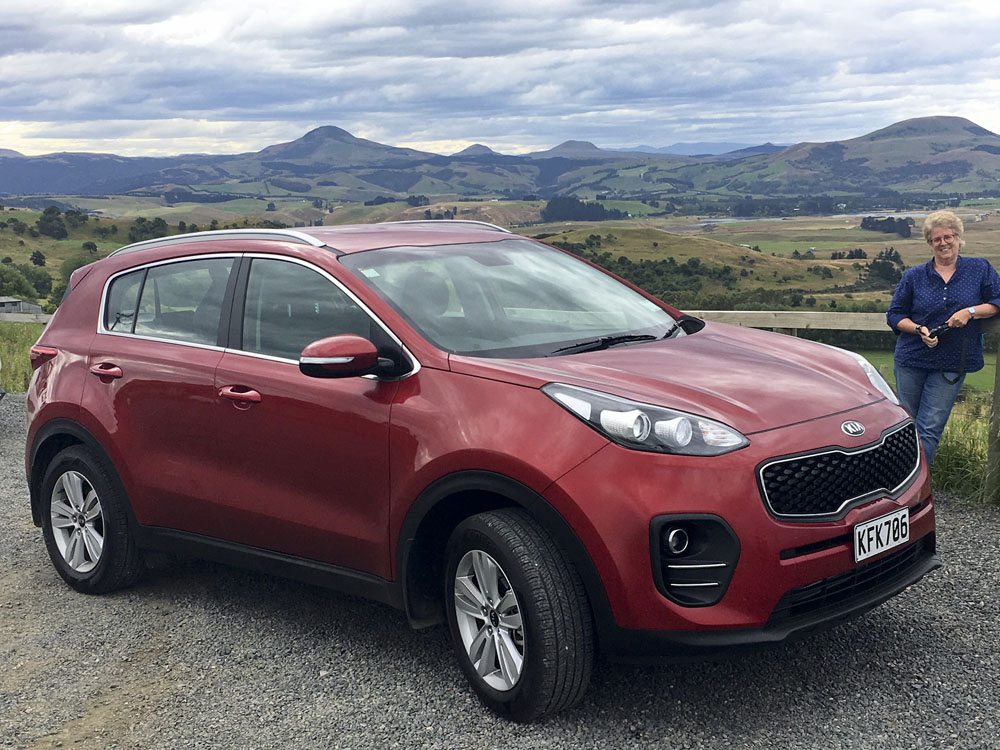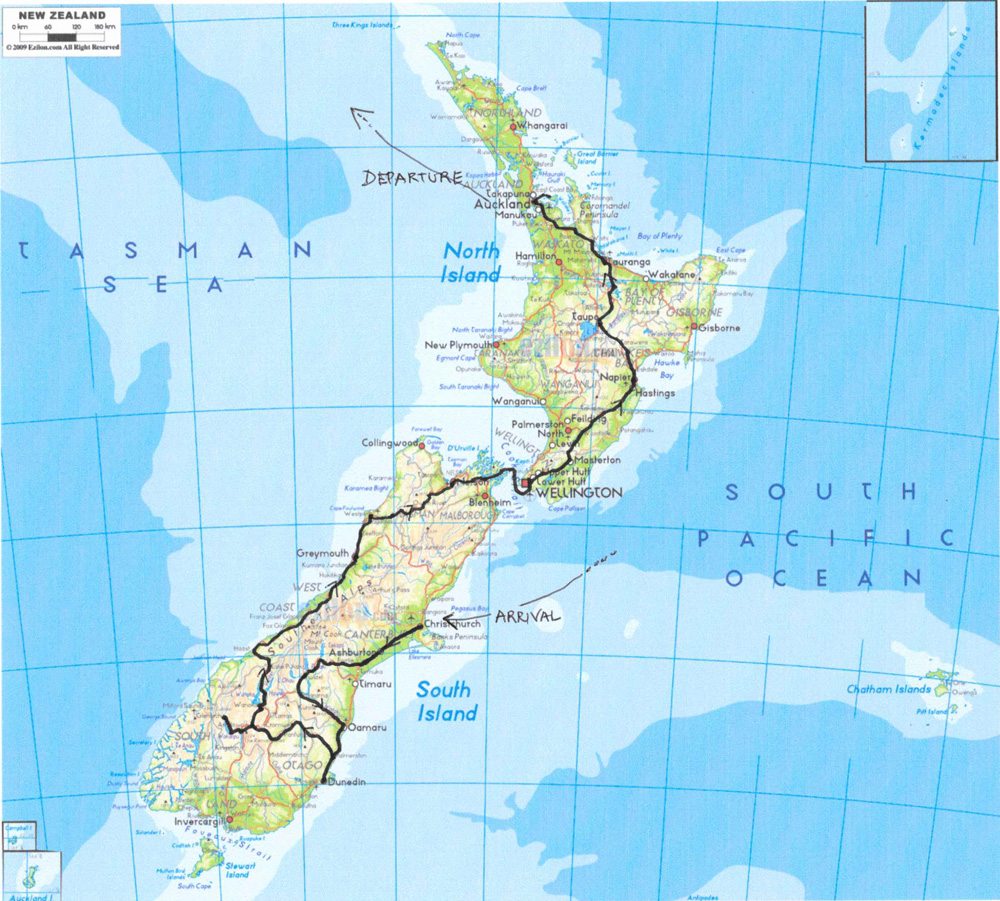 The route we took, starting in Christchurch and finishing in Auckland.
It has been some 15 years since I really explored my country of birth, although I have made many quick visits to see family and friends in just a few chosen locations over recent years, to celebrate Christmas or to enjoy some relaxing holiday. So this past three and a half weeks of travelling with my friend John, a newcomer to New Zealand, it has not only been a really enjoyable holiday but also allowed me to recognise some of the things I love about the country and what has changed over the years. Clearly, I'm not going to cover everything, but below are some photos which may illustrate my impressions and thoughts about this country, and my reasons for why, sometime in the future, after living some 42 years elsewhere in the world, I may return and resettle here, becoming once again an 'at home kiwi'.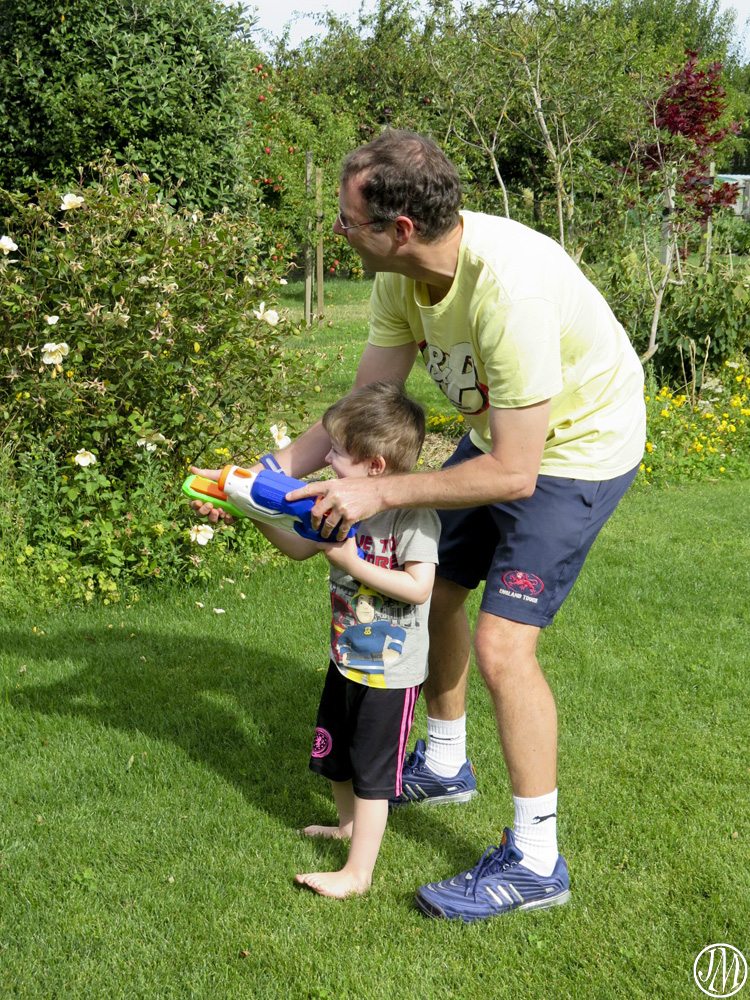 Family – my nephew James and his nephew Duncan messing about with water guns in the garden.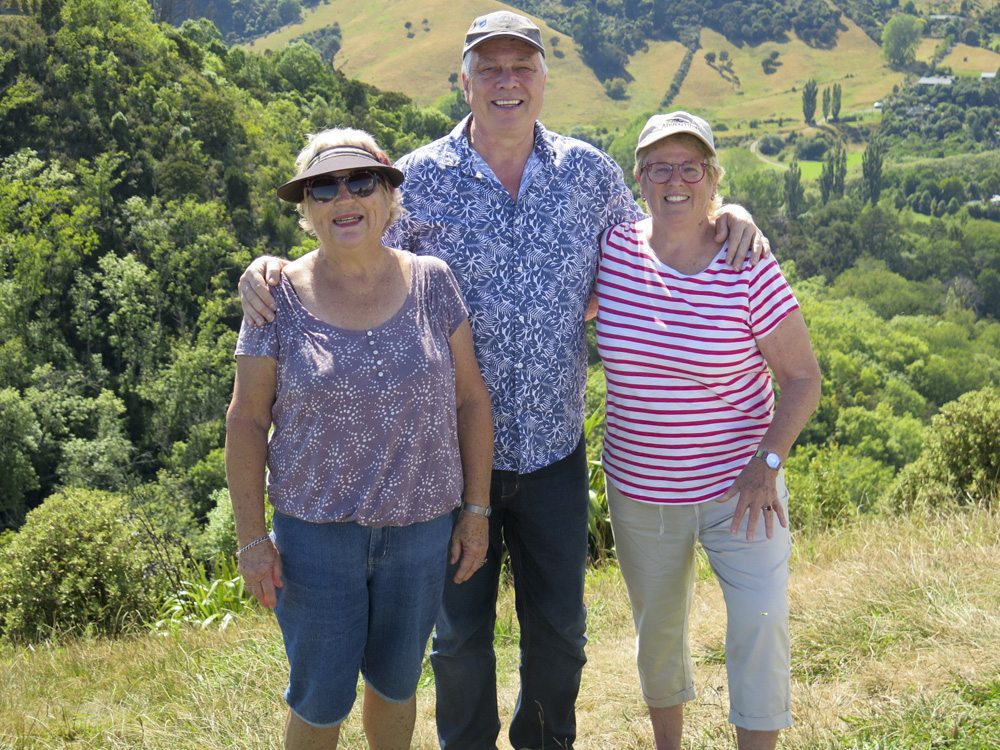 Friends – John with Lizzie and me. We've been friends for almost 50 years.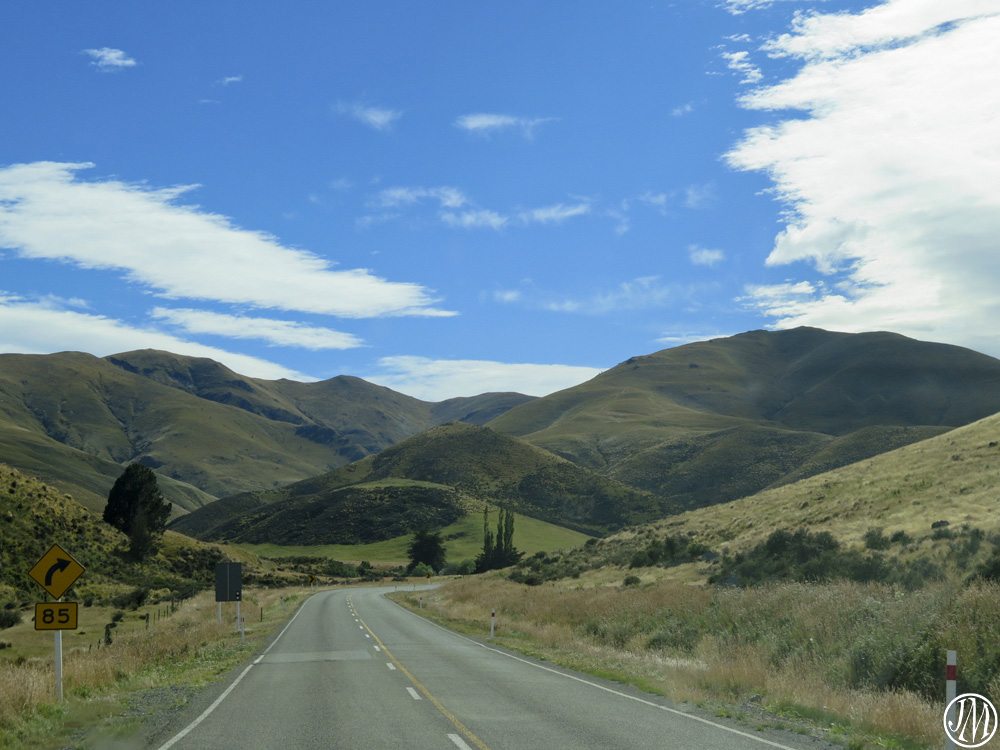 Open roads – which makes travelling so much more enjoyable.

Space and fresh air – where it seems as though you can see forever, and breathe in great gulps of clean air.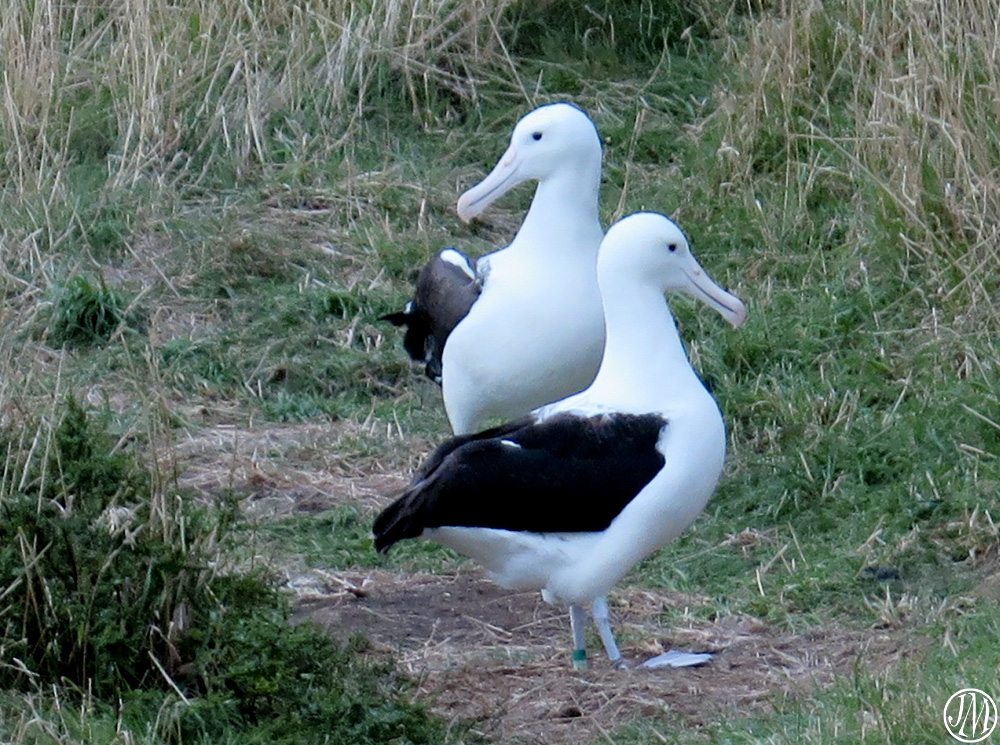 Wildlife – able to be up close and personal with amazing globe-circling albatross.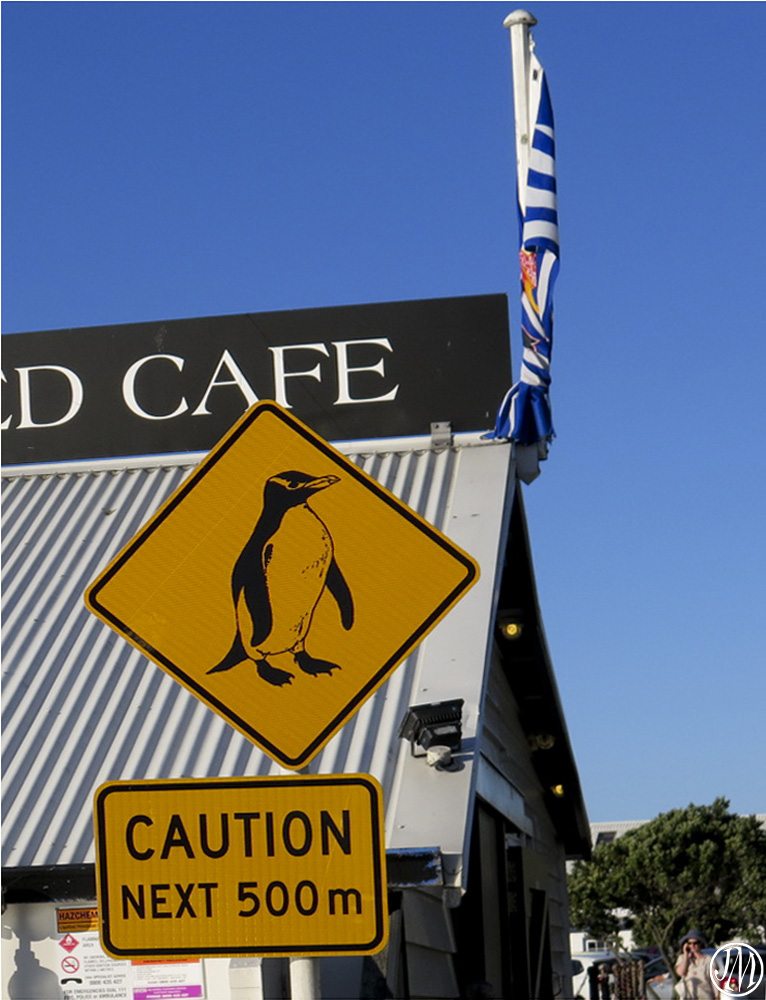 Care – for our native flora and fauna in the cities …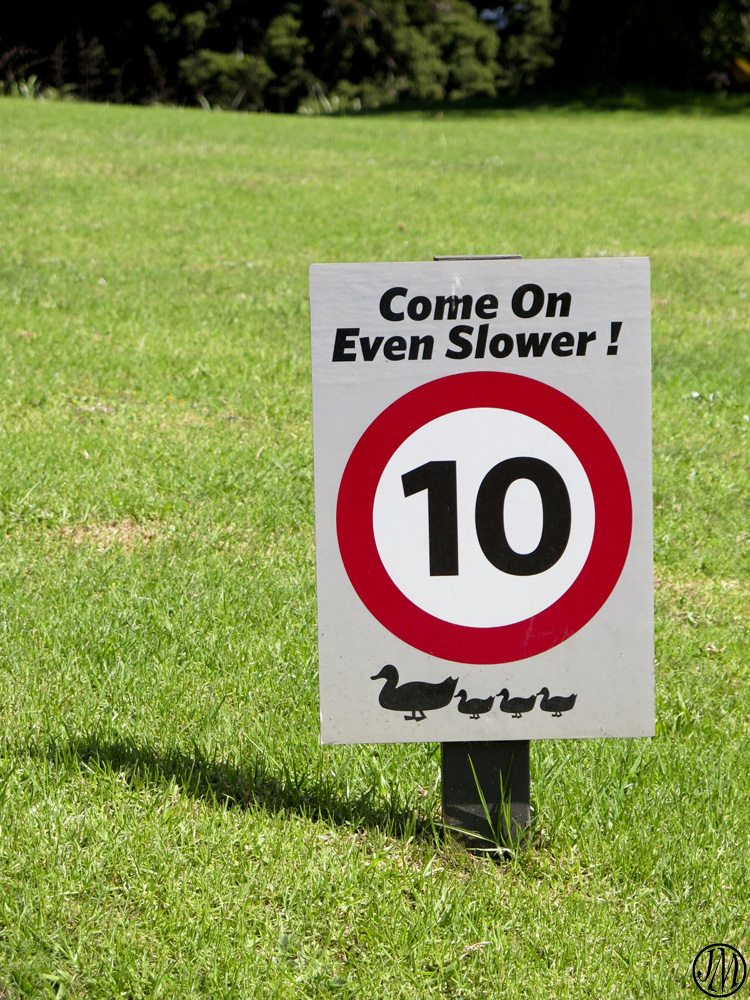 … and in the countryside too.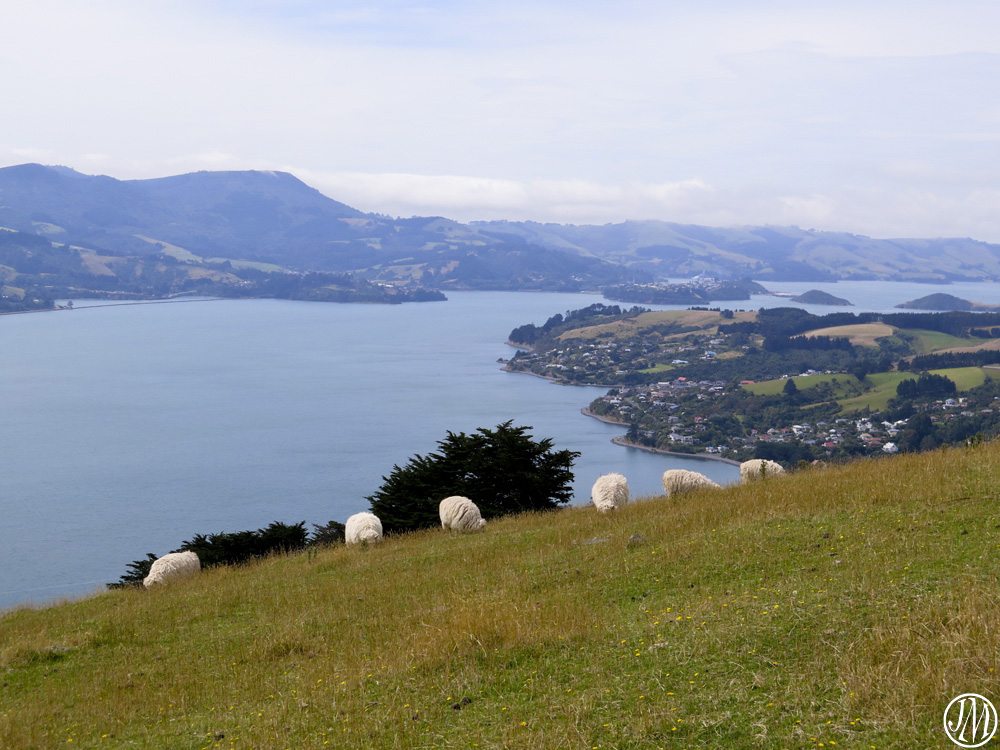 Farmlands – appreciating the agricultural sector of the NZ economy and how much is a part of our landscape.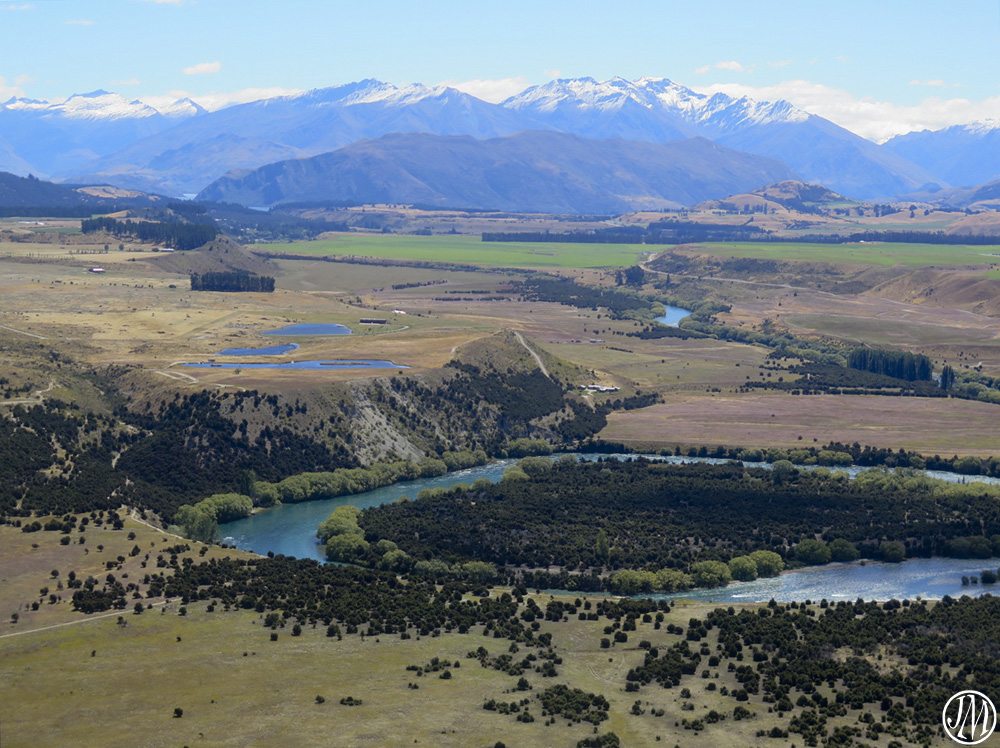 Spectacular landscapes – rivers and mountains to enjoy summer and winter….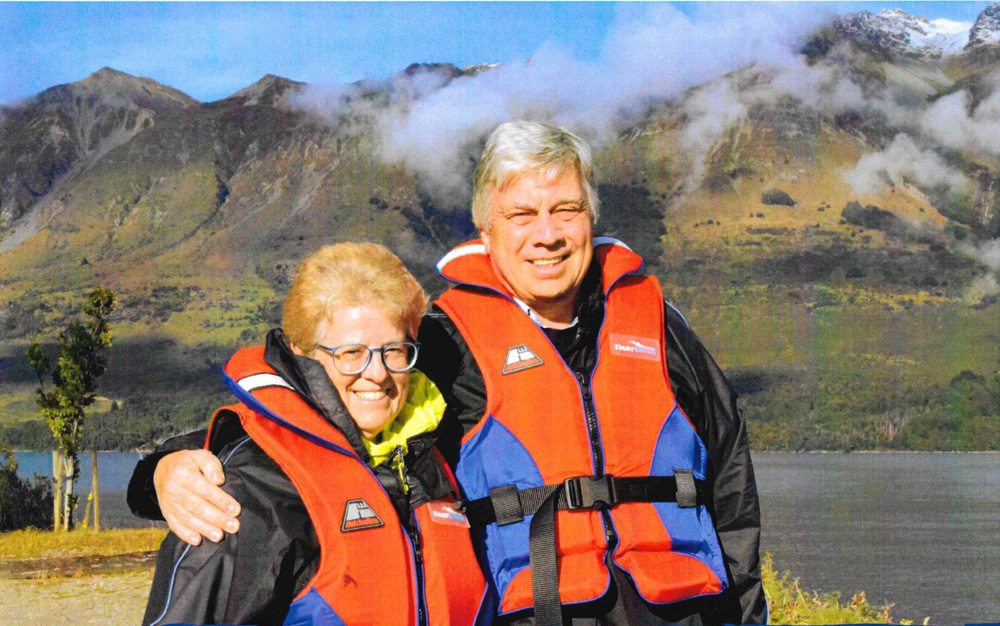 …and plenty of adventure sports for locals and tourists alike.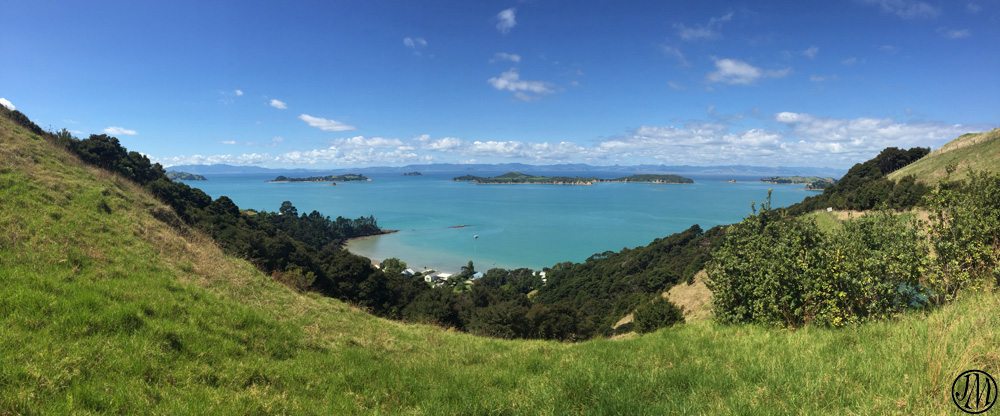 The coastline – thousands of miles of beautiful coastal bays and beaches.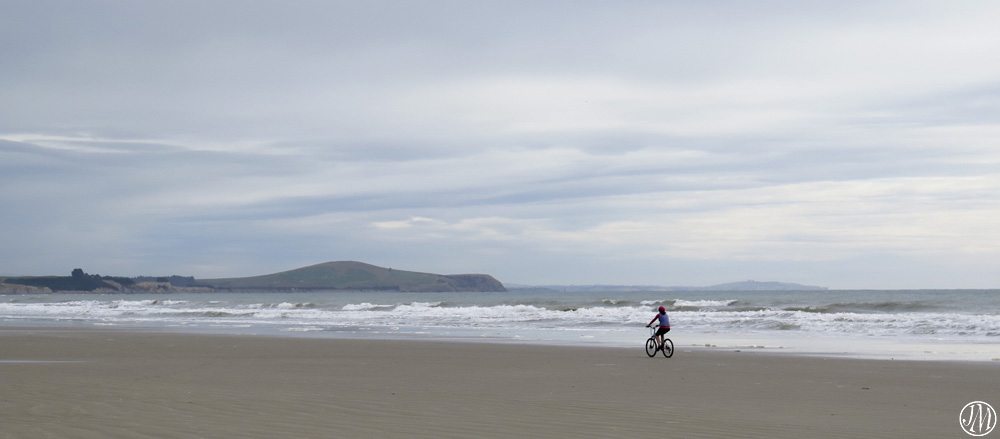 Beaches – up and down the length of the country for swimming, or riding, or surfing or just hanging out.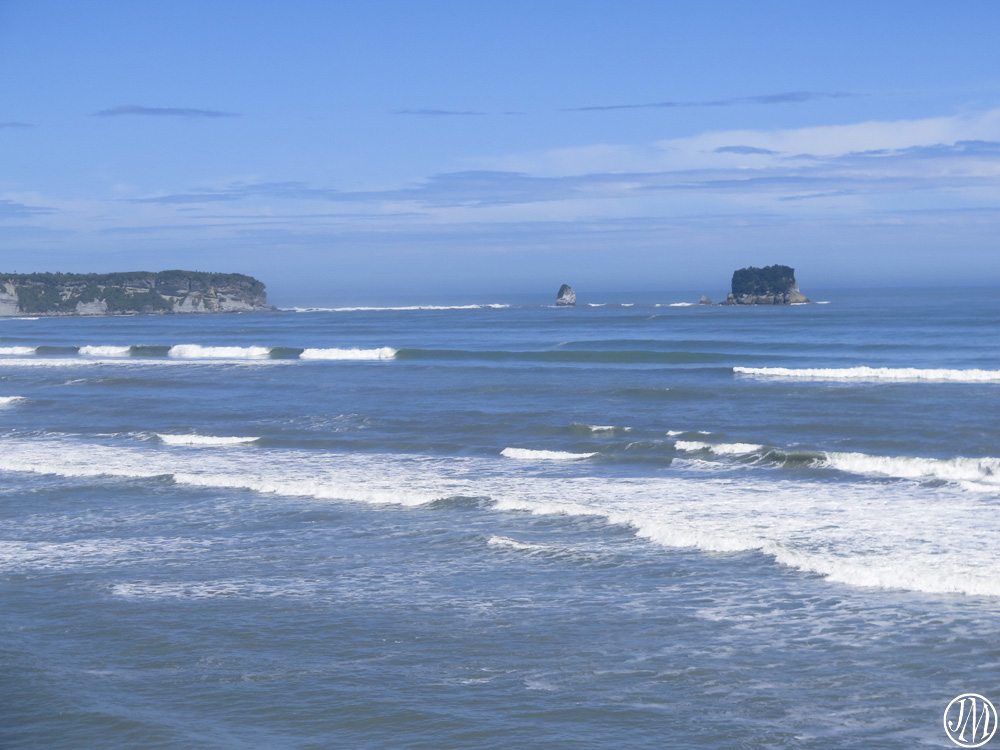 The sea – the country has no borders, simply surrounded by sea, from whence come our capricous winds and weather.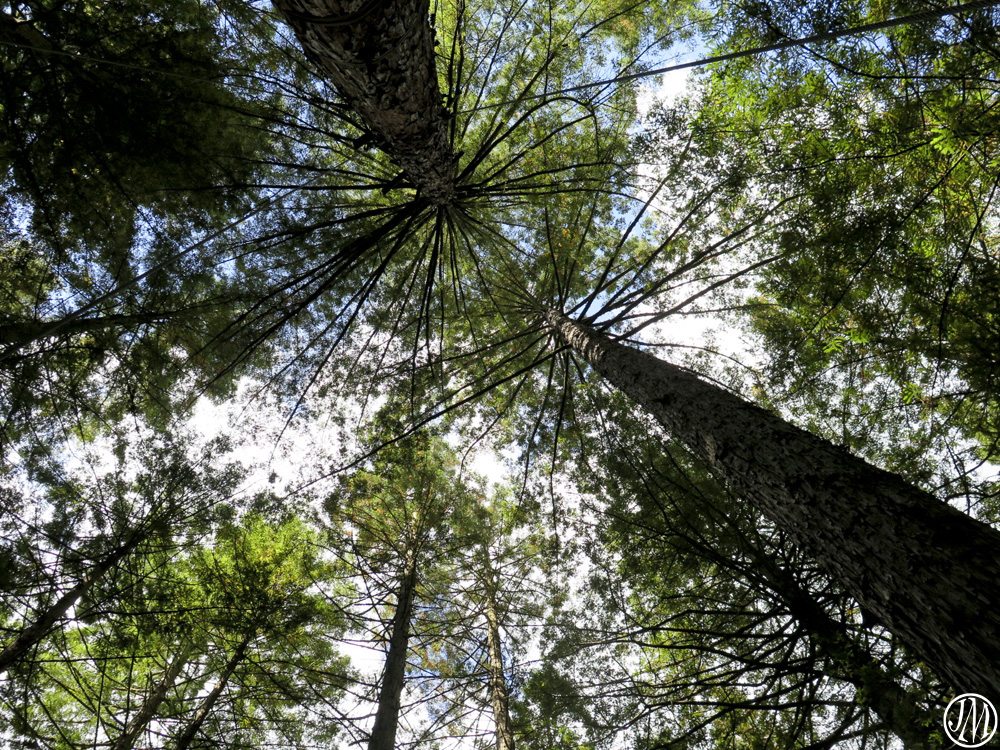 The Flora – magnificent forests and protected national parks for all to enjoy.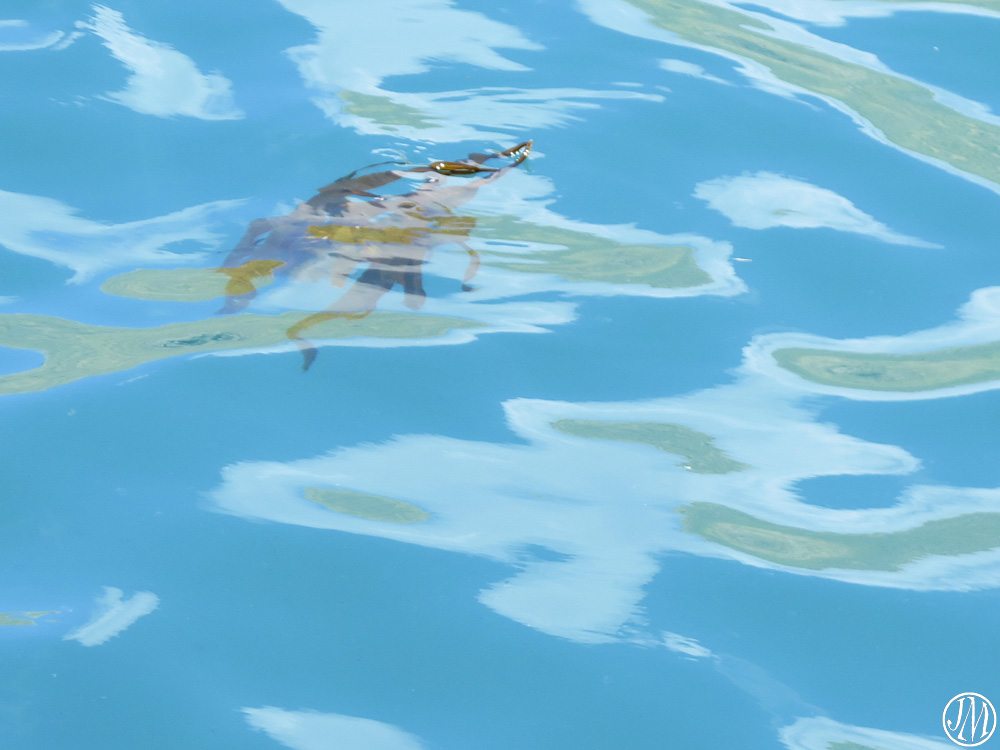 The colours – the deep aquas and greens of the rivers, lakes and sea …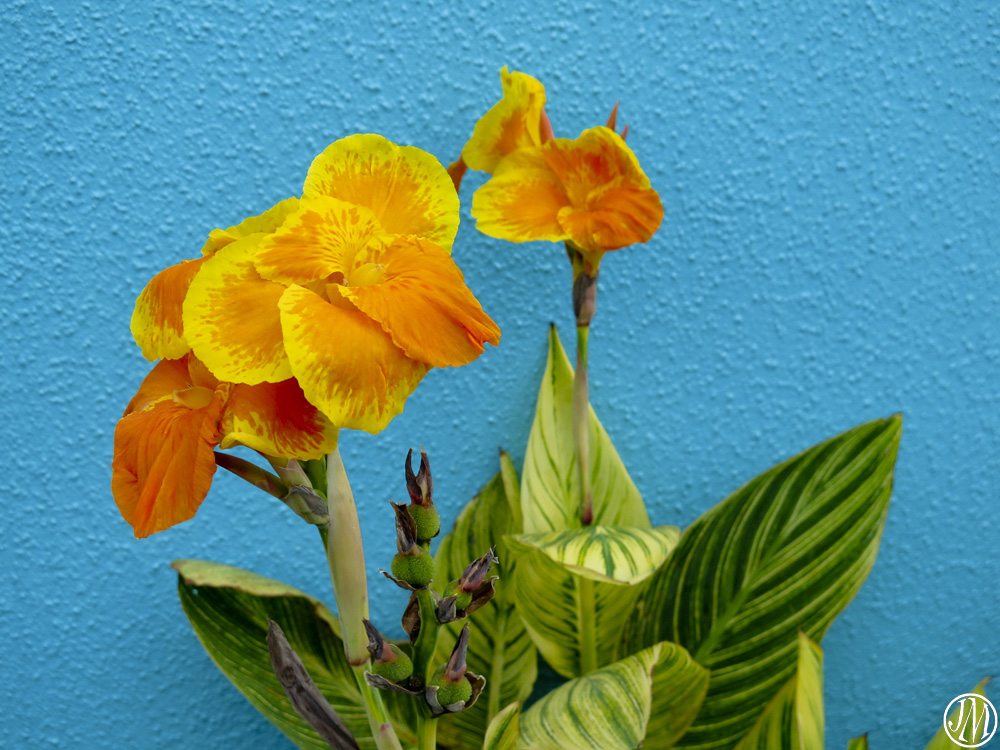 … and echoed in the flowers planted in the beautiful private gardens everywhere.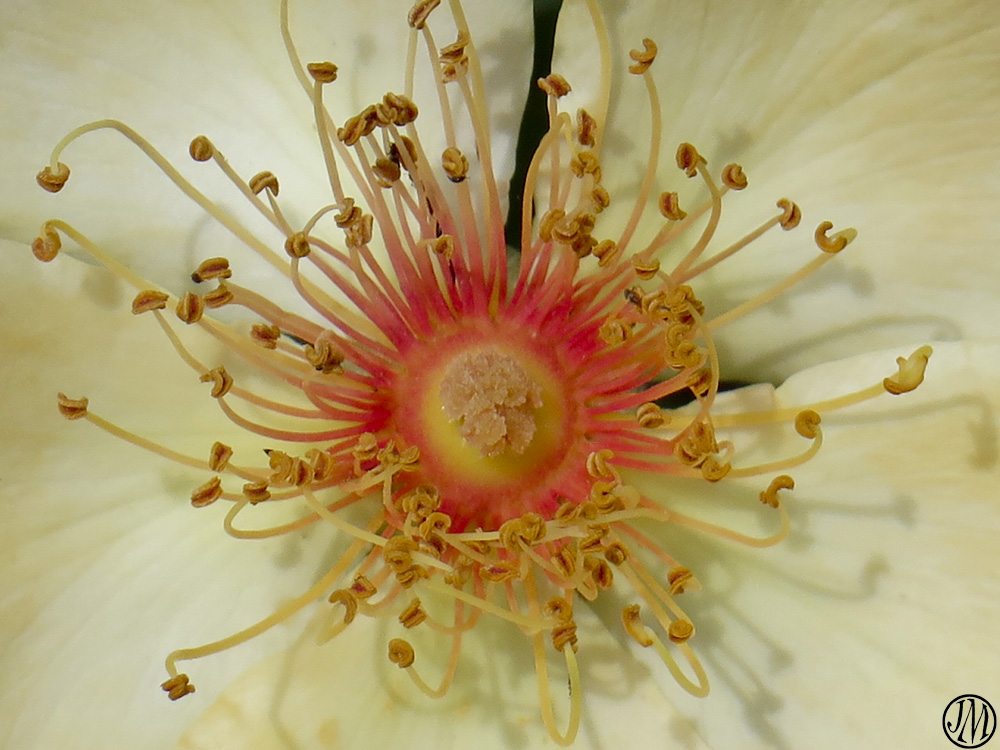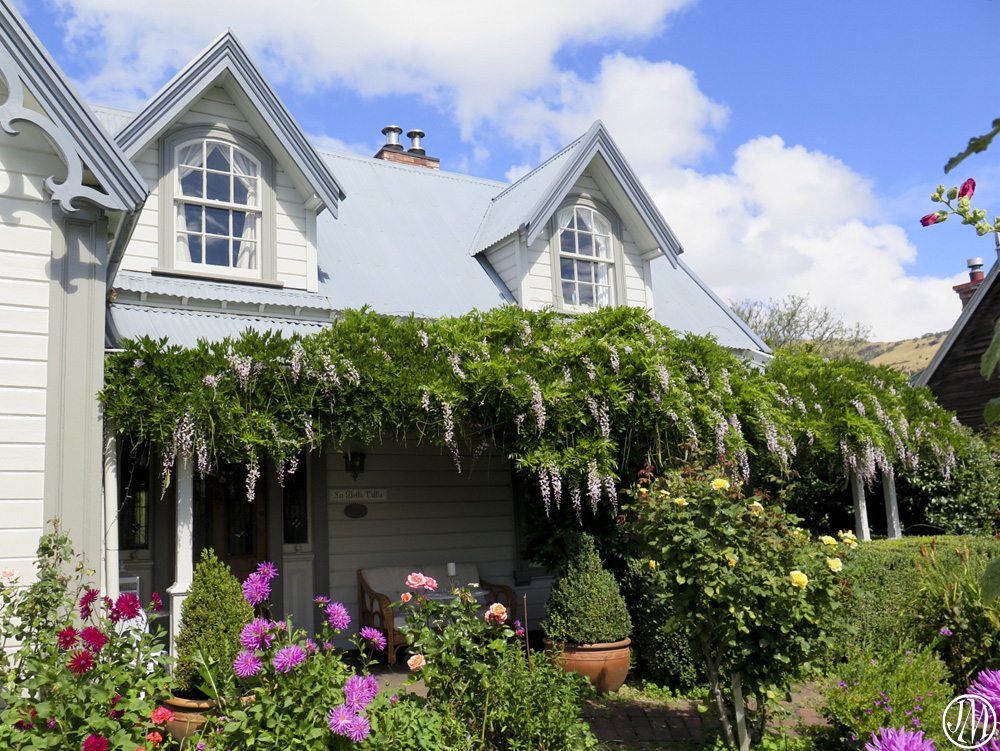 Summer gardens – looking their best.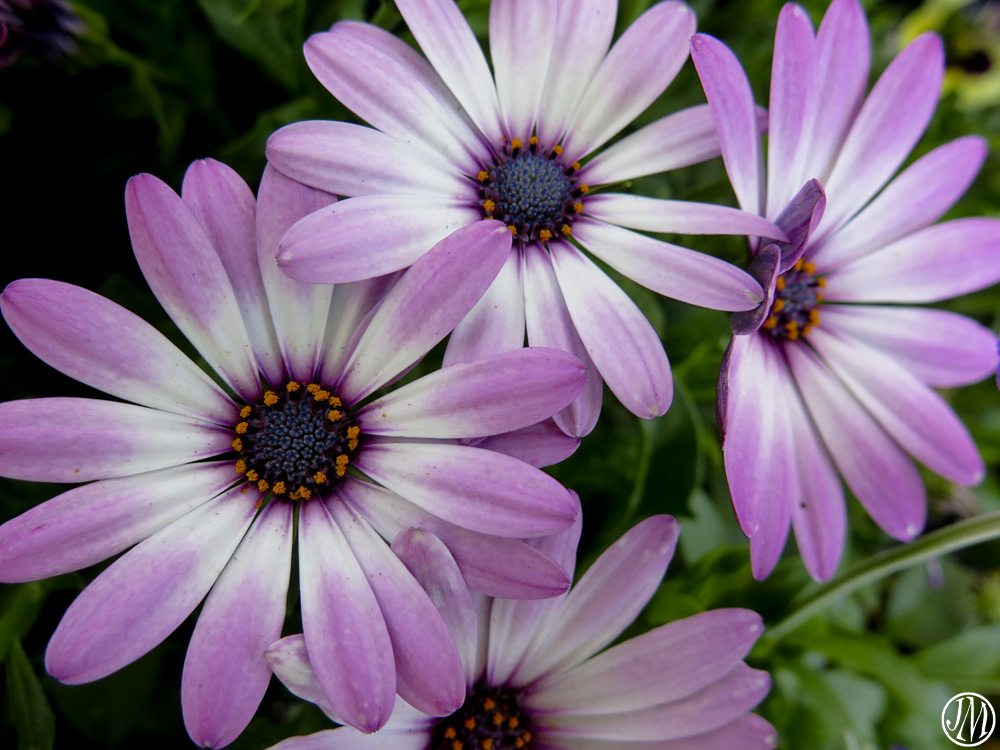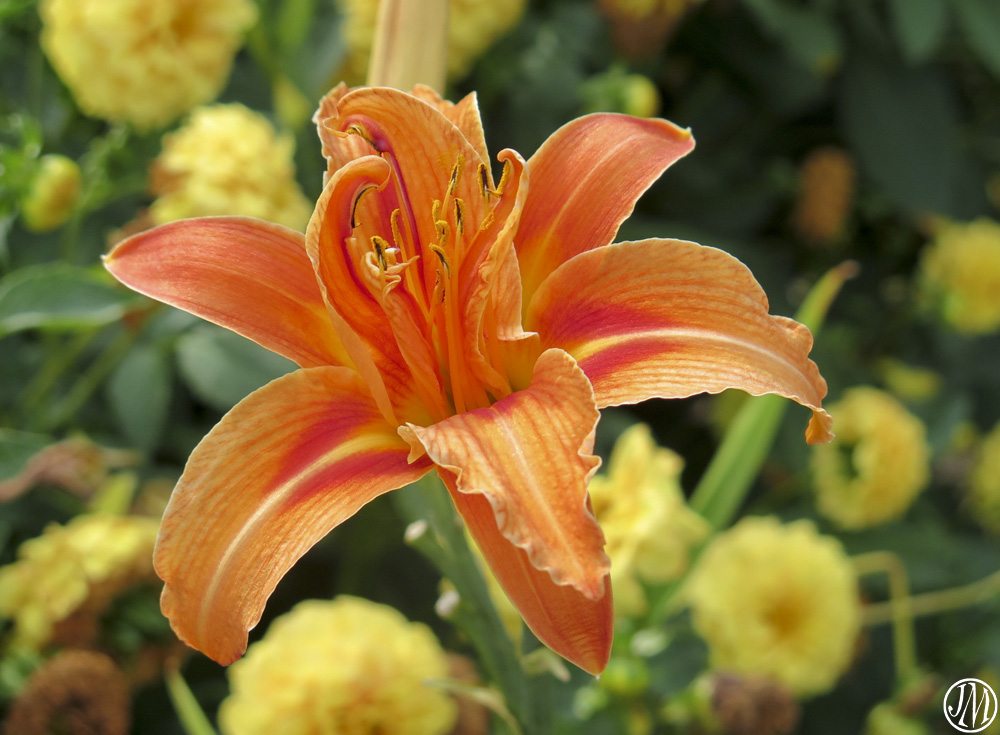 More colours – bright flowers from friends' gardens.
Fresh produce – fruit and vegetables straight from the land are a treat.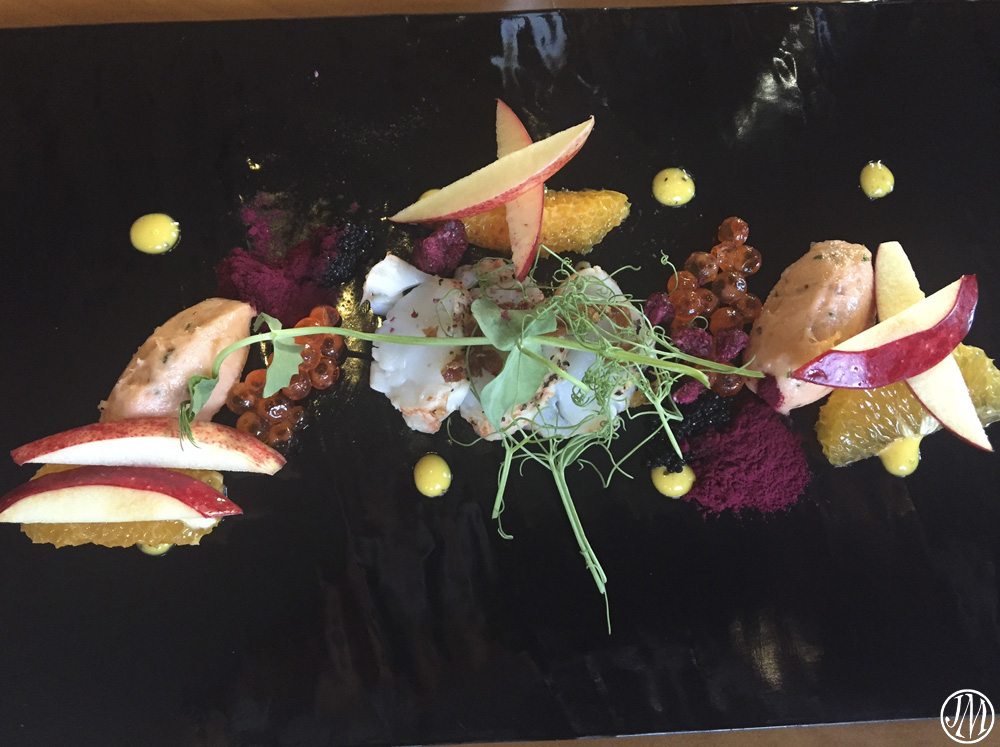 Innovative chefs – some wonderful restaurants serving local produce, beautifully presented.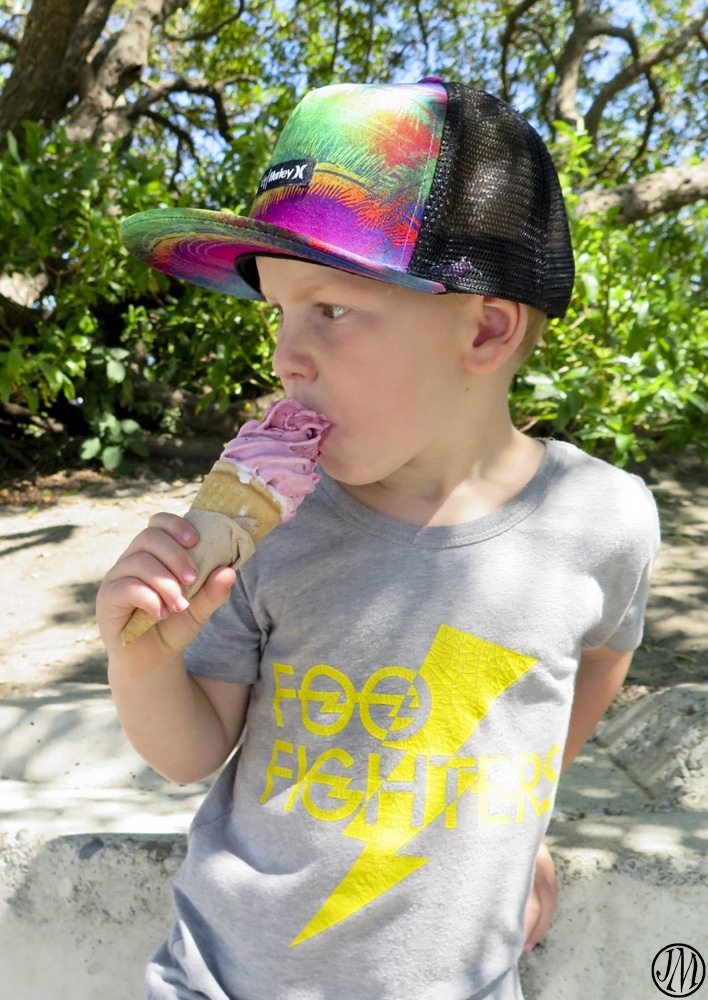 The Ice-cream – possibly vieing for the title of 'best in the world'. Fresh fruit running through vanilla – yum.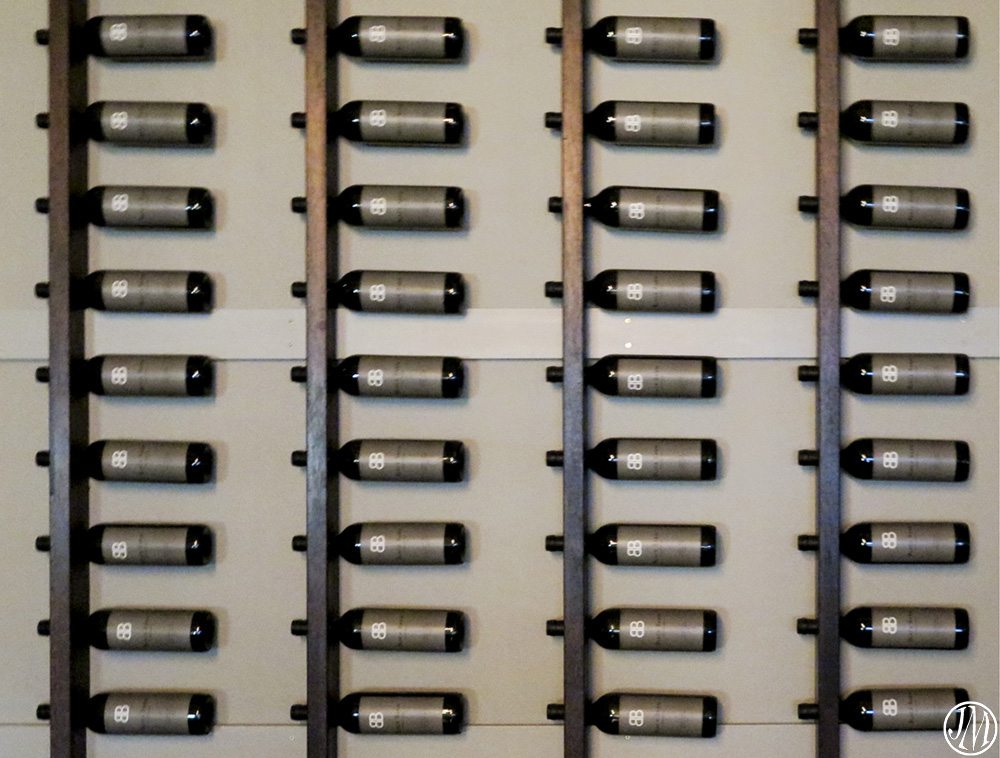 Delicious wines – a huge variety, especially from Marlborough and Hawke's Bay.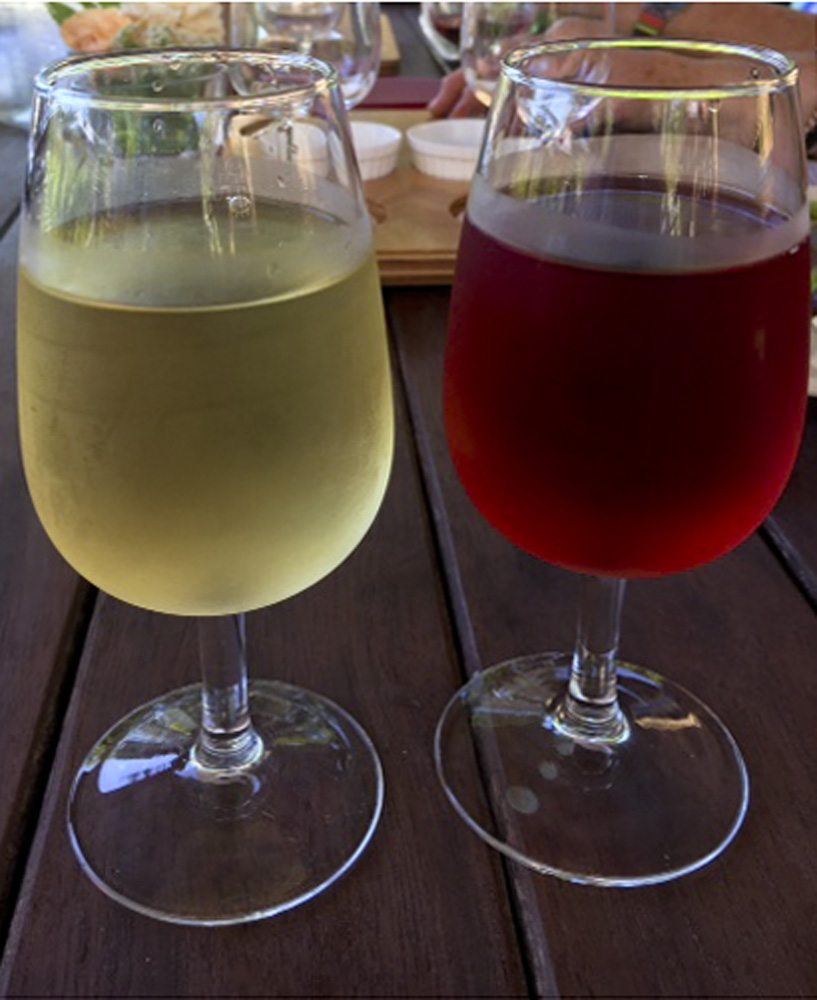 Chilled red or white, take your pick. Or rose if you'd rather.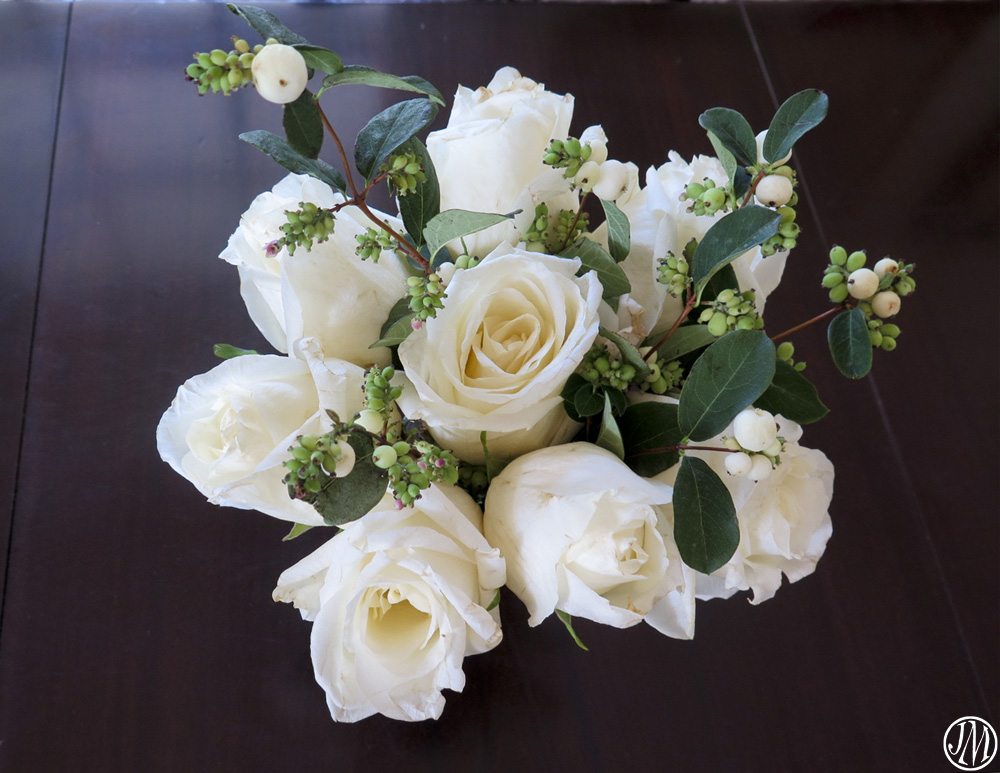 And some freshly picked roses arranged on the bar, not a bad touch either.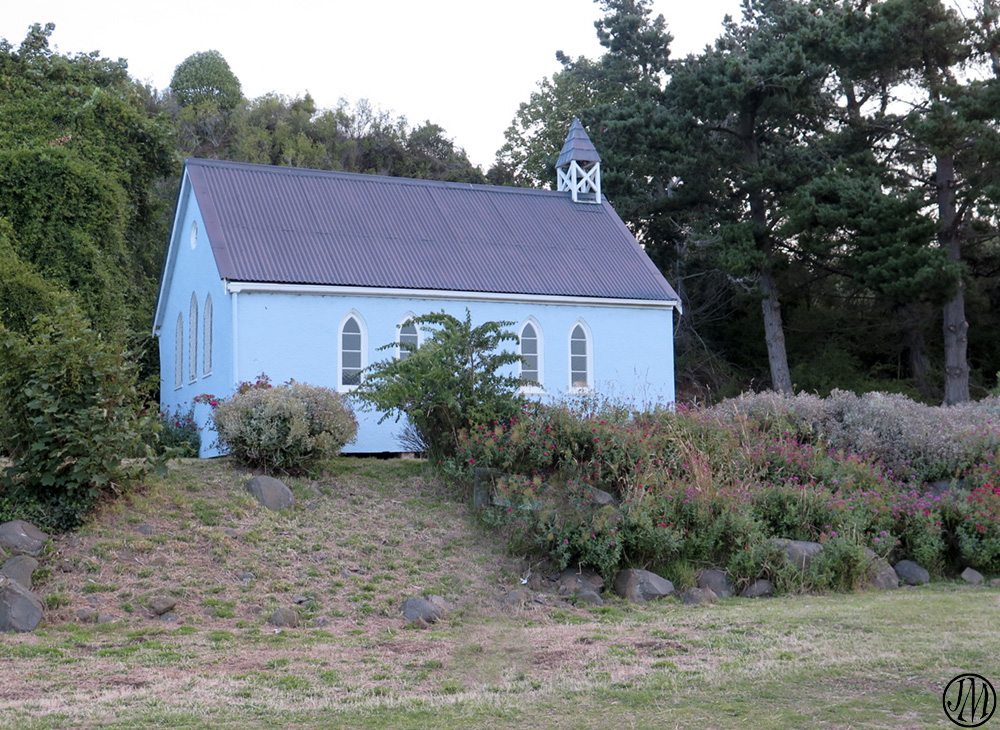 Respect for our history – many small communities dotted through the country keep their old buildings beautifully maintained.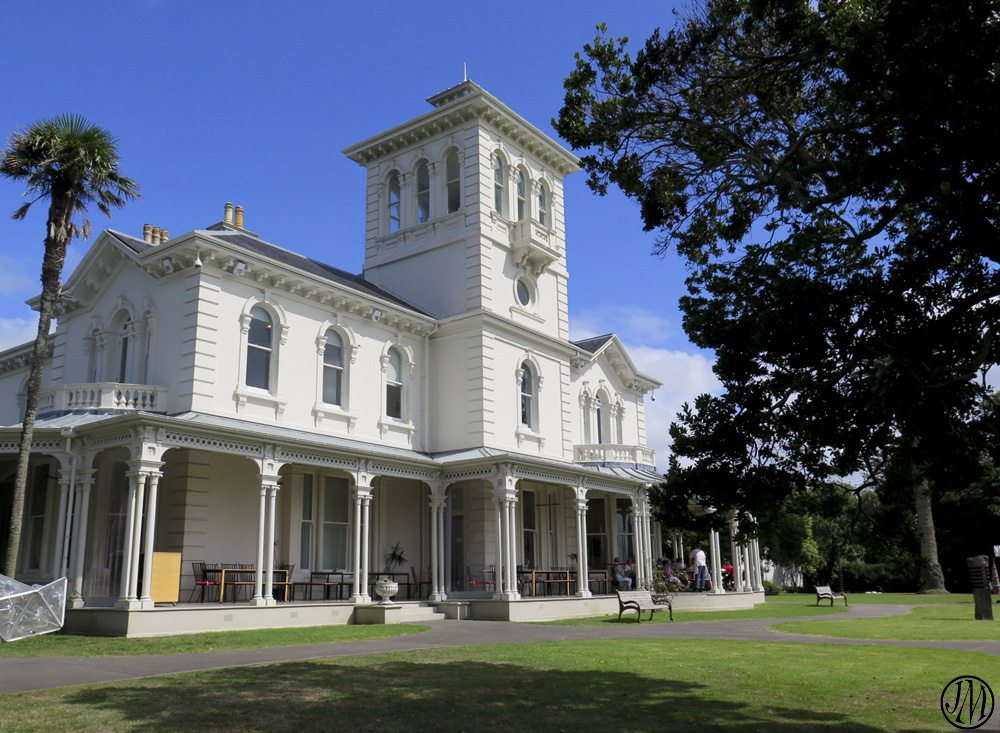 Museums and open houses – some of the mansions built in the early days are now used as museums or for private functions.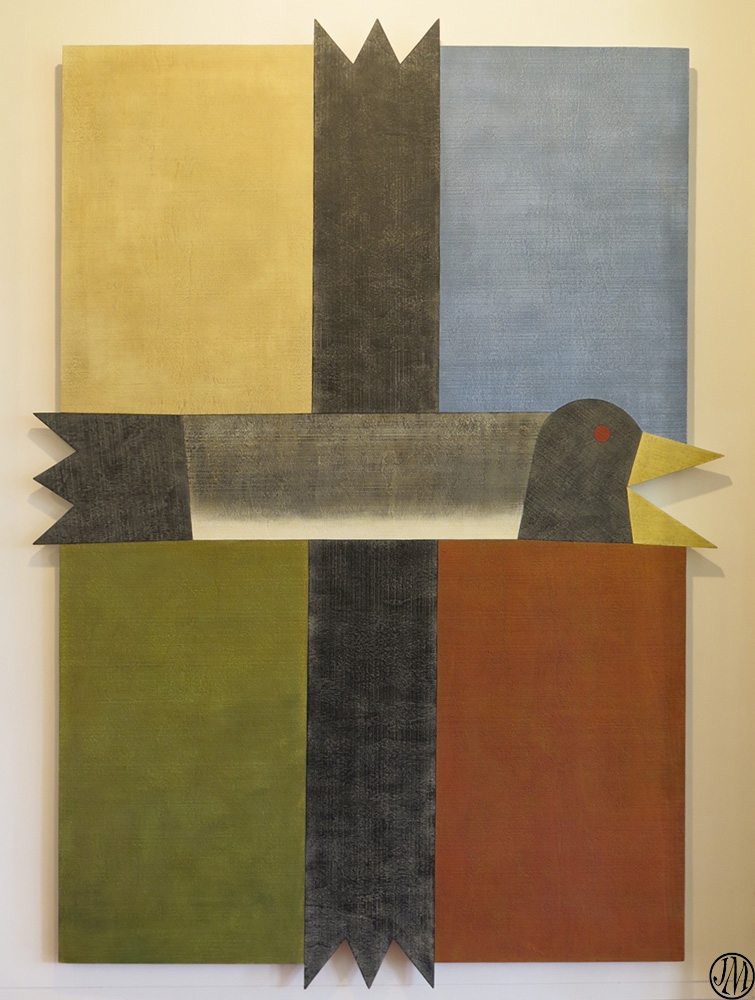 Art and crafts – some wonderful art, both modern, like this artwork by Barry Lett, …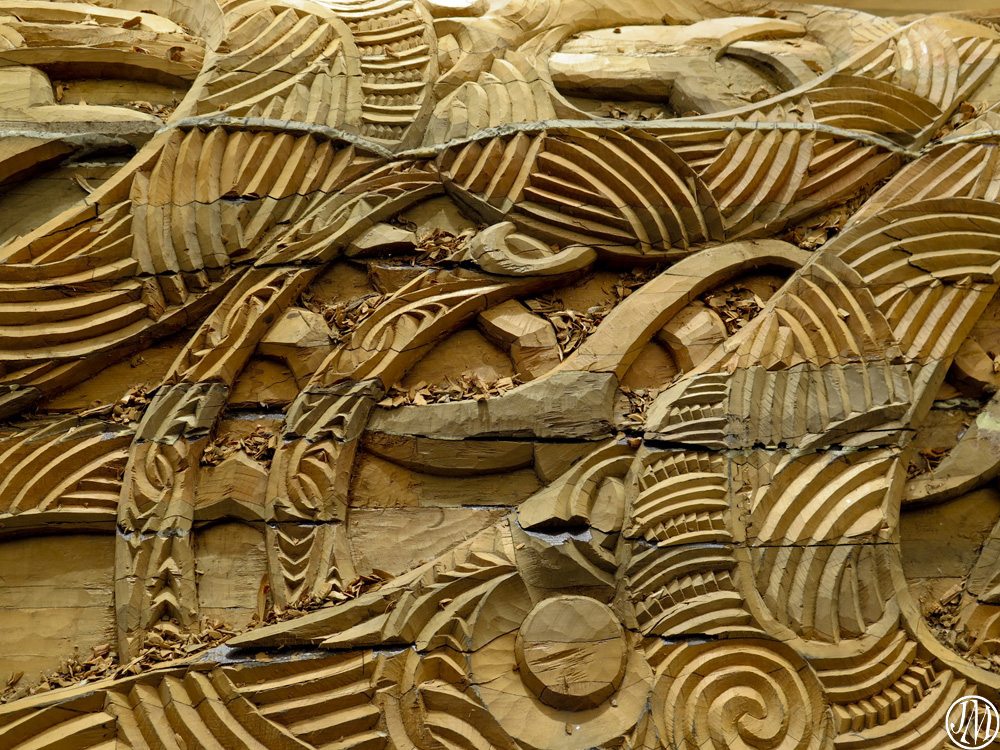 … and traditional, like this Maori wood carving, in progress at a school for Maori Arts …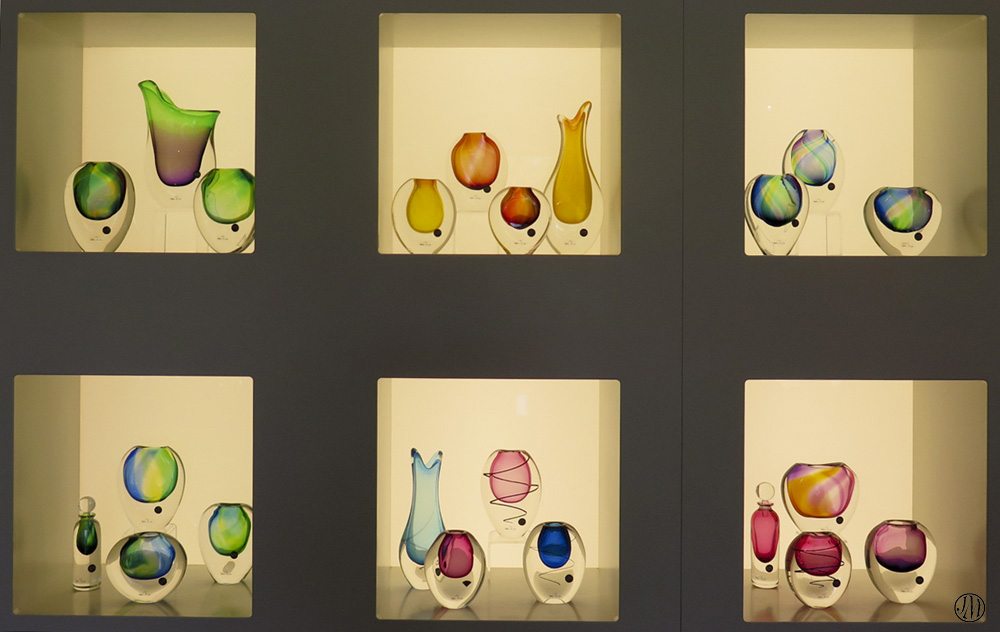 and inovative like these delicately hued glass vases.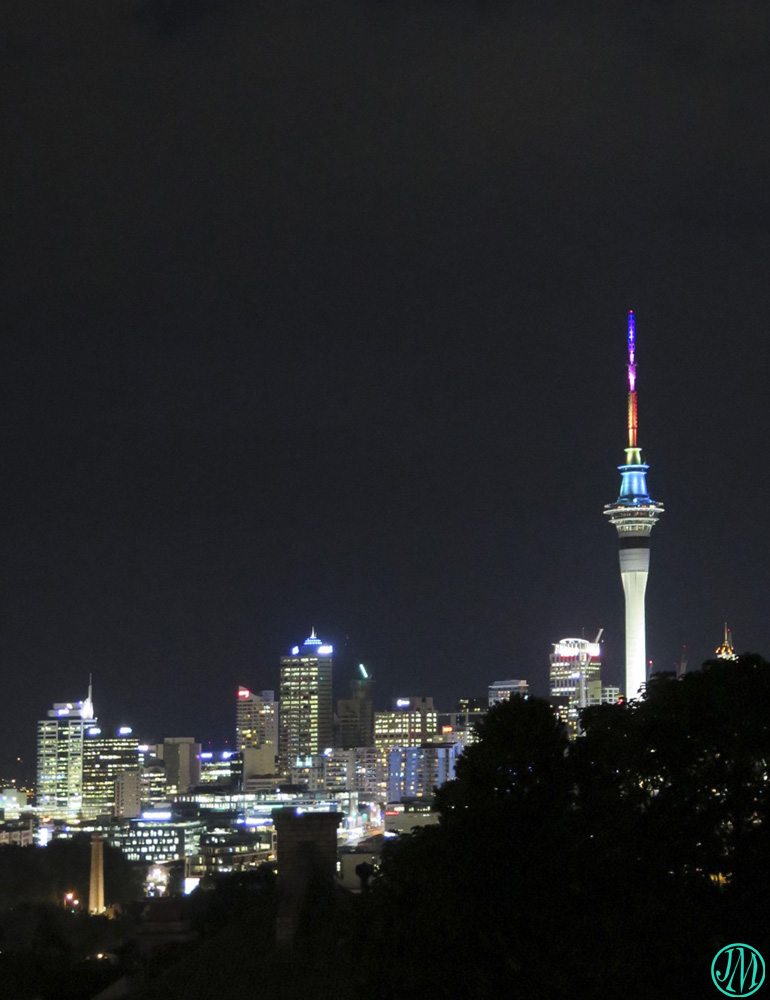 Vibrant, multi-cultural cities – with sprawling suburbs and a laid-back lifestyle.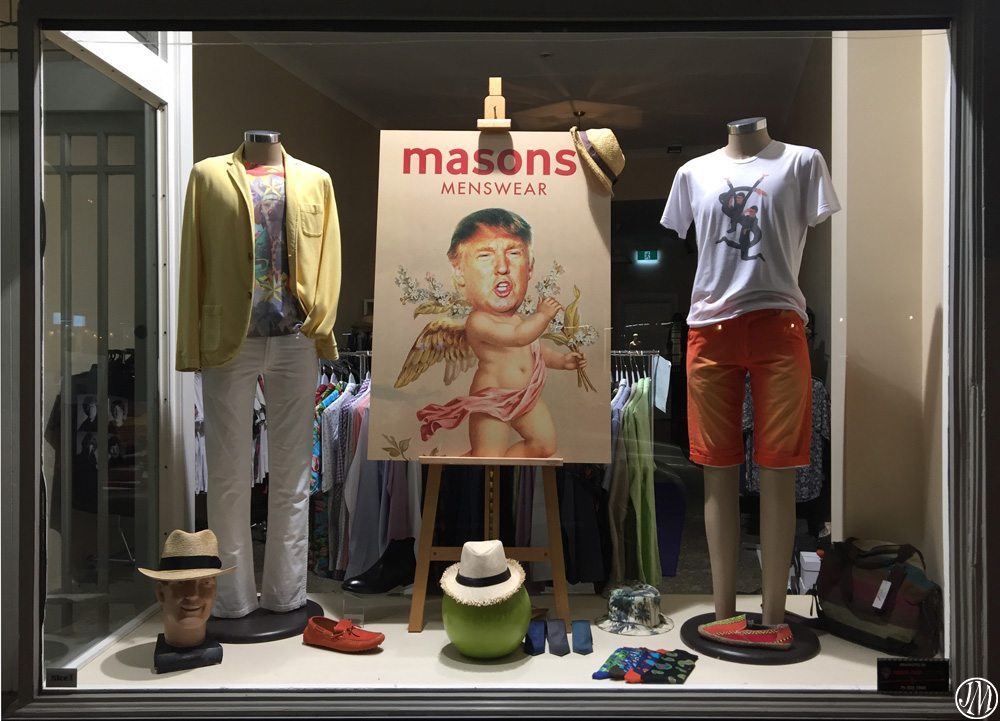 Sense of Humour – local or international jokes abound. Everyone likes a good laugh …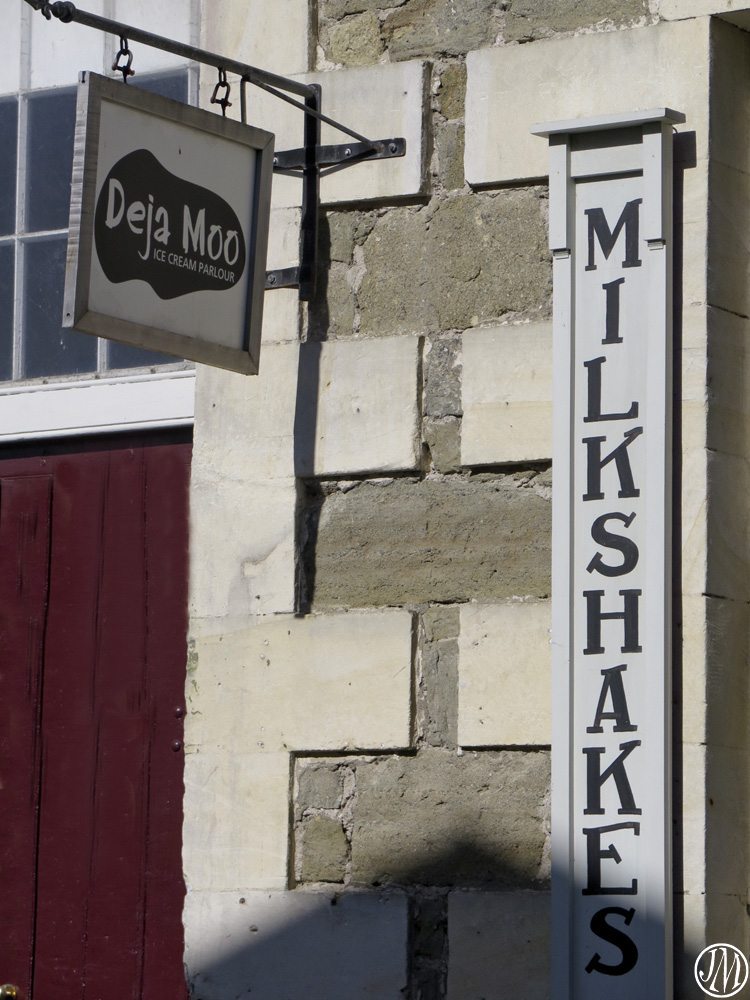 … the more quirky and witty the better.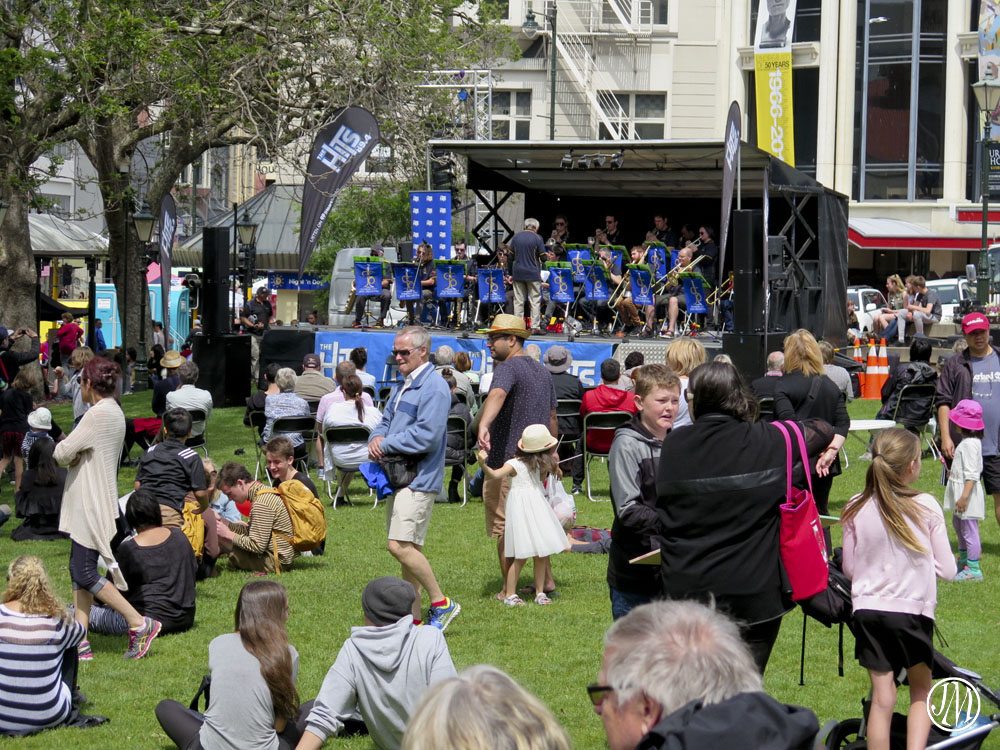 And of course the New Zealanders – the friendly people everywhere who like to chat and laugh and enjoy life.
So there we have it, the last of the story from John and Joanna of their February 2017 road trip around New Zealand. As a first time visitor, John stated that "It passed all expectations" and for my part I was once again enamoured of my country and what it has to offer. It was difficult to leave, but for sure we will be back. Just a last couple of photos ….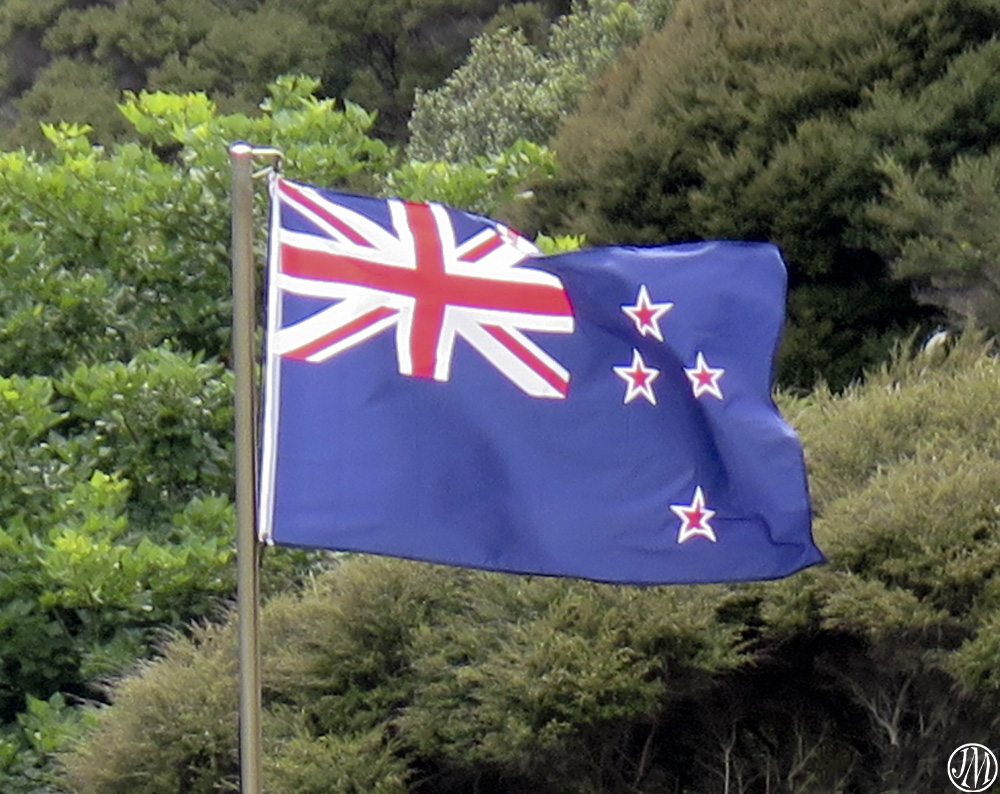 … our New Zealand flag flying high over the trees, and …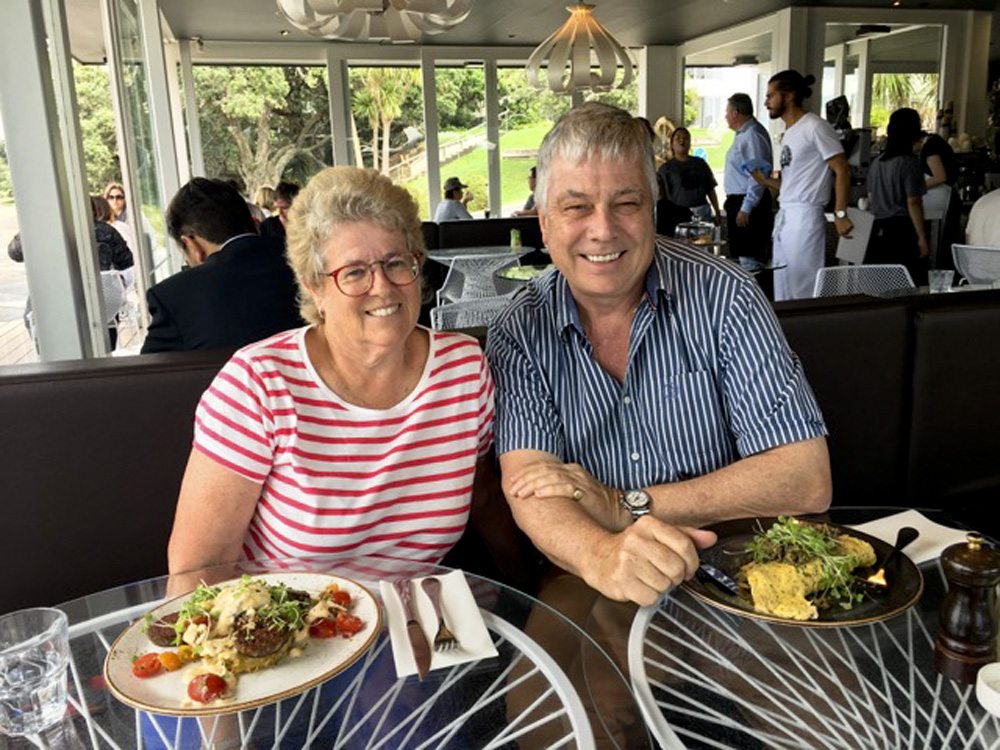 … a shot of us taken at a restaurant at Takapuna Beach Auckland on the last day of our trip.
Finally, I would like to thank all my family and friends who so generously offered us bed and board, interesting and delicious meals to enjoy, wines to savour etc etc and who helped make this trip so memororable.
And also to you, my readers and followers, thank you for your very complementary comments and observations, and if these blogs have inspired you to visit New Zealand, then bon voyage to you whenever you decide to travel there. I am available for advice!
So it's goodbye from John and good-bye (for now) from me.
Until next time,