"Evening is falling in Yangon. I slowly make my way from my office to the Strand Hotel, savouring the steamy heat, the noise, and even the dubious fragrances of this city I have come to love.
So much is familiar on this stretch of Strand Road – the restaurant where I had lunch on my first work day, the shrine in the shady old tree, the water urn on its rickety wooden stand with two metal cups from which anyone may drink, and my favourite street stall selling noodles, pungent with fish sauce. I pass the red brick façade of the General Post Office, the letter writers plying their trade on the pavement, and the solid white front of the British Embassy where students wait by the side door for evening language class.
I step back as a lorry, belching black exhaust, rumbles past, loaded with huge teak logs precariously secured by metal chains and narrow side struts. Trishaws crawl alongside, carrying their passengers homeward, the riders laboriously straining to keep pace. Dilapidated taxis, green snub-nosed buses, open sided trucks and old cars vie for space on the wide avenue. Clusters of office workers spill out onto the pavement, chattering off to meet friends or returning home to their families. Three young women with matching uniforms and identical lunch tins, hold hands and laugh, braving the traffic to reach their bus stop.
For a moment I imagine how the road would have appeared a century ago under colonial rule, when the Armenian Sarkie brothers established the 'Strand', sister hotel to their already famous 'Raffles' in Singapore. At that time, the Strand overlooked a park that sloped down to the river where passenger and merchant ships docked. Even now, hemmed in by snarled traffic, a disused railway line, dilapidated fences and square warehouses hiding the river, the hotel manages to maintain its dignity as the 'Old Lady of Rangoon'…" from the book's Introduction.
Joanna MacLean's  Two Eggs And A Lemon
"AN ENCHANTING and EXOTIC MEMOIR."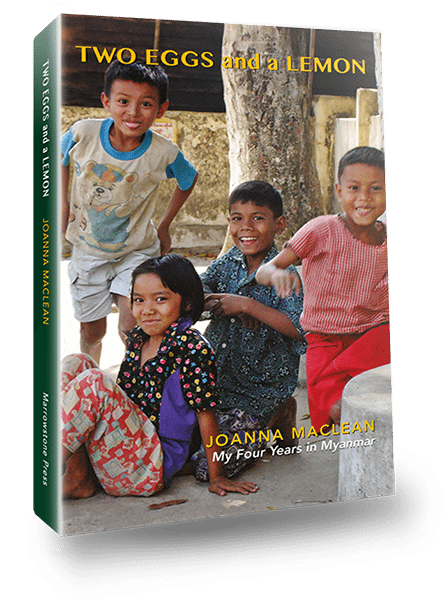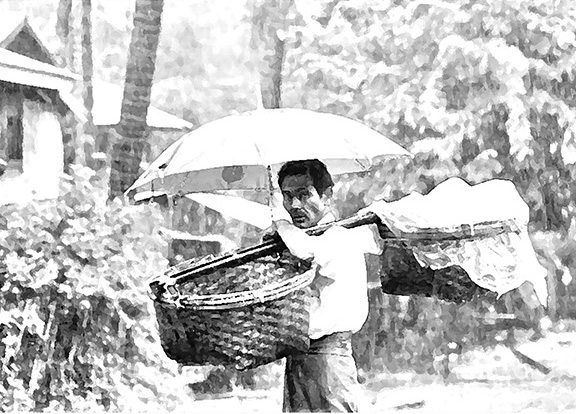 Photographs by Joanna MacLean
Two Eggs and a Lemon is a captivating account of Joanna MacLean's four years in Myanmar (2002 until 2006) working with the International Red Cross during Myanmar's political and cultural transformation.
Such was the simple gift of two eggs and a lemon from a young village boy, that it became her book's title, symbolizing a people of generosity and hope.
Two Eggs And A Lemon, published by Marrowstone Press, 2016, is now available world-wide in both paper back and E-publication.

Order now from: Amazon.com     Barnes&Noble 
If you'd like an autographed copy of the book, contact Joanna