Dear friends,
The penultimate blog of the Road Trip is about a wonderful day on Waiheke Island in the Hauraki Gulf, just 40 minutes by ferry from Auckland city. We were excellently guided around the island by a new friend Kavin and in the company of our Auckland host Brian, and wow, what a great day. Just for comparison, Waiheke Island is about the same size as Manhattan.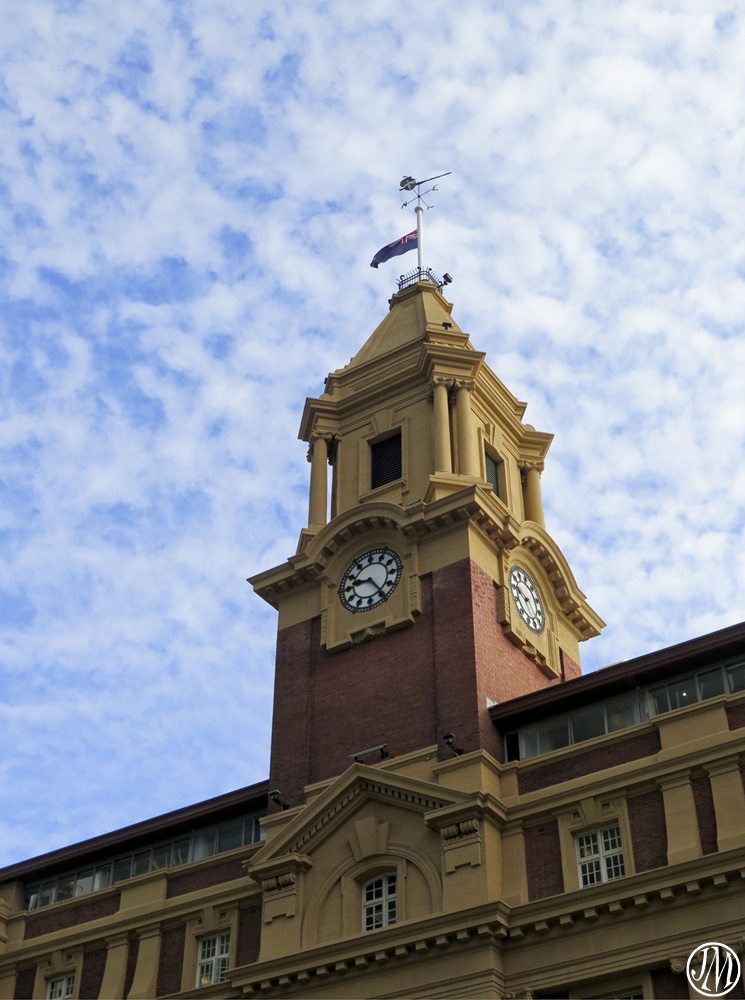 We had a coffee under the shadow of this magnificent old building, the old Custom House I believe,
before boarding the ferry bound for Waiheke Island.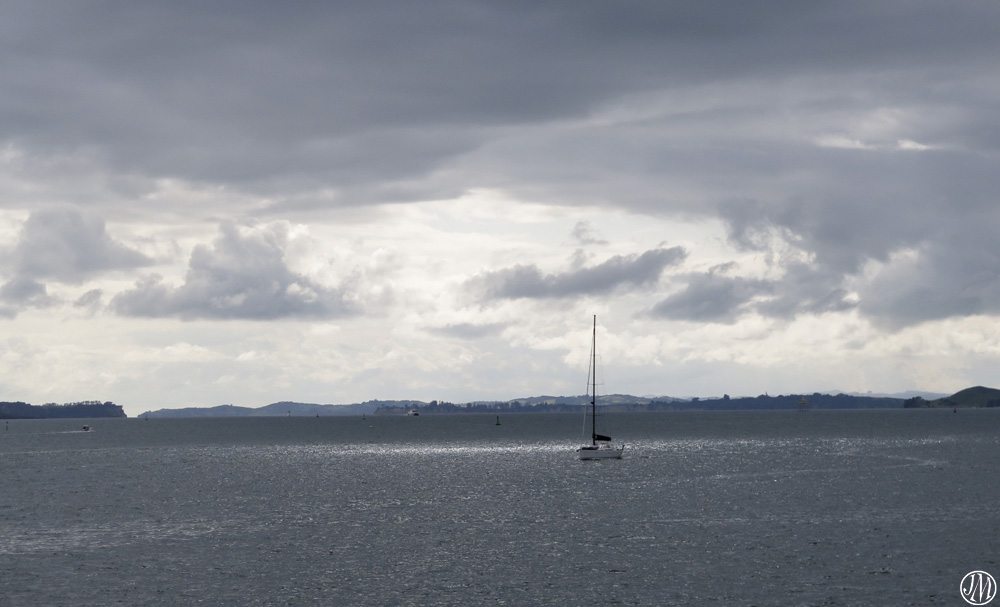 The morning was a little cloudy but travelling across the Hauraki Gulf, shards of sunlight pierced the clouds
and we had before us a palette of greys and silver.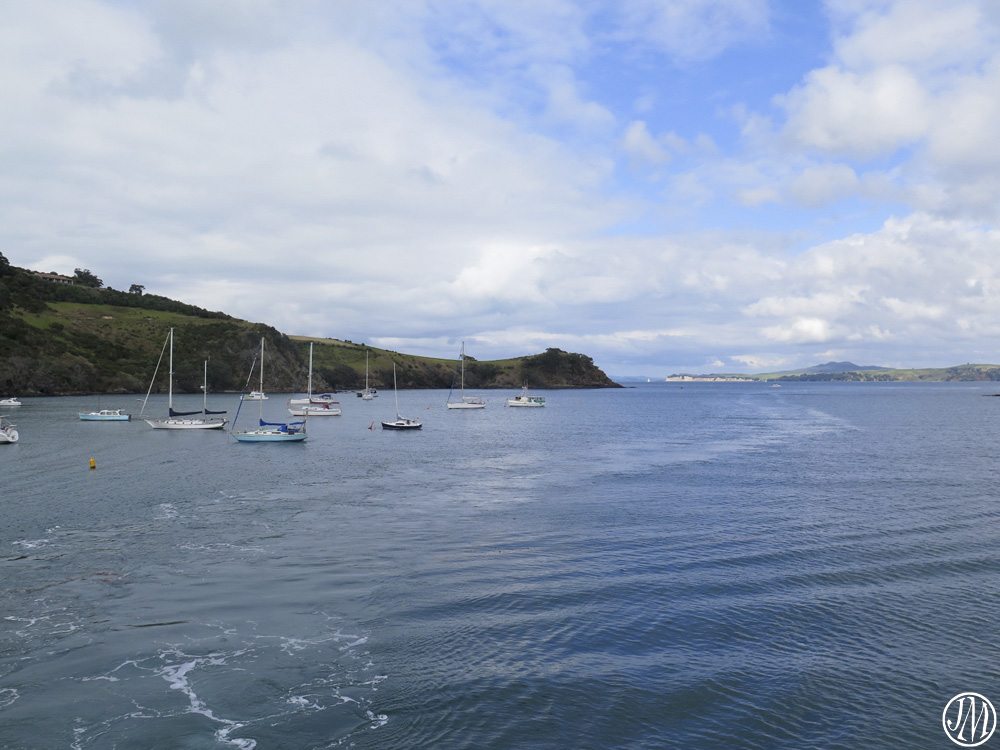 And then, as if to order, the sun came out as we reached the secluded harbour where we could disembark.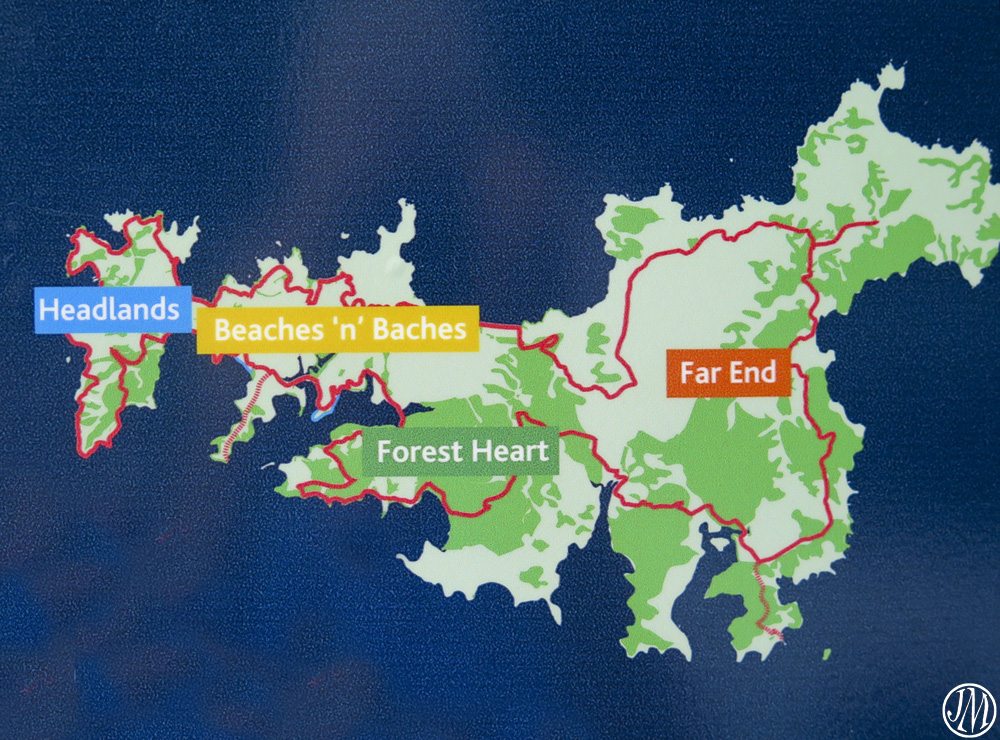 In the ferry terminal, there was what you may call 'a basic map' of the island. Love it!
We did indeed travel right around the island, the main road marked in red.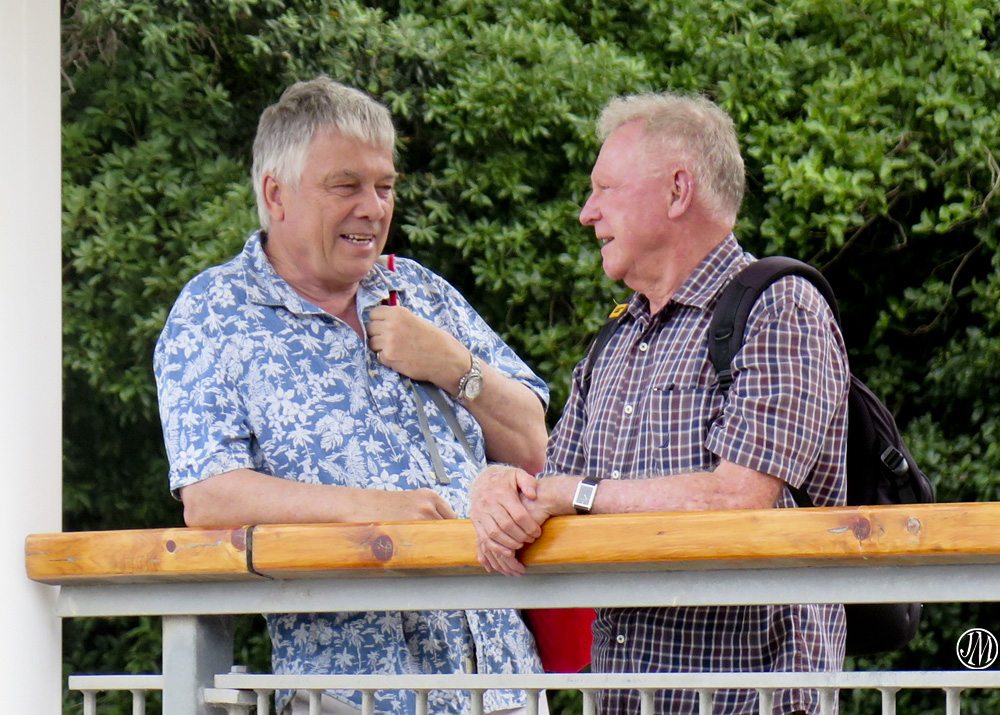 Waiting for our friend Kavin to pick us up.  John and Brian sharing some chat.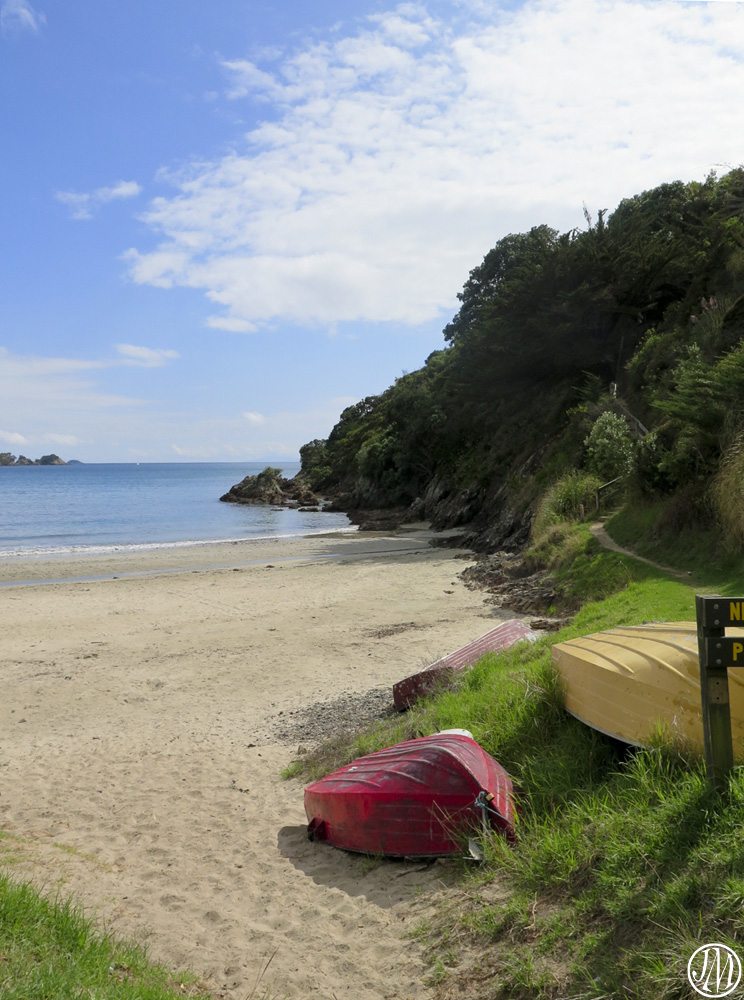 There are dozens of beaches around the island, and this was one of the first where we stopped for a photo.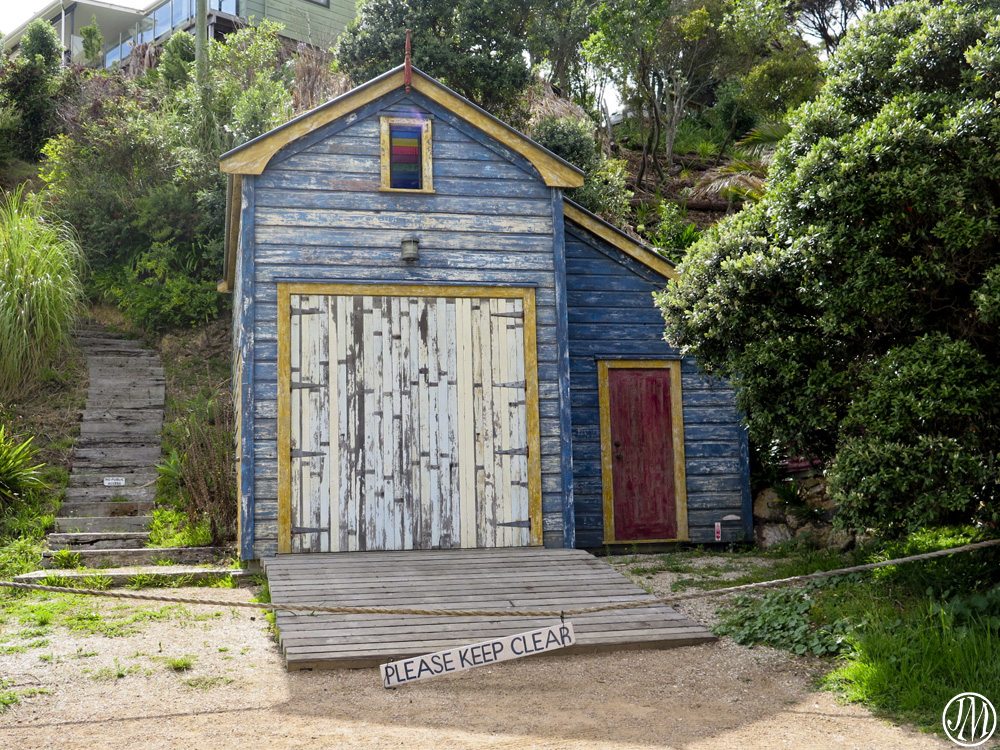 A delightfully sun-bleached boat shed by the beach.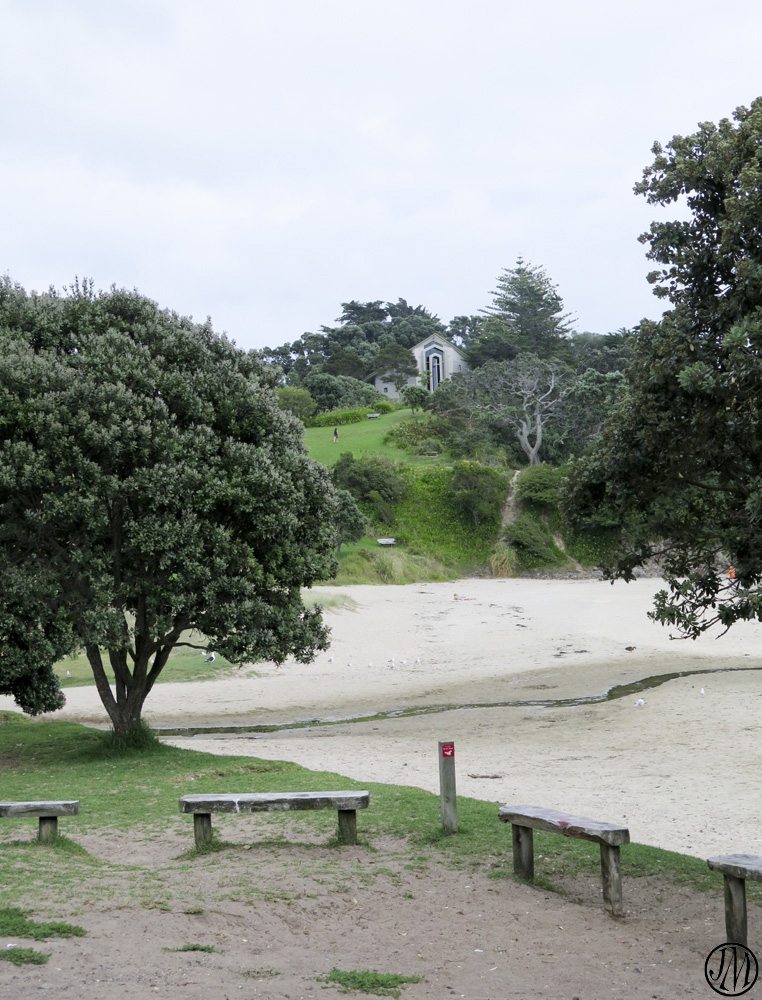 Above the beach a lone woman walks up to the little church in the trees.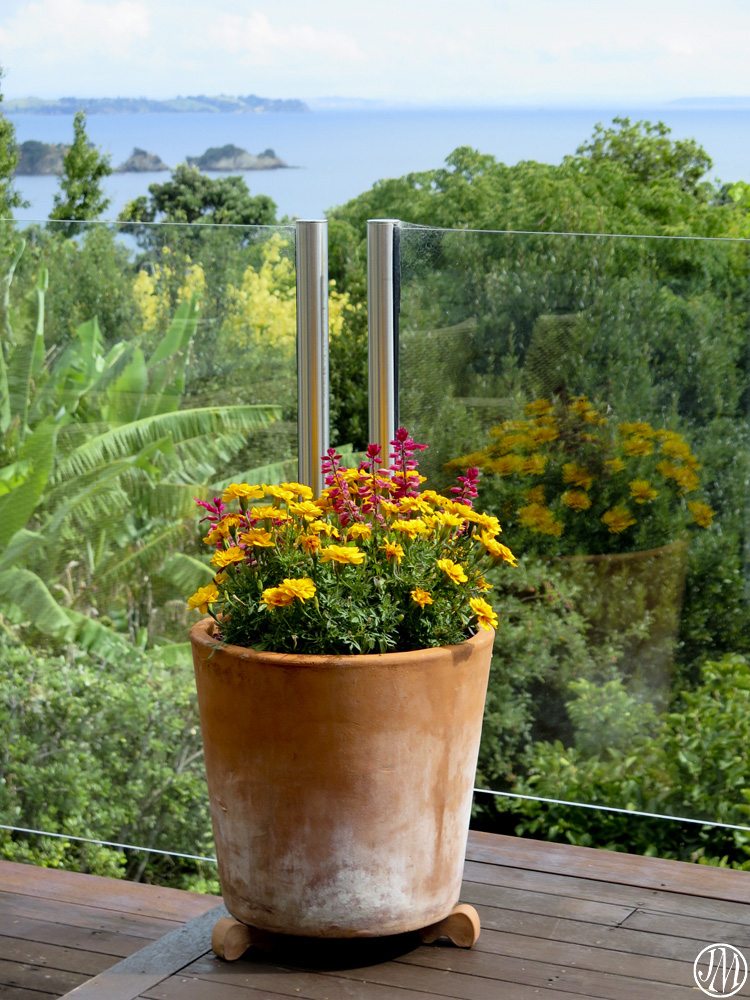 We stopped off for a coffee at Kavin's house, and although I cannot show you his very stylish home,
I am sure he won't mind me putting up a picture of his terrace with a wonderful view out to sea.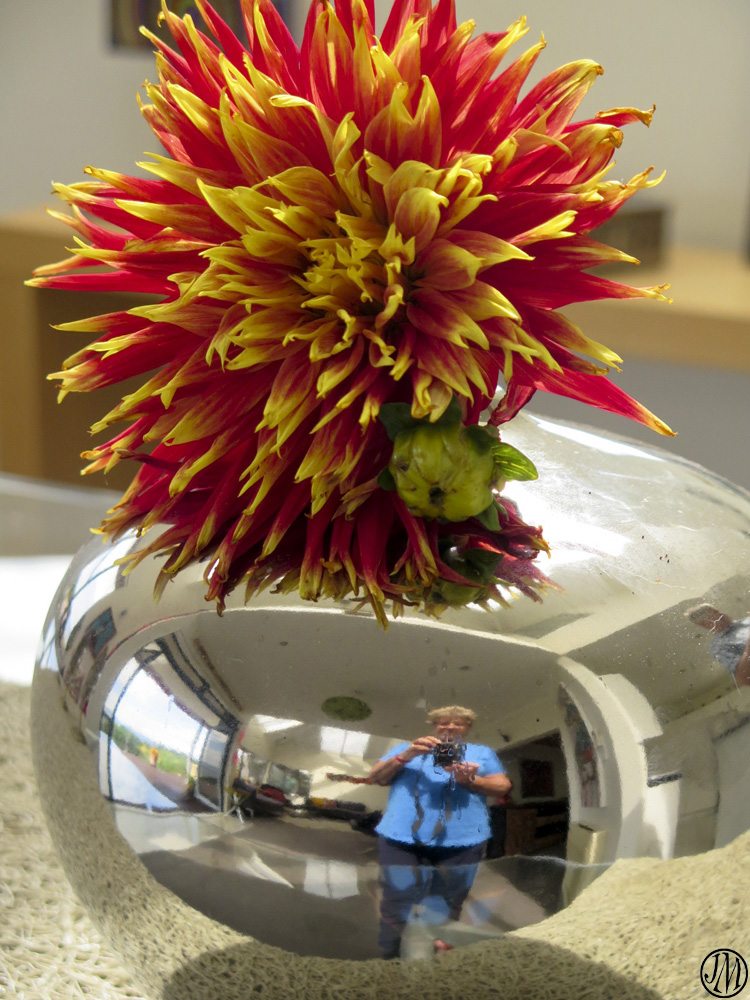 Or indeed, a selfie, taken in the glass vase of flowers on one of his side tables.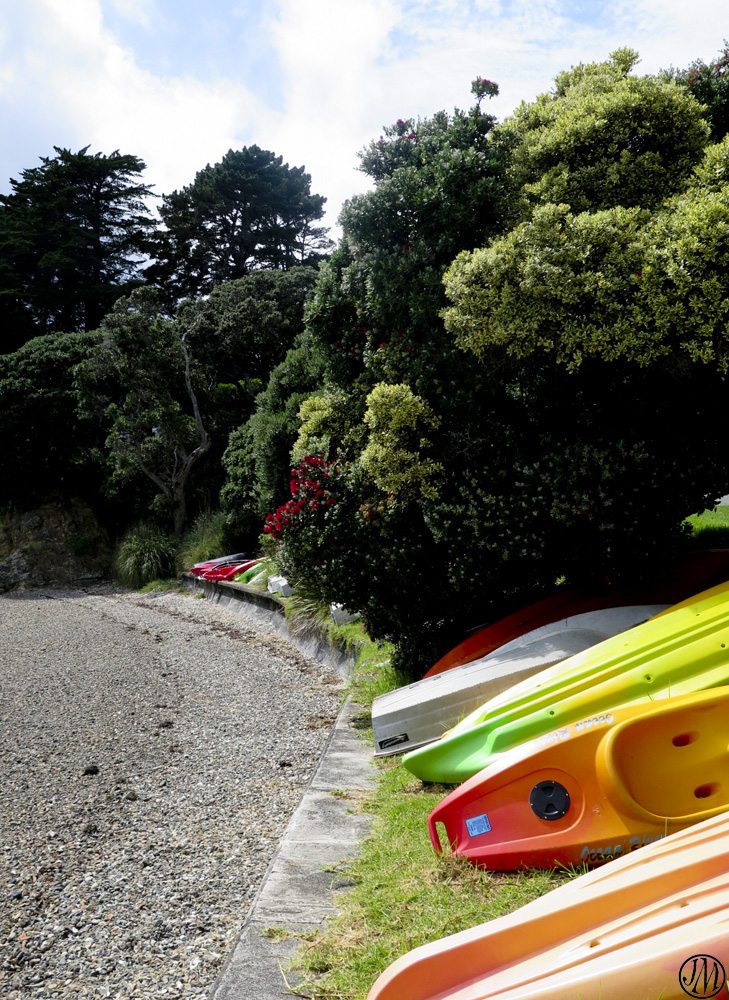 Then on with the tour of the island and a glimpse of the last flowering pohutukawa (NZ Xmas tree) of the season.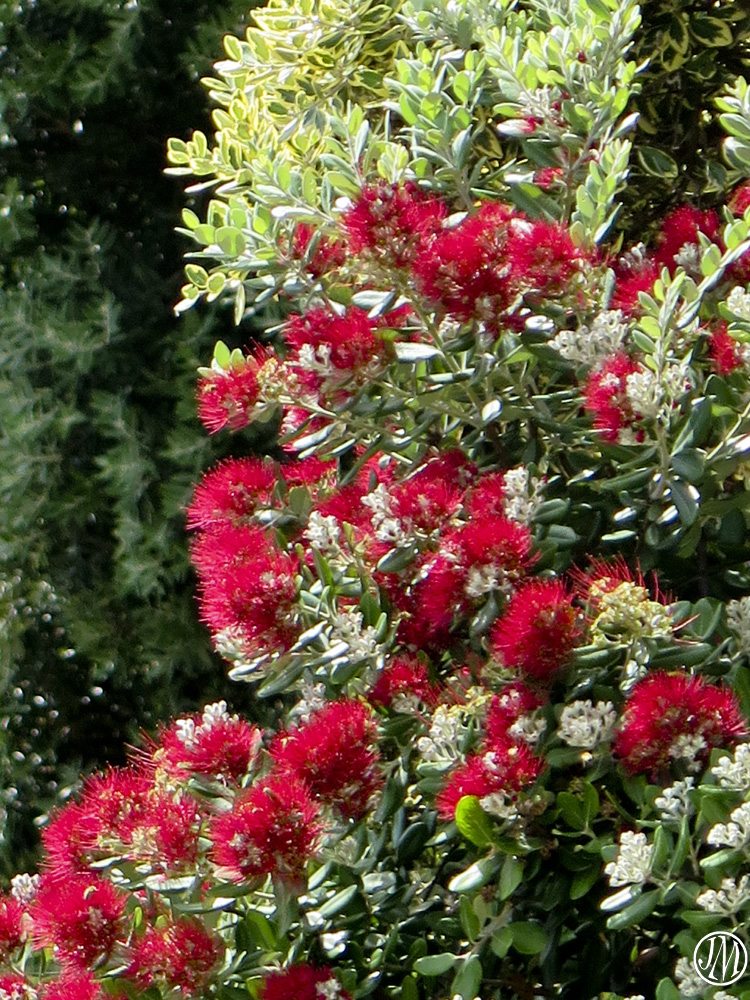 Imagine how our beaches of the North Island look over the summer holidays with masses of these beautiful trees in bloom.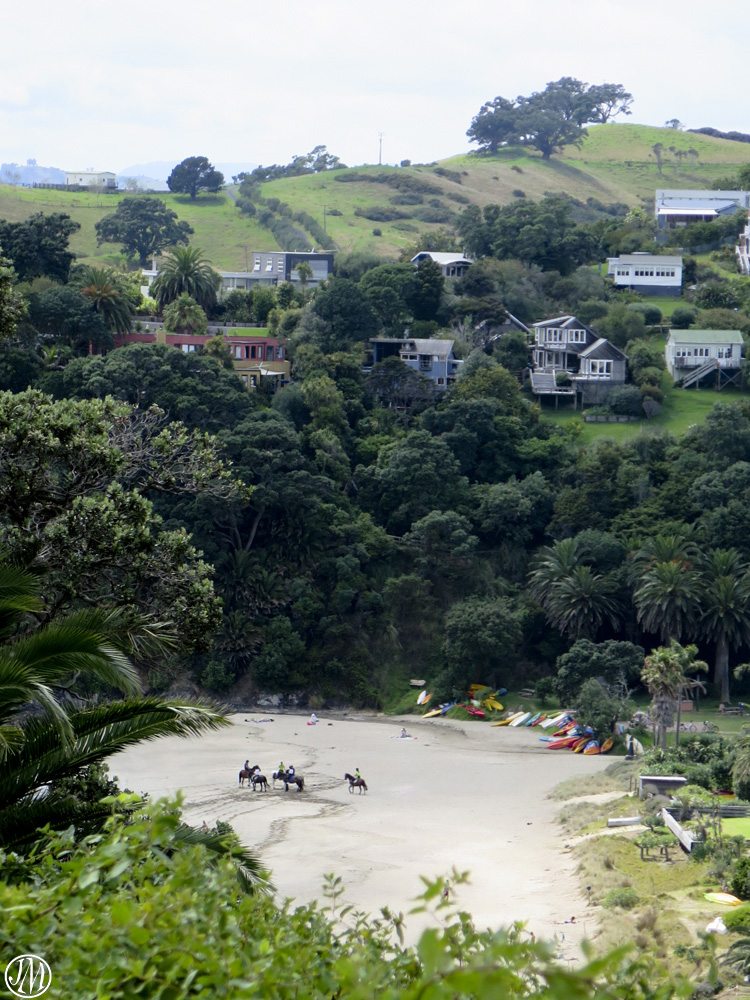 From one of the higher vantage points of the road, we looked down on another beach where a group of riders was gathering.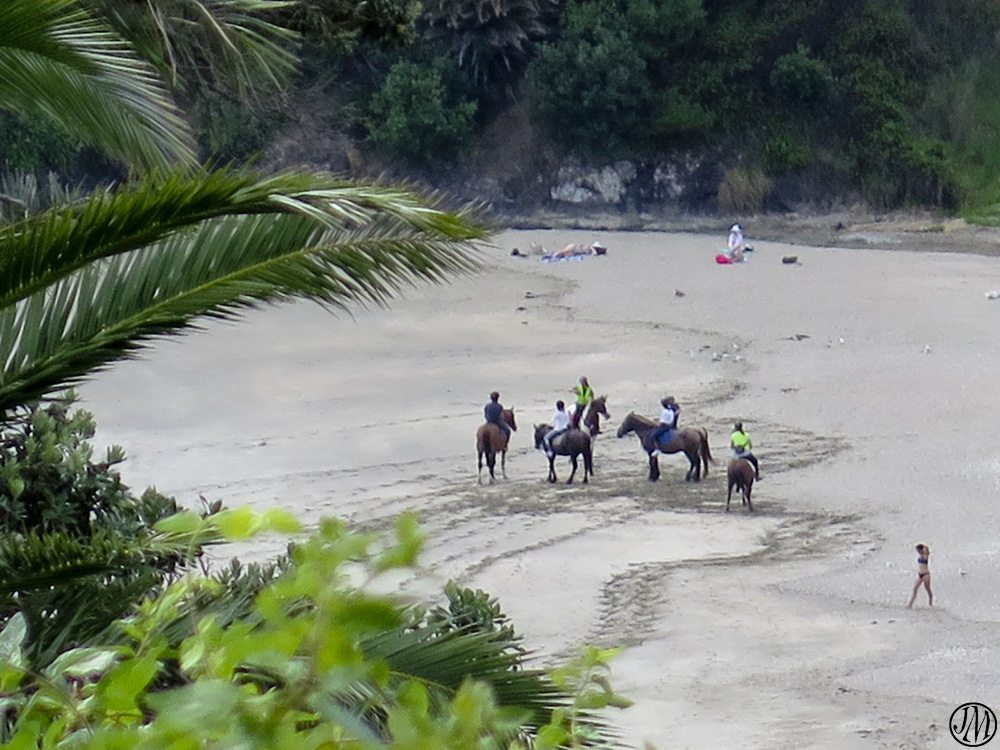 And a closer look, with sunbathers and swimmers as well as the riders enjoying the little cove.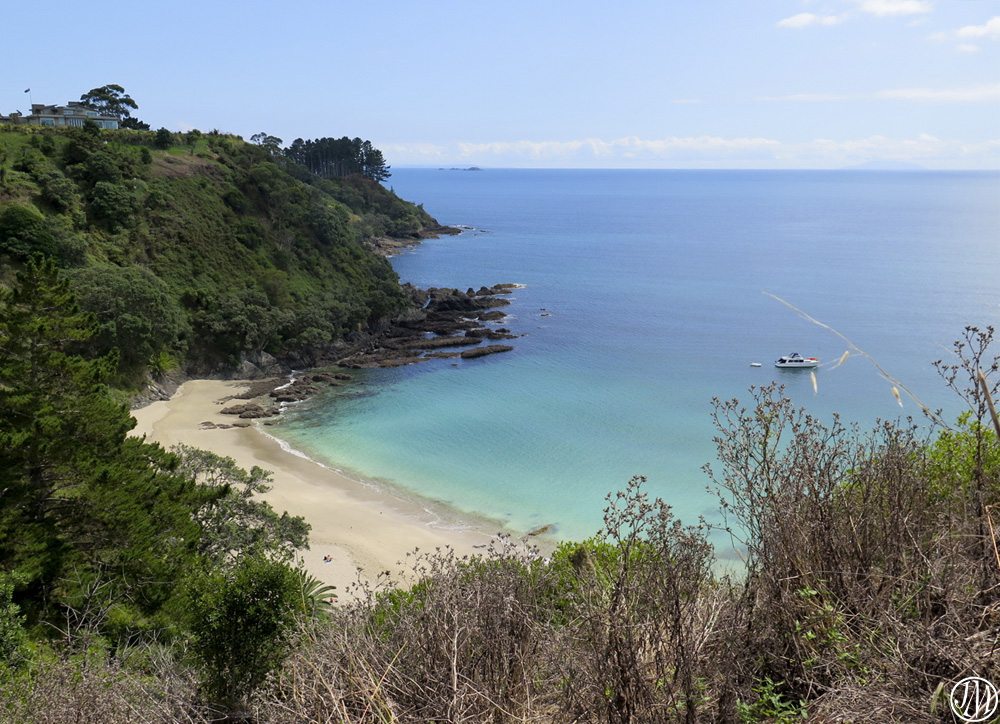 Another beautiful secluded beach, this one reserved for naturalists …..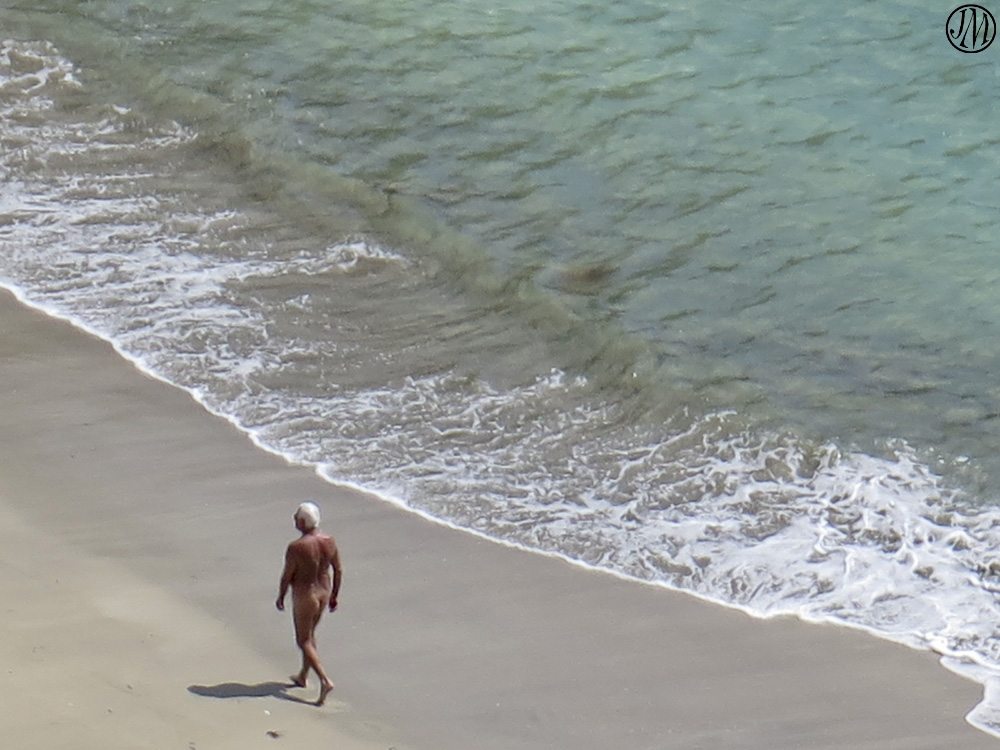 … and a discrete back view of one such naturist enjoying his walk along the beach.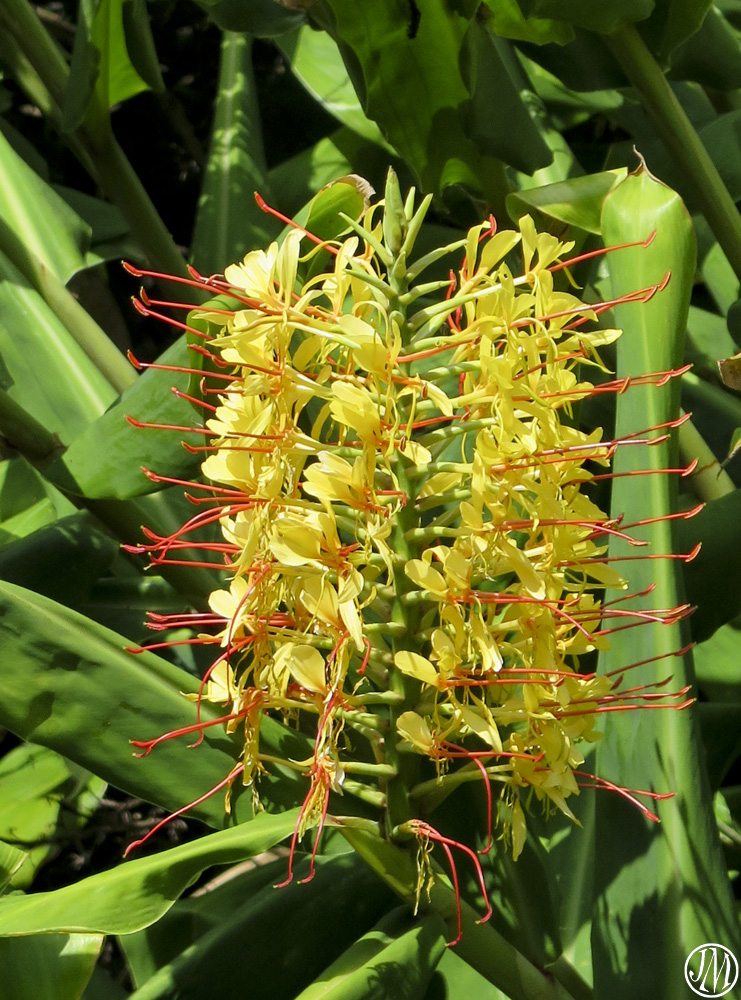 Walking back to the car after viewing some of the beaches, we pass this colourful ginger flower.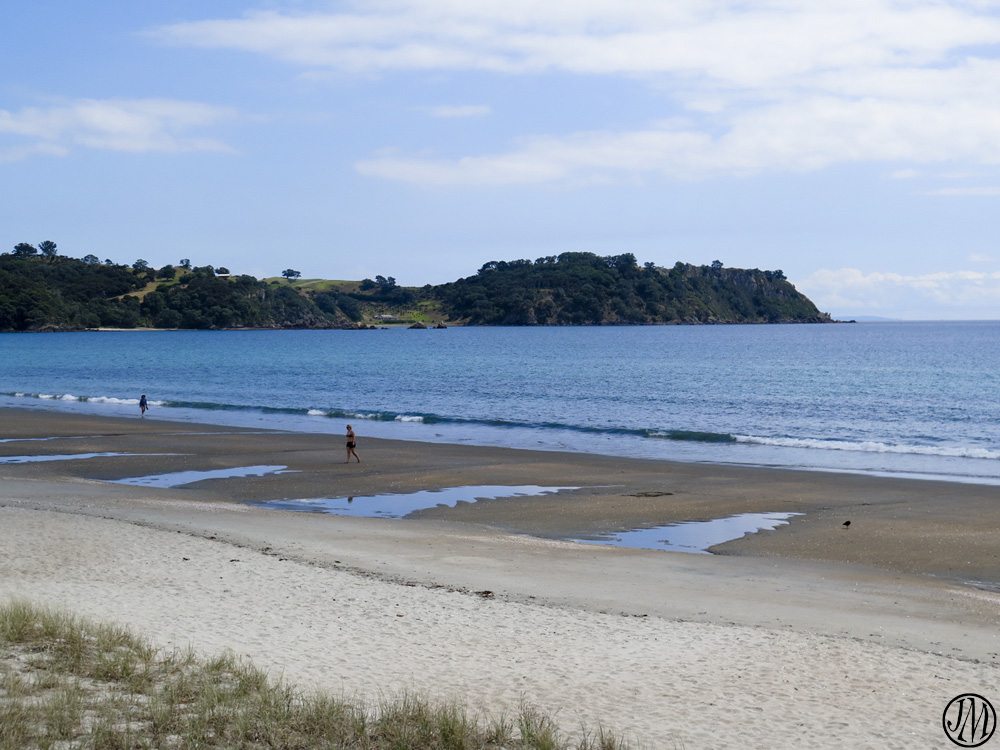 A longer, more open beach, but clearly a lovely place to walk and ponder of a day.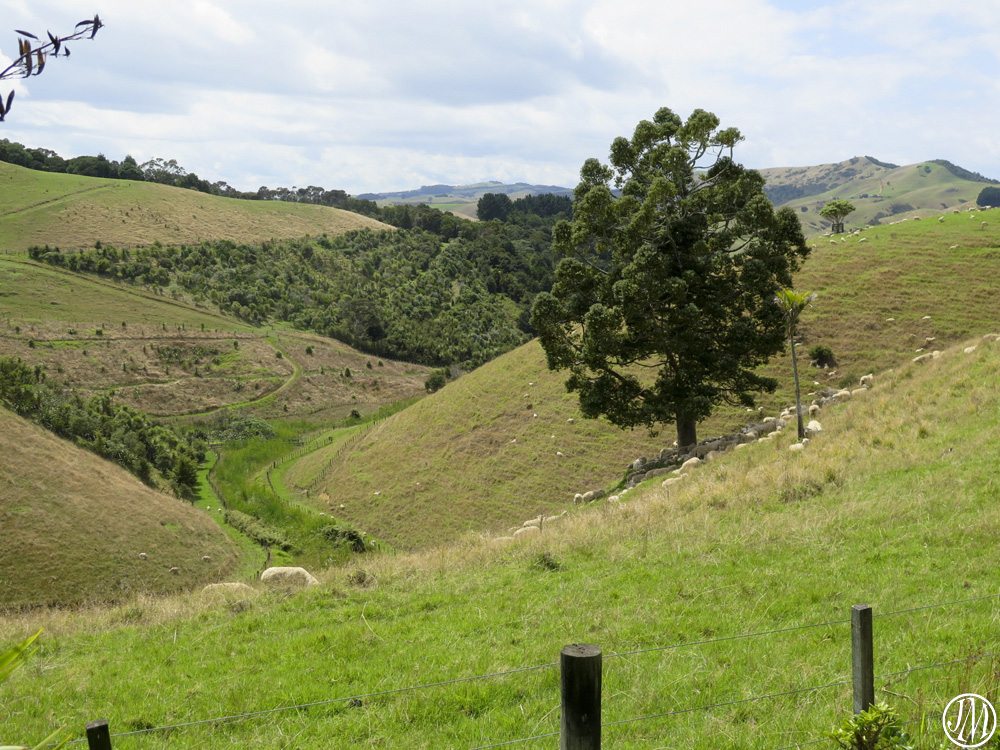 Turning inland, away from the sea, what did we find but sheep – just how typical is that of NZ?  Think they might be almost the first sheep I have posted.  No, I remember, there were some on the Otago Peninsula, many posts ago.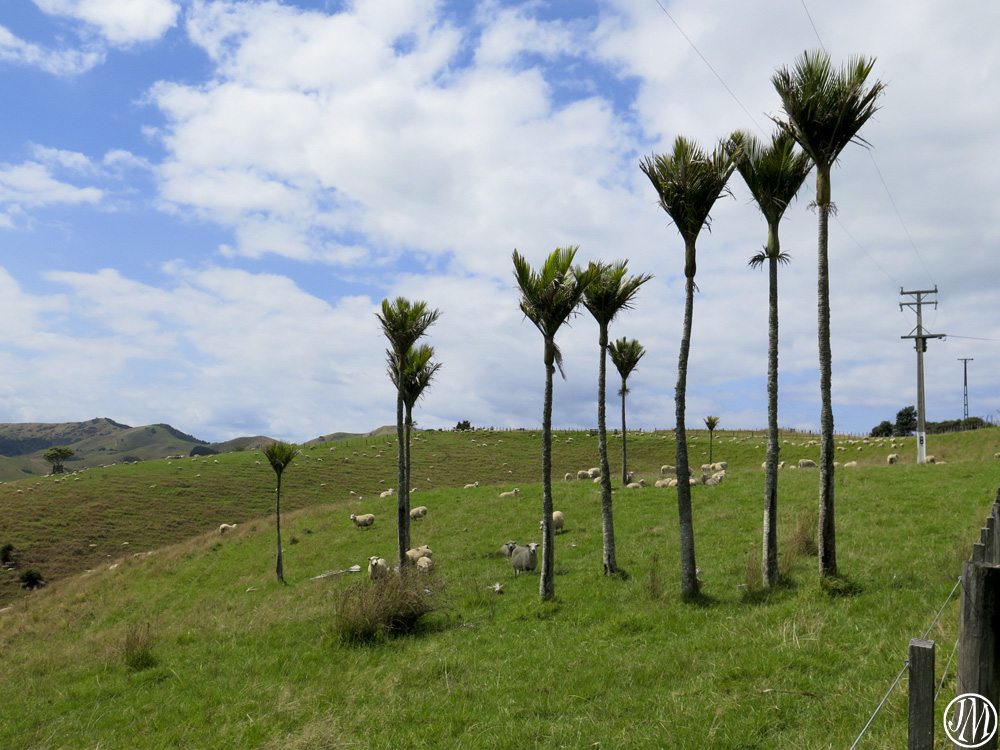 … and a few more sheep …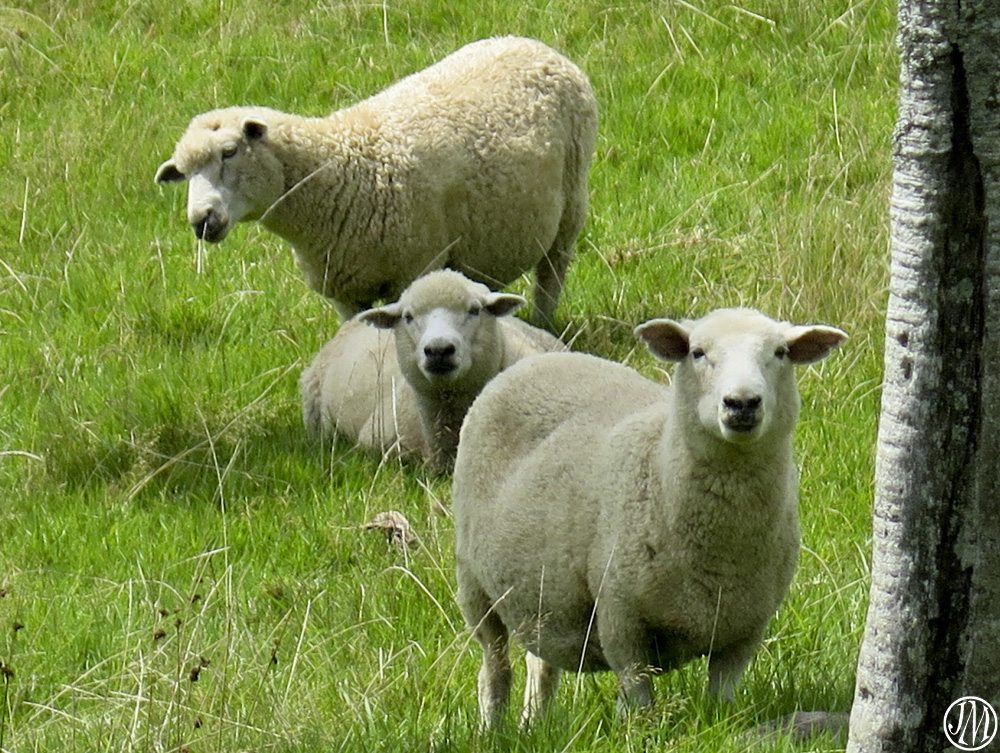 … and one more, up close and personal.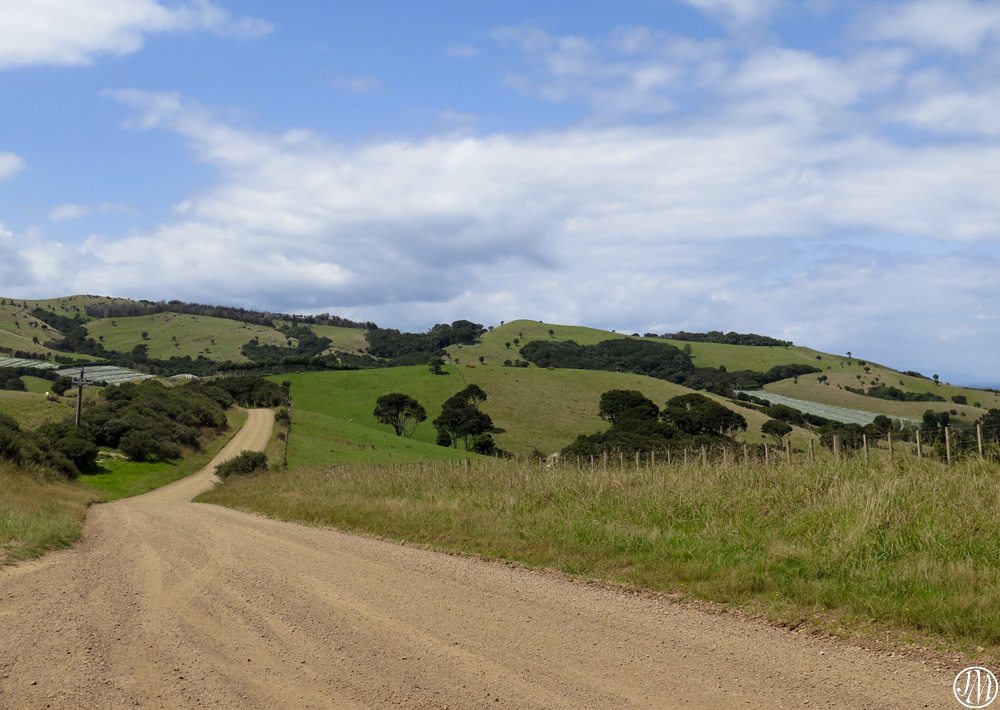 A road less travelled.  Like many of the roads, this one was gravel and a bit dusty but blended nicely into the rolling green hills.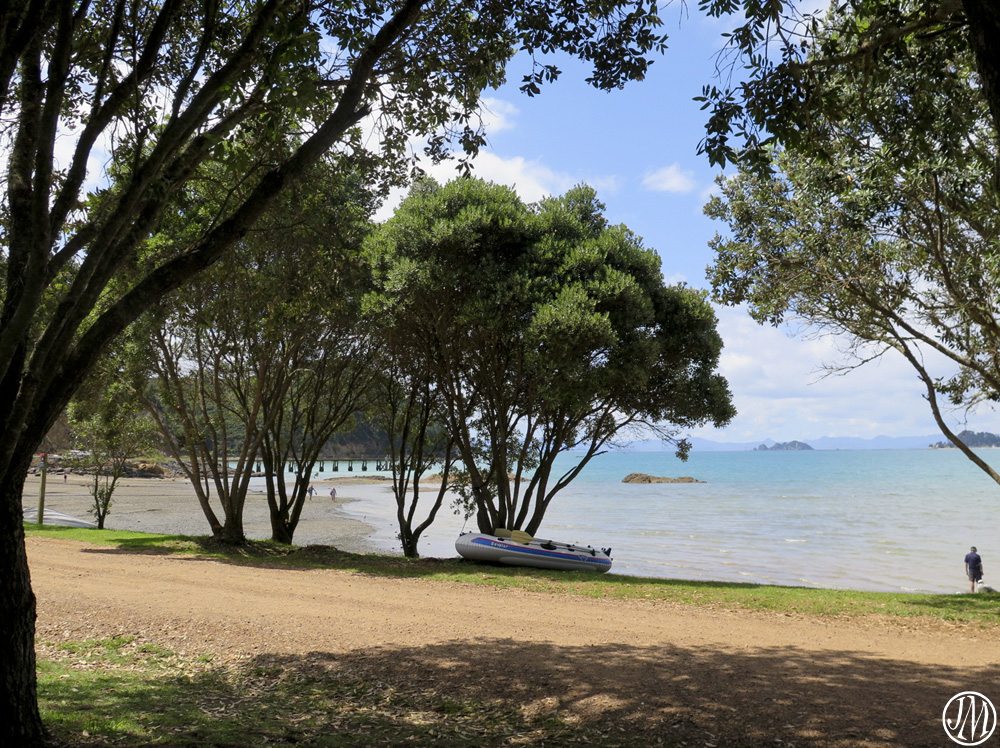 Then we descended into another bay to eat lunch at the 'Man of War' Winery and restaurant, with a lovely view out to sea.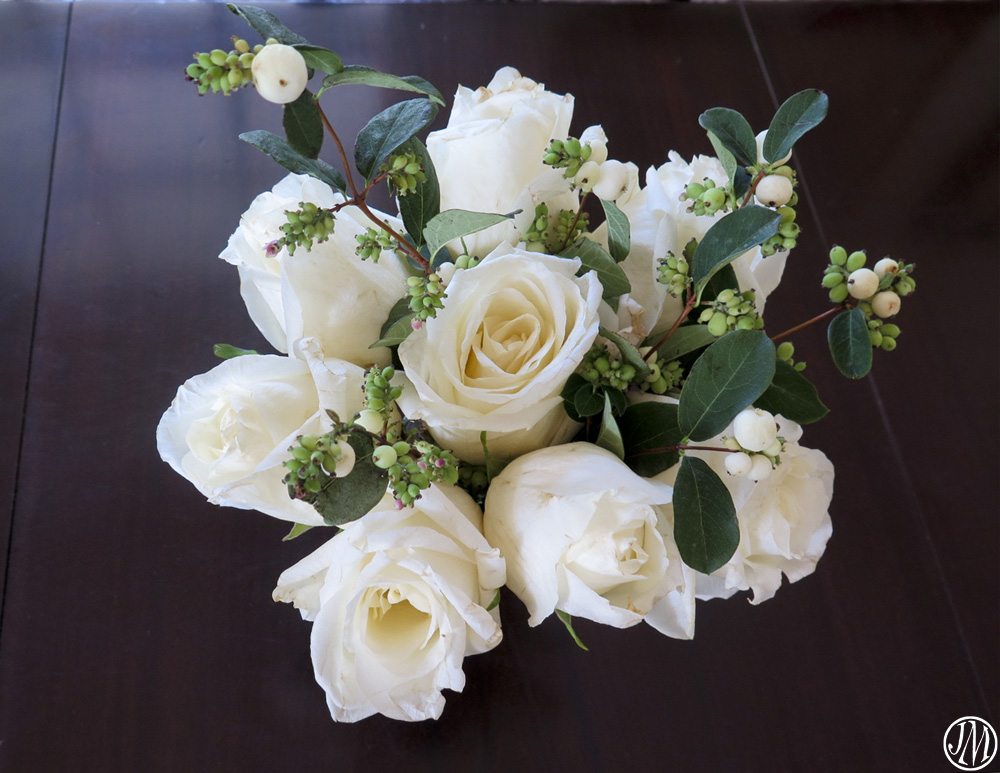 Flowers in the bar …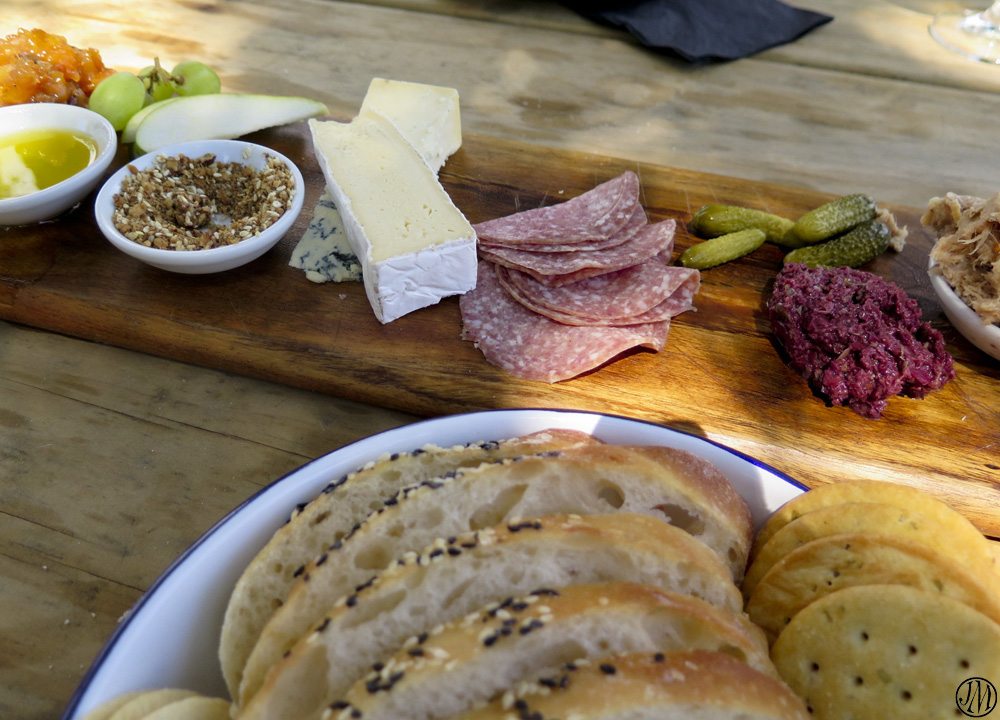 … and a delicious food platter on our table to accompany the wines.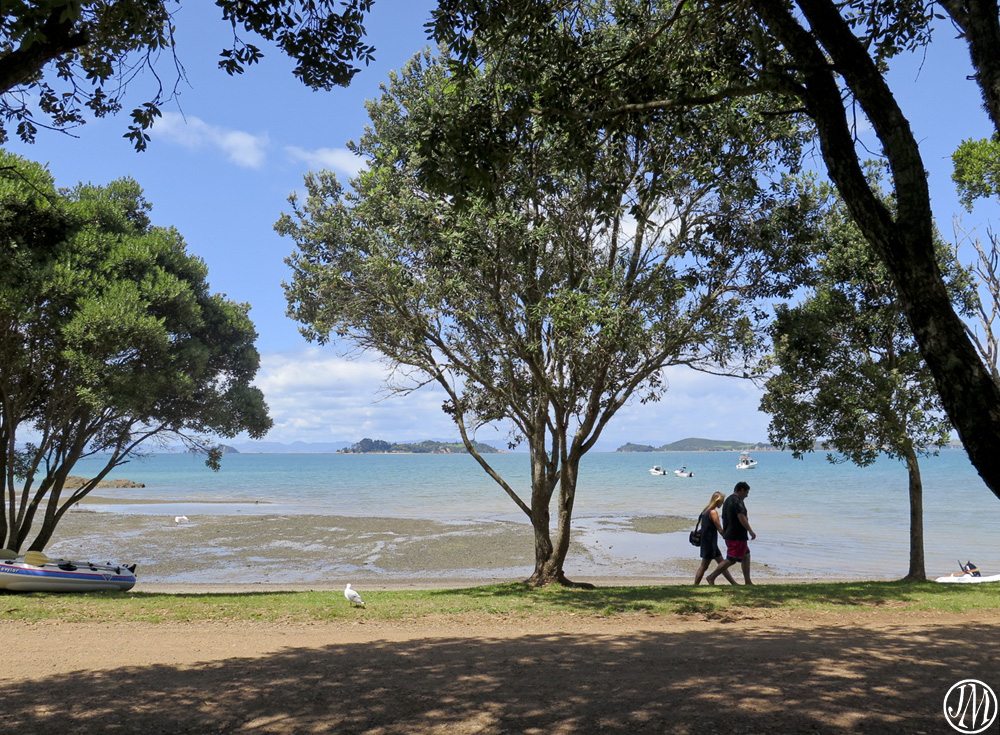 Another view from our table.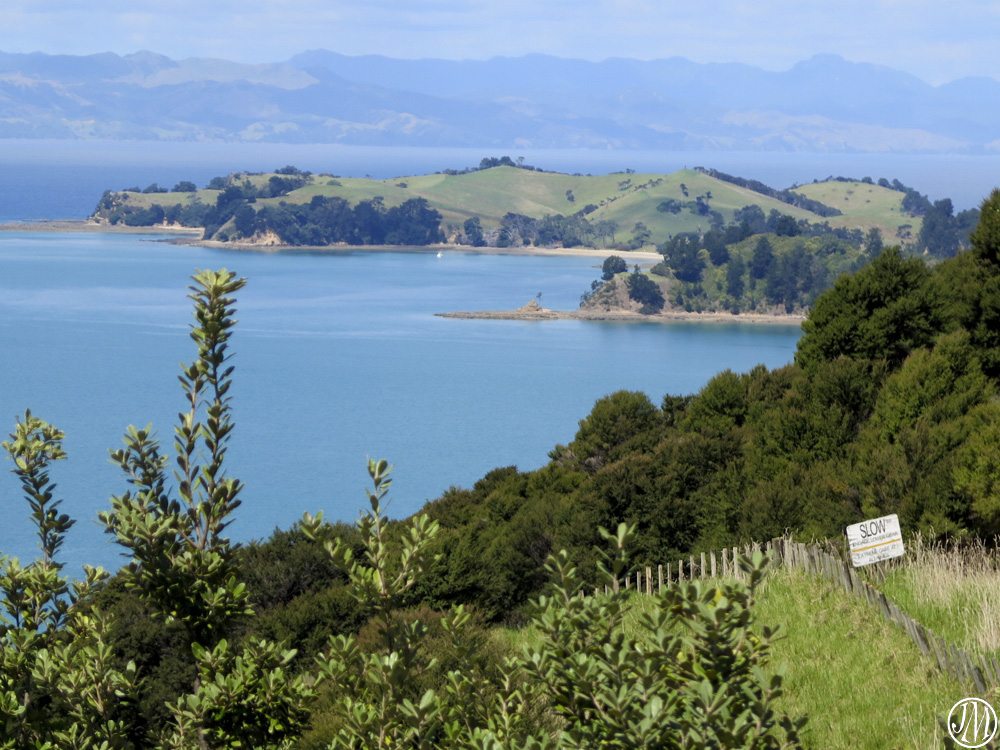 After lunch we continued our drive around the island, stopping often as around each corner was yet another fabulous view.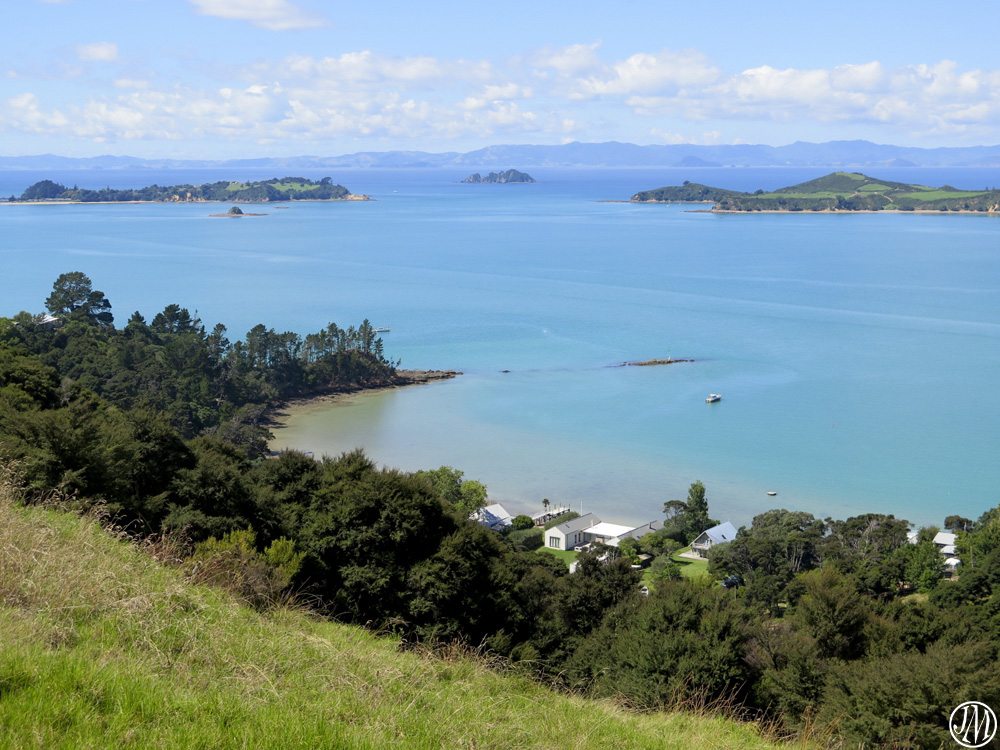 … and another …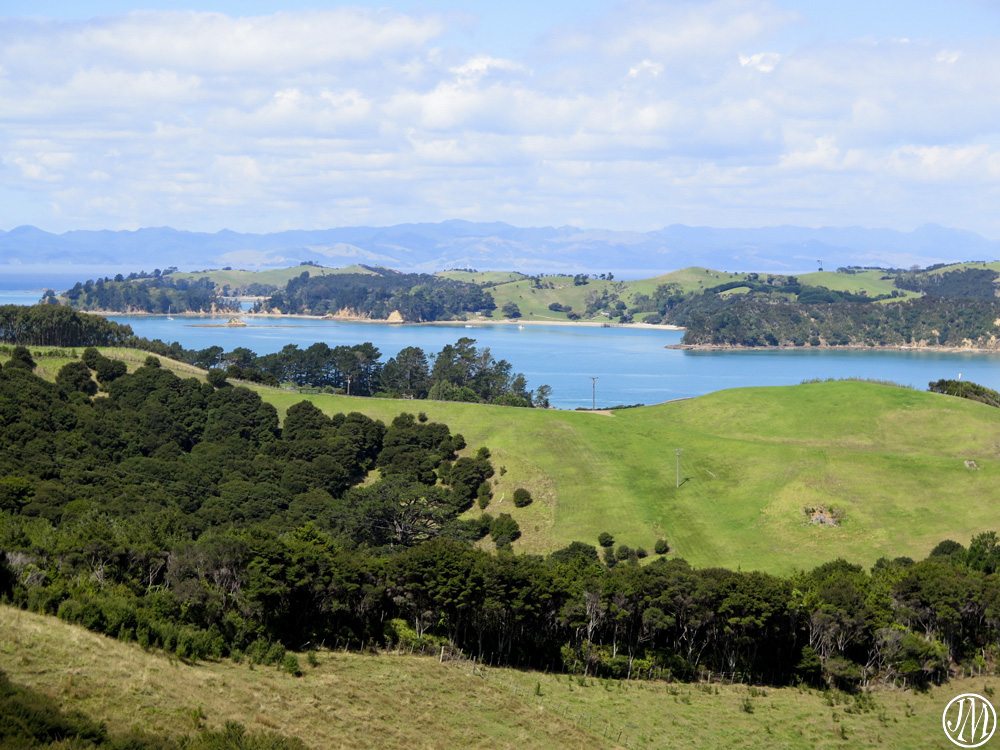 And another. Each little bay with its own collection of houses nestled into the trees and boats anchored off-shore.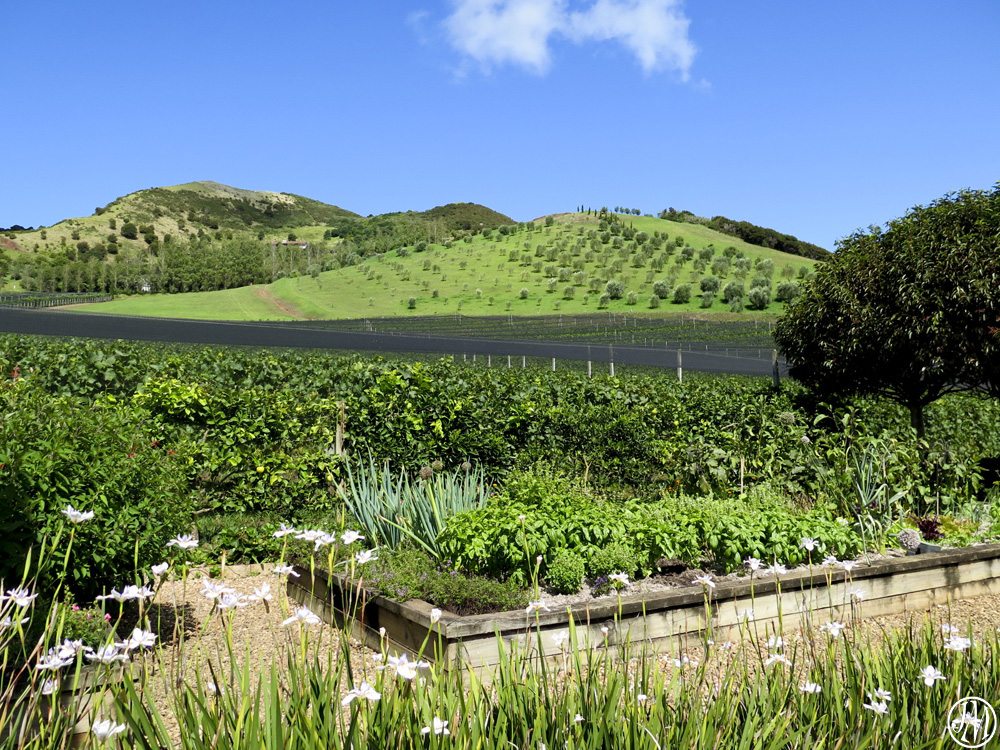 We stopped to see the gardens at Poderi Crisci Vineyard and Winery, with the vines and olive trees behind.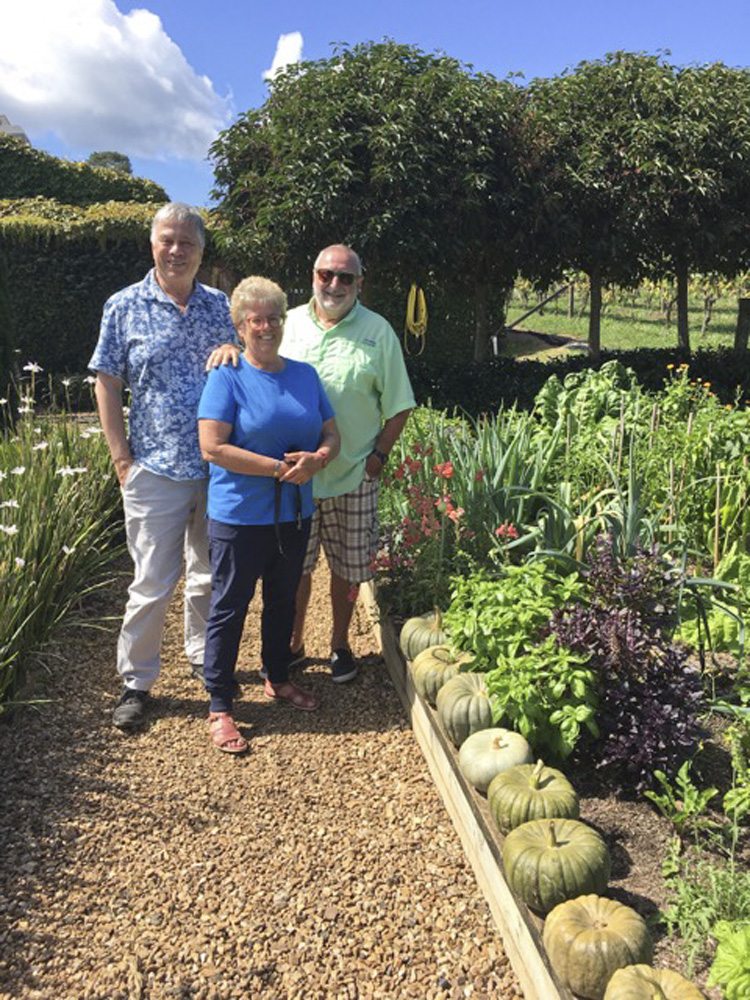 With John and Kavin in the garden.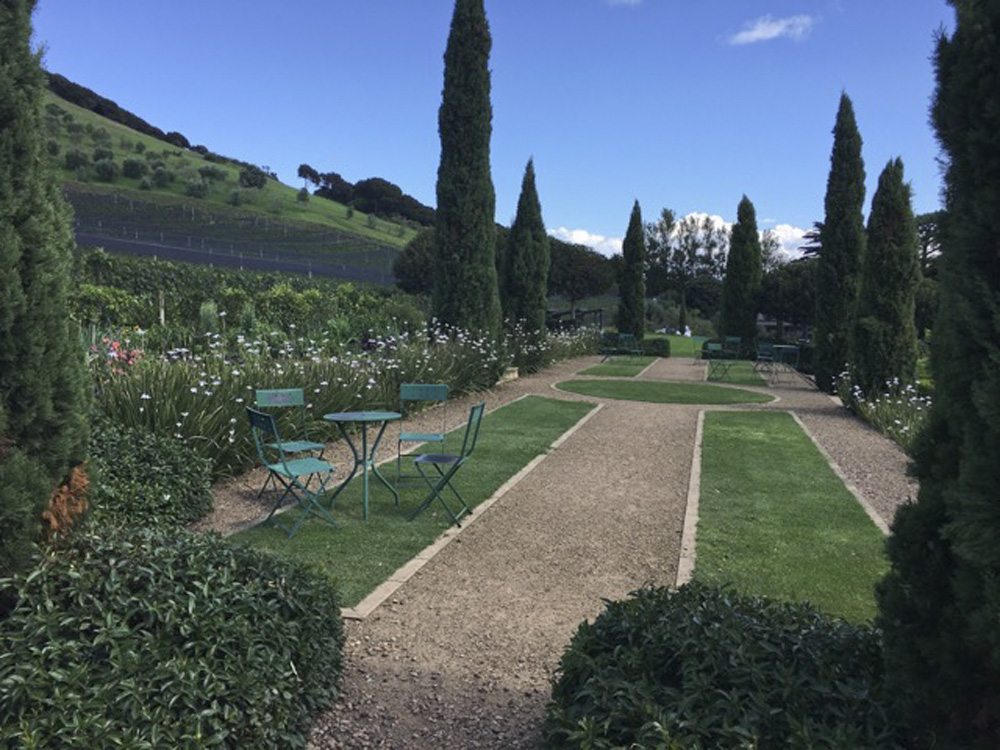 Fooled for a minute that we were in Tuscany.  But no, Waiheke Island.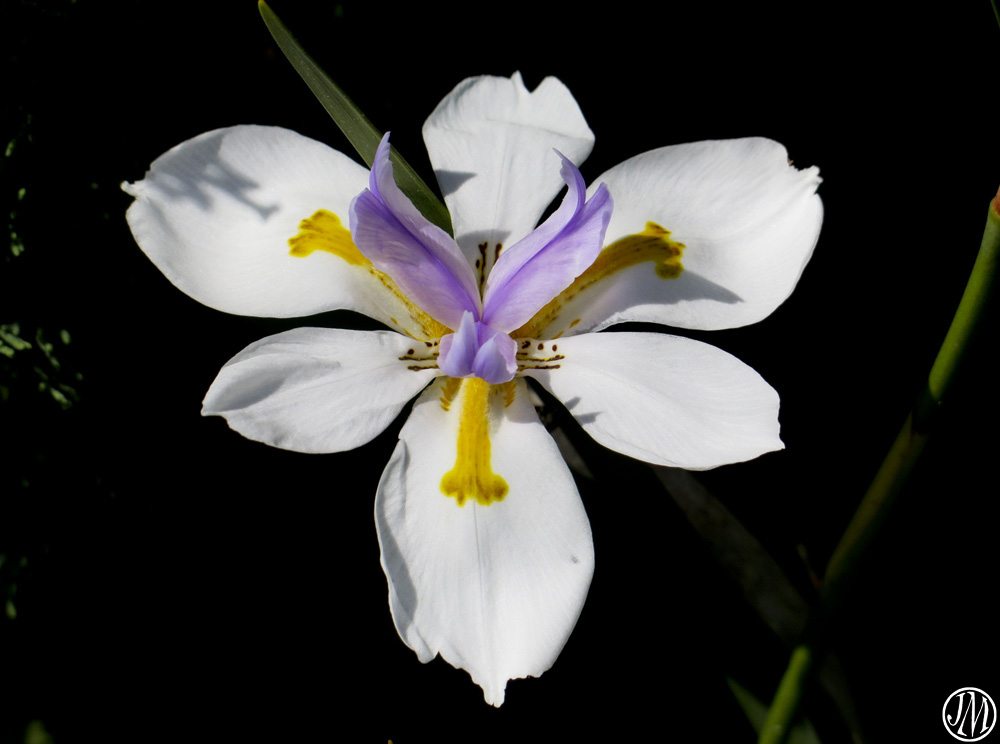 In the garden at Poderi Crisci.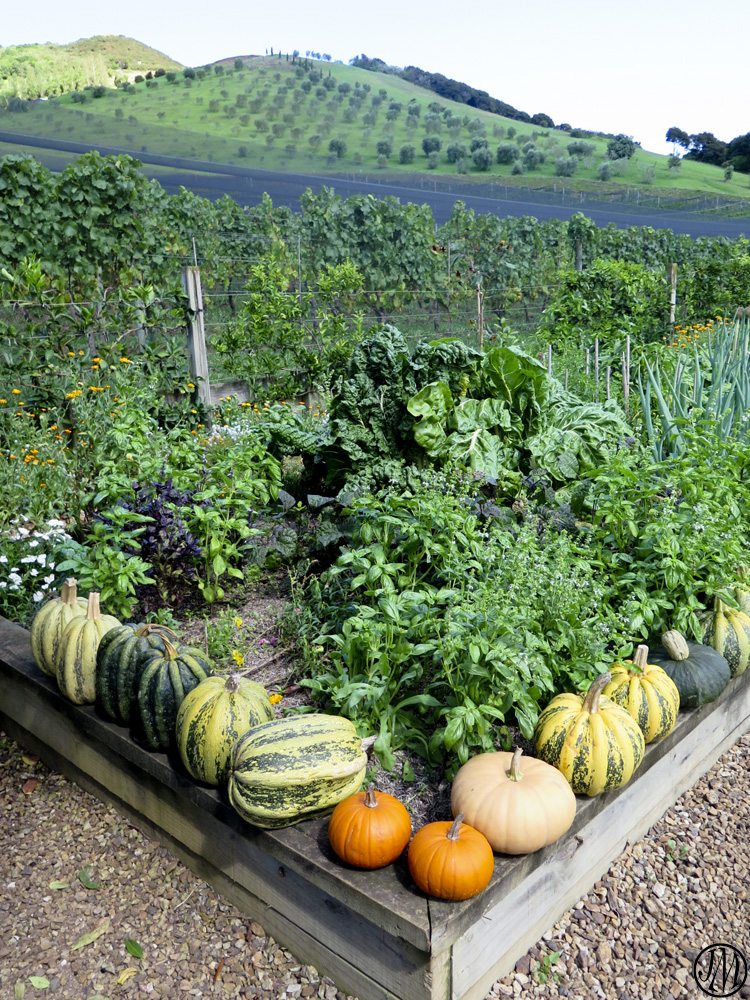 Even the vegetables were laid out artistically.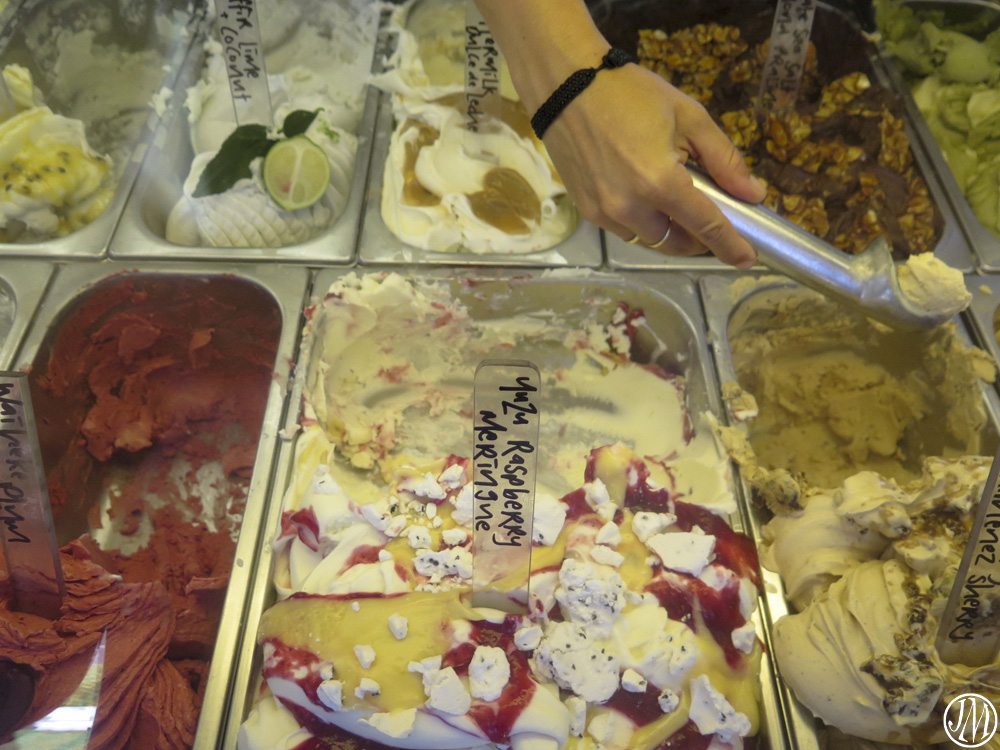 Our last stop for the afternoon was at the ice-cream shop.  I had a huge scoop of the Raspberry meringue – so delicious.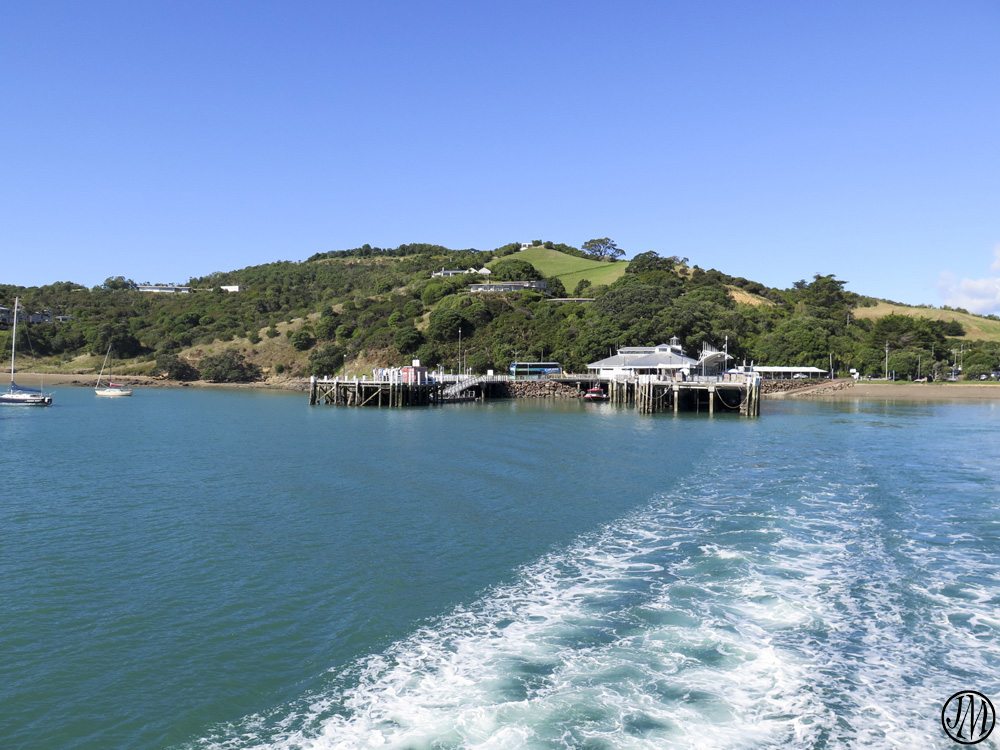 Leaving Waiheke Island in bright, warm sunshine, after a perfectly lovely day out.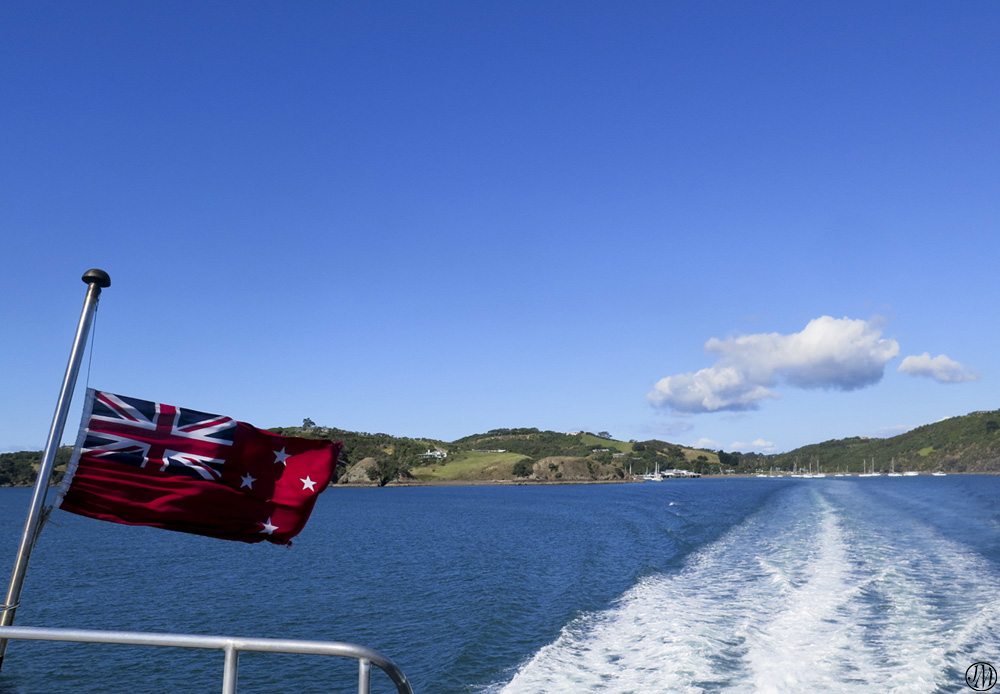 NZ's Red Ensign makes a lovely statement against the green hills, blue sea and sky and white fluffy clouds.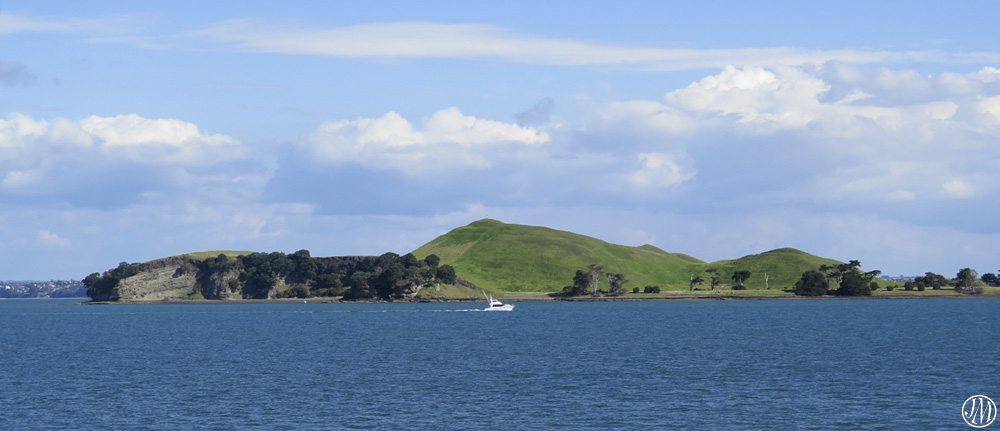 Lovely views from the top deck as we cruise back to the city of Auckland.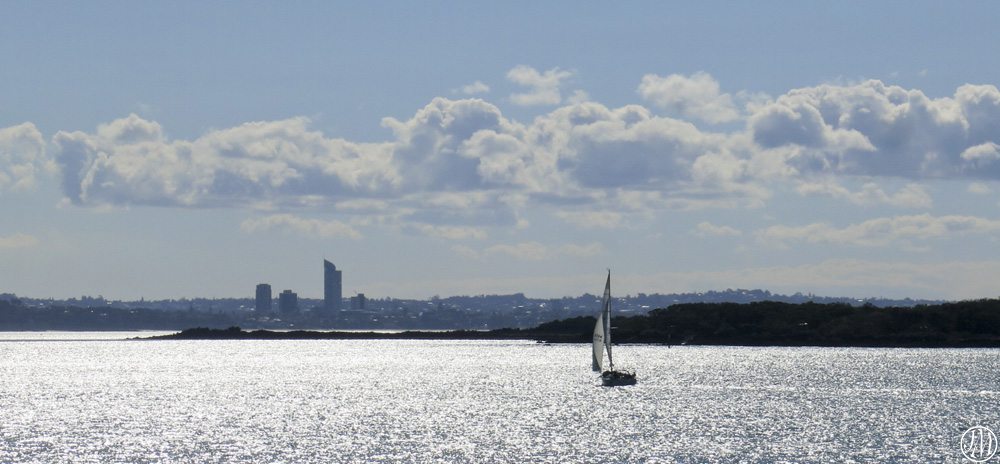 A yacht sails towards us as we get nearer to Auckland.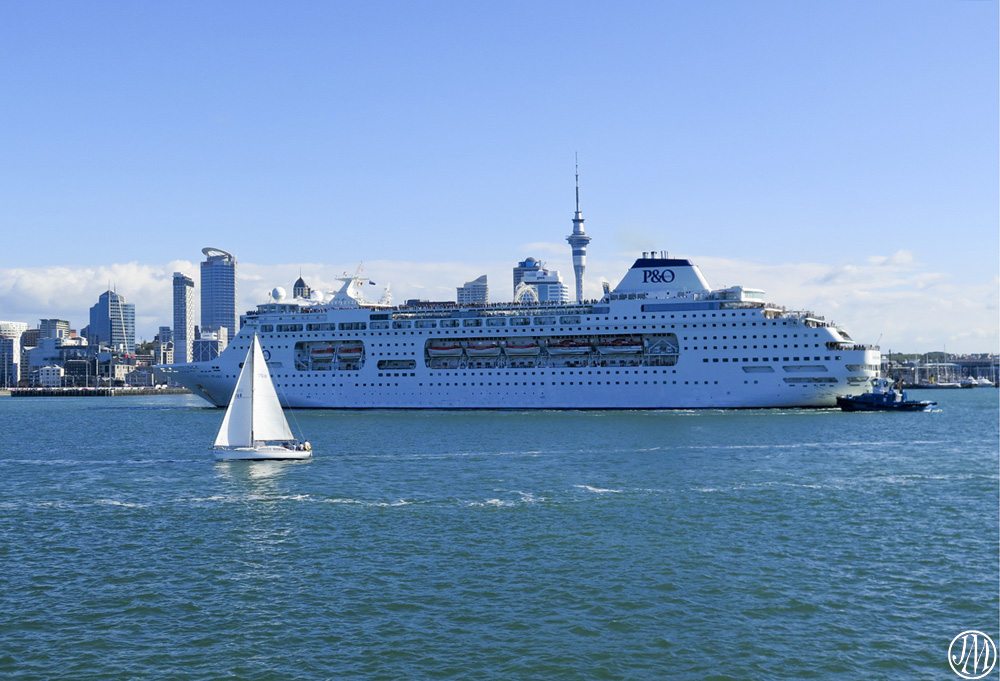 A cruise ship on its way out of Auckland Harbour.
A couple of tourists on board.  Check out the Security Warning on a banner along the side.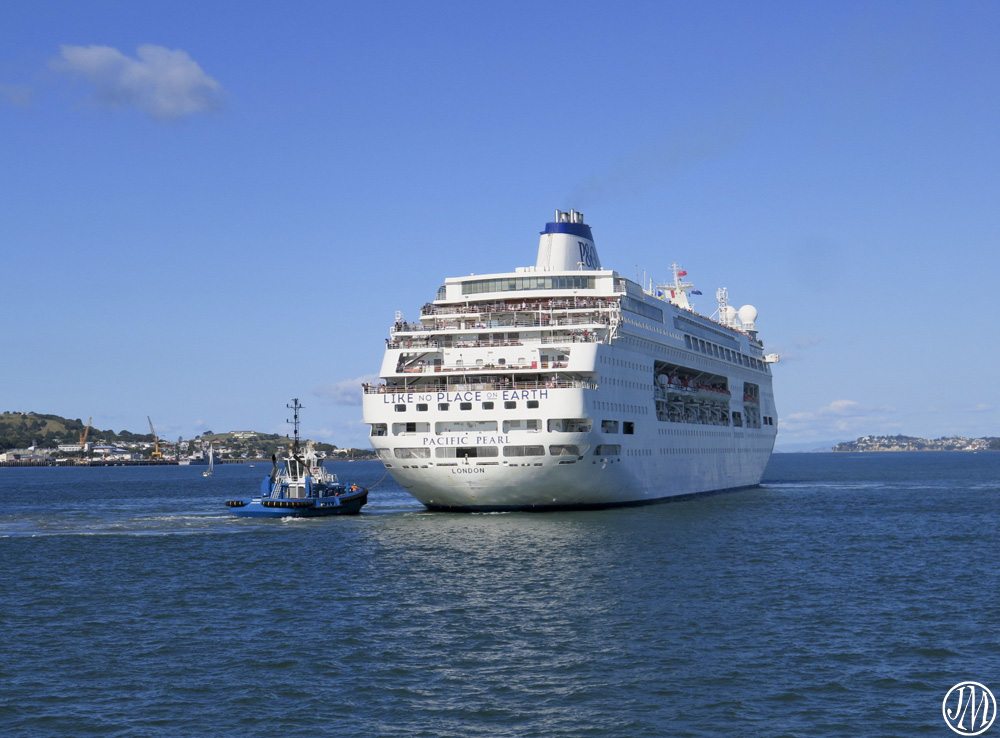 And off they go, on their way to their next port of call.
It really was a beautiful day, and we were again so lucky with the weather – sunny and warm with a light breeze. For anyone visiting Auckland, a day out on Waiheke is an absolute must.  And if you have a local to show you around and tell you how it is to live there, even better.  Thank you, Brian and Kavin.
So, just one more posting to come, maybe tomorrow.  It'll be an overview of our travels and some sentiment about visiting my home country, New Zealand.
Until soon,