Dear friends,
I have long wanted to see the fall colours in Vermont and it turns out that I was there at the optimum time to glory in those remarkable colours and bright landscapes.  How great to have my friend Lois who lives near Duxbury, between Montpelier and Burlington, to take me through some stunning landscapes.  She was most patient as I repeatedly asked her to stop so I could snap away at the colours.
So here goes – Vermont's beautiful fall colors, or as I would probably say "autumn colours".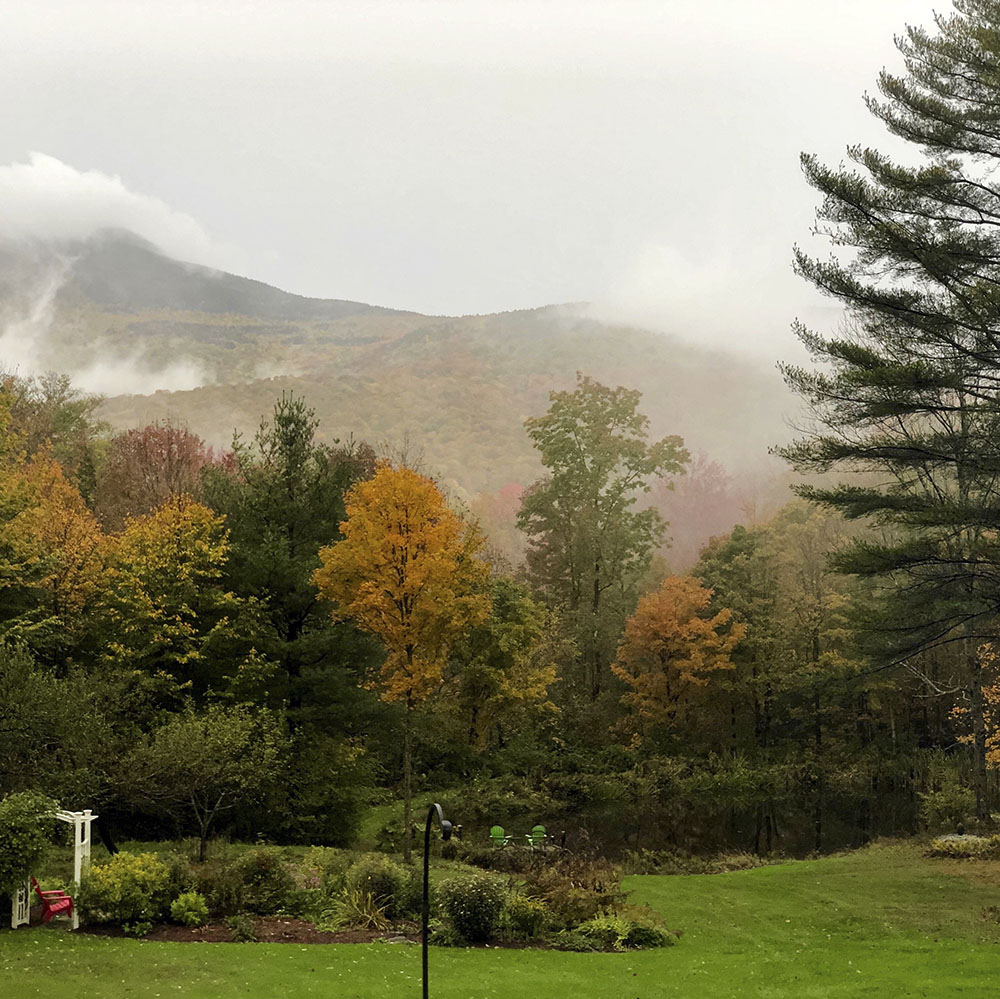 Arriving on a misty evening, Lois's garden was truly evocative of 'the season of mists and melancholy'.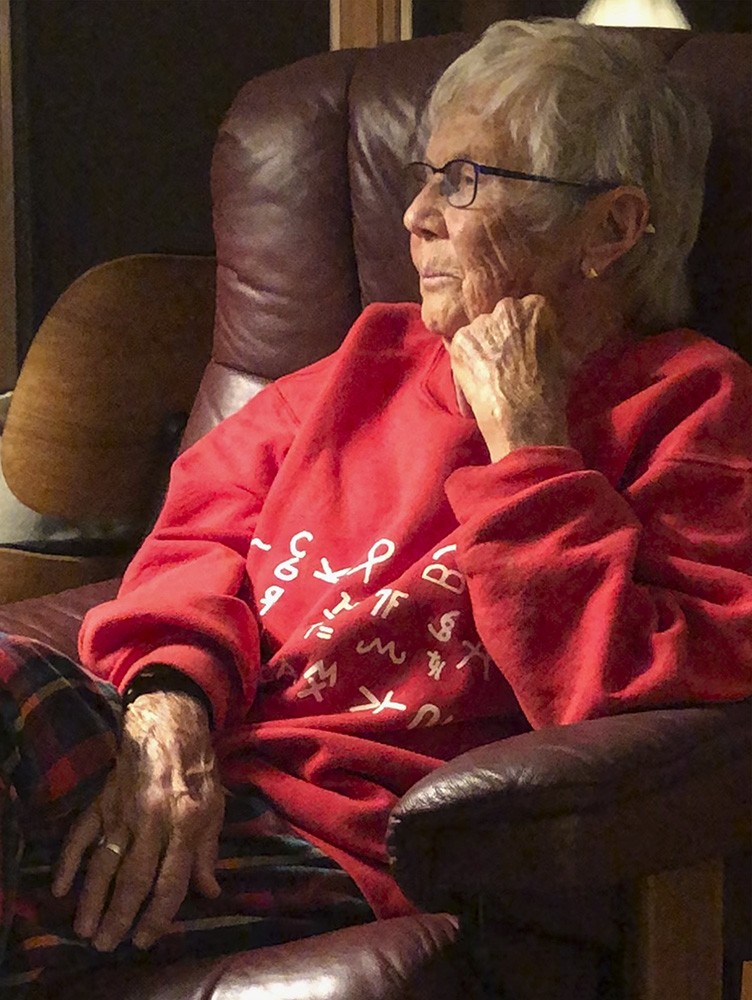 The exceptional Lois, now a mere 88, and one of the smartest, funniest, most hospitable people I am privileged to know.
We met on a cruise ship traversing the length of the Indian Ocean back in 2009 when she was a traveller and
I was lecturing to her group. She has visited Chiang Mai and I was lucky enough to stay with her a couple of summers ago.
I want to be like her when I grow up.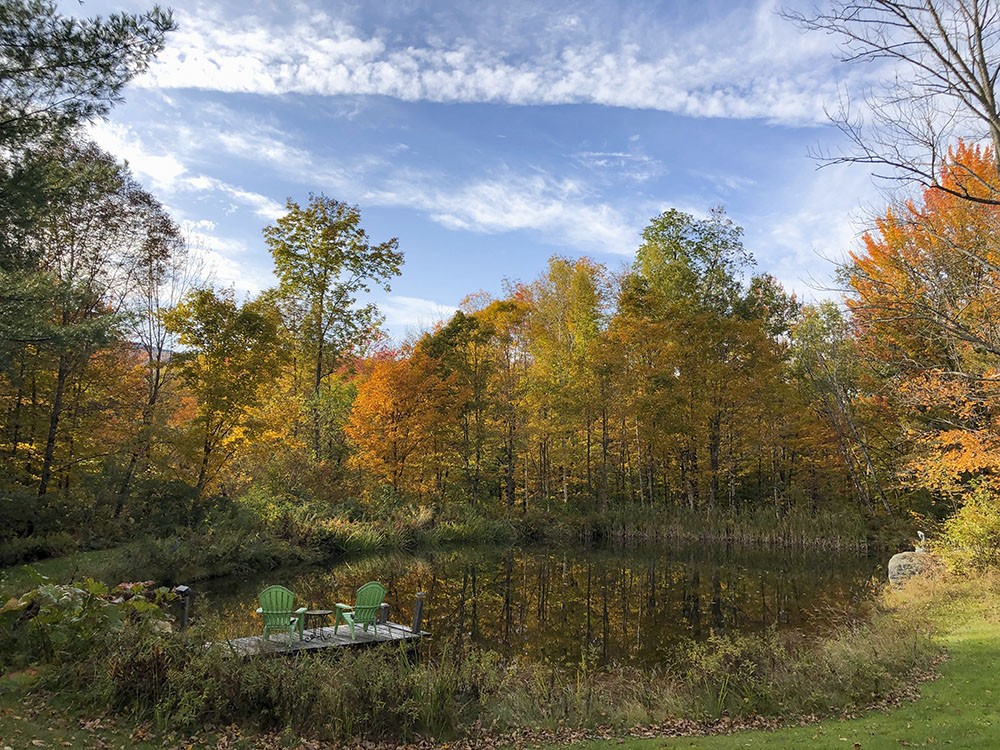 But the next morning under sunny skies, there were just the wonderful hues to contemplate.
My favourite tree – silver birch – at its best.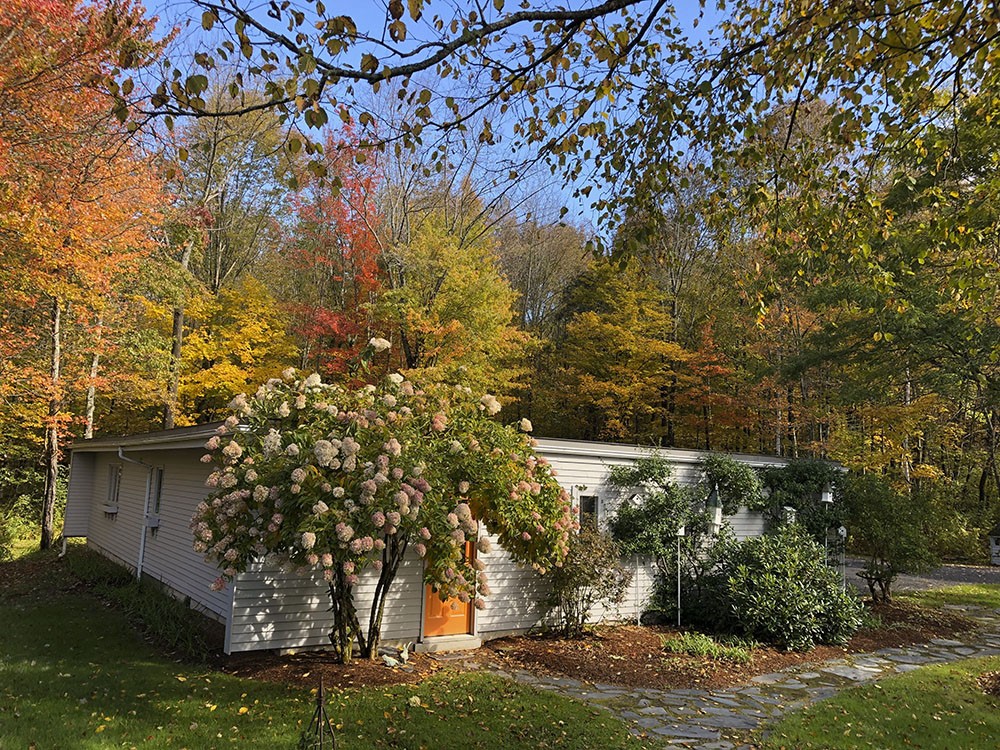 The garage door almost hidden under a giant hydrangea.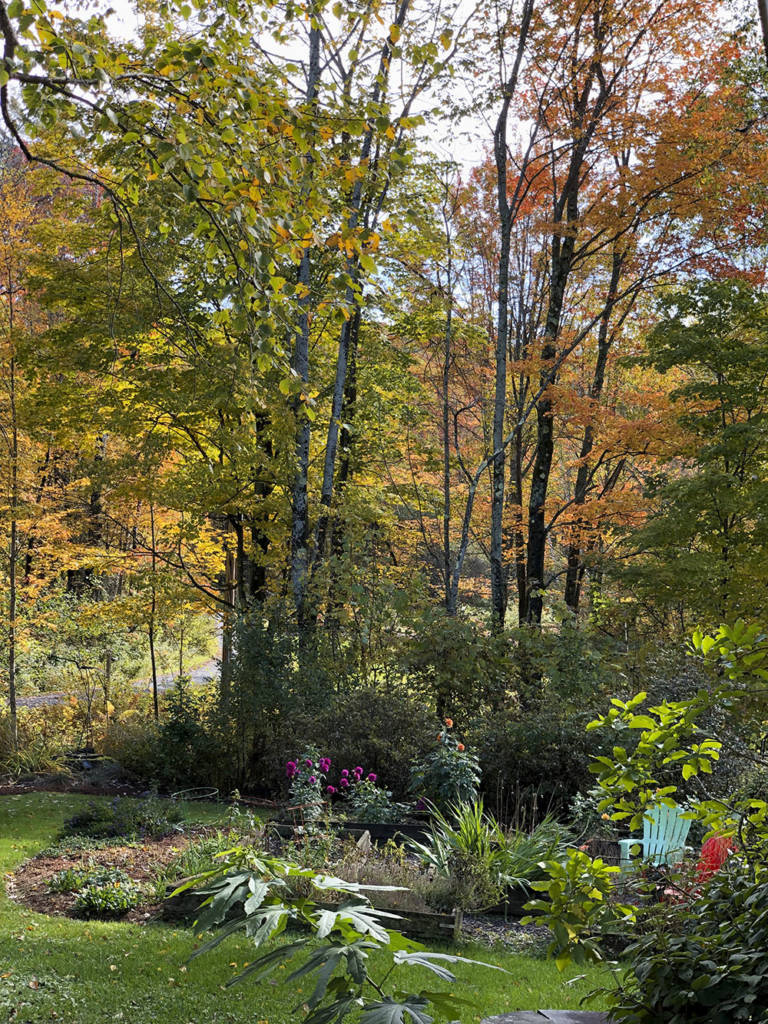 Another beautiful corner of Lois's garden.
And why not?  A monkey with a stash of blue banana greets visitors from the side of the driveway.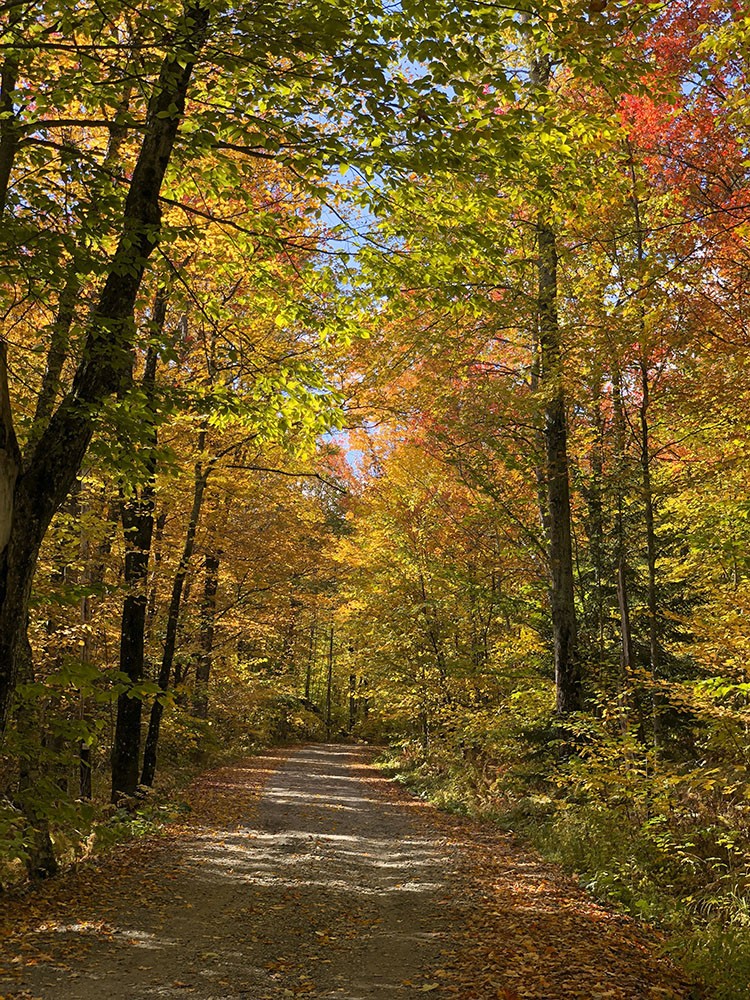 A shady lane just asking to be the direction of a walk.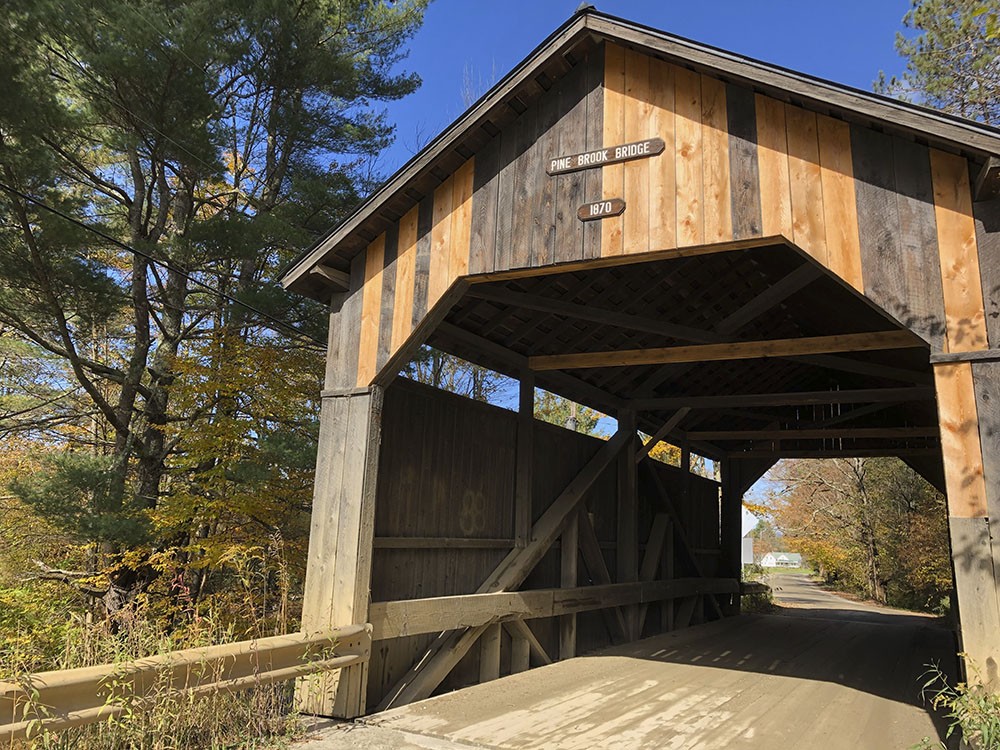 Pine Brook Bridge – one of the famous covered bridges of Vermont.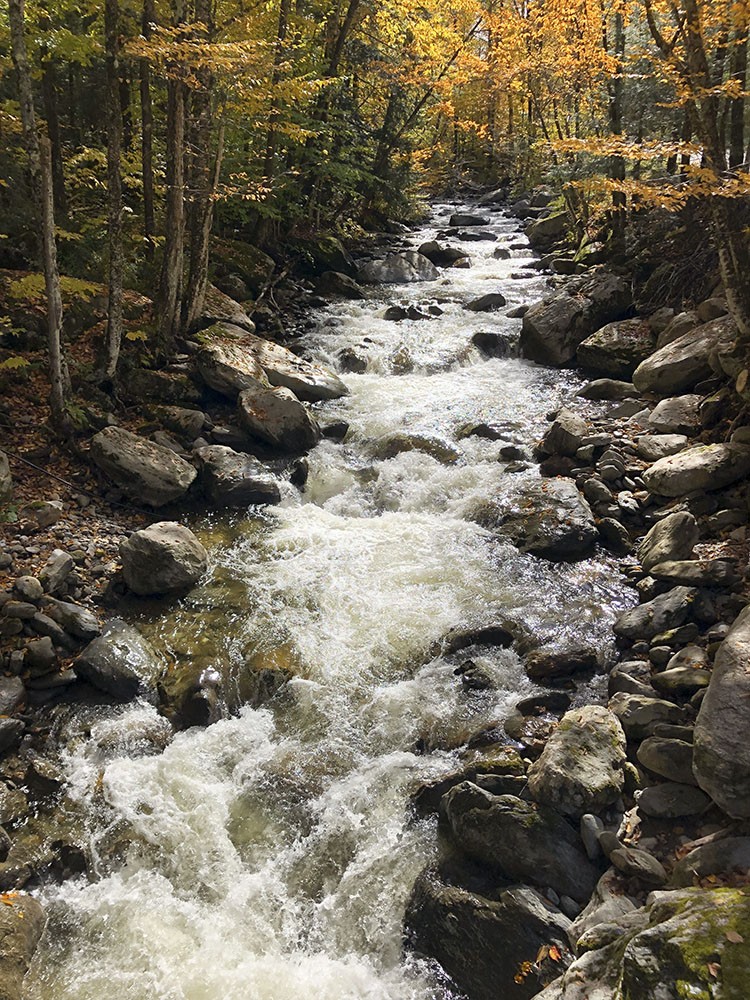 A rushing stream tumbles over its rocky bed and carries away the falling leaves.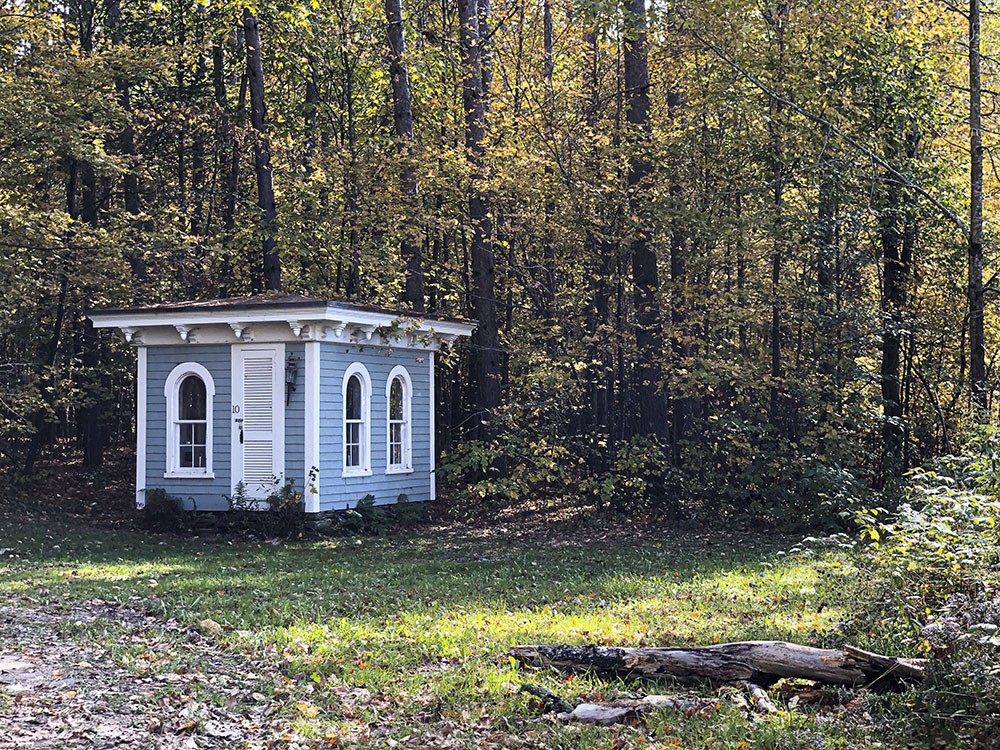 I loved this tiny house among the trees. I walked up close and peered in the windows. Inside a desk, computer,
easy chair and heater. What a great place to work, or write your next masterpiece.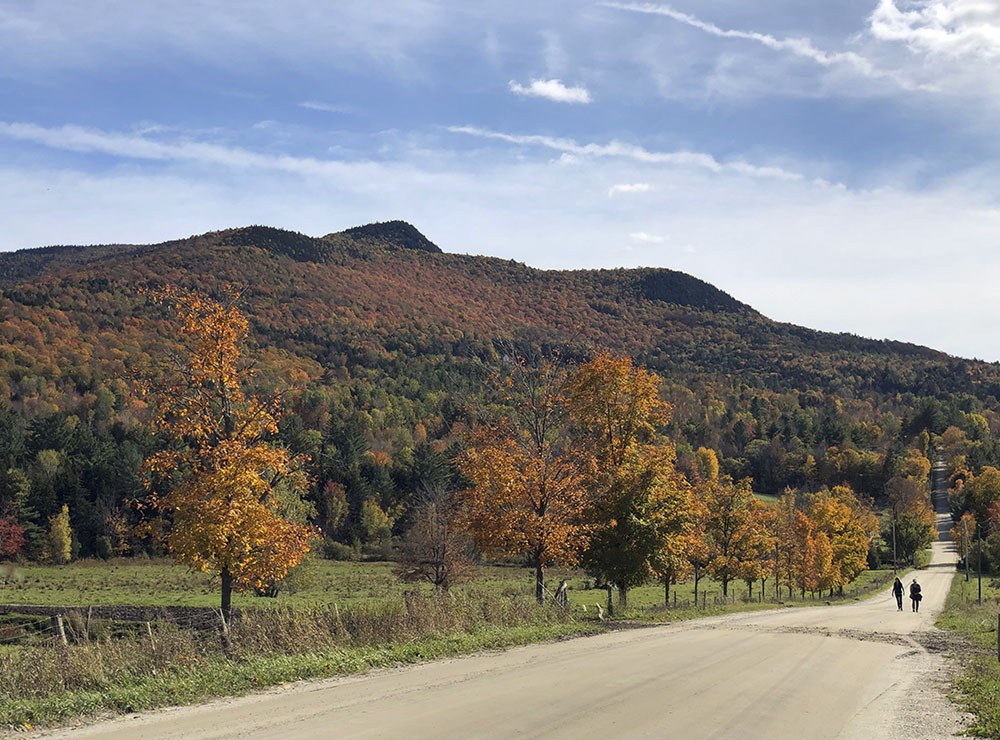 Everywhere we drove there were such glorious sights and clearly this was a day to enjoy a companionable walk for this couple.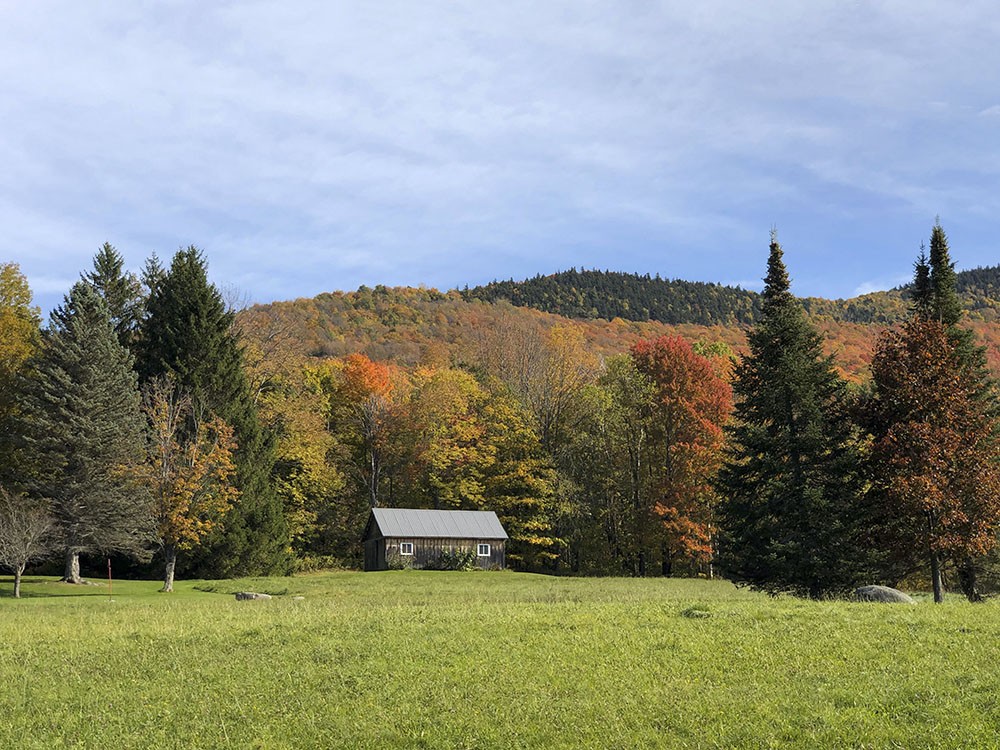 In a cottage in a wood ….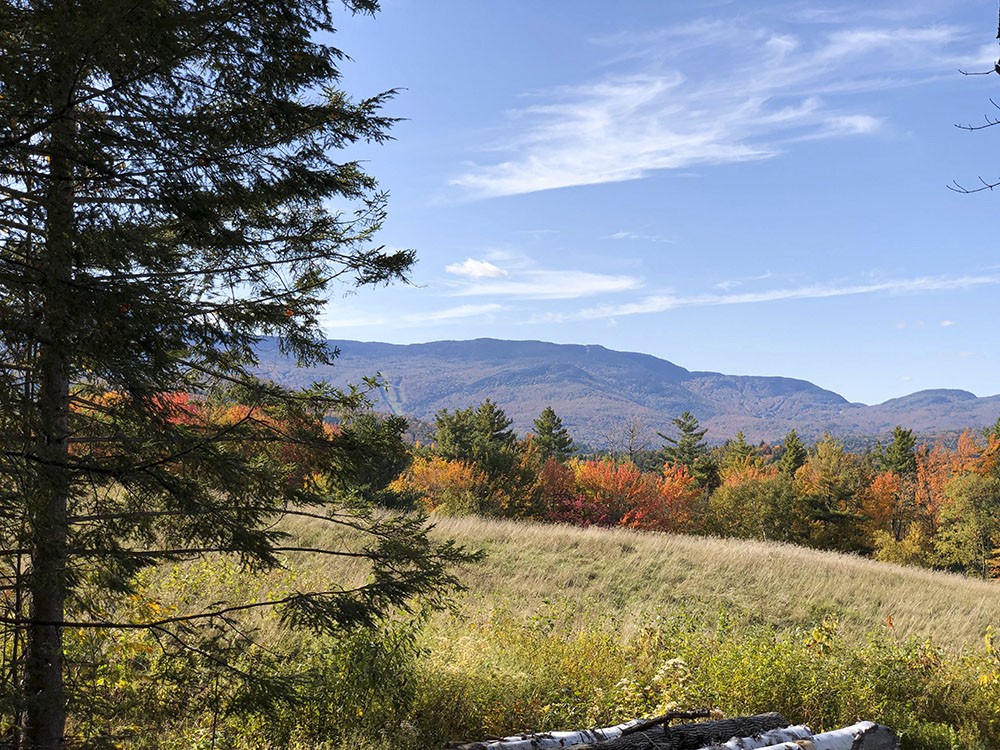 … and just another magnificent landscape with gradations of colour into the distance.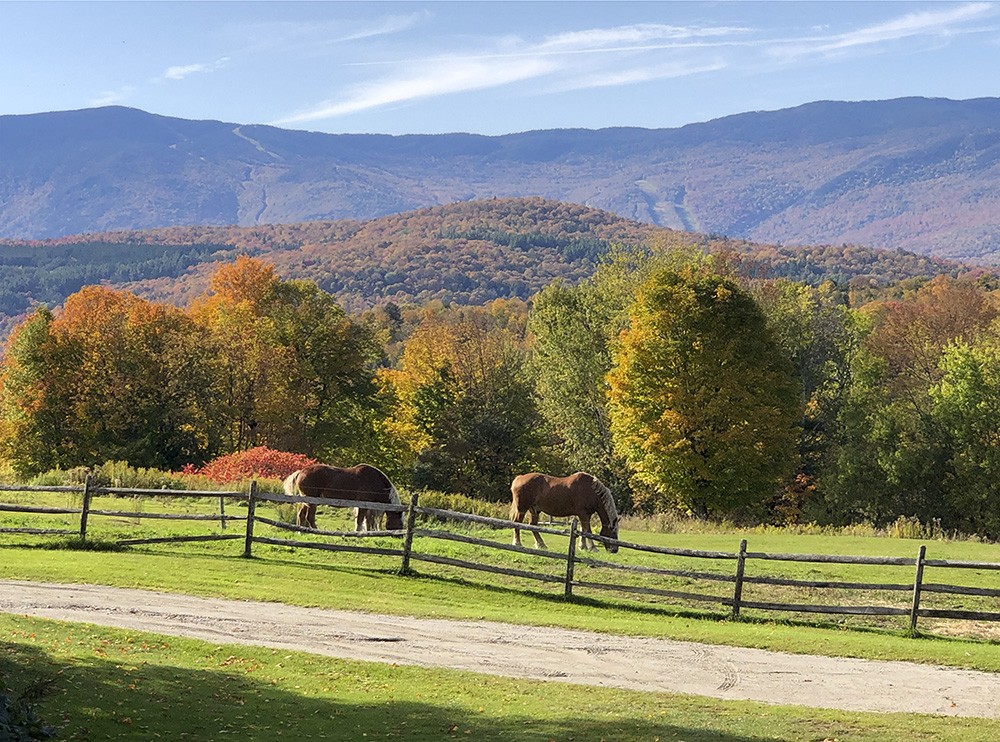 The horses still outside enjoying the last of the summer grasses before the cold and snow sets in.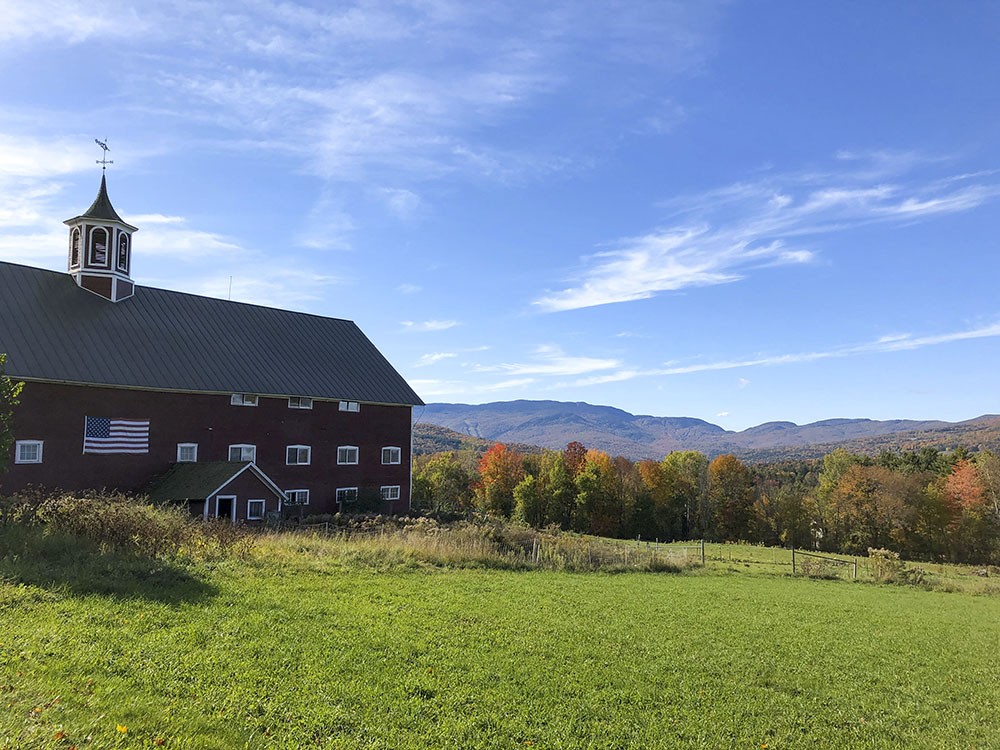 A beautiful red barn sits comfortably among the rolling field and woods.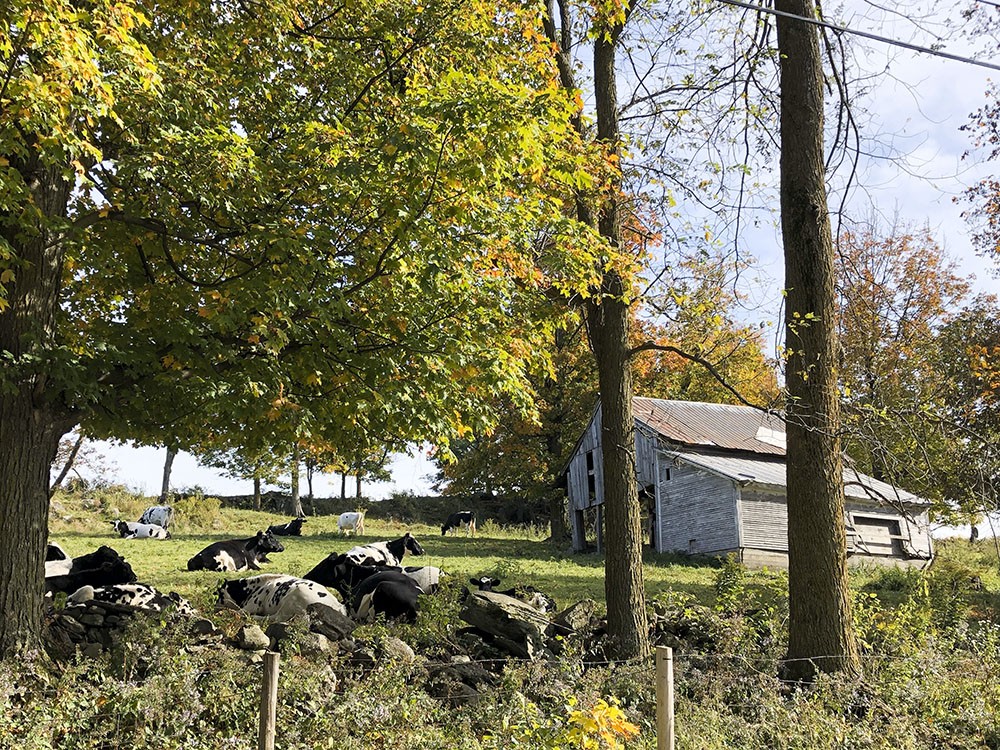 The cows enjoying the last warmth of the sun before they are moved inside to eat the stored hay through the winter months.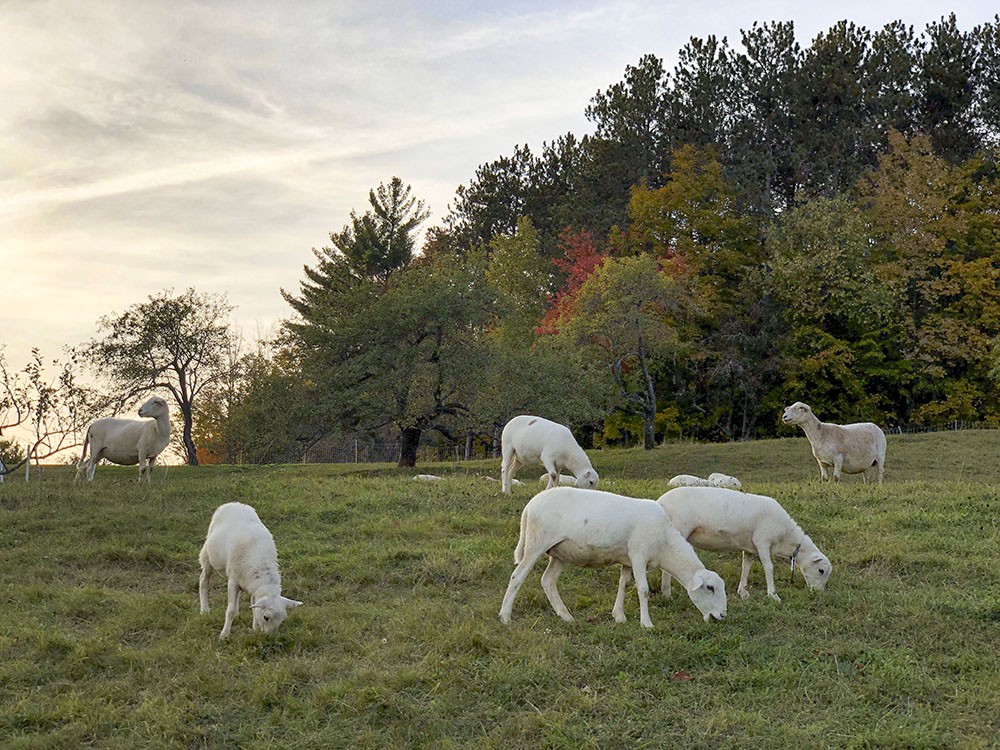 Can't forget the sheep, they were out grazing as well.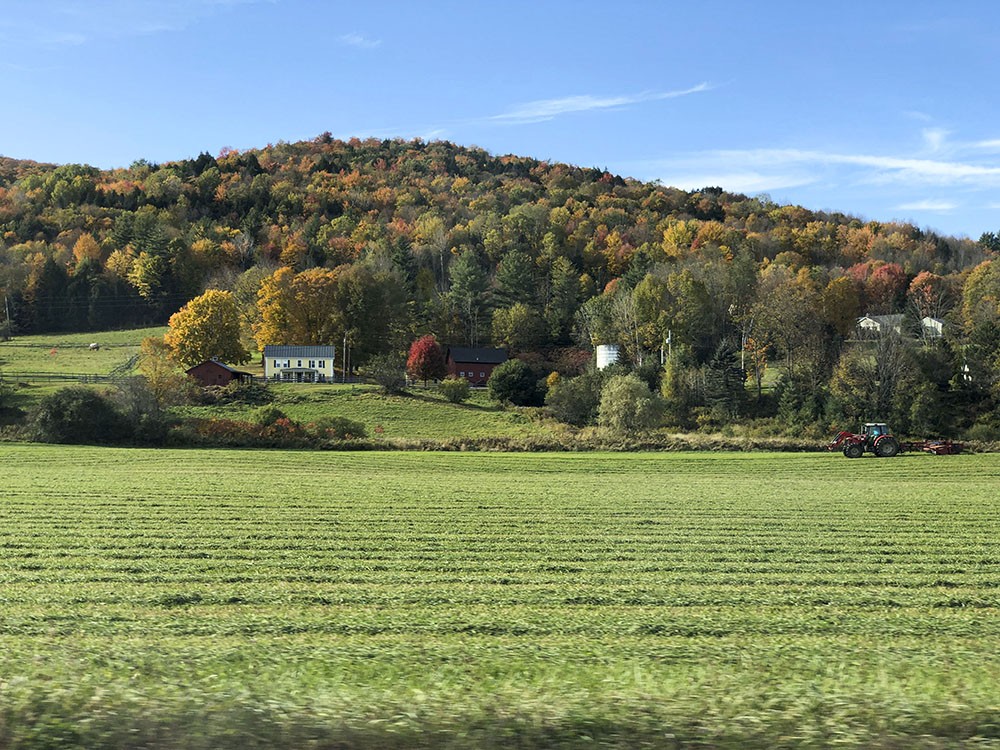 What a perfect position for that farmhouse, backed by the mountain and looking out to the fields.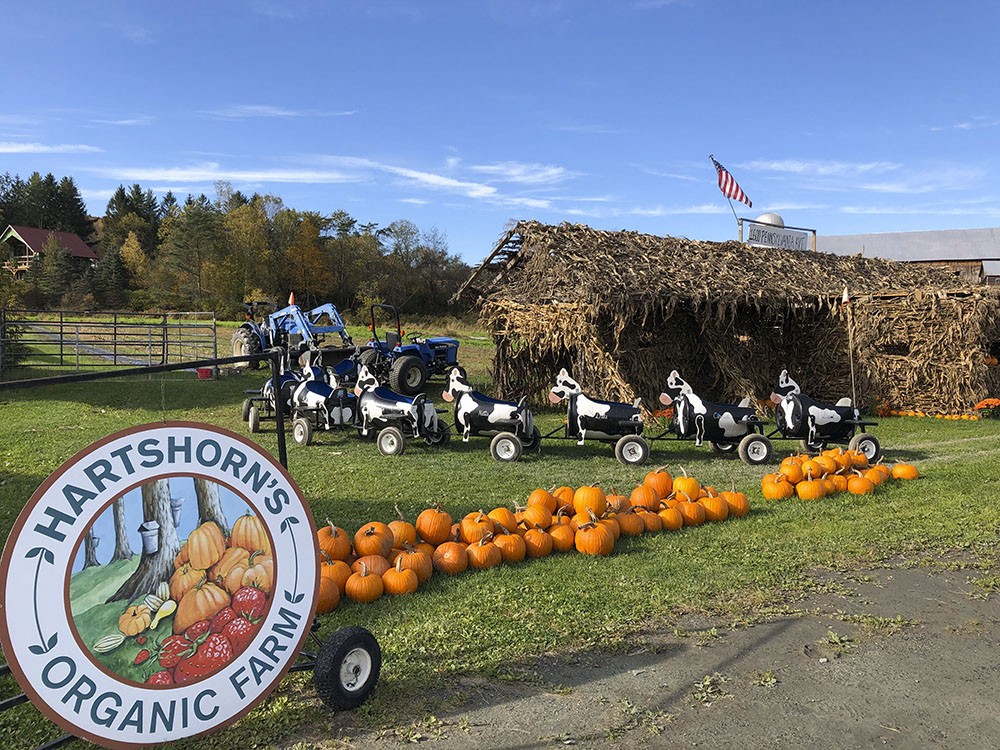 We stopped by this roadside market, with plenty of seasonal vegetables and some fun for the kids too.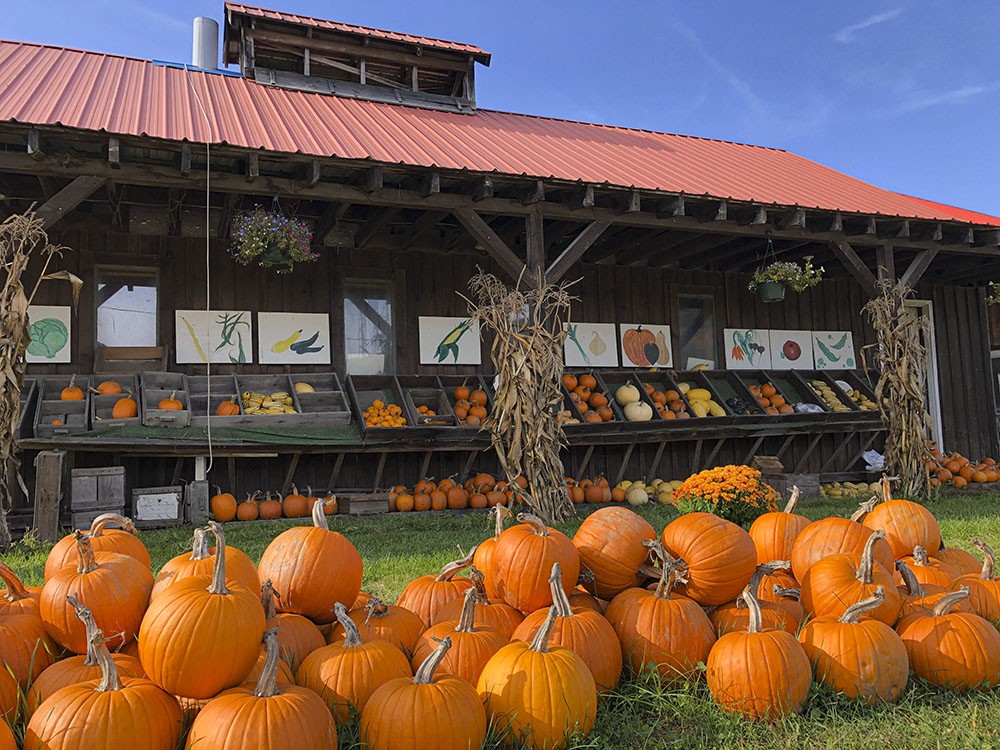 Pumpkins and gourds of all shapes, sizes and colours.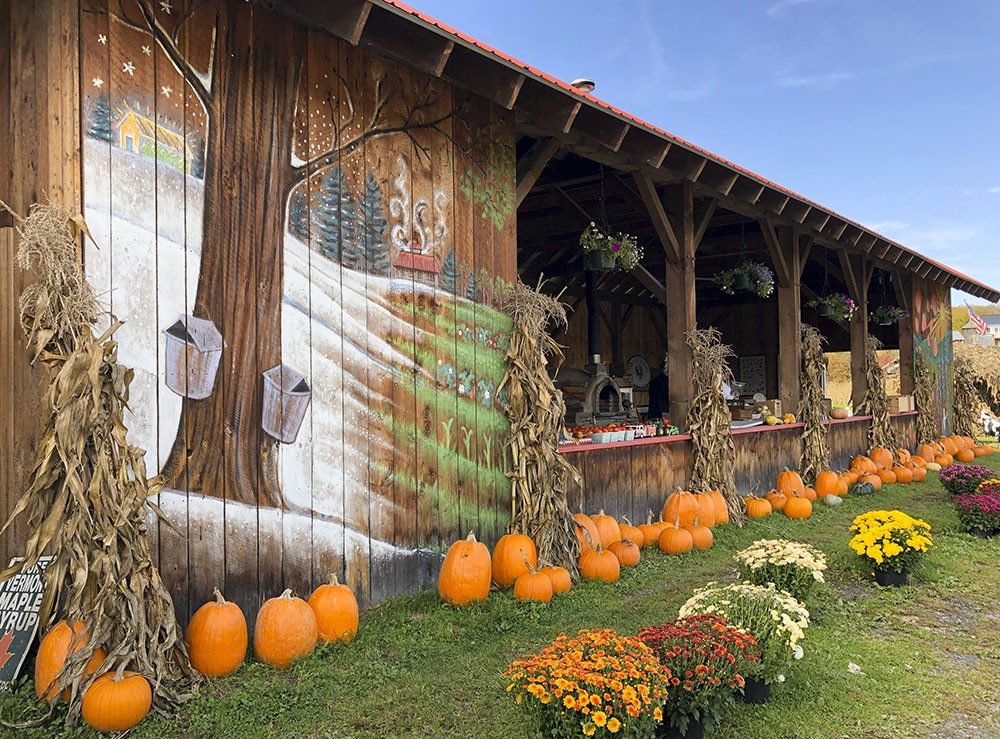 Didn't buy any but Vermont is of course also famous for its maple syrup as advertised by this painted wall.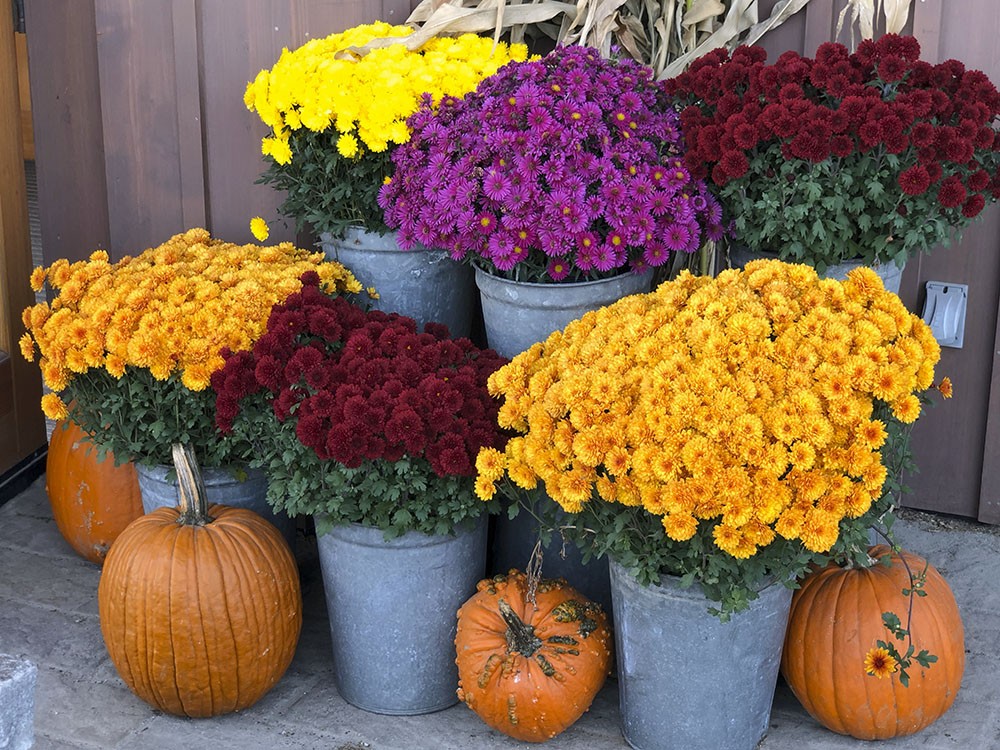 An artful arrangement by the door. 
Just a glorious array of colourful flowers for sale.
As on any road trip with all the stopping and starting and oohing and aahing about the colours and landscape, we wanted to find a nice place for lunch. And so what better than to try the Von Trapp Bier Hall.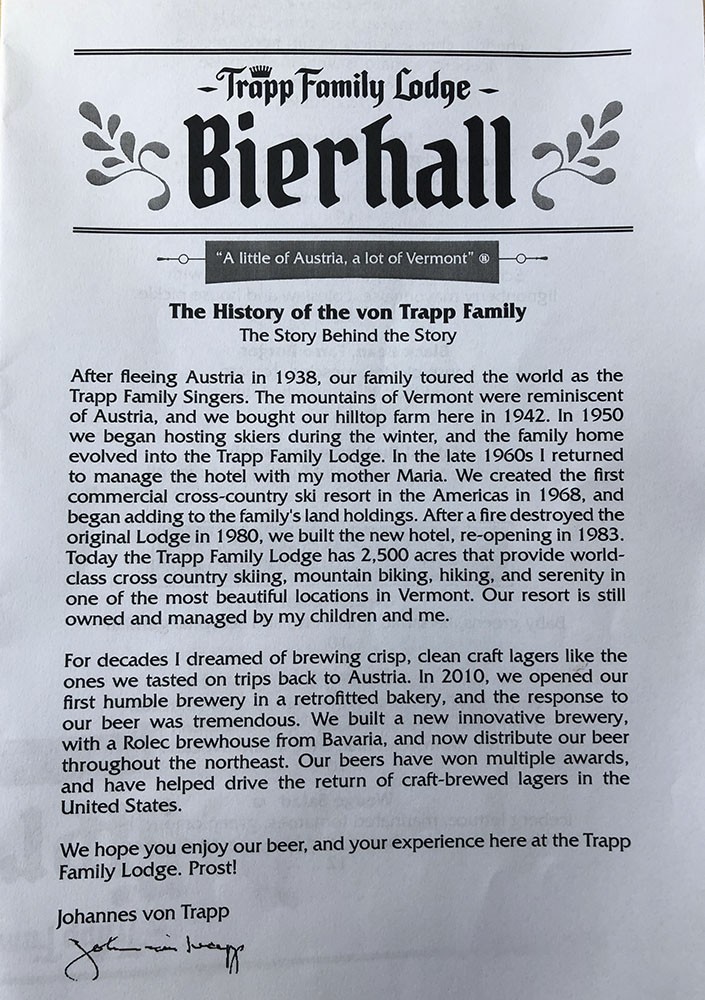 Just in case if you were wondering if it was THE von Trapp Family – yes it is.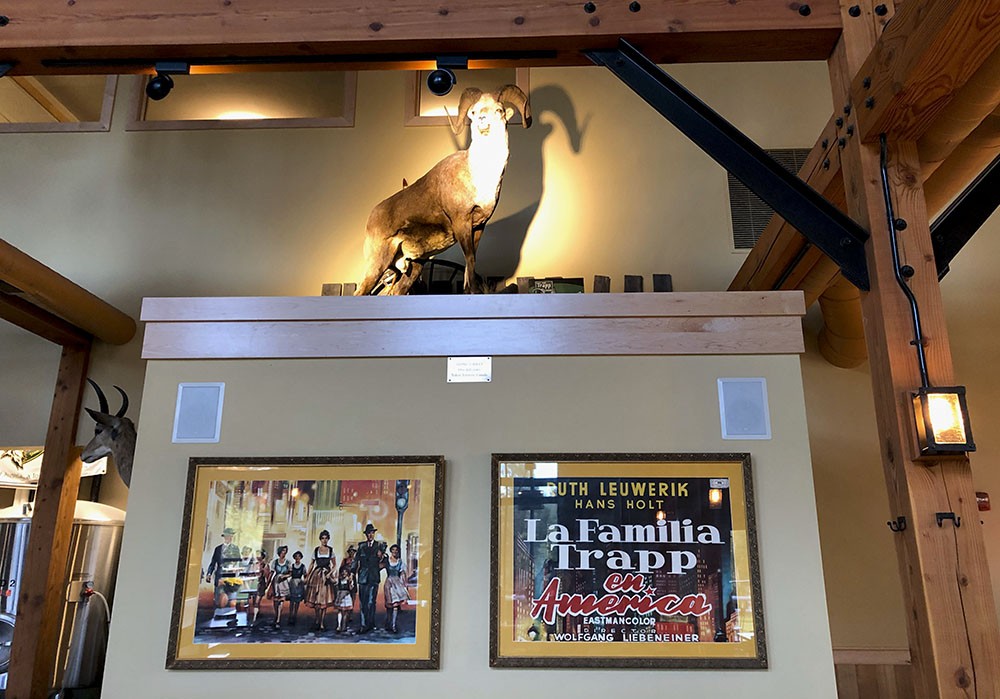 Plenty of memorabilia inside to look at while waiting for lunch.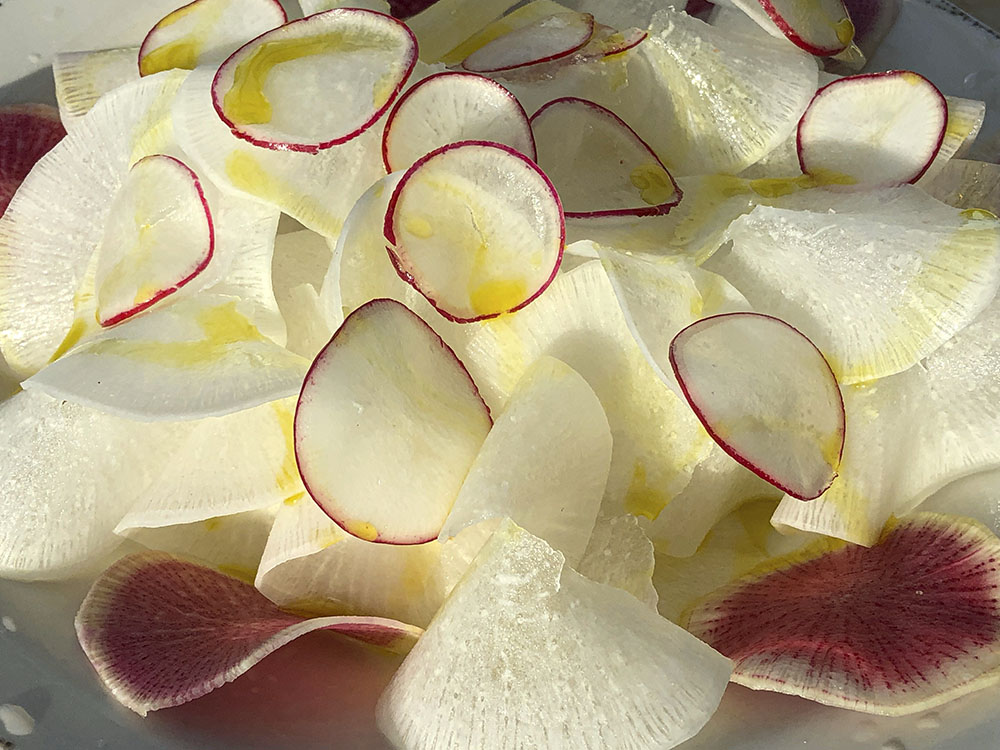 So delicious – a starter of shaved radishes dripped over with lemon oil and salt – my mouth is watering all over again!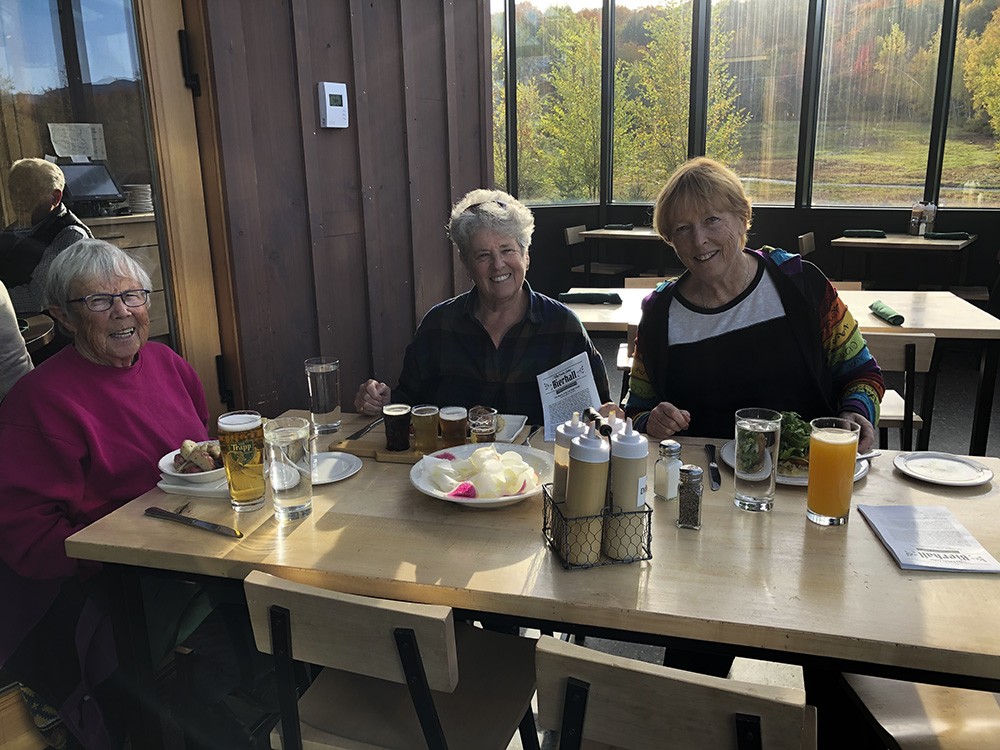 Valerie, the tour guide on that same 2009 cruise joined us for a day or two. What fun memories we shared of that trip.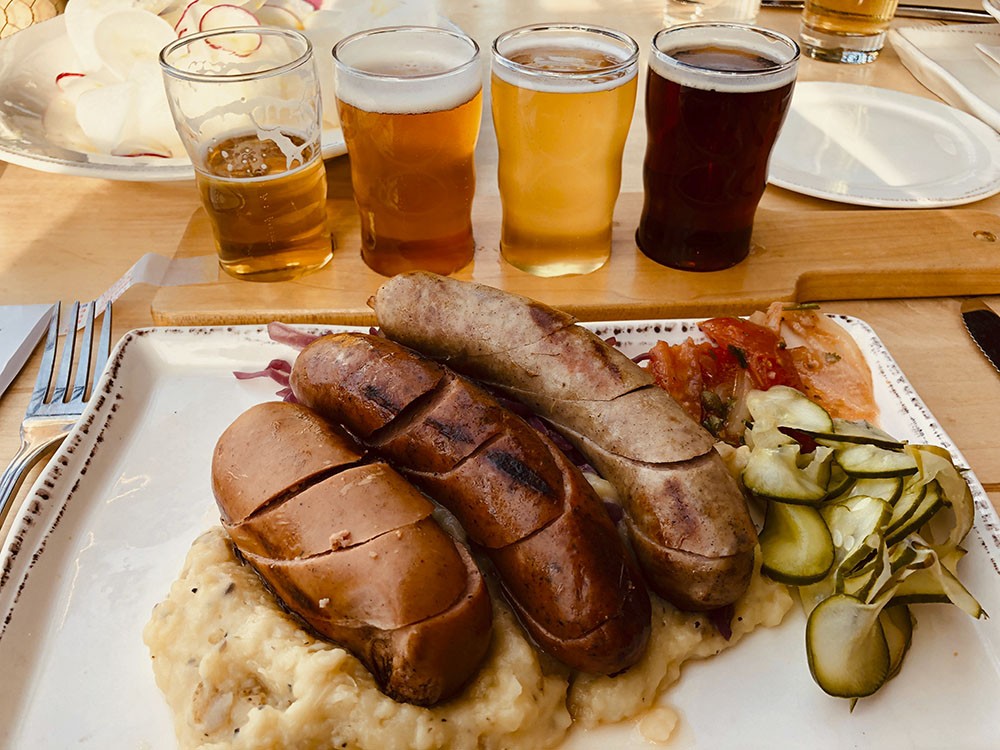 A flight of beers and a medley of sausages and sauerkraut on mash – yum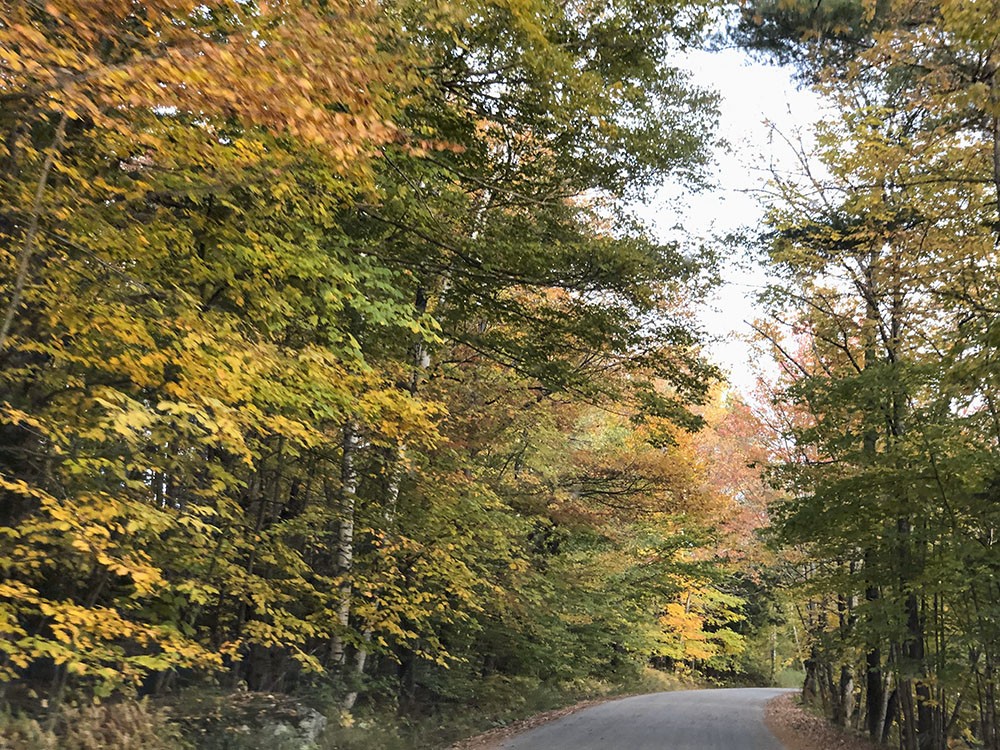 Back on the road again, meandering through lovely countryside and little lanes.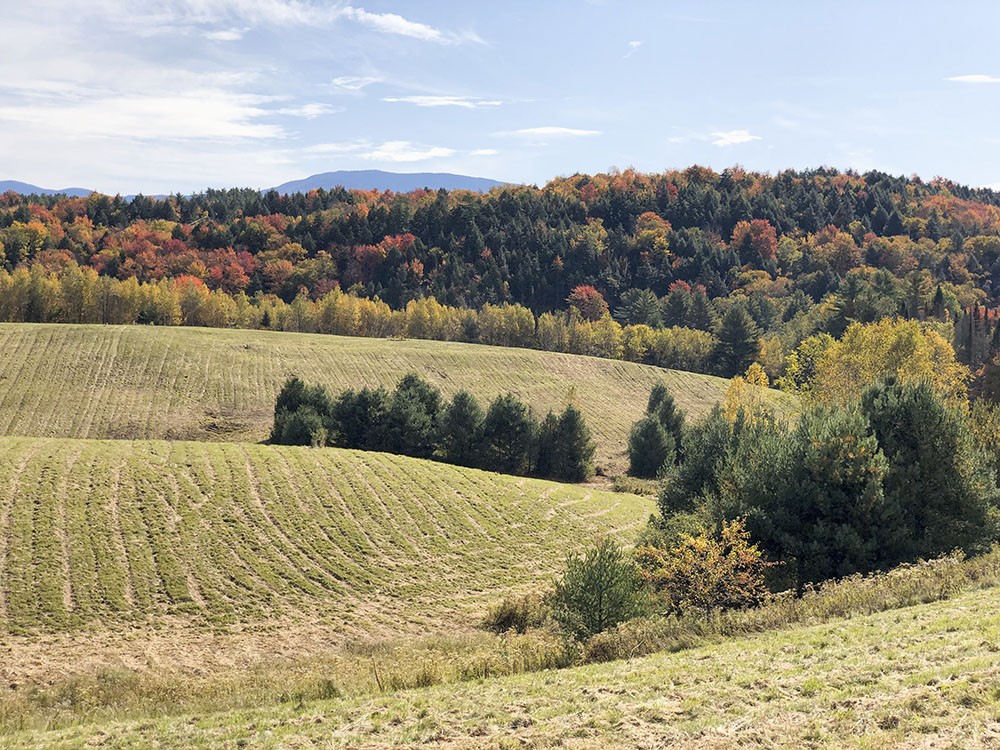 Just a pretty picture, no?
A typical white, tall-steepled church amid the fall colours.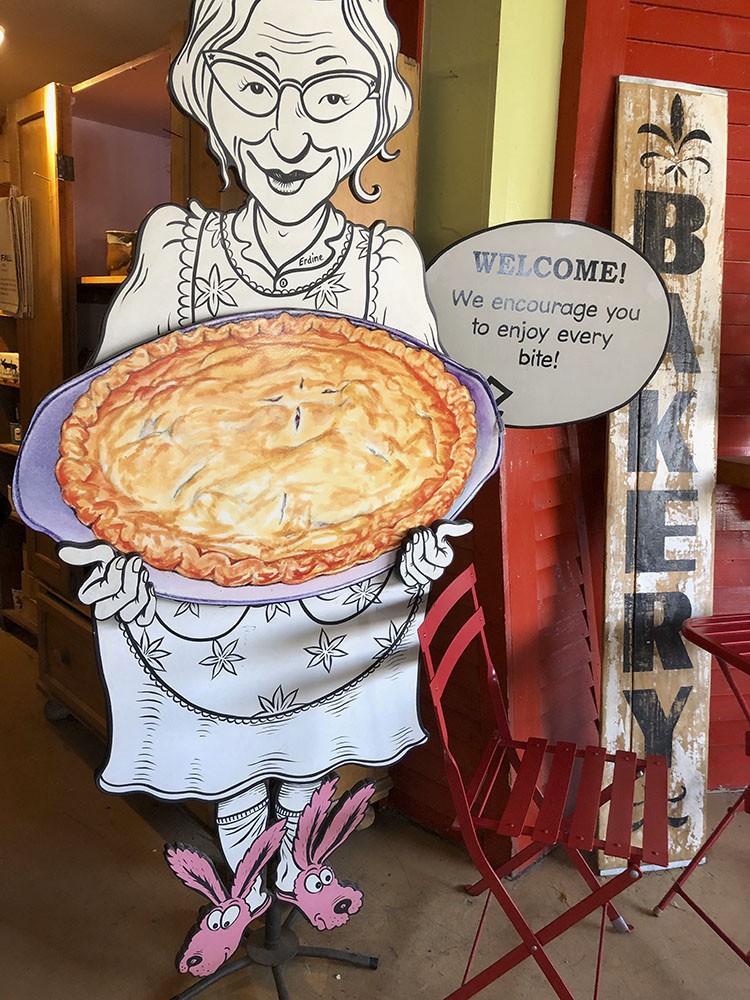 Time for some pie, maybe.
From Lois's house on Scrabble Hill, I went out for a walk one afternoon and took my time to enjoy the fresh, clean air and take in some more of the details and sights in her neighbourhood. What a lovely way to spend an afternoon.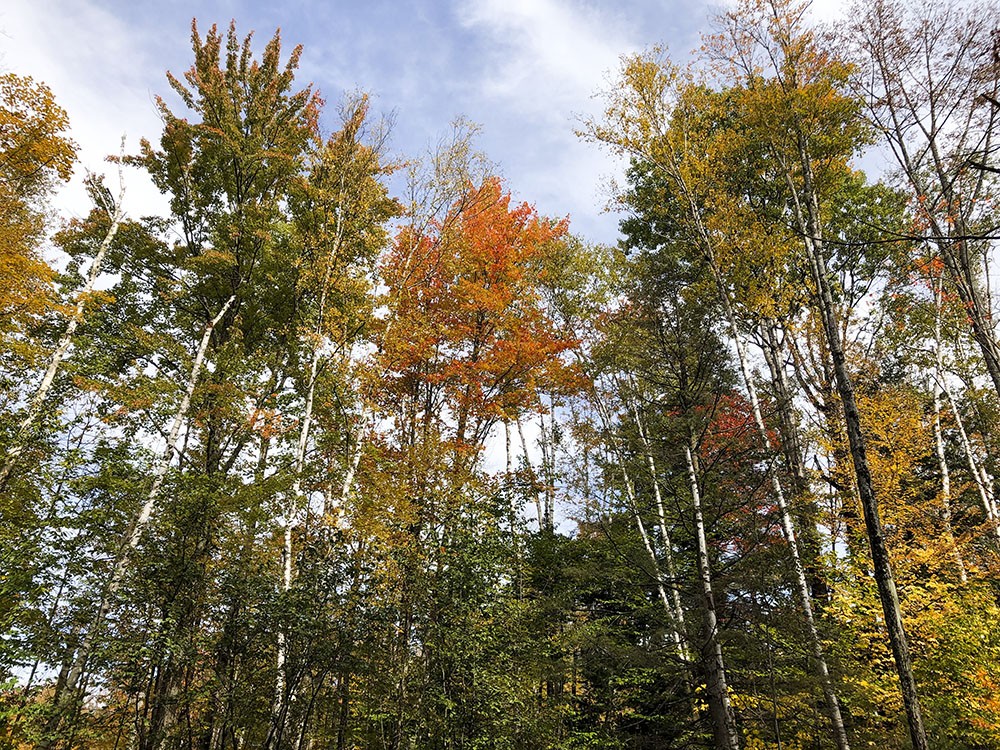 Silver birches reaching for the sky and not all turning at the same time.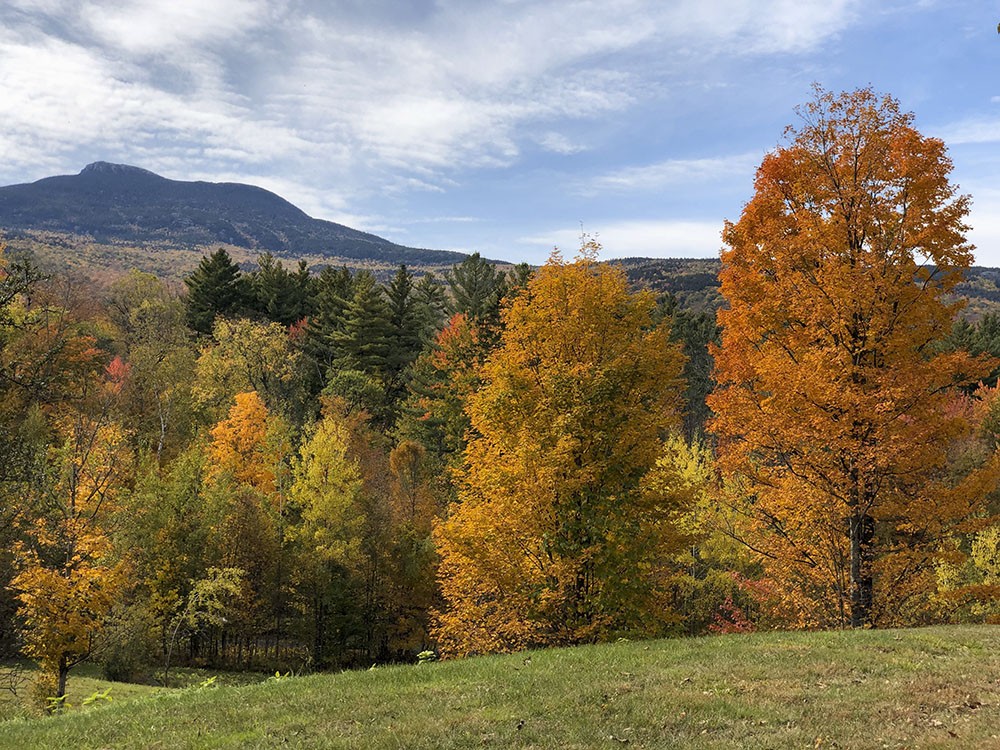 An almost perfect line up of trees against the mountains and sky.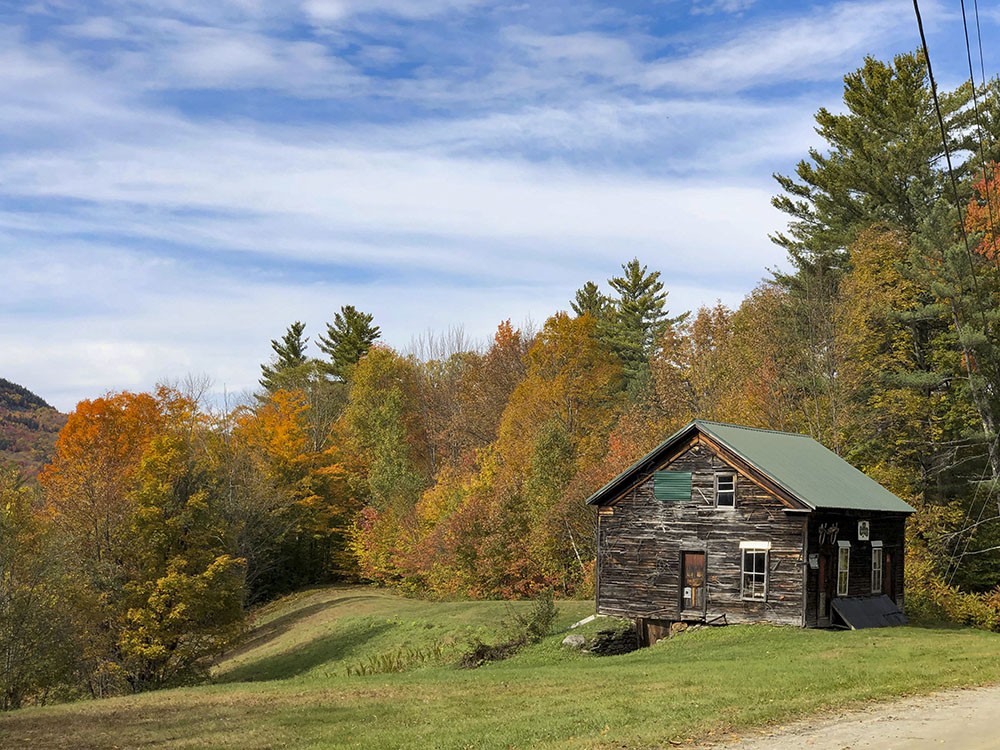 'The Shamrock' – a one-time little hostelry by the side of the road.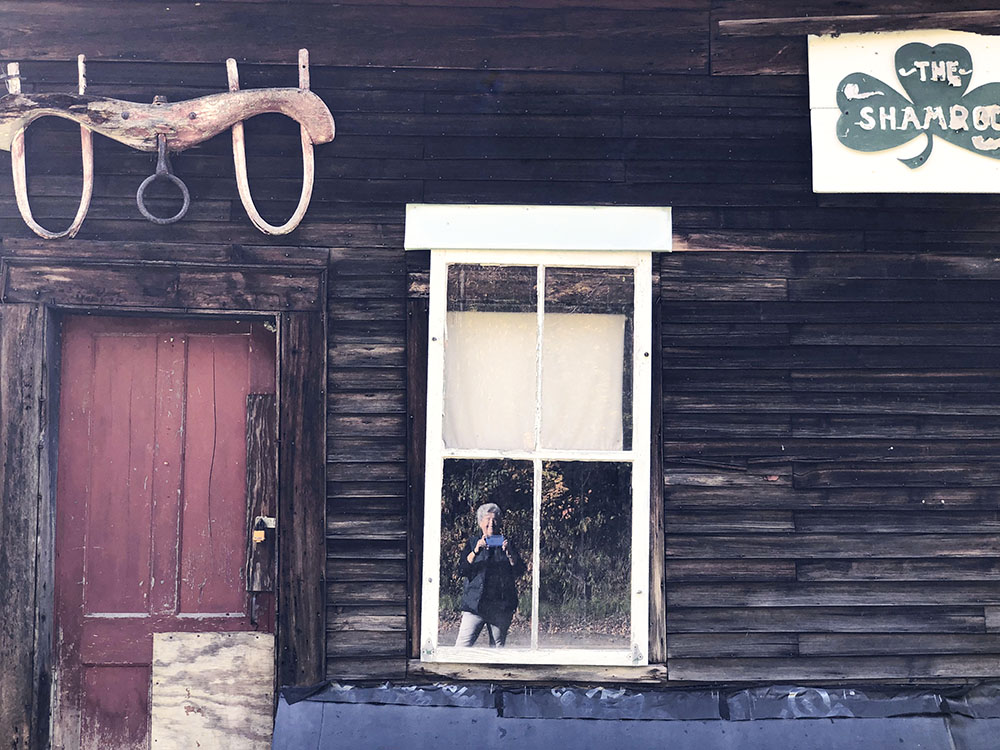 Amusing myself, taking a selfie in the window of the Shamrock.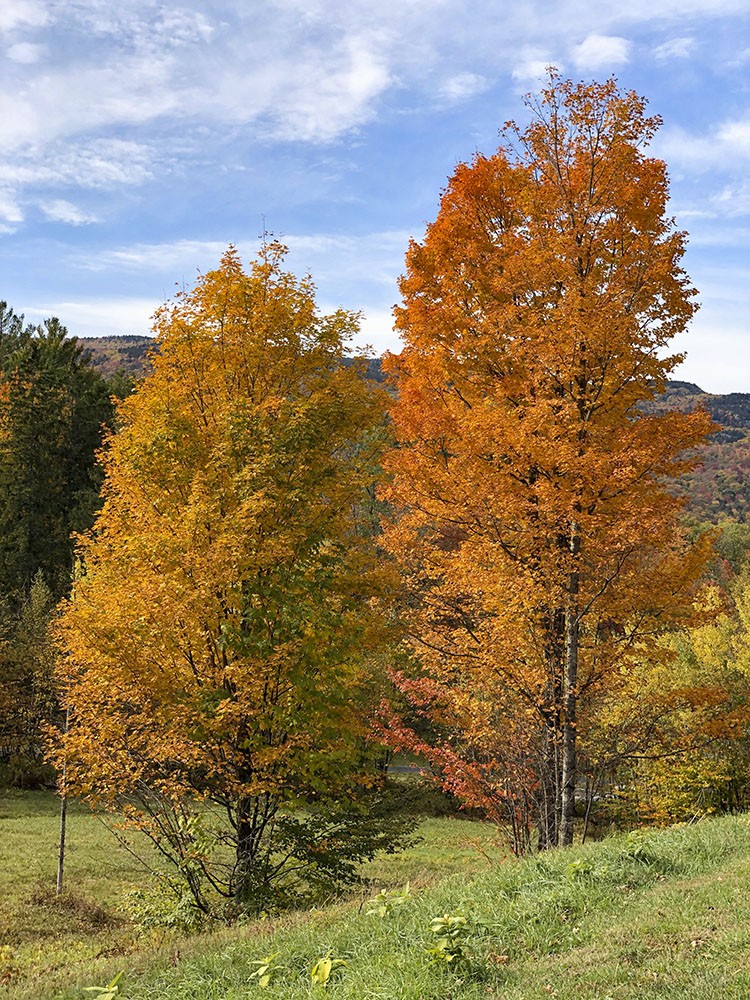 Just gorgeous!
Crabapples, fungi on a tree and colourful leaves.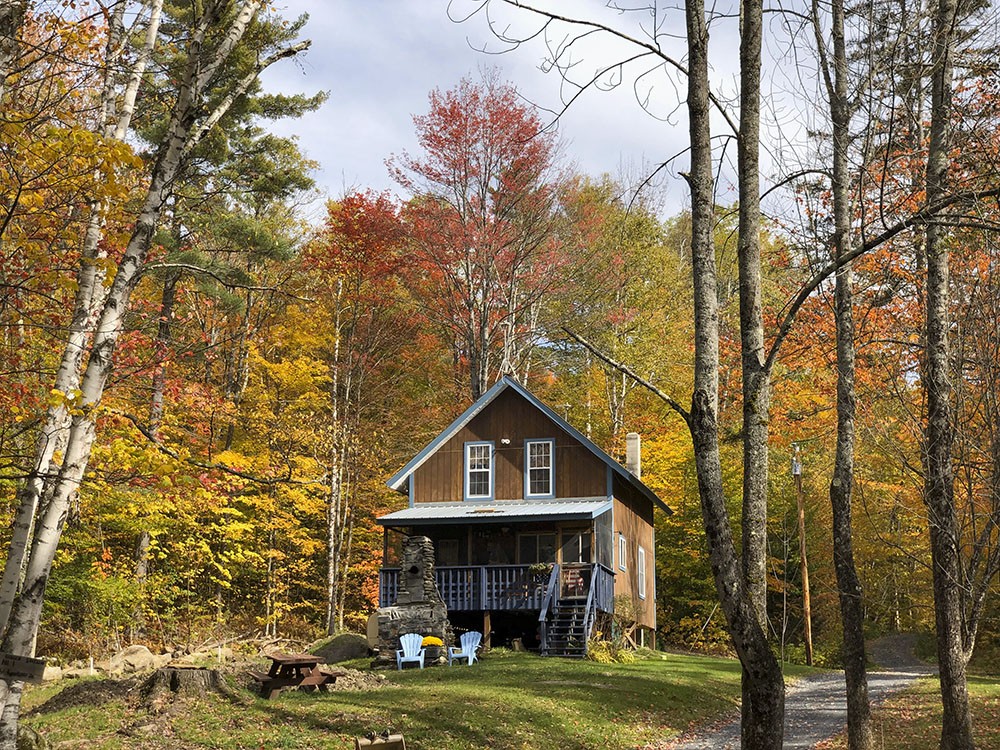 A cosy house in a little clearing in the woods.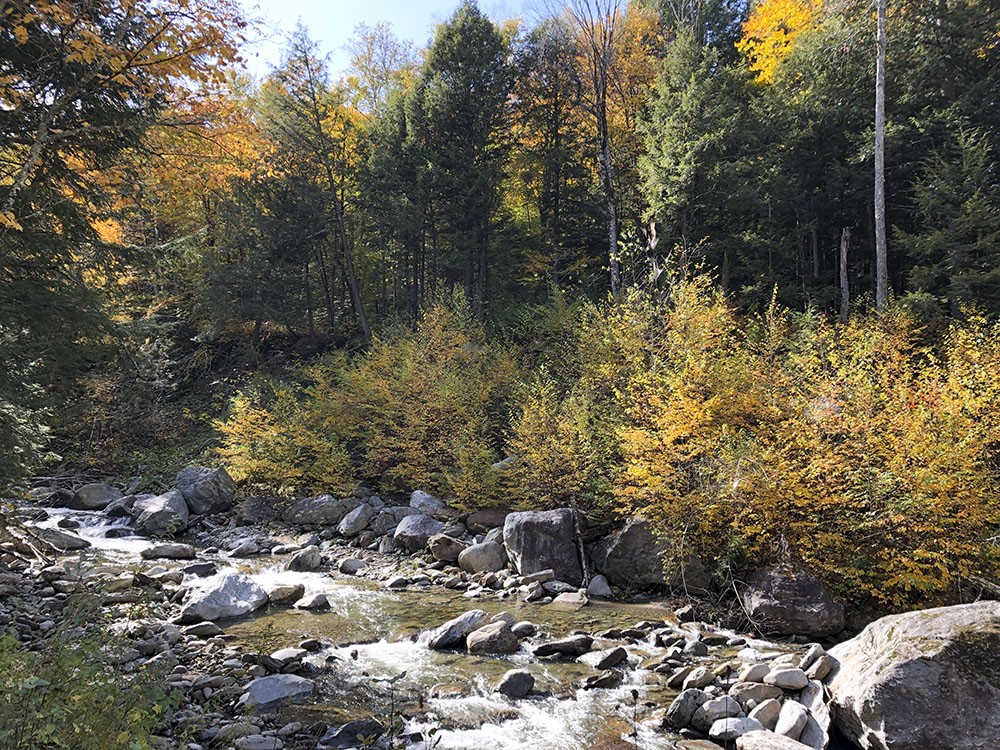 The stream winding down from Scrabble Hill.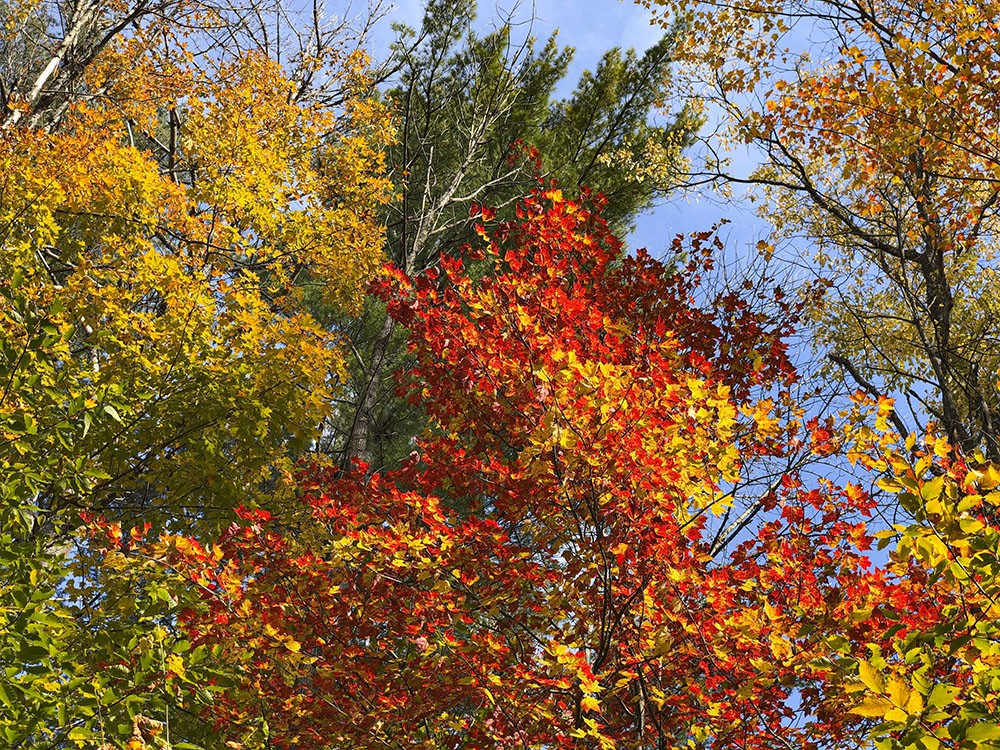 Colour …
… and a place to sit and contemplate the world.

Back at the house, whisky in hand, good company, a beautiful evening panorama.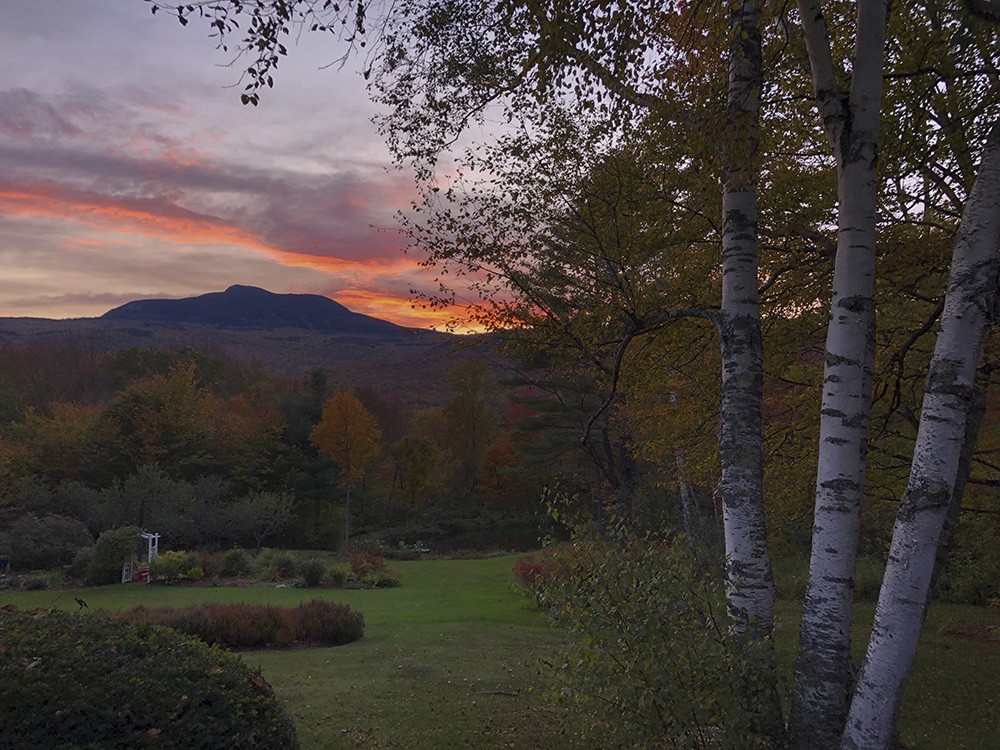 Capturing the last colours of the sunset over the garden.
Hope I haven't bored you with all these fall colours, but I could have posted many more – be thankful that I was rather restrained. However, it was a truly wonderful time to be visiting, and the story will continue in the next blog as I travelled up to the charming town of Bromont in Quebec, then to Quebec City, plenty more fall colours and preparation for Halloween too.
Until then, all good wishes my friends,