Dear friends,
Such a lovely week in around Washington DC, staying with my friend Betsy, a colleague from my Geneva days, and meeting up with others from my past, the Ethiopian artist Wasihun (see my most recent journal entry), with Carroll who was UNICEF rep in Myanmar when I worked there for the International Red Cross, and Armando who was one of the Paraguayan volunteers working with me in EXPO '92 in Seville at our Red Cross Red Crescent Pavilion. Memories galore.
Between them, they showered me with hospitality and took me to some most interesting places – driving around the US capital city, the Dumbarton Oaks Museum and garden, the lovely old riverside city of Annapolis, and the wonderful Hillwood Museum and garden.  Not going to write a lot for this blog, just share some photos I took during each of the visits.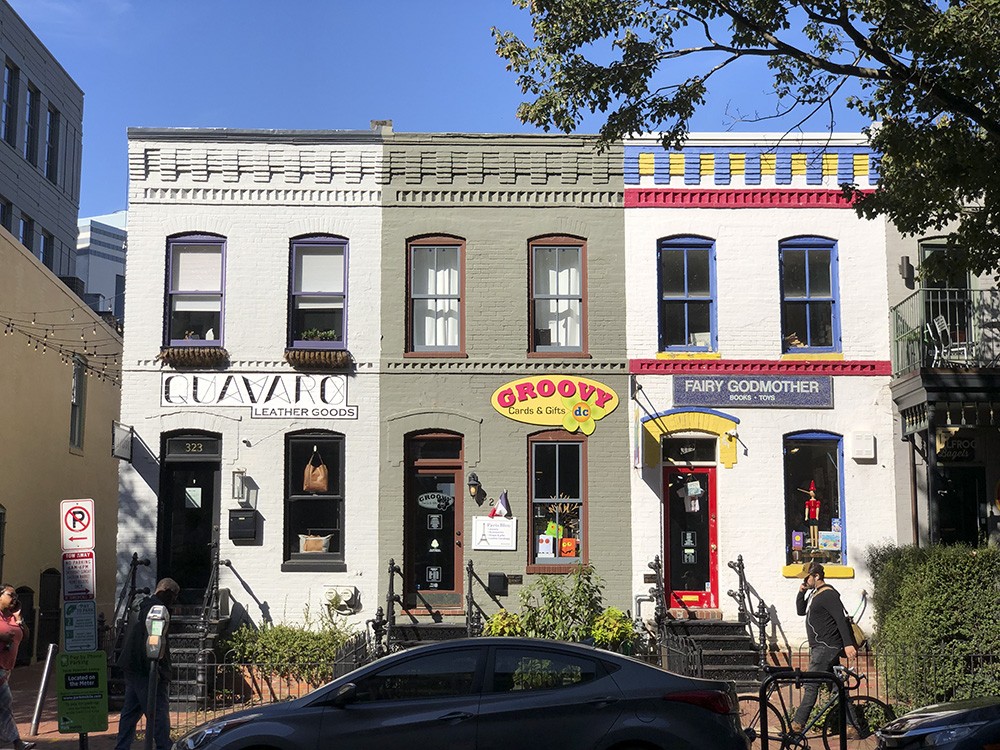 Interesting shopfronts in the morning sun in downtown Washington DC.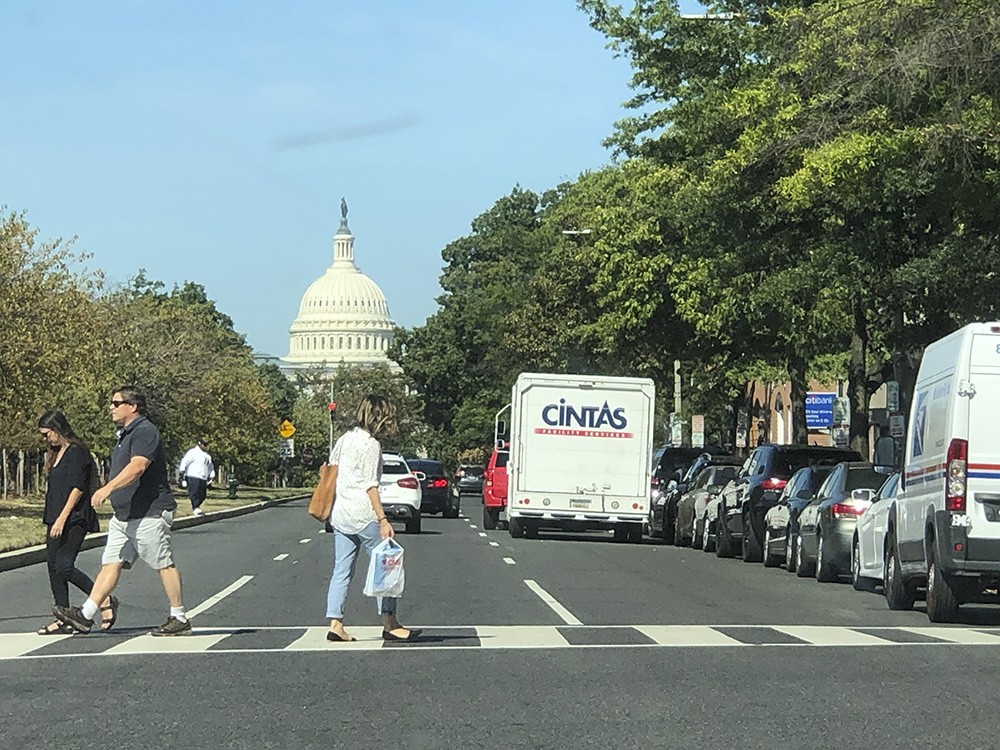 Abbey Road meets Capitol Hill (well, doesn't that crossing make you think of the Beatles?)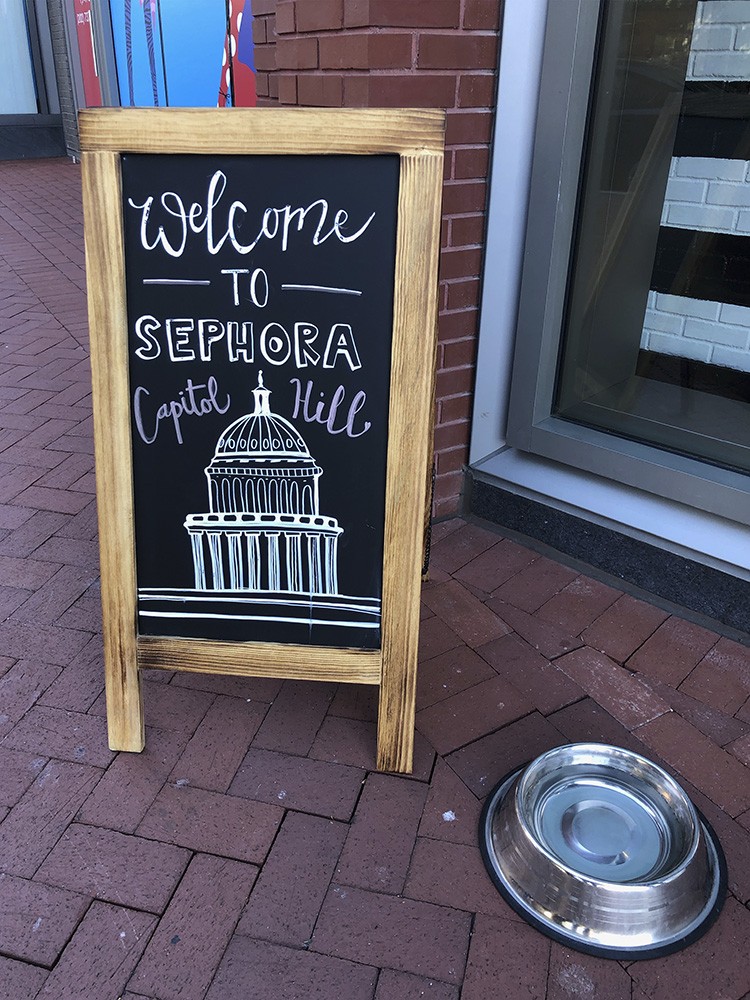 Catering for the dogs out walking as well as the people.
Inside one of the oldest city markets in DC, all and everything to eat and drink.
In Georgetown, a charming area of Washington DC we walked through leafy streets with Federal Style architecture, parks, museums, cobblestone streets and coffee shops galore.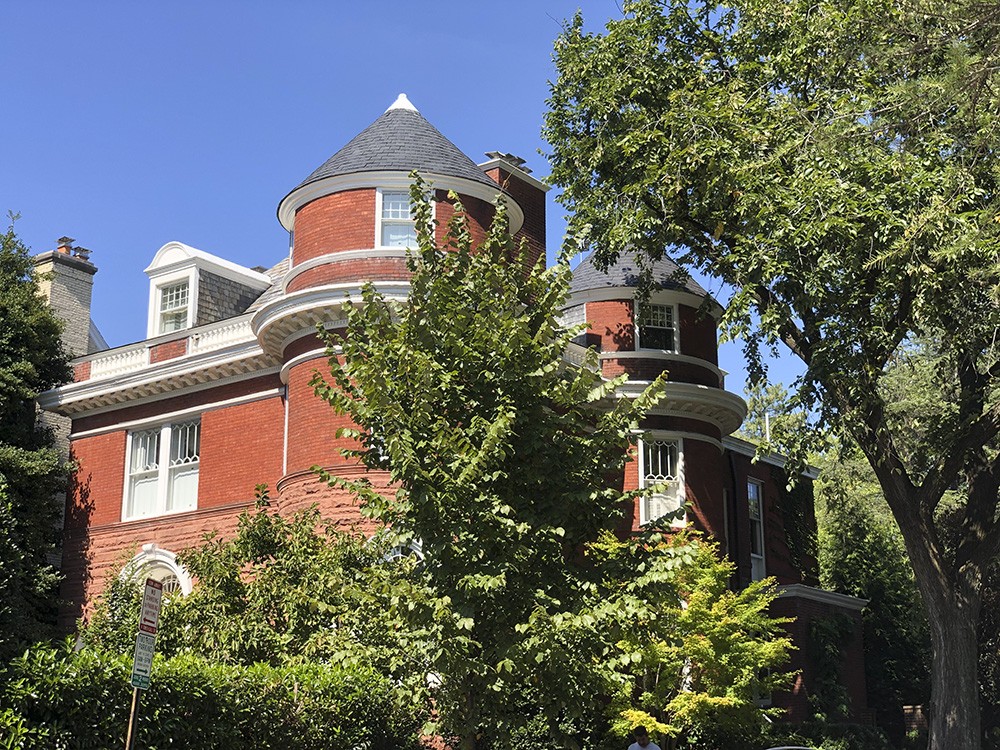 An imposing mansion on a corner section almost hidden by trees.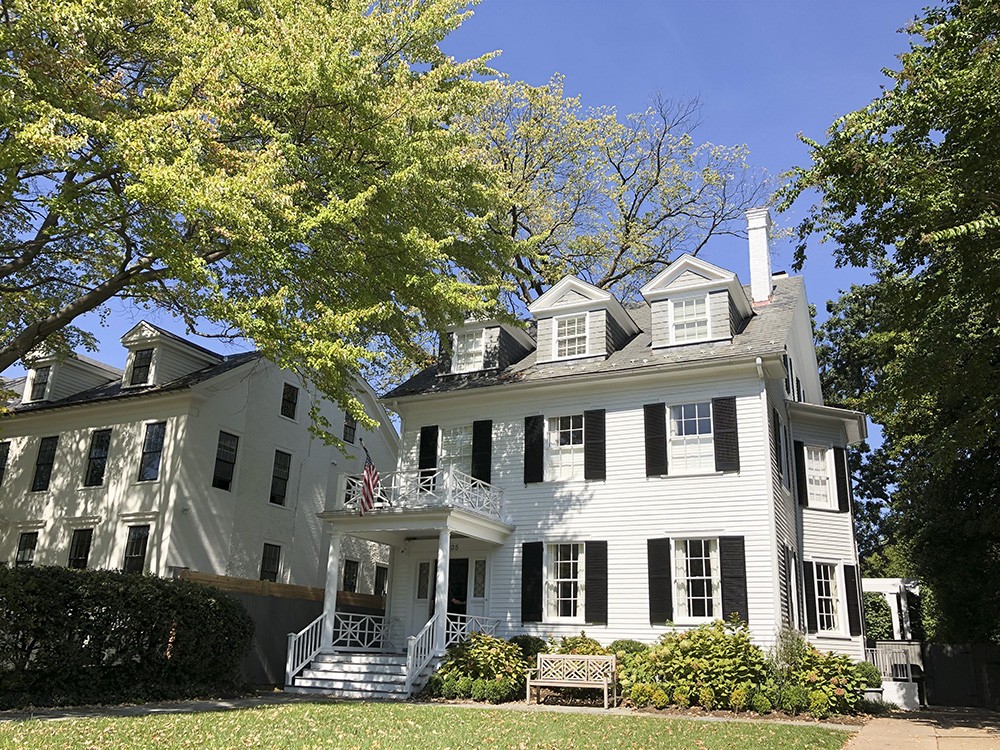 Beautiful in white, a pair of houses, almost identical, set back from the road.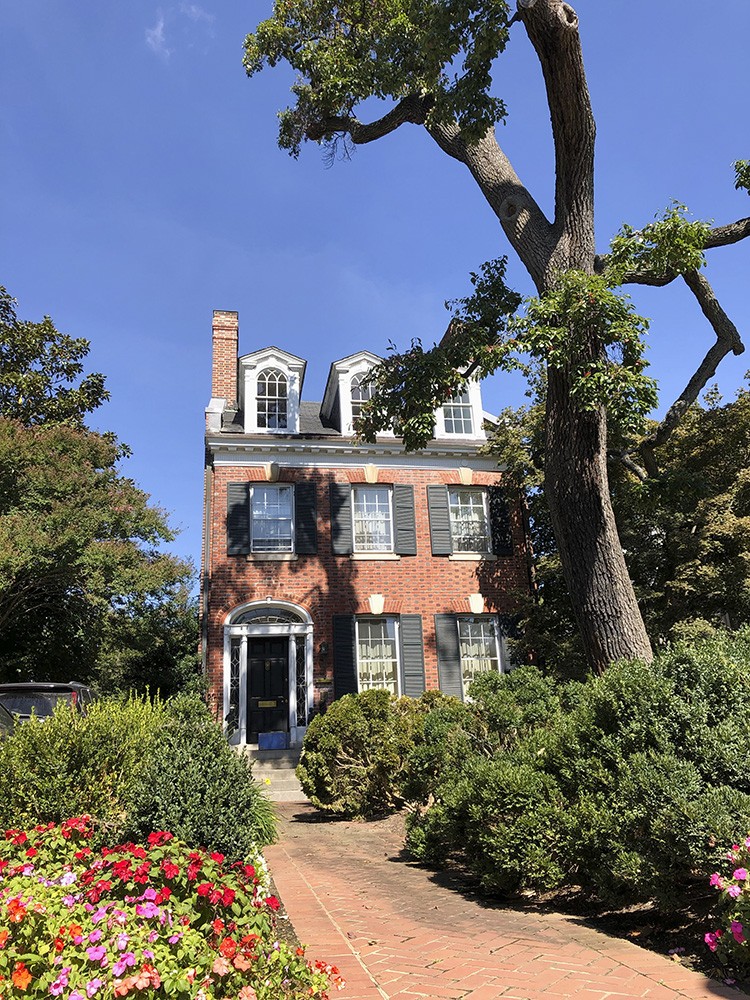 Reaching for the sky, both the house and the tree out front.
I had the opportunity in Georgetown to visit the Dumbarton Oaks Museum and although I didn't see it all, I loved the Pre-Columbian exhibition which was housed in a series of glass octagons so some of the exhibits appeared to be surrounded by trees, a very nice effect.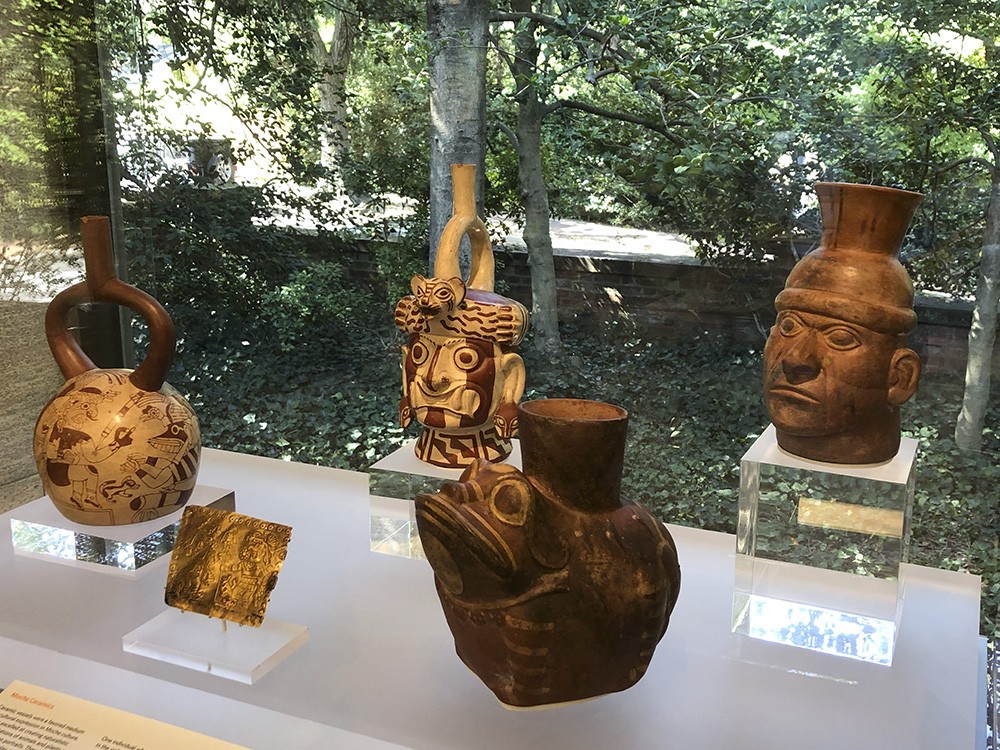 Painted ceramic containers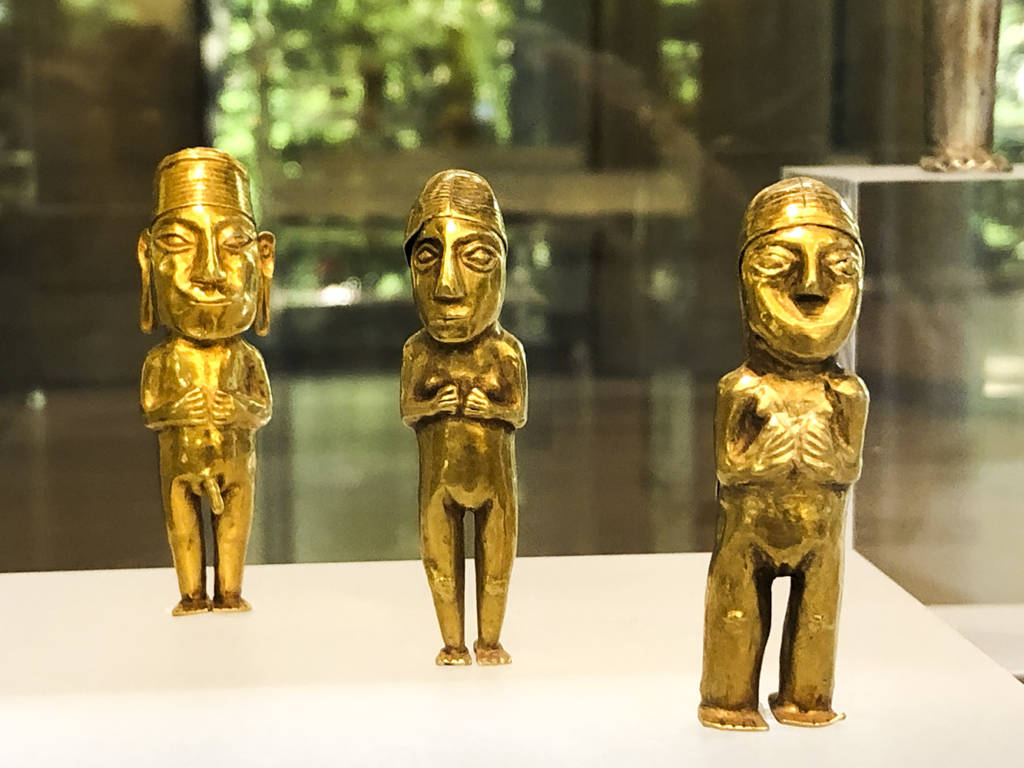 Three gold figurines (Inca). They were often left at shrines or may have accompanied the dead on their final journey.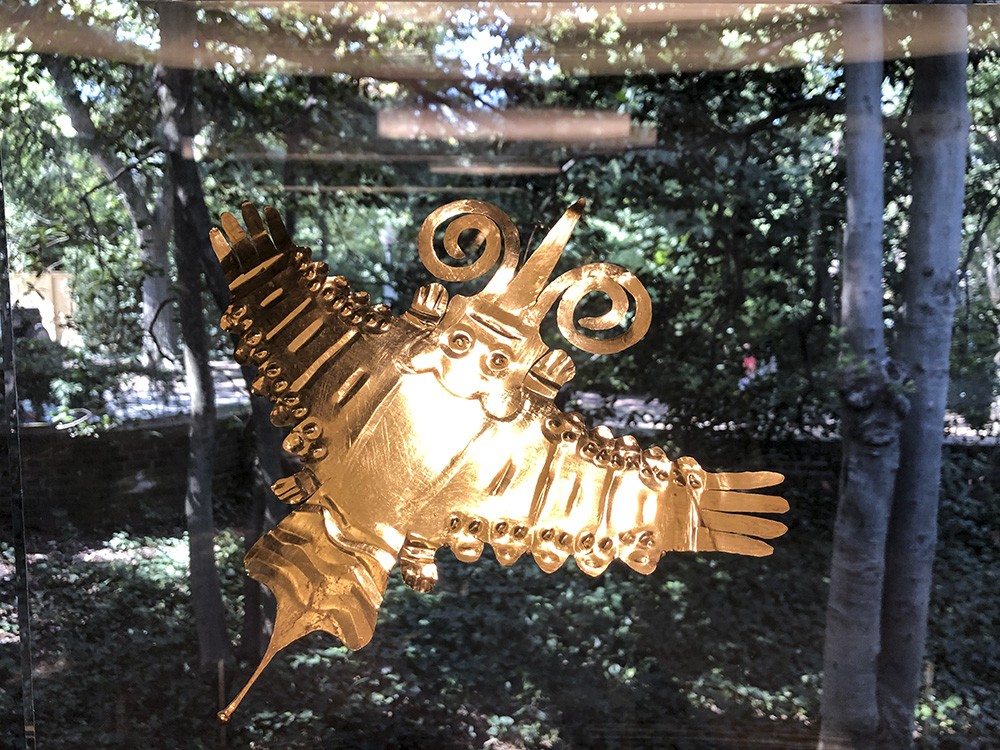 A Nascar bird-shaped head-dress gold ornament, which would have adorned the head of an important lord or lady.
It was also lovely to wander in the extensive Dumbarton Oaks Park behind the museum although the gardens were a little past their best. The gardens were begun in 1921 when Mildred Bliss, wife of Robert Woods Bliss, the owner of Dumbarton Oaks Estate, worked together with her friend Beatrix Farrand to design every aspect of the garden's design. The whole property was gifted to Harvard University in 1940. An interesting fact – the Dumbarton Oaks Conference (Aug-Oct 1944) brought together representatives of China, the Soviet Union, the United States and the United Kingdom to formulate proposals for a world organisation that became the basis for the United Nations.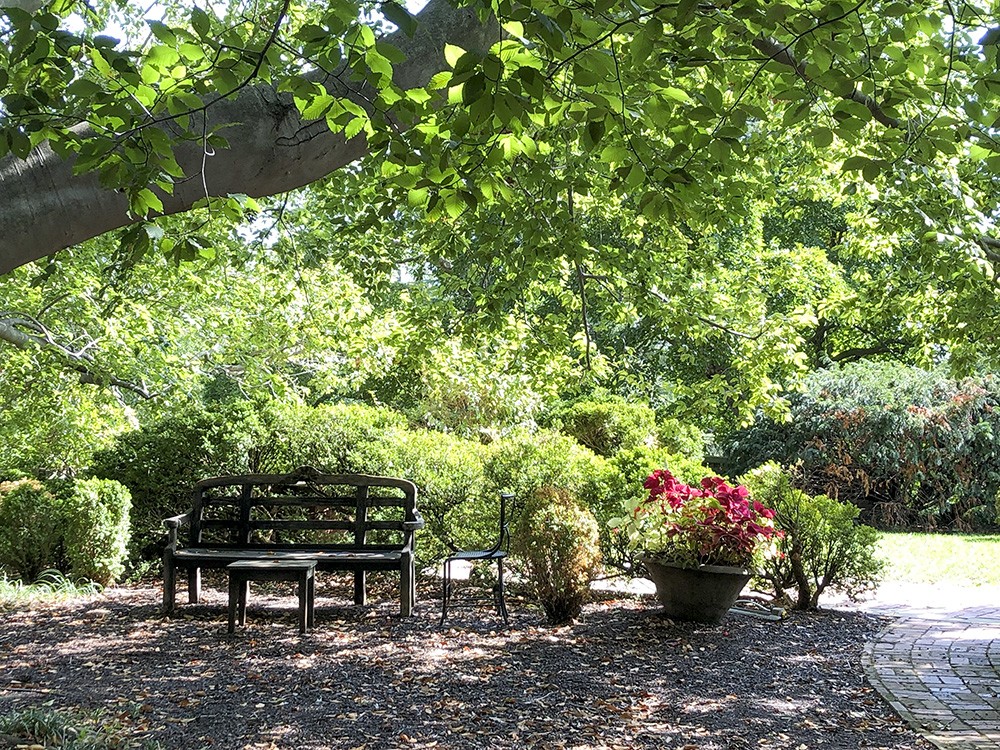 The Beech Terrace with a shaded bench.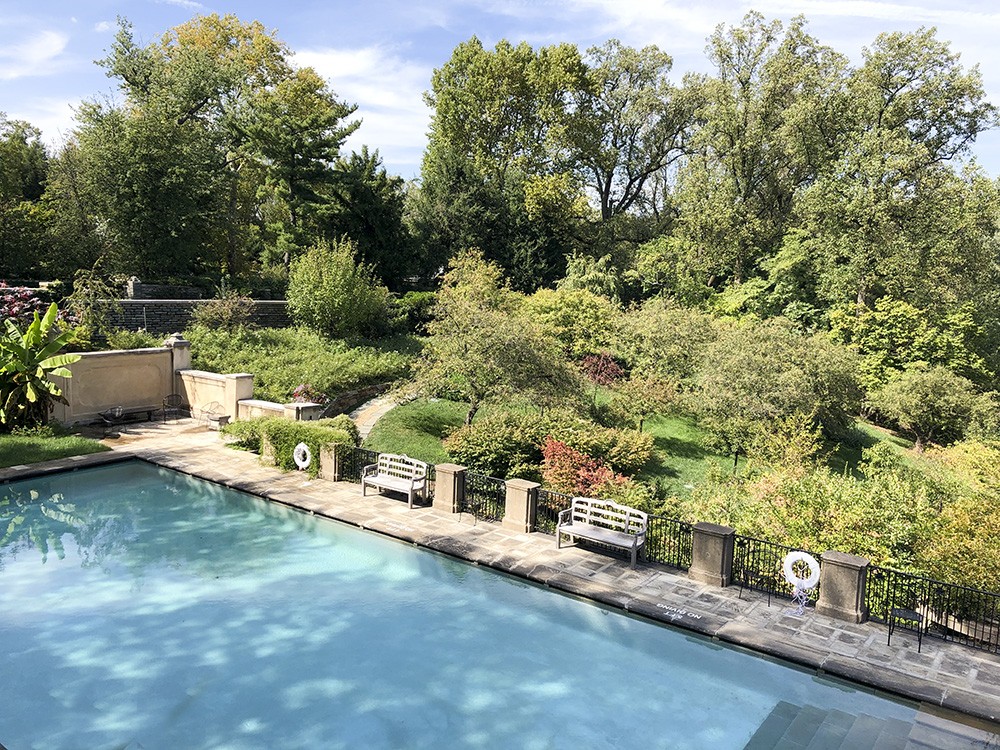 The swimming pool with plenty of shade and seating on which to while away a summer afternoon.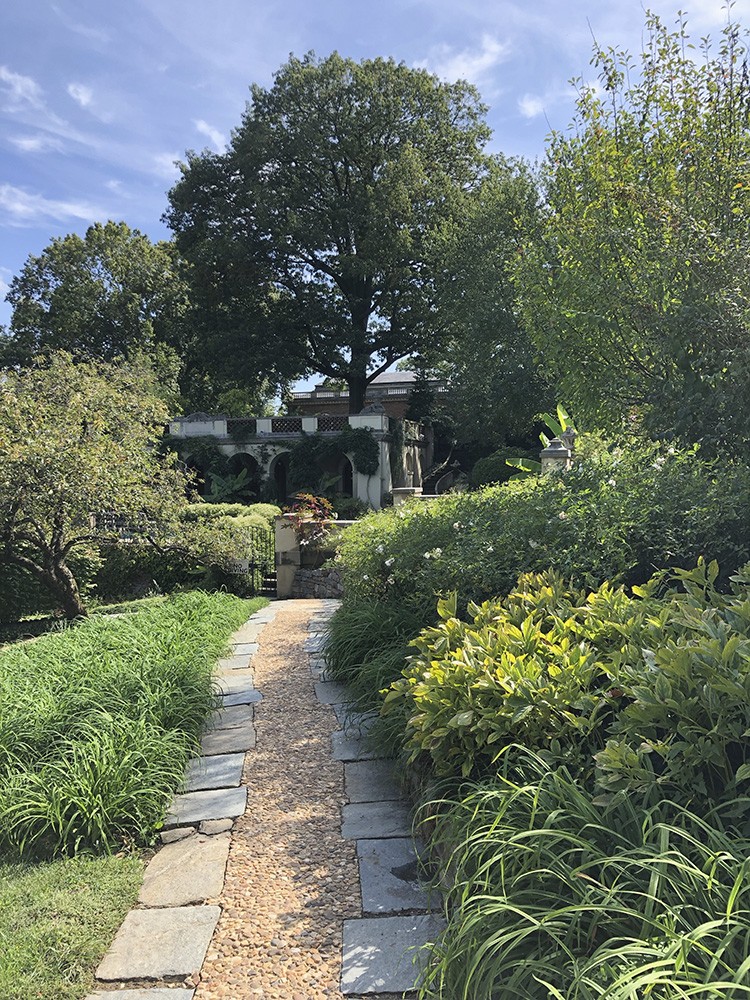 Pathways meander through the different gardens and terraces bordered by shrubs and flowers.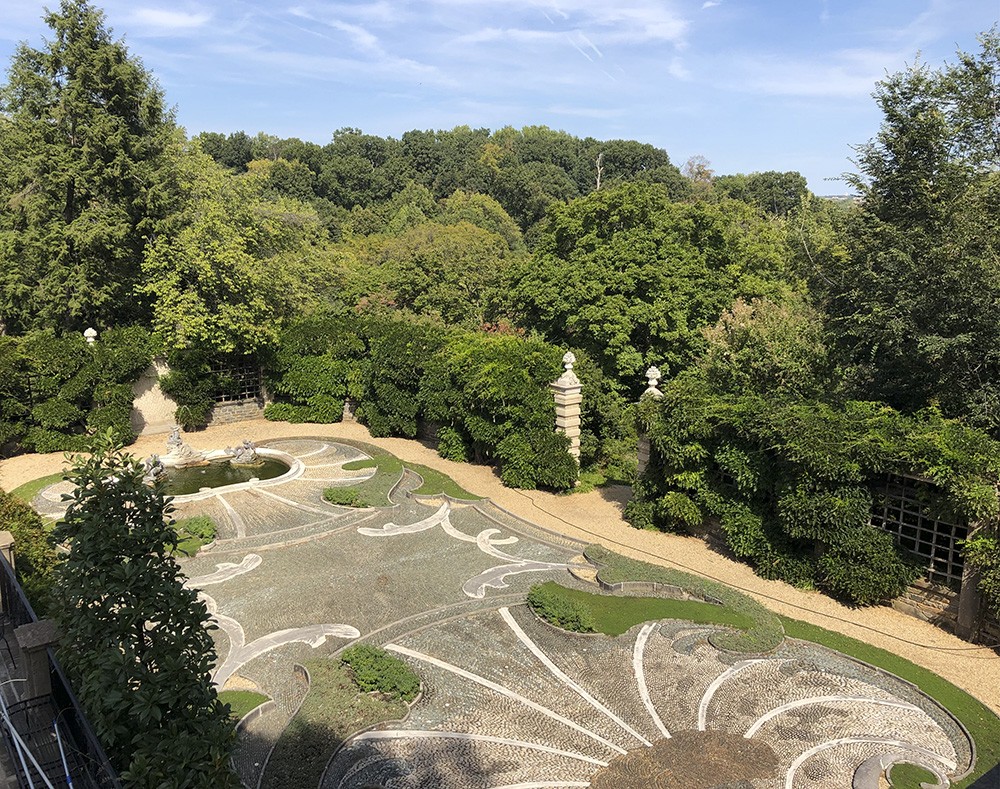 The Pebble Garden as seen from a higher terrace…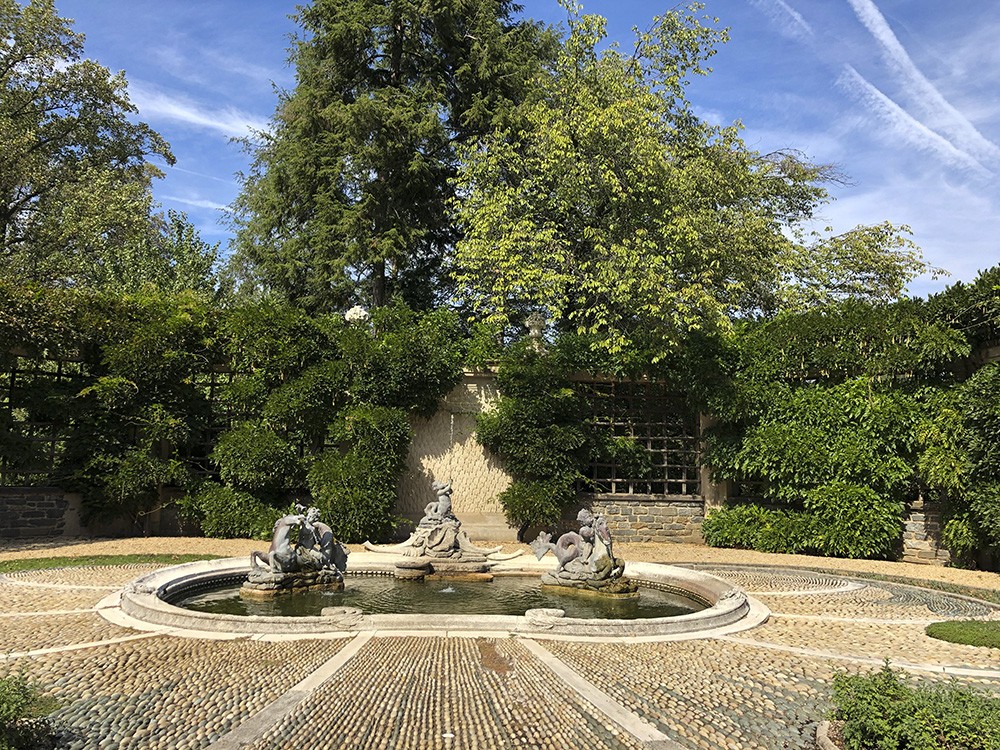 … and from ground level, showing the beautifully laid lines of round pebbles.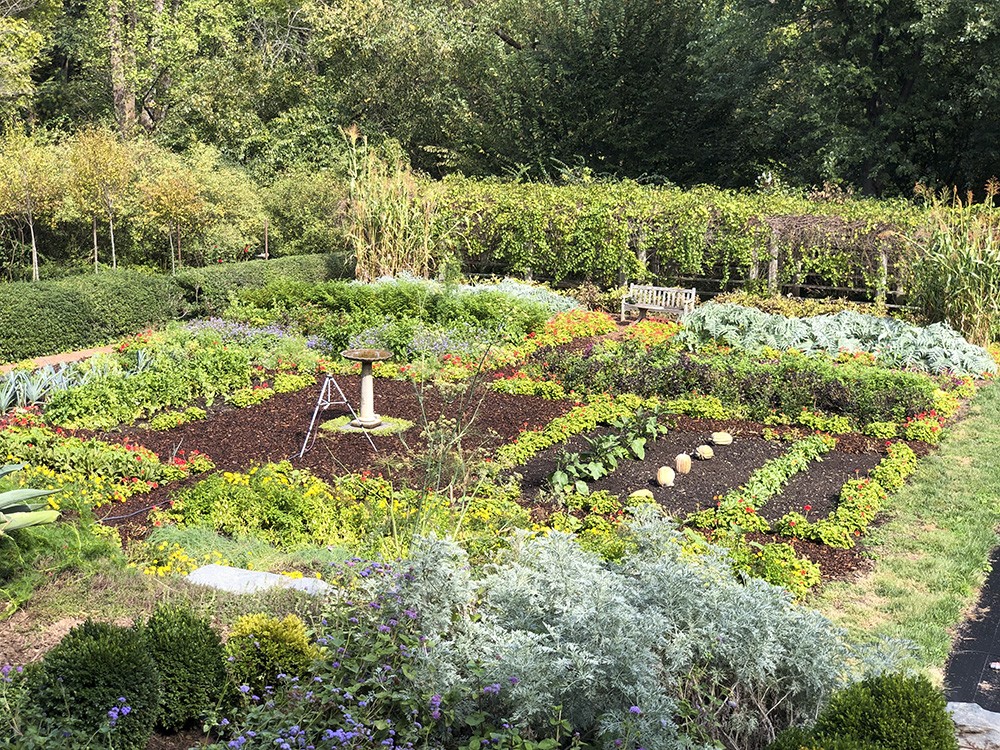 The kitchen garden with its immaculate lines of produce and plenty of leafy greens…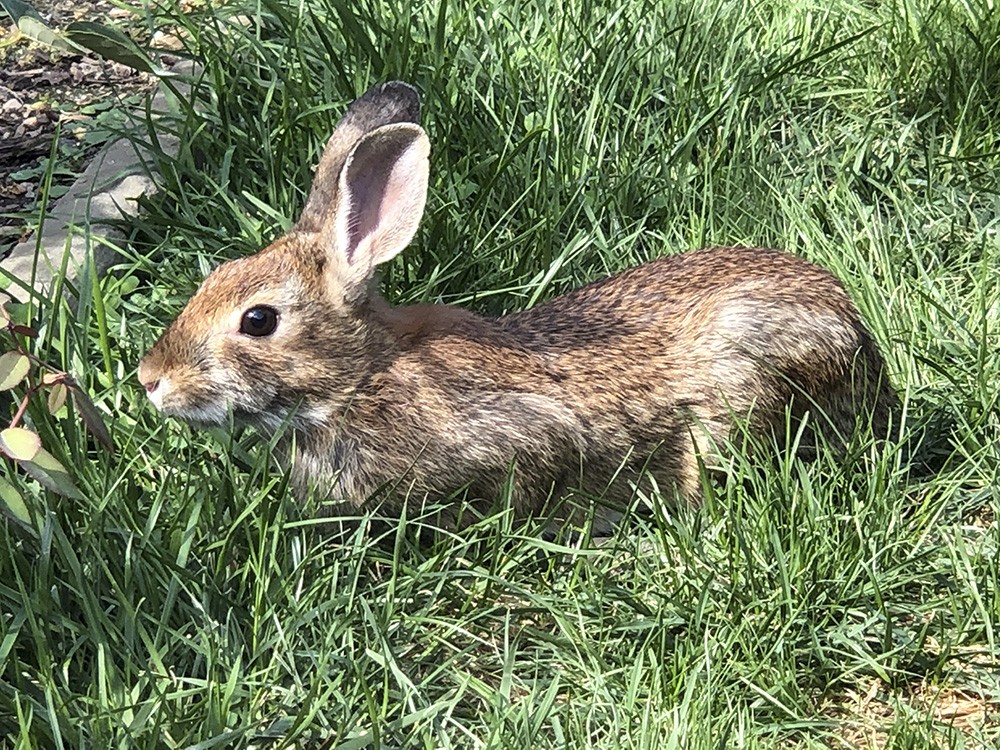 … and close by, a relative of Peter Rabbit, totally unphased by strangers with cameras approaching.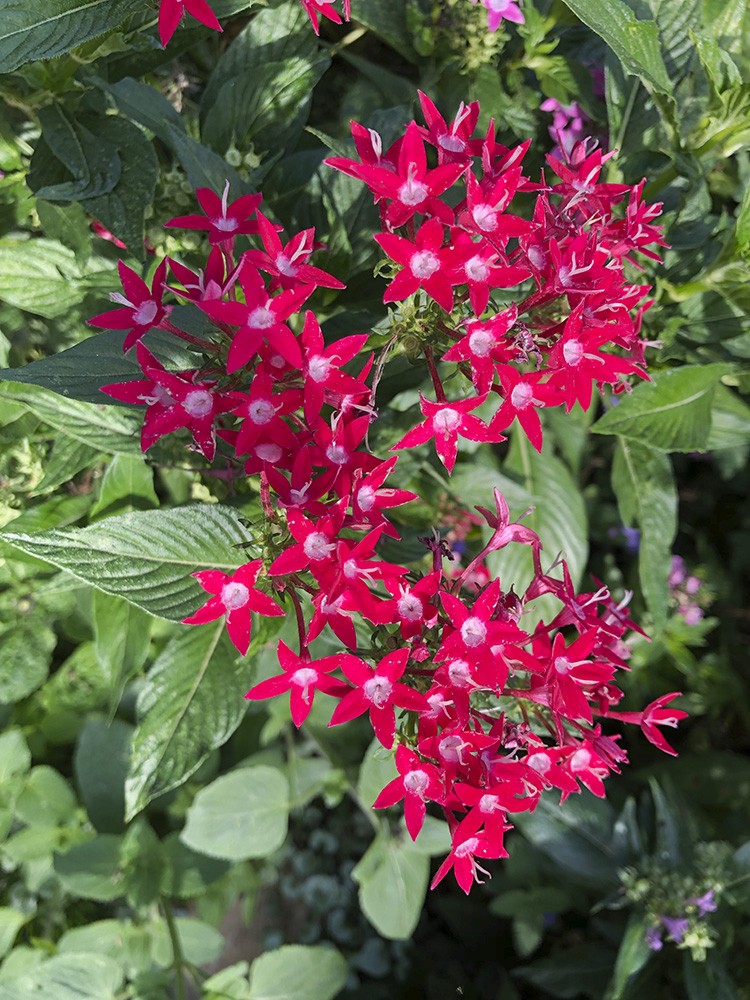 There were still some flowers adding colour to the predominantly green, like this brilliant pink …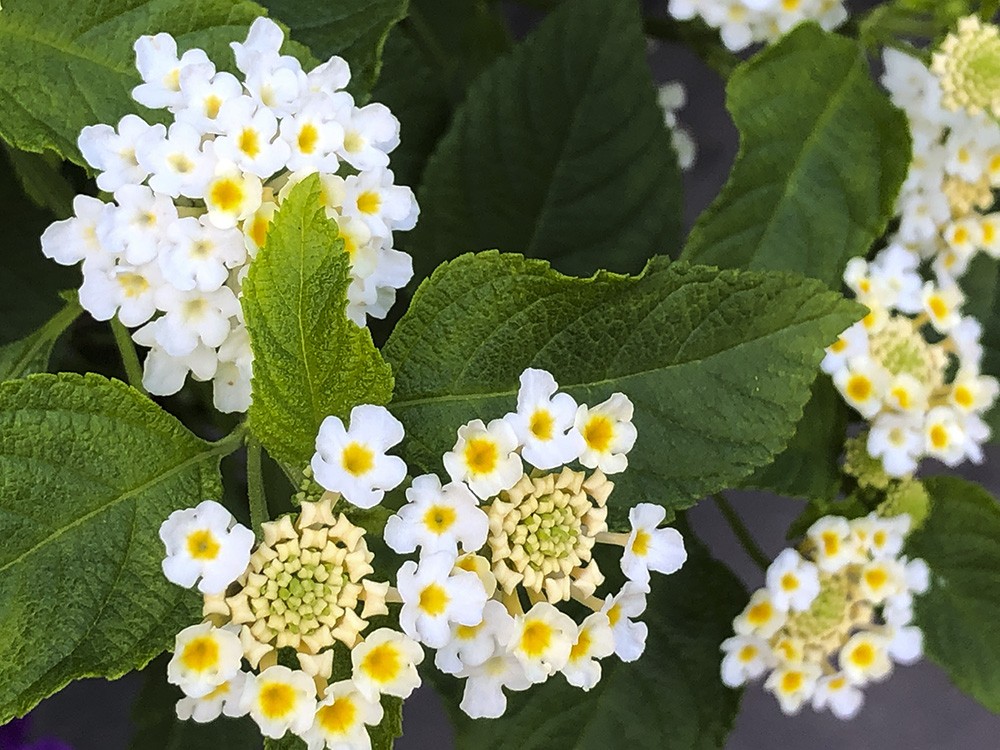 … or these cream and yellow blooms.
On another day, I visited Annapolis, the capital of the State of Maryland and which is situated on the Chesapeake Bay at the mouth of the Severn River, some 50 kilometres from Washington DC. Founded in 1649, it is sometimes nicknamed 'America's Sailing Capital' or Crabtown on the Bay, and is home to the United States Naval Academy.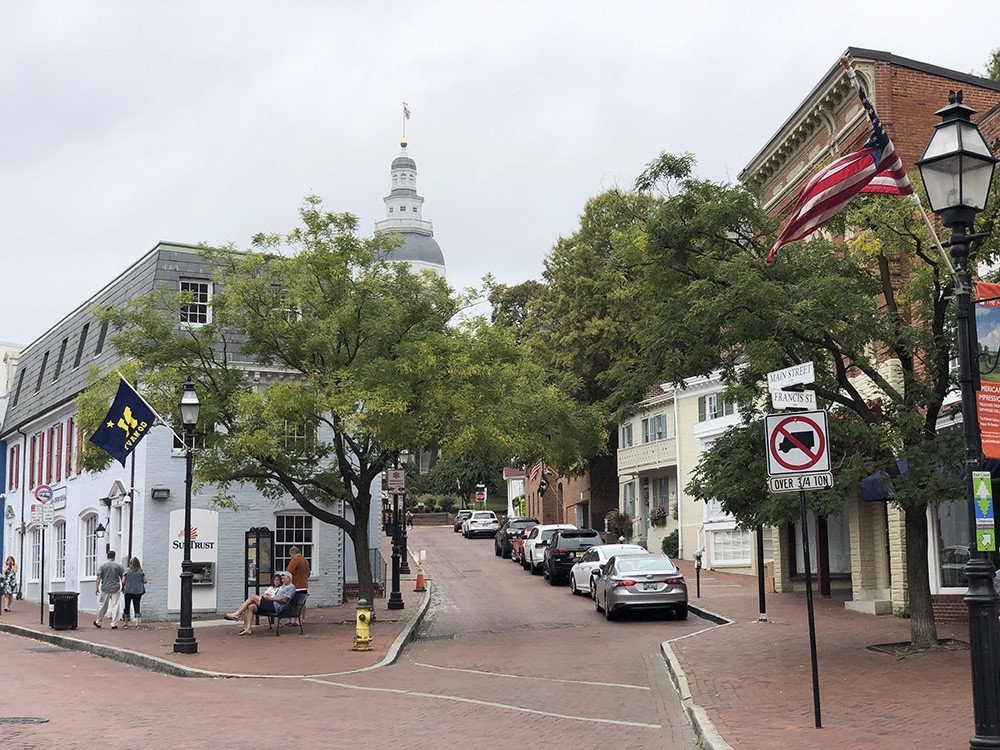 Strolling through the streets of Annapolis with the state Capitol at the top of the hill.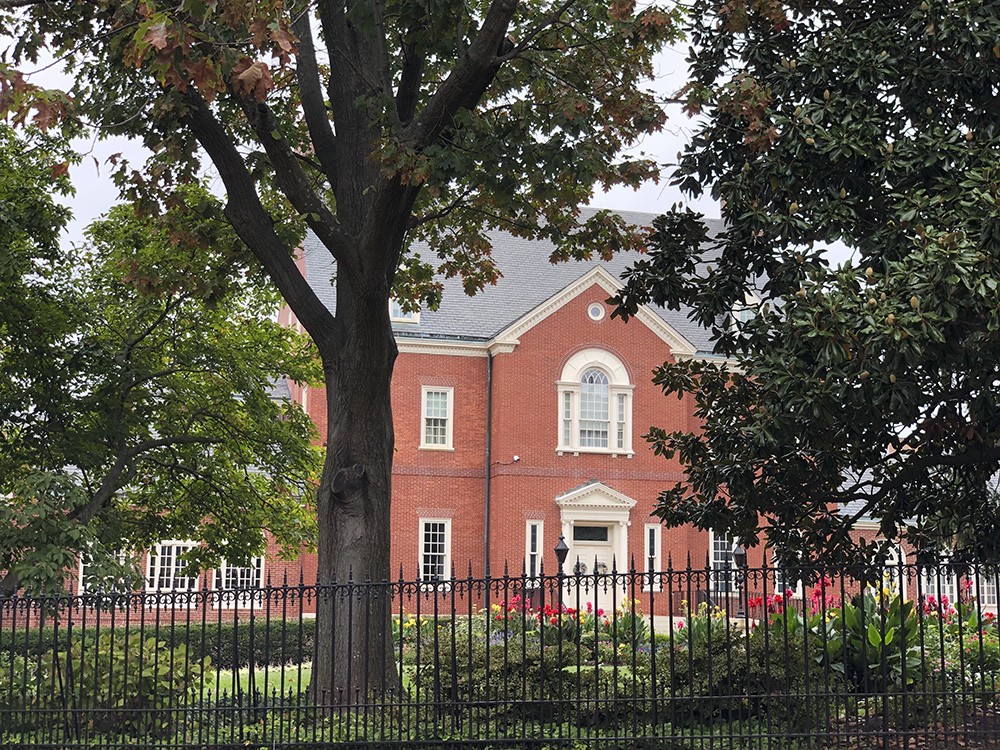 One of the typical red brick Administrative Buildings set back from the street in the centre of town.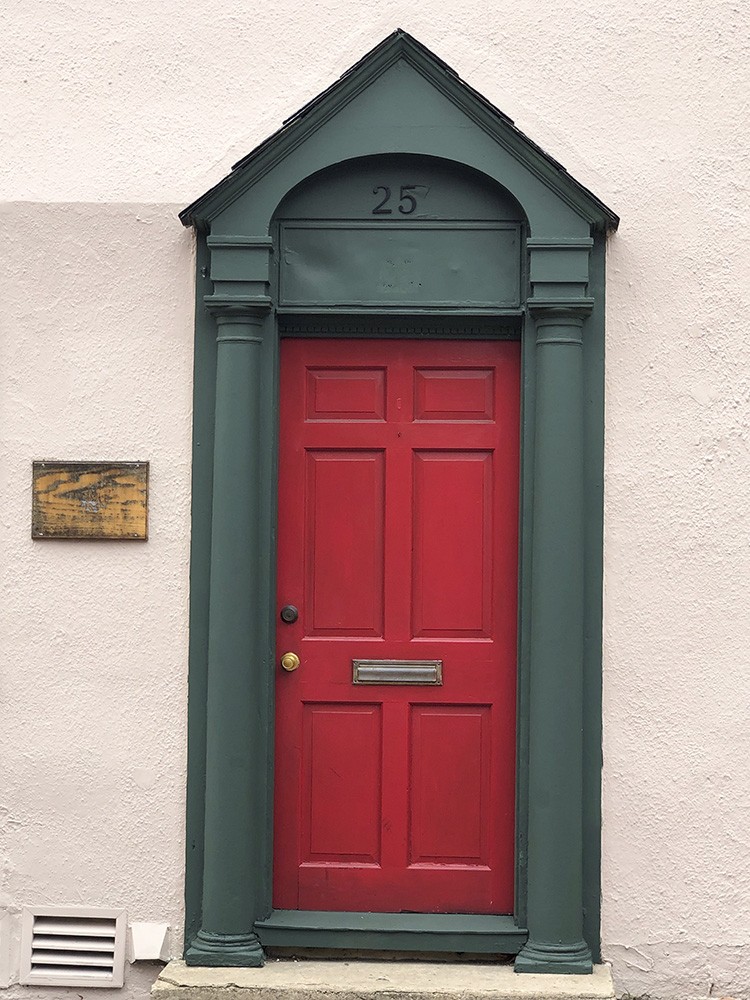 Just an attractive doorway to a house opening directly onto the street…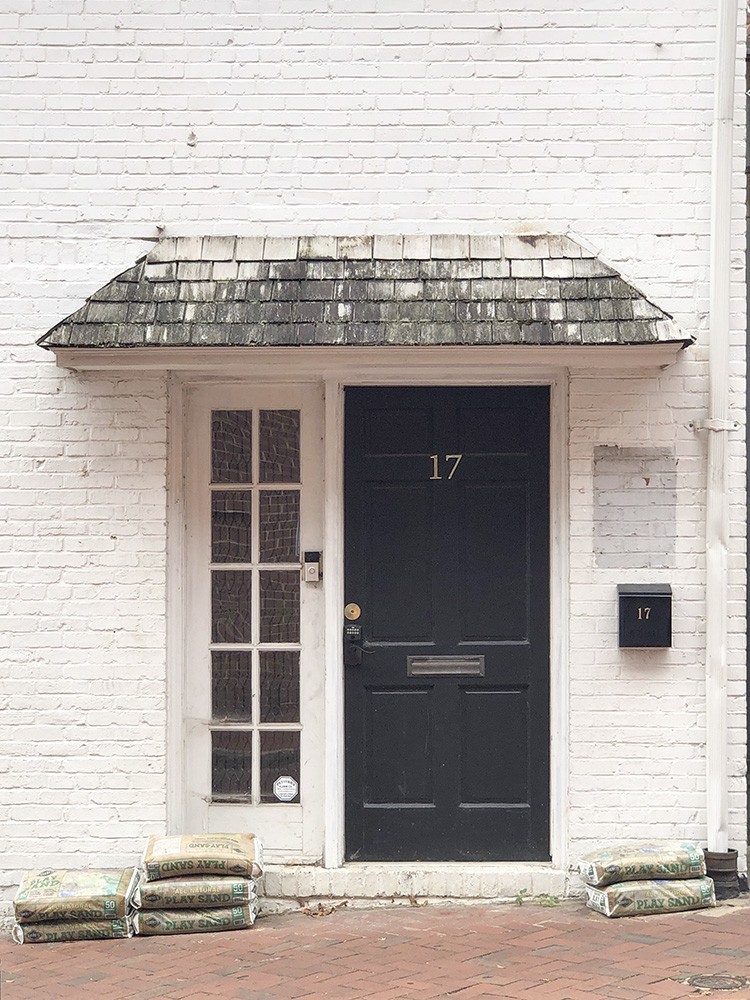 … and another that took my fancy.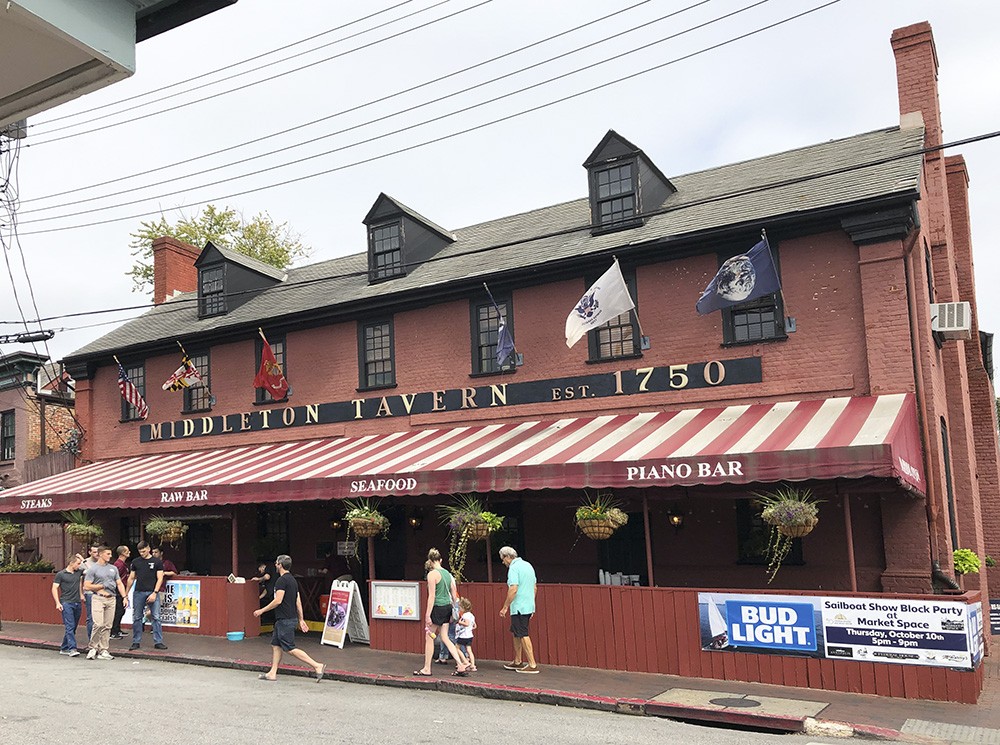 Plenty of eating houses for hungry sailors and visitors, this tavern dating back to 1750.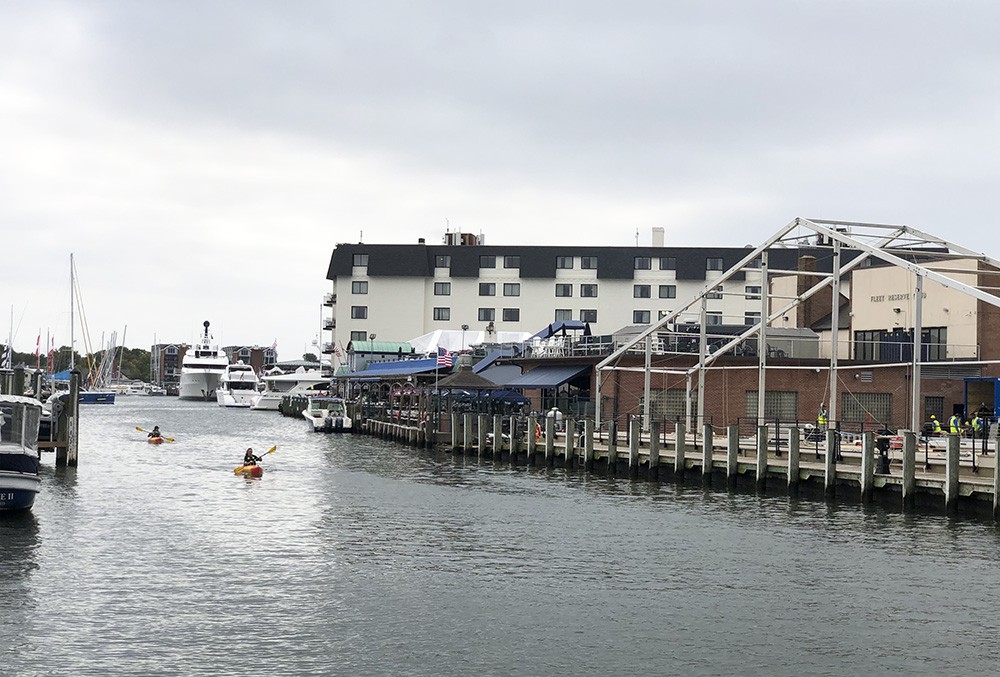 Kayakers, boats and wharves along the harbour.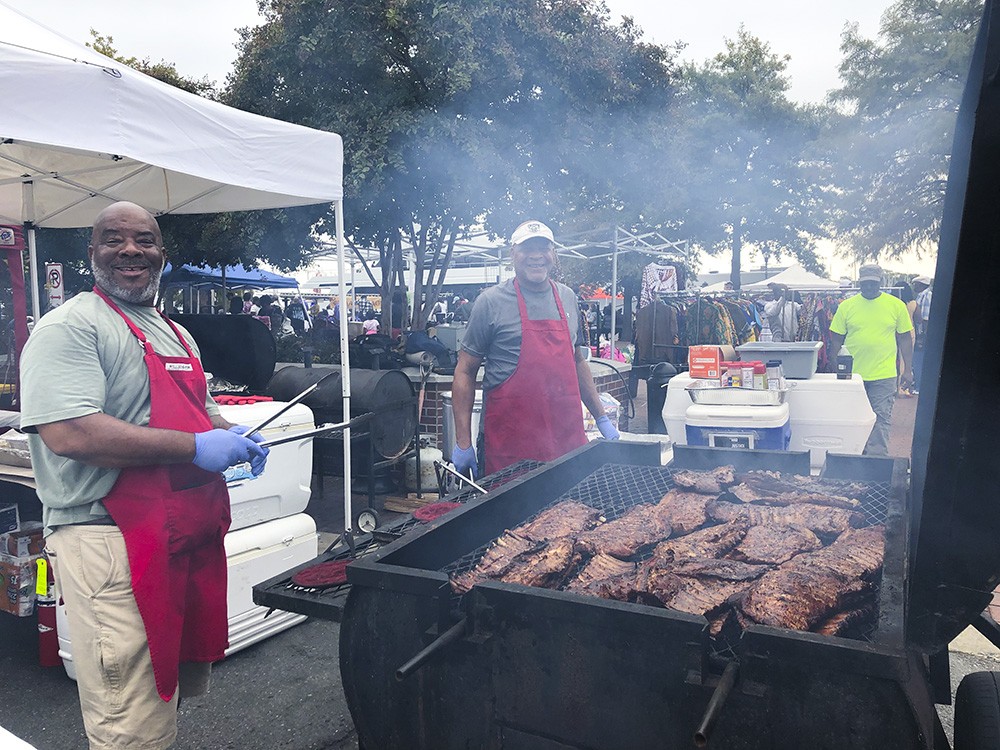 And a festival at the harbour as well with food stalls and artisan boths galore. How about some ribs?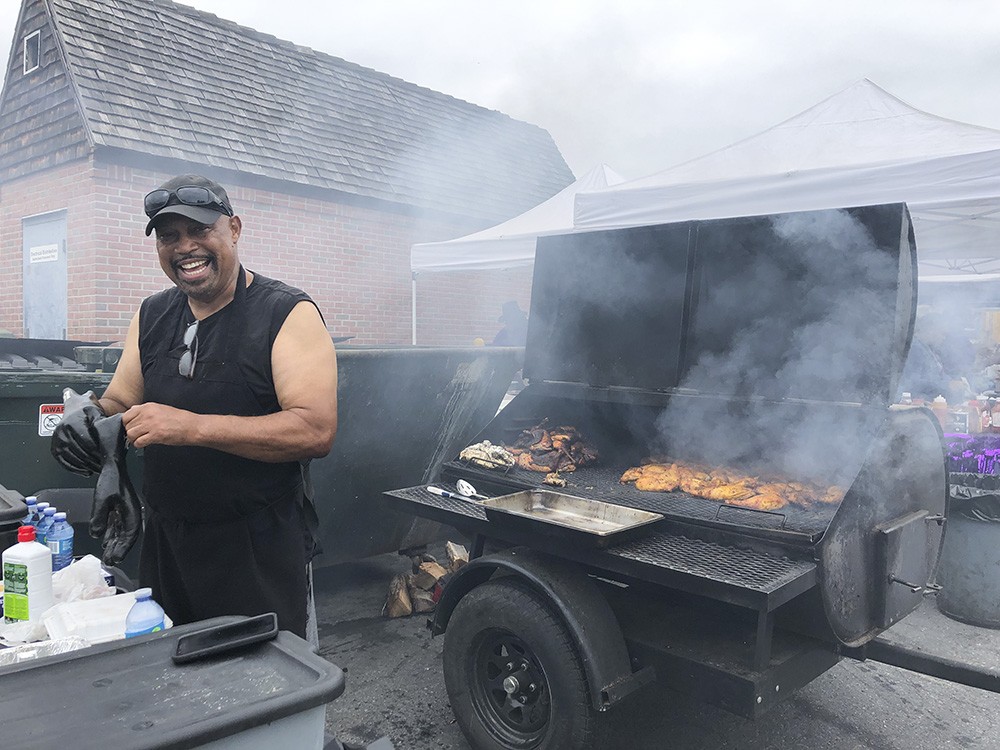 Or some Jamaican Jerk Chicken!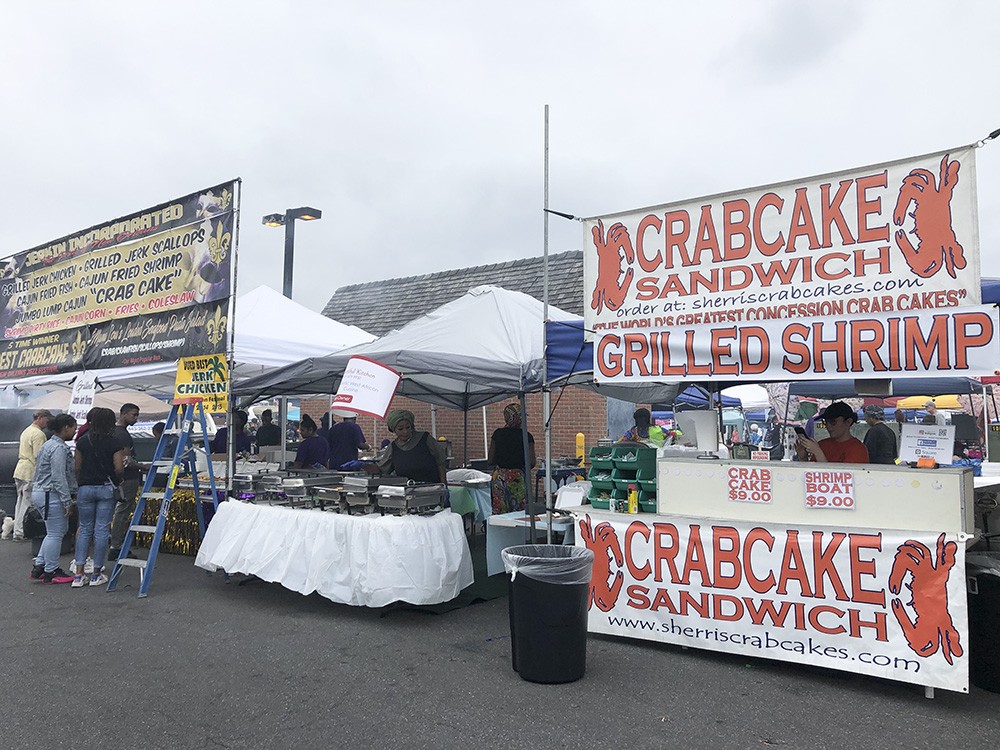 Then there's the grilled shrimp or crab cakes for which the city is famous.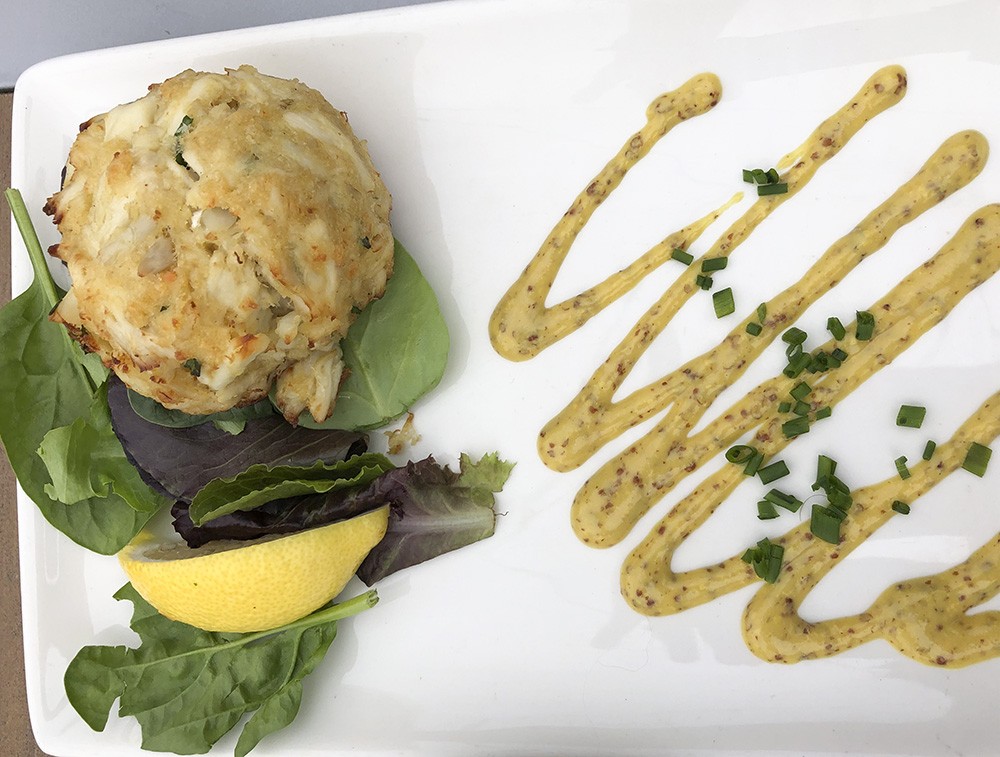 I did indeed have a delicious crabcake for my lunch, but at a restaurant on the river, not at the harbour.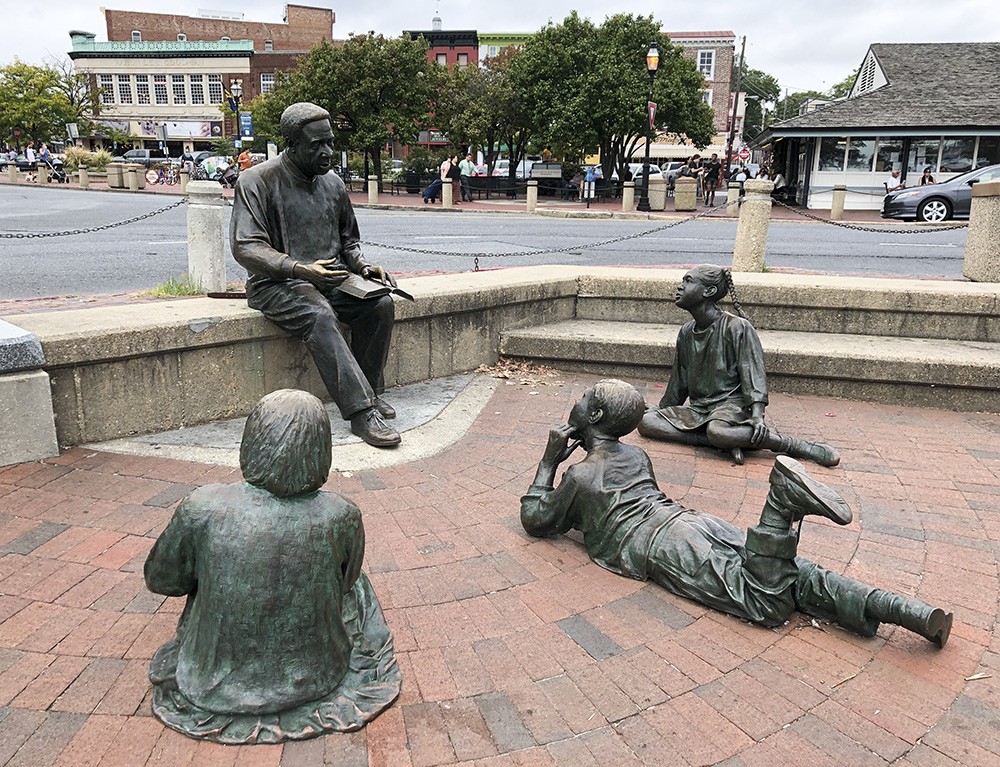 The Kunta Kinte – Alex Haley Memorial, located at the Annapolis ciry dock, portrays in word and symbol the triumph of the human spirit in very difficult times and conveys Alex Haley's vision for national reconciliation and healing.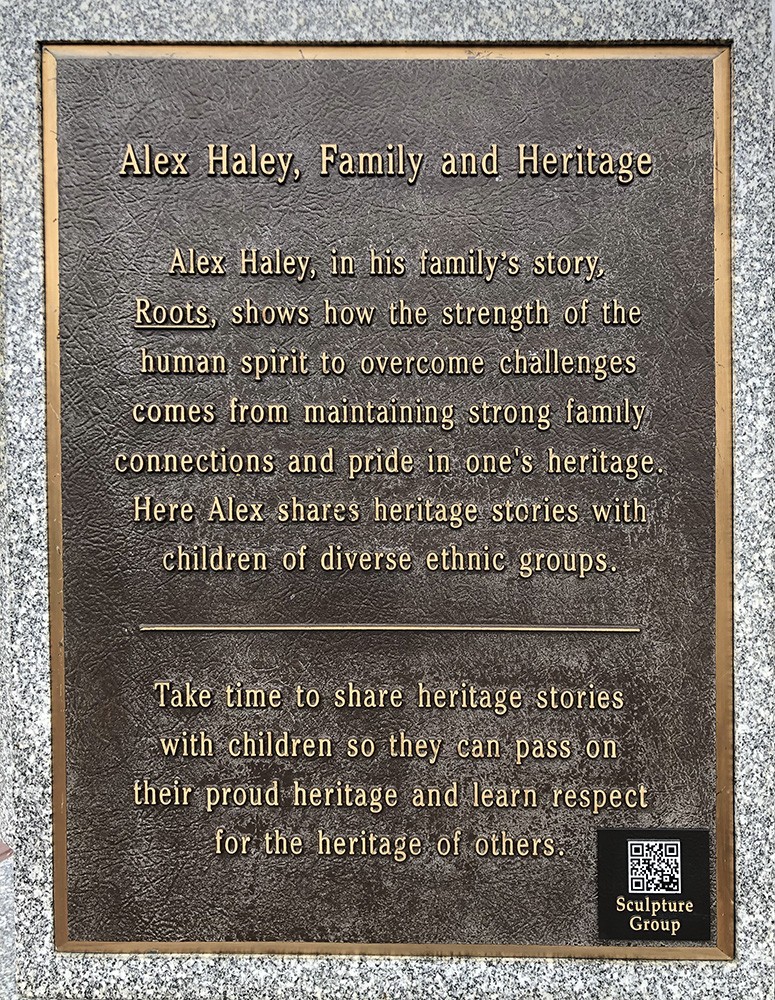 The plaque explaining the memorial.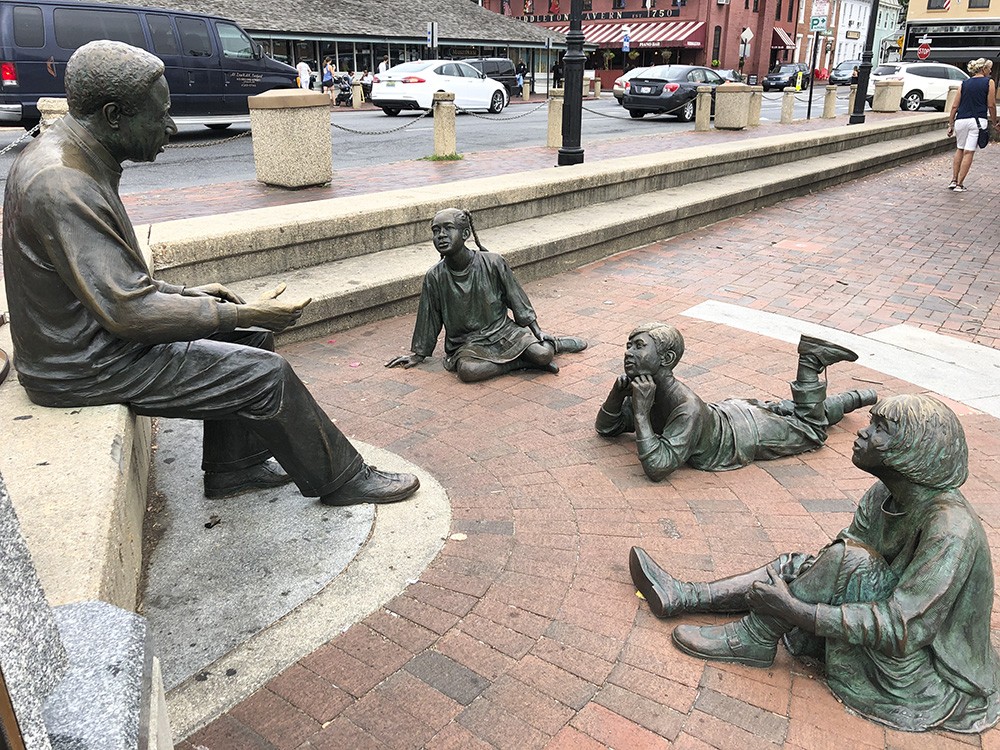 And from another angle showing the intent look on the childrens' faces as they listen to the stories.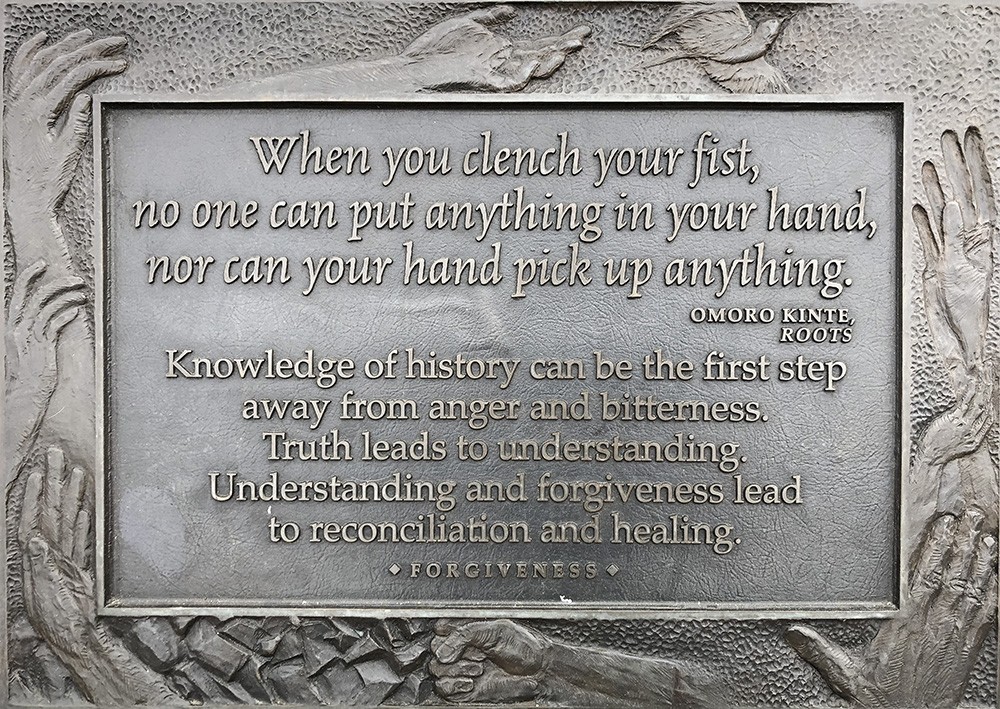 Further along the dock wall, there are several other metal plaques with information and pertinent quotations.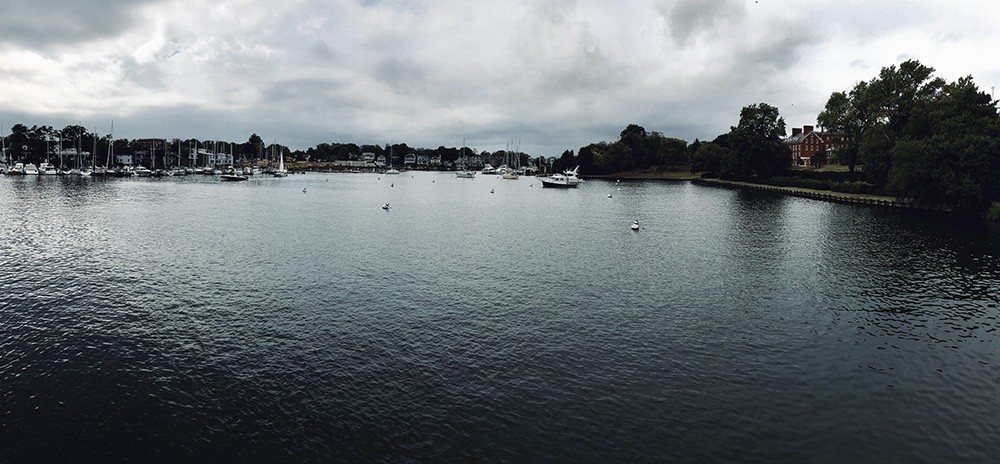 It was an overcast day so the lower reaches of the Severn River looked a little sombre.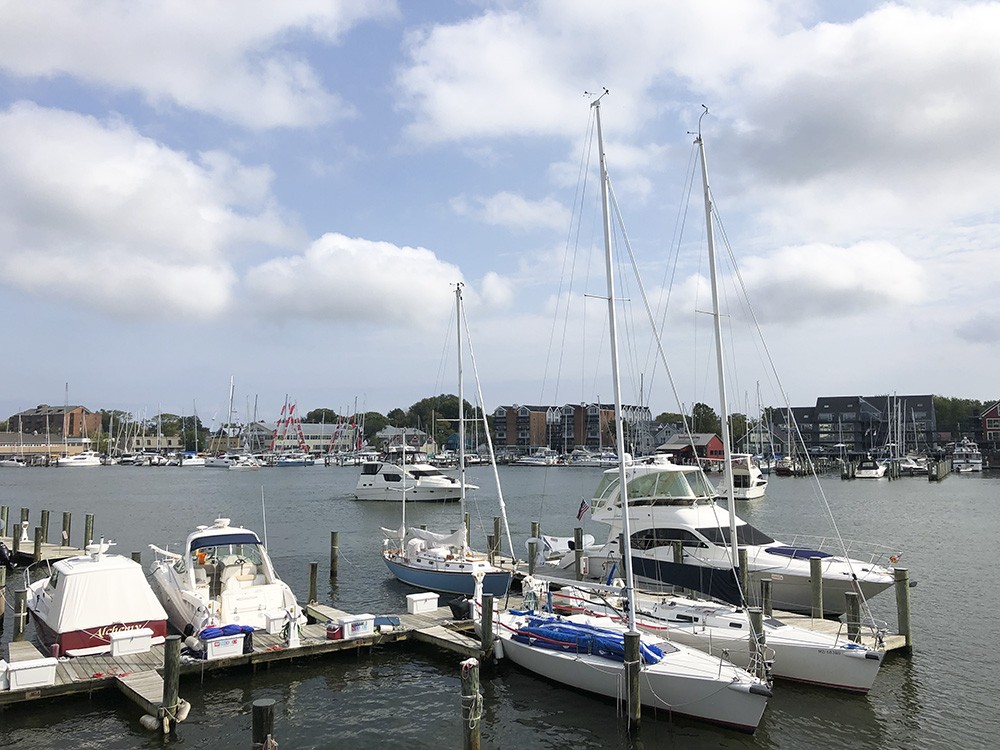 But looking the other way, the skies were clearing and the marinas were busy.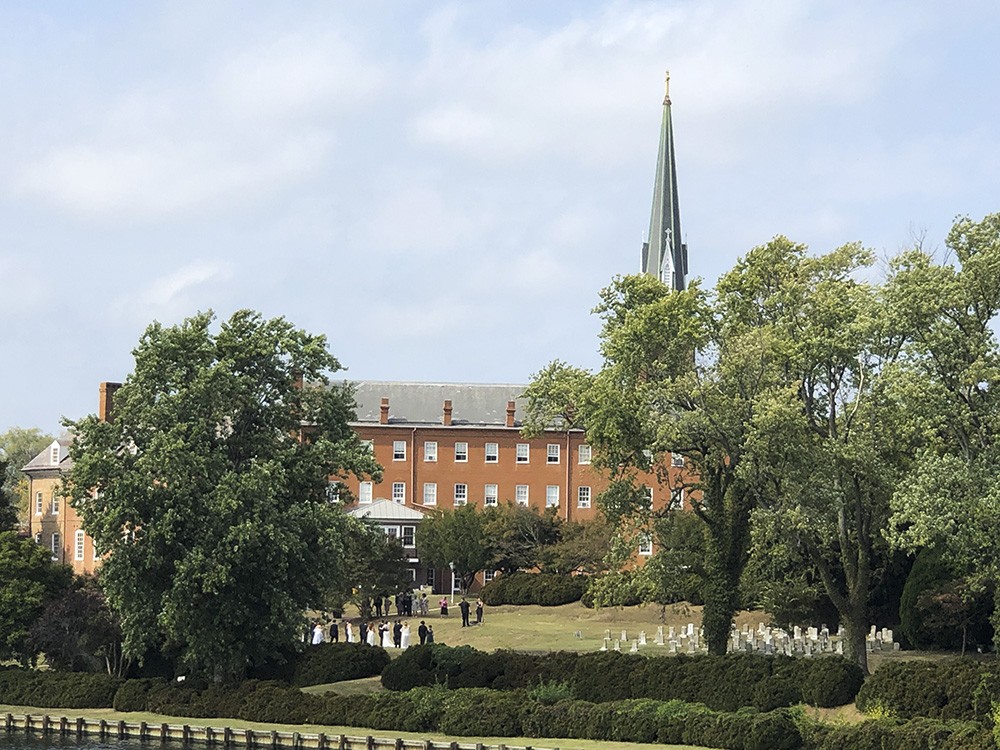 I spied this scene of a wedding being held on the lawn by the river with an adjacent small cemetary
and an imposing building, and a church spire beyond.  It almost looks like a painting from times past.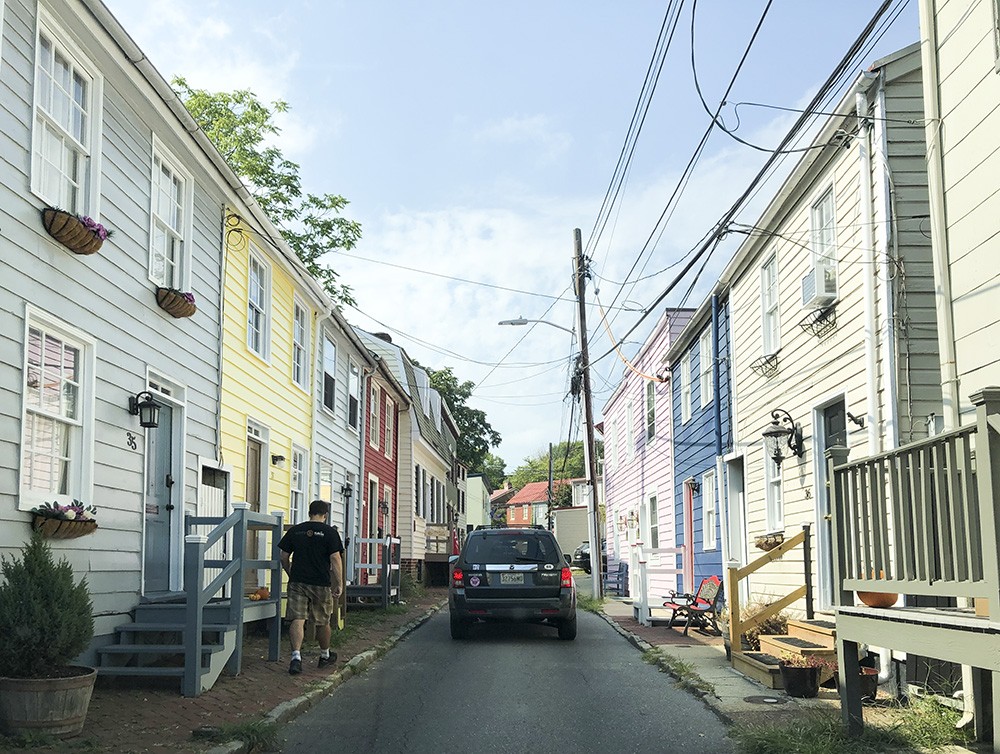 A typical little street winding up from the river with well-cared for old wooden houses either side.
The final visit I made in the area was to the delightful and impressive Hillwood Estate, Museum and gardens, the home of Majorie Merriweather Post. As heir to the Postum Cereal Company (later General Foods), Majorie (1887-1973) was one of the wealthiest women of her time. She exerted a strong hand in the business affairs of her company, unusual in those days, and was dedicated to collecting French and Russian art. In 1955, Majorie purchased Hillwood as her spring and fall residence, while spending her winters at Mar-A-Lago in Florida and her summers in the Adirondack Mountains of New York. (An interesting fact gleaned during our tour – she offered Mar-A-Lago to the US Government for use as a 'Summer White House' but her offer was turned down.) She spent two years renovating and expanding Hillwood, to suit her lifestyle and to house her extraordinary art collection. Majorie bequeathed her home and collections for the enjoyment and education of future generations and in 1977 it was opened to the public – it has the most comprehensive collection of Russian Imperial Art outside of Russia, a distinguished collection of French art from the 1700s and 25 acres of landscaped gardens and natural woodlands.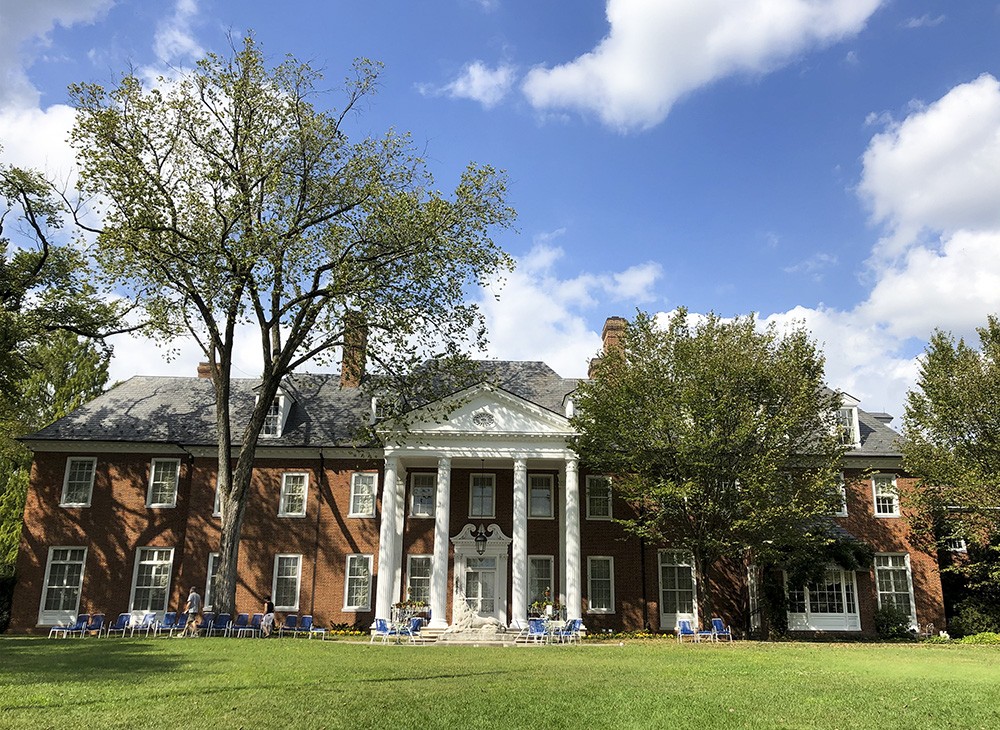 Hillwood Mansion.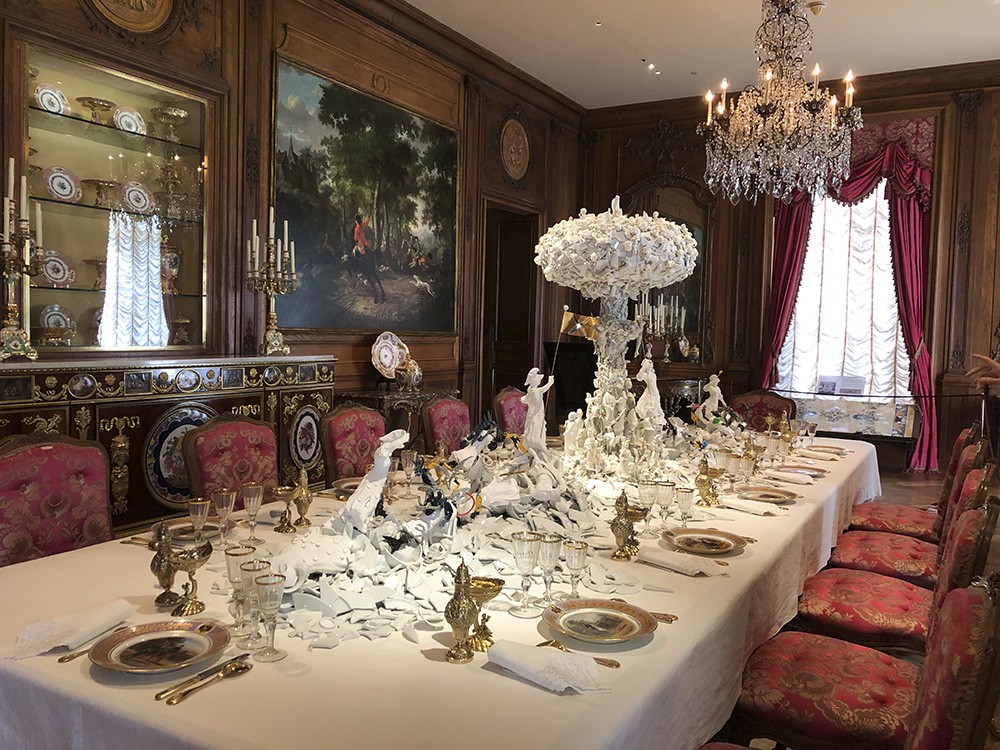 The dining room with an elaborate table setting, and made a little interesting by a modern art centrepiece of brocken crockery.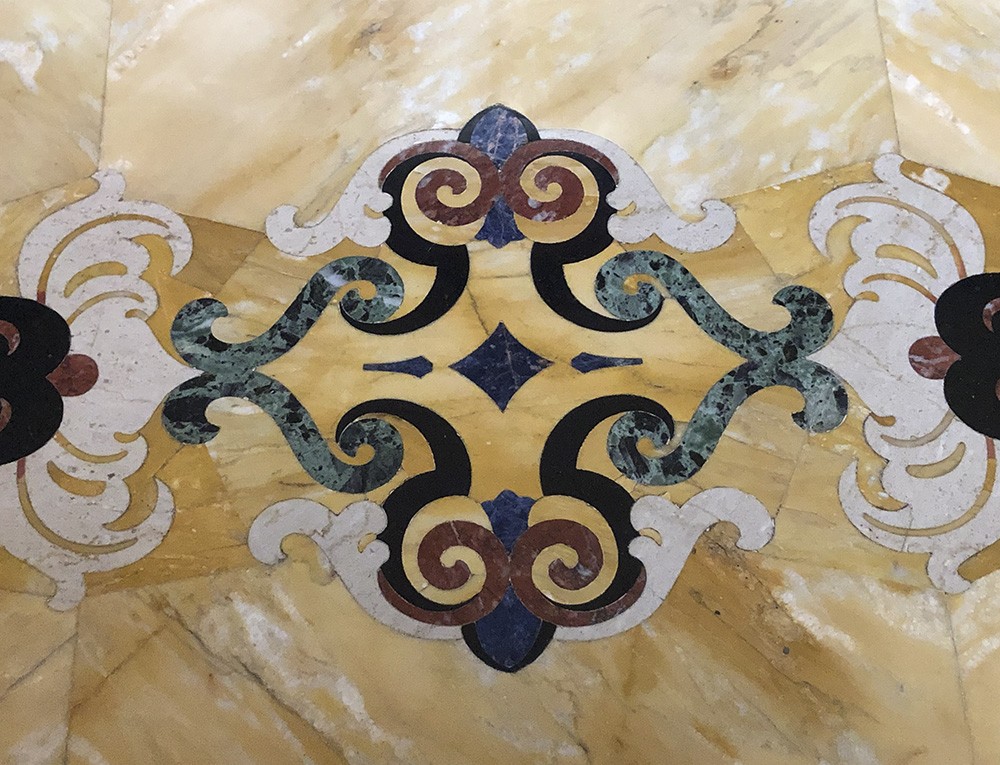 A detail of the beautiful inlay on the dining table.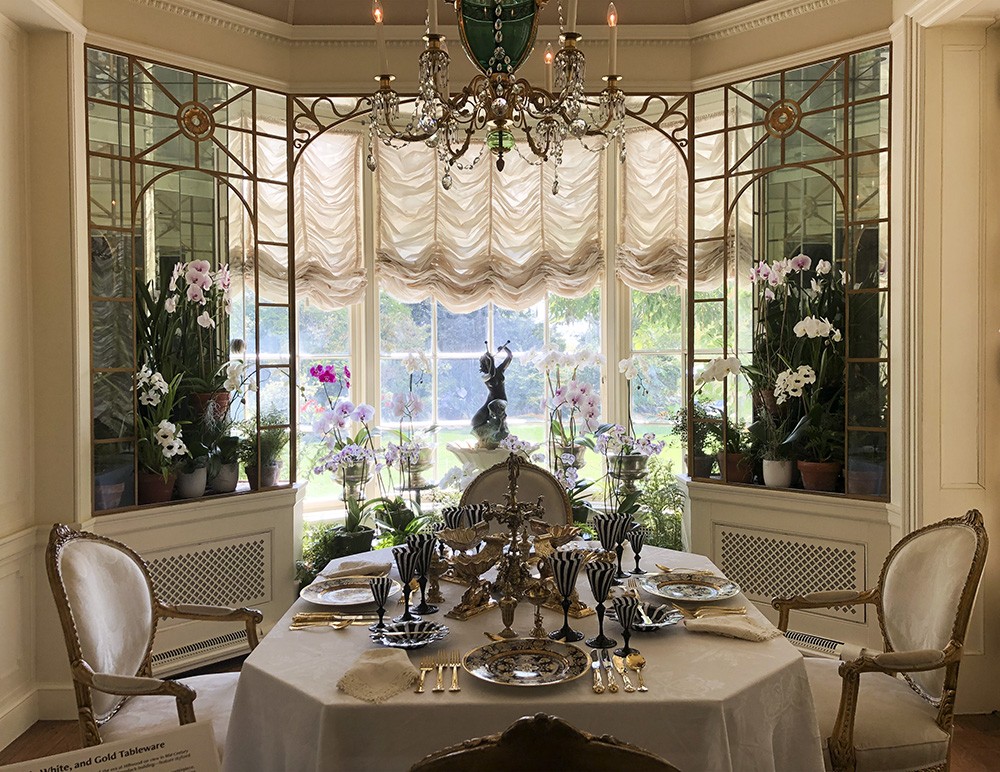 My favourite room in the house – the breakfast room with black and white glassware and a green glass chandelier
from the Russian Royal Palace. Evidently she only used this room when she had guests
as she normally took her breakfast in her bedroom or adjoining dressing room.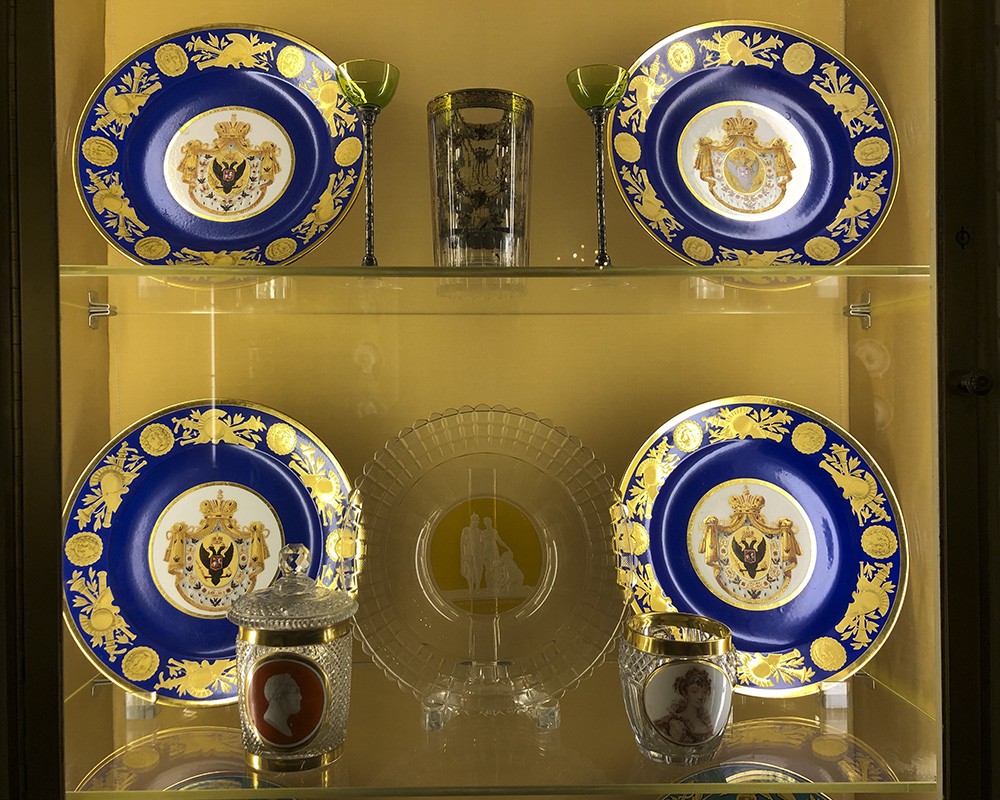 One small part of her 'Bleu Celeste' French porcelain collection.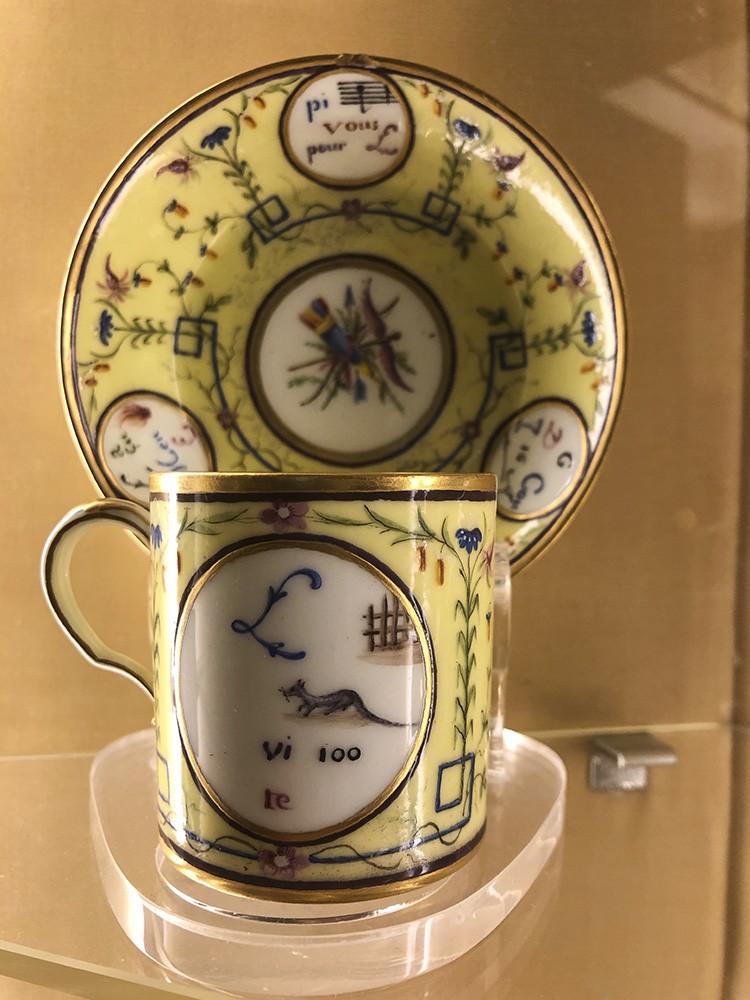 A Rebus cup and saucer. Original puzzles or 'emojis' – each commissioned by a suitor to offer to his sweetheart,
or vice versa, with a coded message only they would understand. I wonder what this is saying?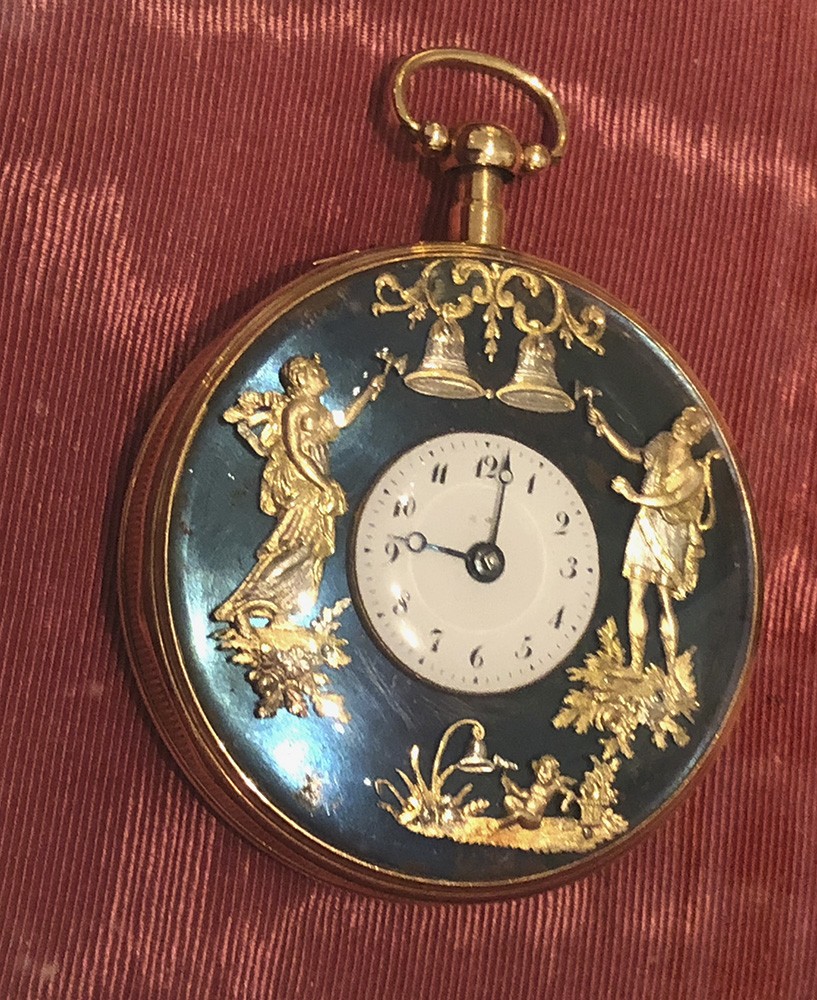 A beautiful engraved watch by the firm of Faberge.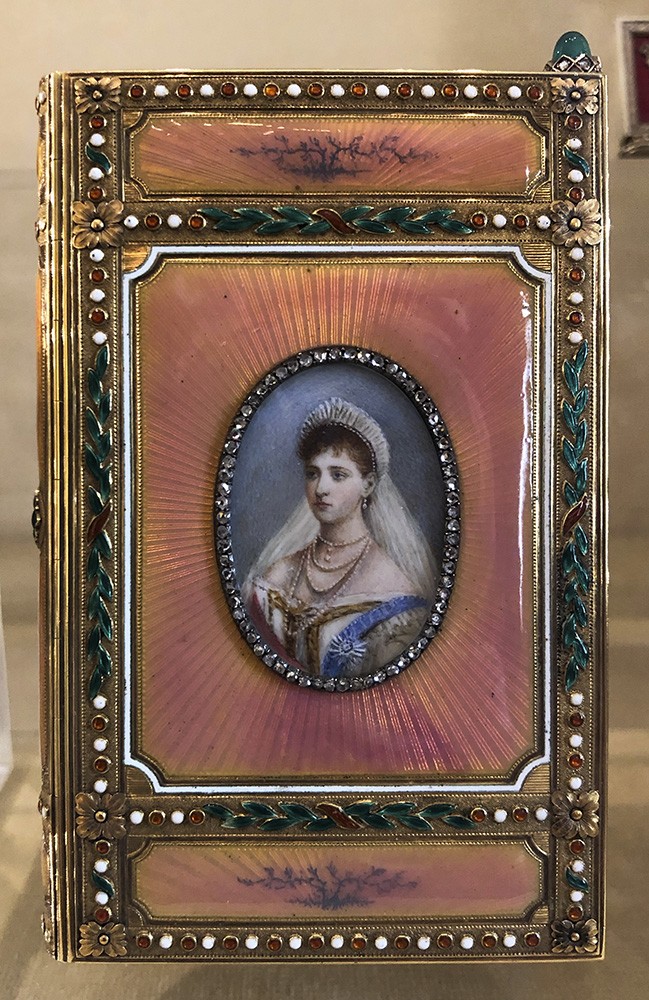 The Empress Alexandra's bejewelled Notebook by Faberge.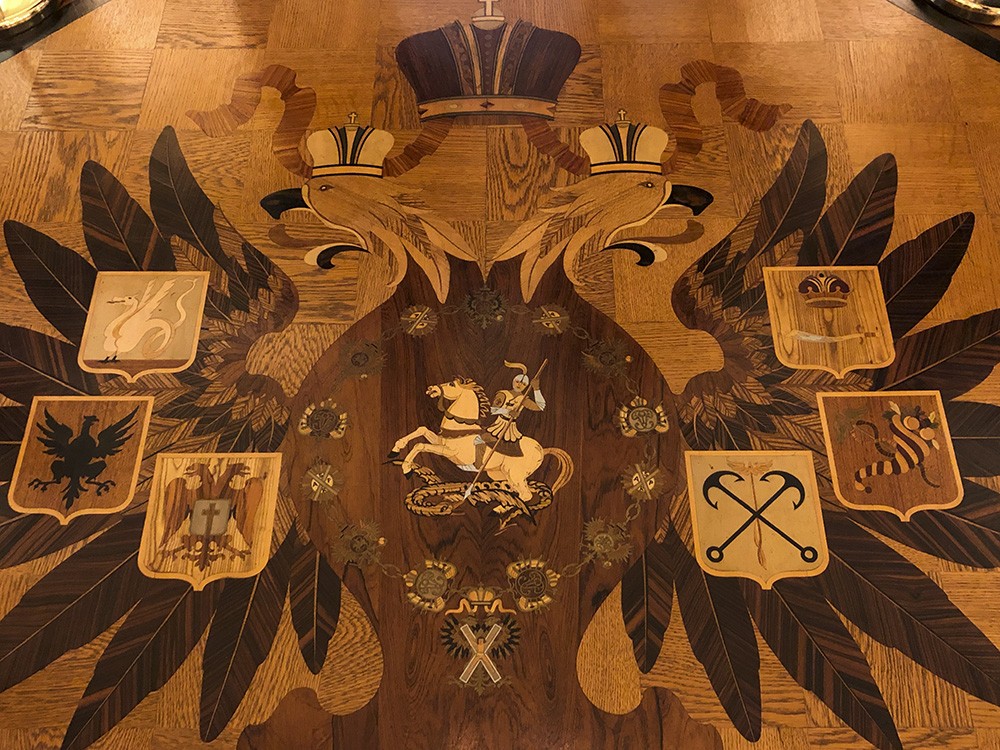 A detail of one of the finely inlaid parquet floors with an image of St George and the Dragon and several Coats of Arms.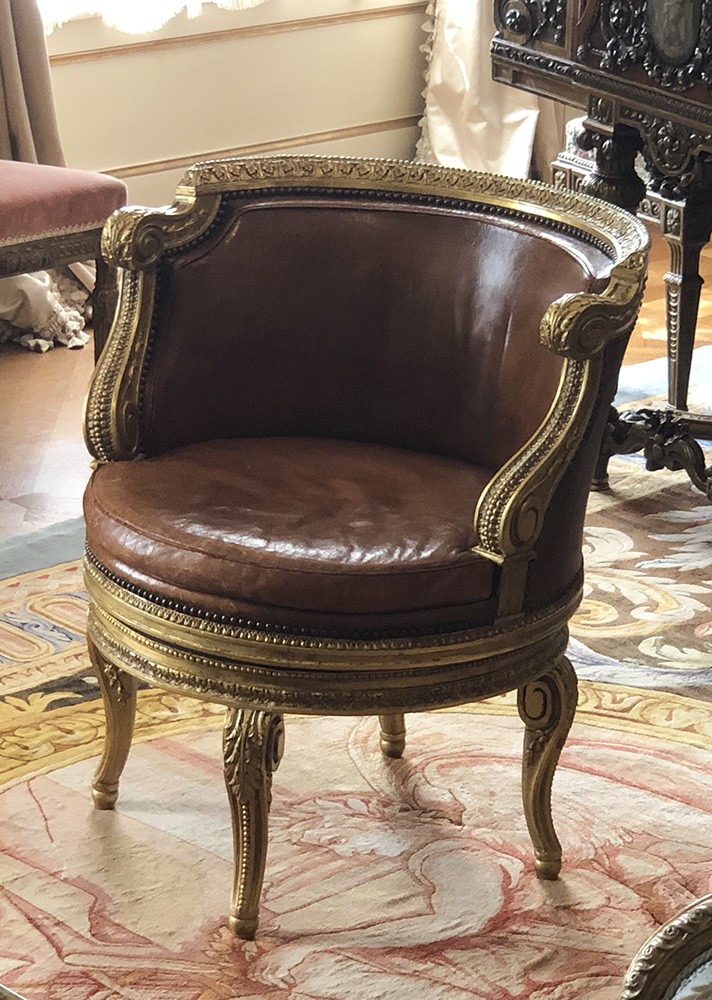 An interesting swivel chair with leather upholstery purportedly having been Marie-Antoinette's hair-dressing chair.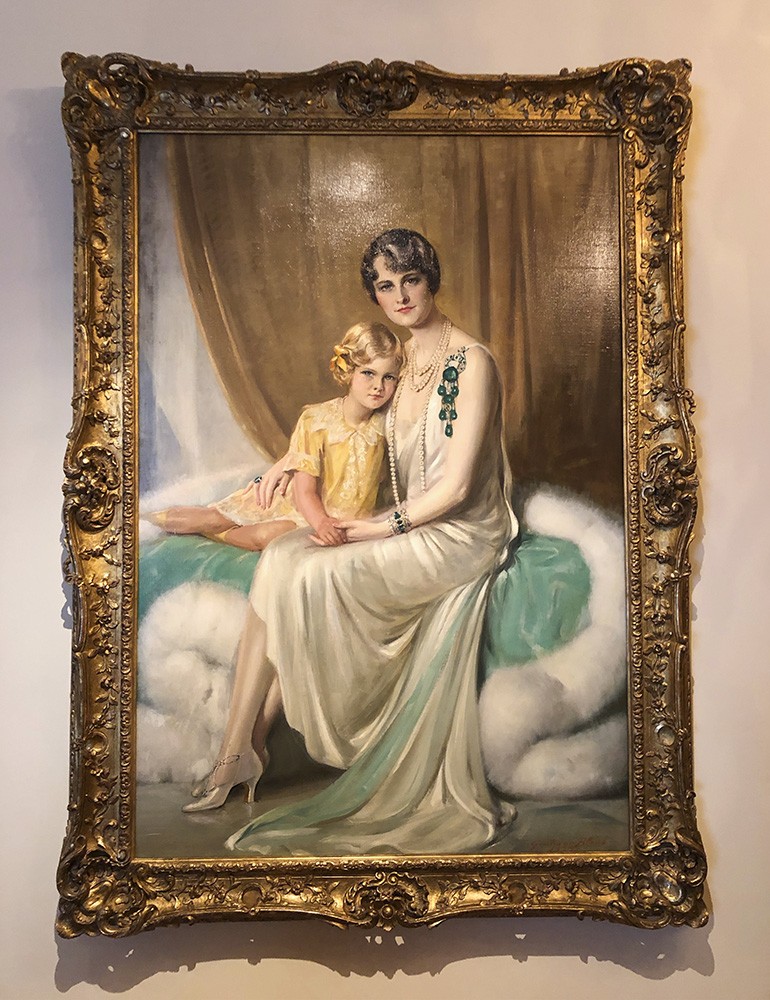 A portrait of Majorie Merriweather Post and her eldest daughter.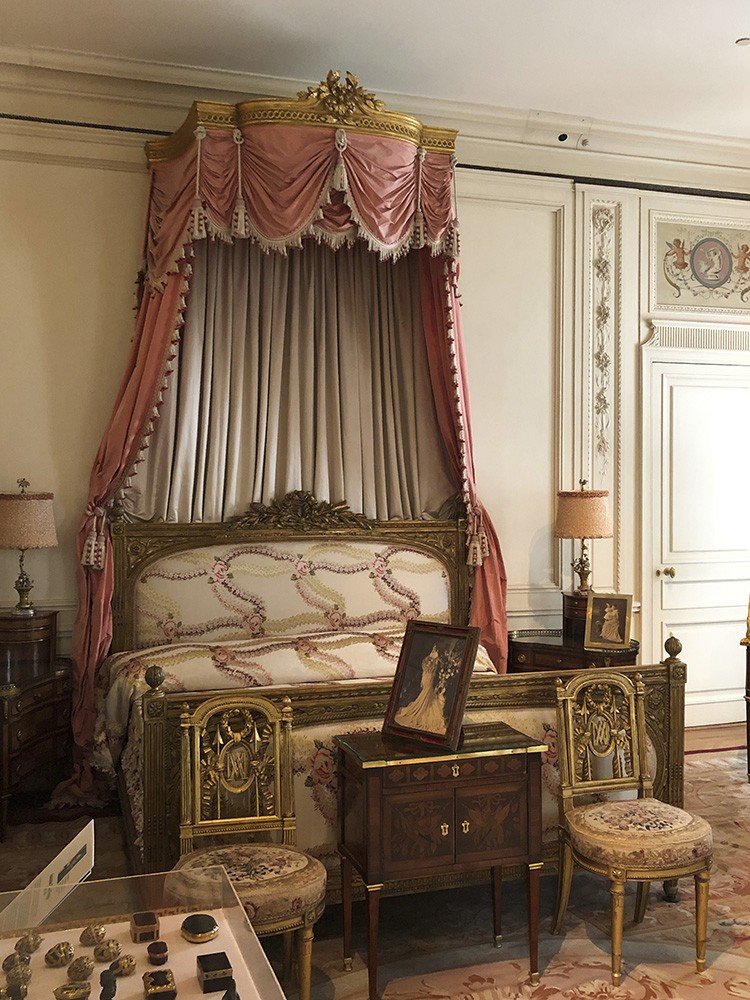 Majorie's bedroom, or should we call it a 'boudoir'.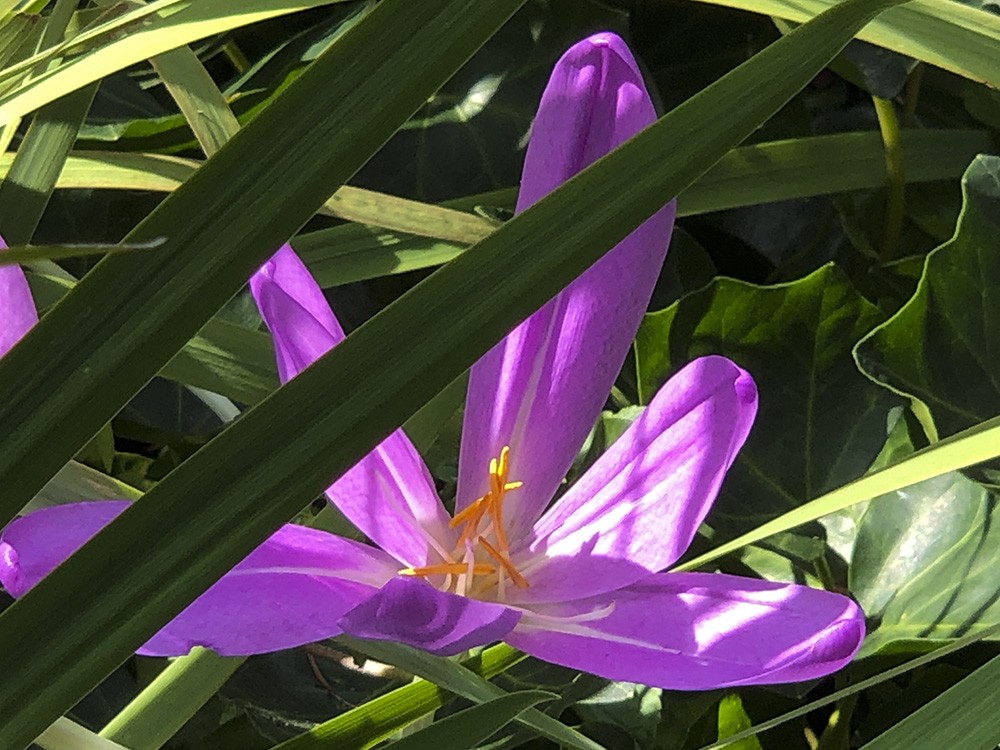 The gardens were of course lovely, with a Japanese garden, a rose garden and various secluded corners, one housing a Dacha.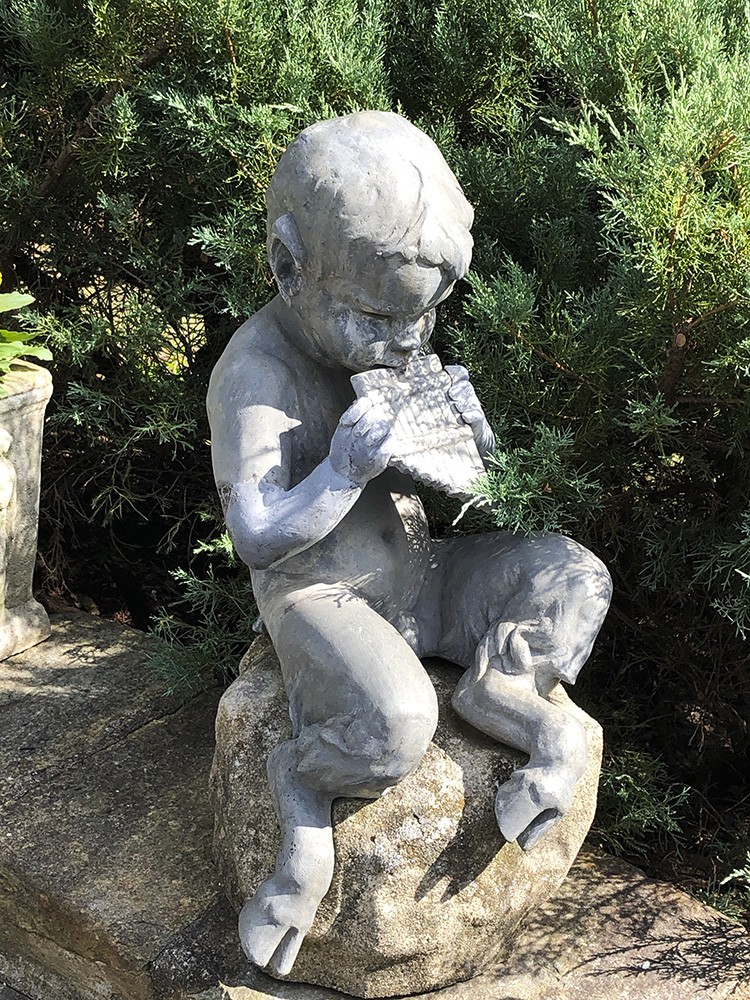 And there were plenty of fountains and statues, waterfalls and ponds as well including this delightful little 'Pan'.
But before I sign off on this episode of my journal, I should mention that Halloween, that most spooky of the American festivals is fast approaching, and these are just two glimpses of the decorations some like to put about their houses.  There will be more about this in up-coming blogs.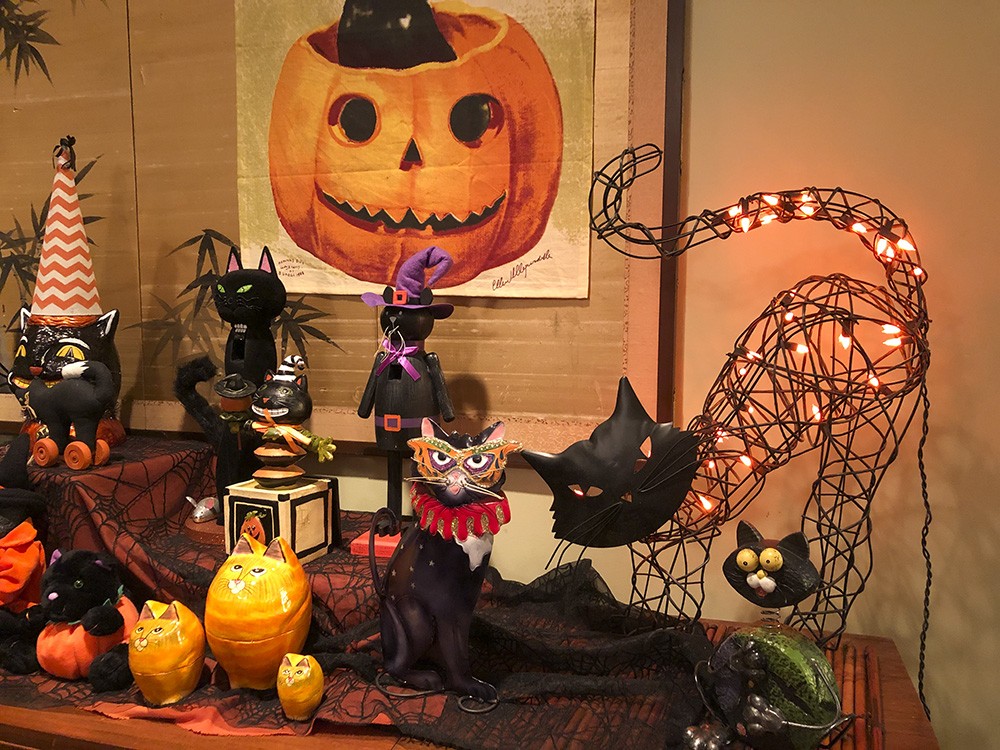 Just a few Halloween treasures in this friend's house.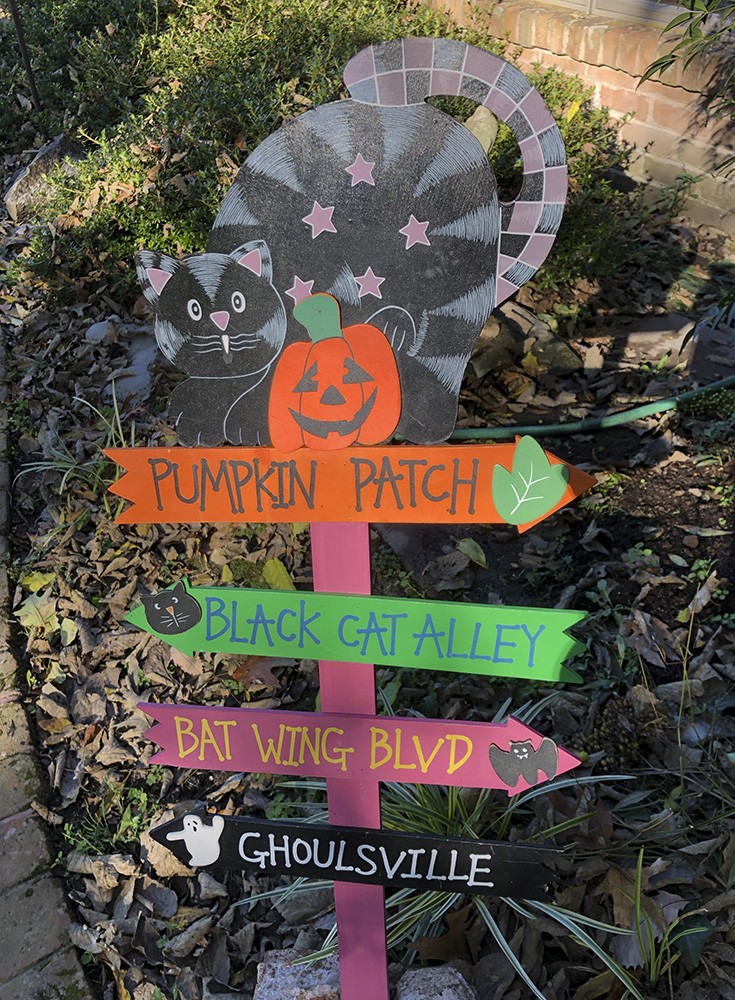 Choose your next destination if you will …….
So, where to next? After Washington DC I flew to Plattsburgh in Upper New York State and stayed with friends at their house on the beautiful Lake Champlain. We did a road trip together through the Adirondack Mountains, to Buffalo and Niagara Falls and back again along the northern side of Lake Ontario.  So, keep an eye out for the next blog please.
Until then, stay safe, travel well and enjoy life as I am surely doing these days, thanks to the wonderful hospitality of dear friends.