Dear Friends,
Sometimes it seems as though there is some kind of magic in the air, and Tuesday was one such day for me and for Wasihun Asnake Mengsta. We met first in Geneva in 1991, and now 28 years later we meet again in Washington DC.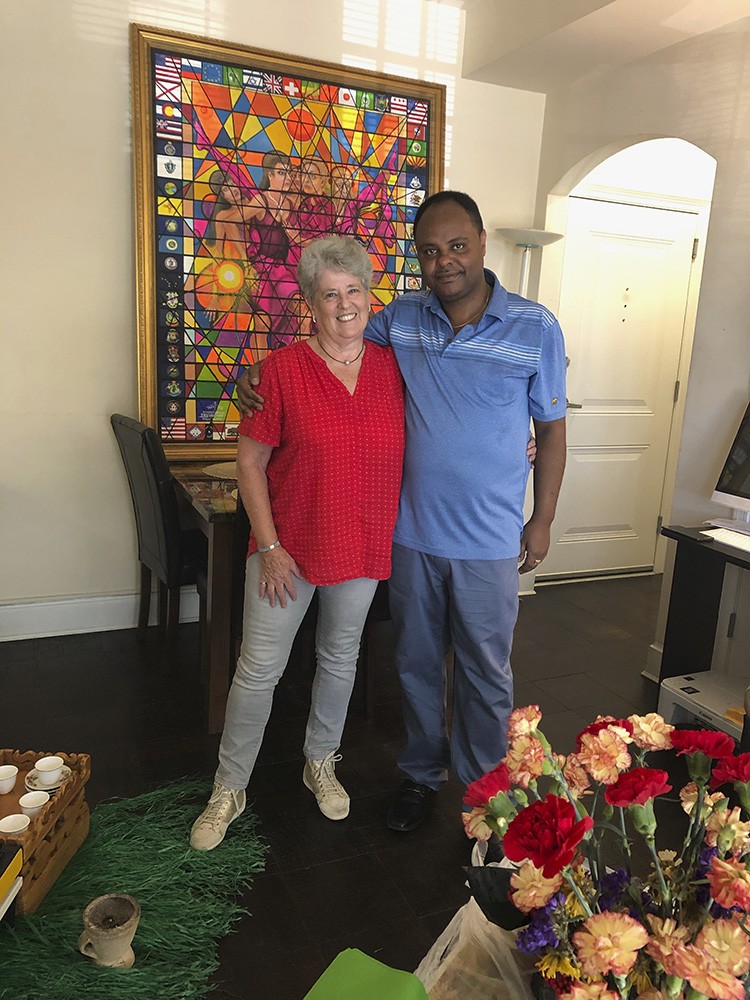 With Wasihun in his apartment with one of his current artworks on the wall behind.
The back story: A few months ago I planned a trip to visit friends in the USA, starting with a week in Washington DC. Imagine my surprise when just days before my departure I received an email through my website from Wasihun asking if I remembered him. I wrote back immediately and replied that I certainly did and that what's more, I still had 45 of his paintings in my safekeeping. I added that I would photograph them for him, as perhaps he had forgotten what he left with me 28 years before. I asked how he was and if he was still painting. He replied he was, that he had had an art gallery in Ethiopia for 15 years but was now living in Washington DC and preparing to sell his paintings at auction through Christies and Sotheby's.  I said that as an incredible coincidence I would be visiting that city the following week and we could meet. I put all his paintings in a portfolio and carried them with me to the States. Yesterday I returned them to him, and also the two brushes he had left with the paintings.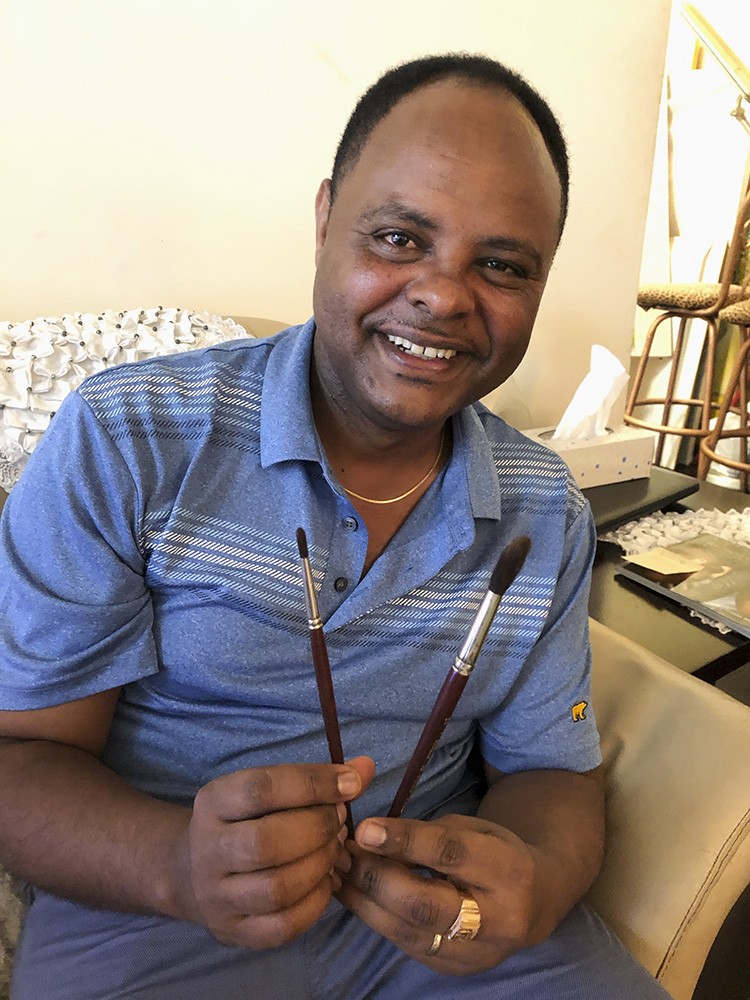 Two of his original brushes returned to him.
The competition: In 1991, Wasihun was one of the winners of an International Art Competition for young people that I organised for National Red Cross and Red Crescent Societies across the world, as part of the 'Light the Darkness' Campaign which was to highlight the need for protection of victims of war. The prize for the 10 chosen artists, representing all regions of the world, was one week in Geneva. It was a full week for the participants, meeting Red Cross Red Crescent officials but also having fun  – at the Fete de Geneve, shopping, cruising on the lake and overnighting in a mountain chalet, seeing snow for the first time. At the end of the week, Wasihun asked if I would keep his paintings and perhaps could support him further. Over the following years, I tried through other Ethiopian friends to find him, but to no avail. So this somewhat chance meeting again was very special.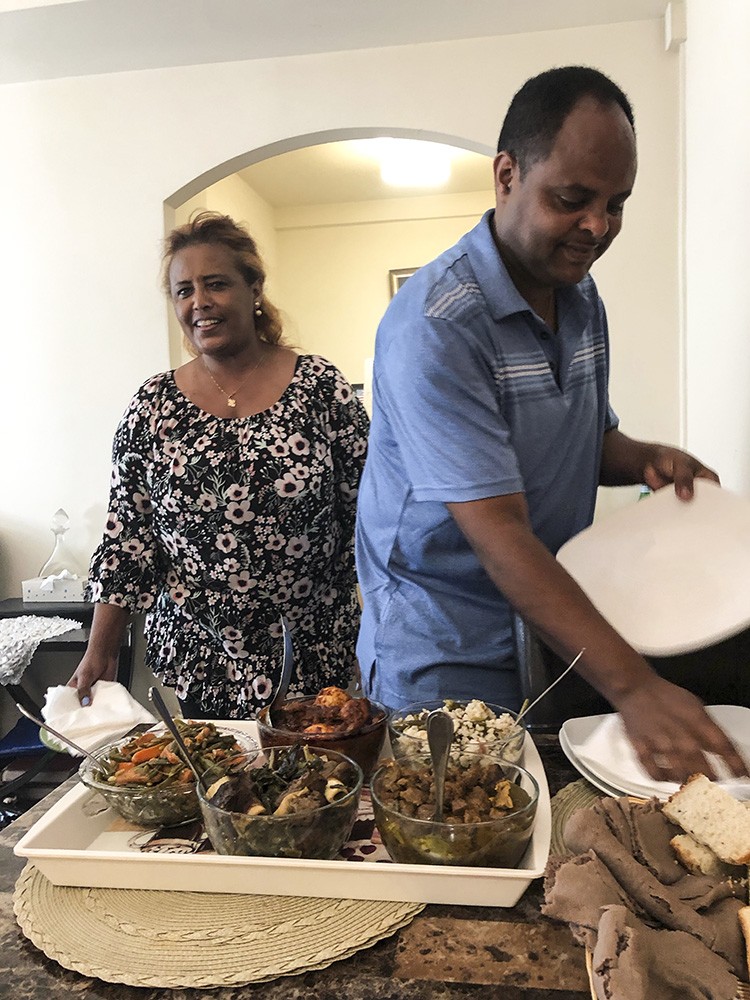 Wasihun and his wife Alem preparing a traditional lunch of injira and wat that I was invited to share.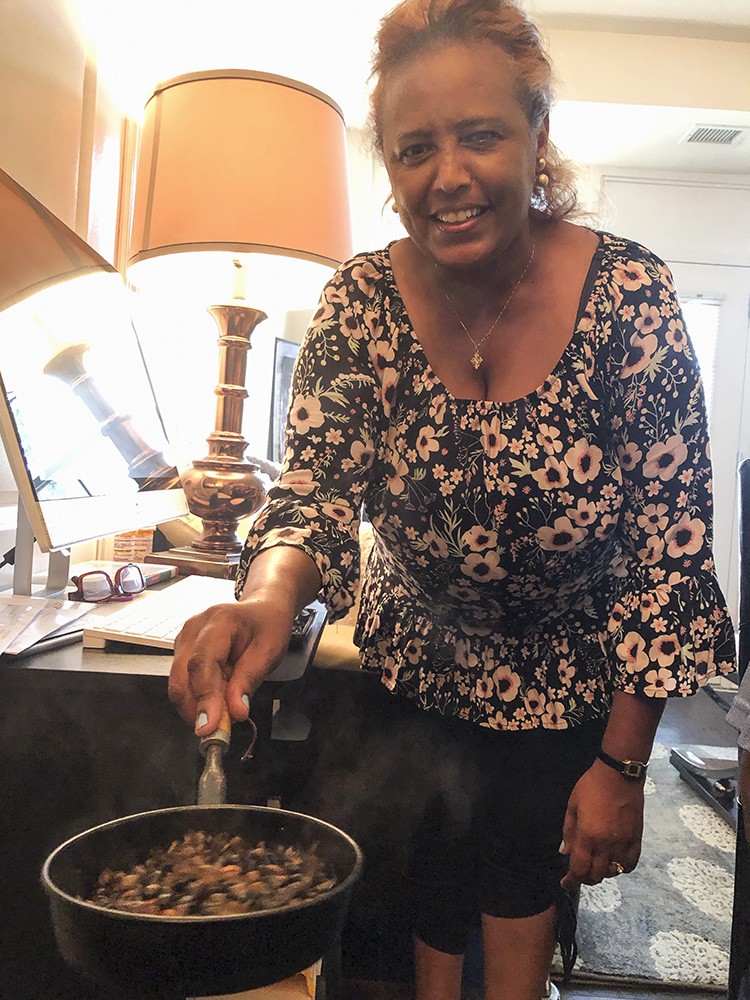 Alem shows me the smoking coffee beans for which Ethiopia is famous.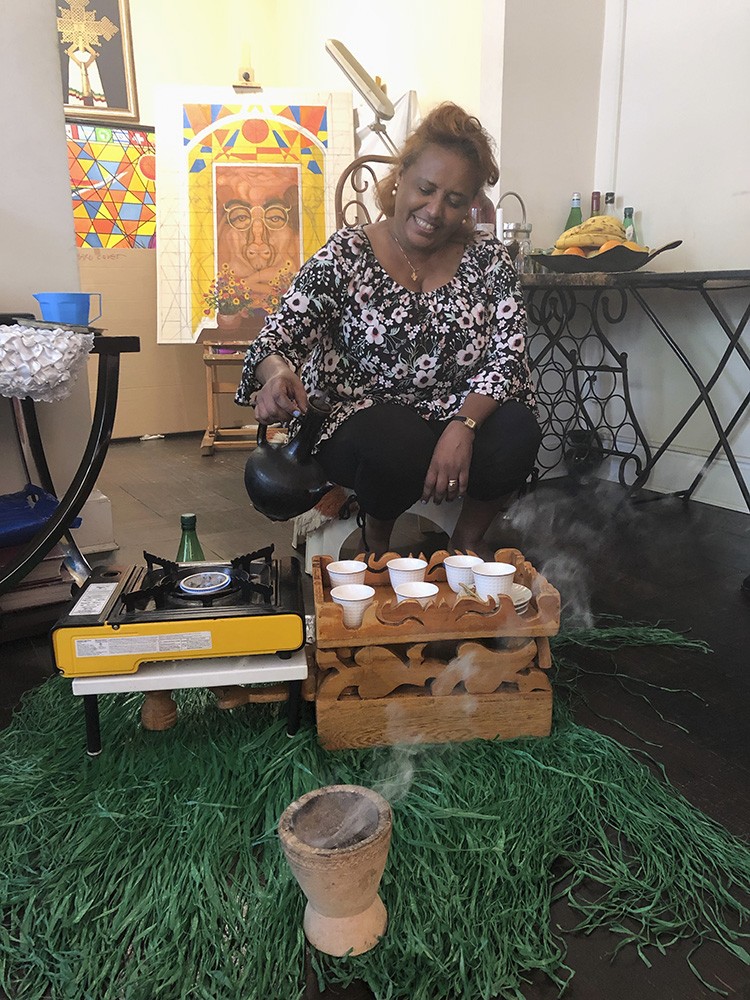 Coffee time,  a new Wasihun painting half-finished on the easel behind.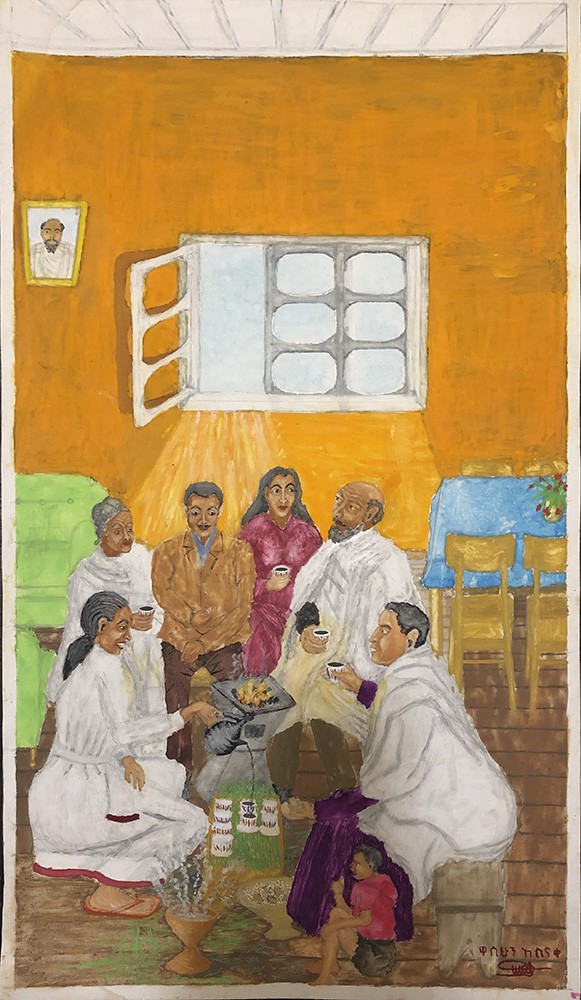 Coffee served for friends is an important ritual at any time of the day.
Wasihun's story: Wasihun was born into a poor family and his interest in art, music and poetry was not really encouraged. In 1989 he begged a relative to buy him some materials to compete in an art competition being organised by the Ethiopian Telecommunications Authority. The money was not enough so he made a brush himself out of a stick and some goat's hair, and even with these challenges, he won the competition. When the renowned artist Afework Tekle handed over his prize, Wasihun remembers that was the time when his mother first understood that her son had real talent.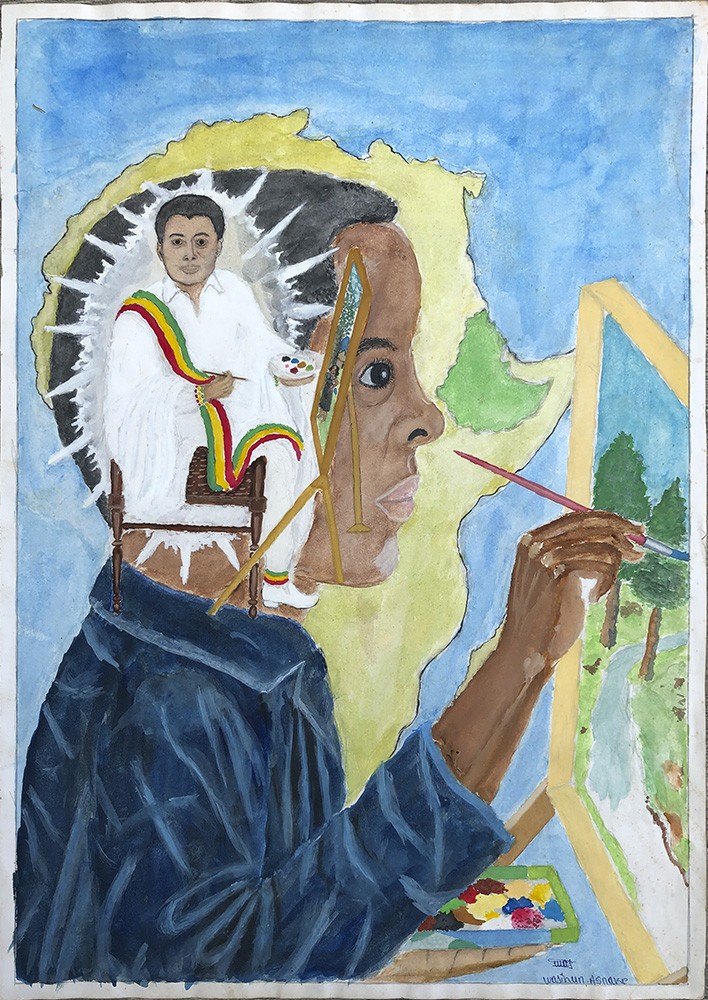 Inspired by Afework Tekla and his country and continent, Wasihun began painting in earnest. 
Wasihun entered successfully in other national and international competitions and the themes and subjects of his paintings were largely drawn from his surroundings, his family and community, market days, the countryside and the celebrations and observances of the Ethiopian Orthodox Church. It is incredible when you look at the quality of all these paintings which he left with me, that they were executed by Wasihun before he was 15 years old.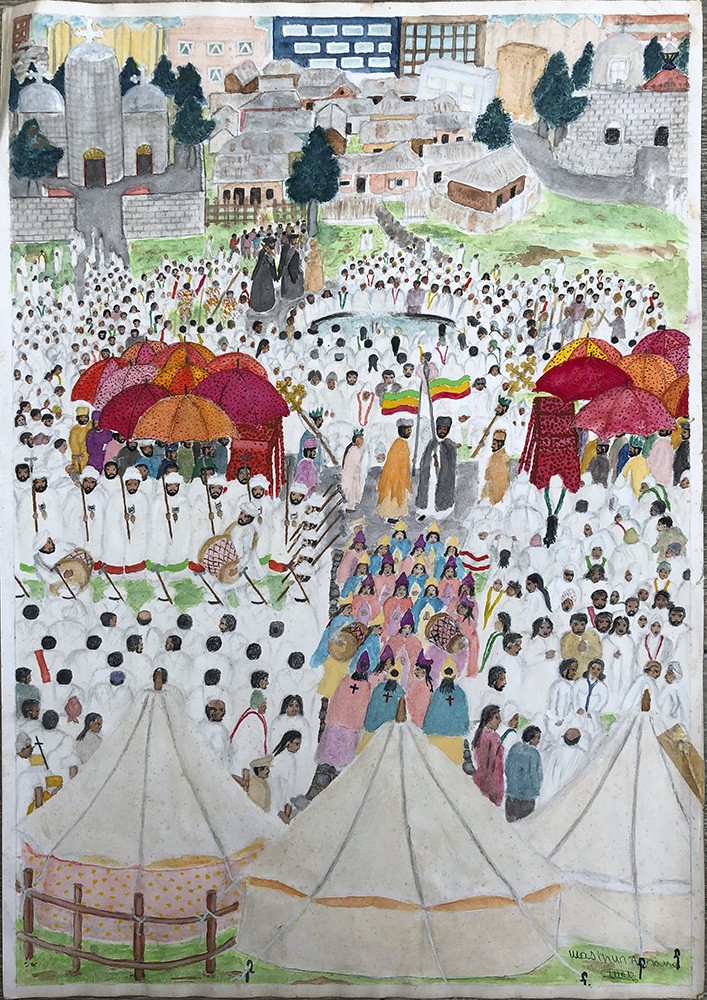 A religious ceremony on the outskirts of the city, such detail.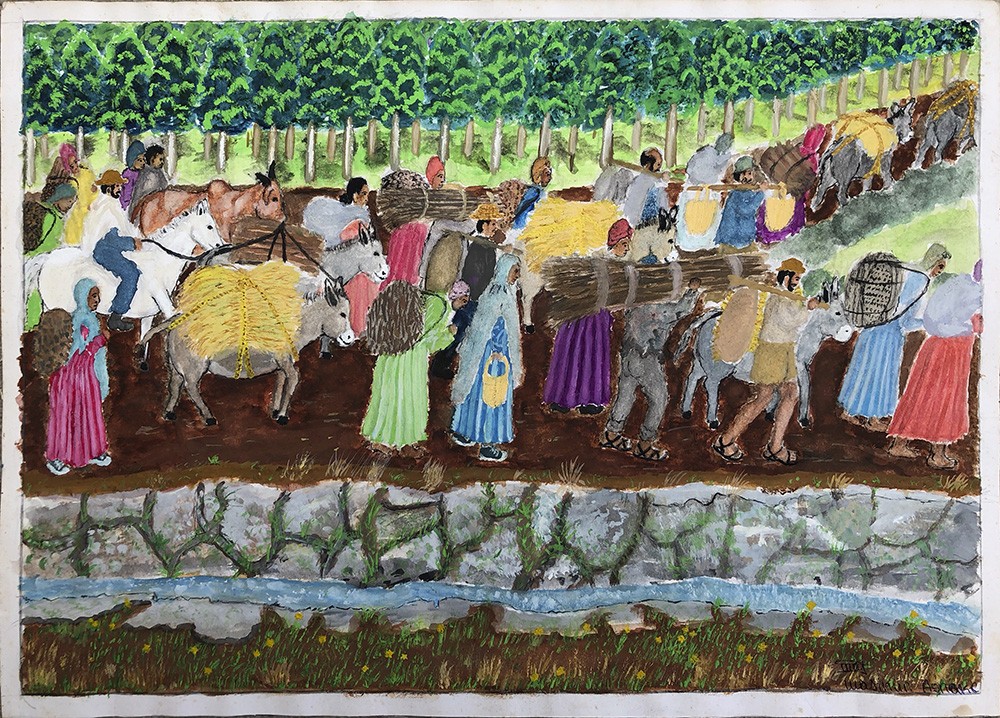 Early morning on market day, everyone bringing their produce and animals…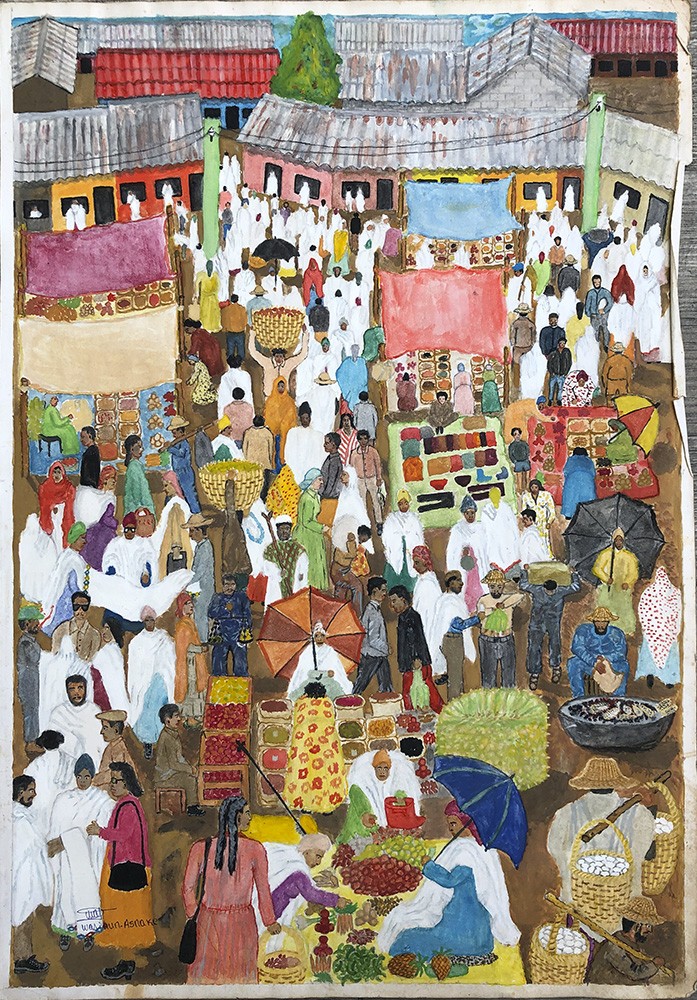 … and a scene at the market, people buying and selling, delivering produce and people sharing news together. 
Another market scene, with animals for sale.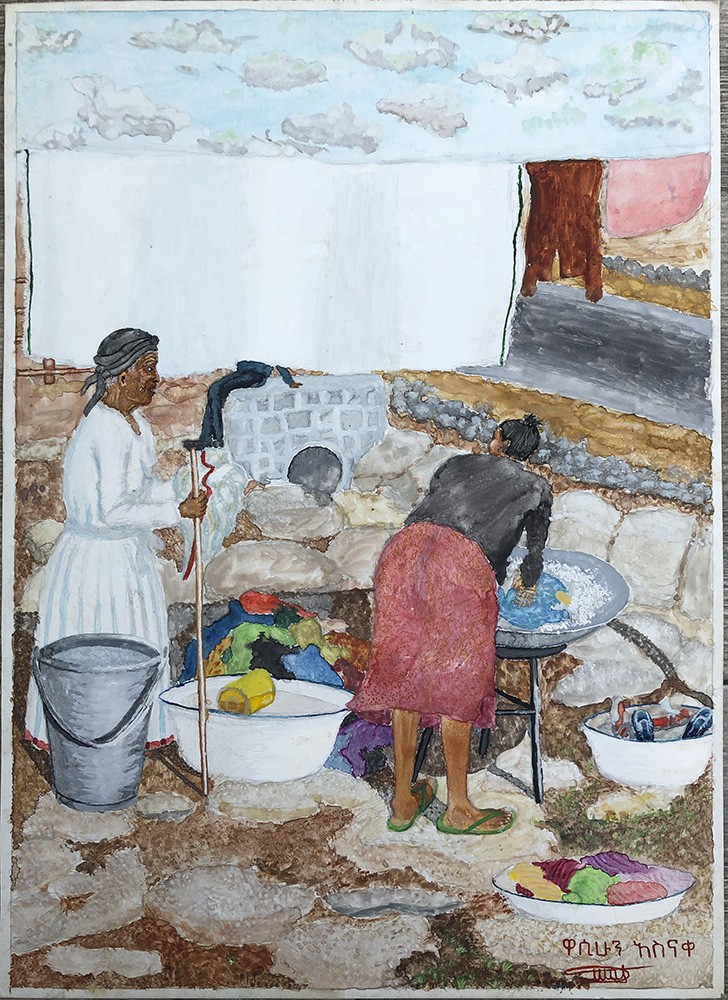 Wash day for the women in his neighbourhood, a time to work and share stories.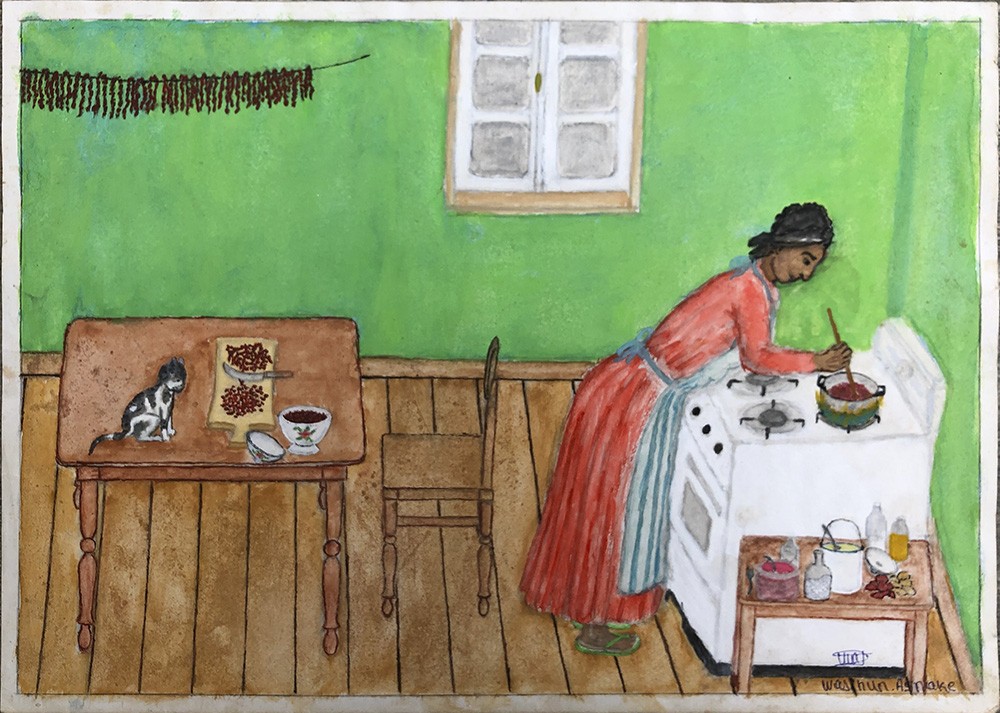 His mother cooking and their well-trained cat not daring to touch the meat on the table.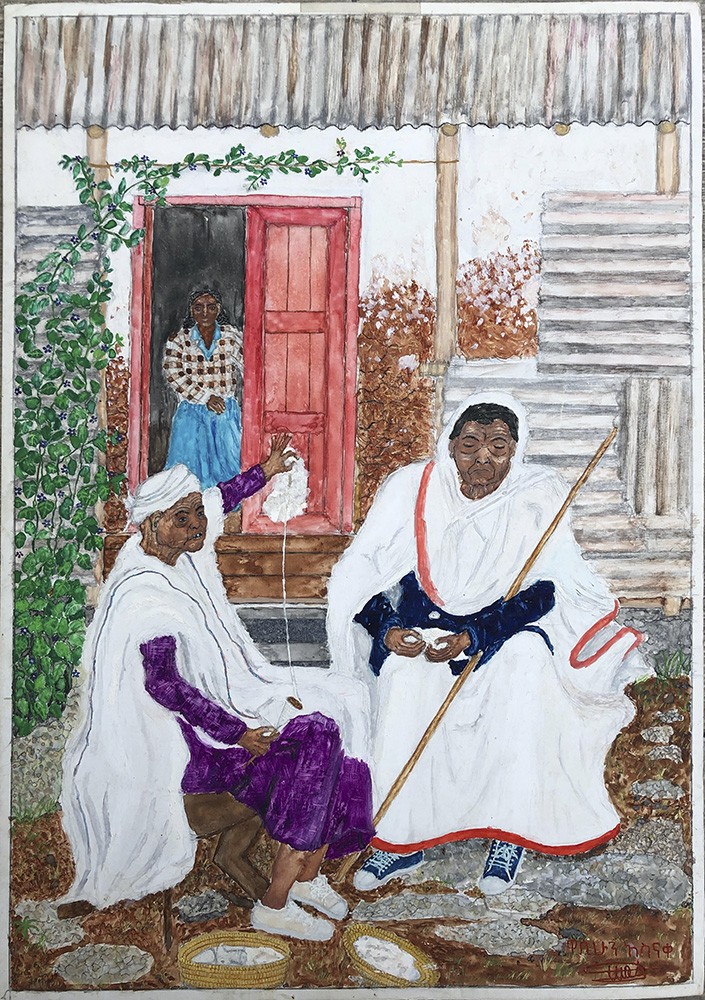 A woman spins while her friend rolls the finished yarn into a ball.  Behind a younger relative watches from the doorway.
When Wasihun left school in 1993, he decided not to apply to the Addis Ababa Fine Arts School but to find his own way so that he could experiment and come up with his own style. He did however, seek advice from one of Ethiopia's most famous contemporary artists, Eshetu Tiruneh.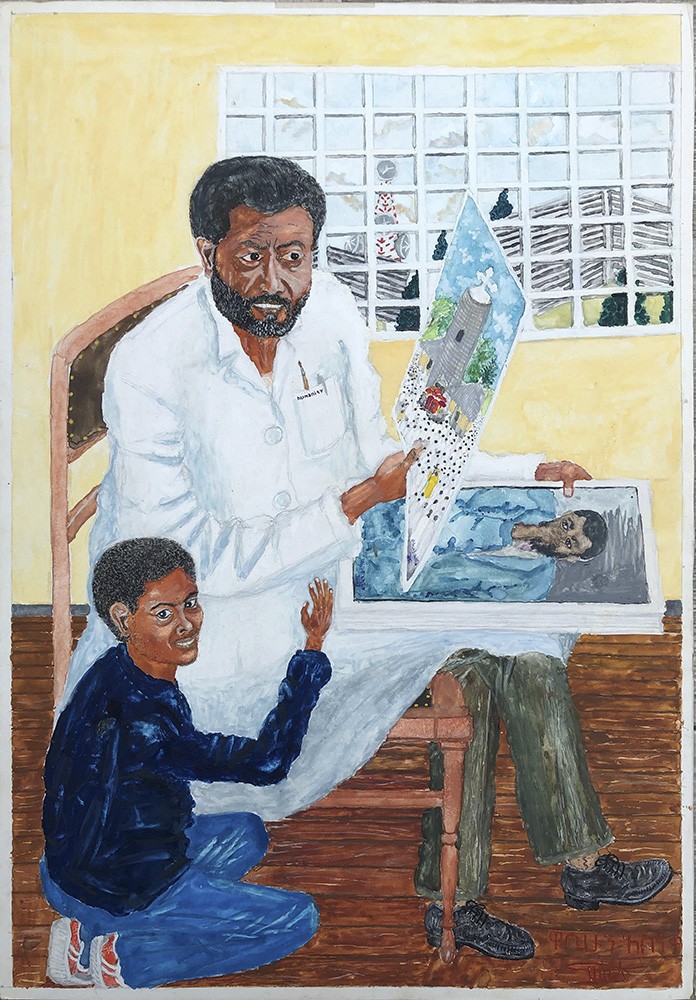 Wasihun paints himself at the knee of his mentor Eshetu Tiruheh as they discuss two of his paintings.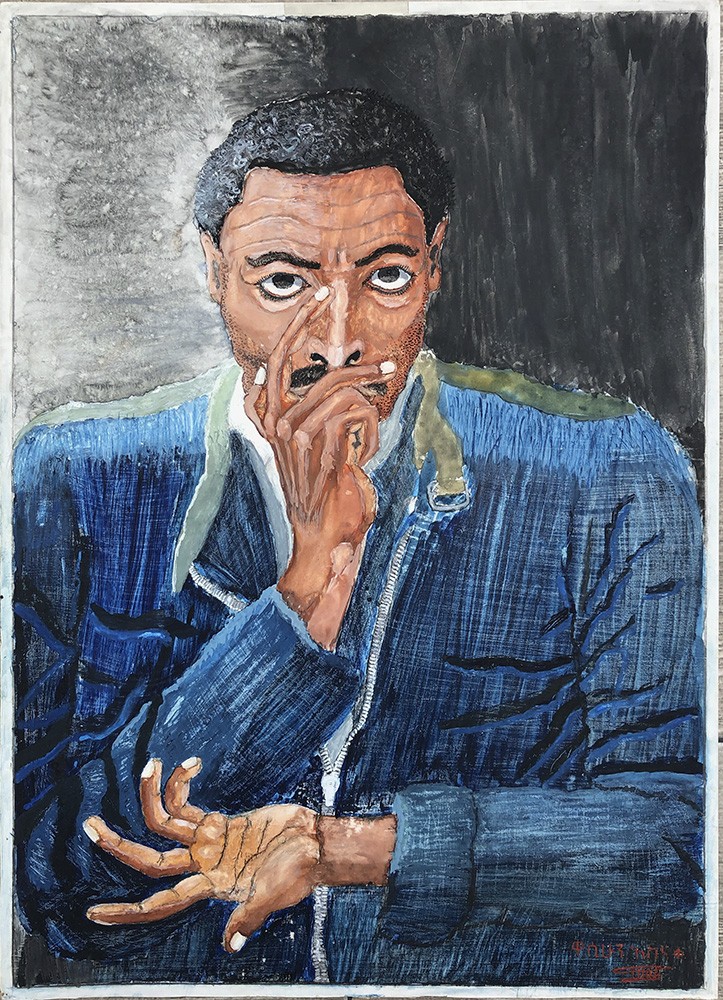 One of the paintings shown in the artwork above…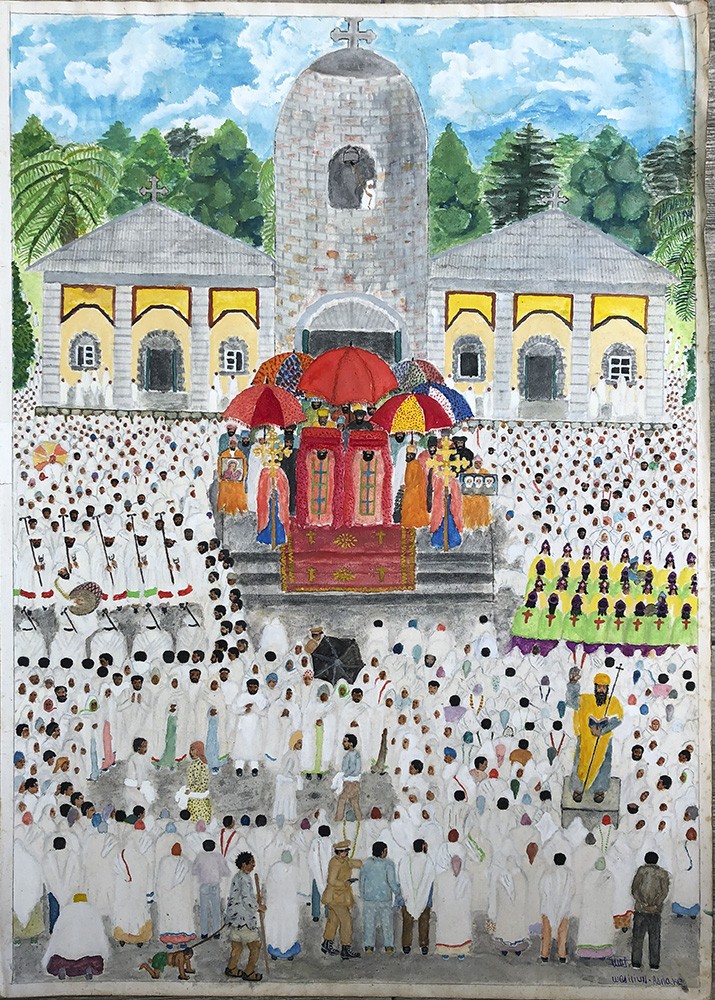 …and the other.
Wasihun yesterday showing off all three of these paintings.
As we looked through all his paintings together, it was fascinating to hear about some of the details he included in his paintings. In this church scene he drew my attention to the pickpocket in blue with his hand in the pocket of someone in the crowd, but right behind was the alert policeman with a gun, ready to nab the thief. Look at other details – the beggar woman with her handicapped child, the bell ringer in the tower, the choir, the drummer and the priests sheltered from the sun by colourful umbrellas.
In the paintings below you can see very clearly his realist style with everyday life depicted in glowing detail. When I asked him if he painted on-site, he replied that he sometimes sketched but mainly he painted at home with just his memory bringing forth even the smallest detail he could recall.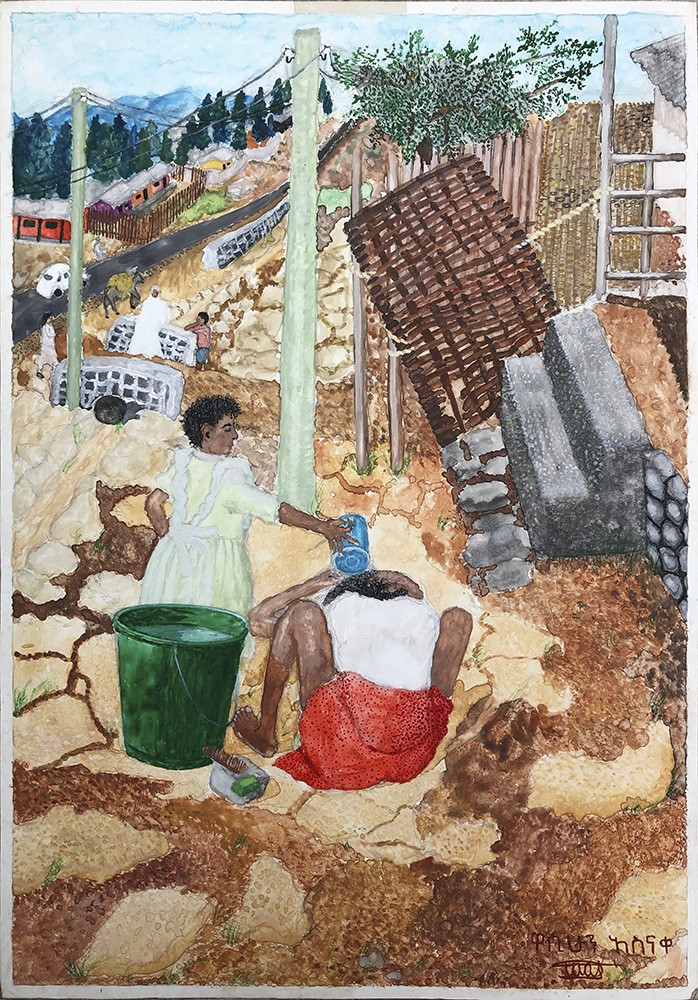 One woman helps another to wash her hair outside their house …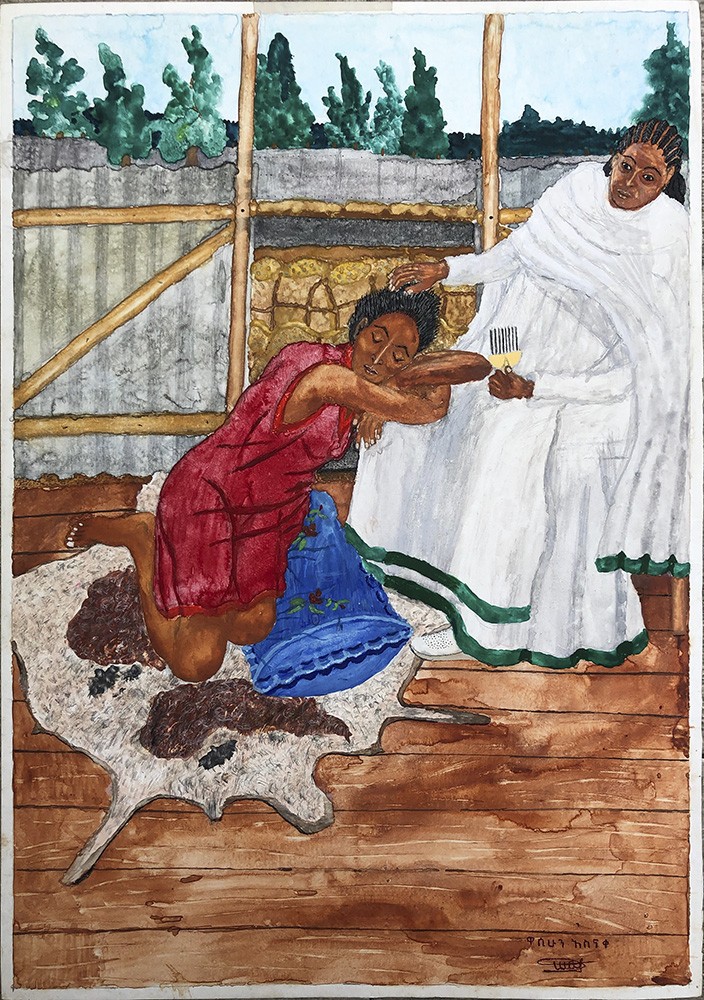 … and here a woman has her hair combed and styled.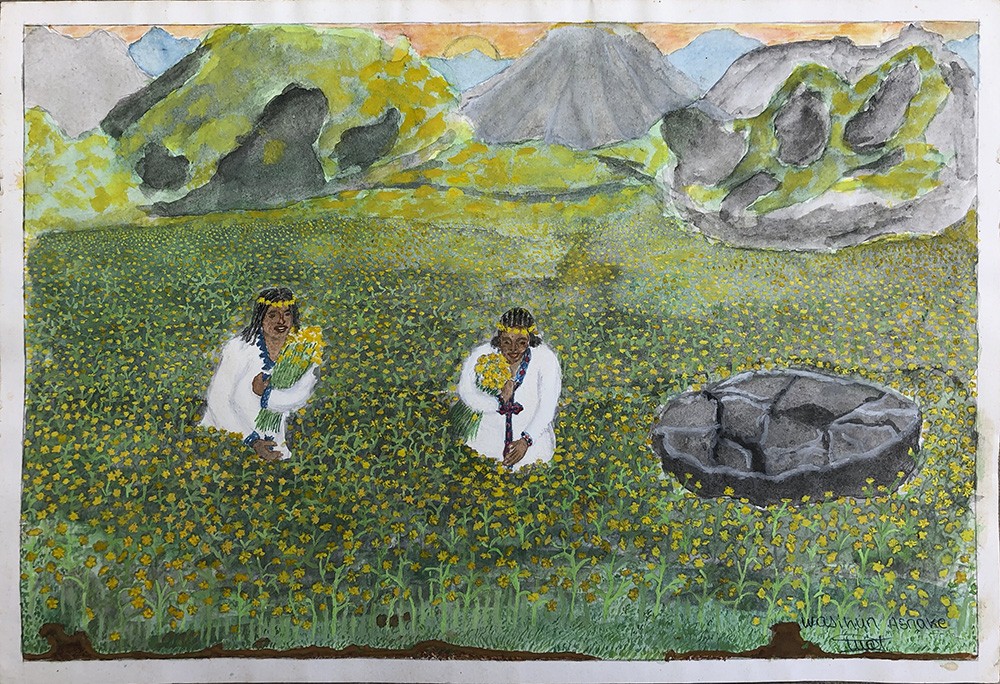 Two women spend the day picking flowers surrounded by beautiful countryside.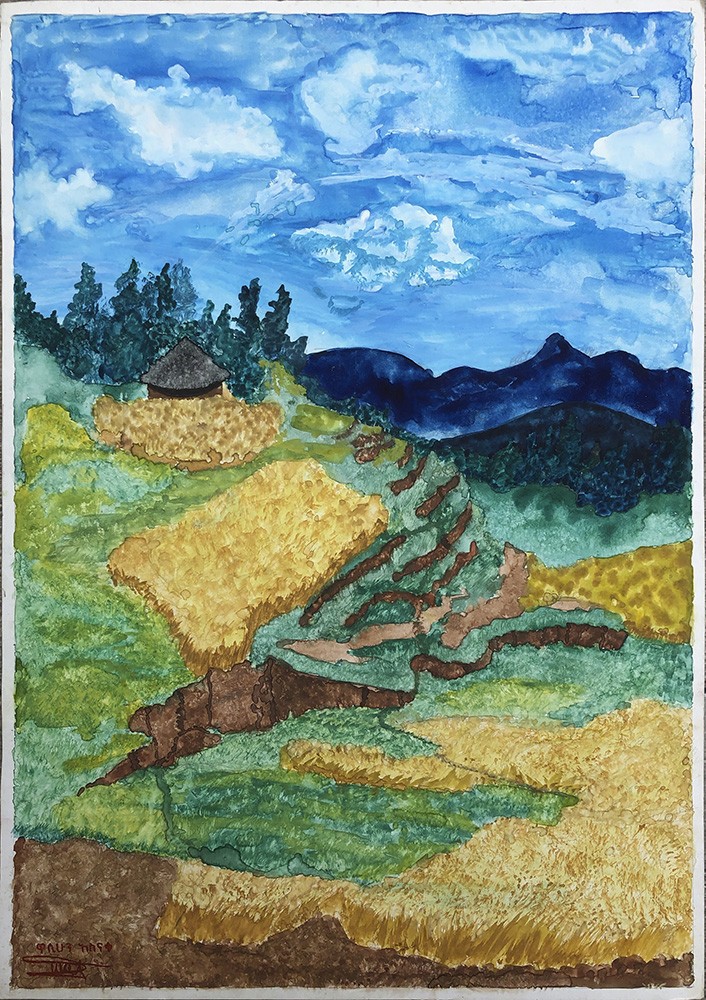 A landscape with bold colours of the land and crops and a swirling cloudy sky above.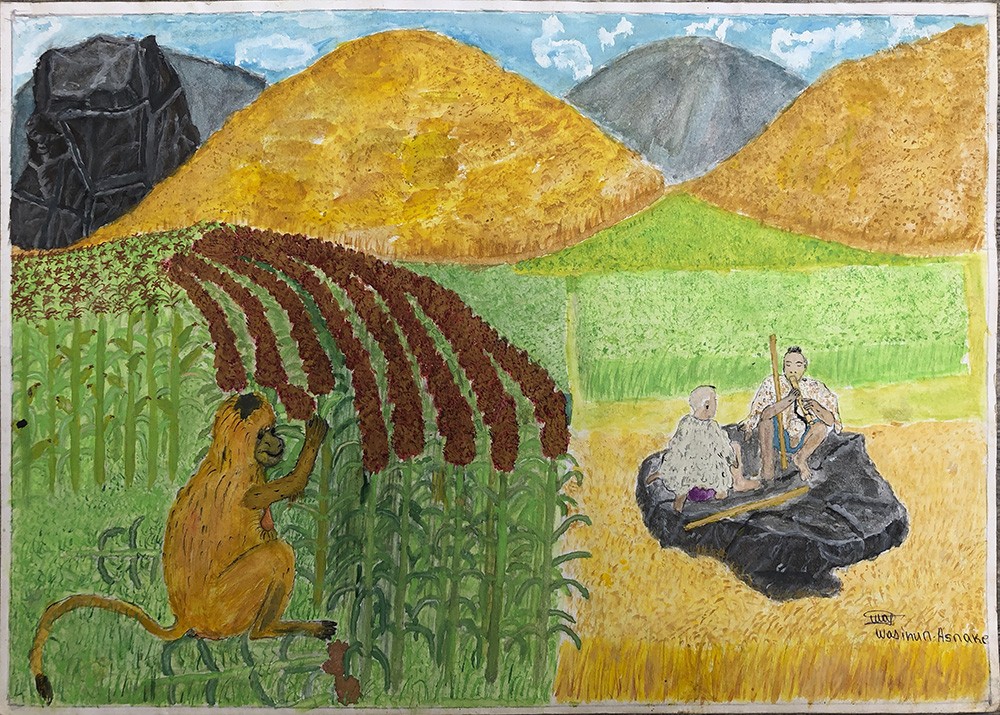 Two young boys play music when they should be gathering corn, and the monkey enjoys a moment to steal some for himself.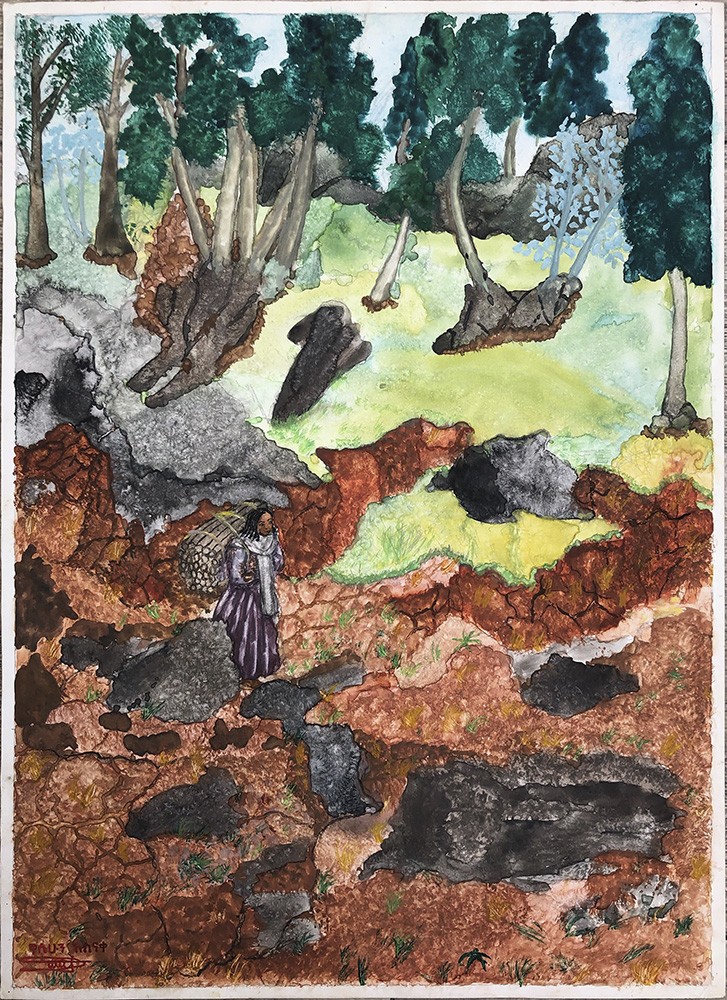 Deep in the forest, a woman has been gathering firewood and now carries her heavy load homewards.
If you look carefully under the feet of the woman, you can see the outline of the map of Africa,
as this continual quest for firewood is an African problem.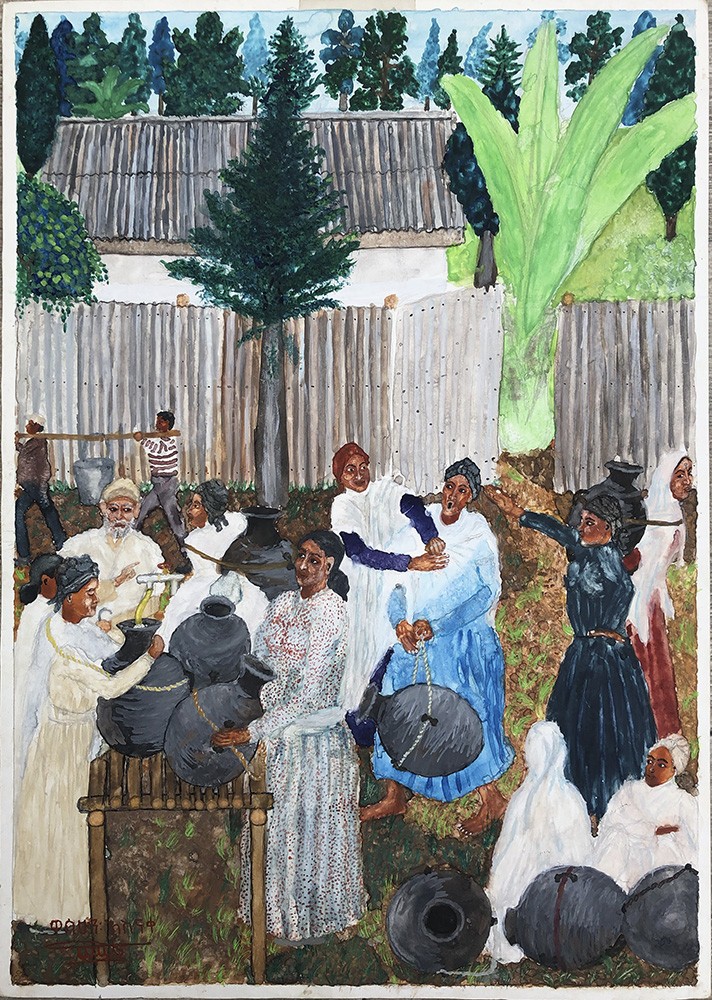 These women were lining up for water, but when one jumped the queue, a fight broke out.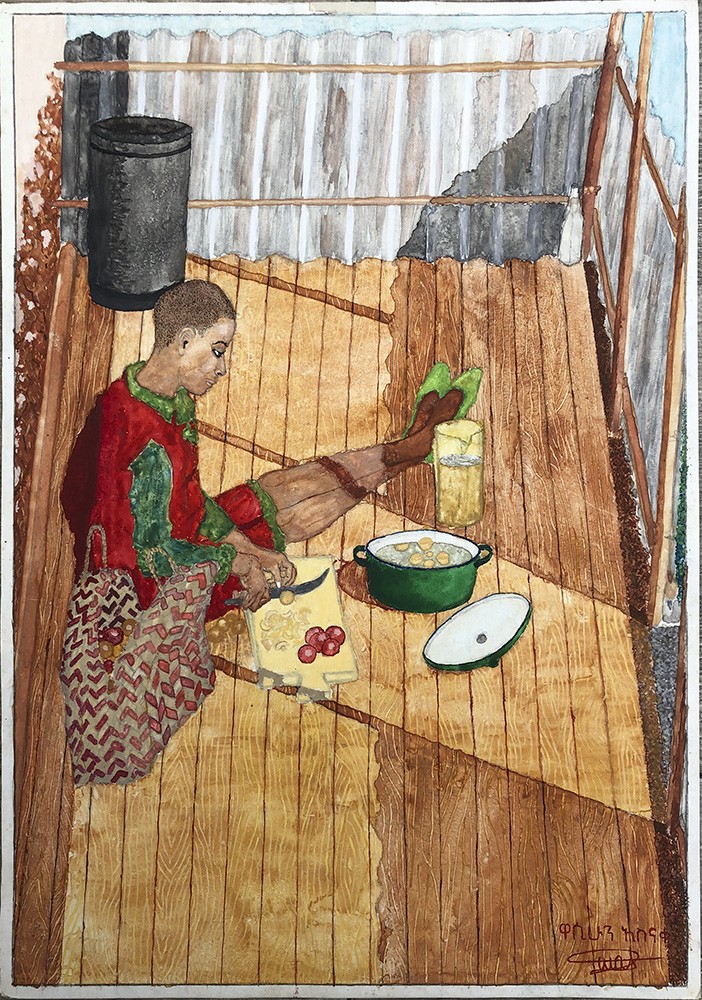 Elegantly seated to prepare the evening meal. 
His mother cooking the meal over an open fire surrounded by her kitchen utensils.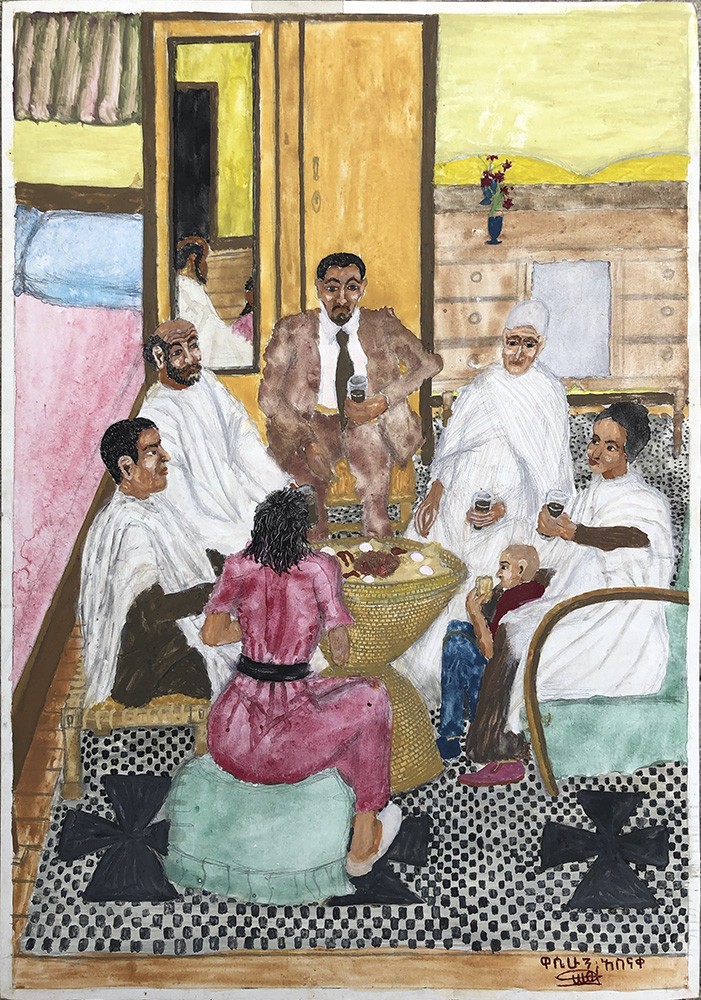 A rather formal occasion when family and friends gather to eat their meal together.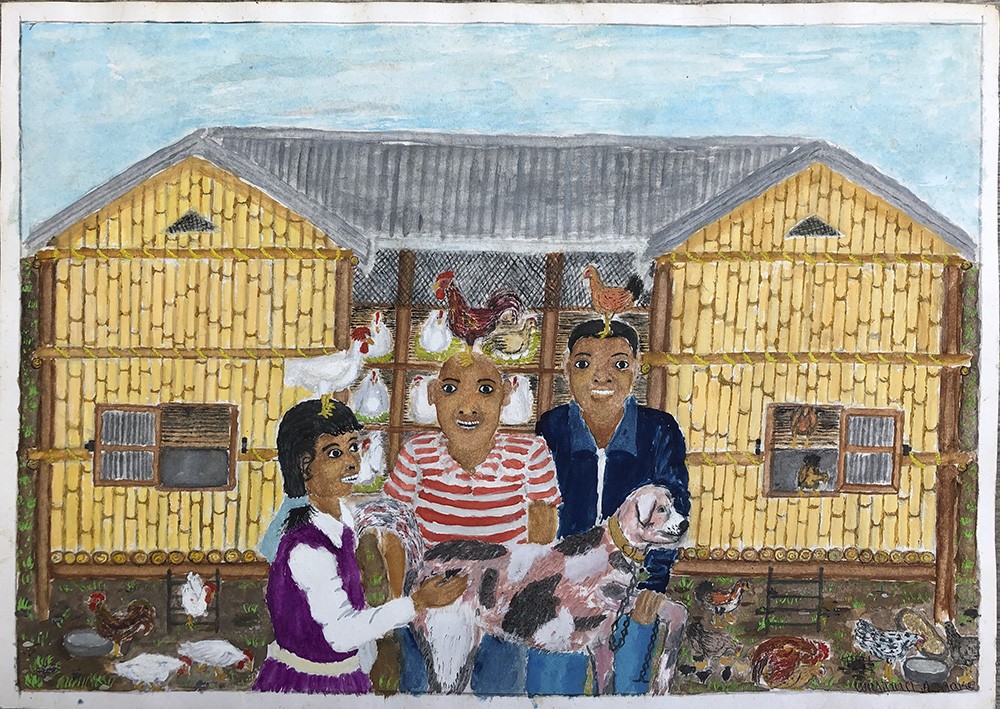 A group of children with their animals in front of the henhouse.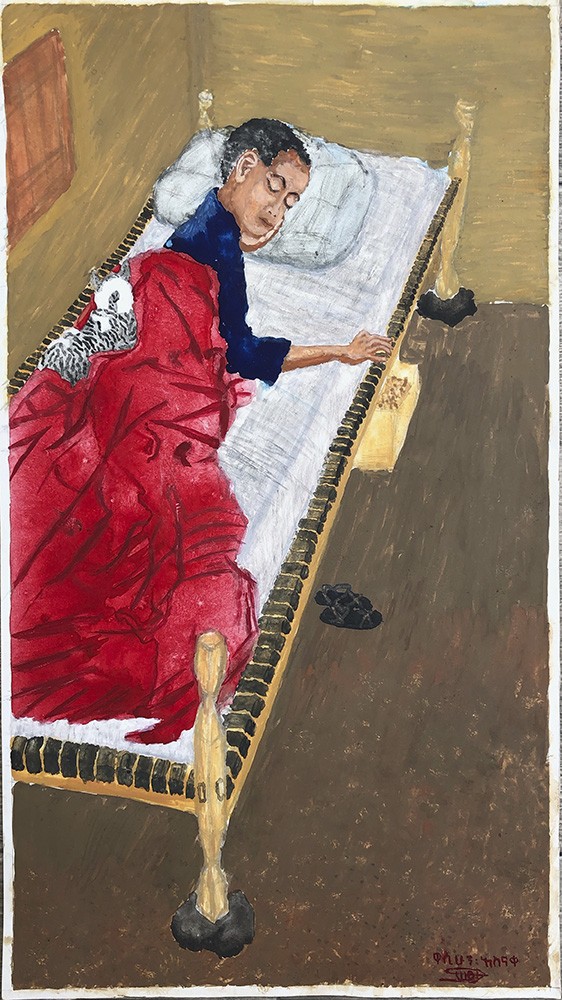 Wasihun's brother sick in bed with the family cat keeping him company.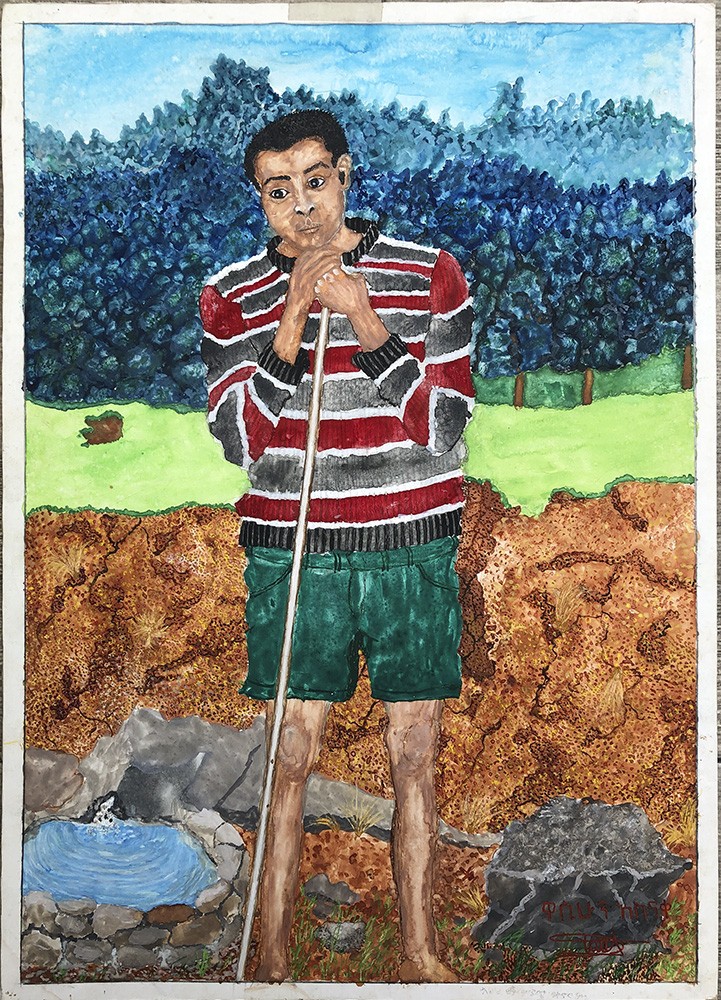 A shepherd boy dreaming on his stick as his flock are feeding.  
Wasihun wins national recognition: From the time he left school, Wasihun held a number of exhibitions in Ethiopia and also in Canada, was invited to speak about his artworks, and he gained national recognition for his paintings. He explained about capturing the everyday lives of his fellow Ethiopians and he particularly liked to talk about the role that religion played in their lives and how important and colourful the annual ceremonies and festivals were.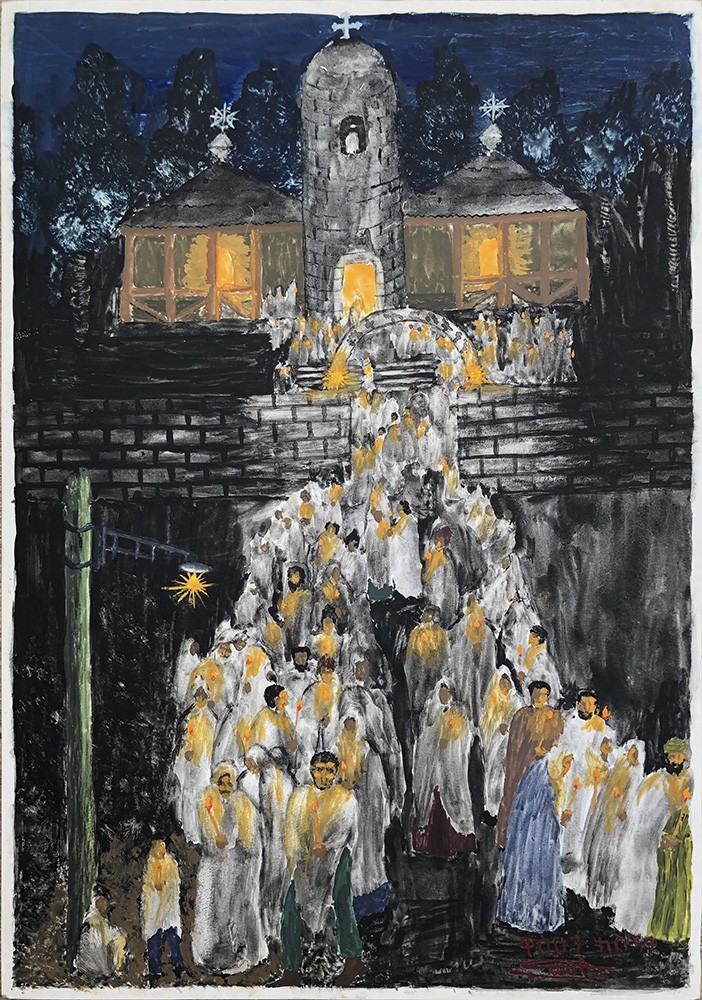 He captured the early morning ceremony on Easter Sunday to celebrate that Christ has risen …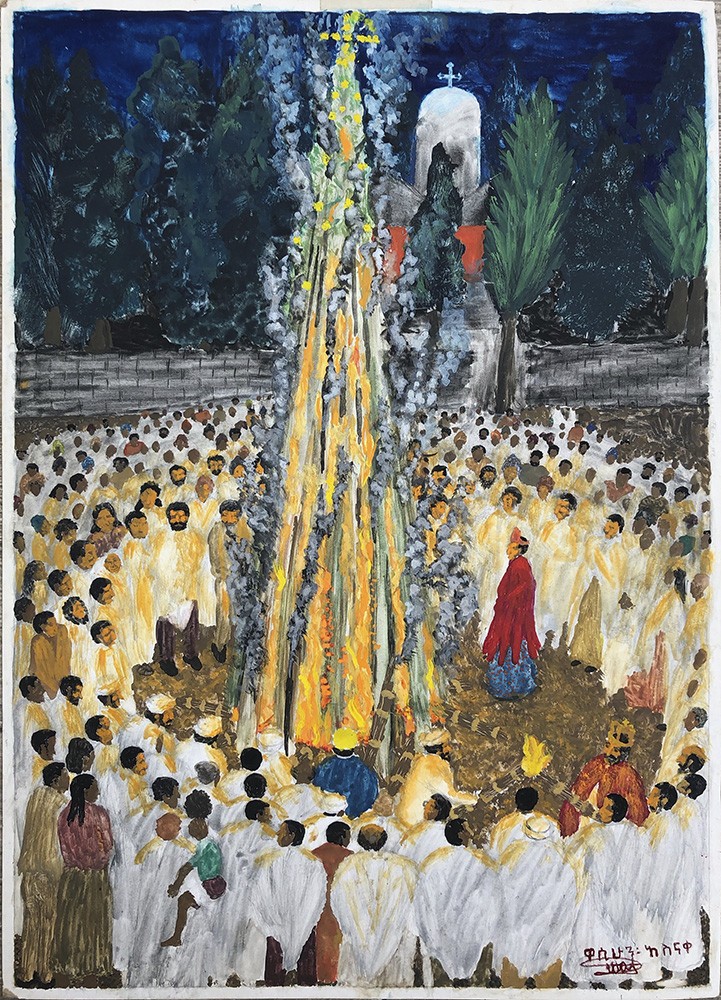 … and the bonfire after the New Year to celebrate the finding of the true cross (the Mesik'eli Celebration)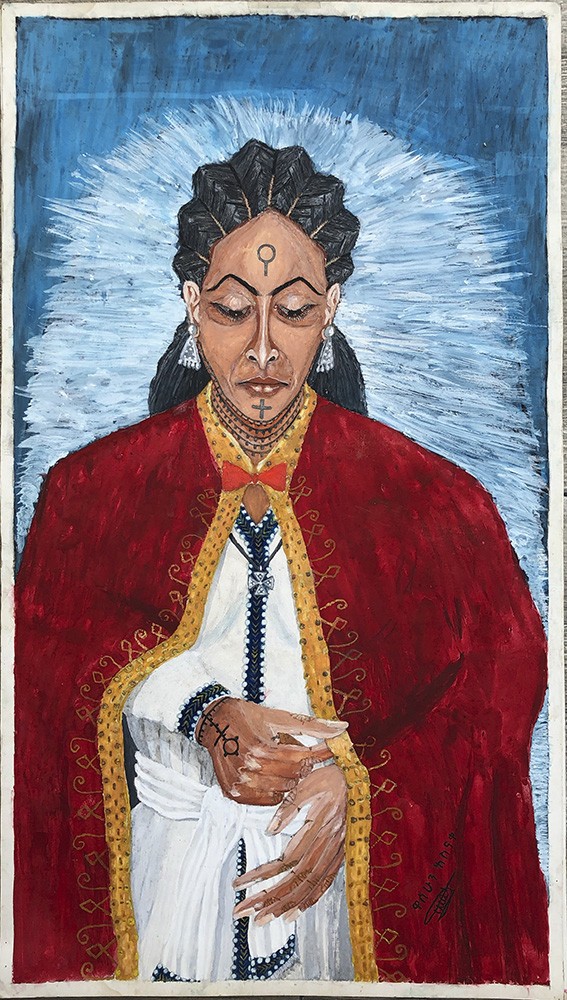 He also painted portraits, this one of a woman from Wollo region with religious symbols on her face and hands,
for example the 'Key to the Kingdom' symbol on her forehead.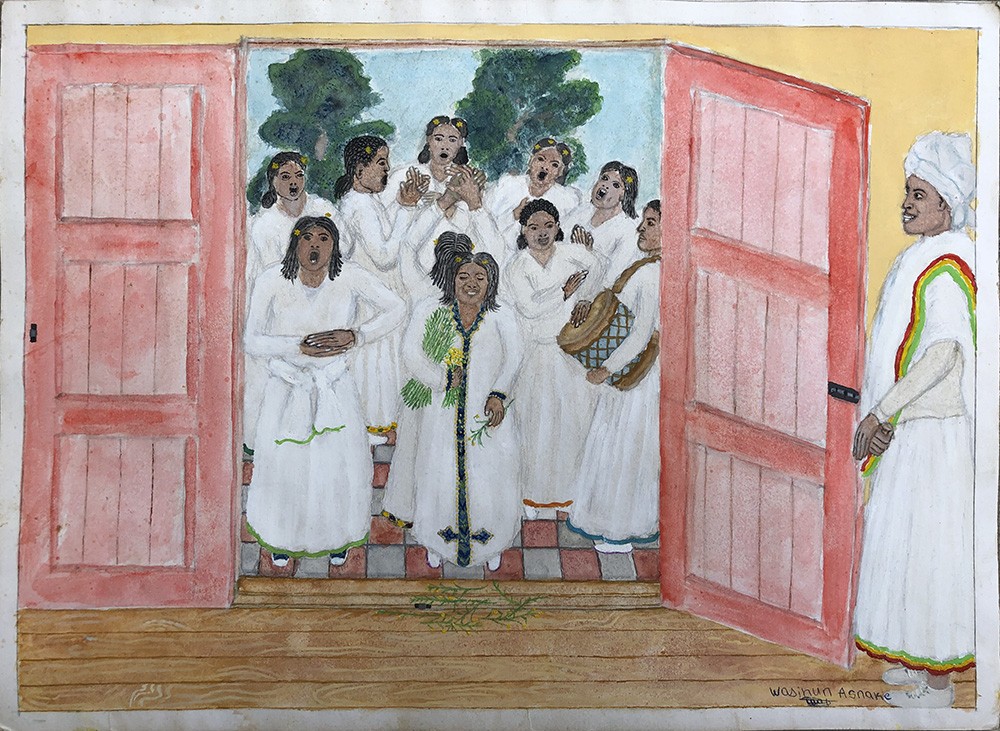 A group of singers visiting their neighbourhood, house by house to ring in the New Year (inik'ut'at'ashi).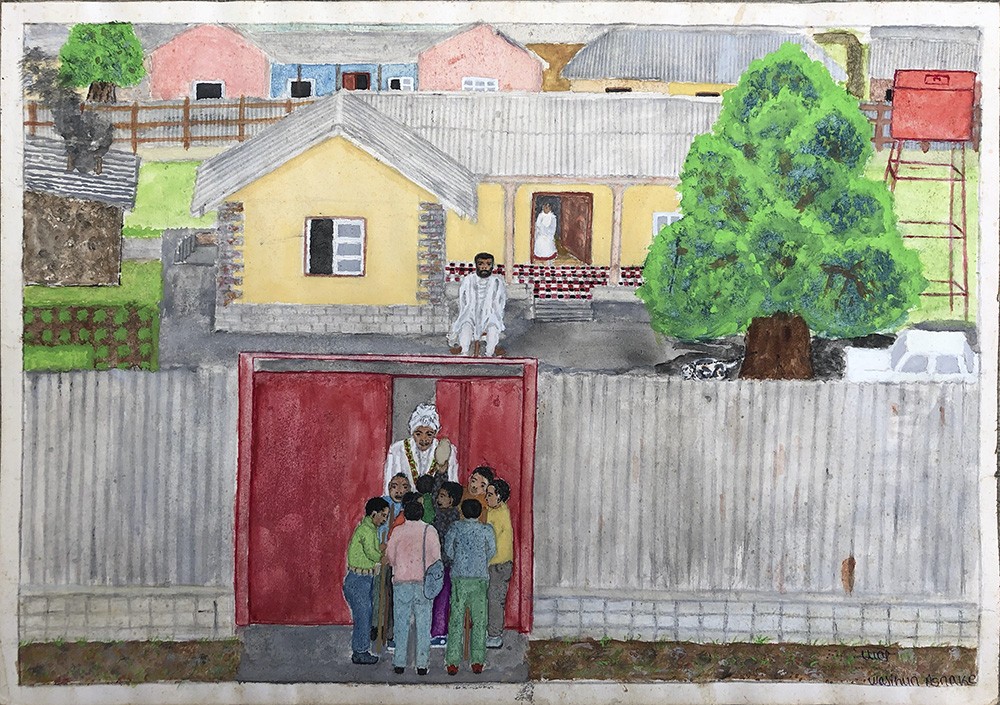 And a smaller group at the gate of a neighbour to sing before the New Year (bu'e).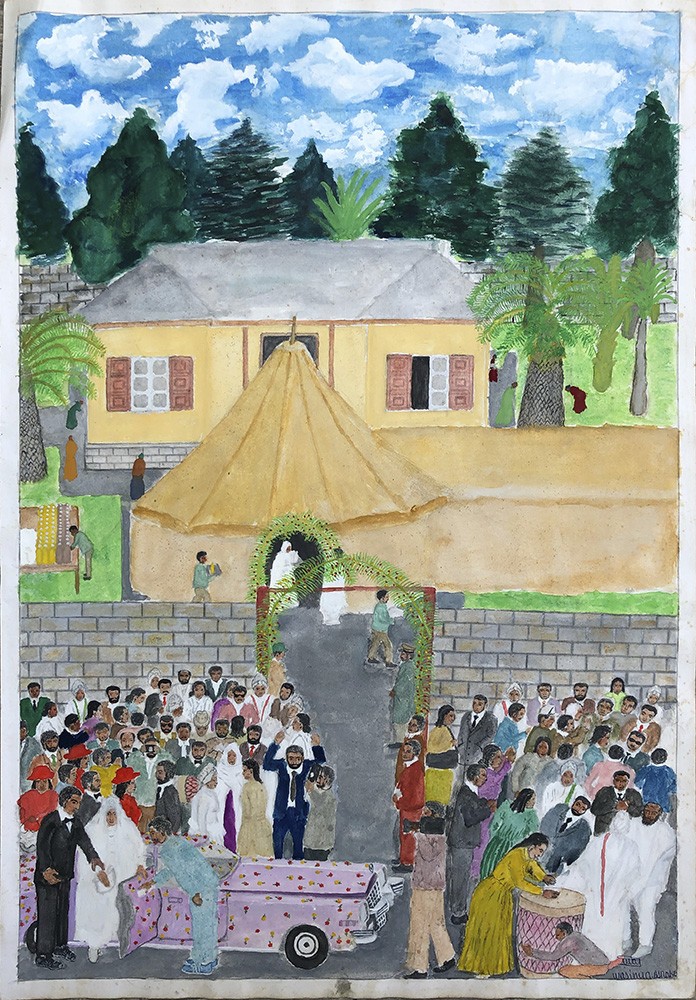 When Wasihun saw this painting he could only laugh and call his wife to look.
As a 14-year-old he had imagined his wedding and departing in a snazzy car.  Sure enough, when marrying Alem,
they had indeed driven away in that same pink car that he had imagined so many years before.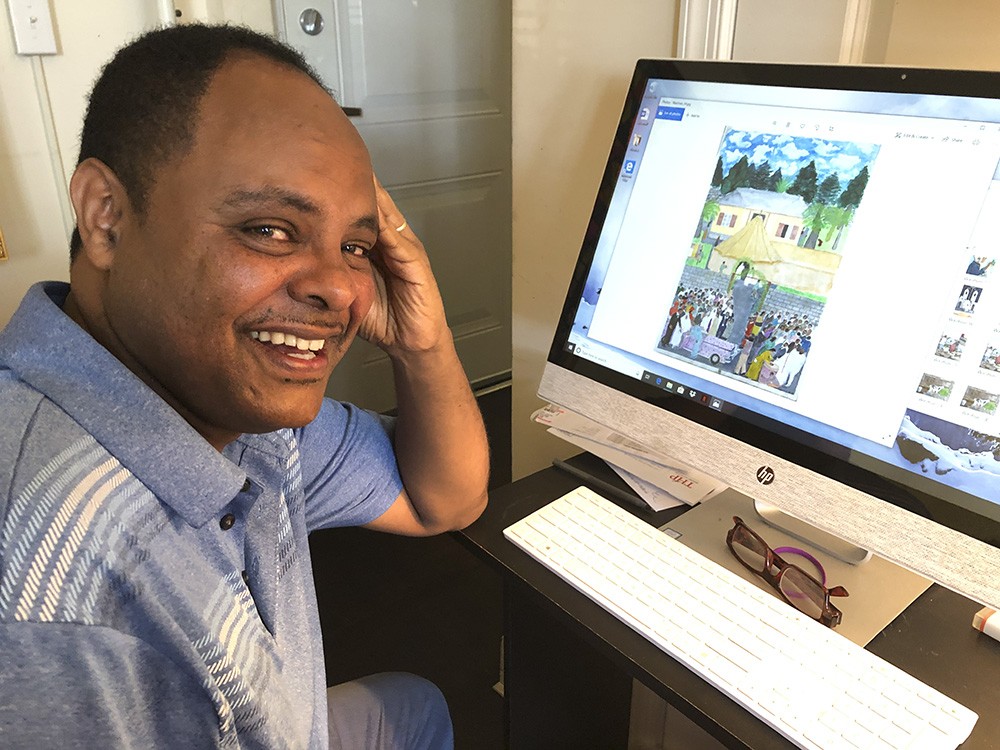 Laughing at the painting of his imagined wedding car which became a reality.
Deeper meanings: But interesting enough, even at that young age, Wasihun was observant of the complexities of life and customs and also depicted and confronted moral and ethical issues through his paintings.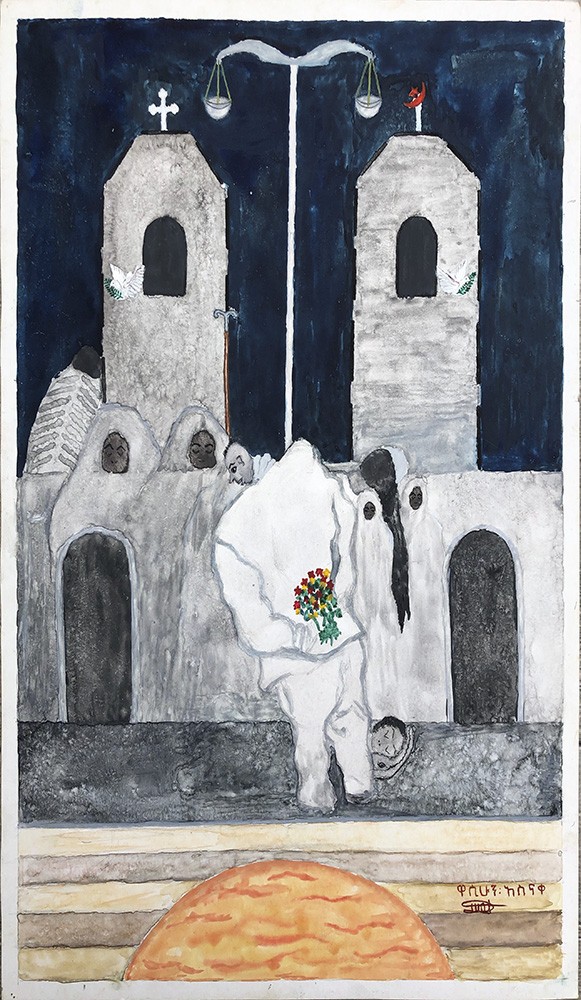 A Christian man and a Muslim woman are shown in front of their places of worship with the
scales of justice above signifying that they are different but equal.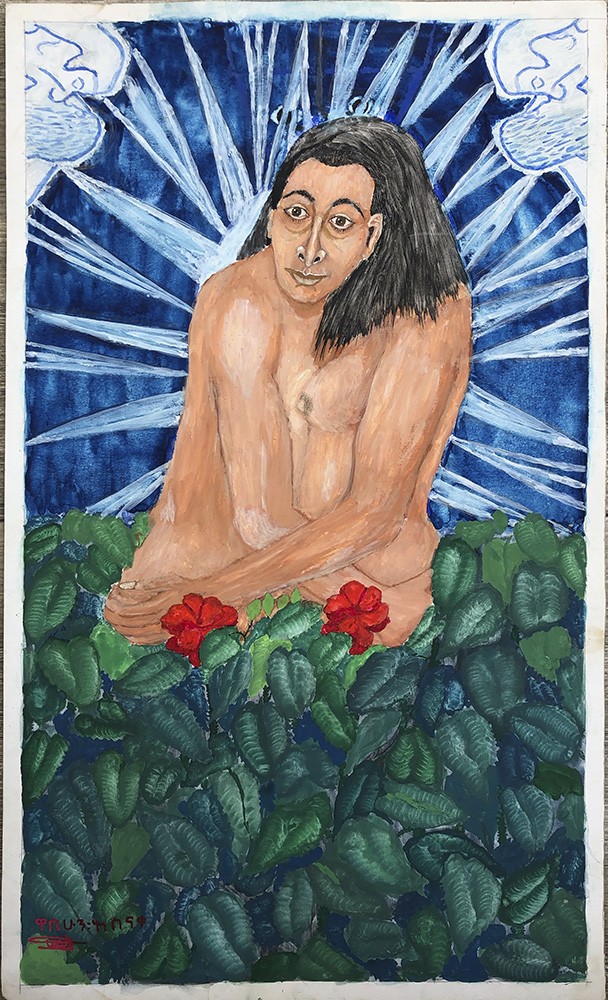 This embracing couple, the kissing couples above and the two flowers of their loins, was painted as Wasihun understood that love could be between a man and woman, two men or two women and that the love itself was what was important.
A revolutionary Style: By the late 1990s his realist paintings took backstage and he began to develop a revolutionary way of painting. His style came out of a strong belief in art simply meaning 'lines' and semi-circles and his strong affiliation to the moon. 'You can't stare at the sun, but you can spend hours looking at the moon', he says. He called this way of painting '180 Moon style'. This involves images or characteristics of the full and half-moon both of which play a significant role in his paintings. The semi-circle is important because it also represents sharing.
The Top View Entoto Gallery: In 1997 Wasihun established his own art gallery, 'Top View Entoto Wasihun Art Gallery' at an altitude of 3,200 meetres (10,000 feet) in the mountains some kilometres outside of Addis Ababa and from where he could see seven peaks and the whole city of Addis. This proved to be a successful venture which he ran for 15 years attracting locals and tourists alike. One of his clients was none other than the singer Beyonce who bought and treasures one of his 180 Moon Style paintings.  In his early work, he had painted the portrait of one revered priest who later became a hermit living in the forest. He was in awe when this same priest visit his gallery even before it opened and he praised Wasihun's art and blessed both the gallery and Wasihun himself.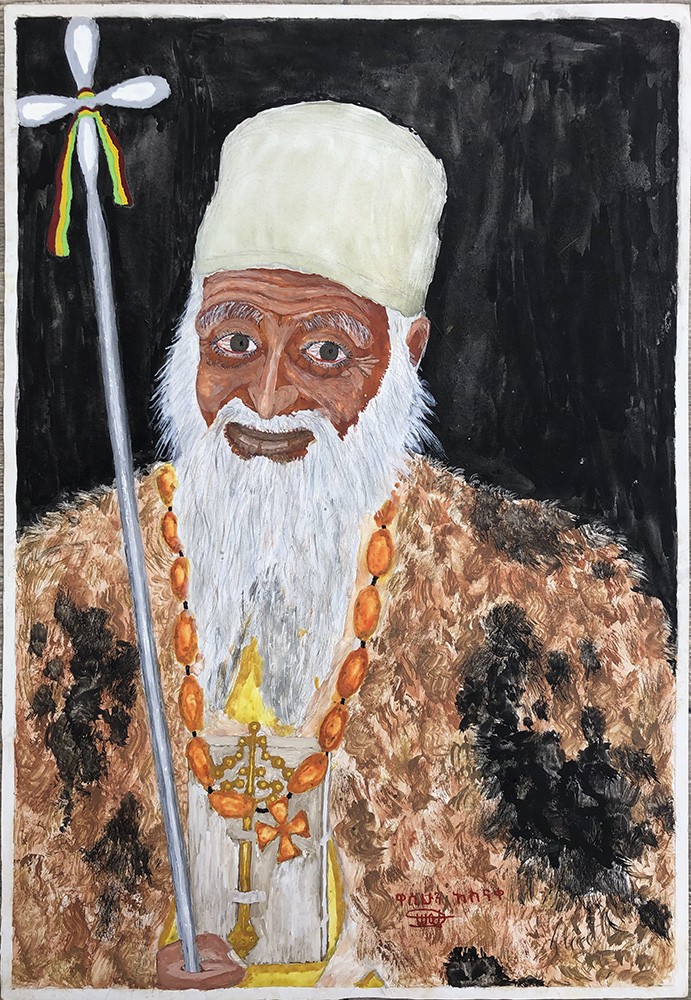 The old hermit priest as painted when Wasihun was just a young man.
 Wasihun's most recent works of art: In my two visits to Wasihun this week, I was thrilled to learn about his new works which follow the 180 moon series style and which are complex and fascinating. For each painting, there are so many intricate details, and the more you look at the art, the more you can see, with figures morphing into other beings. For some like the triptych, 'Three horses in the world' below, it can take him up to a year to finish the paintings, others he can execute more quickly.

Three Horses in the World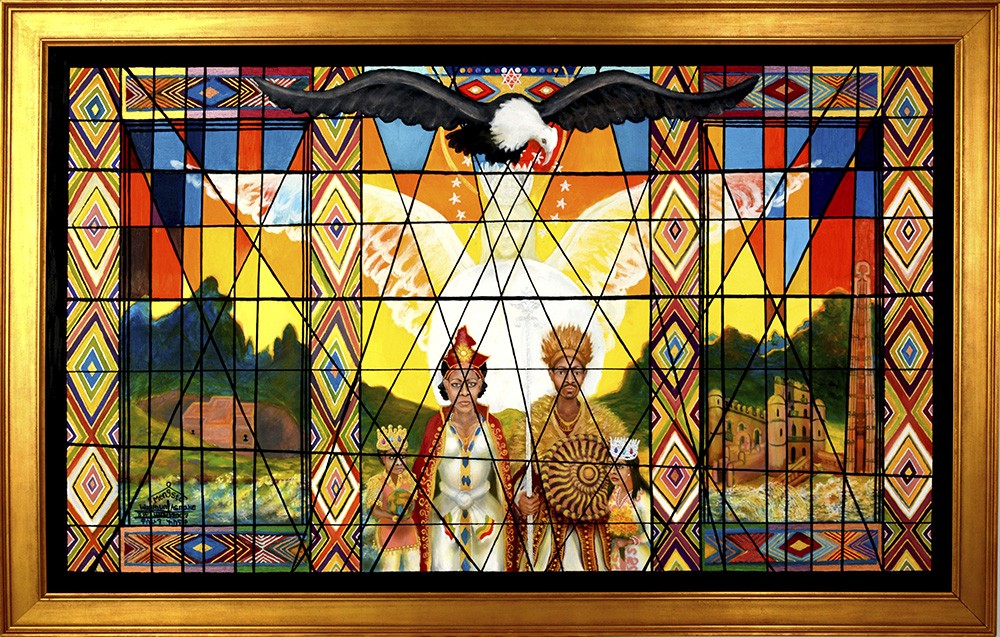 New Jerusalem, yesterday, today and tomorrow
With some of his work, he designs, he paints them in such a way that they can also be hung inverted so that the visual and the mood can completely change. Below you can see such a portrayal.
Now that he is living in the United States of America, he also draws on the ideas, people, images and moods that he sees and feels around him. Very often in his paintings, there are people you can see very clearly, but looking deeper you can see other faces as well as animals and birds.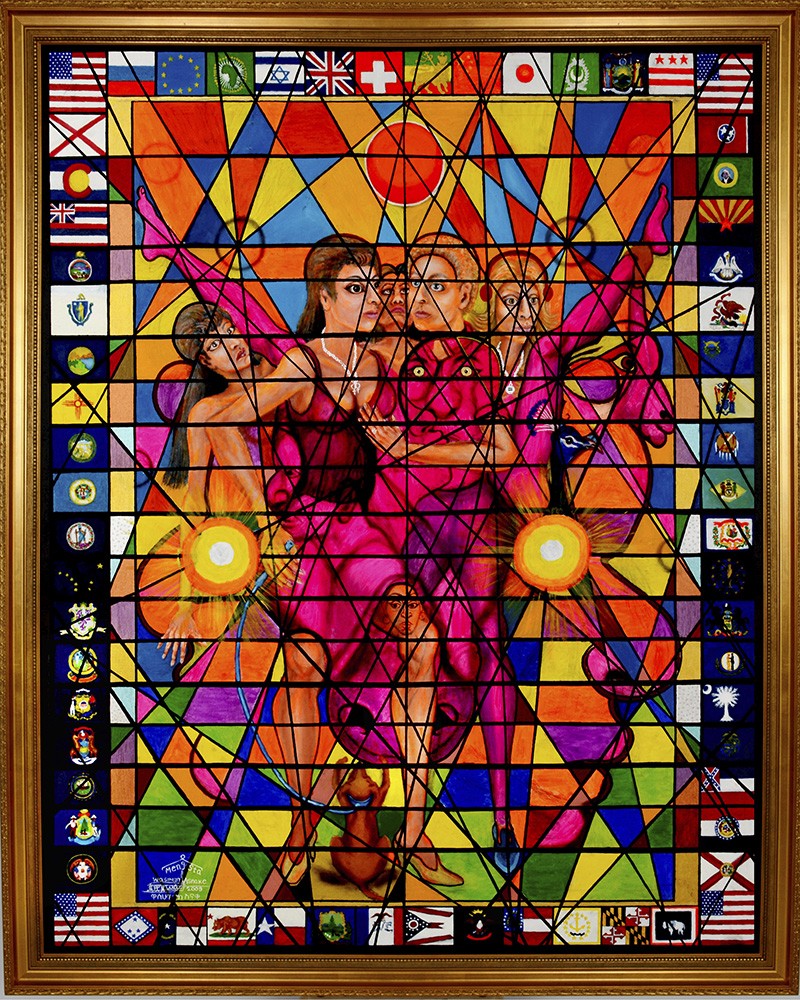 Women of America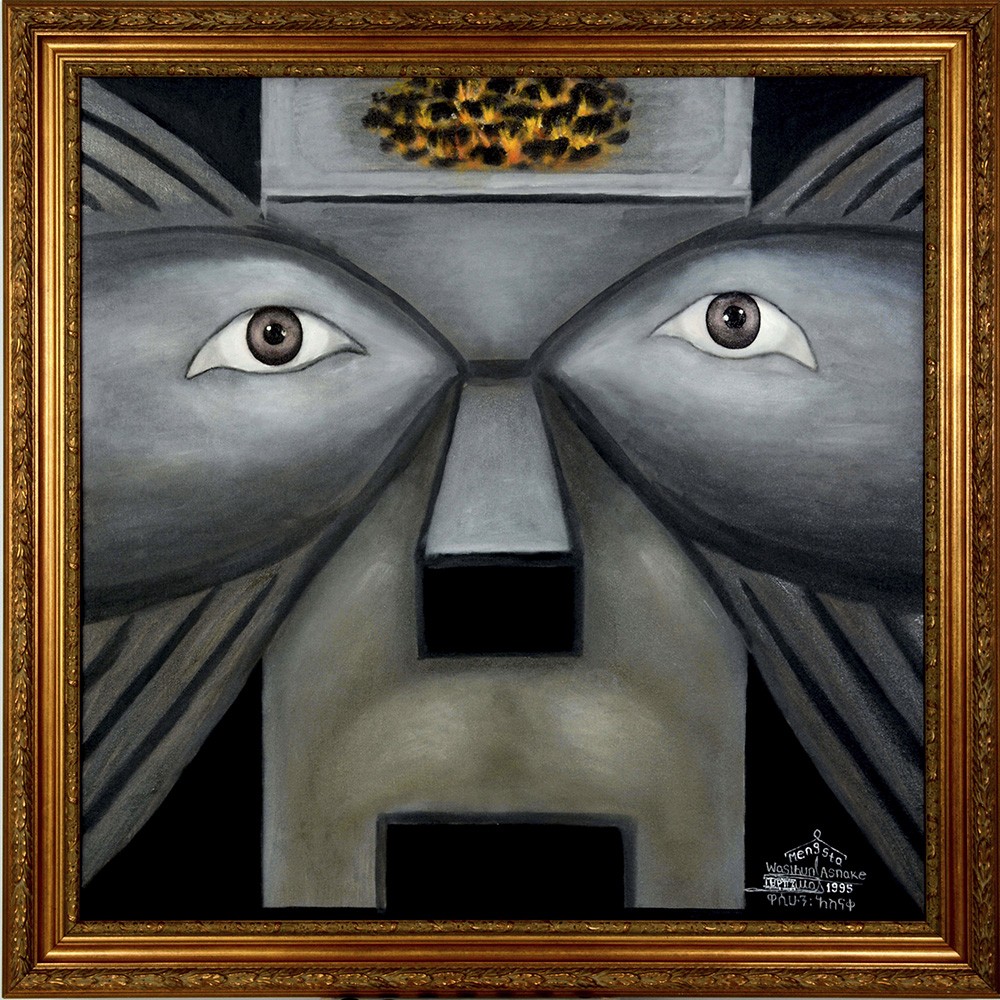 Strength – can you see the anvil, the elephant, the birds, the fish, the fire, the face …..
When I asked Wasihun if he would sell the paintings that I returned to him, he replied that he would not as they were part of his history and he wanted to keep them for himself. During the 15 years of his Art Gallery in Ethiopia, he sold more than 1000 paintings, some to visitors and celebrities but for others to his friends and other artists in his country, often selling them at very low prices to those who could not afford more.
And for the future? Wasihun will keep painting, and he will also continue to write, compose and produce his own music, some of which he played for me when I visited. He hopes that he will become more known in the US over the next few years although there is clearly already a growing interest in his work. But his ultimate dream is to return to Ethiopia, open another gallery and mentor young artists, presenting their art and helping them on their way as he feels he was helped from the earliest days.
Wasihun's website is soon to be up and running, in a few more weeks he says and you can learn more about his life story and art and philosophy there.  Keep an eye out for:  www.morninghopeart.com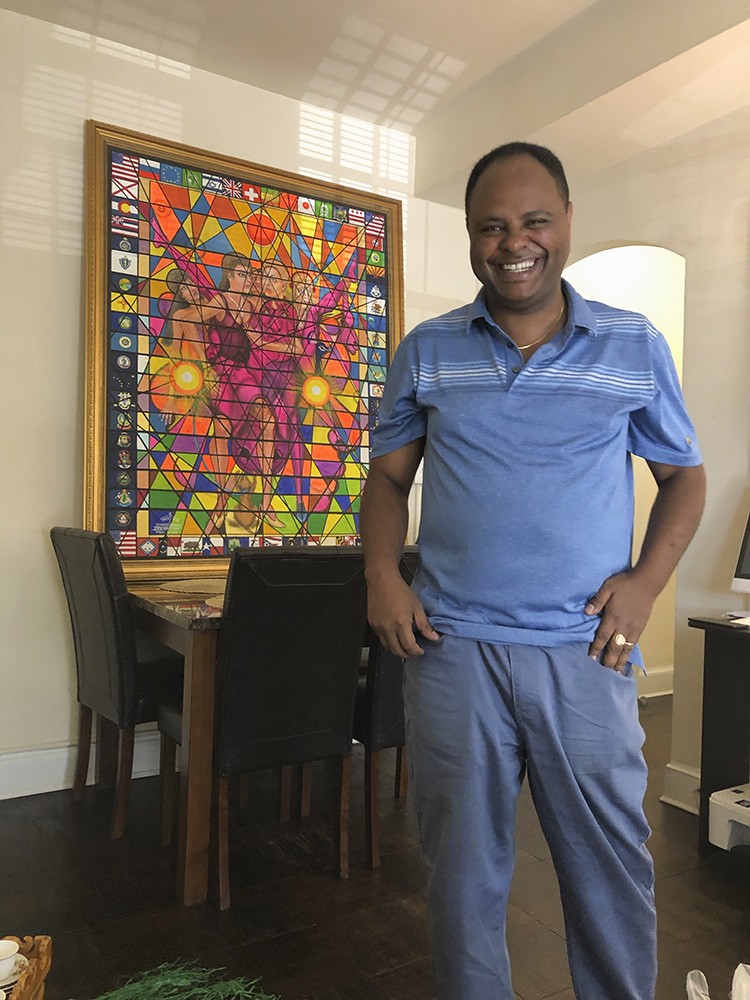 Wishing you every success with your work and in your life, Wasihun Asnake Mengsta.
So that is the story of my meetings with Wasihun 28 years apart. Just a joy.
Greetings to all my friends and if you found this story interesting, please share it with your friends.  
Until soon,