Dear friends,
For the first of several Joanna's Journal stories about my recent travel to Türkiye, I would like to give a short introduction to the parts of this fascinating country my trip took me and a brief note on the remarkable history and geography about which I am now  determined to learn and understand more.
Many decades ago at the University of Otago, NZ, my studies included two years of Anthropology, which at that time was split into two parts, namely a) Social Anthropology which teamed well with my major Geography, and b) Archaeology.  Although long ago, I remember being fascinated by the lectures and reading about Mesopotamia, Anatolia and the Fertile Crescent, about the emergence of cultivation, settled communities, trade routes and which saw the rise and fall of so many sophisticated civilisations.
I have also heard over many years from friends and family, that Istanbul is a wonderful city, at the crossroads of Europe and Asia, and that the varied landscape, the beautiful coastline, and not to forget the food and friendly people of Turkey, are equally remarkable.  It has therefore long been a country I wished to visit and explore.
So, it was hardly surprising that for my first 'adventure travel' following the dearth of visits to any new destinations because of Covid, I chose Turkey or as it is now officially named – Türkiye.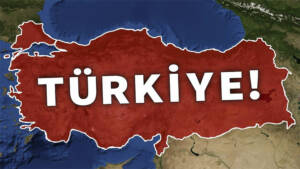 In June of this year, Turkey's government sent a letter to the United Nations formally requesting that it be referred to as Türkiye, noting that the country has called itself Türkiye since 1923 after its declaration of independence. The move is seen as part of a push by Ankara to rebrand the country and dissociate it from the bird of the same name and negative connotations associated with it.  Googling "Turkey" brings up "a muddled set of images, articles, and dictionary definitions that conflate the country with Meleagris – otherwise known as the turkey, a large bird native to North America – which is famous for being served on Christmas menus or Thanksgiving dinners. Indeed if you flip through the Cambridge Dictionary, 'turkey' is defined as 'something that fails badly' or 'a stupid or silly person'.  Not an image you want for your country.
For this October 2022 adventure, I chose to go with 'Wilderness Travel', a California-based travel company with whom I have previously done five trips, namely: Galapagos, Palau, Sabah, Oman and Madagascar. Their three-week 'The Turquoise Coast' and the 'Cappadocia Extension' itineraries sounded wonderful and so they were.
Our travel began in Istanbul and after a couple of hectic days trying to absorb as much as possible, we flew to Antalya on the Mediterranean Coast.  Once there we explored our first historic site and learnt more in the excellent small Museum before boarding our boat, a traditional wooden gulet and cruising eastwards along the coast for nine days, with hikes and adventures each day.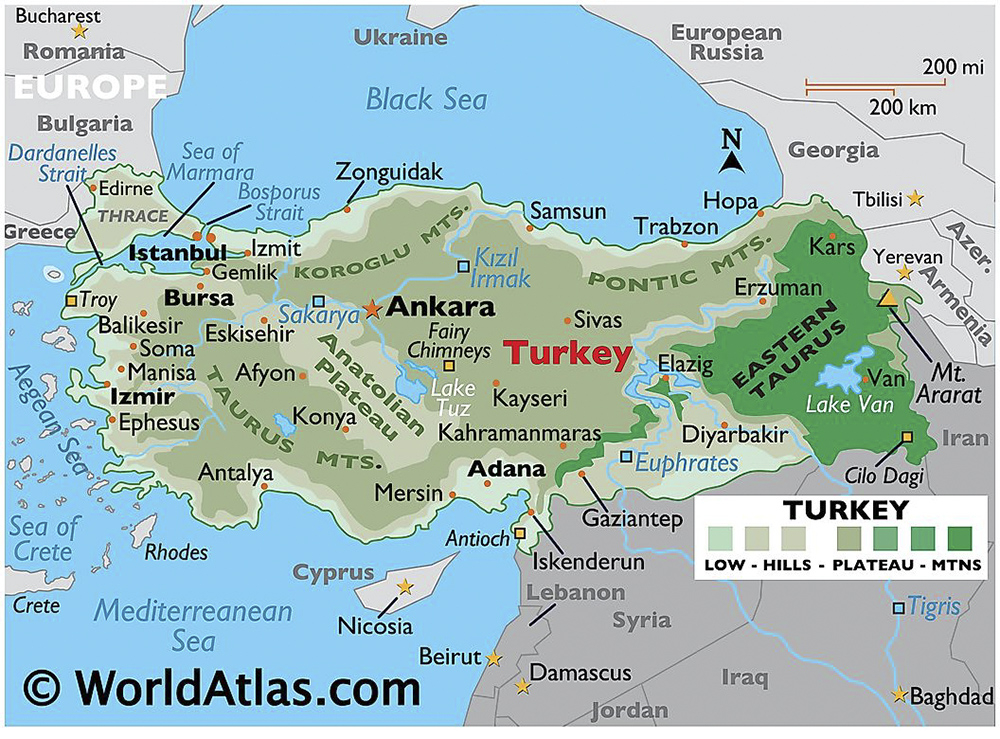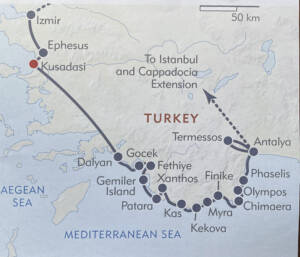 From the coast, we drove north to Kusadasi on the Aegean Coast and took a day to explore perhaps the most famous of all the historic sites, Ephesus. We were just seven hearty souls on the Turquoise Coast but with this part of the trip concluded in Ephesus, we said our goodbyes to some of the group and four of us continued on to Cappadocia, flying into Kayseri for a further 3 days of wonderment. My journey ended with another day in Istanbul, so the city will be the last of the journal entries.
We had two excellent guides, Yunus Ozdemir and Halil Uysal, both well-versed in the history and actuality of their country and I just wish I could recall more than a smattering of the information they imparted. But over the next stories I will endeavour to give you a slightly more than superficial view of the places we visited and the people we met.
So what can you expect in this series of my journal?  
Through the photos that I managed to shoot, and with various texts to consult in addition to what I learned from our trusty guides I will take you with me on my travels.  With such an incredible history stretching back to the earliest days of mankind, it will be a tall order to do any kind of justice, hardly even scratch the surface, to each of the five eras of history over the last 3000 years, with just a mention of the pre-historic and bronze ages before that. Our guide Yunus summarised and simplified the 5 key eras as follows: 1) Hellenisation,  2) Romanisation,  3) Christianisation  4) Islamisation, and  5) Westernisation or Modernisation.
So there will be some history and religion, with magnificent architecture and ruins of once glorious theatres and cities, and magical visits to underground cities and churches carved inside caves,  …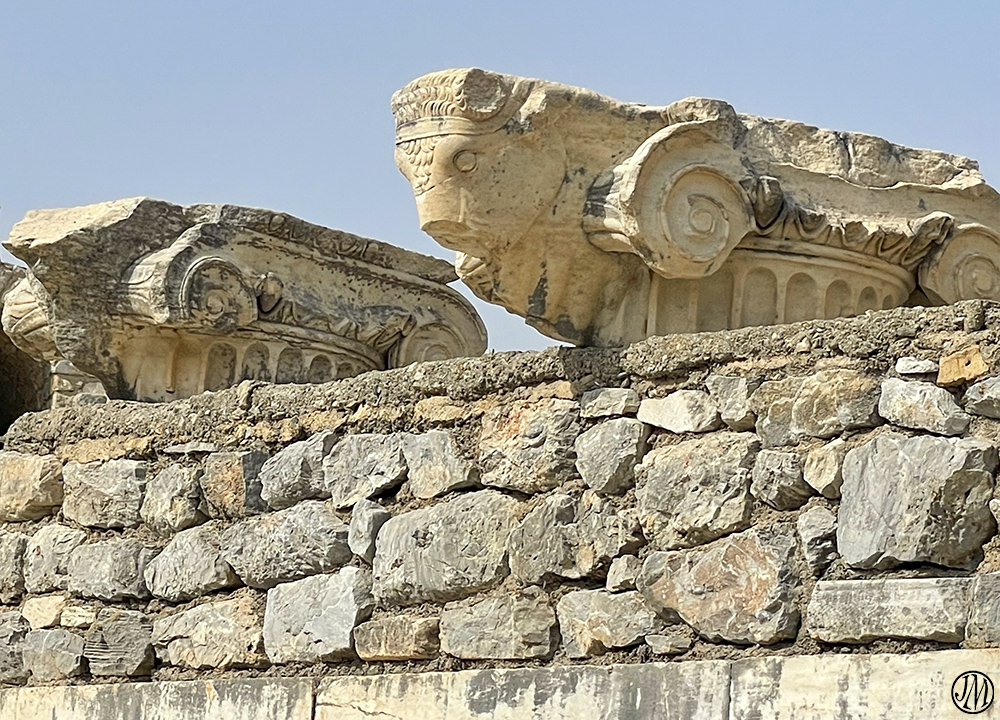 Stone carvings at Ephesus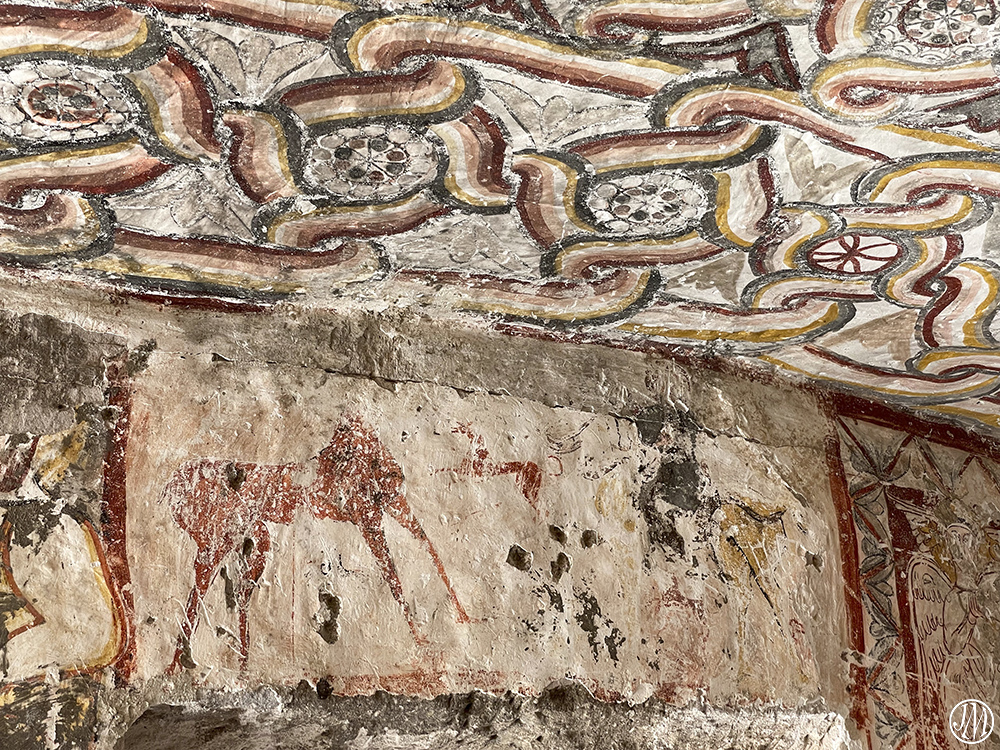 Wall paintings in a cave church in Nevsehir, Cappadocia
There will be beautiful sea and landscapes …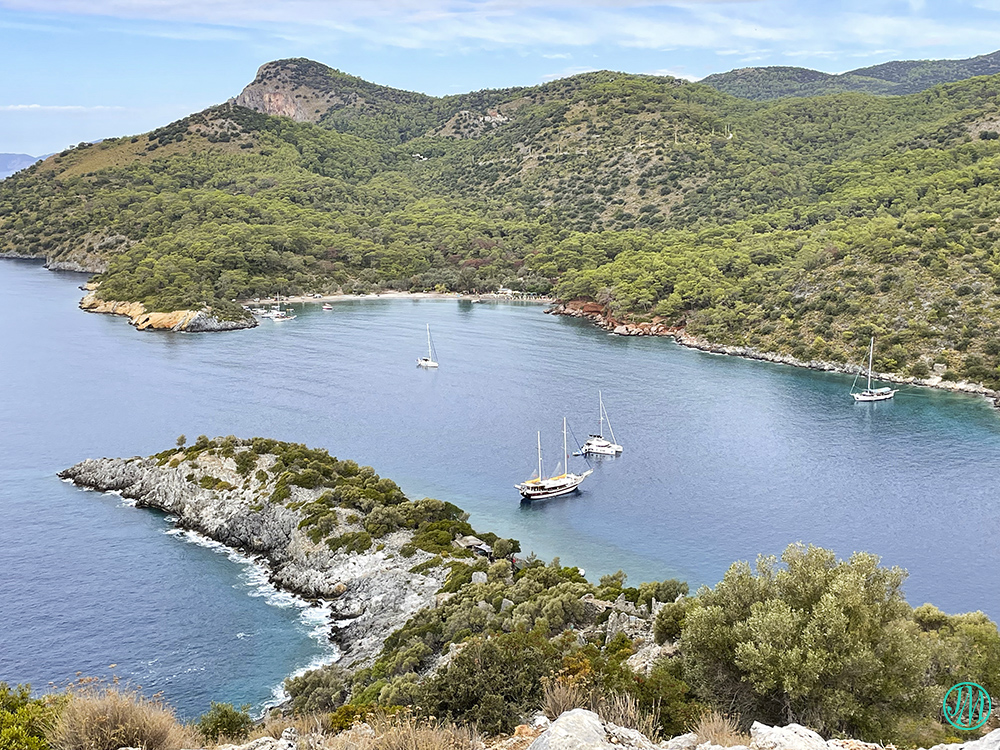 Looking down from on high to a beautiful secluded cove on Gemiler Island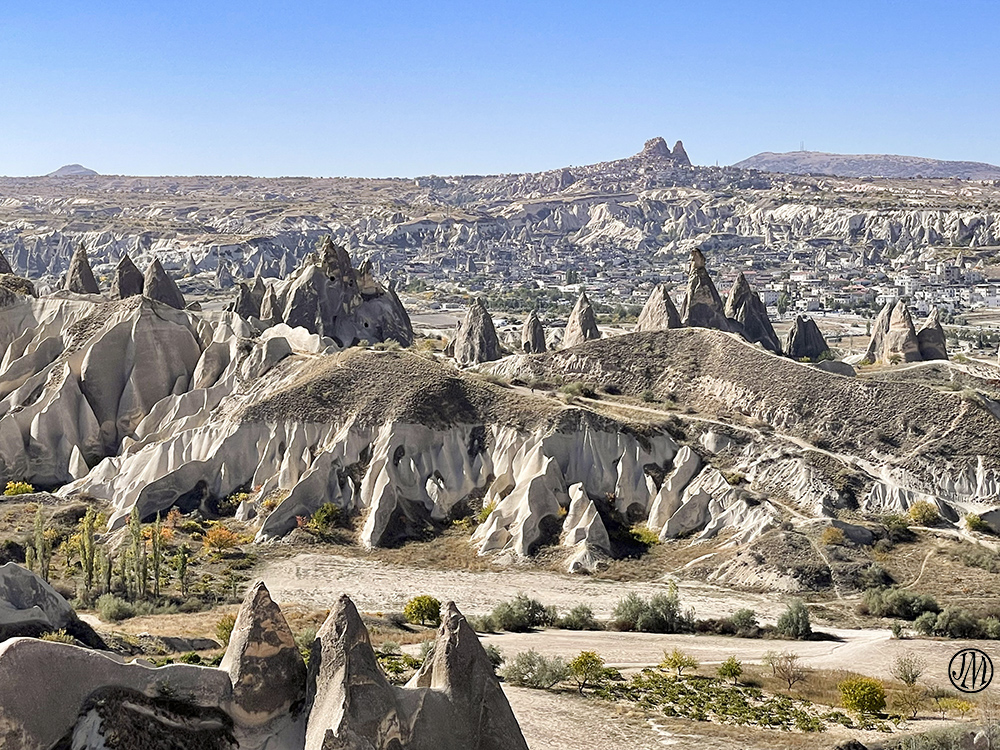 A view over some of the magical landscape of Cappadocia 
There will be people going about their everyday business …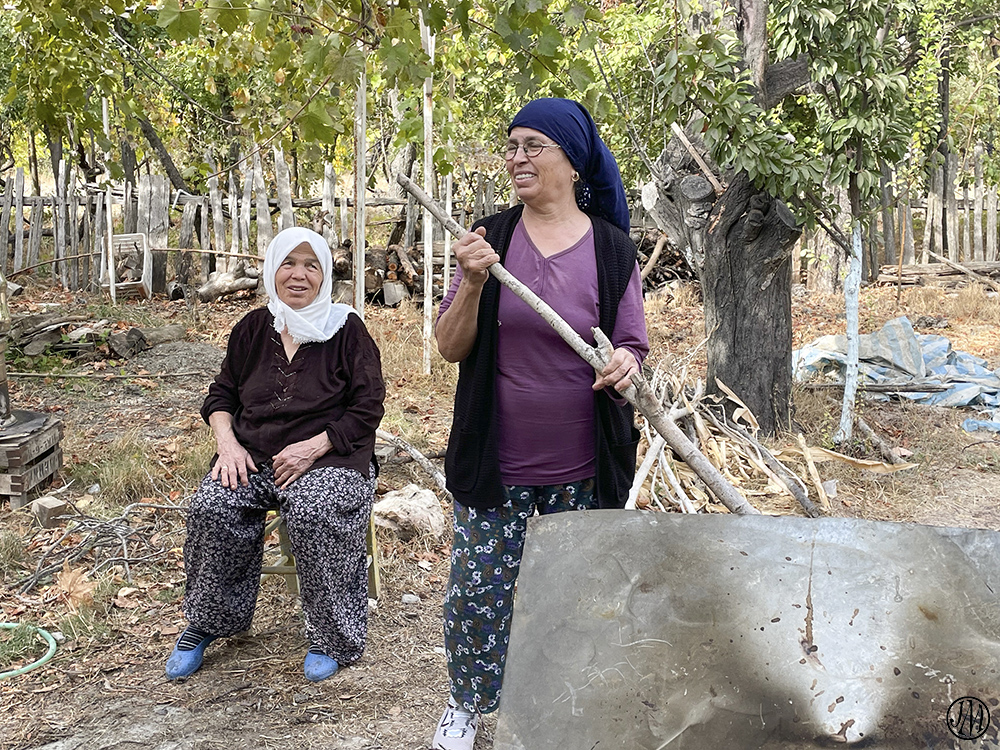 A mother and daughter making grape molasses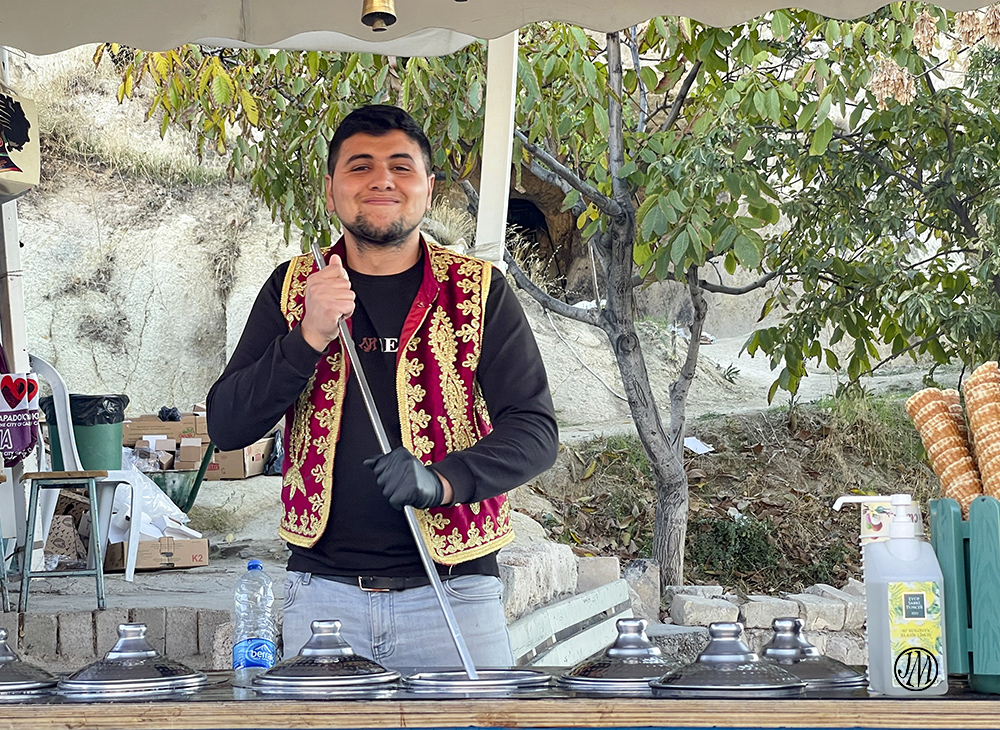 A cheerful fellow selling traditional ice-cream
And others proudly showing their cultural heritage …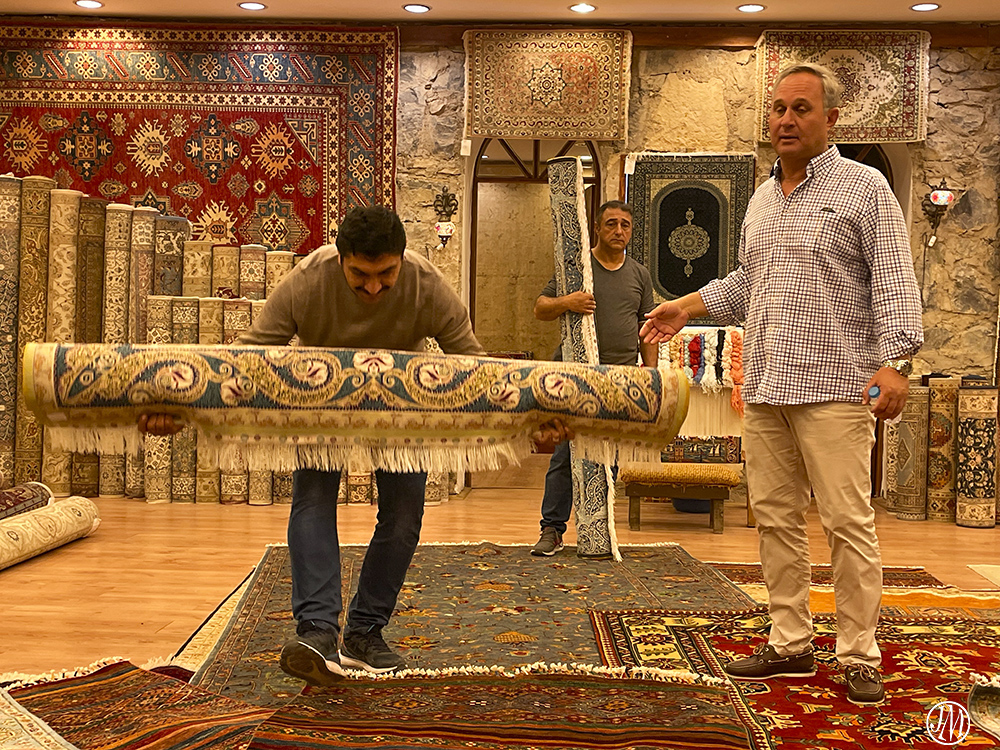 A carpet workshop near Kayseri, with so many rolled out for us to enjoy, and buy?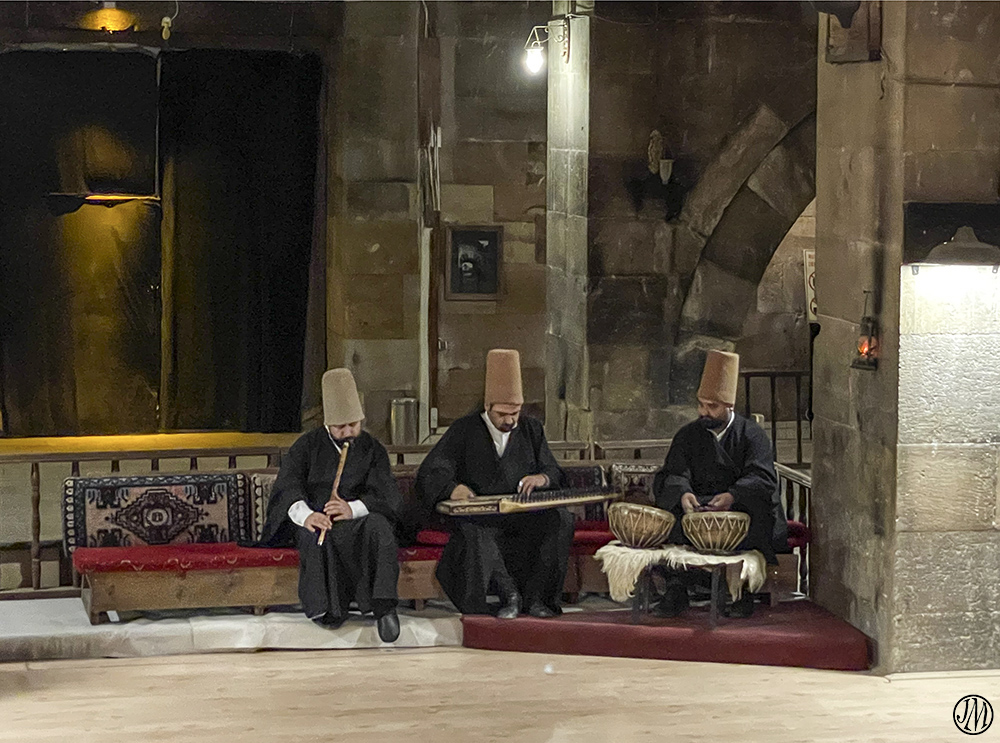 Musicians in an ancient Caravanserai 
And there will be stories of our ship board life, our hikes, our discoveries and the food we so enjoyed …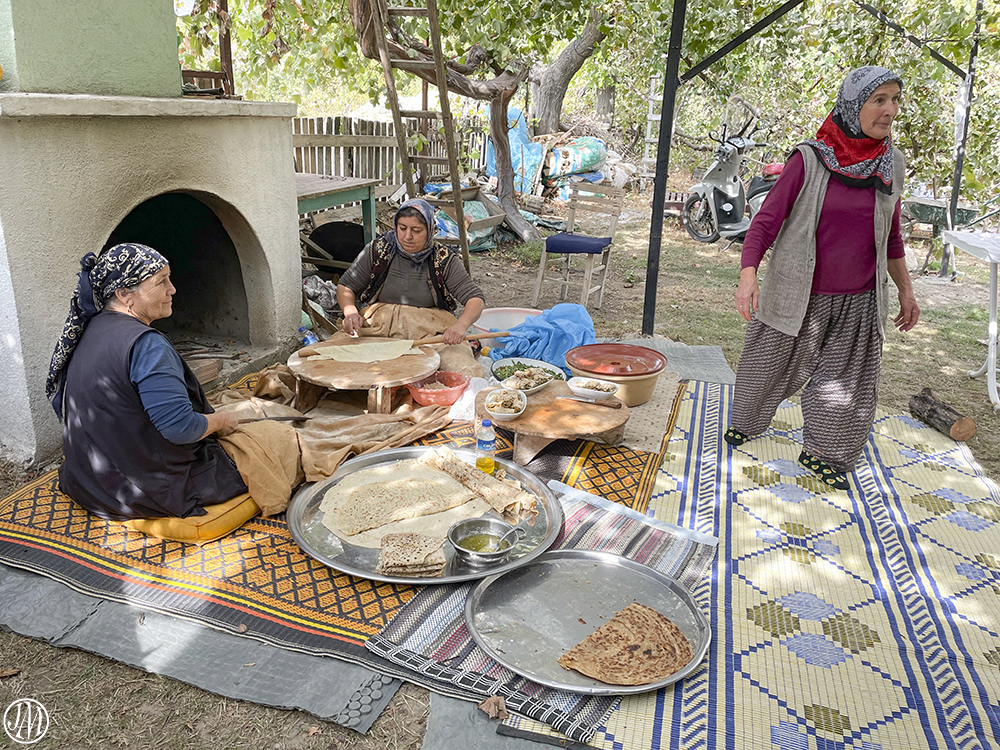 Village women preparing a delicious lunch for us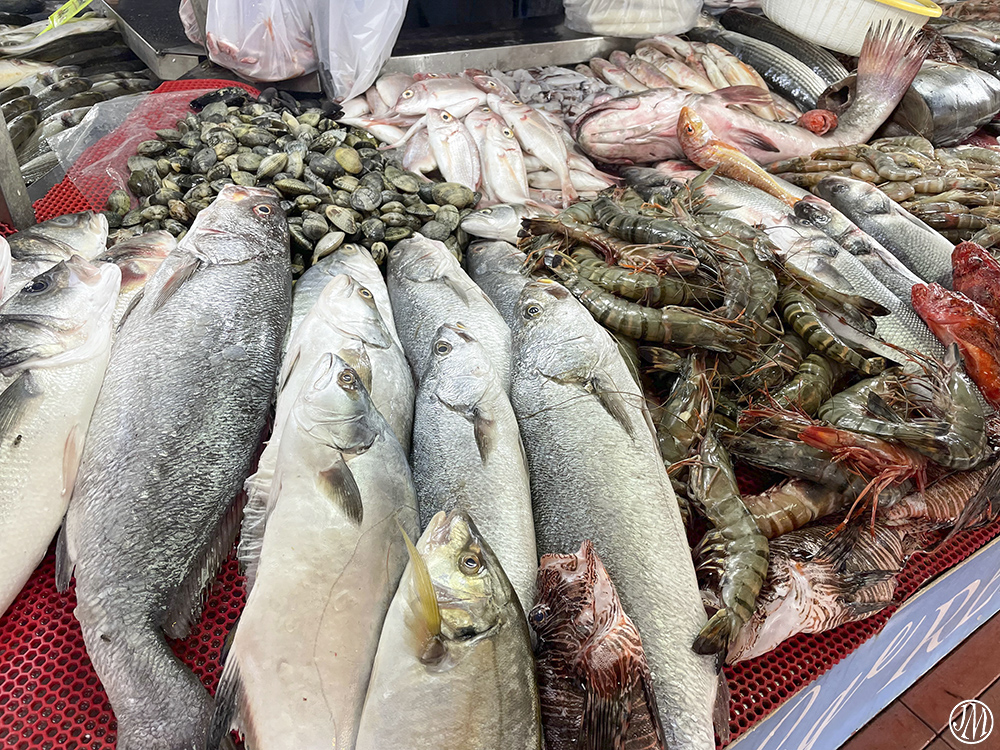 Which fish to choose?  Plenty of delicious seafood to be savoured
And there will be cats …..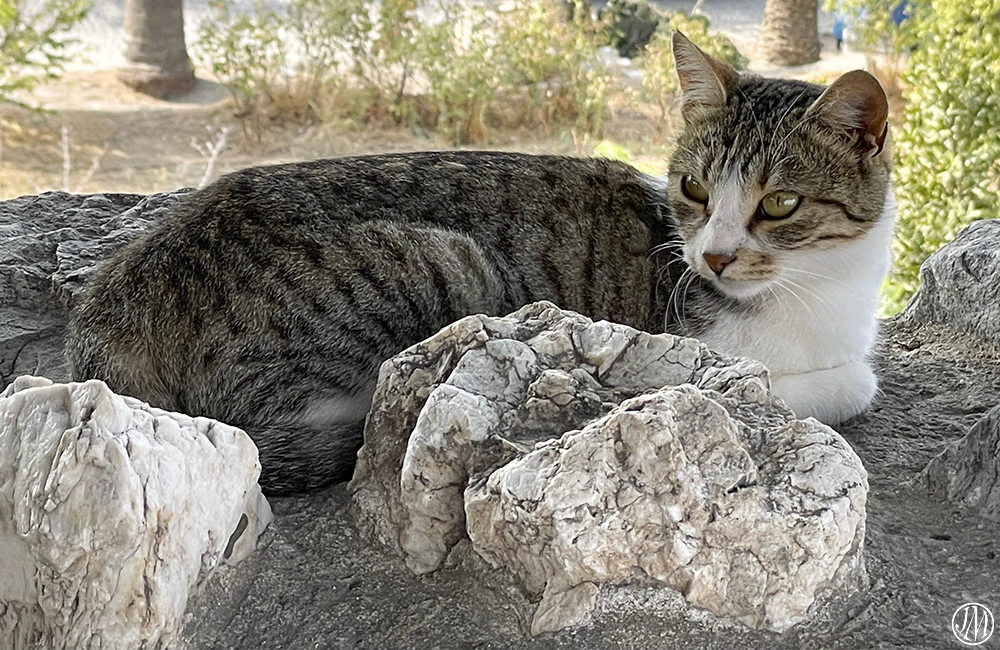 Comfortable among the ruins at Ephesus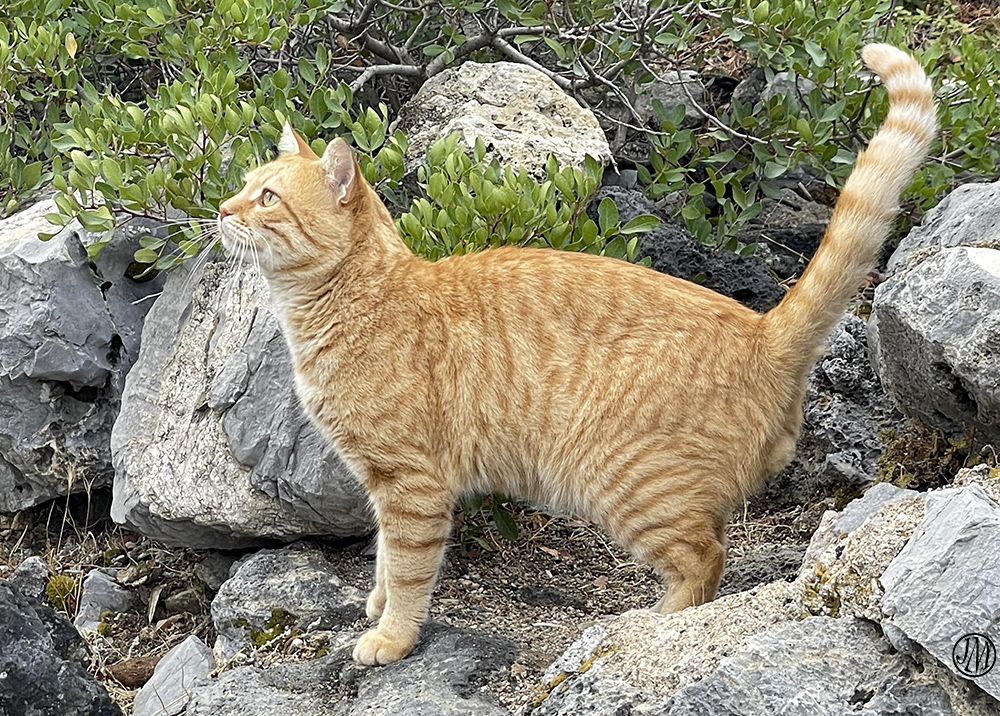 This handsome ginger tom welocmed us to Gemiler Island and followed us part way up the mountain
So there we have it, my friends, this is what I am proposing to share with you over the next days as I work through my photos and enjoy my travels all over again through the images and memories.  I hope that you will also enjoy the vicarious travel and may even be tempted to book a trip to Türkiye for yourselves.  I do know a couple of really good guides, who could advise you …
Until soon
All good wishes,