Greetings everyone
The journey through Portugal continued from Porto and the Douro Valley in the north, to the central region, beginning in the capital, Lisbon.
The city of Lisbon straddles the delta of the Tejo River which is continuously criss-crossed by boats of all sizes. From here you can get a sense that while Portugal is perched on the most westerly edge of Europe it has also been greatly influenced by the countries overseas colonies. The banks of the river are lined with converted warehouses no longer housing imported and exotic wares from across the world, but now converted into apartments and shops and nightclubs.   Steep streets climb up to the Sao Jorge Castle with tiny shops and galleries, the walls of many decorated with bright azulejos, and there are plenty of street cafes.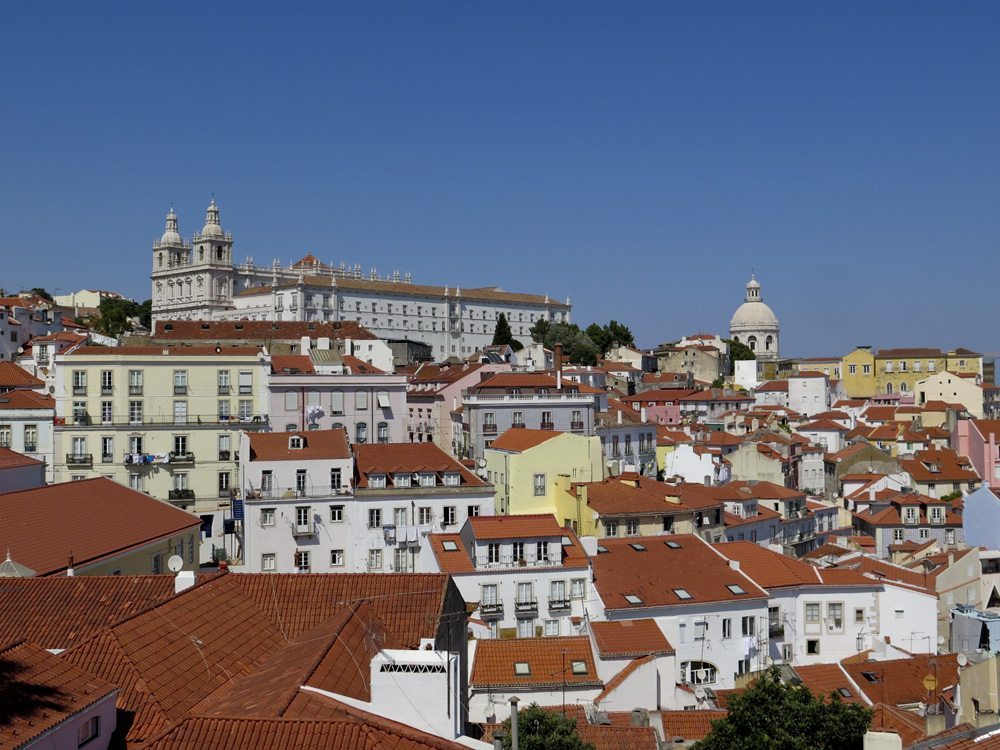 Tiled rooftops and pastel hued walls of the city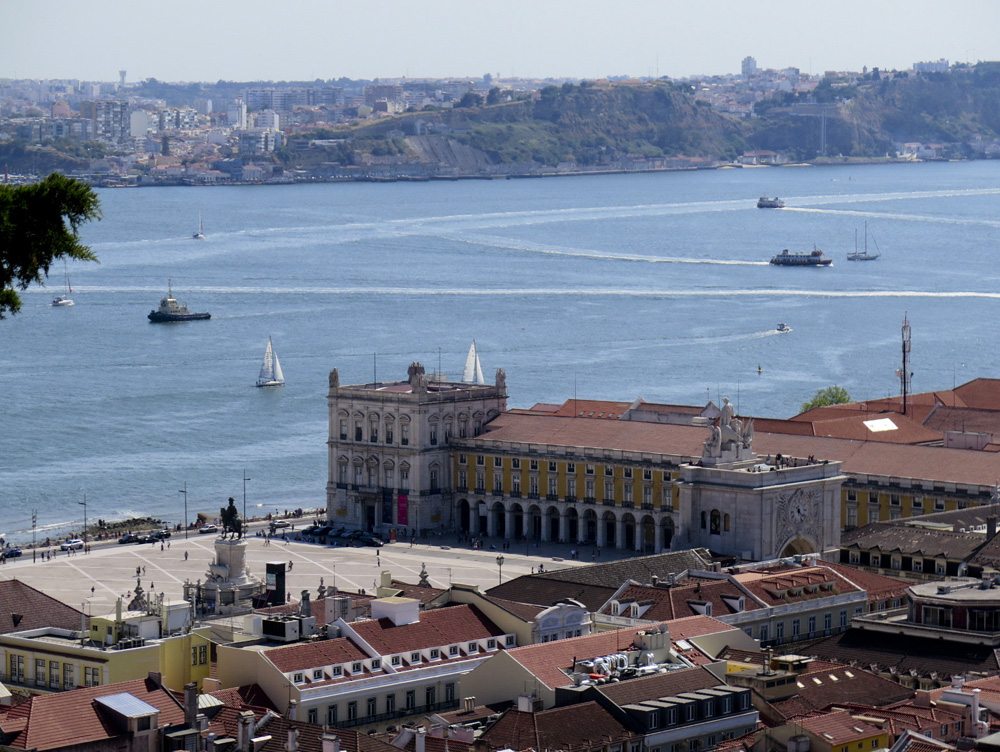 View from Sao Jorge Castle over the city and Tejo River
From Lisbon one can easily reach the many beaches of the Estoril (west) coast or you can hike along the cliff tops, some 150 metres above the sea, descending steeply into ravines and climbing up on sliding gravel and rock to finally reach the Cabo da Roca Lighthouse set on the mostly westerly point of Europe. From here, for our group, with a glass of celebratory Champagne in hand, we could enjoy 360 degree views out to the Atlantic Ocean or back across the hinterland.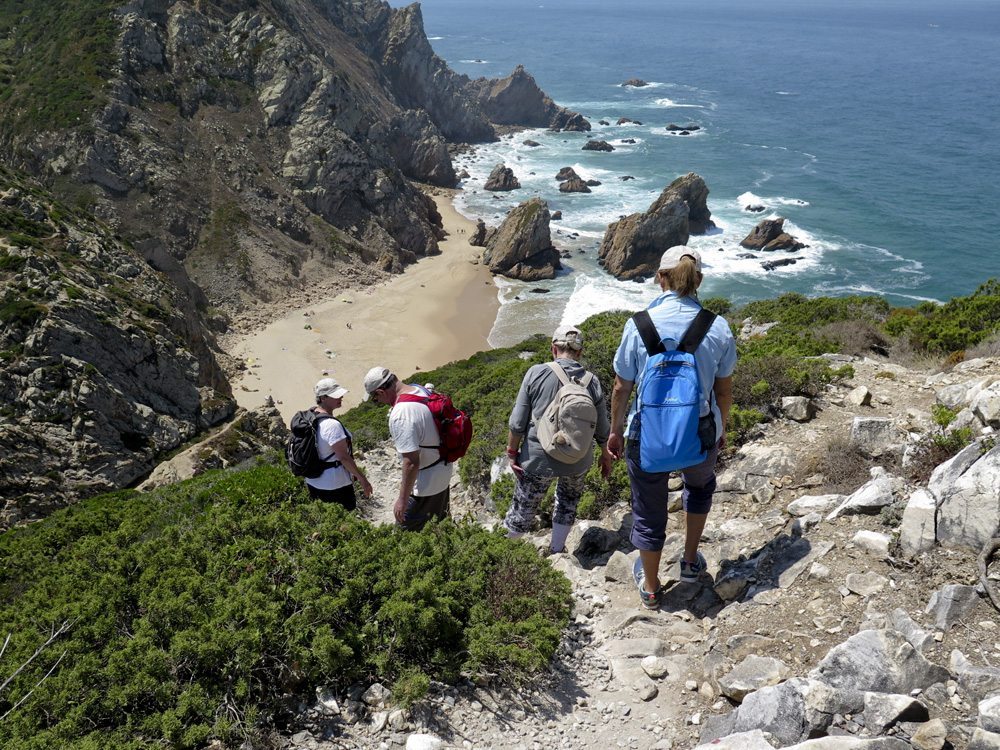 Walking the cliff tops and ravines of the magnificent Estoril coast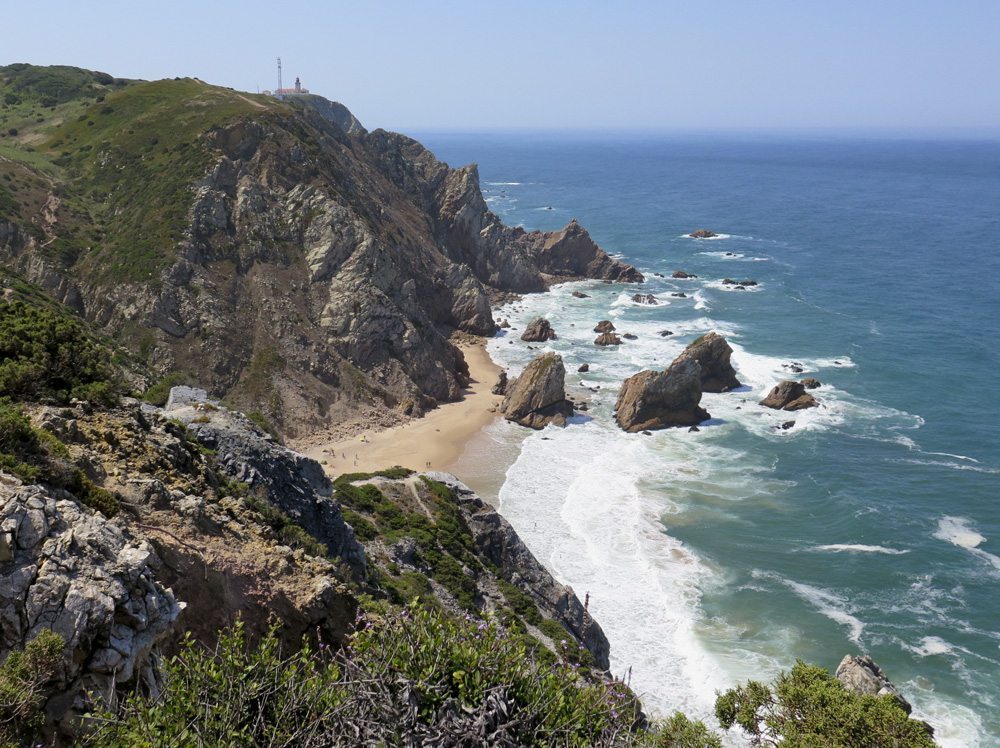 Looking towards the Cabo da Roca Lighthouse. 
It is also a quick trip west from Lisbon to the very famous World Heritage town of Sintra. Set in the hills and forests above the Estoril Coast, it has been attracting European royalty, aristocrats, artists and poets for several hundreds of years. One can see where the English Poet Lord Byron once lived, and where Hans Christian Anderson spent months at a time. Extravagant manor houses and follies dot the landscape around the town and high above are the two treasures to be visited – the vast outlay of the Moorish Castle and the enchanting Palacio da Pena splendid with its curlicues, turrets, tiles, gargoyles, courtyards and all surrounded by bright pink and yellow painted walls.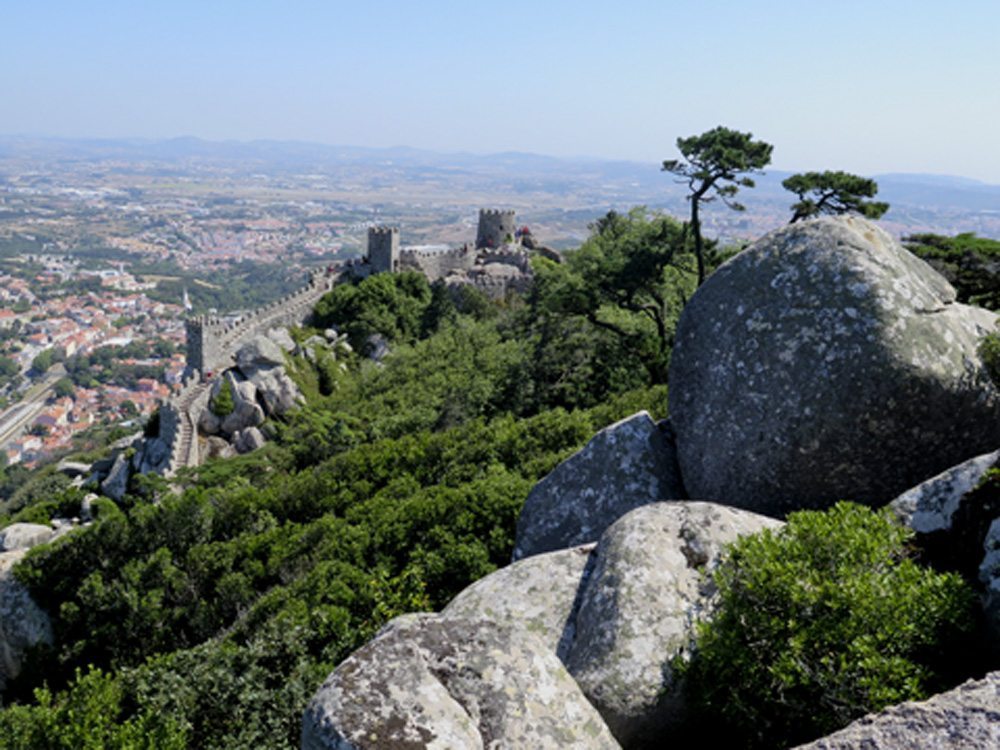 The ruins of the Moorish Castle high in the hills above Sintra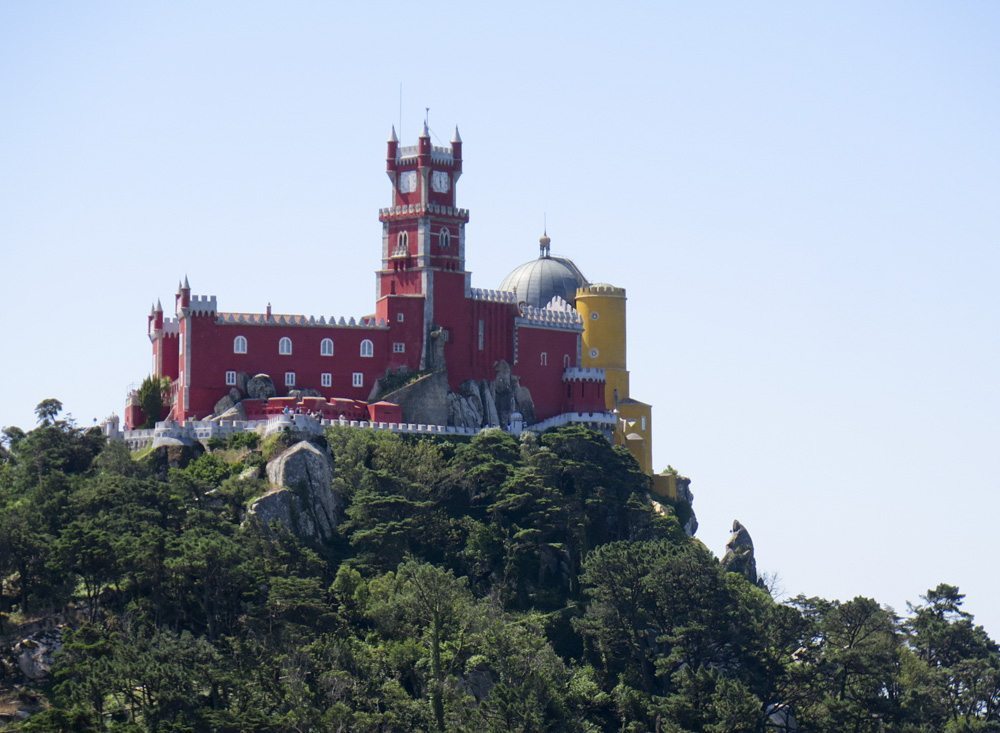 The fairy-tale Palacio da Pena rising up out of the forest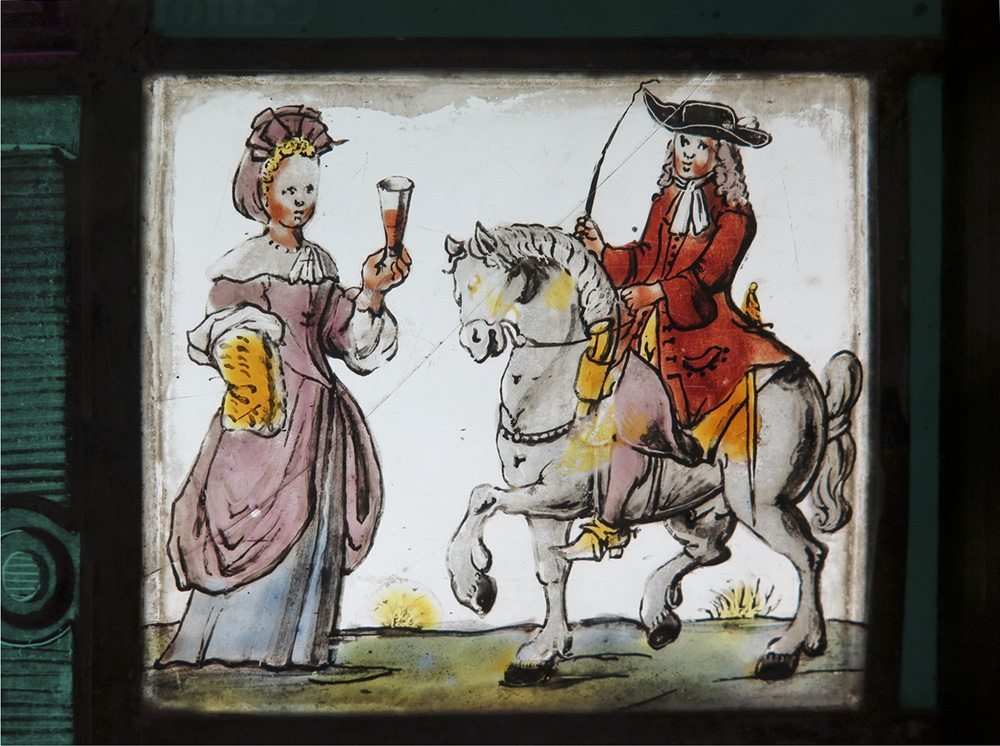 Offering wine, a painting on glass in the Palacio da Pena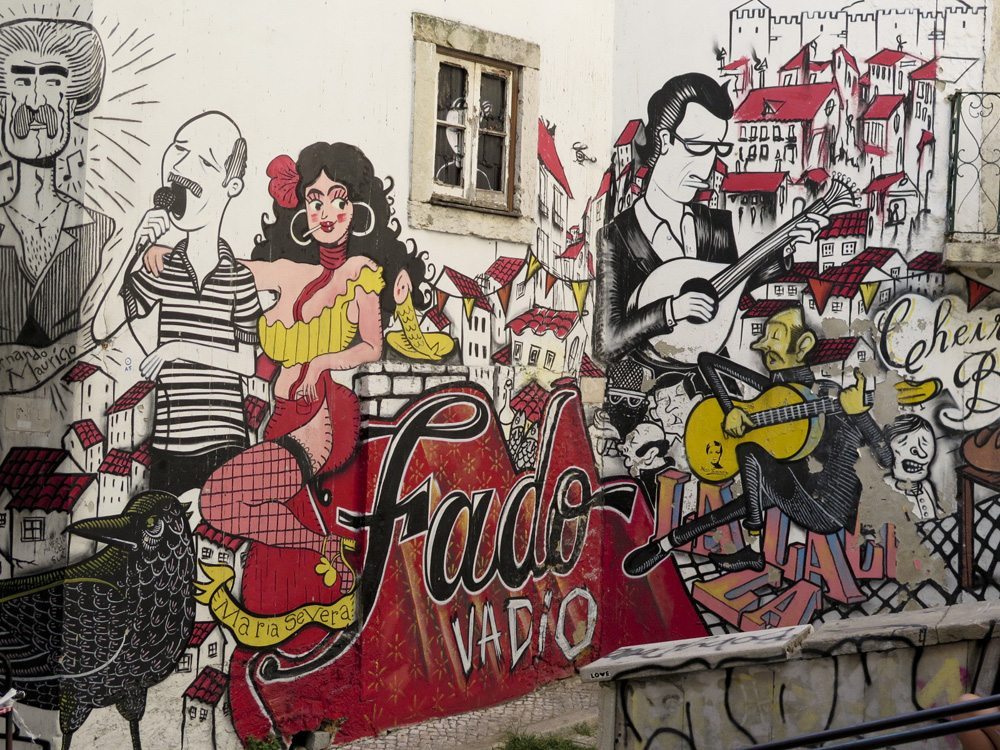 A colourful mural in the Alfama District highlighting Fado music
Hope you enjoyed my short trip through Portugal.  For more information and images you can check the Portugal portfolio on my photo pages.
My next journal entry will introduce you to a fabulous designer vineyard in Italy.