Dear friends,
After a couple of days exploring Stonetown, we drove up the island towards the northernmost tip to spend two more days enjoying the beach and fresh sea breezes. On the way, we stopped at a Spice Farm run as a local cooperative and were given a wonderful tour through the trees and shrubs being quizzed on what we knew and informed about what we didn't know.  Our host was the wonderfully named Ali Baba (the 40 thieves were nowhere to be seen ….).  His friendly sidekick, young Ahmed came with us and busied himself crushing leaves for us to smell, weaving a basket in which to put all our samples and whipping up a variety of other things made from palm fronds – a crown, a bracelet and a ring.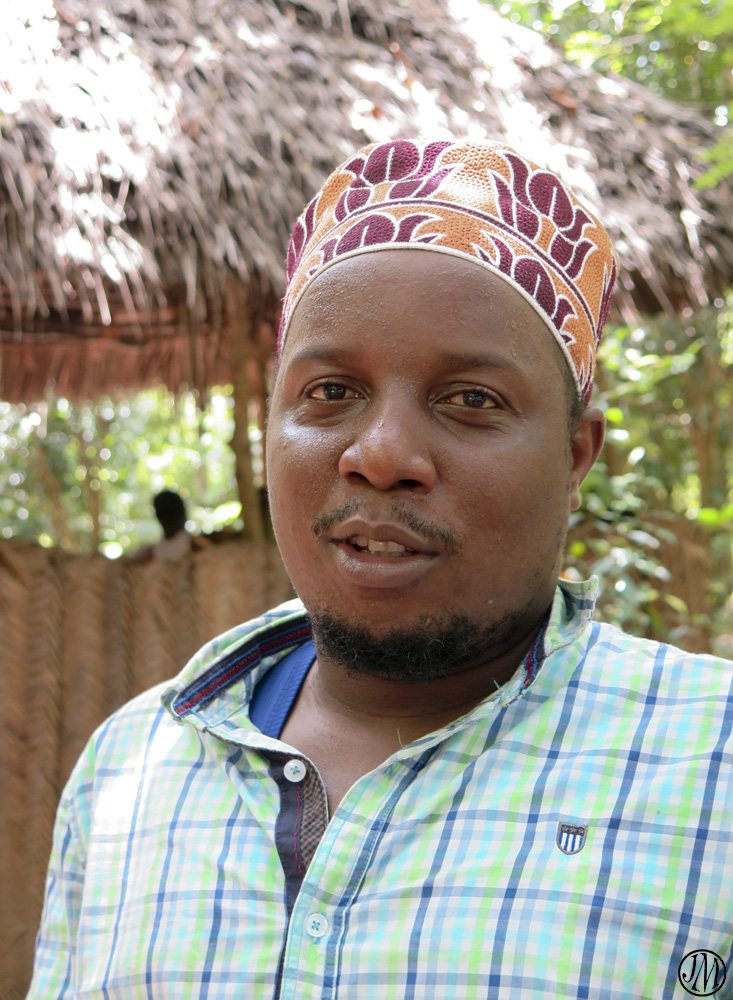 Ali Baba, Director of the Spice Cooperative and our host.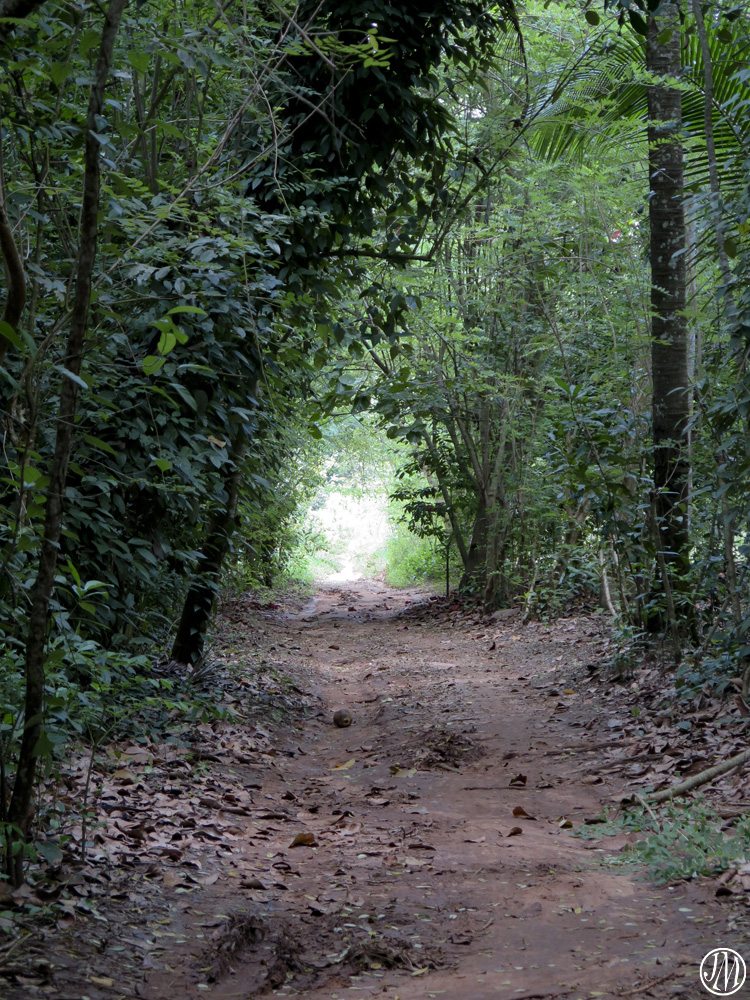 We set off down a dirt road and then turned into a glade of trees.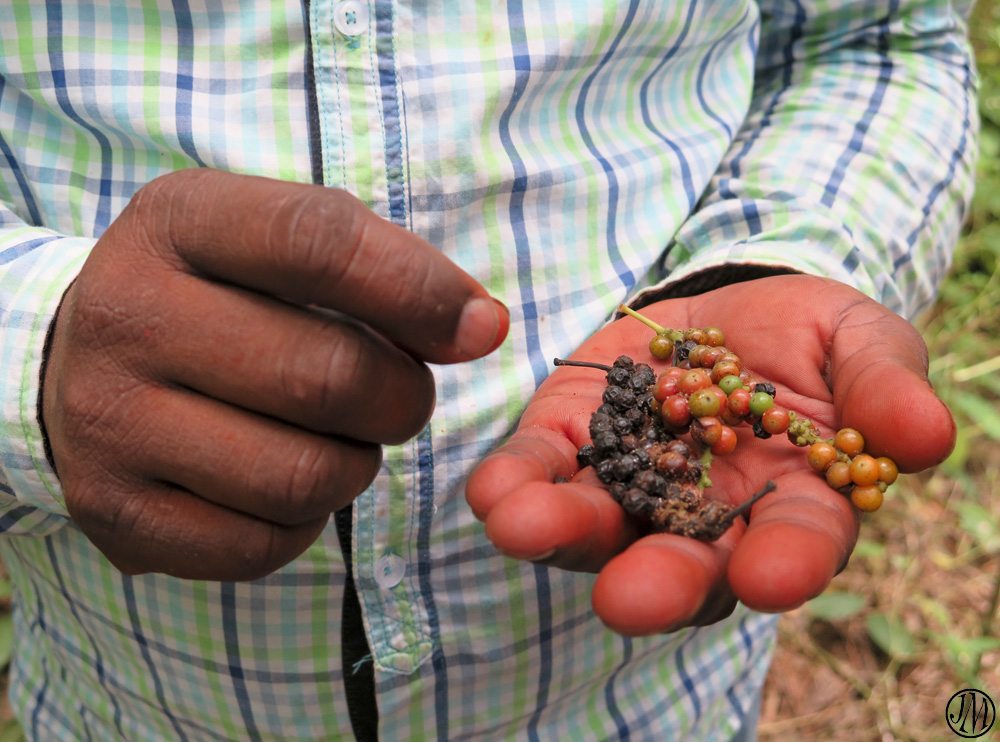 First off, was an easy one. What are these, he asked? Peppercorns of course.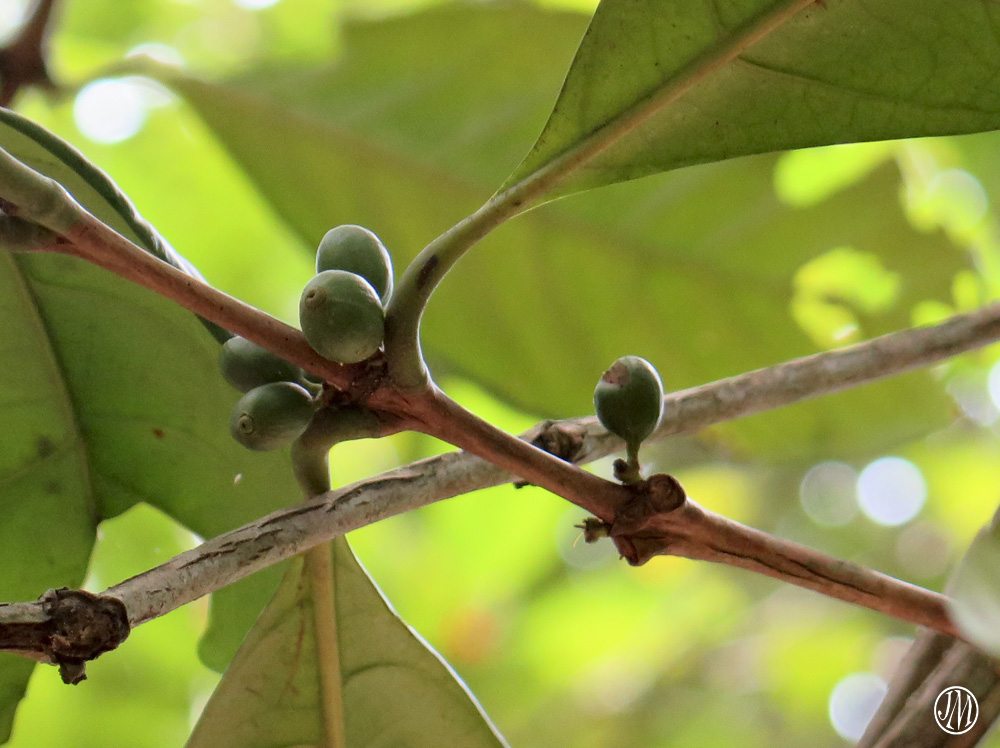 And what about these berries growing on a tree nearby?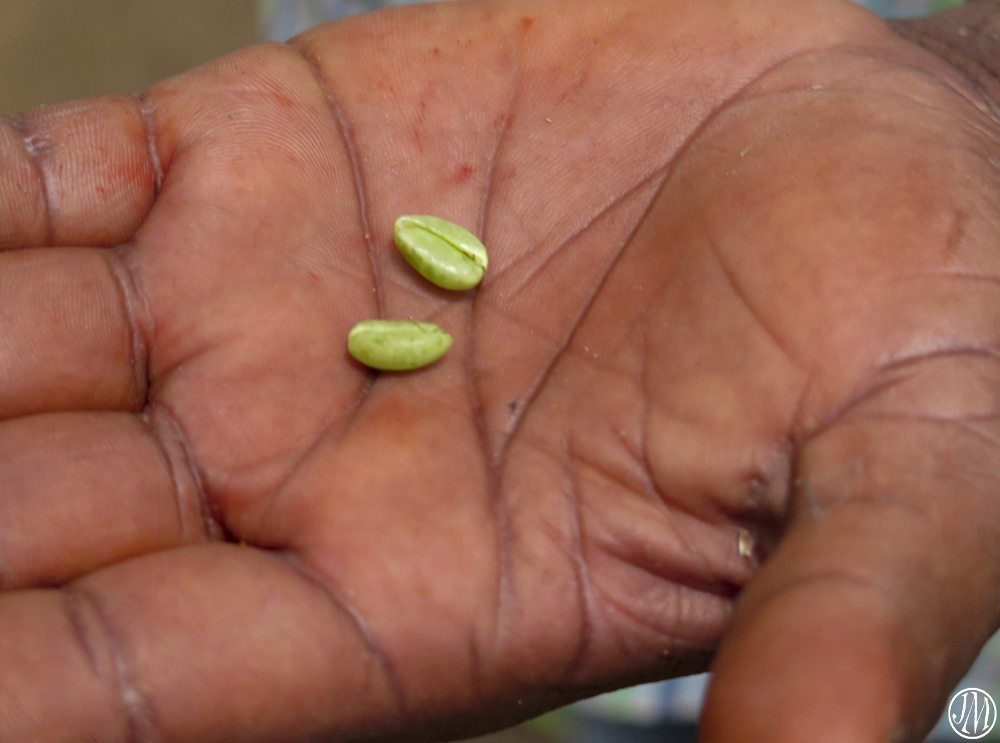 This is what was inside the fruit of that tree. Yes, you are right … coffee beans.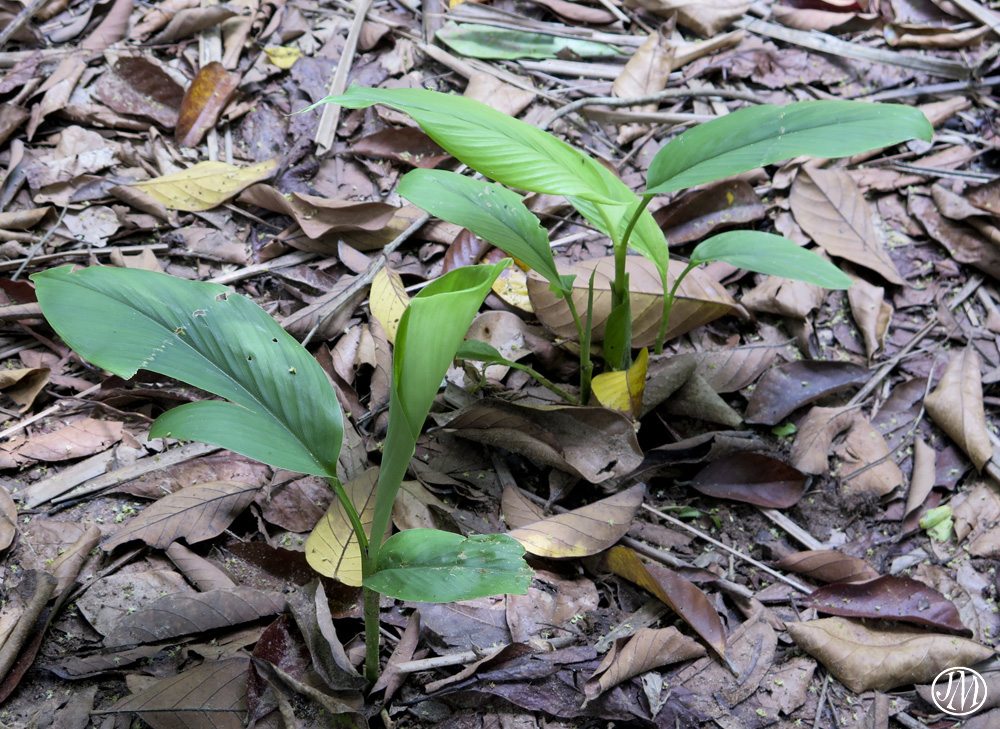 And what is this plant, what might it produce?  The root of this one is what is used.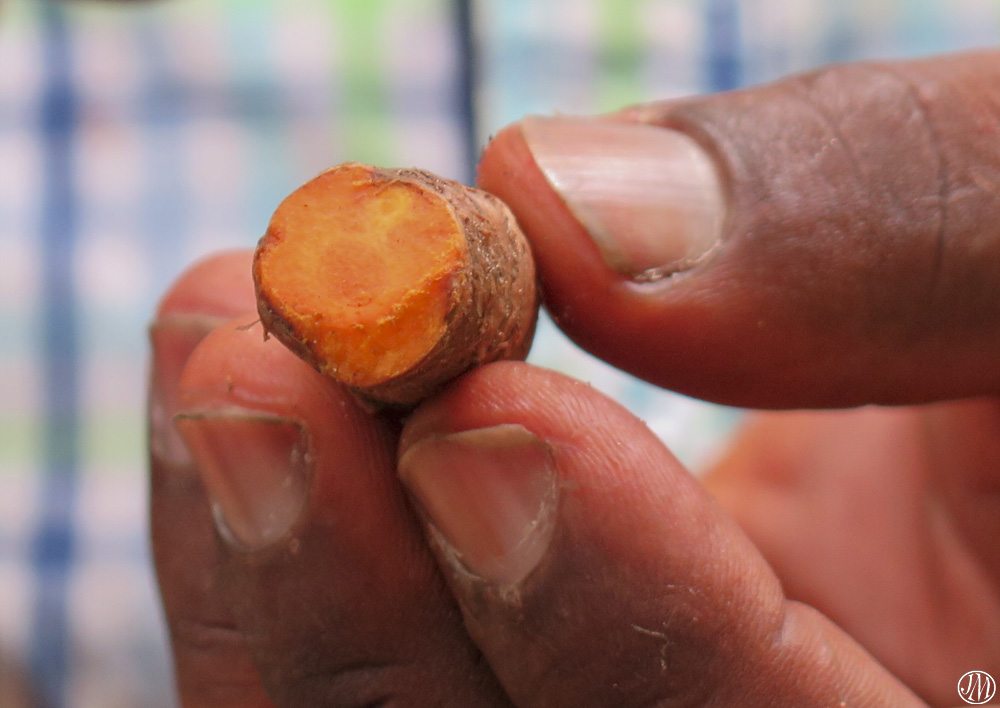 Look at that wonderful colour. It's used in rice dishes and can also has medicinal uses. It's tumeric.
For a little light entertainment as we kept walking through a haphazard layout of trees and shrubs, Ahmed cut down some star fruit from a tree and showed us how great the slices were for decoration.  I tried but it wouldn't stick to my skin, not did it look as attractive as it did on Ahmed's young face.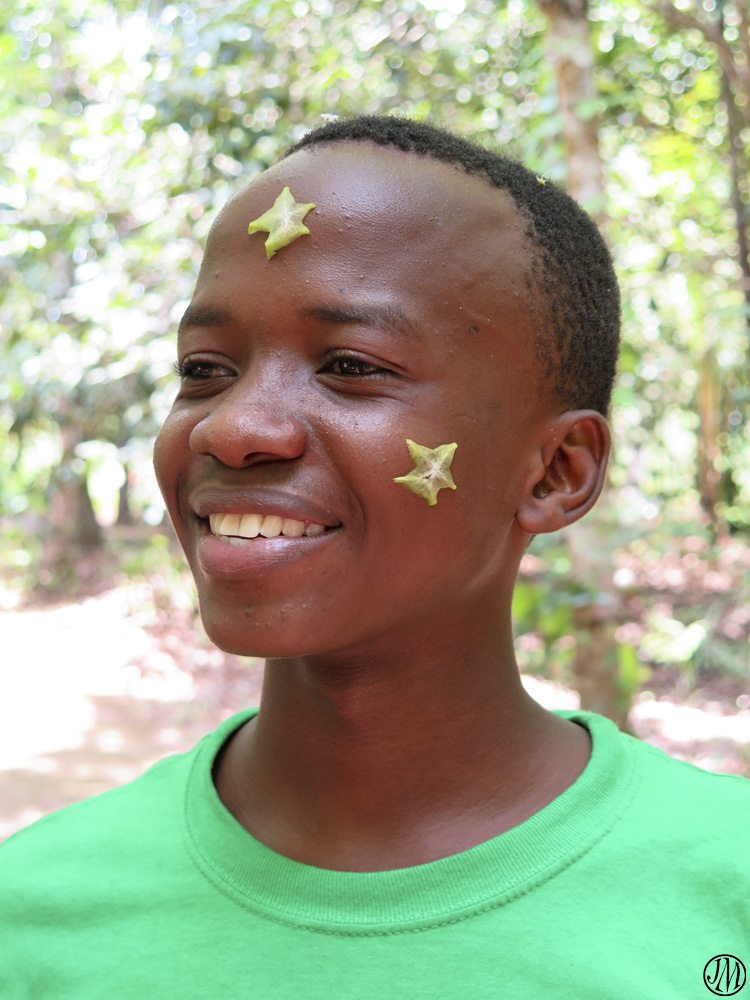 What a star! Ahmed showing off his fruity decoration.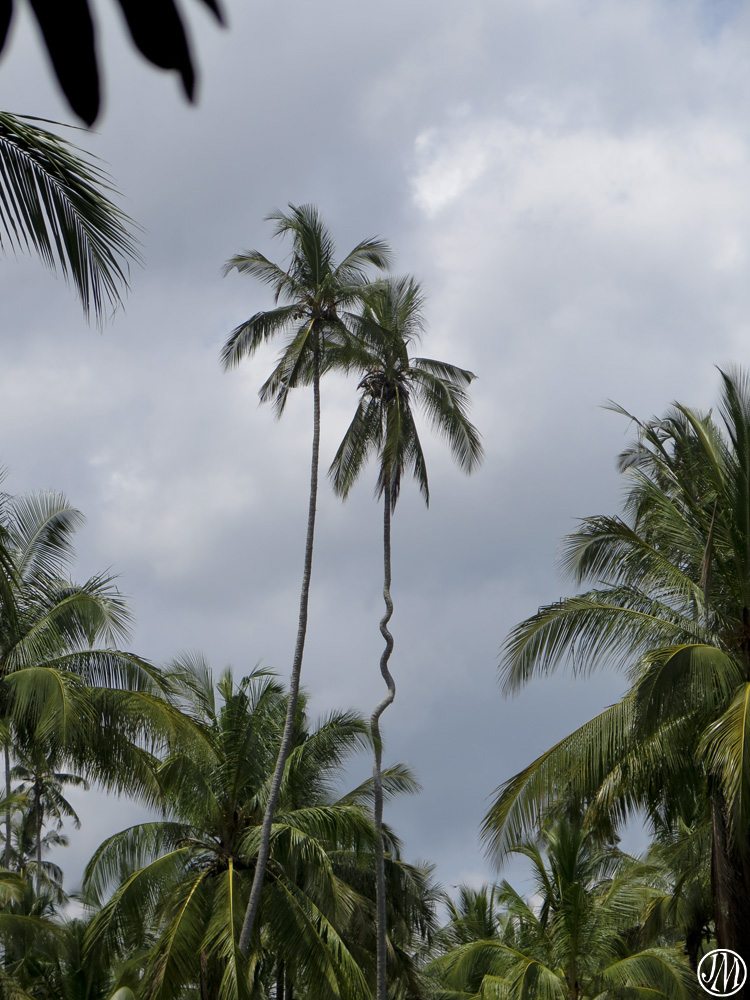 Wandering further, I caught sight of these two tall palms and wondered what had set off that wobble on the right.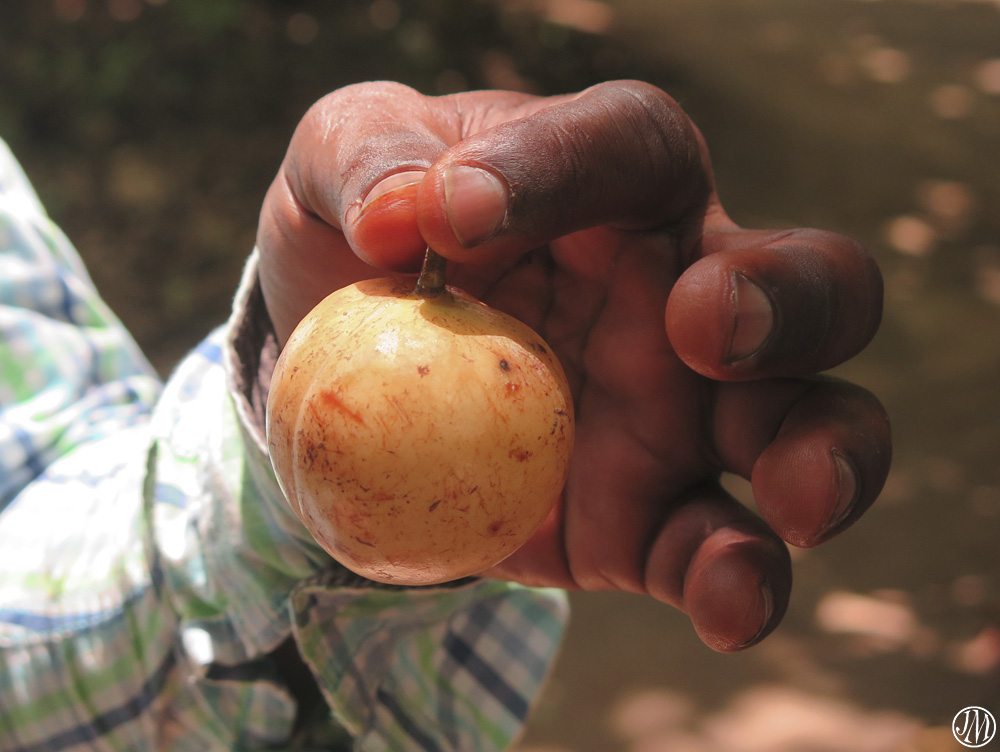 The next question posed was with regard to this fruit of another tree.  I didn't know, do you?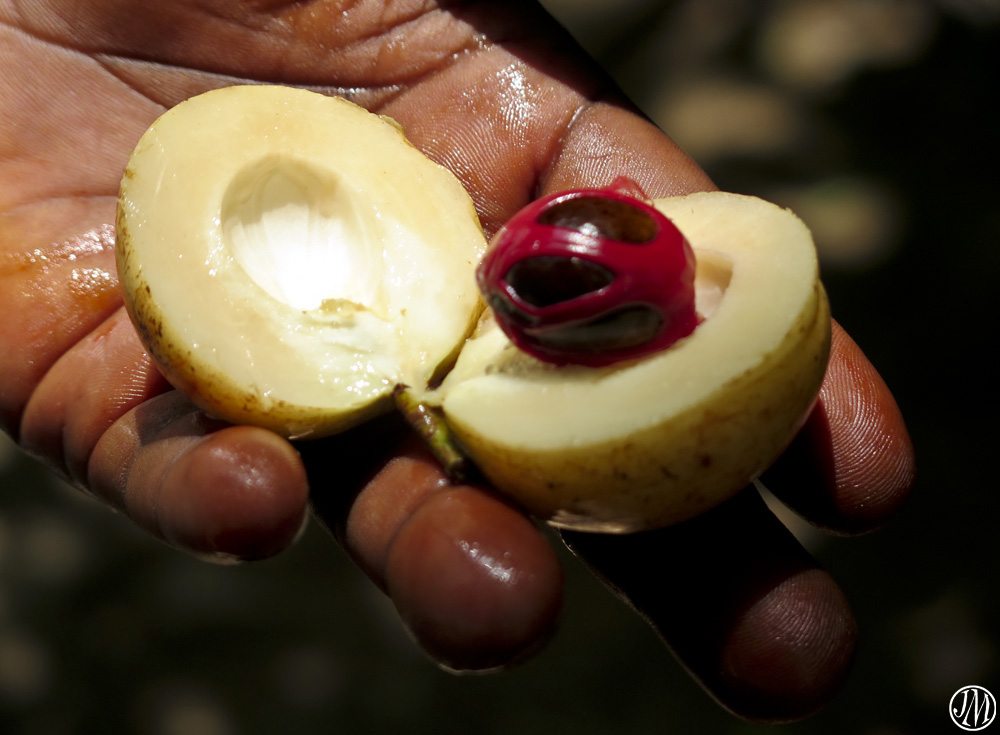 It's nutmeg.  The red coating on the inner nut – the nutmeg – is also used to flavour stews and rice,
but the kernal is dried and used whole or grated, which is how we mostly know it. 
These are vanilla pods, still green although the one on the left has begun to darken.
Vanilla needs heat but also shade and when ready they are dark brown and shrivelled.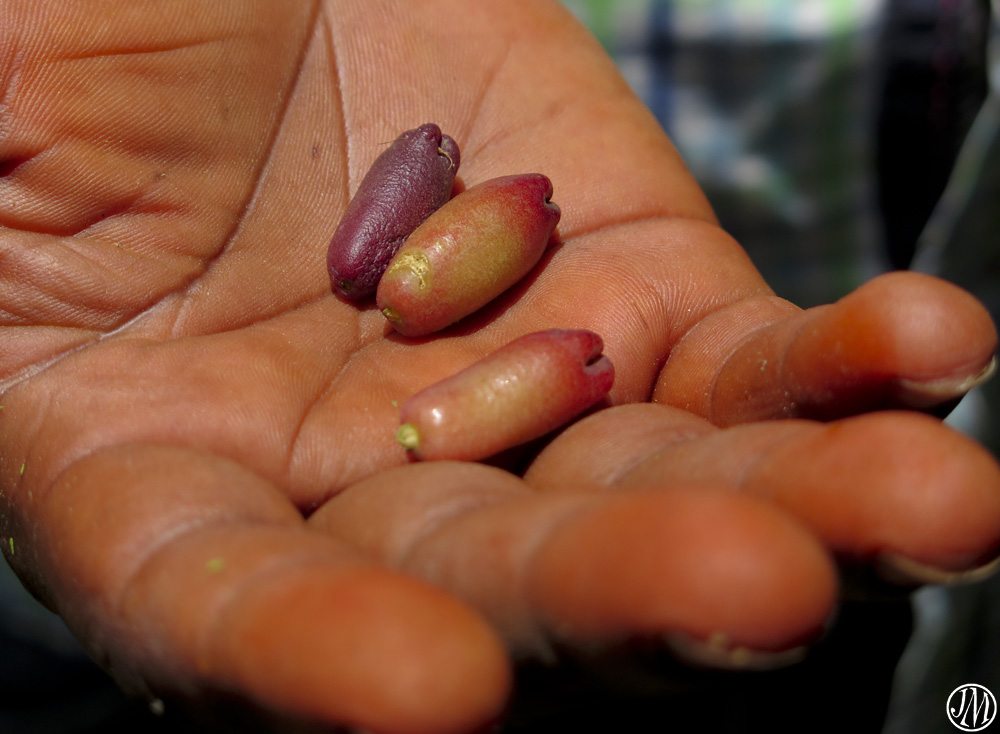 I wasn't sure what these beans were, until I looked more closely at the one on the left. It was darker and the
indentations on the end were the give-away. These are fresh cloves.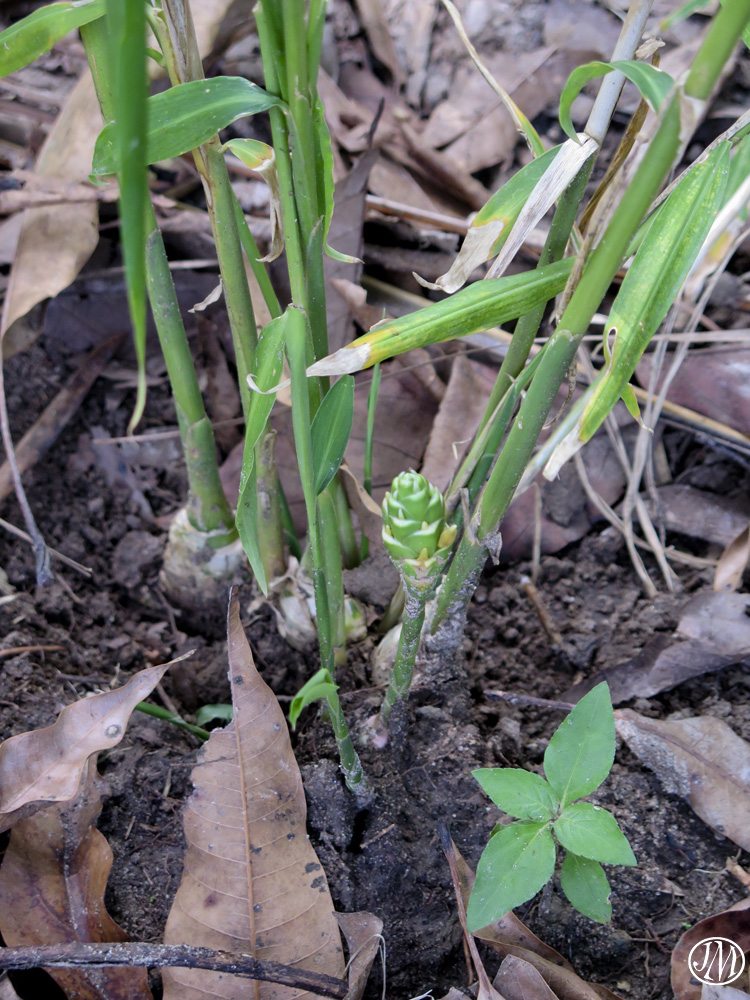 And these knobly shoots pushing up out of the ground. Yes, an easy one – ginger.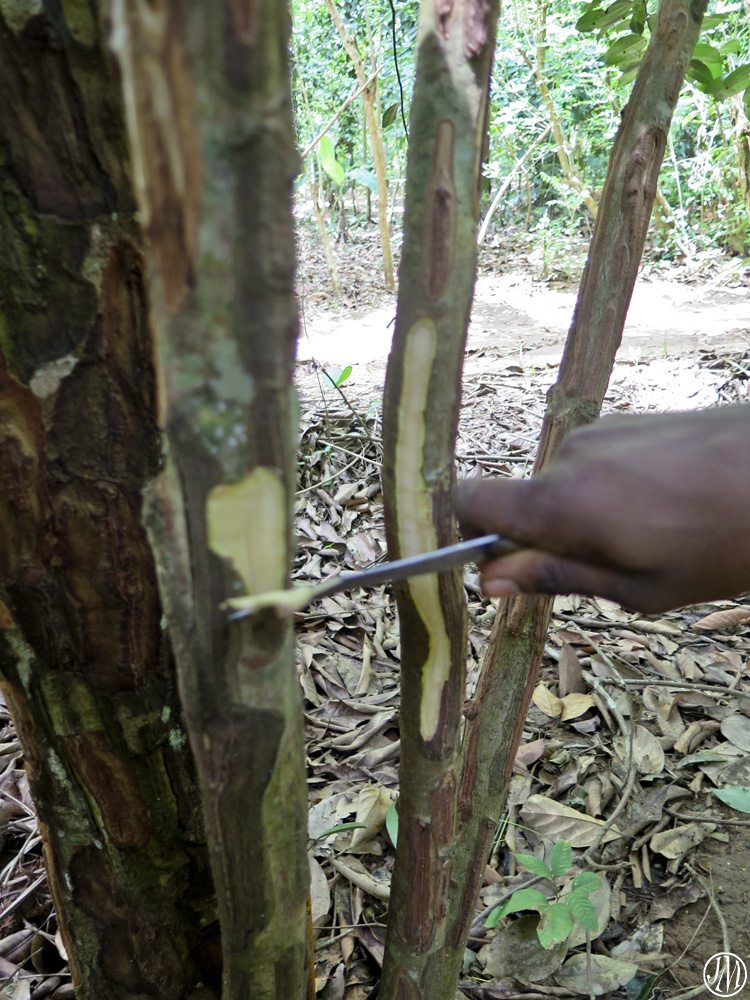 Next we were shown a tree with many scars on the trunk, and Ali made another cut, slicing of a length of bark.
What a lovely smell – cinnamon.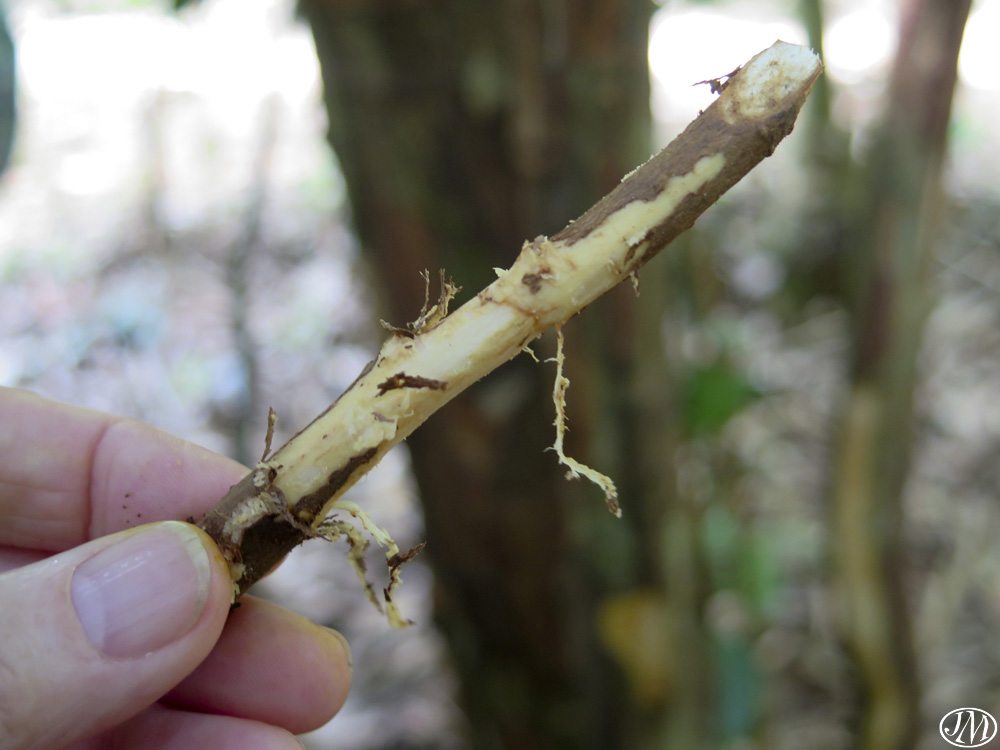 Interesting enough and what I didn't know was that the root is also used and has the same distince smell.
In a little clearing nearby were a group of these plants – aloe vera – perfect for cooling and moisturising the skin.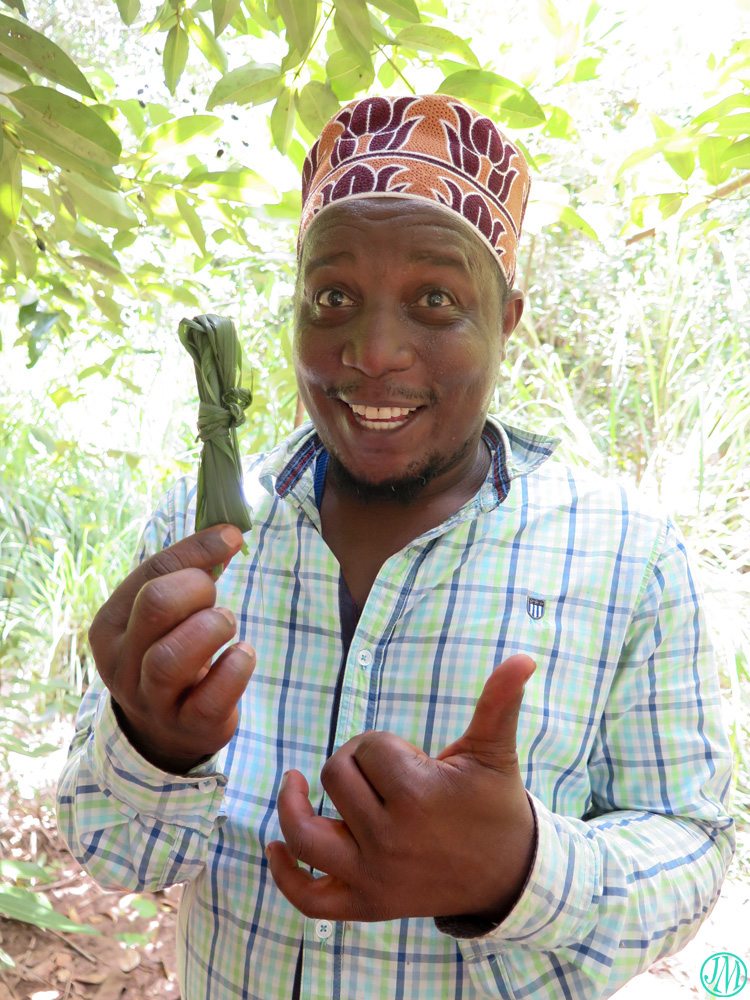 And tall stands of lemongrass, for cooking and for fending off pesky mosquitoes – these stalks neatly tied in a knot by Ali.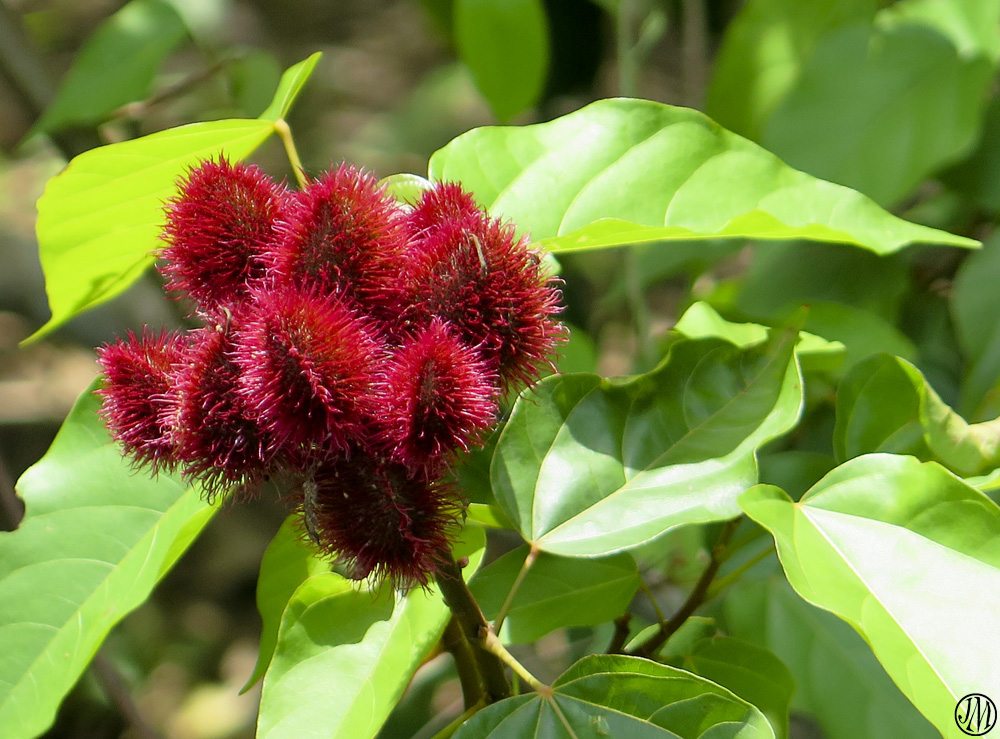 I had no idea what this tree with attractive red fruits was, but evidently it's called the lipstick plant.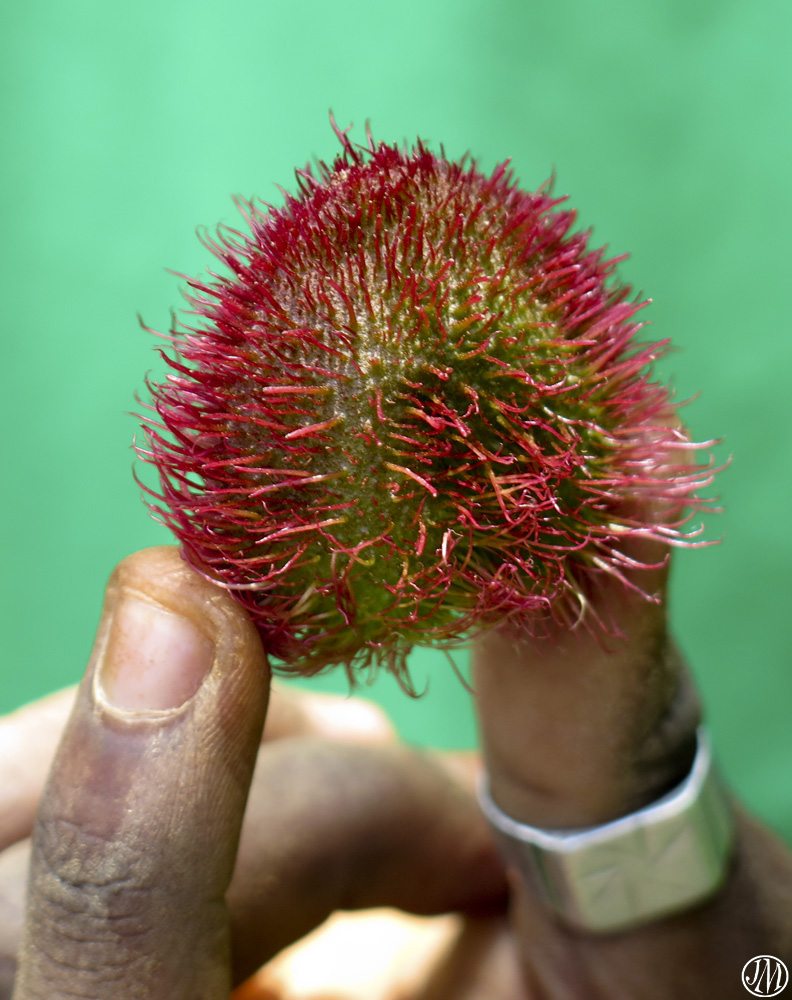 Here is a single one of the fruits of the tree held up by Ahmed who was excited to show us why it is so named.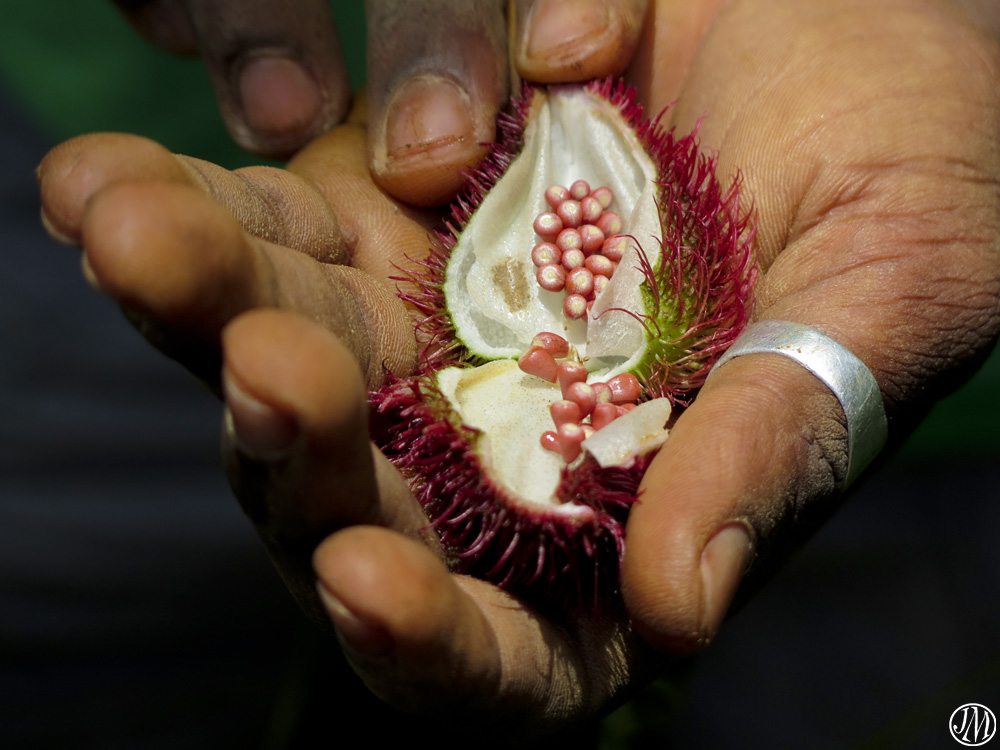 Inside, there are a cluster of small red berries…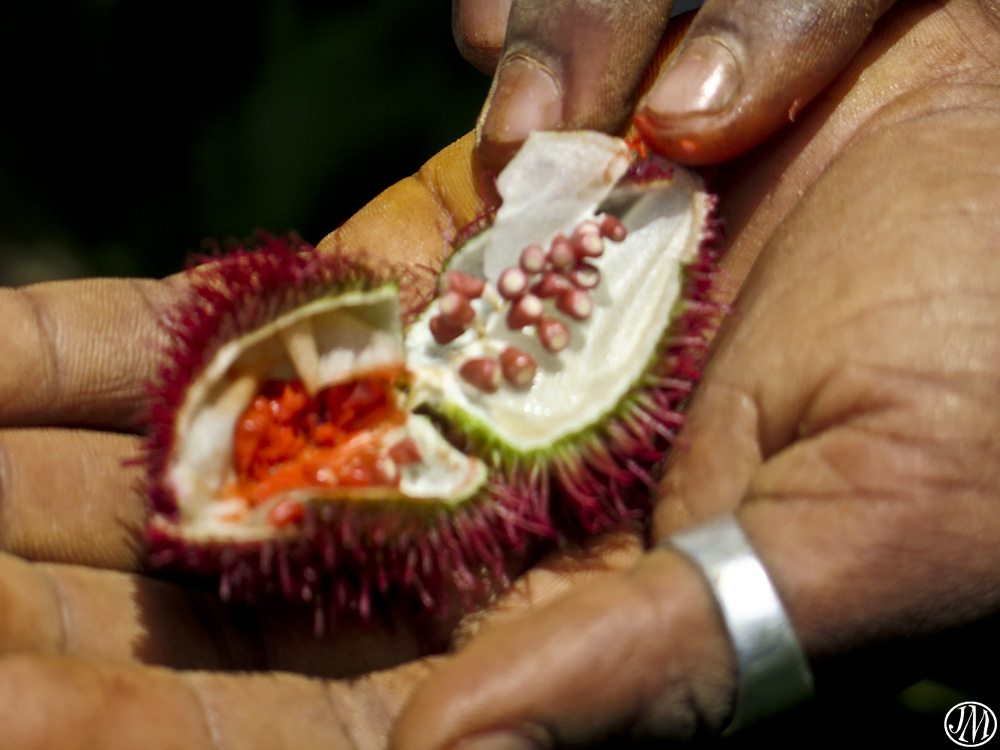 … which when pressed, break down into a reddish paste…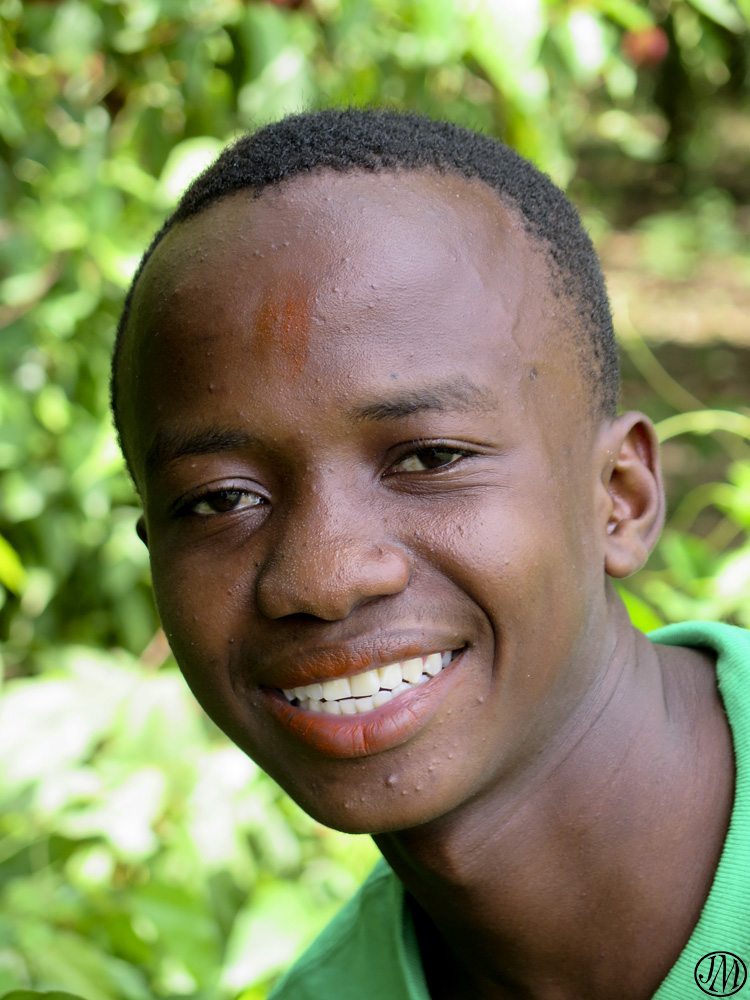 … and this can be used to brighten the lips or make patterns on the forehead or cheeks as Ahmed demonstrated for us.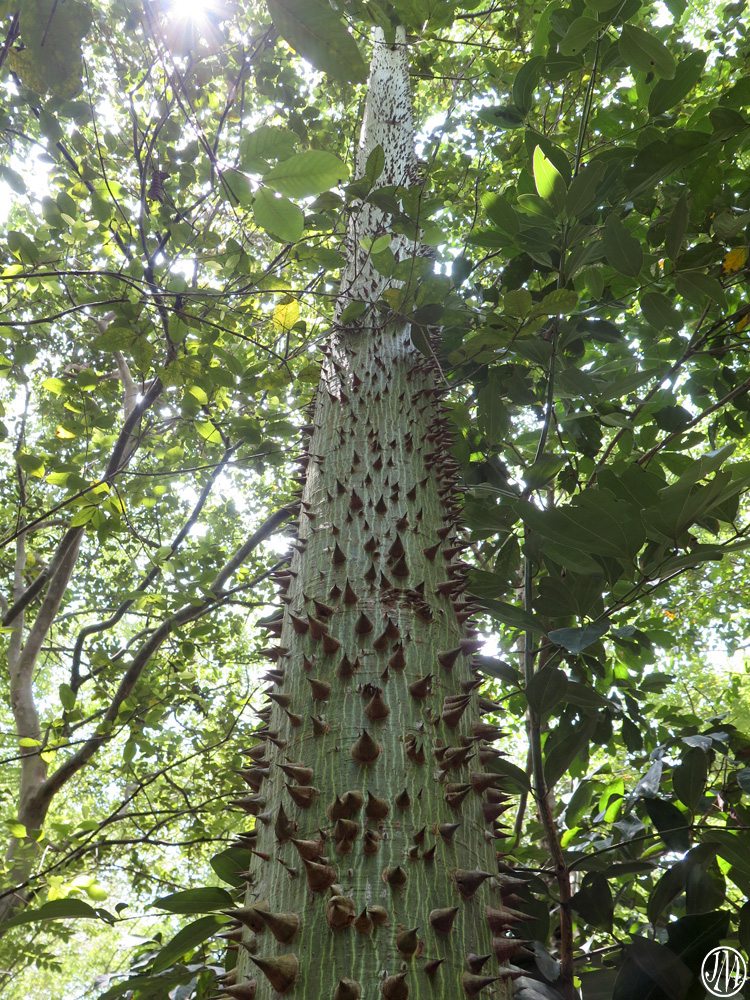 Unfortunately it is not yet the season for the kapok pods to be formed on this tree, but the trees were huge and impressive.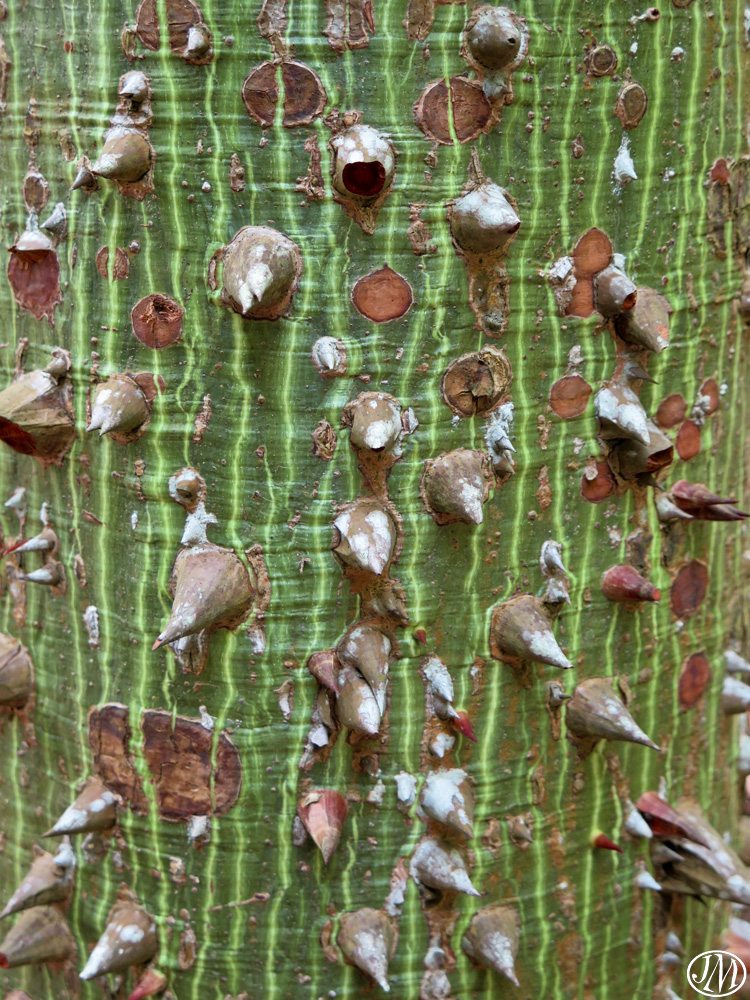 A close up of the thorns and colouration near the base of the tree.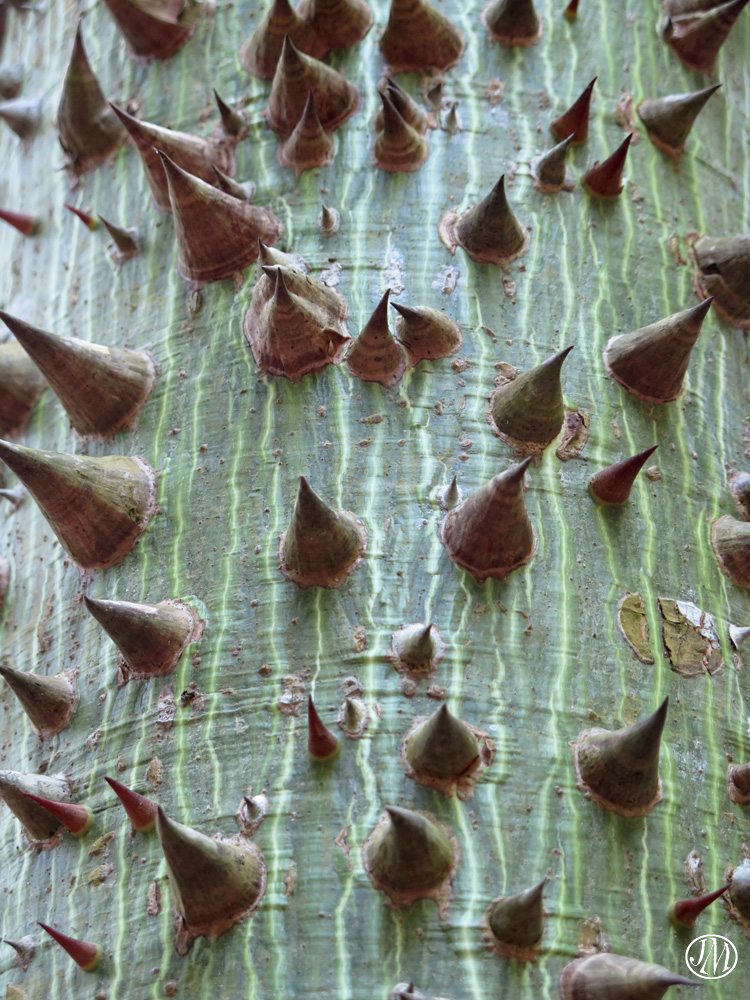 And higher up the trunk the thorns were even more deadly sharp.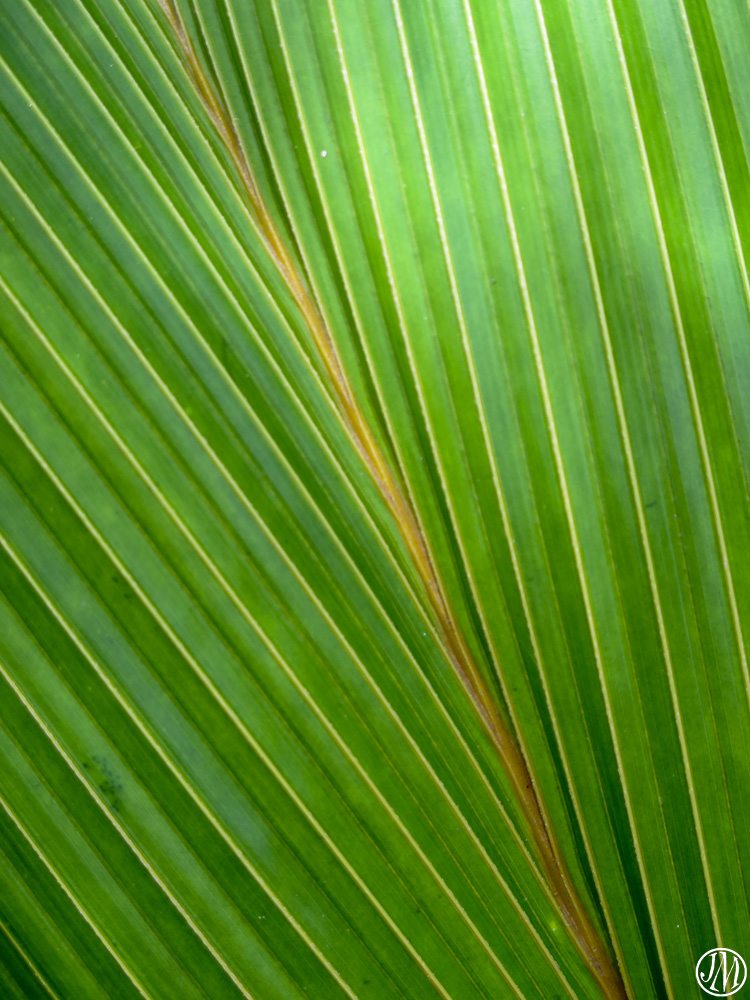 As a contrast, the bright green folds of a palm front are not at all menacing and used for all manner of things.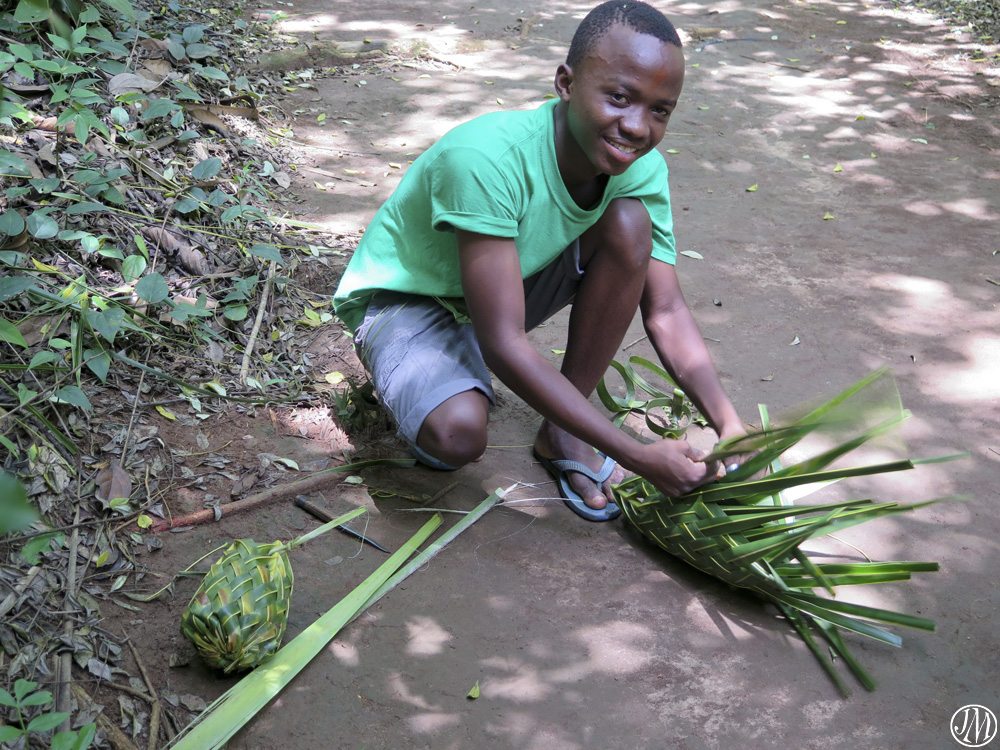 Within minutes Ahmed had made us each a small basket into which we could put the various samples we had been given.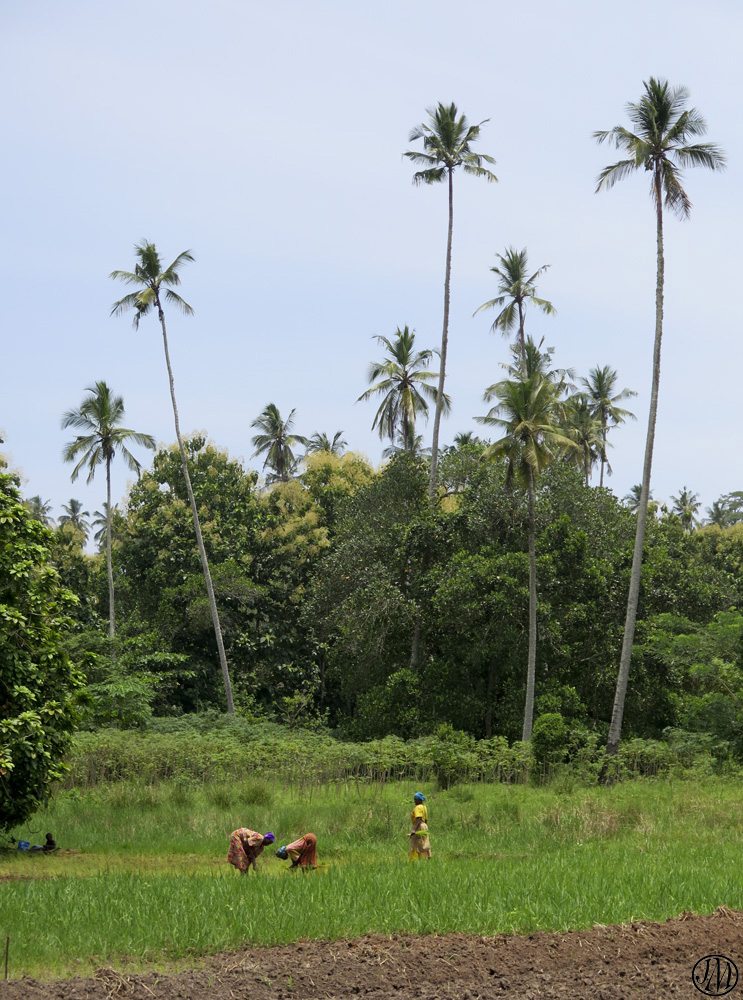 A little distance from the trees and shrubs, a group of women were planting rice, a small baby sitting in the shade of the trees.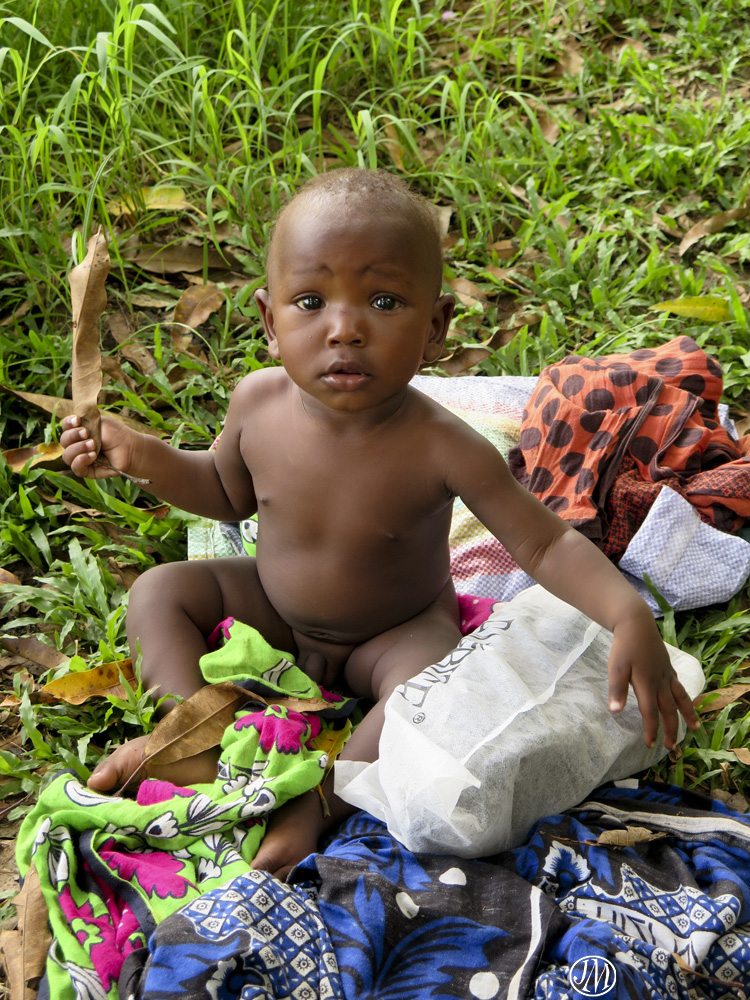 And right on the path we were taking was an other baby being looked after by his slightly older brother.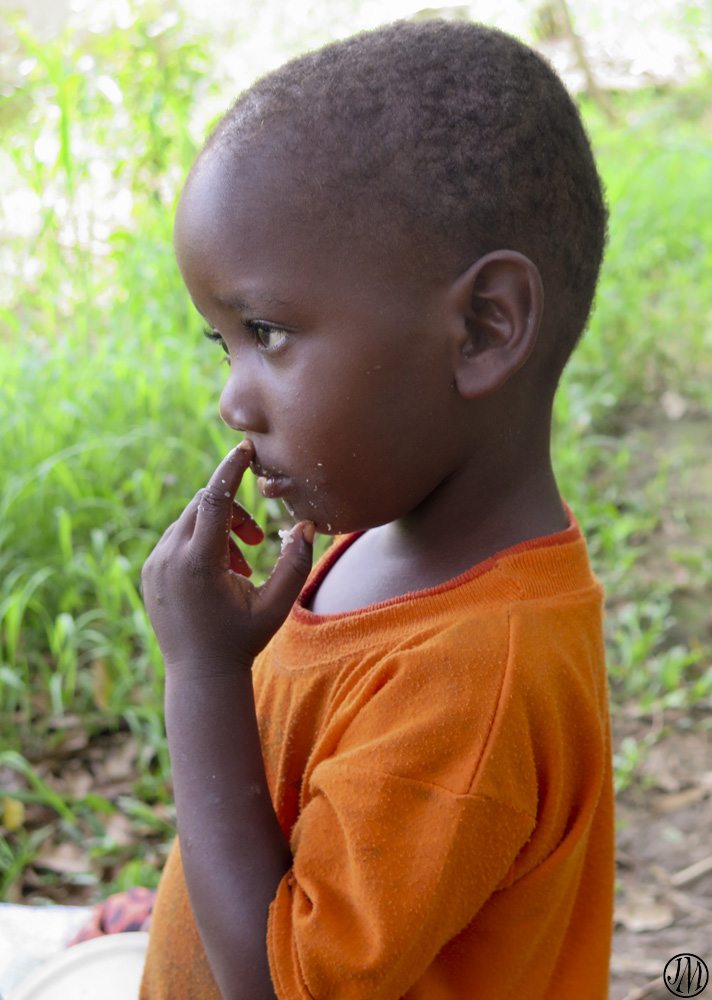 A serious little boy watching his mother at work, eating mouthfuls of rice while he waited.
Back into the trees, we were shown the various fruits which the cooperative also grows. Some were pretty commonplace but one or two I had not come across before.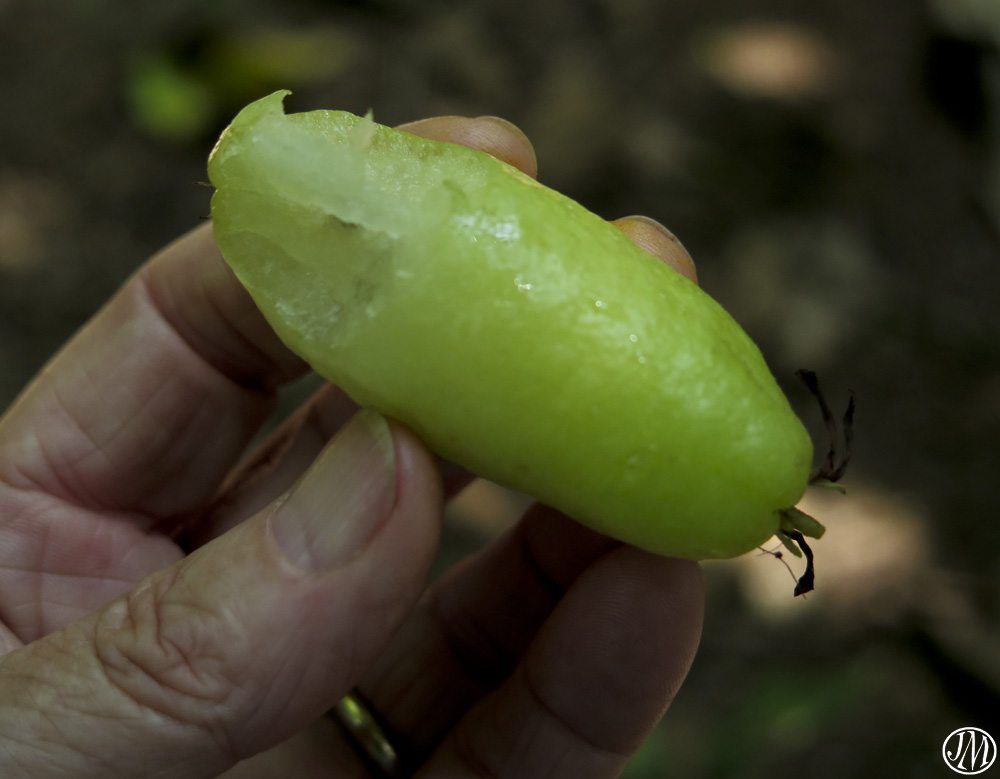 This was crunchy and juicy, but quite sour, and I am afraid I cannot recall it's name.
Could be interesting to have in a salad or perhaps to add an extra taste to cheese.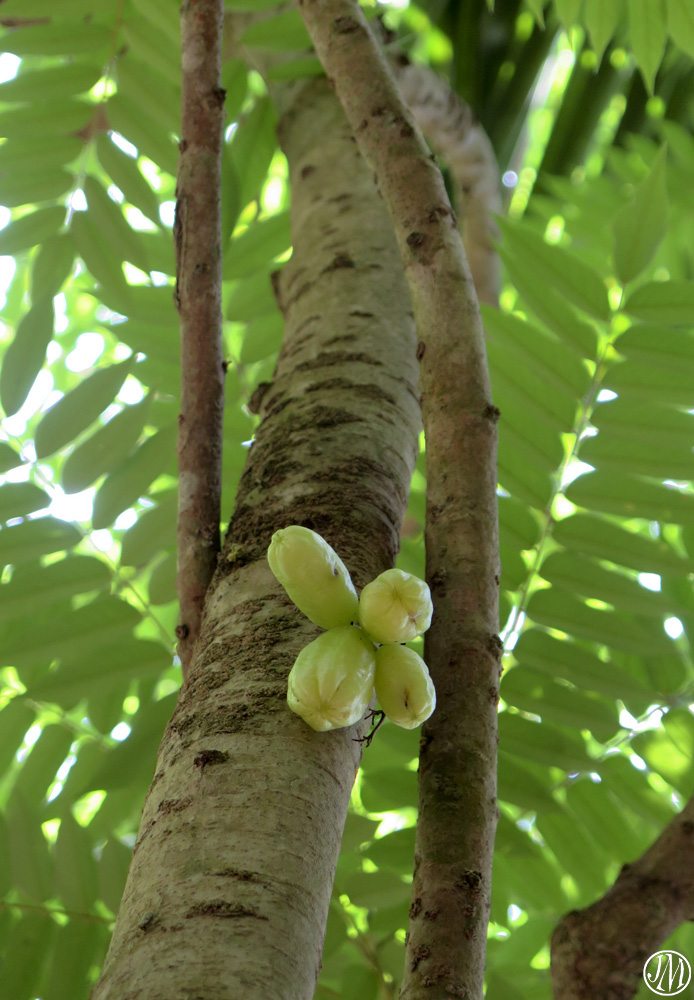 This is how it grows – straight out of the trunk.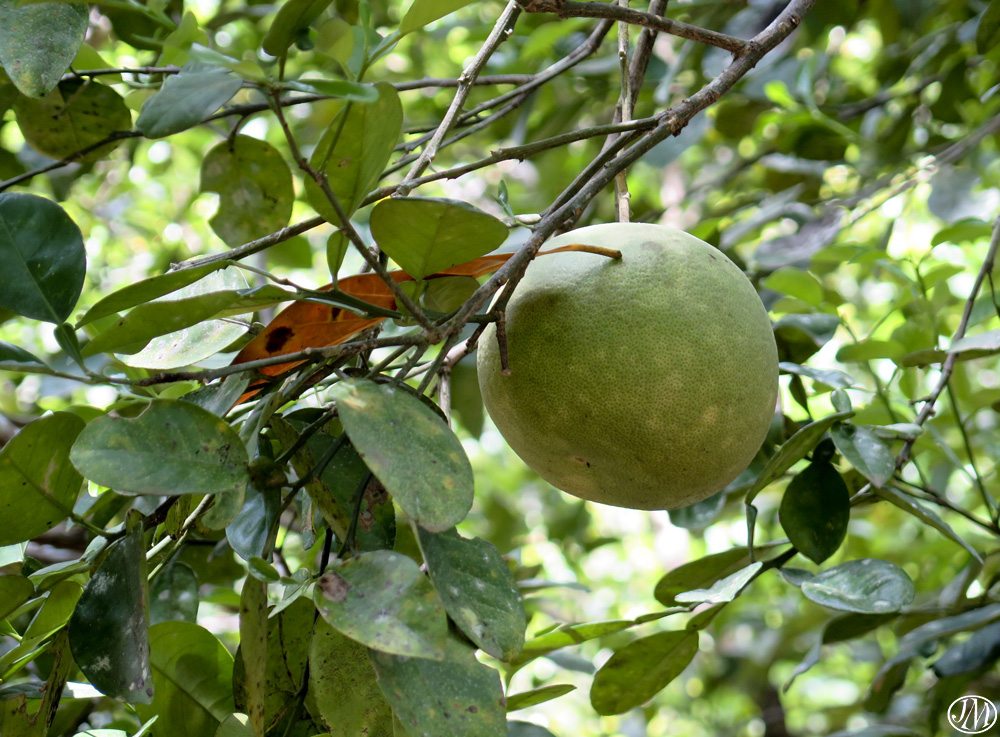 I thought this was a pomelo, one of my favourite fruits, but it was a pink grapefruit.
We tried one later – delicious but with a very thick skin, about 3cm deep.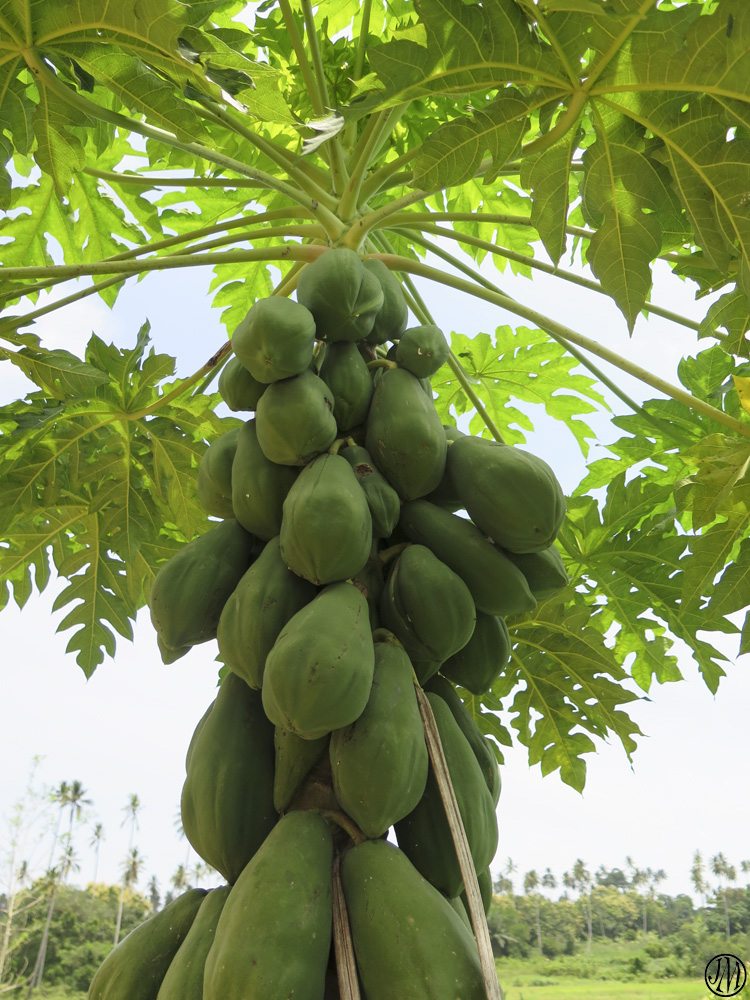 And there were no prizes for guessing this one – papaya, but what a great crop on this tree.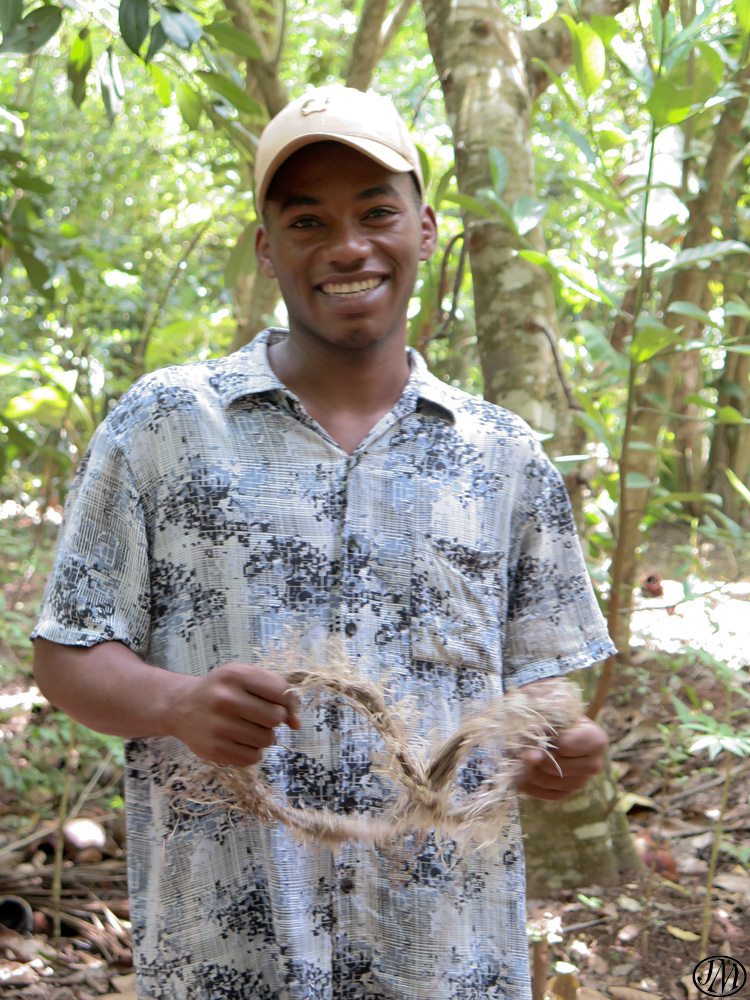 At the end of the tour, Ahmed's brother gave us a demonstration of how to shimmy up a coconut palm.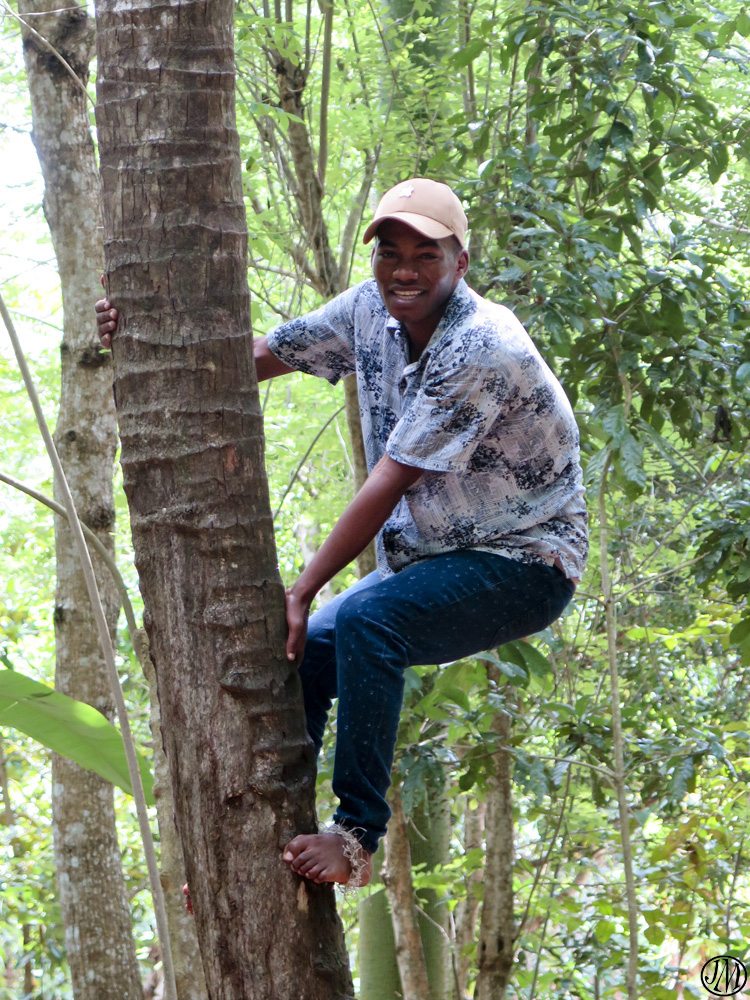 And up he went in a matter of minutes.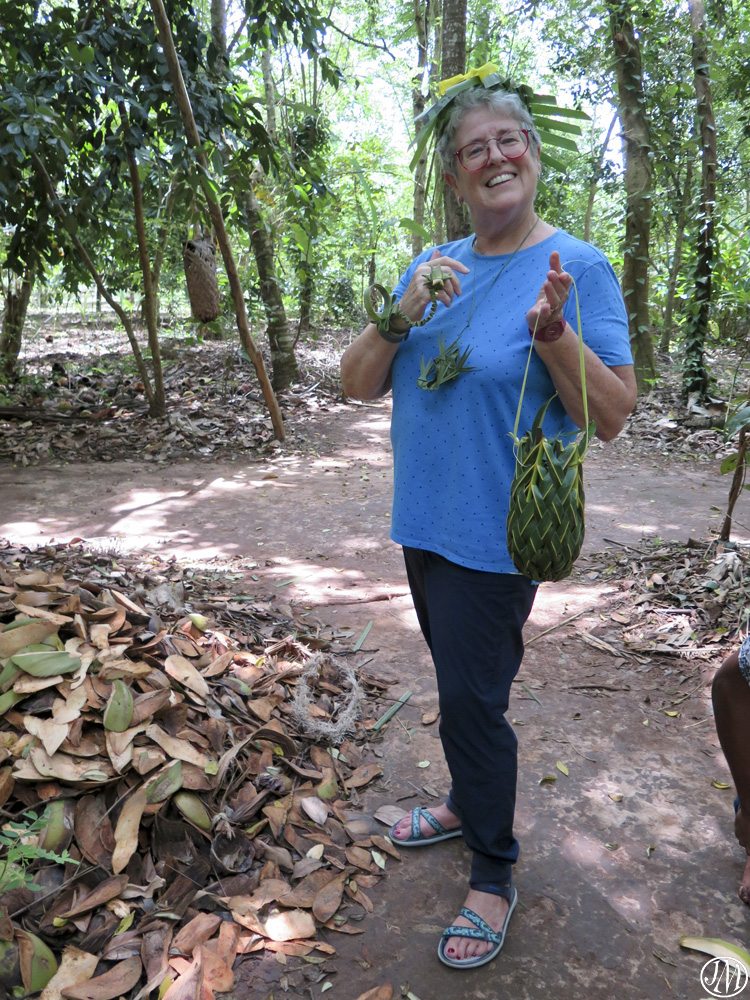 And here I am with all the finery that Ahmed made for me while we walked around the farm – the bag,
the crown, the bird pendant, the bracelet and the attached ring.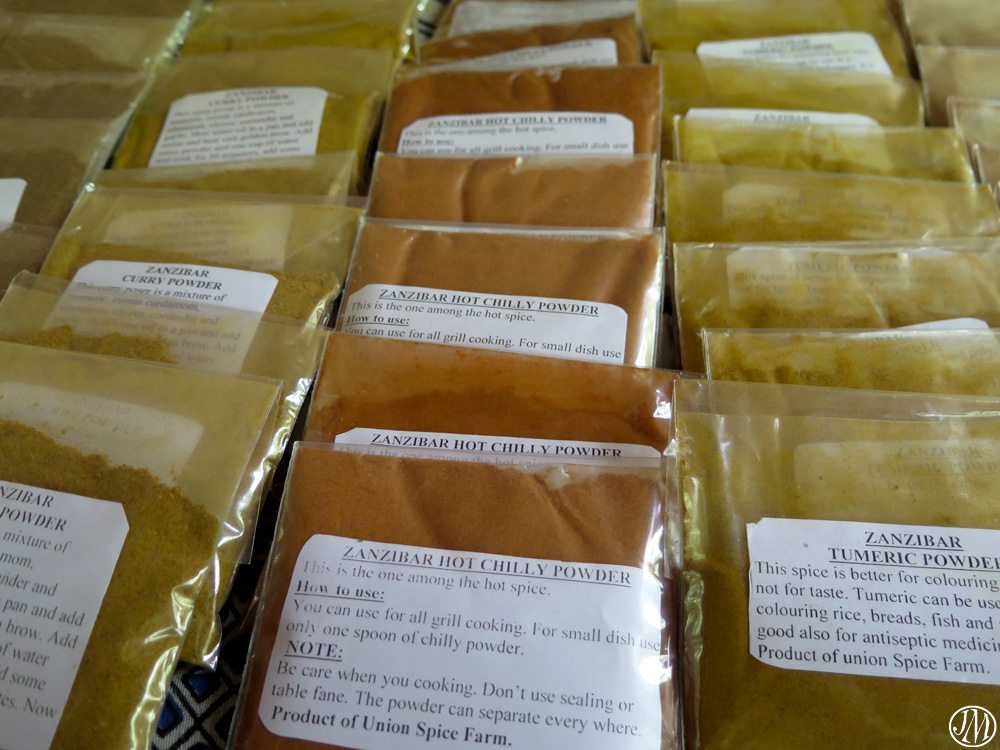 At the end of the tour, there was of course an opportunity to buy some spices, plain or some mixed for specific recipes.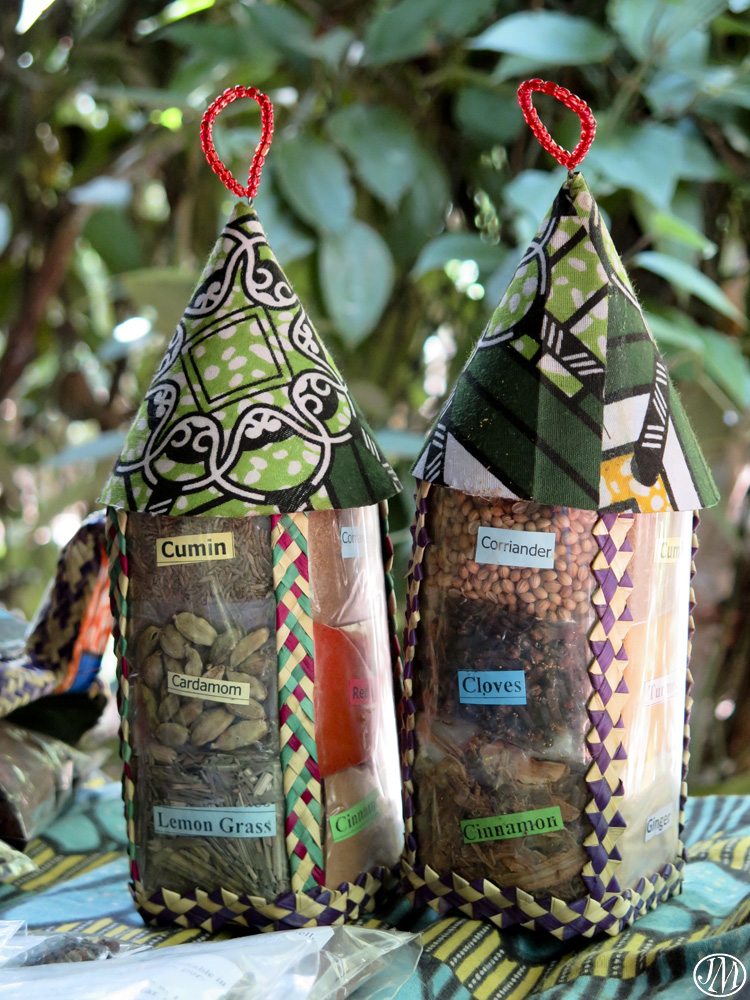 Some was beautifully packed with a mix of spices, useful as gifts.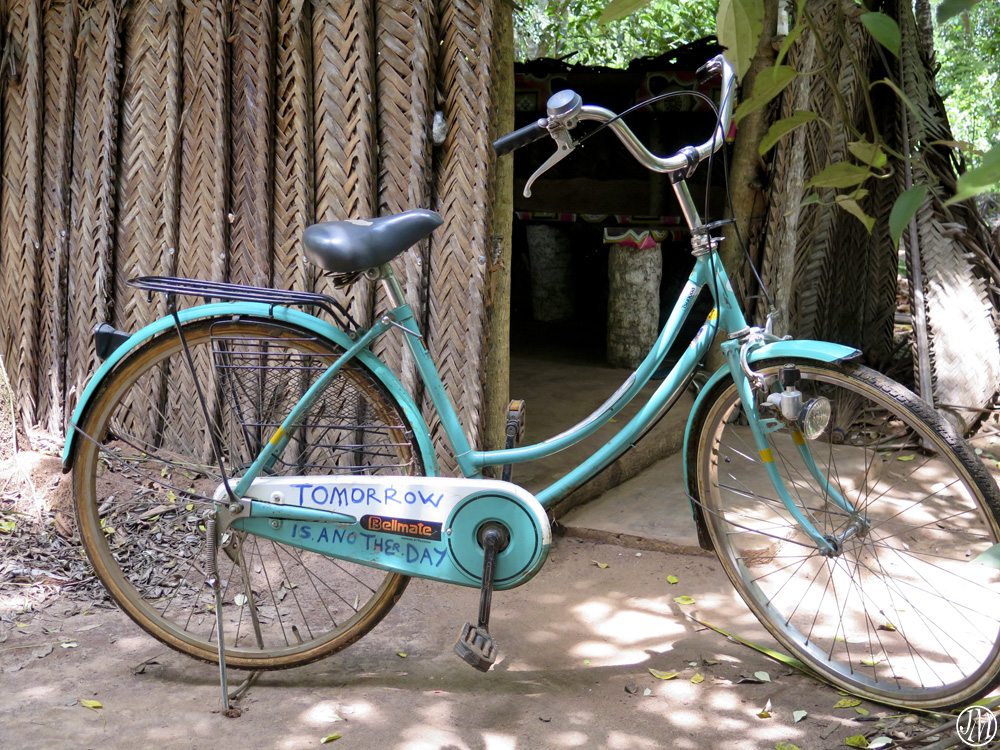 It was really a great tour and a fun way to spend a couple of hours on our travel to the north.  And as it says on this bike parked by the little kiosk, 'tomorrow is nother day', and a new adventure, and will be the subject of another blog.
Until then,
All the best,