Dear friends,
Just a 40-minute drive from my house is one of the best-managed elephant camps of the many, some 60 in fact, in the area around Chiang Mai in the north of Thailand. As part of my own continuing education about the welfare of captive elephants, I spent the morning there, observing, talking with the visitors and staff.  Below are some photos from my visit, and if you're interested, you can find out more on their website: www.pataraelephantfarm.com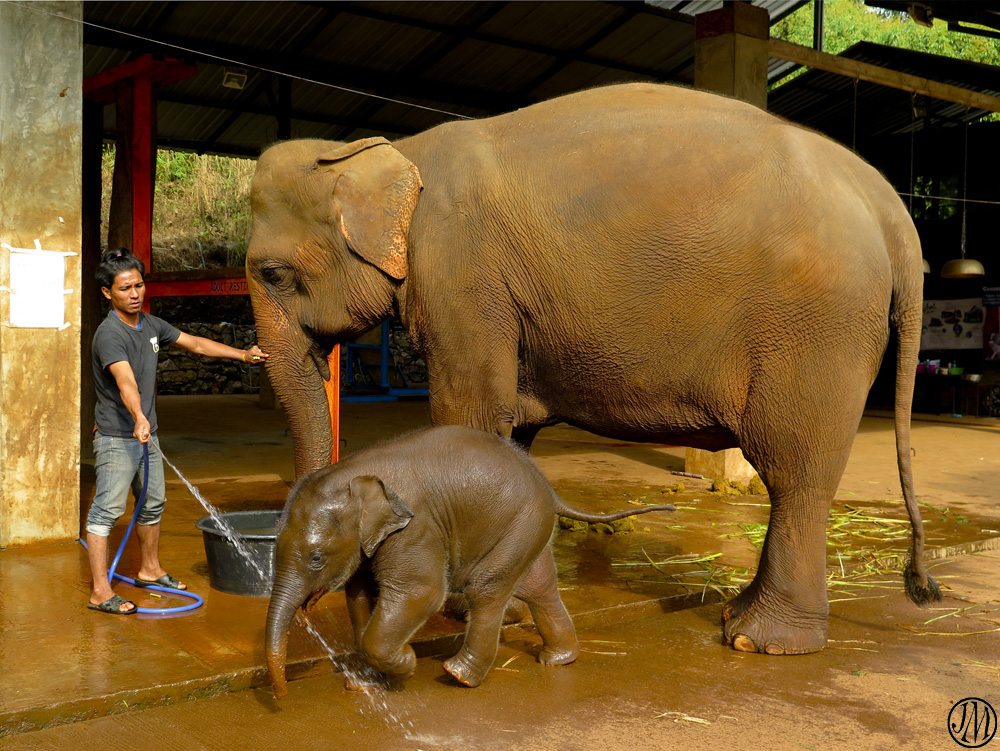 Morning wash and refreshing drink for mother and baby.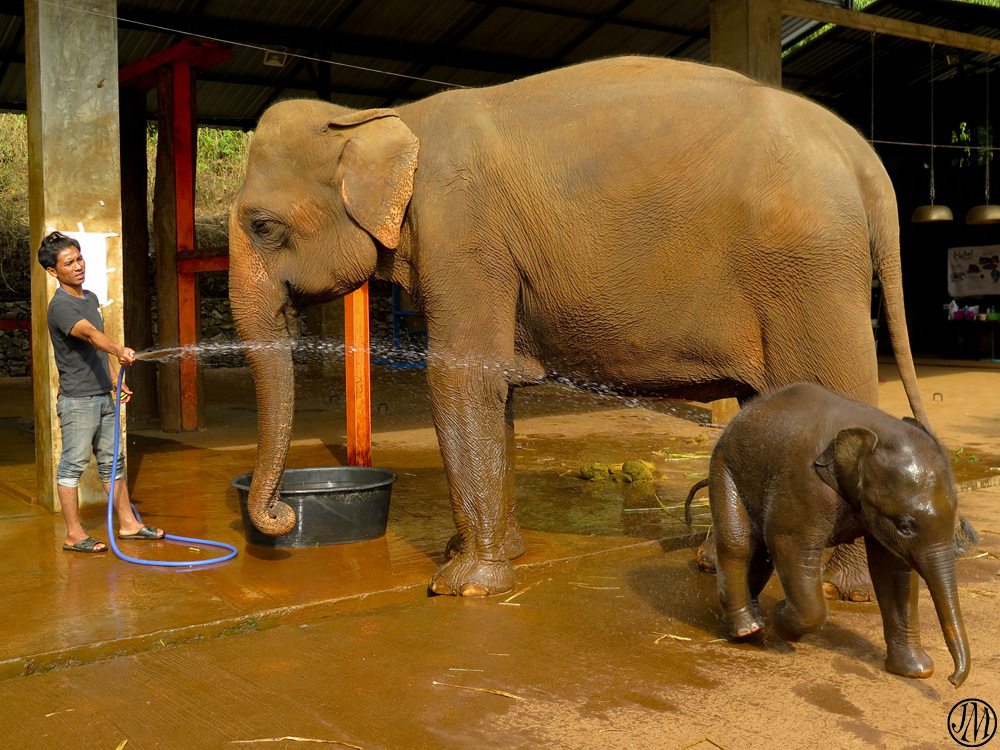 Enough now, the little one heading off to some other adventures.
The owner of this camp is Theerapat Trungprakan, Khun Pat, the President of the Chiang Mai Elephant Alliance (bringing together camp owners and managers from the region to improve their collective role in caring for captive elephants) and like me, a member of ACEWG (Asian Captive Elephant Working Group). I will be posting more about the work of this group very soon as we have all but finished an educational video and working to get our website up and running.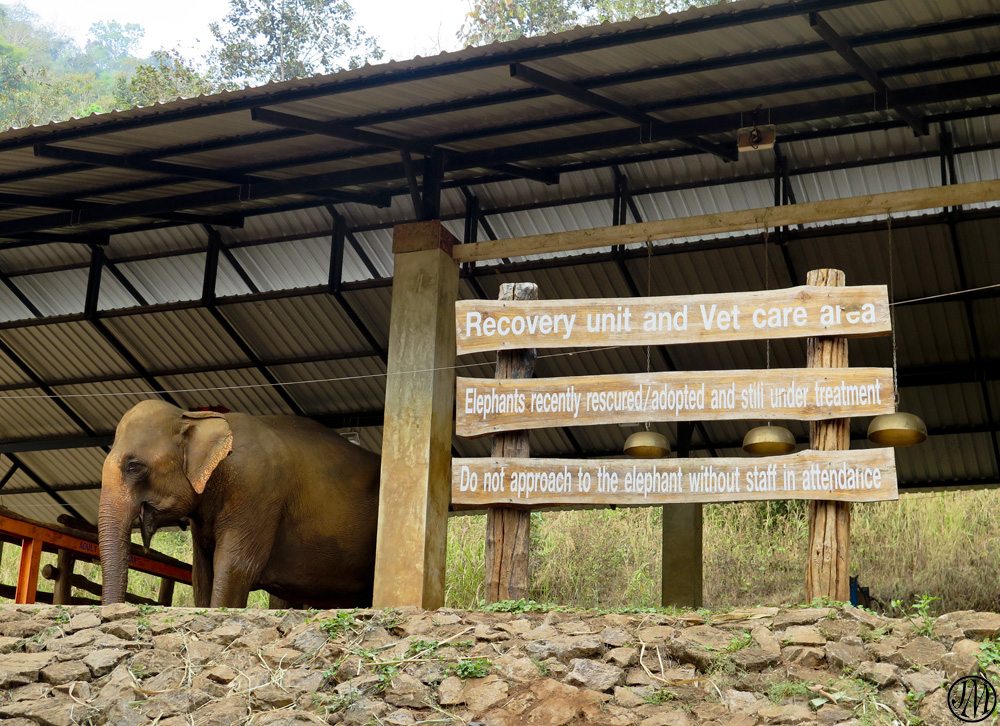 The elephants at Patara have been adopted from unsuitable living conditions and the proceeds
from the daily visitors helps to keep them in a suitable environment for a natural breeding programme. 
Patara Elephant Farm presents itself as a private, family farm honouring elephant conservation and offering half day 'Elephant Day Care' or whole day visits when guests can learn about and take part in the daily routines including health inspection, feeding, walking with the elephants for exercise in the hills and to the pool below a waterfall for drinking and bathing.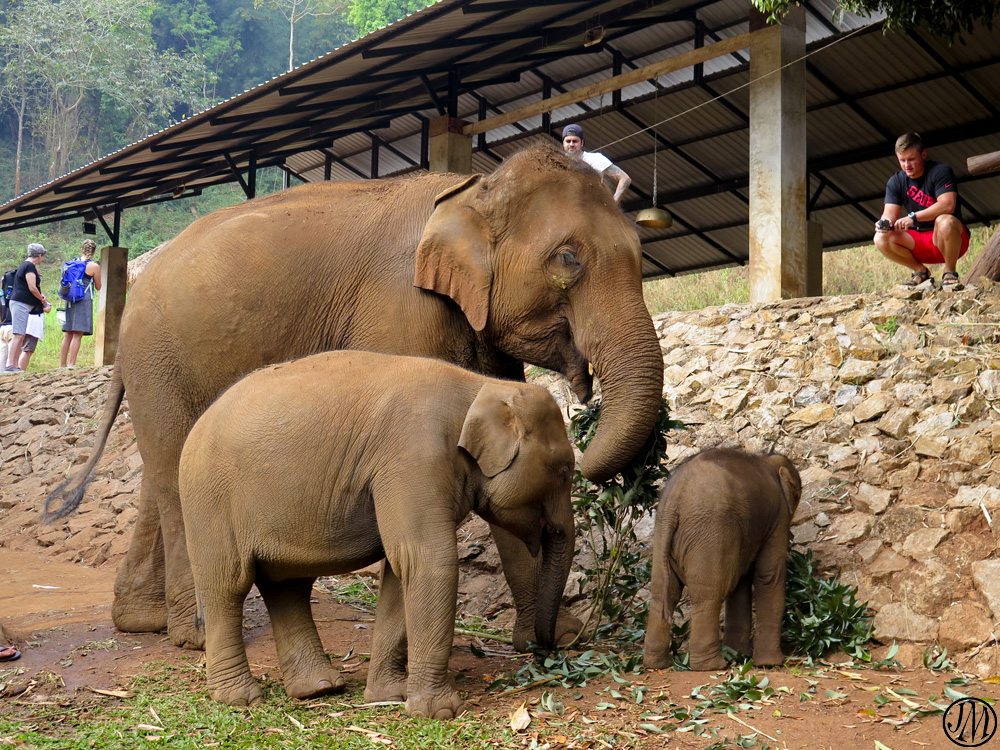 When the visitors arrive they spend a very relaxed half hour or so just observing and interacting with the elephants around the care centre, taking particular delight in the antics of the babies of course. The mahouts keep a watchful eye on the scene advising people if they get too close, or to step out of the way of a running baby. Even a baby elephant of just a few months can knock you flying is you get in its way.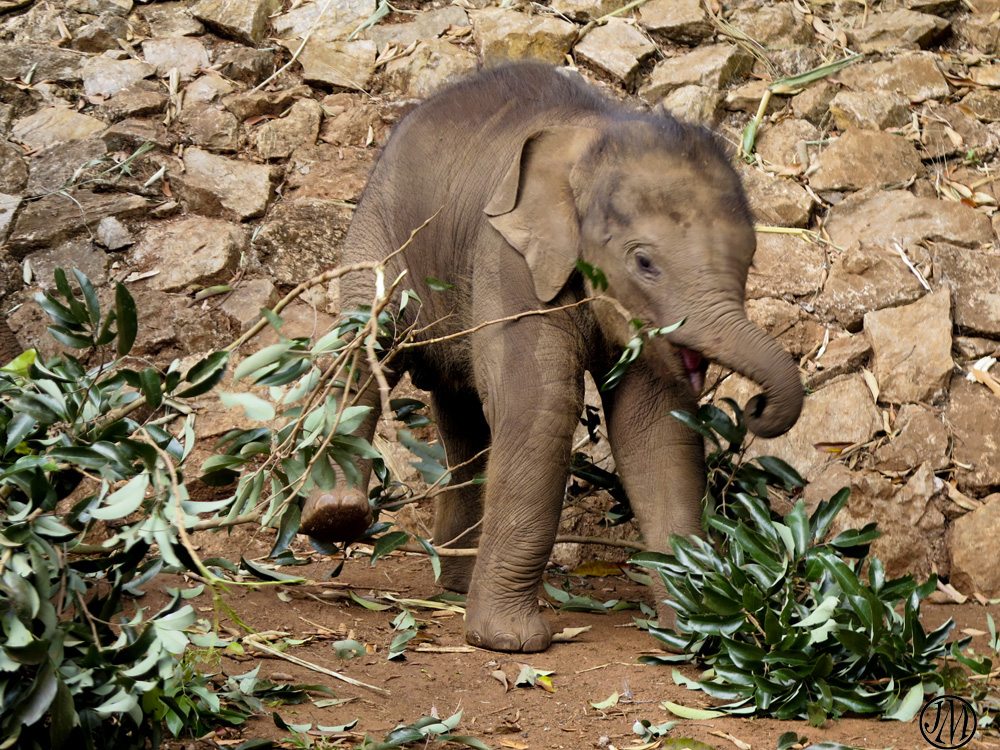 The baby tries his trunk at stripping the leaves off a branch as he has seen others do.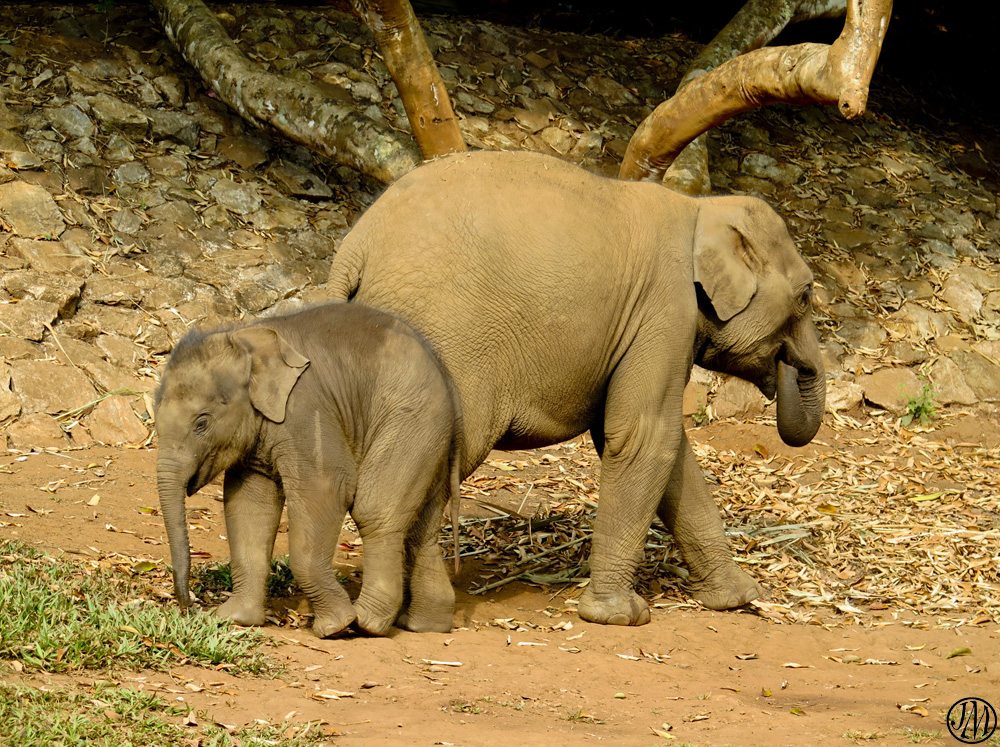 Mum is usually not very far away from her baby, keeping an eye, encouraging, teaching her offspring.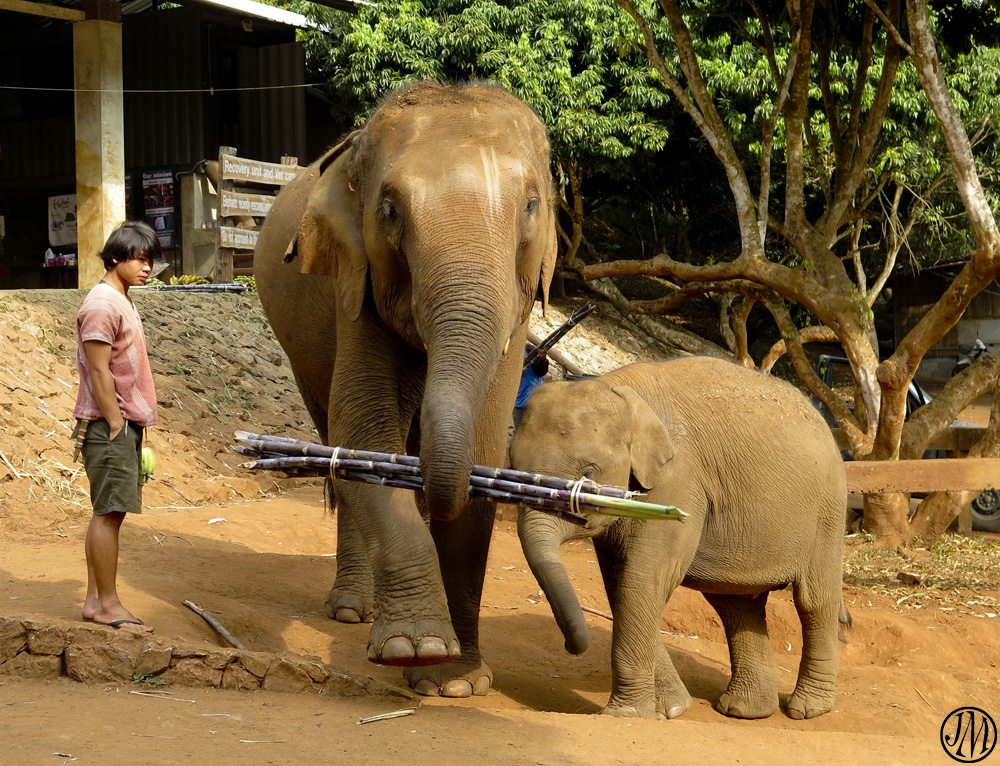 A nice morning snack of sugar cane for this elephant.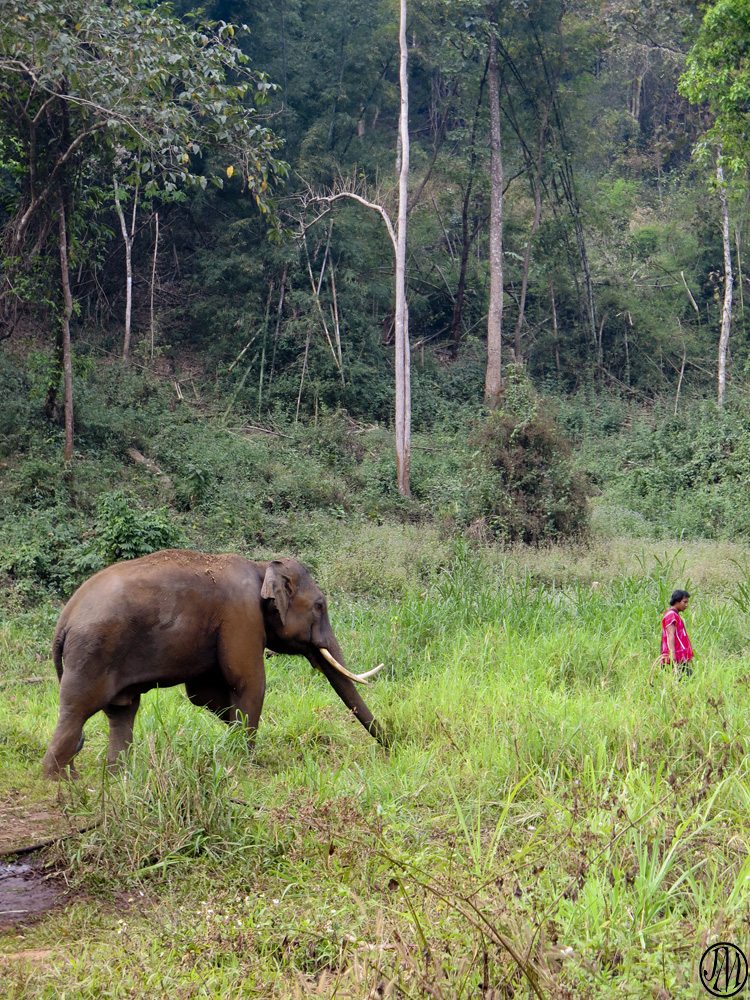 A mahout wanders down from the mountain with his elephant following.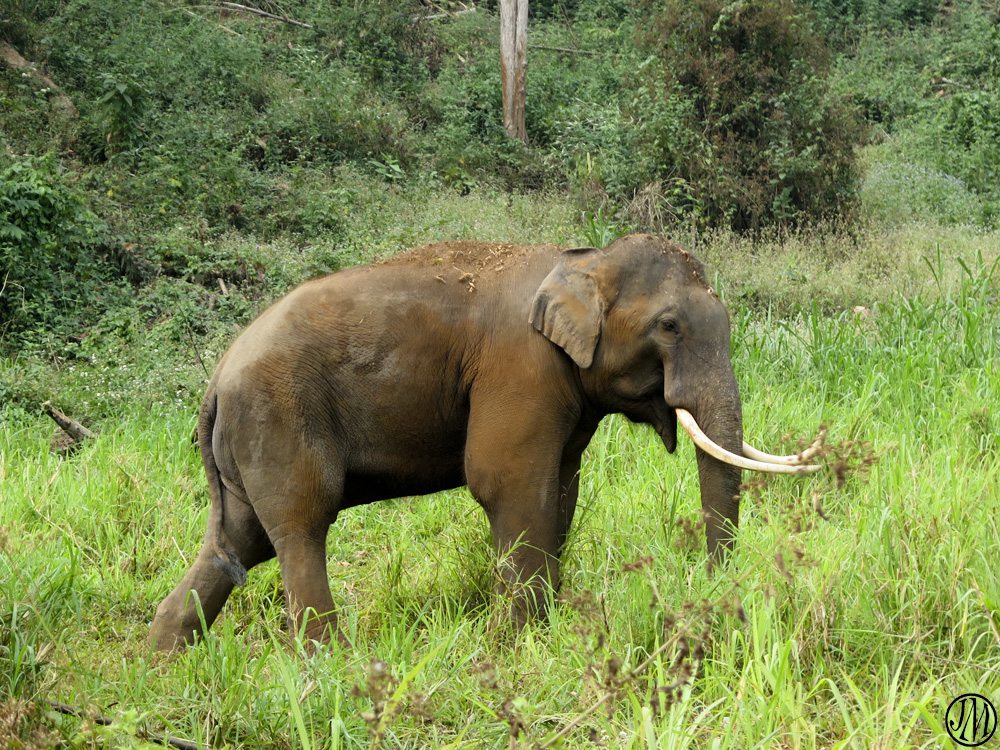 He's a very handsome bull elephant with impressive tusks.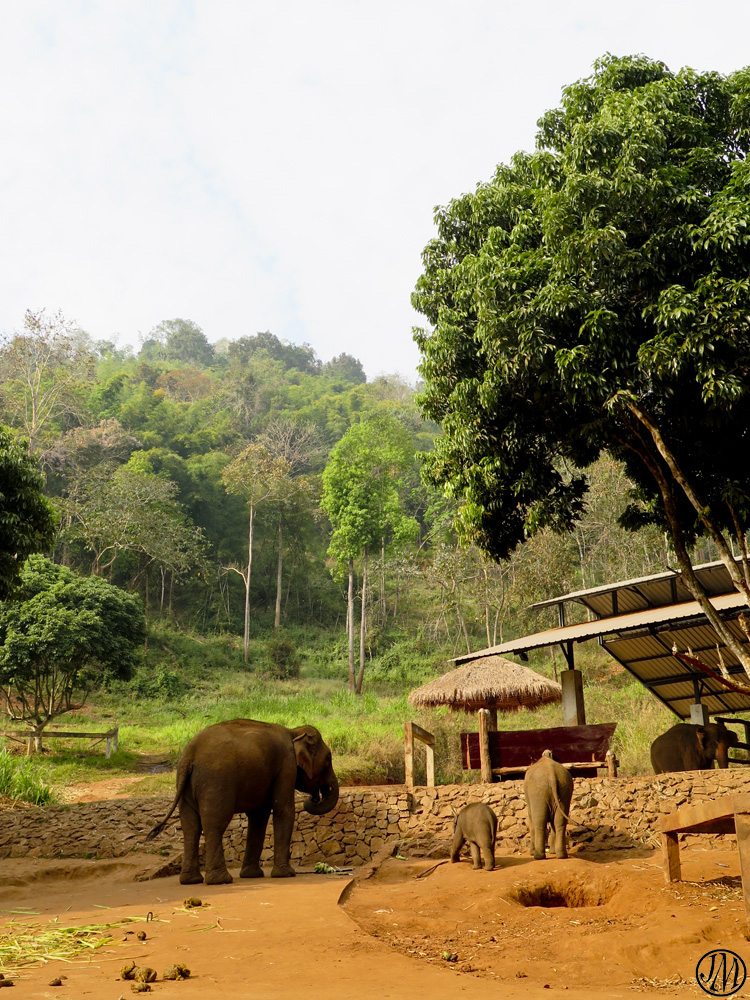 Looking up to the care centre and the forested hillside behind. The location is beautiful …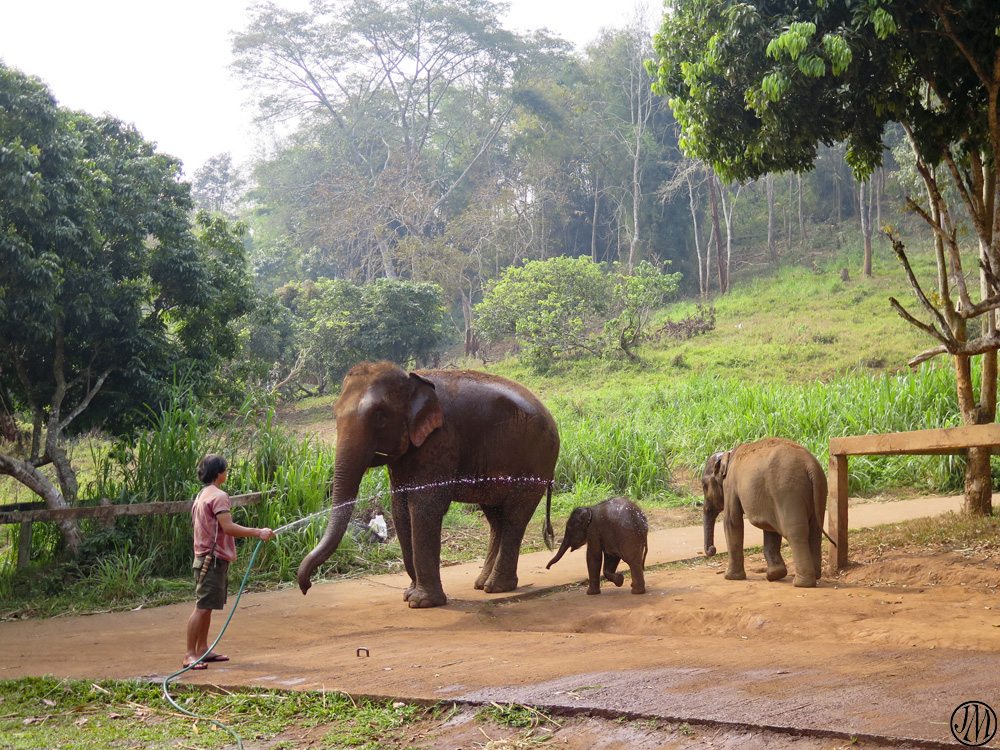 … and the atmosphere calm.  The staff and mahouts know their responsibilities well.
My guide for the morning was Khun Montri who assists Khun Pat with arrangements for the visitors and gives an excellent briefing on how the day will unfold, some interesting information about elephants in general and about Patara Farm.  Here he is reading the different groups off a leaf, a cheaper and more eco-friendly alternative to paper.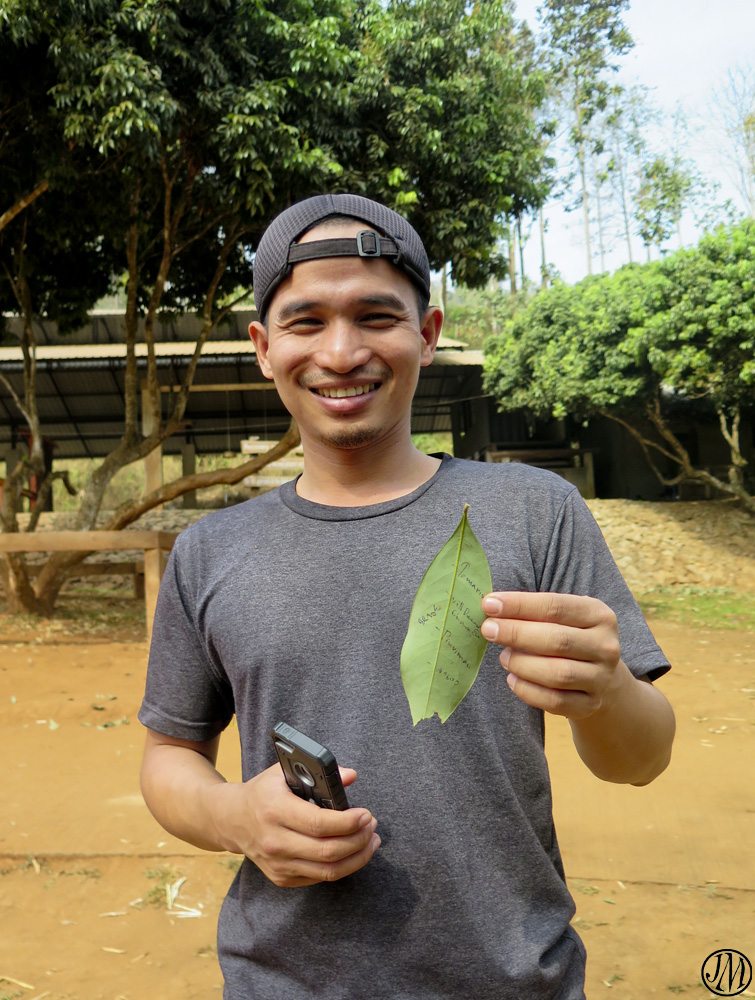 Khun Montri and his morning bulletin.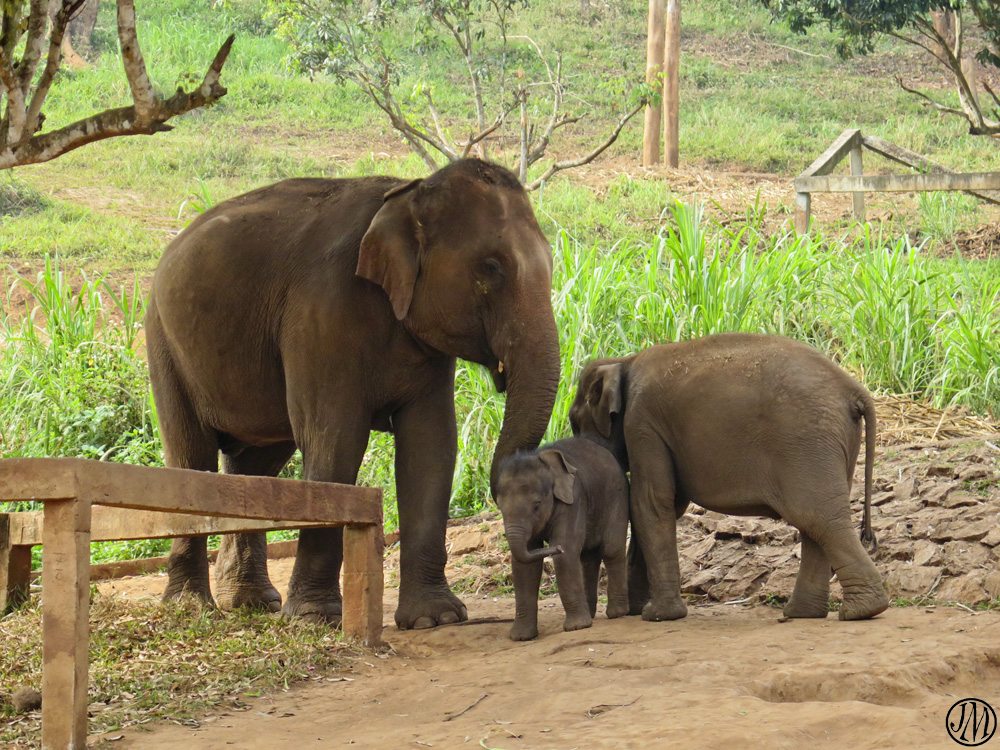 This mother and the two young ones will stay in and around the care centre for the time being, to be well catered for.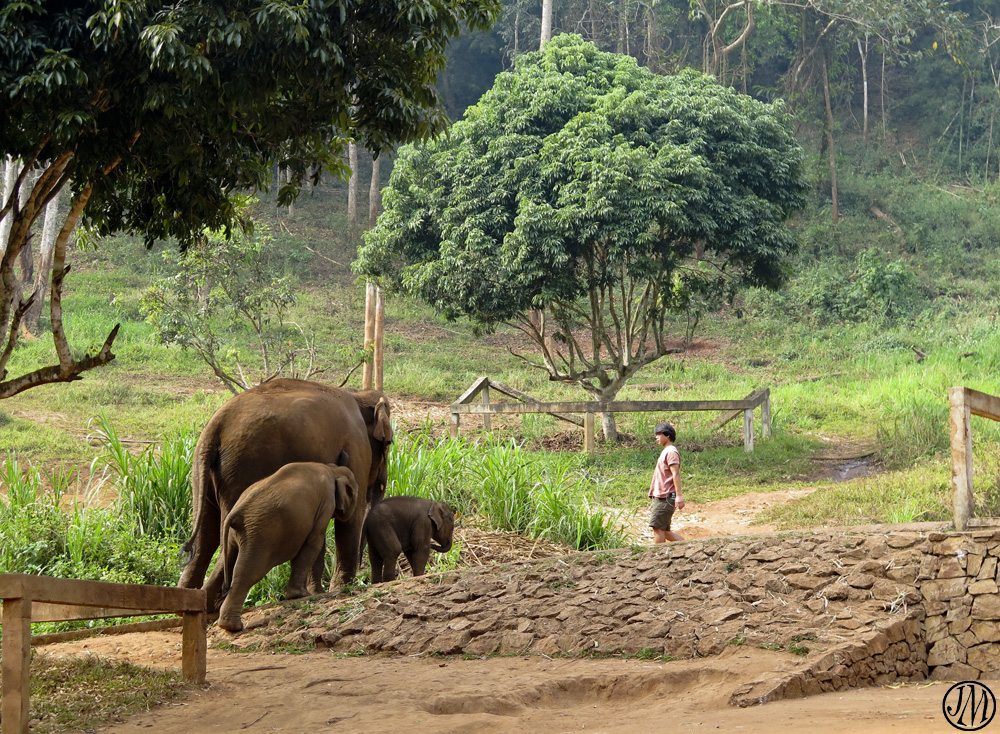 The visitors are about to depart on their day's adventure with other elephants – at present, there are some 60 elephants at Patara Farm.   These three will stay behind and when their mahout calls them to come to him, they oblige.
The visitors are divided into three groups – two to 'stations' on the hills and one to the waterfall and pool below.  Each group will have the experience of spending time at each location and walking with, or if they want, riding on the neck of their elephant through the forest, the mahout always keeping a watchful eye and giving guidance when necessary.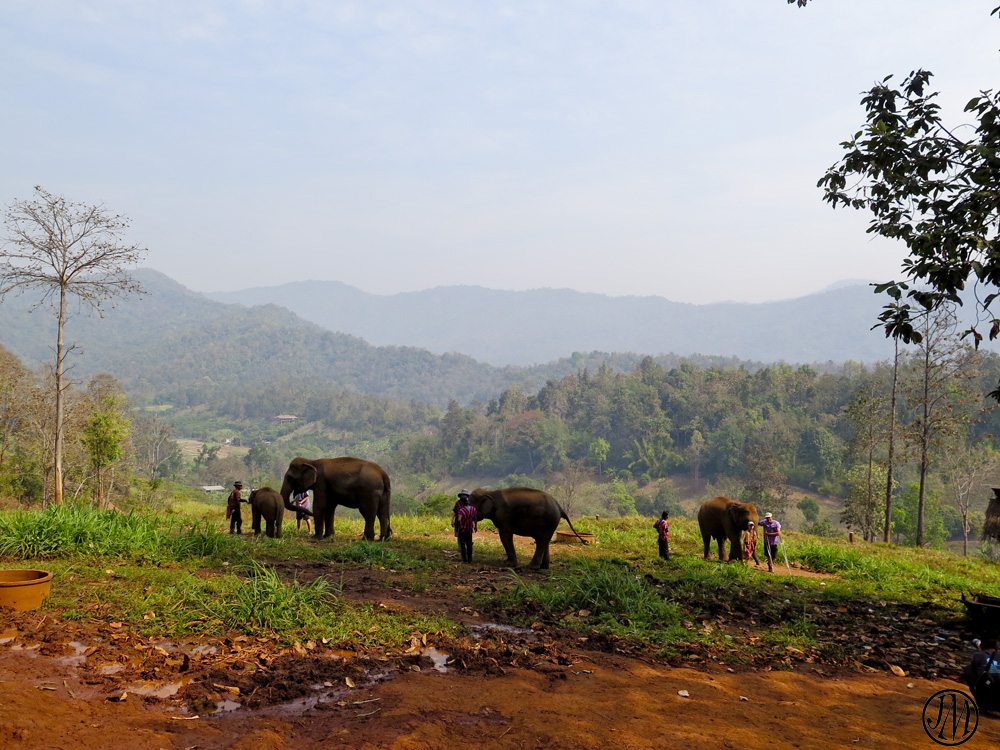 One of the hill stations where the visitors are paired with an elephant and mahout and learn a few basic commands,
how to approach and lead the elephant, how to check its skin and feet and offer it some food and water.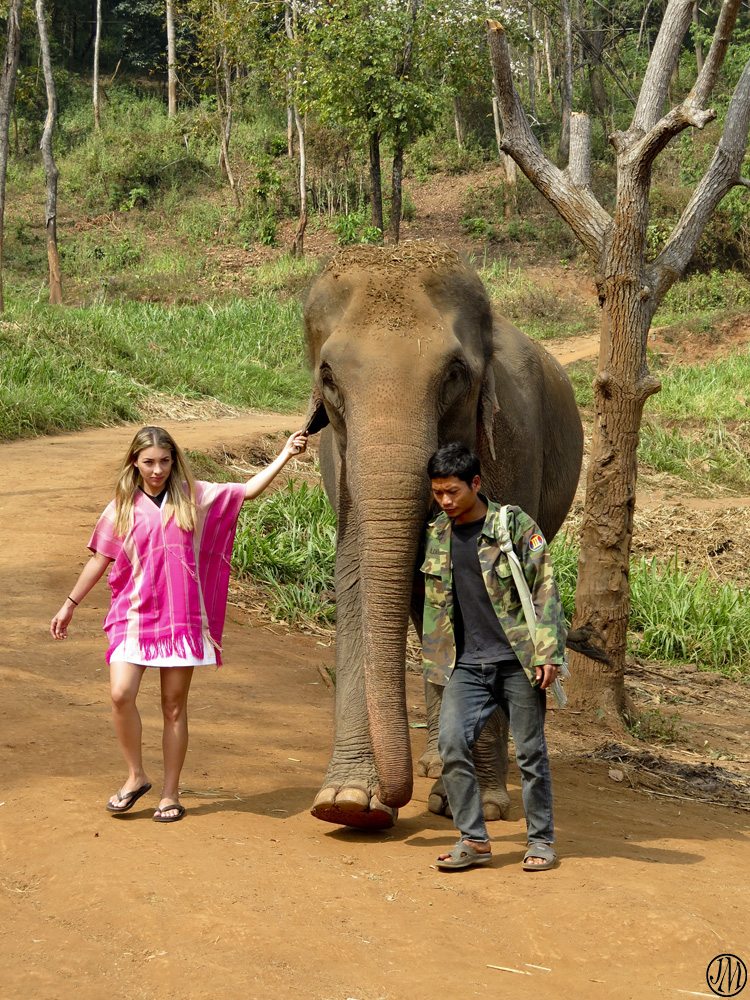 Clad in a traditional Karen top offered by the farm, this visitor leads her elephant by pulling gently on its ear.
At the station by the waterfall, the visitors bathe their elephants and then offer them snacks and water.  
Here the mahout shows them how to ask the elephant to raise its trunk and open its mouth to receive the food.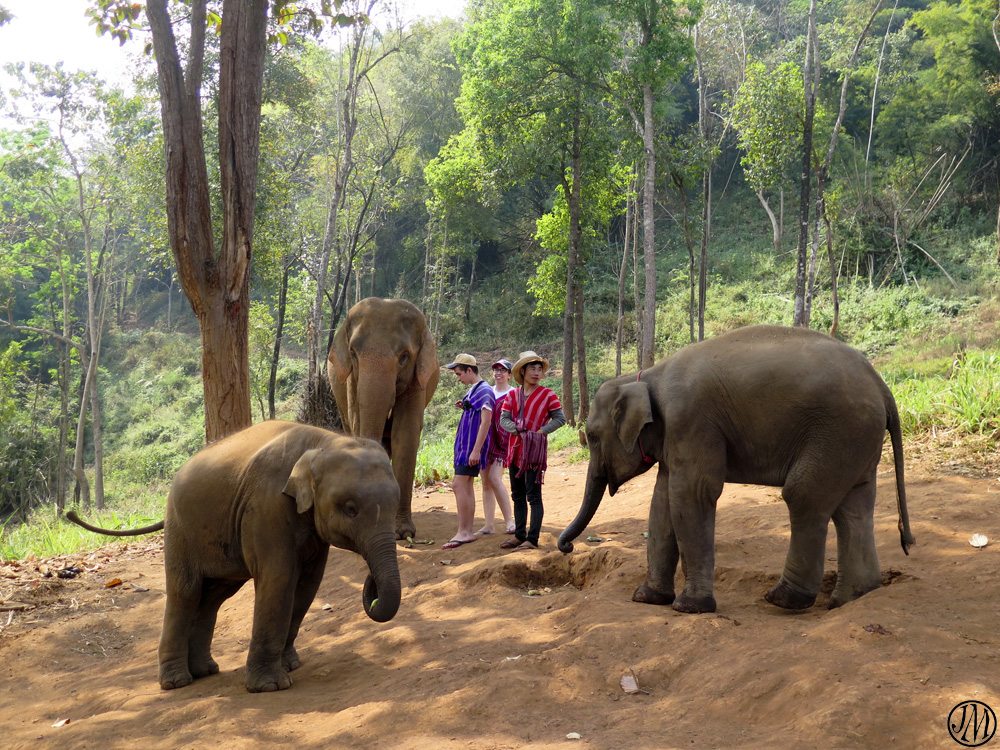 Just hanging about with their elephants and observing their behaviour.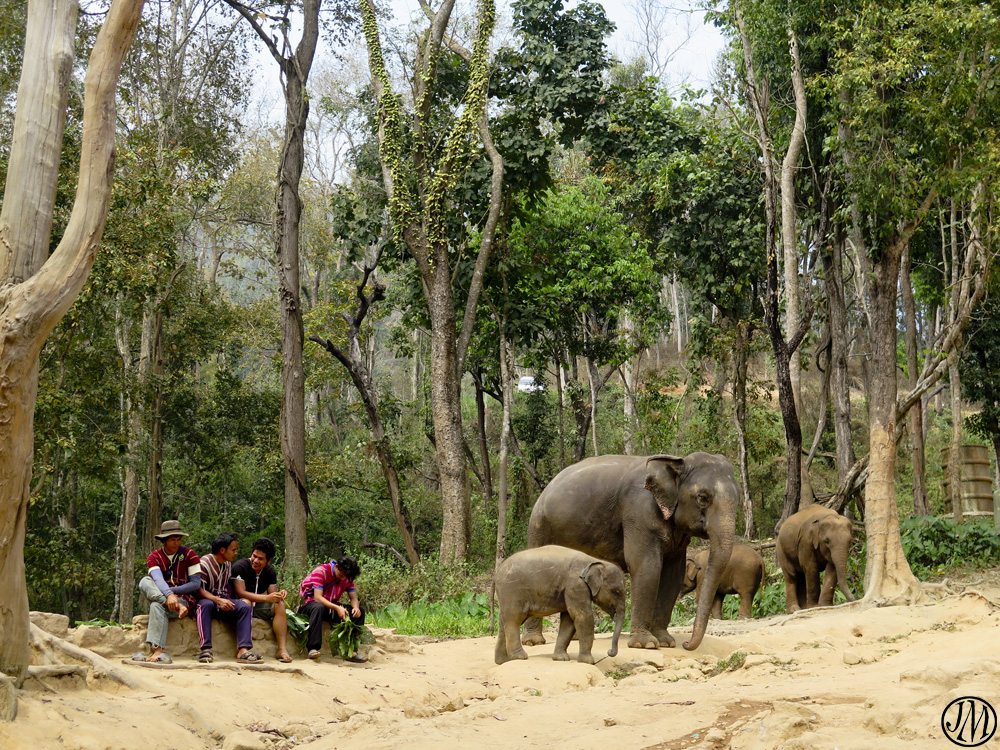 Meanwhile, the mahouts are taking a break also and allowing time for one of their team
to give more information about diet, bodily functions and daily routines of the elephants.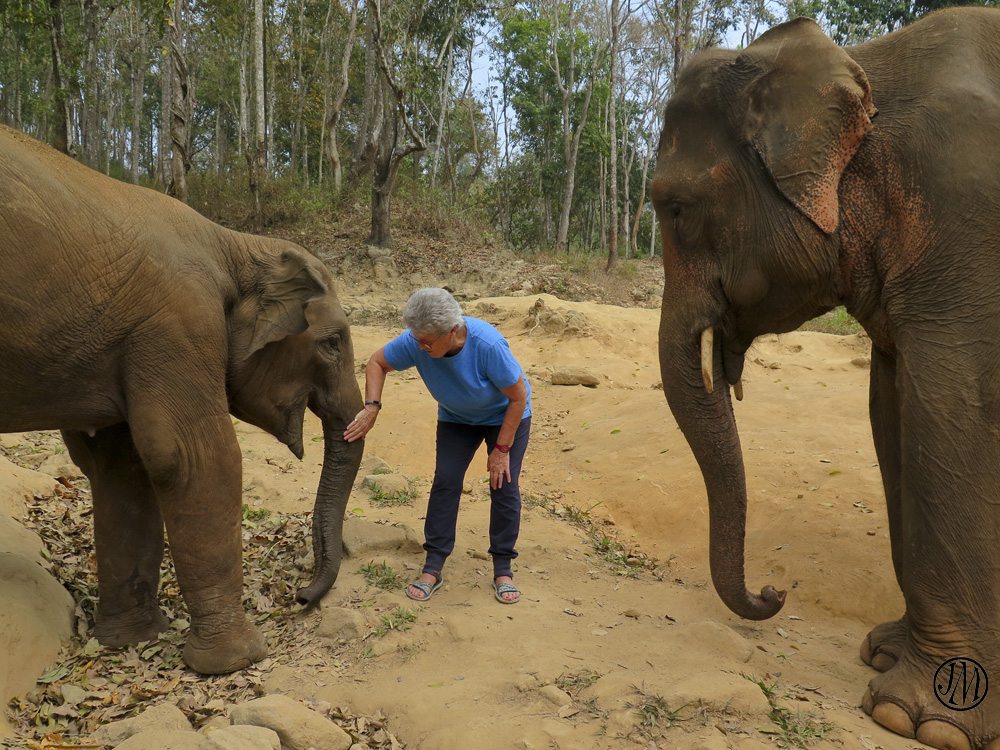 I took the opportunity to spend a little time with Kwan and her youngster, both very curious and friendly.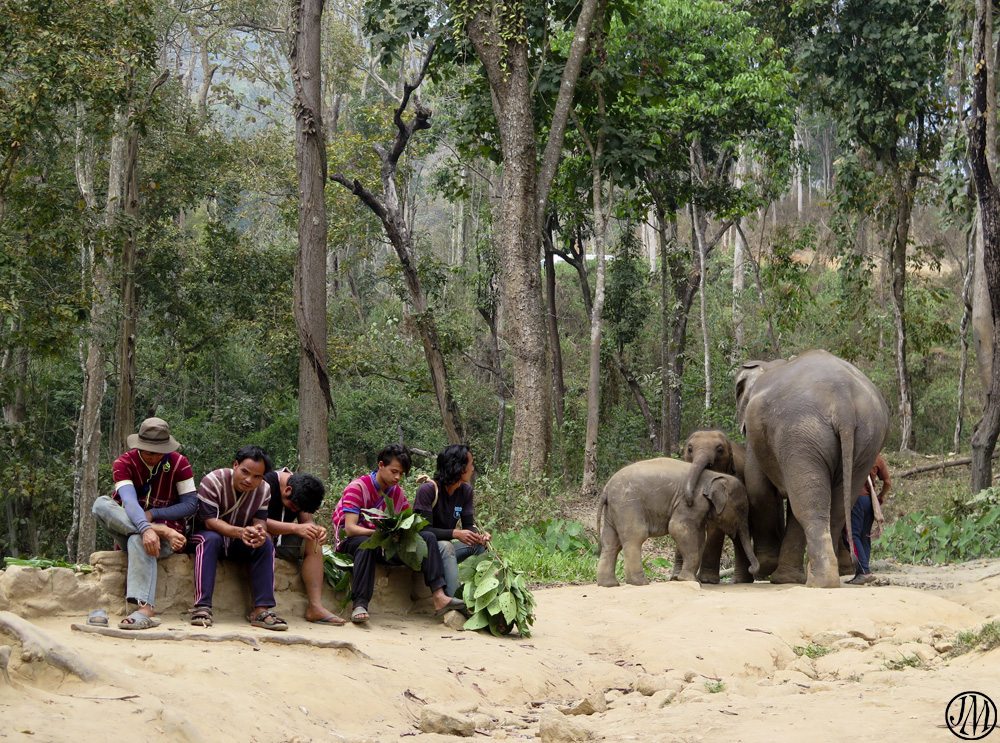 Mahouts and elephants alike, relaxed and enjoying their morning in the forest.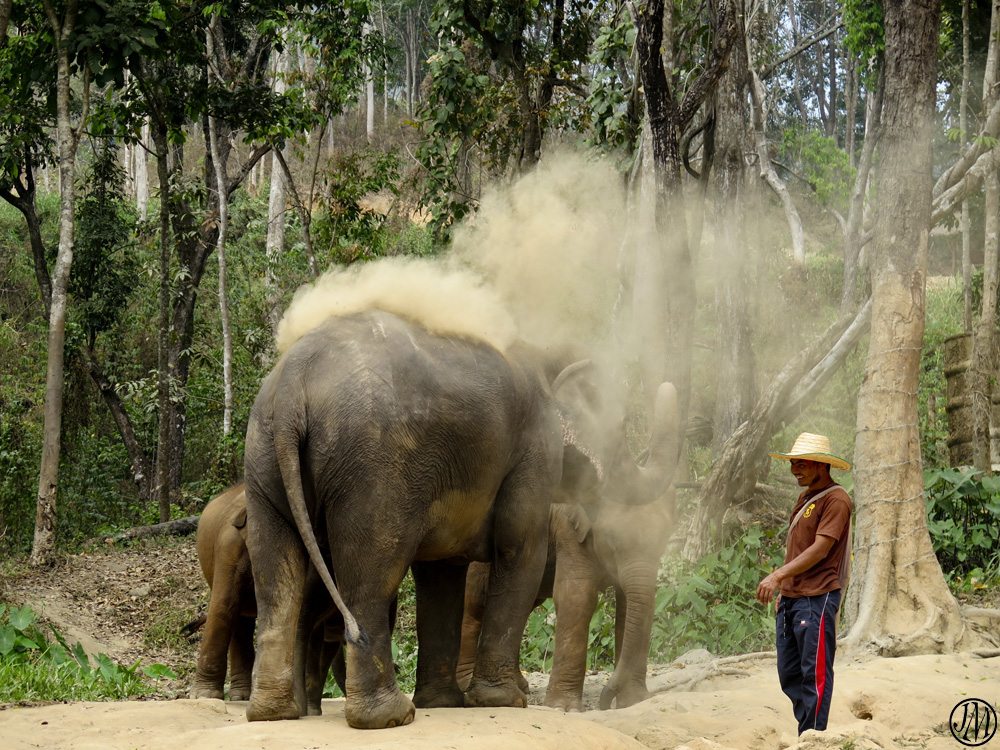 After bathing it is normal for an elephant to cover itself with dust and mud which helps to cool the skin
and keep insects at bay. The dust is scooped up by the trunk and liberally sprayed down its back.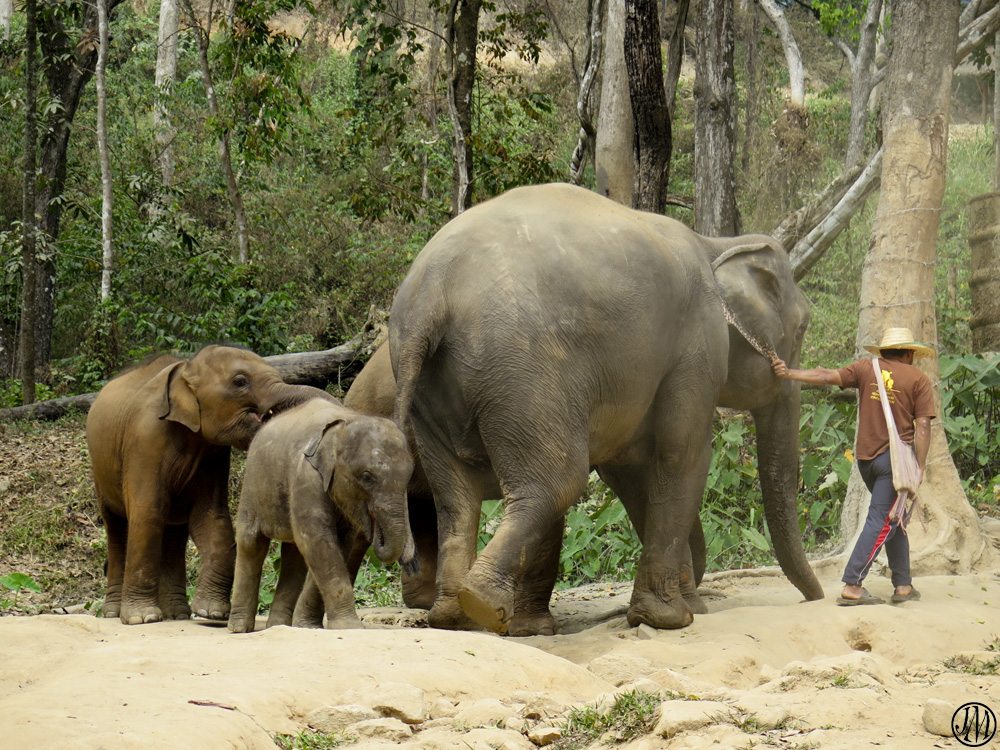 And then they are on the move again to another part of the forest.
The groups are each provided with a healthy and very adequate lunch at whichever station they happen to be in the middle of the day, but I left them to it and had a light lunch with Montri while he offered me a little more information about the farm.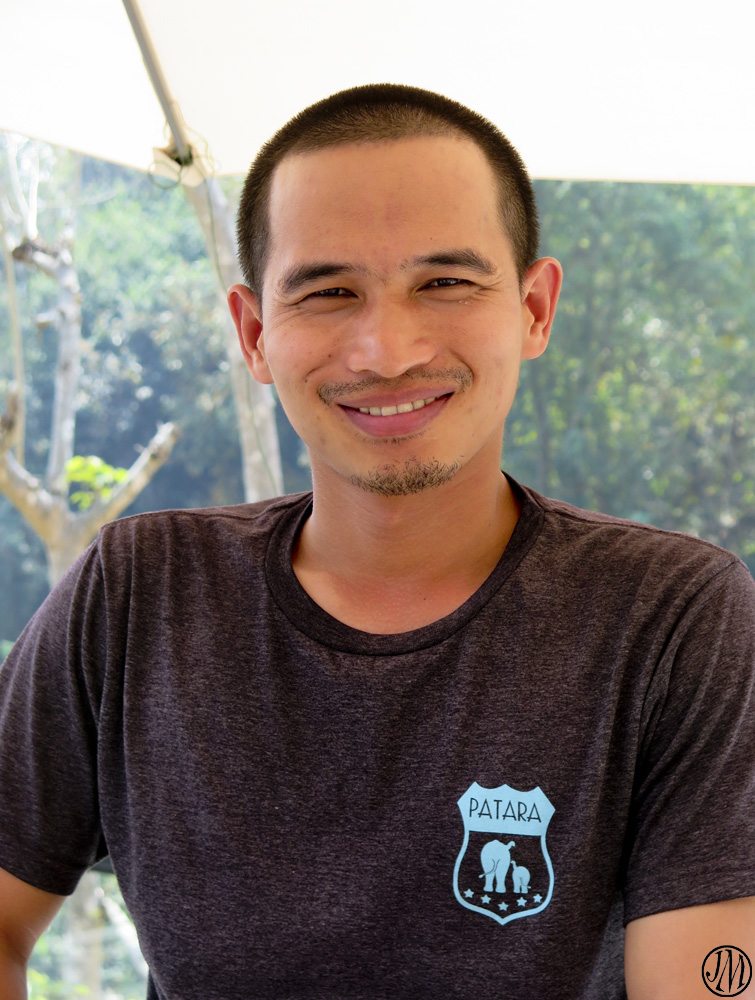 Montri with the attractive Patara Farm  logo on his t-shirt
I would like to thank Khun Pat and Montri an all the team at Patara Elephant Farm for being so welcoming and informative to me for the morning and I can certainly vouch for the visitors and say they were enjoying an excellent experience this day.
For more information please check out their website – here it is again – www.pataraelephantfarm.com
With regard to our 'Asian Captive Elephant Working Group' (ACEWG), I will be giving more information about our work, the video and our up-coming website very soon.  We hope our work will provide a 'reality check' on many much-discussed issues with respect to captive elephants, elephants in tourism and camp management.
Finally, for those who say, "elephants belong in the wild". one can only agree.  However, this is just not possible as there is no longer sufficient 'wild' to support the number of elephants across Asia.  What we can and must do, is to ensure the best possible welfare and management of these magnificent animals and support those who take on this responsibility.
Until soon, my friends.
All good wishes,