Dear friends,
I realized that I couldn't finish this series without focussing on the many cats that I encountered as I travelled through Türkiye. They were sleeping in corners and on comfortable cushions, peeping out from under cars or tables, enhancing the ruins at Ephesus, waiting for food at restaurants, adorning shop windows, accompanying us on our hikes, relaxing in the grass, posing for the cameras, or sleeping in their cathouses.  In short, they were everywhere.
Mostly they were very used to strangers and at ease, staring right back at you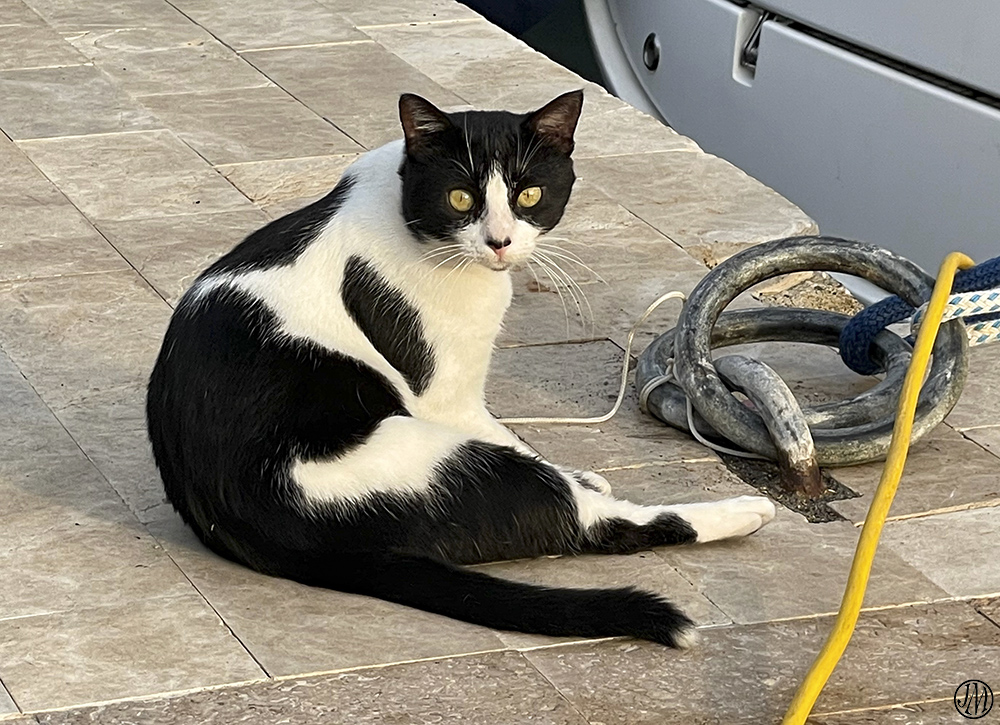 As if to say – 'what are you looking at'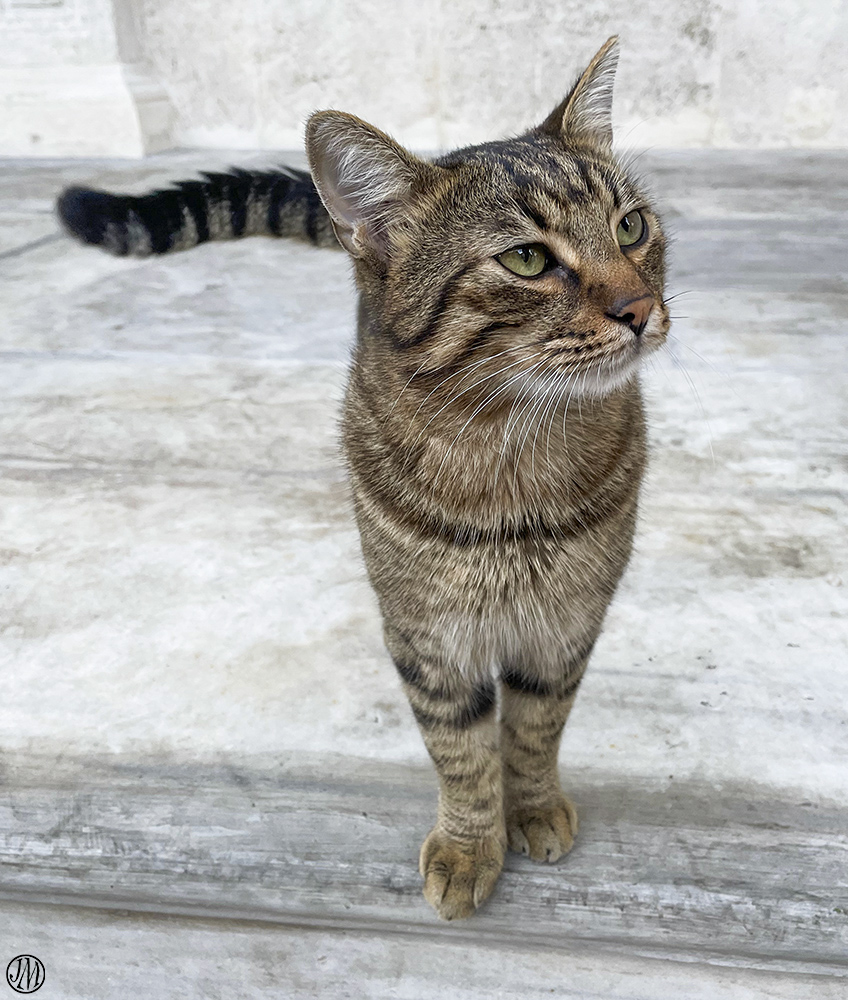 The cat who walked alone – so elegant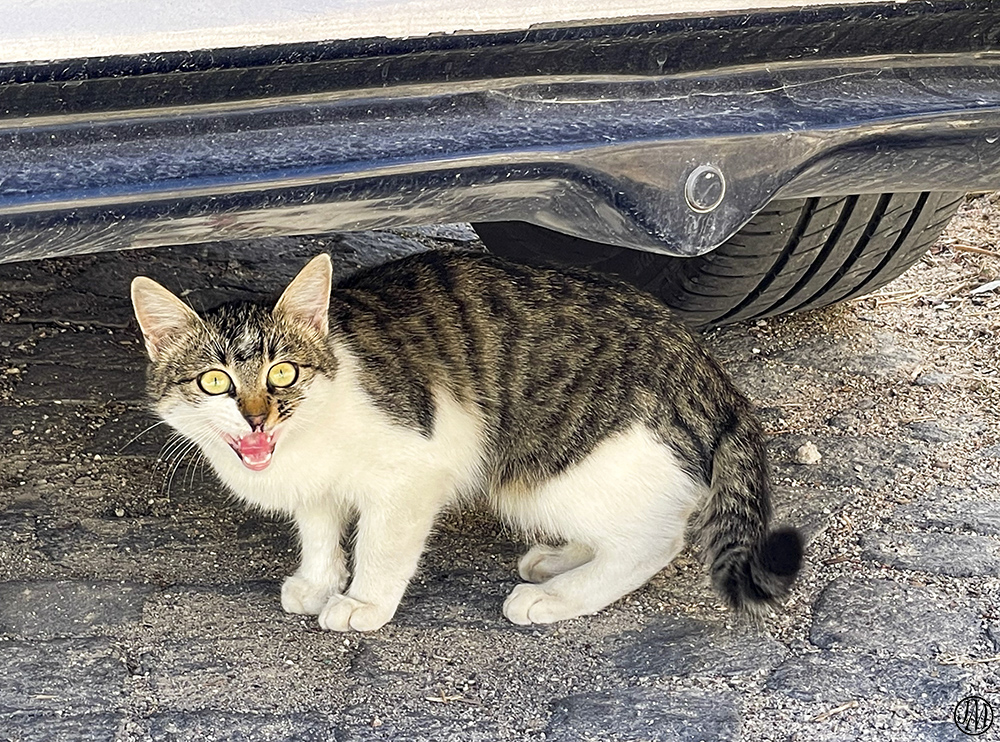 But sometimes hiding under a car, a little scared and 'untouchable'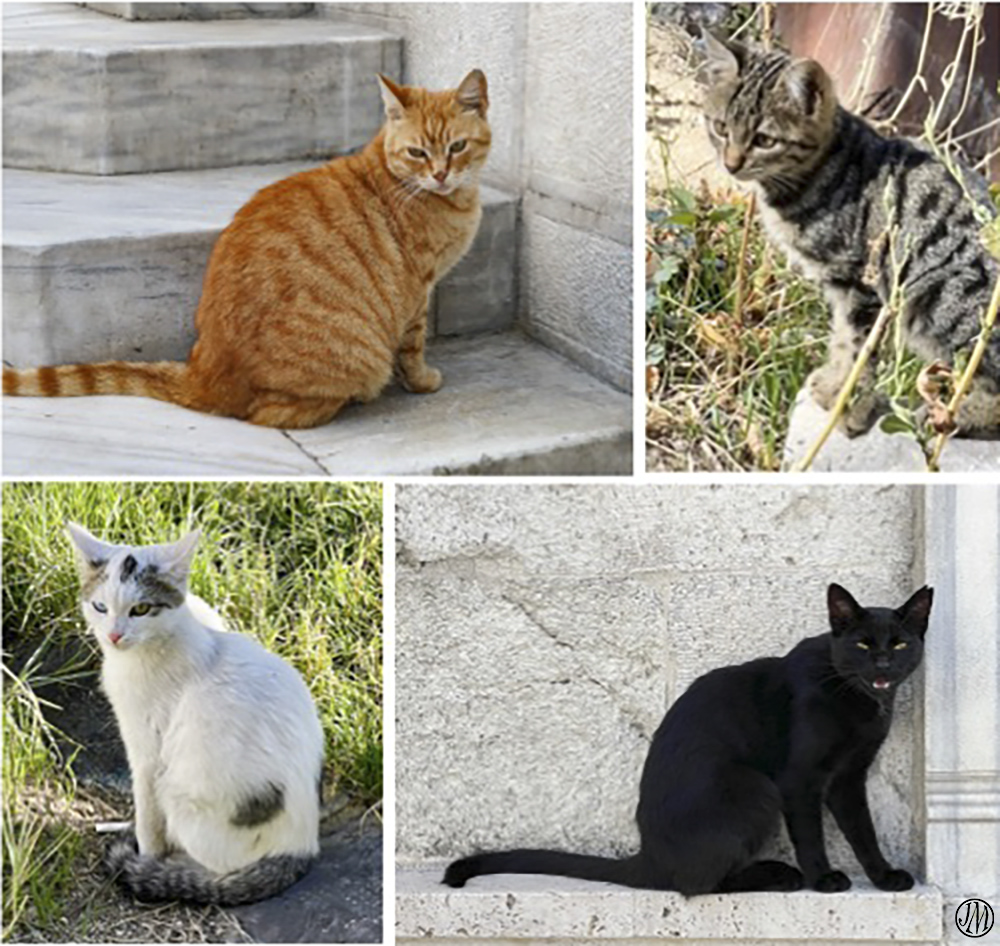 Nicely posed for the photos, on stairs, on ledges, on rocks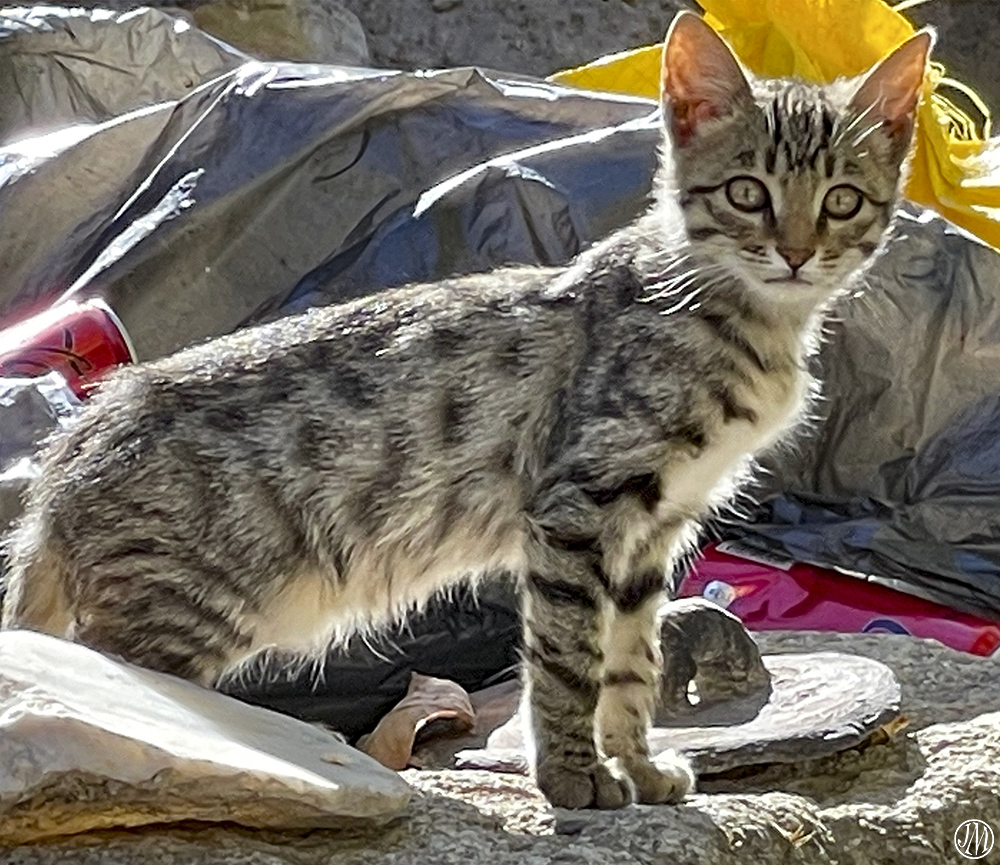 A young one but already rather street smart, ferreting in the rubbish bags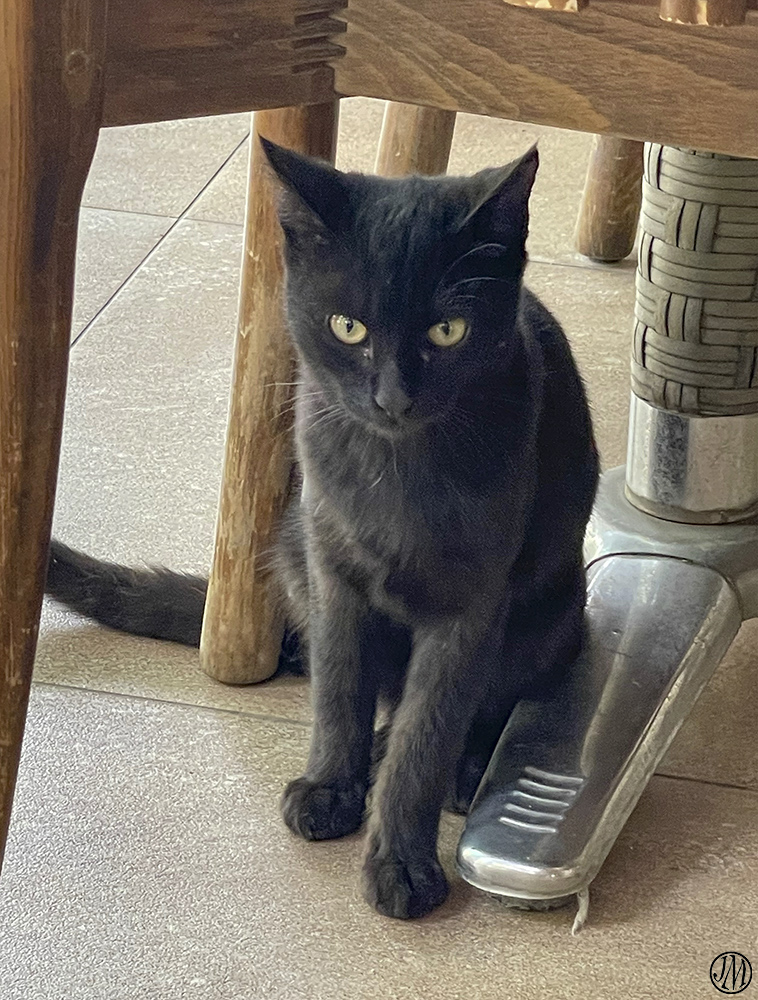 Waiting under the table at a restaurant, hoping some food will drop or be offered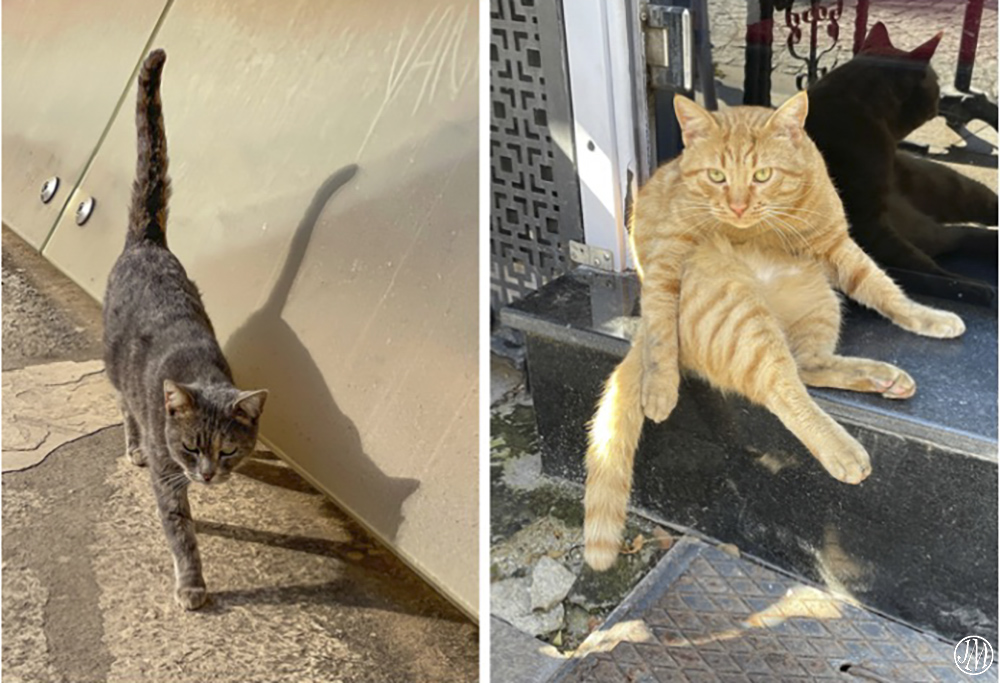 Sunshine and shadows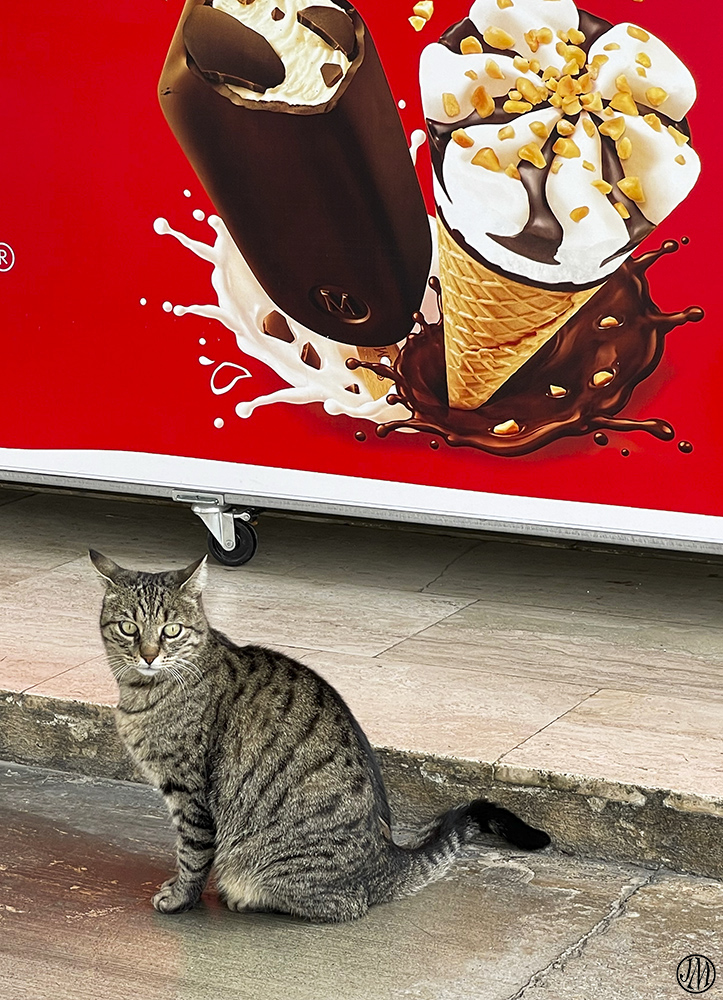 Hoping an ice cream will drop from the skies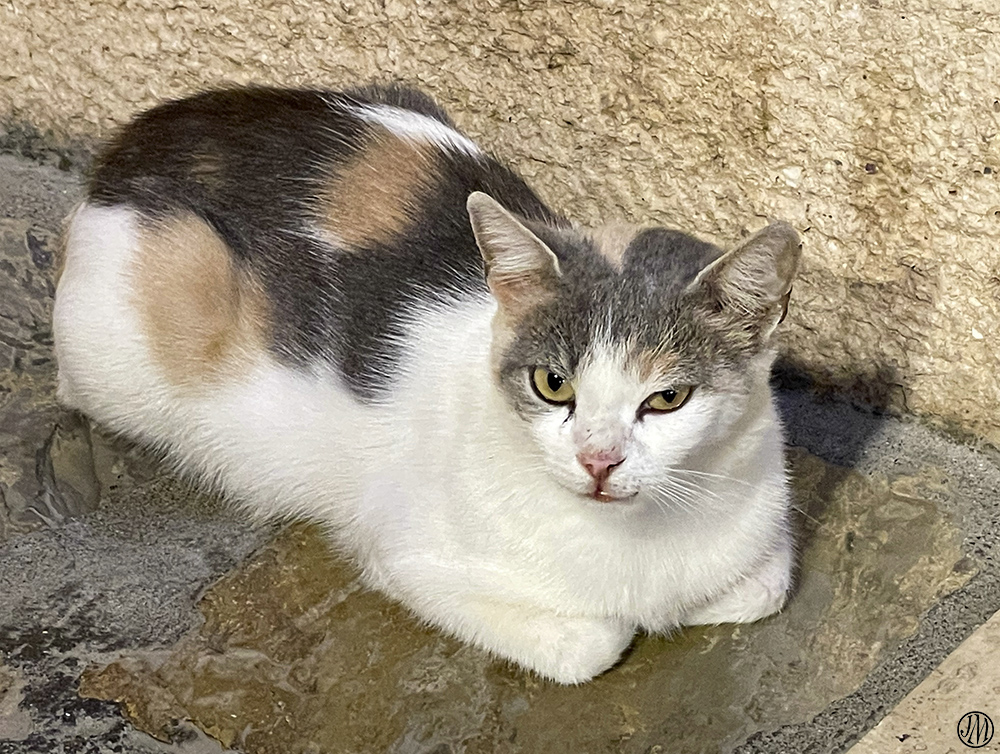 Do you like my eye make up – ready for a night on the tiles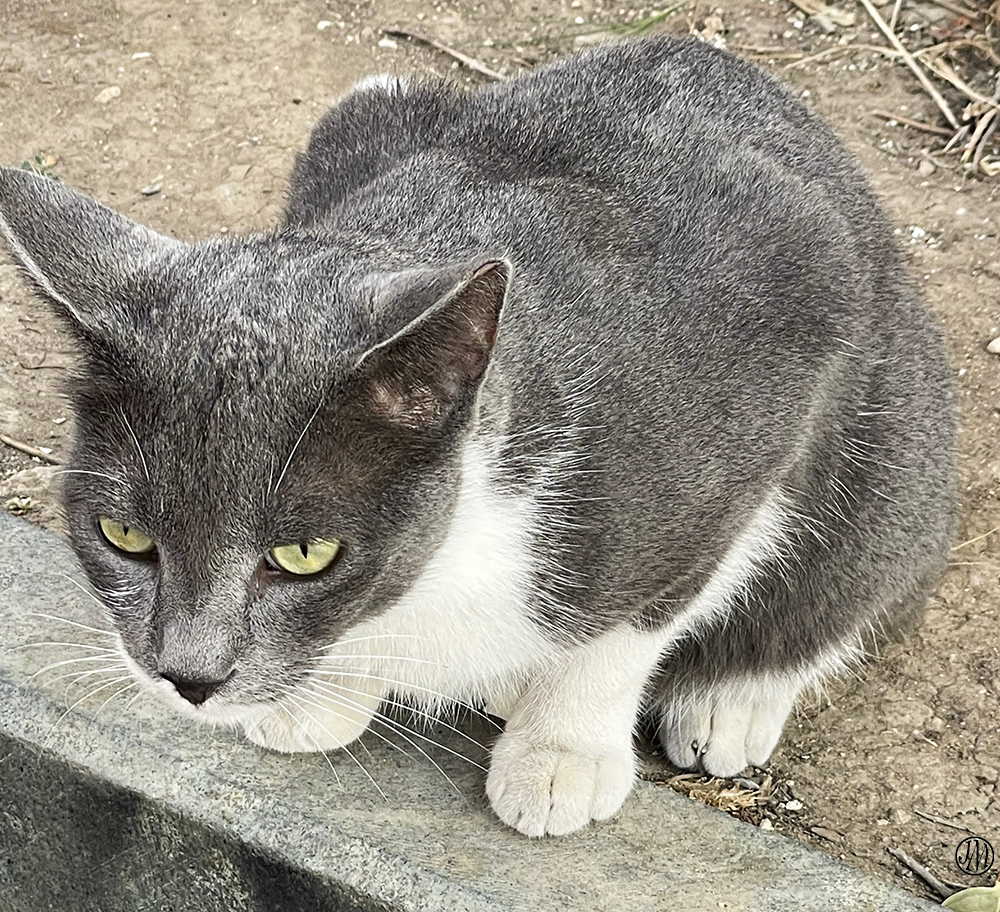 Watchful and about to pounce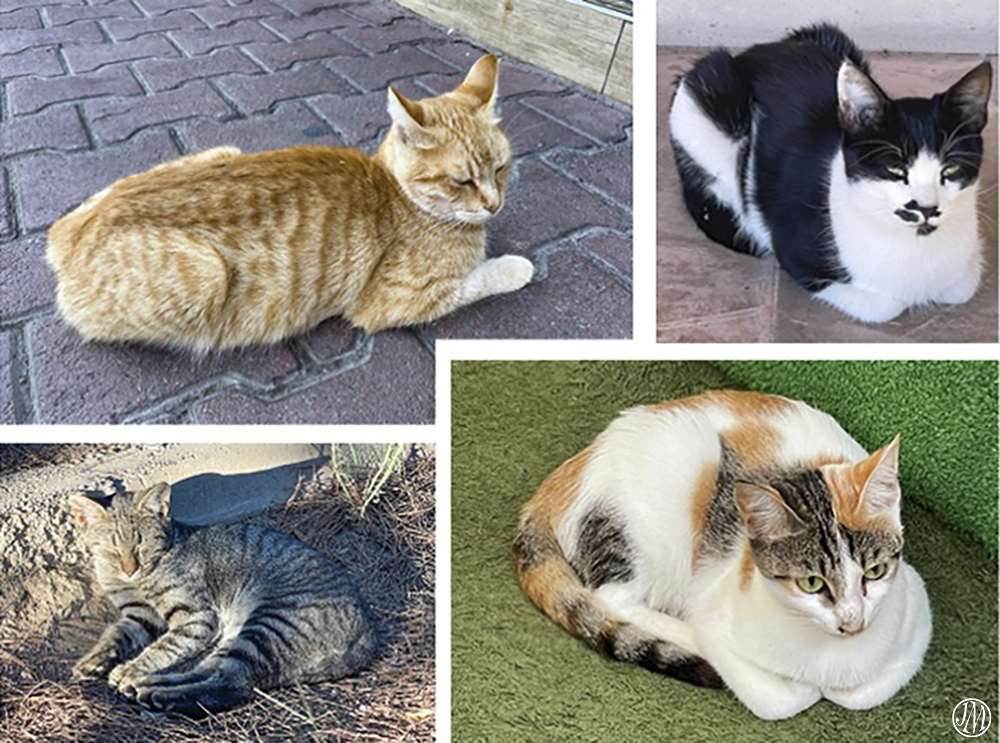 Calm and comfortable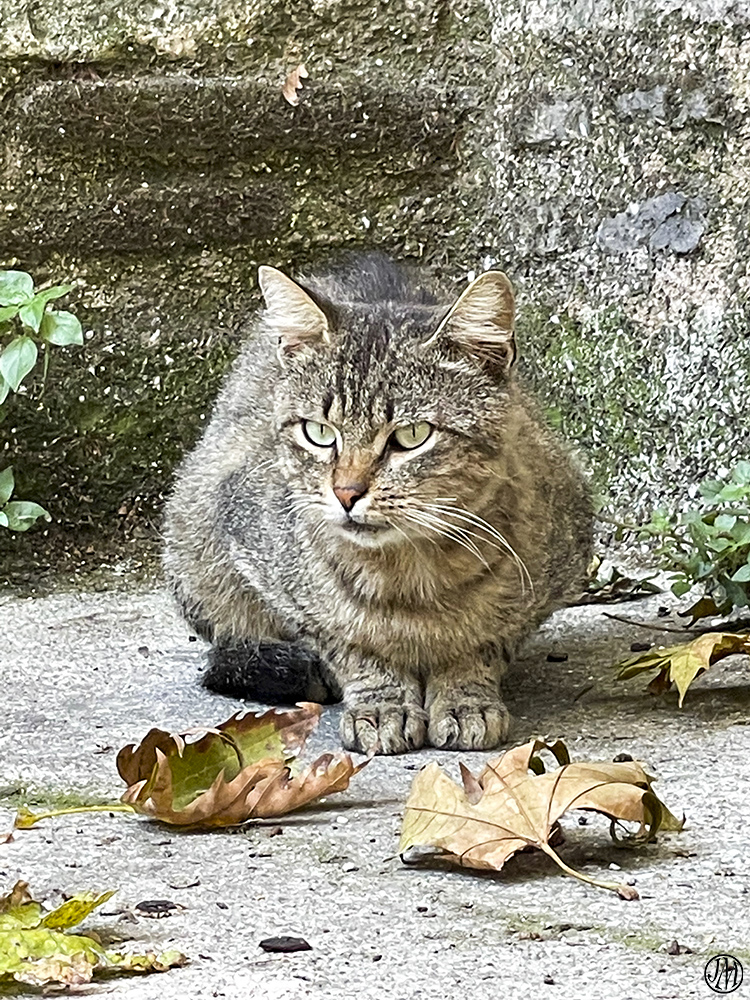 So neatly seated  among the autumn leaves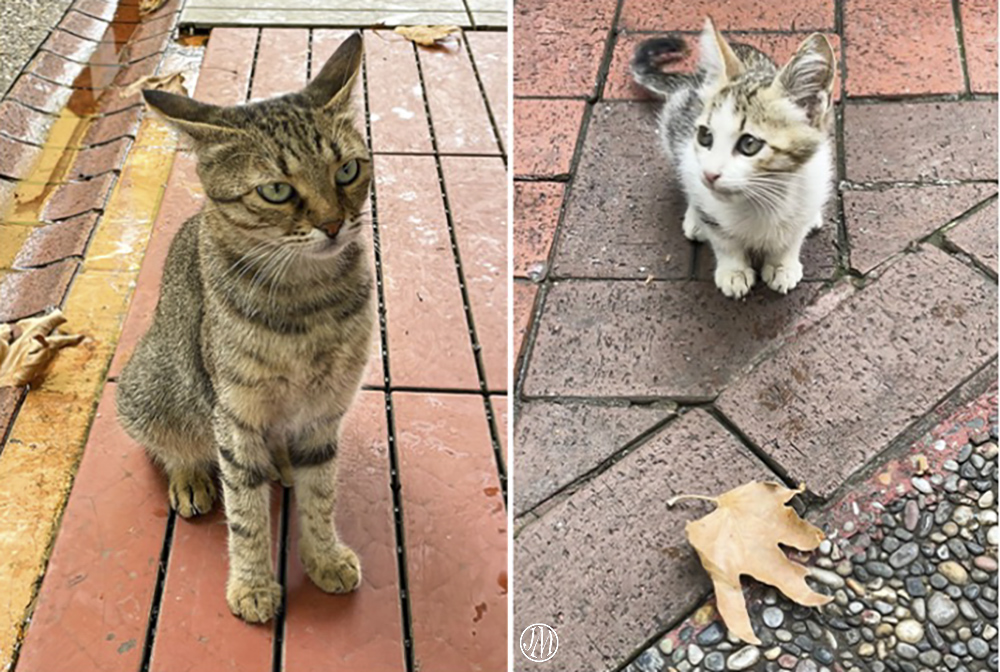 Mama cat and her kitten at a fish restaurant, waiting for treats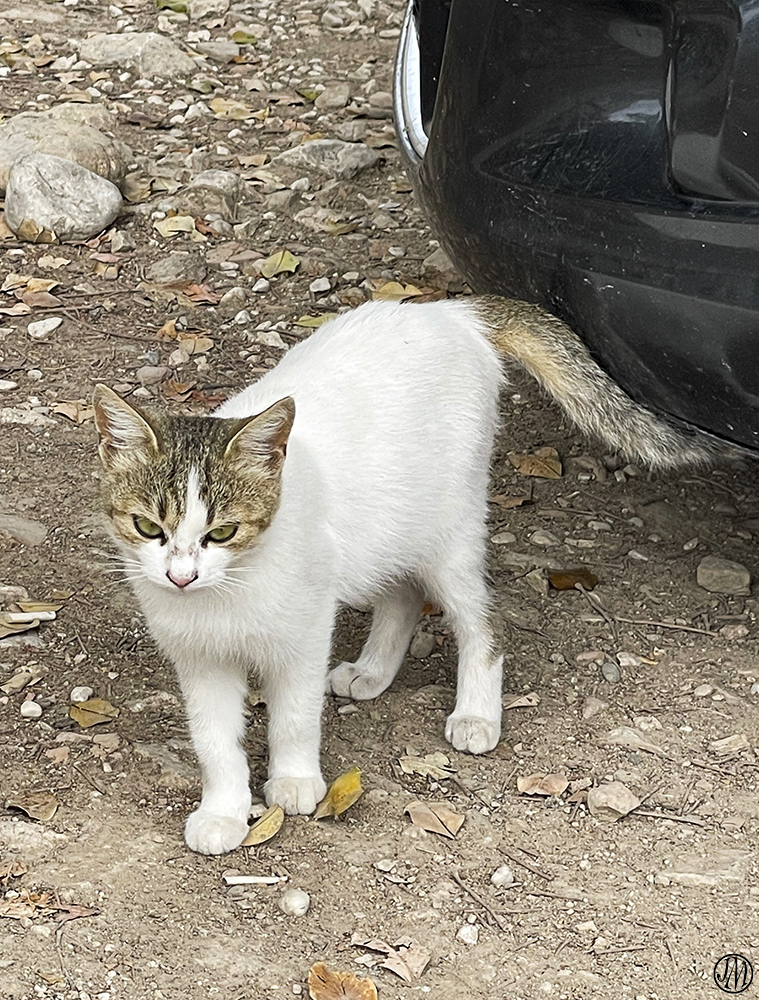 Not quite sure – to be friendly or not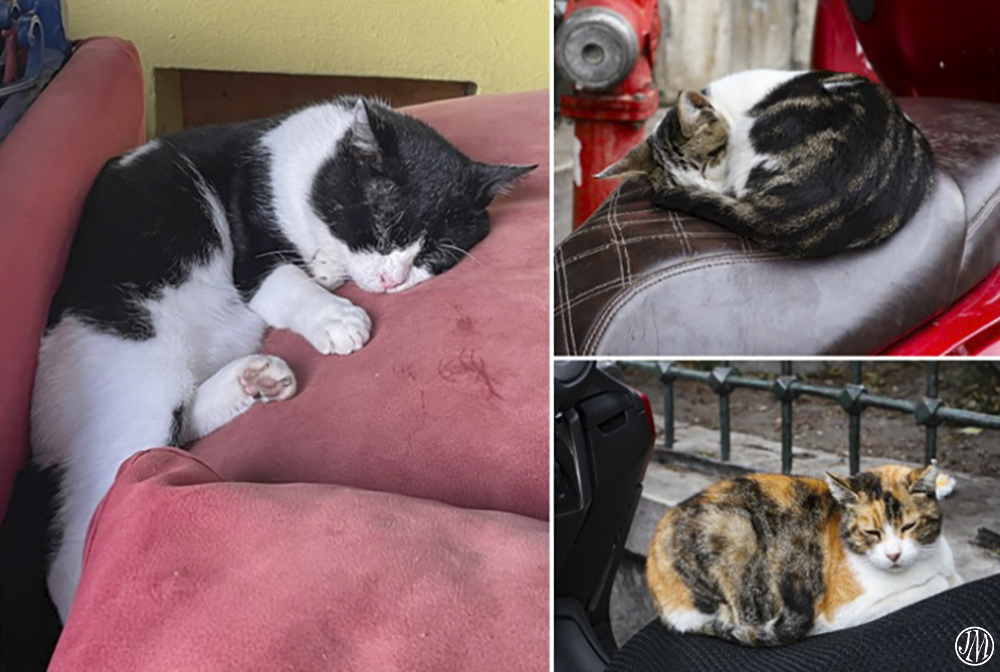 Find a comfortable seat and sleep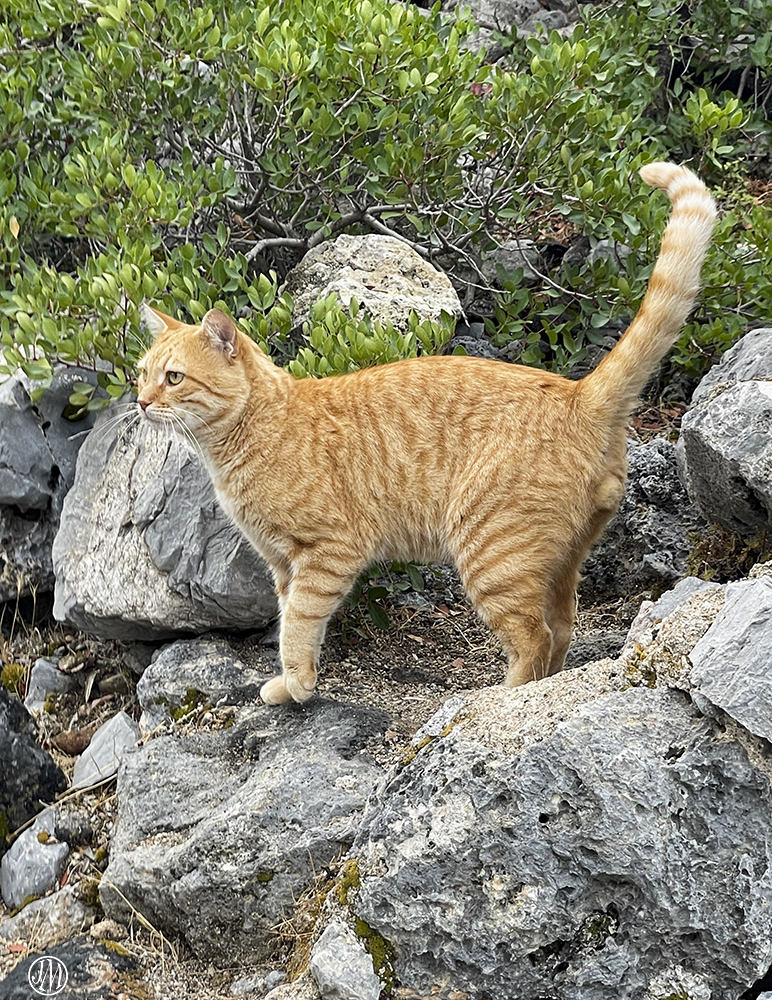 Master of his island, greeting the hikers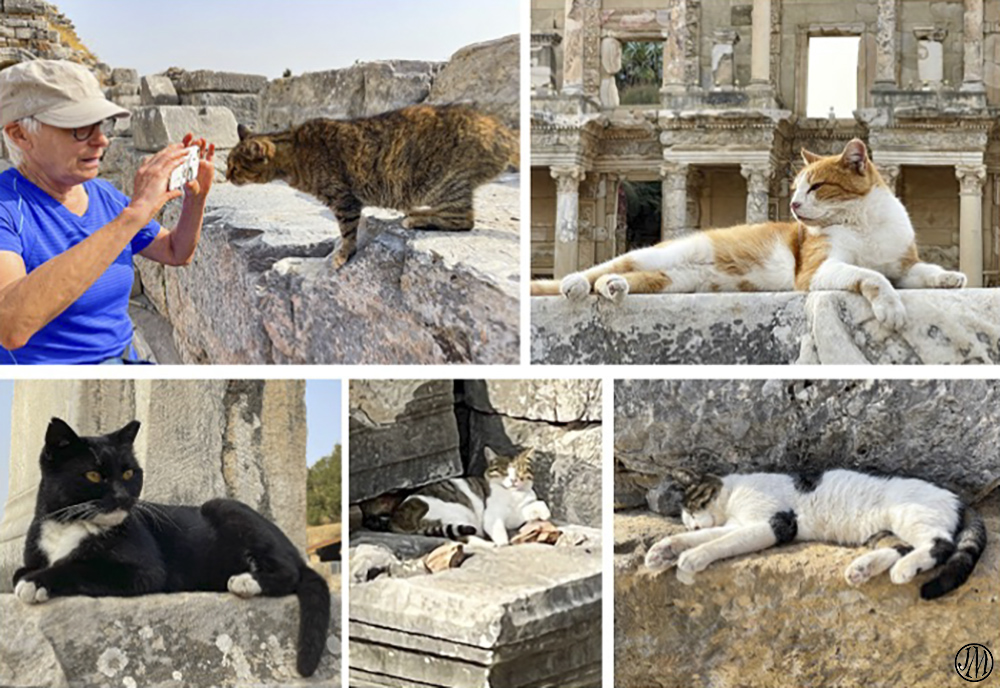 Jeanne and cats at Ephesus. How close do you want me to be for that photo?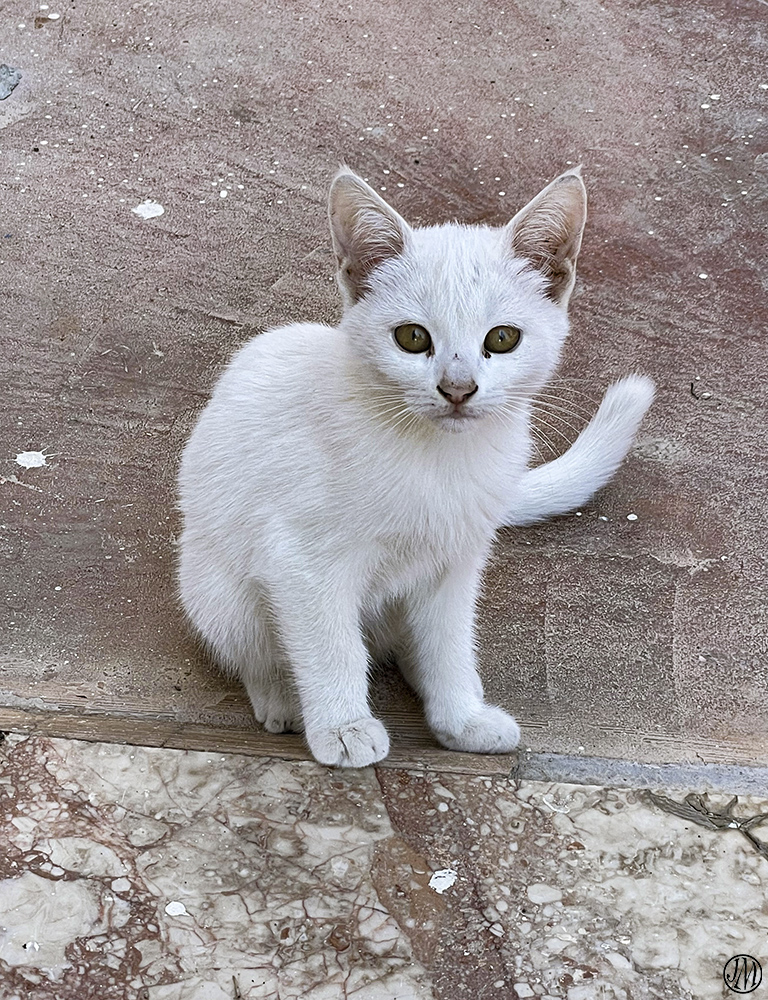 I'm adorable, pick me up please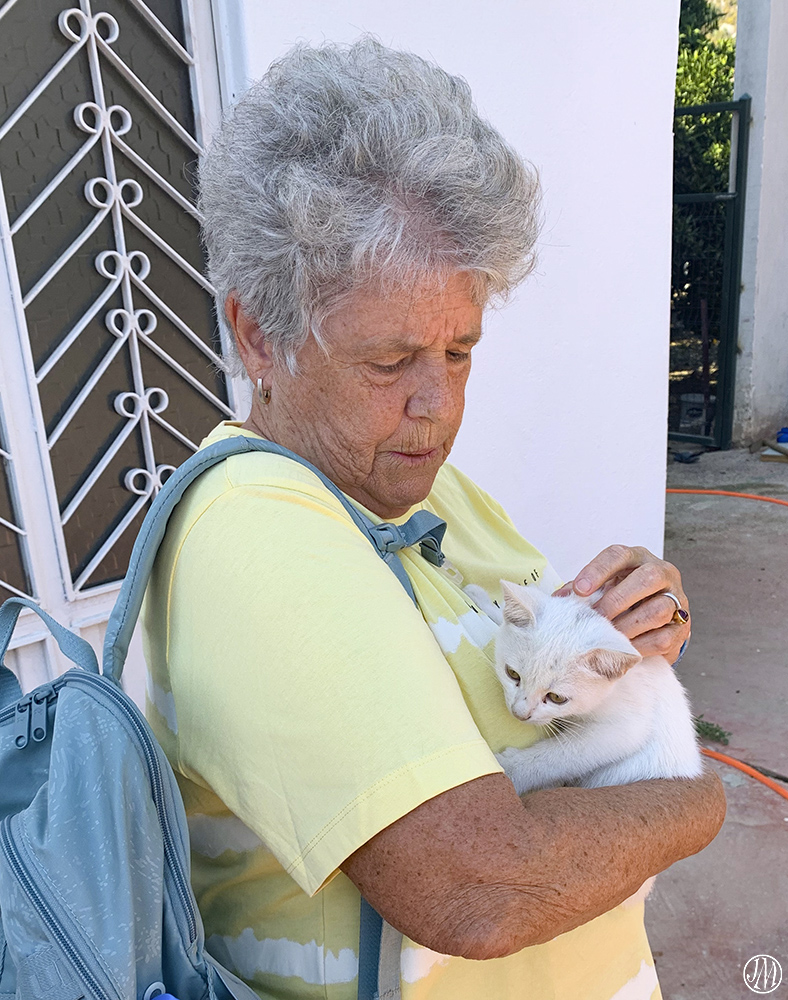 And so I did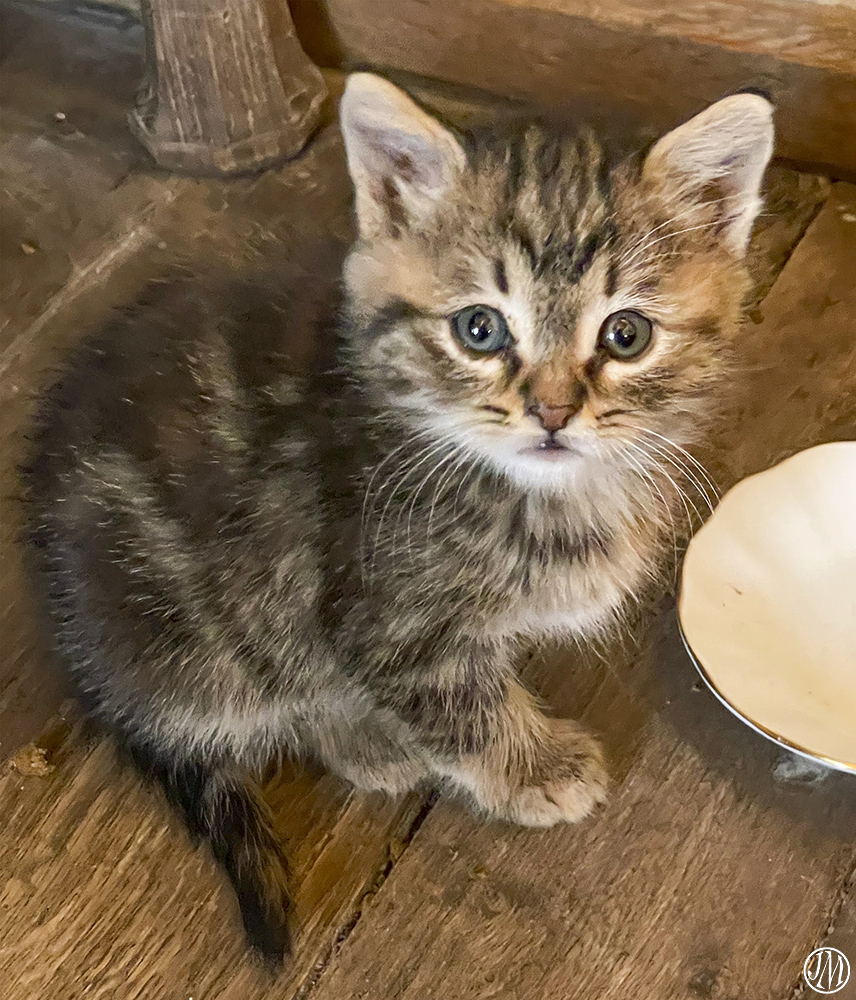 My favorite little bitty kitten in Cappadocia
Friends or family, relaxed, inside and outside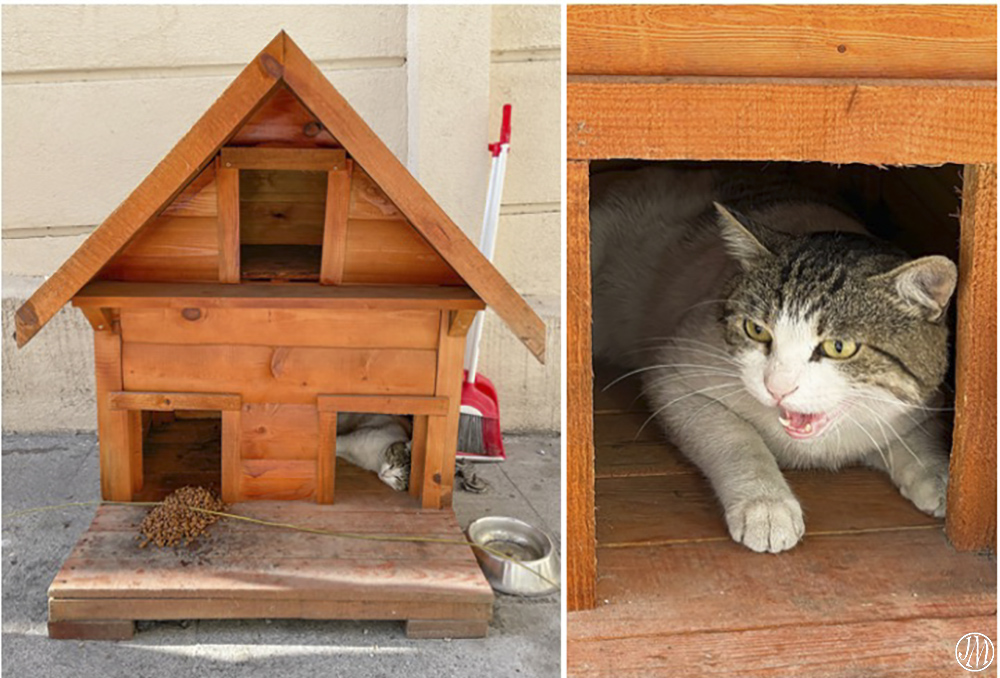 A cat house in the street near our hotel in Istanbul and its occupant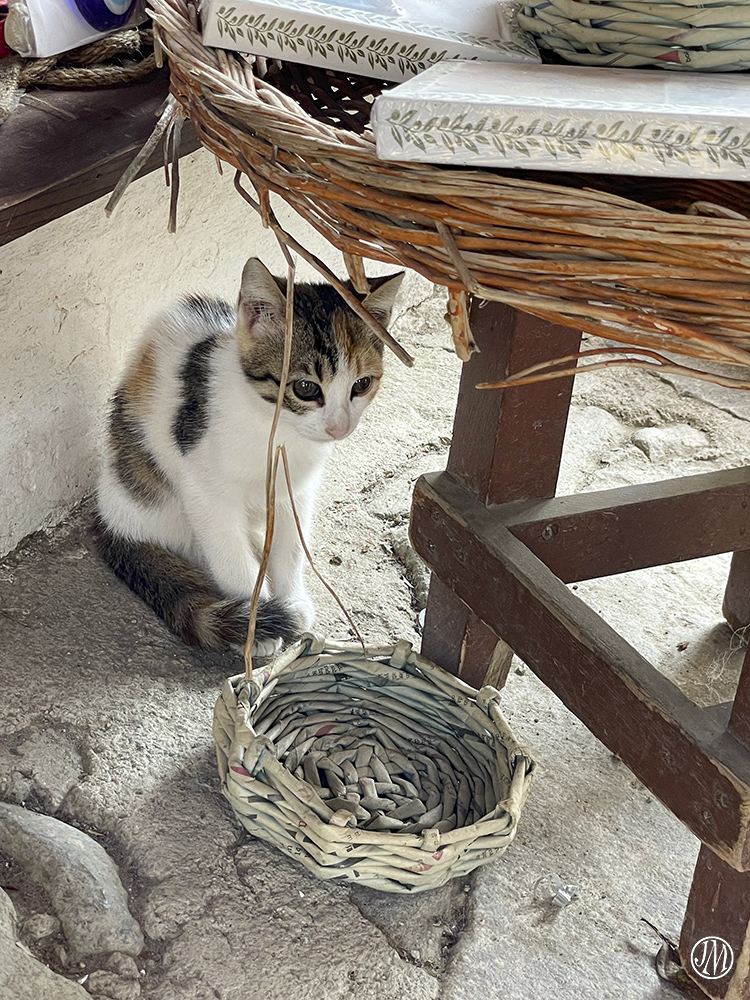 I'll be safe if I just sit here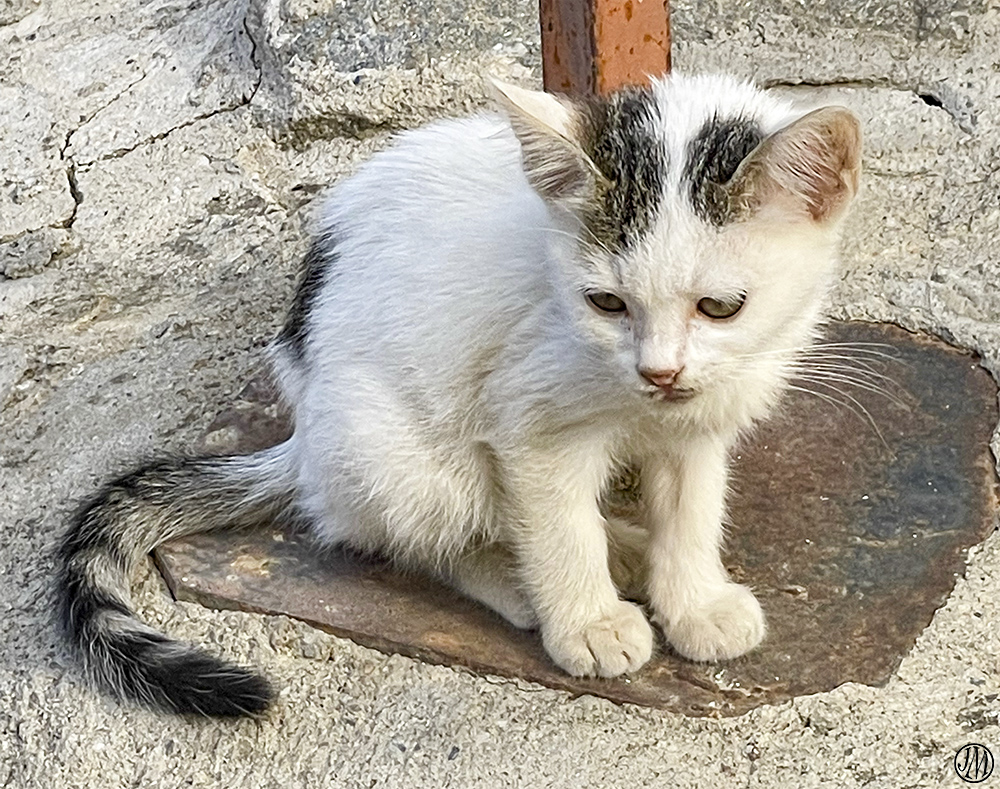 Still a bit small to groom myself properly
A wonderful set of whiskers
Me and my shadow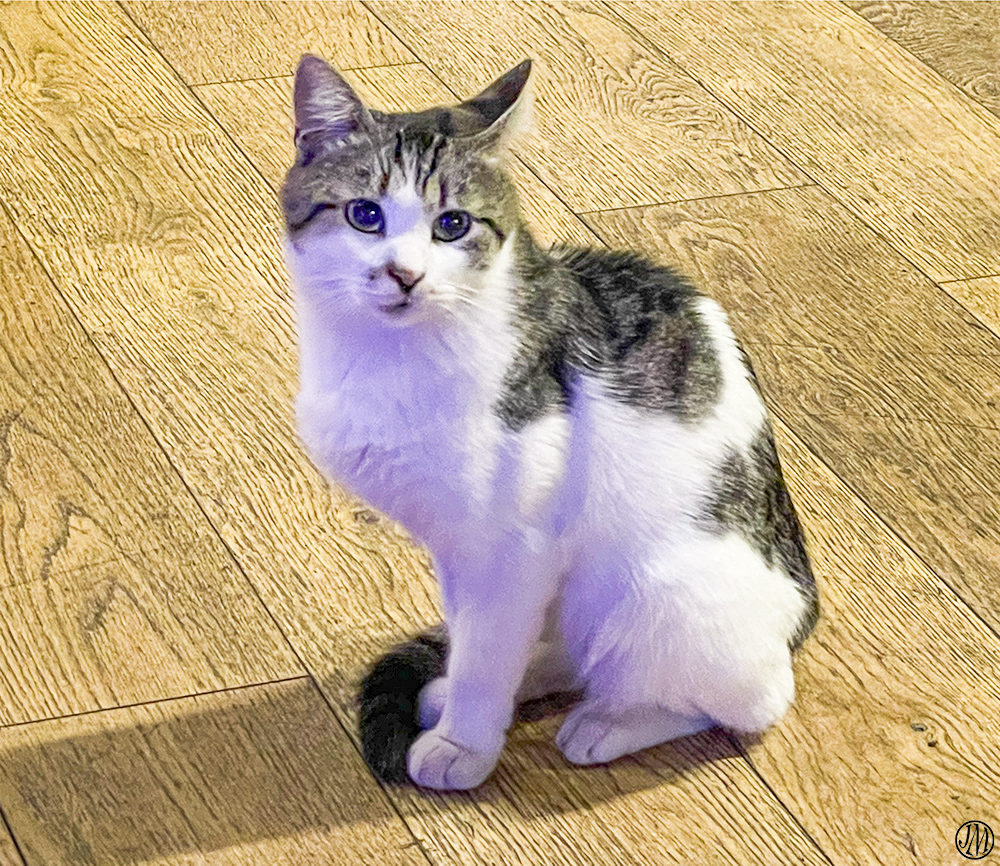 Just so sweet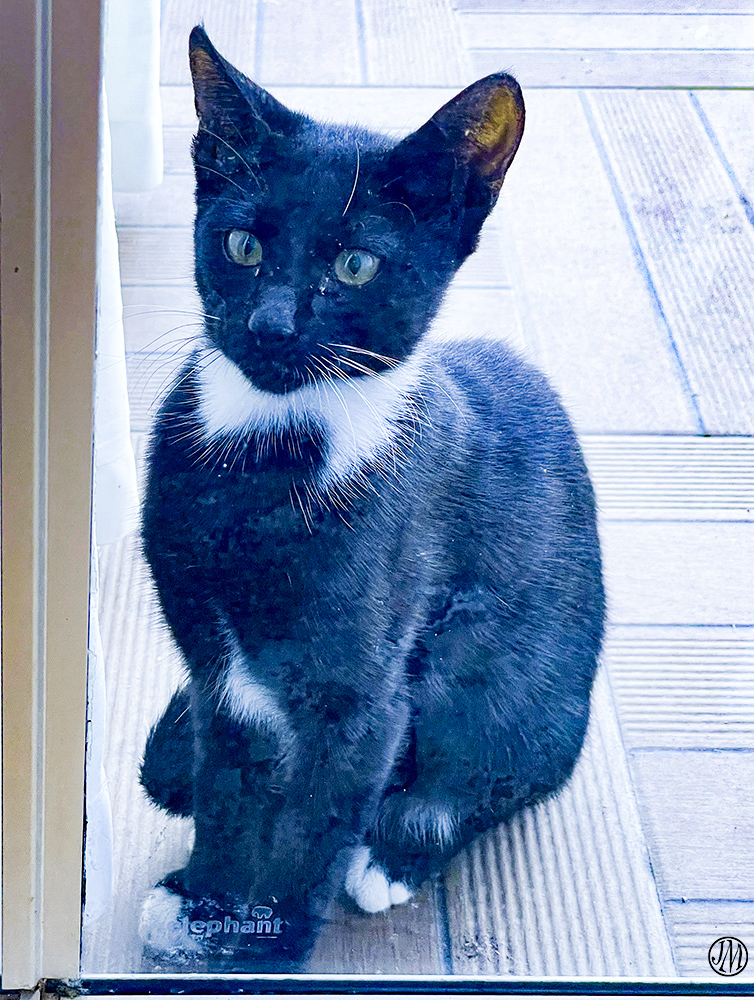 Street cat, with a perfect bow tie, waiting for his morning treats outside our breakfast room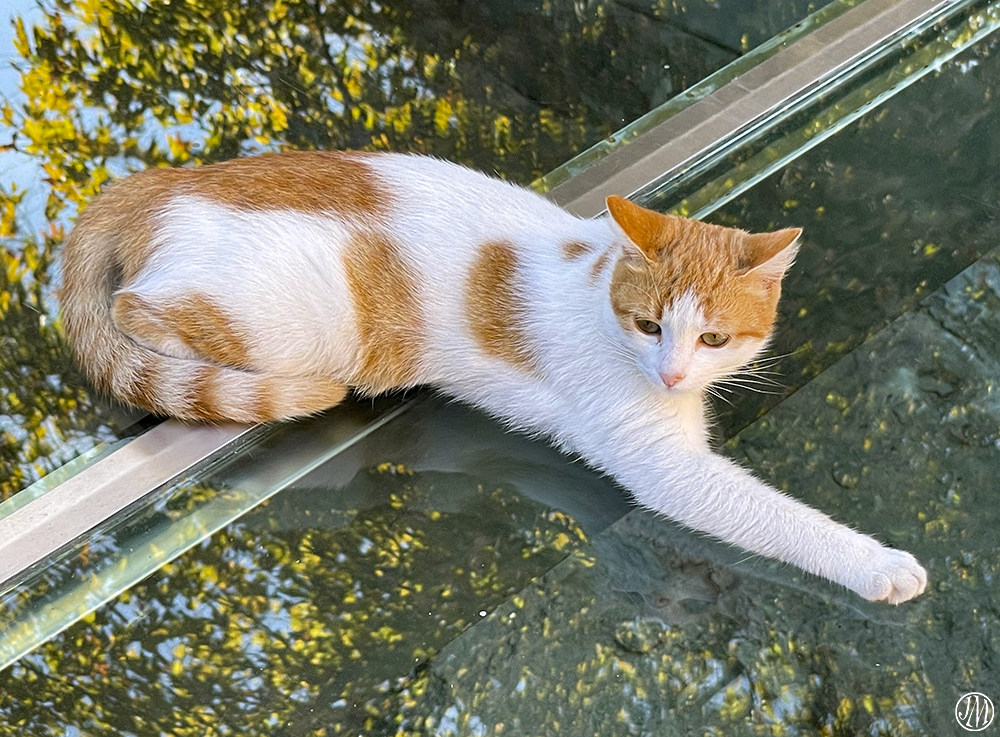 Lying on a glass roof among the reflected leaves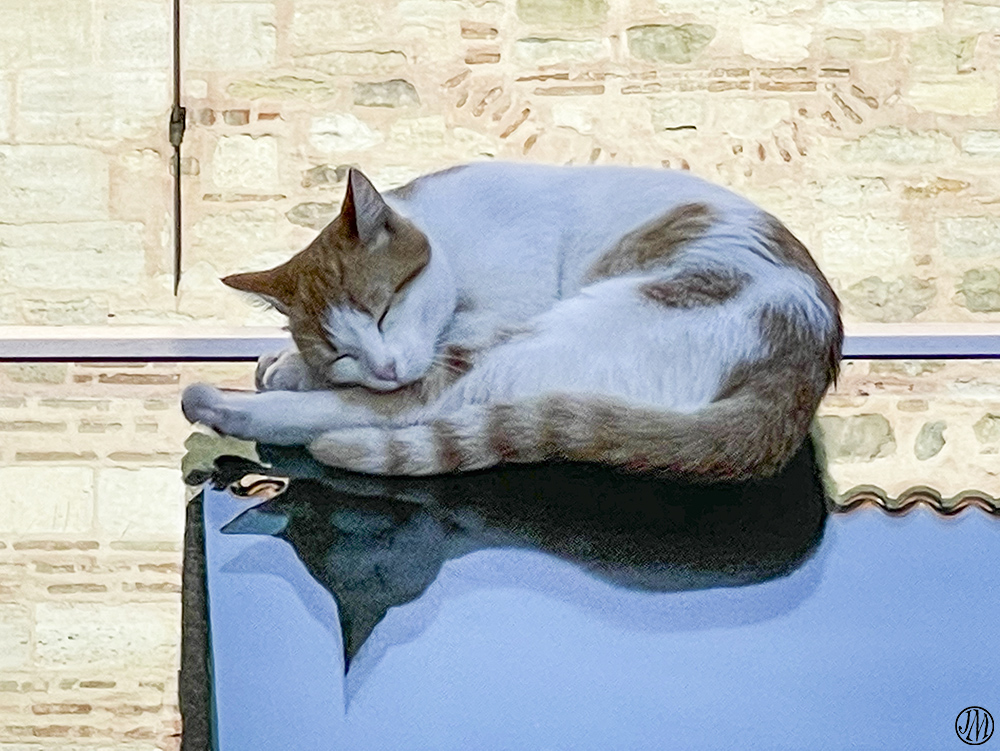 Another one on a glass roof making a perfect reflection of his own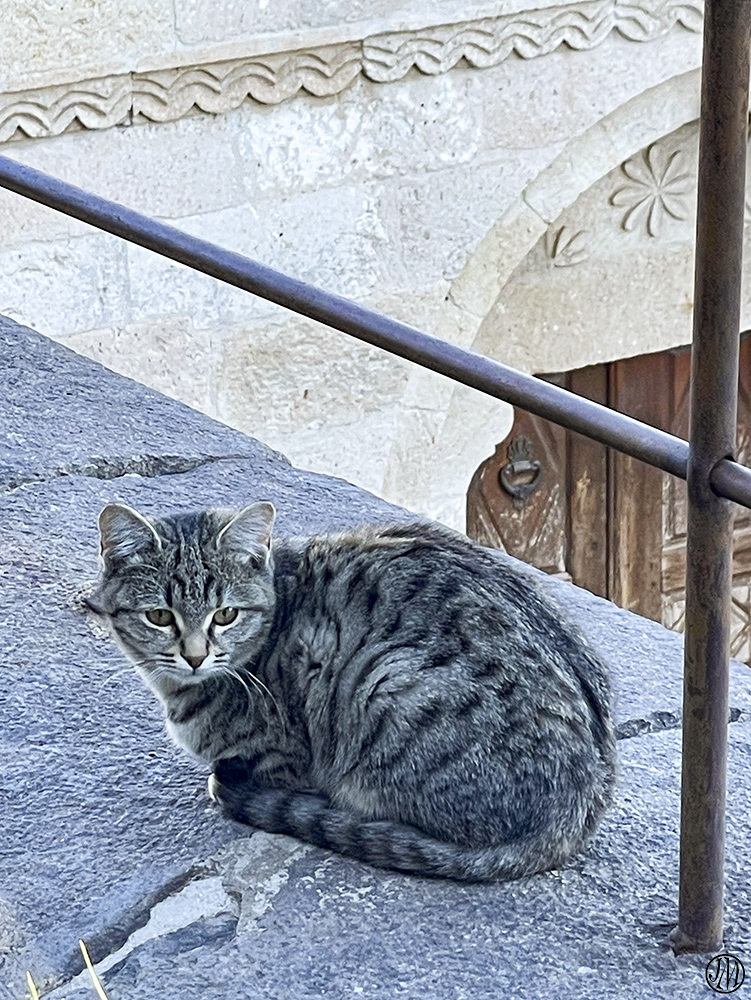 Perched on a wall high above the houses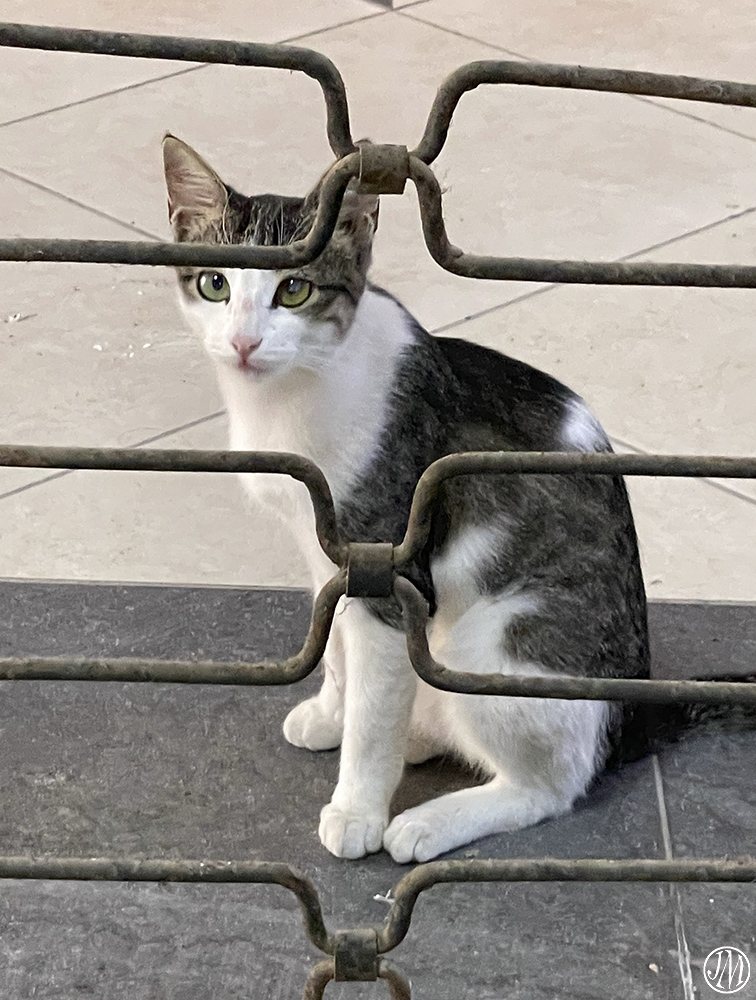 Gazing through the grill, although he could easily have climbed through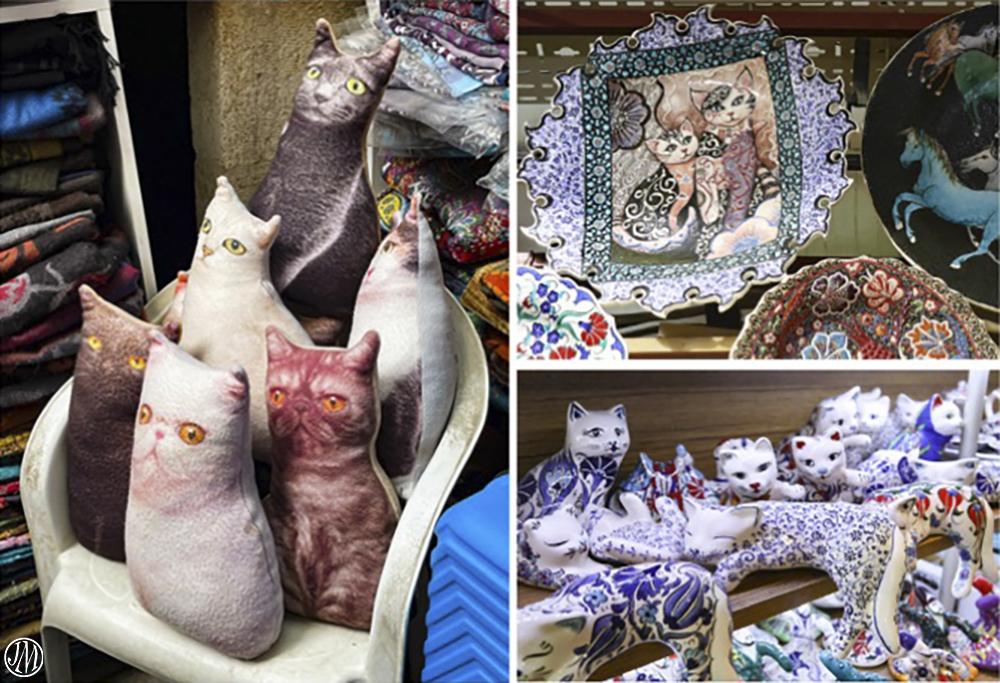 And cat-themed items too – these ones were for sale, as a fine memory of a visit to Türkiye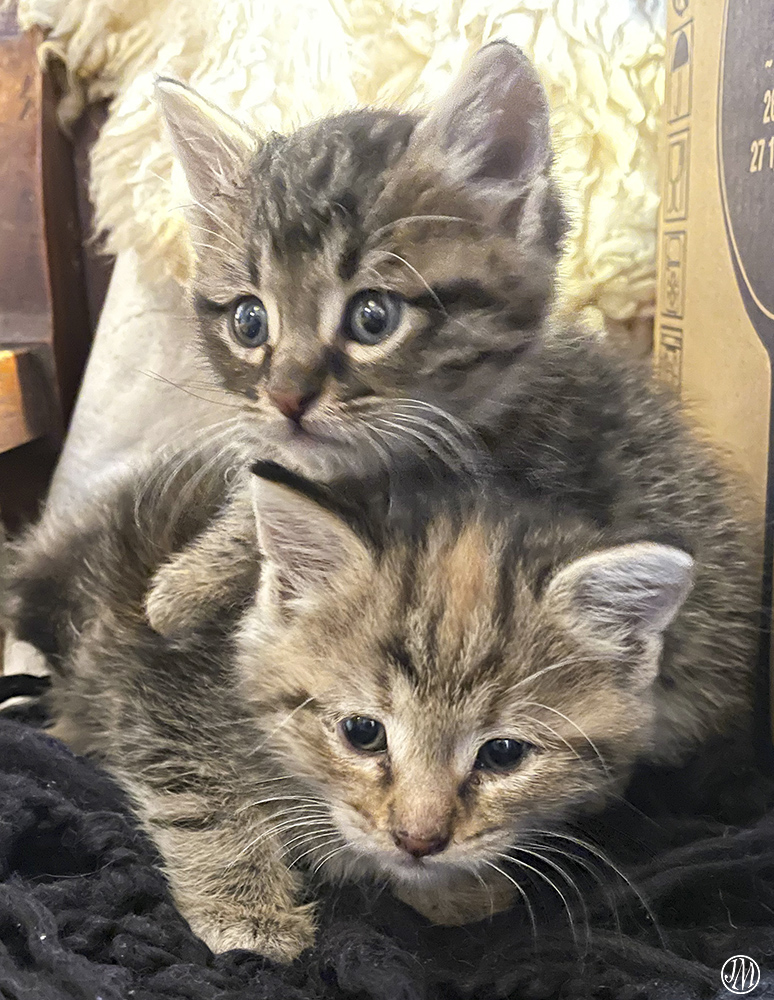 Oh so adorable, those Cappadocia kittens again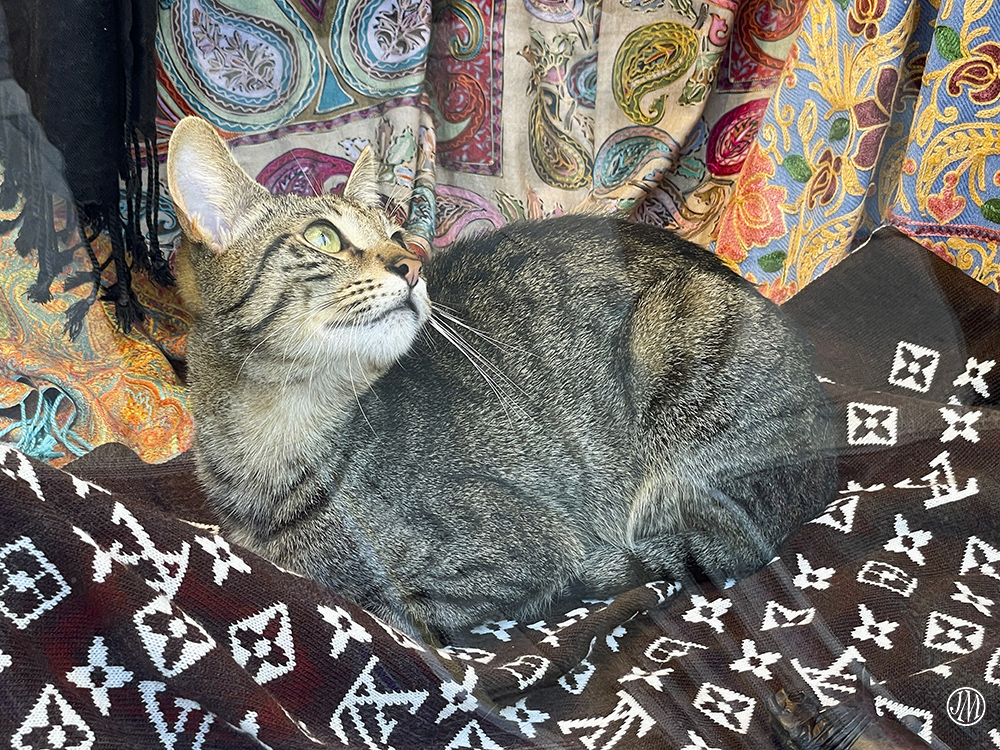 And lastly, my favorite – this one comfortable in a shop window among the beautiful shawls for sale
I did have many more cat photos, but enough is probably enough, even for a cat lover.  I am now home in Chiang Mai with my own cats and reflecting that kindness to cats brings its own rewards. They are great companions, aloof and independent but also charming and cuddly when you need that most.
I trust that you have enjoyed all these stories and photos from my travels in Türkiye.  Thank you to those of you who have left comments, this is very much appreciated. For me, these 'Joanna's Journal' entries are a way of my remembering and reliving precious moments, but if you enjoy them too, so much the better.
My next travels will be back to New Zealand in February and to the Chatham Islands in March, so more stories after that.
With all good wishes to you my family, friends and followers for the festive season and for a fine New Year 2023