Dear friends,
Another day, another National Park – this time we explored Amber Mountain, lush green rainforest and many creatures hidden within. It is so called because, in the evening sun, the earth glows a rich dark amber. The park is about an hour's drive from the town of Diego Suarez in the far north of Madagascar and even on the drive, there was plenty to look at.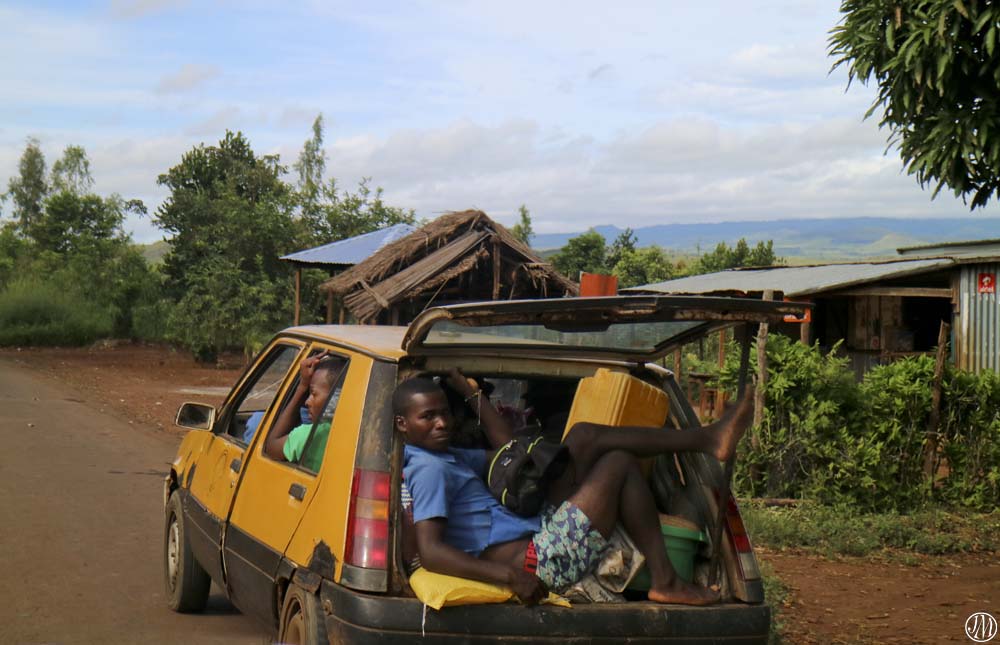 We were luxuriously driven by 4-wheel drive land-cruisers, others on the road were a little more cramped for space.
We drove through farmlands on a peaceful road bordered by shrubs and trees.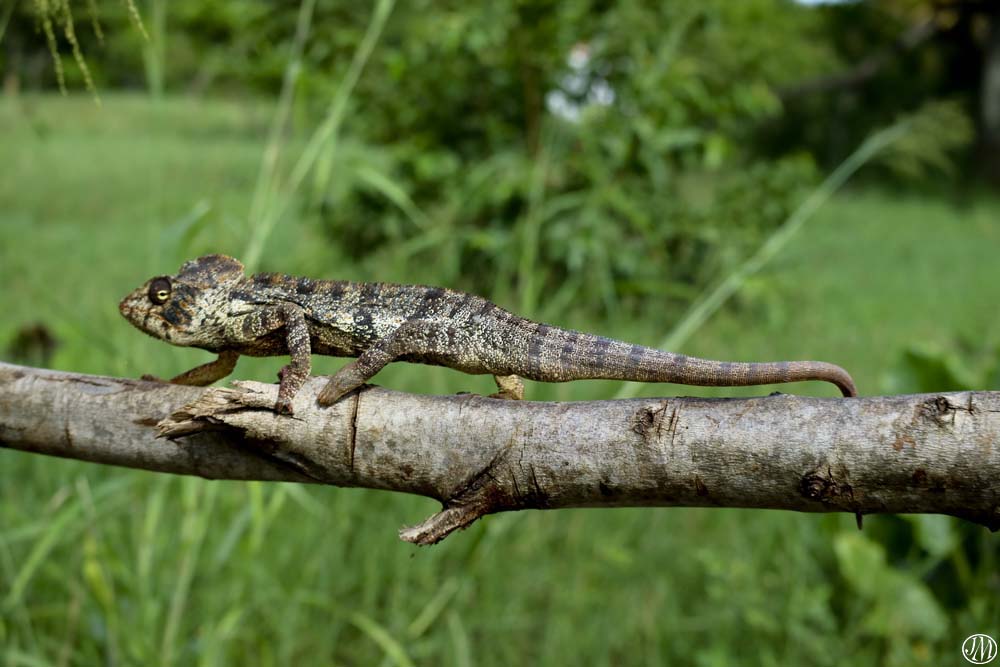 Before long our sharp-eyed guide had spied a chameleon on the fence, so we stopped for a close-up shot.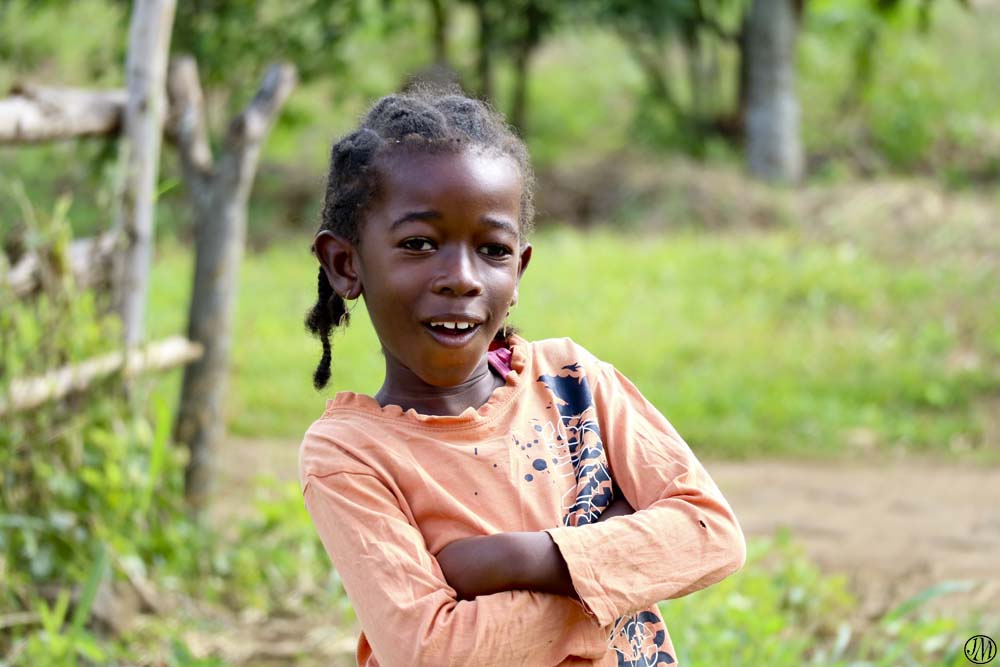 We were also under scrutiny by a local family who came out of their house to say hello to us. The little girl posed for me.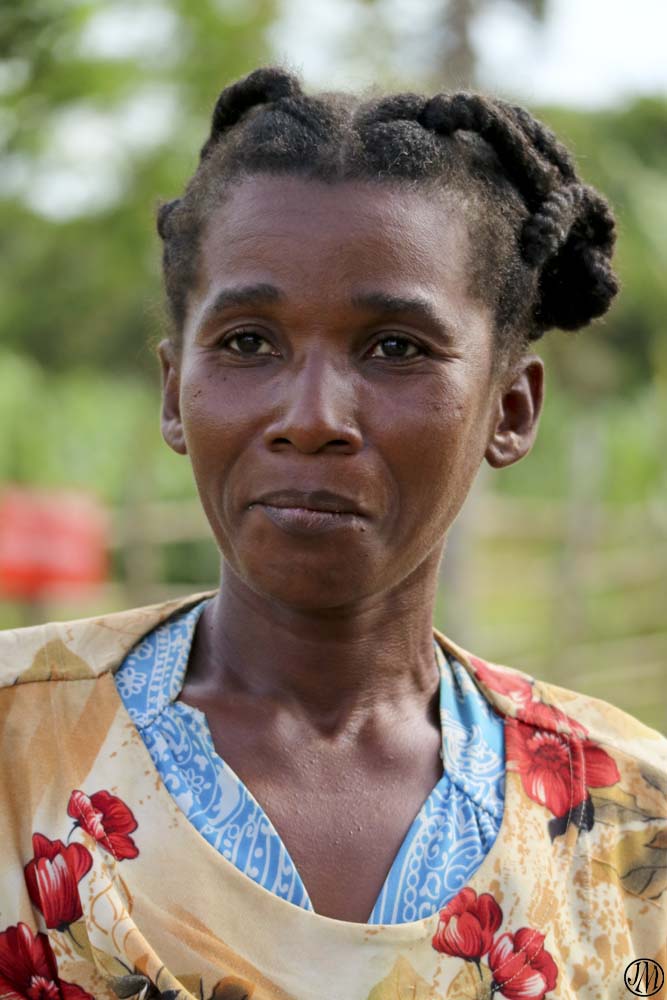 I asked the mother if I could take her photos to and she was happy to pose …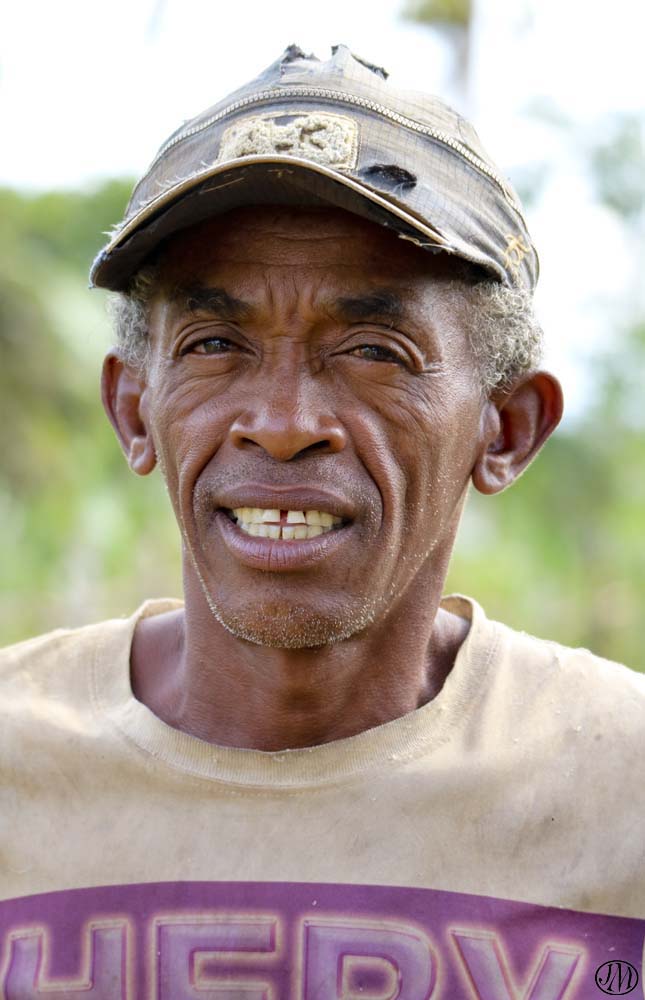 … and the Dad wanted in on the action too, so I snapped him as well.
All three peered at the screen and laughed to see the pictures of themselves.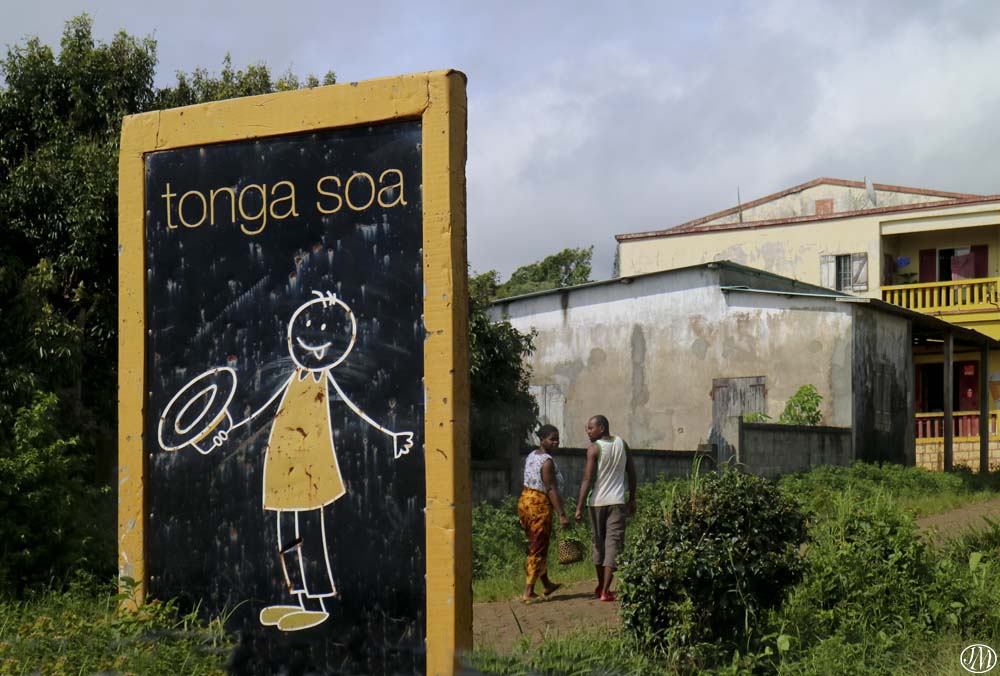 The small town at the entrance to the park welcomed us 'tonga soa' with this bright poster.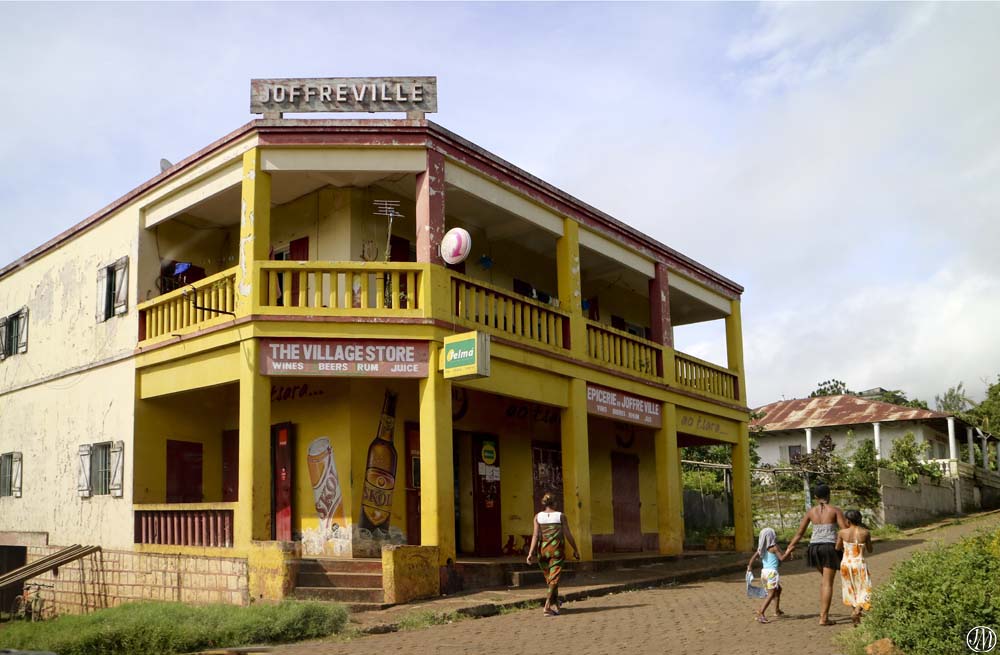 The main street and the village store in Joffreville.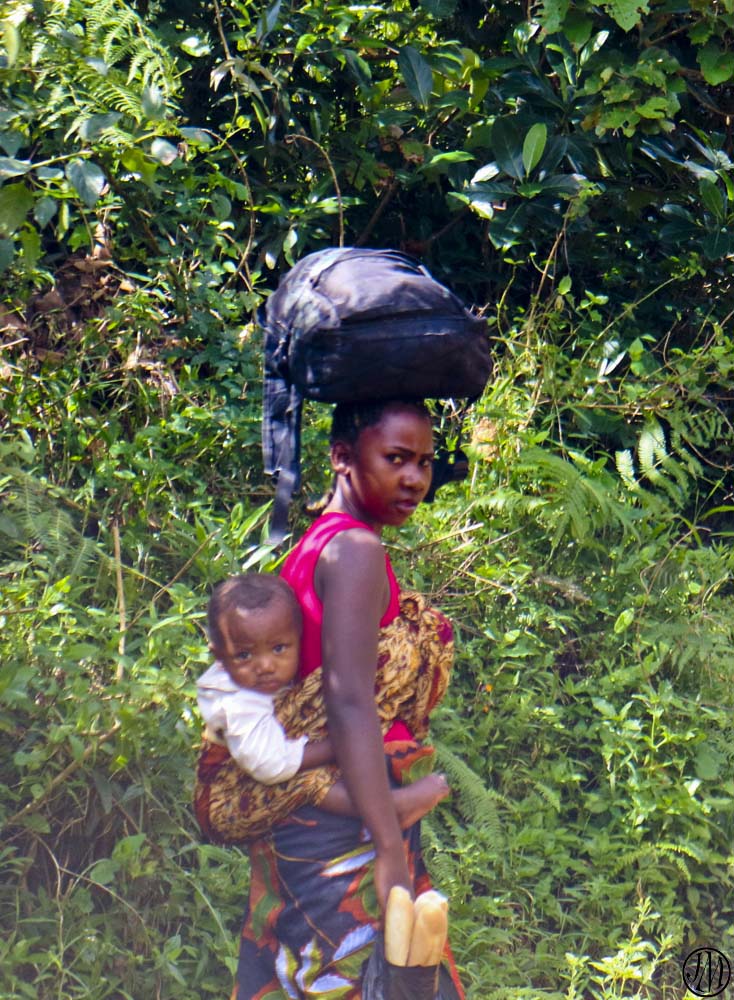 Baby on the back and backpack on the head – this young woman and her child returning from the market.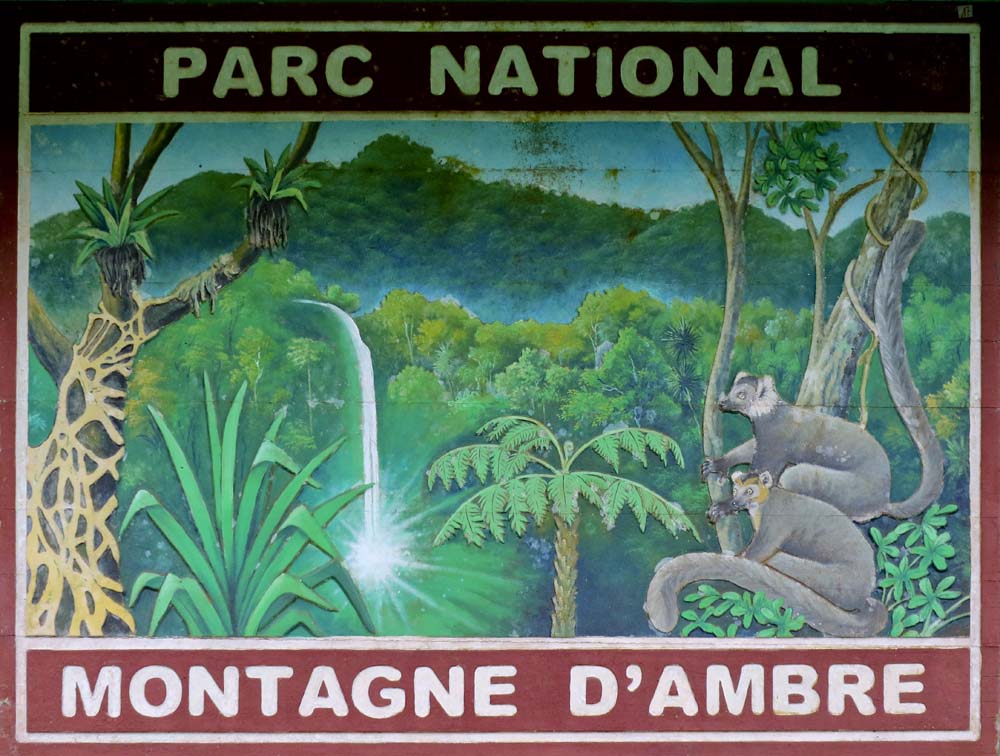 The signboard at the entrance to the park, promising another adventure.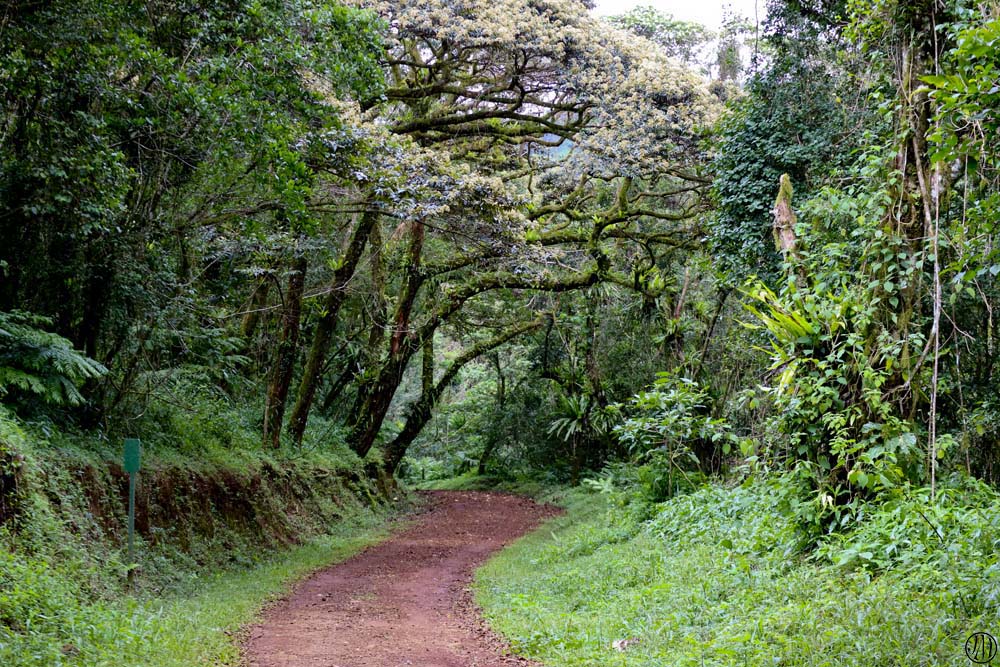 The road into the park, mist hanging low and the bright green trees and undergrowth inviting us to explore.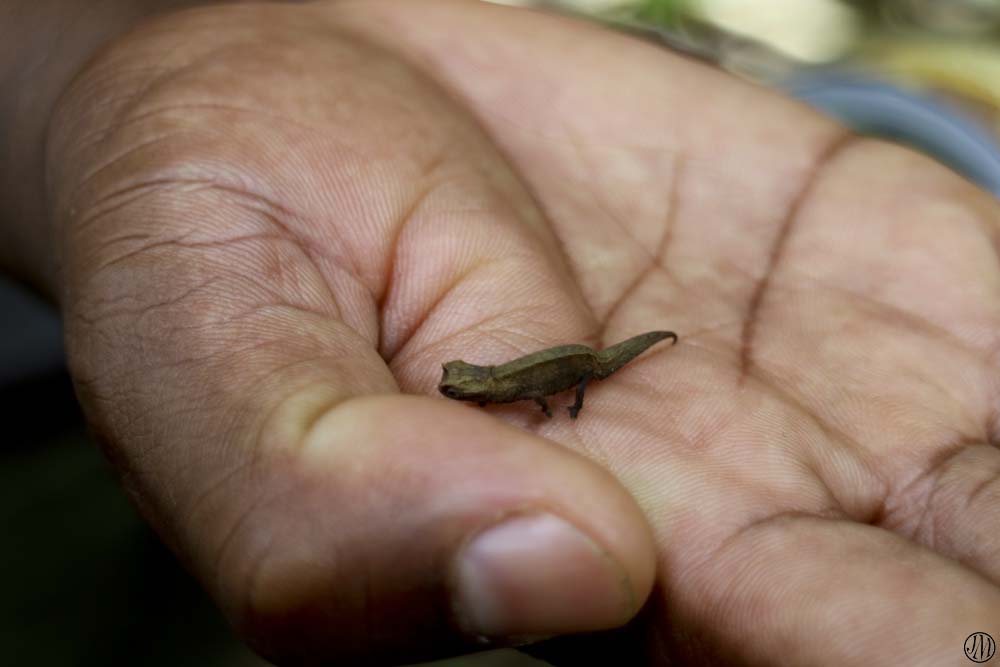 Evidently, a new species of chameleon the size of an ant has been discovered, but this one was pretty small too.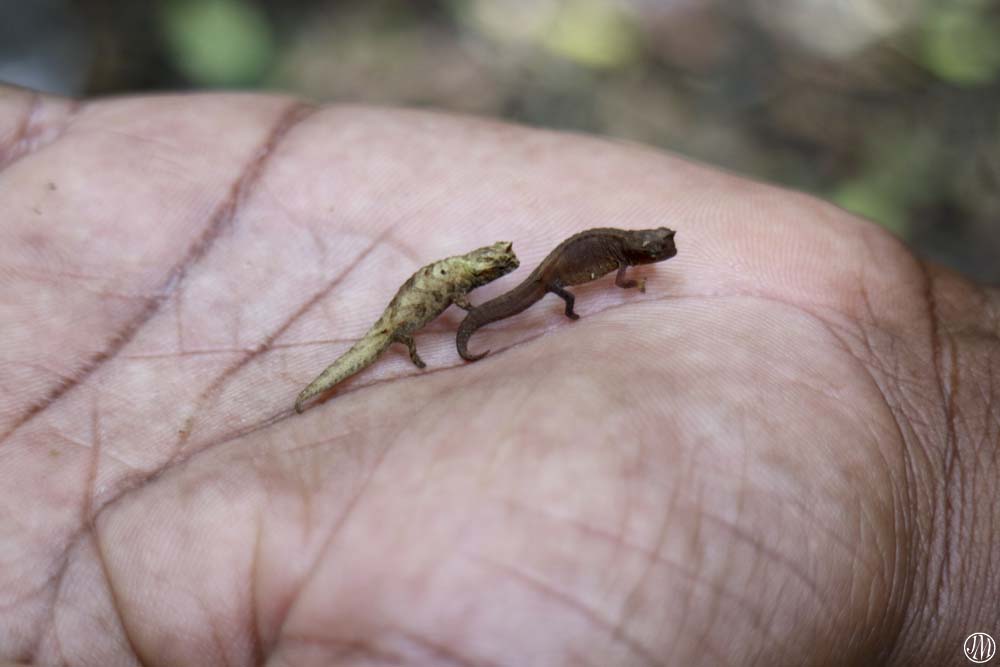 And then there were two. These are adult chameleons, so already at their biggest.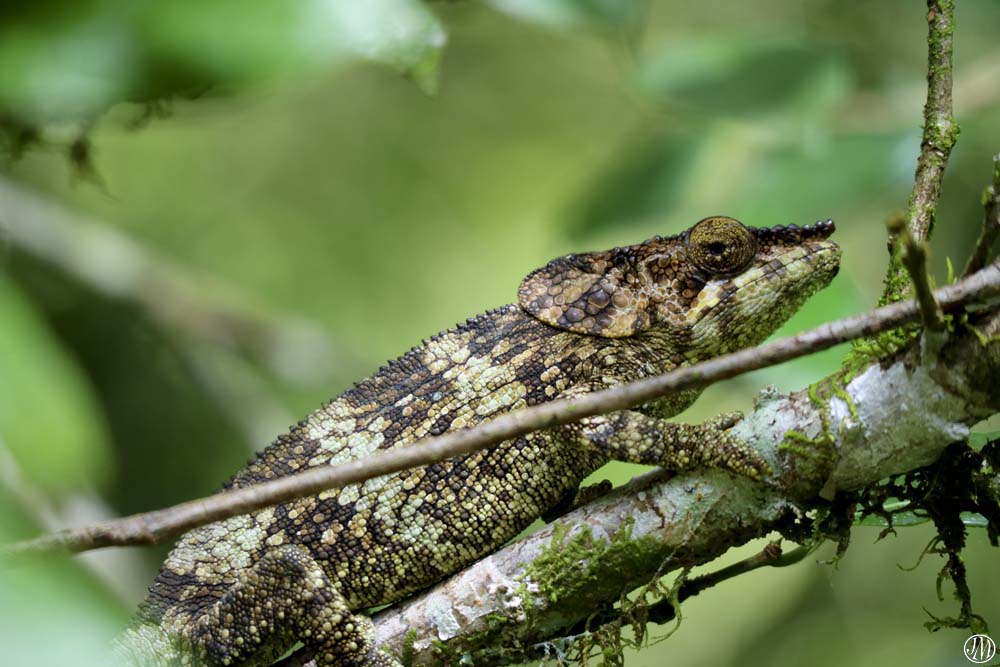 A much bigger specimen – this is an elephant-eared chameleon, and you can see why it is called thus.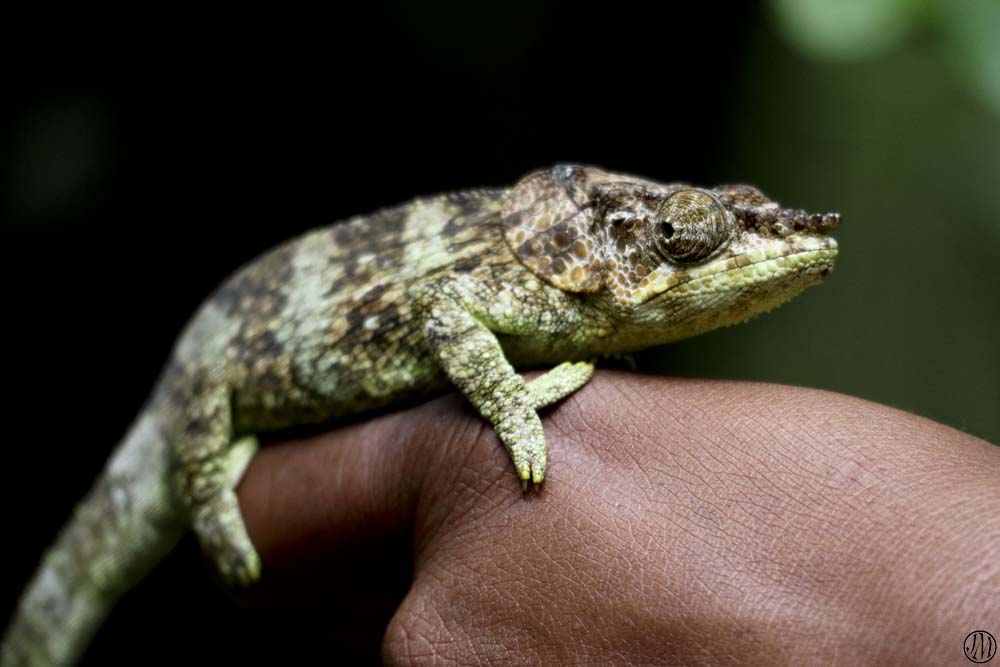 Another view which also shows their amazing feet with the toes splayed out. On the front feet, two toes on the outside,
three on the inner side, and on the back feet, this is reversed. This allows them to cling tightly to narrow branches.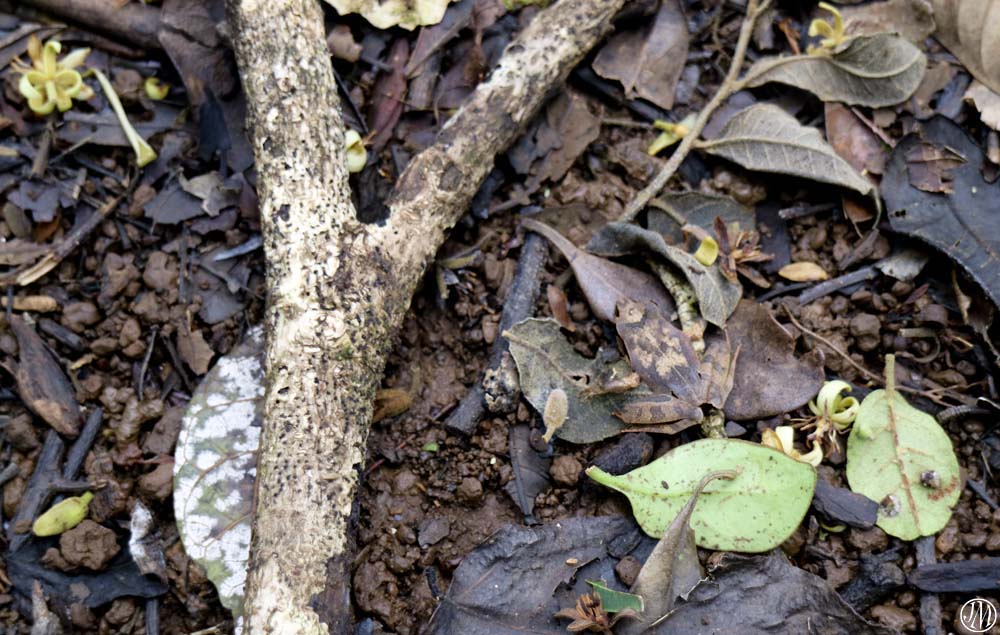 Even knowing the frog is there, it took me a while to find it in the photo. Can you see how well he blends in with the leaves?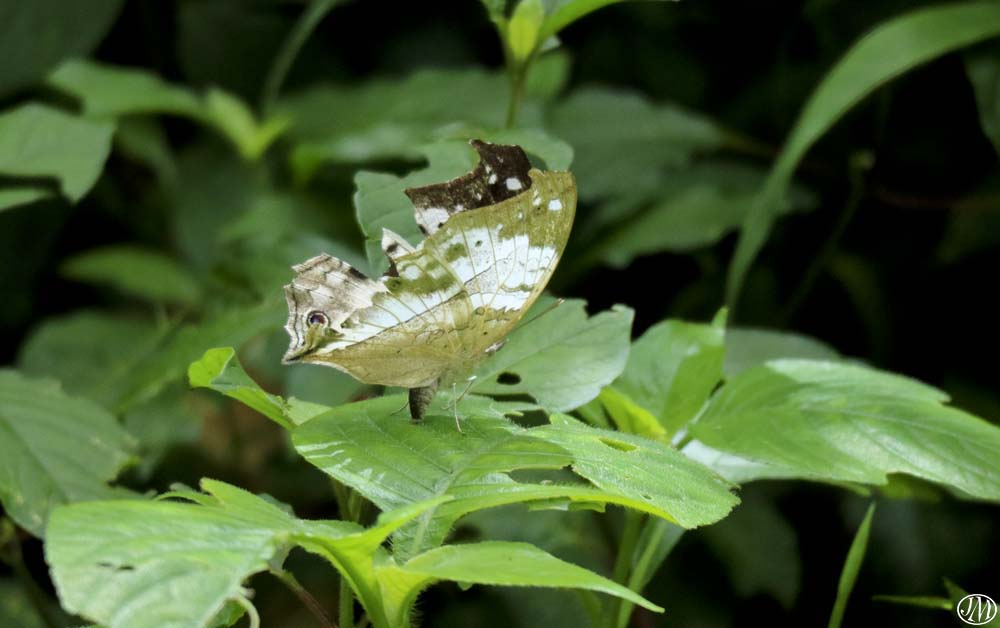 Also well camouflaged with its artfully ragged wings, this butterfly alighted on a leaf near me and politely waited
until I had the shot, before fluttering off.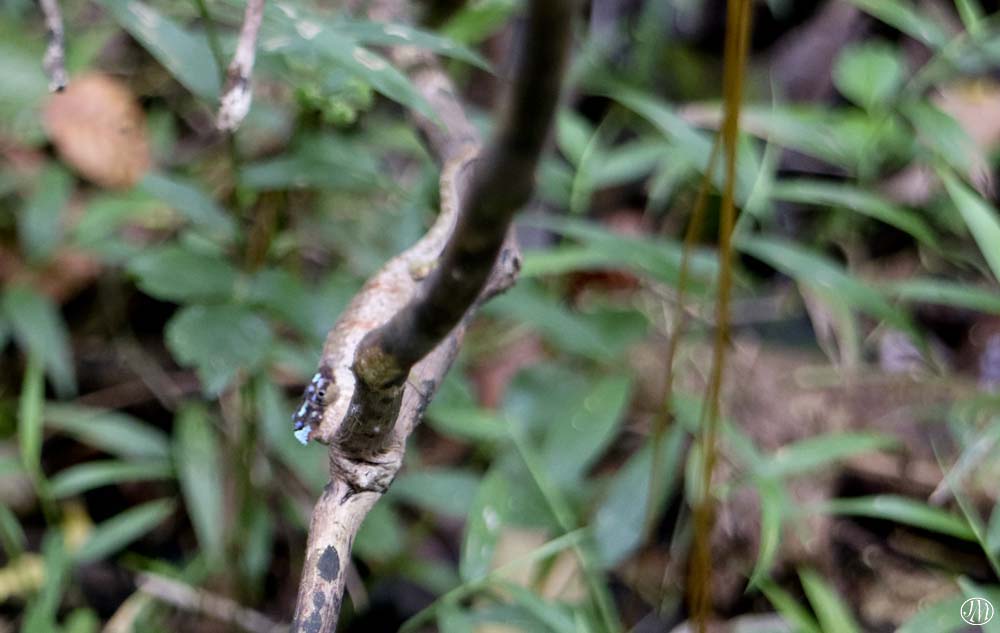 A blue-nosed lizard, almost invisible in its position on this branch.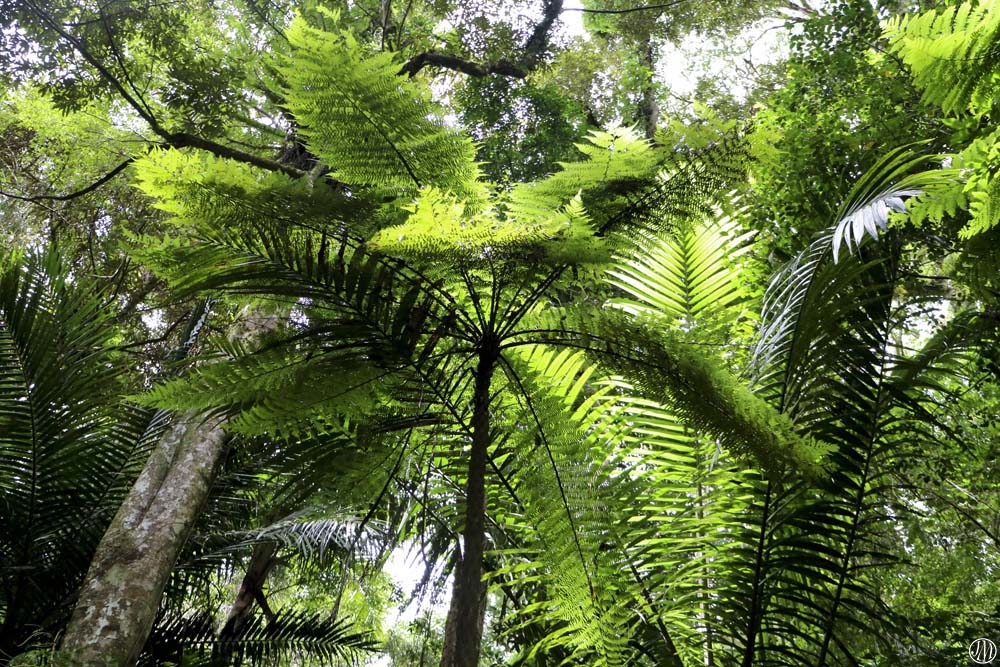 Looking up, a little sunlight above the canopy shows the tree ferns and other trees at their most vibrant.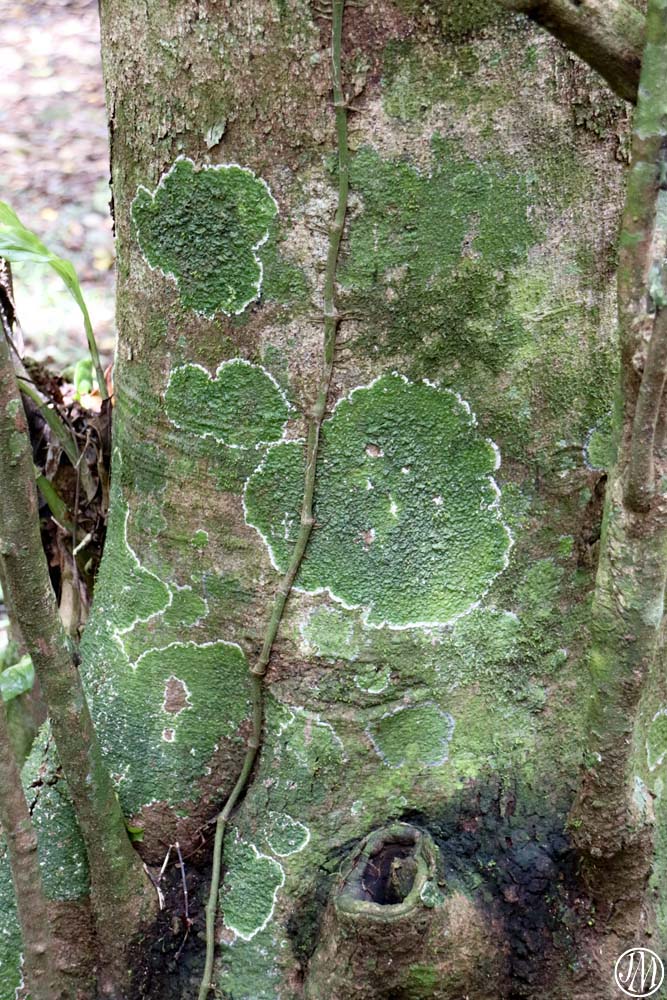 Nearer to the ground, on tree trunks and fallen, rotting logs, there were many types of fungi.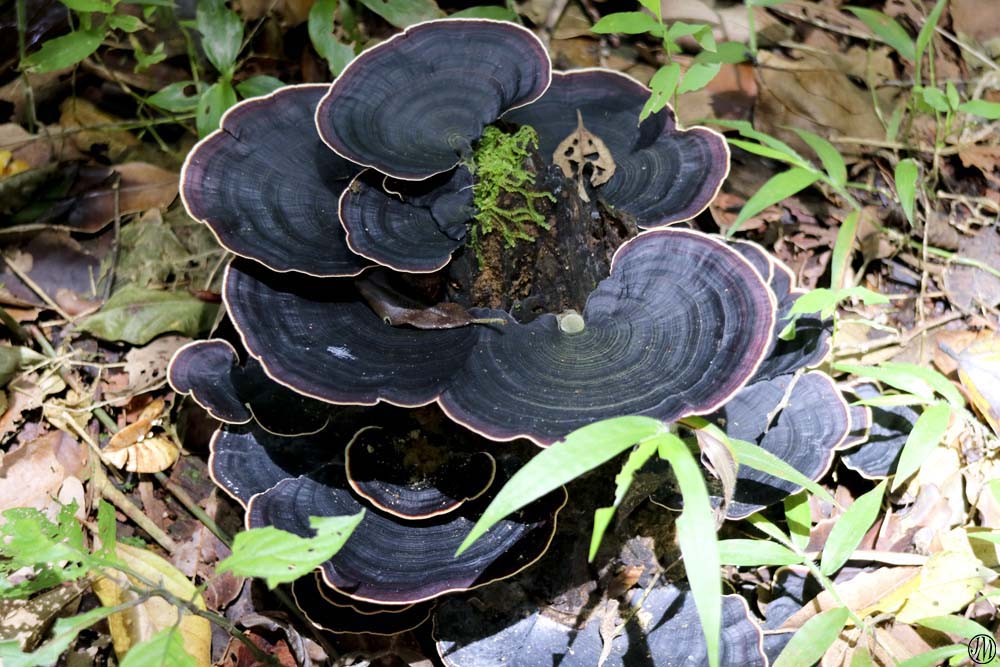 Beautiful dark whirls on this fungus, thriving on the forest floor.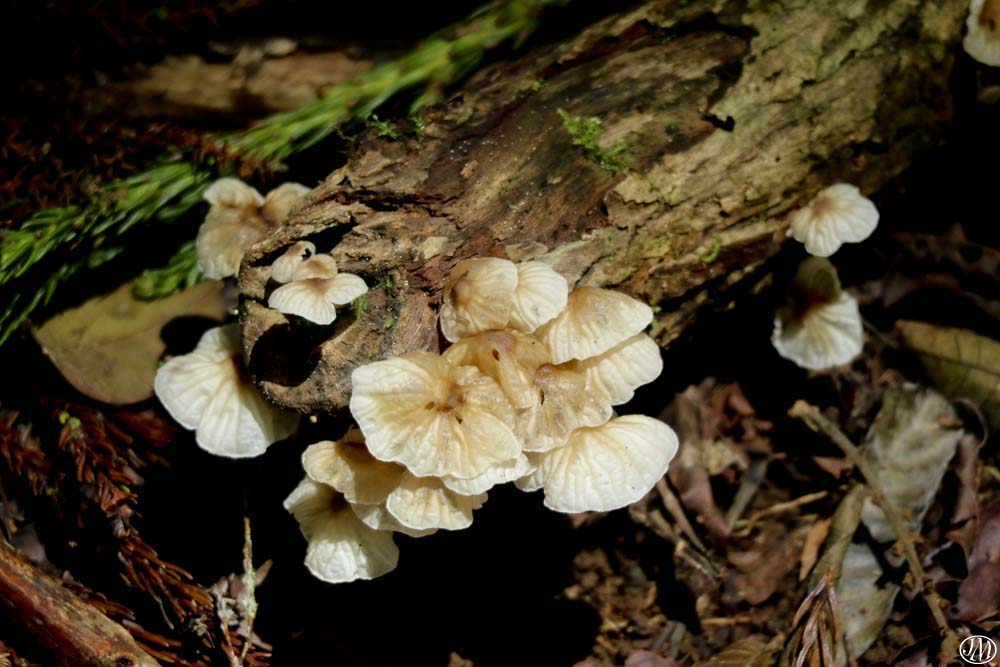 A more delicate pale fungus sprouting from a fallen tree trunk, looking a little like butterfly wings.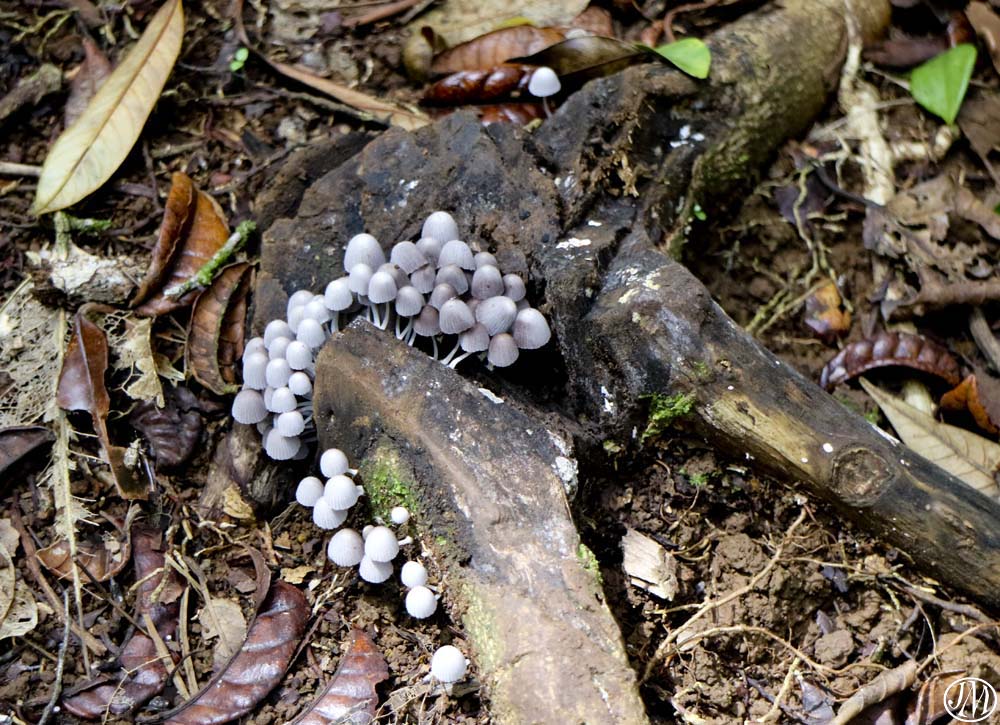 And this tiny community of toadstools looked as though it could house families of elves … maybe it does.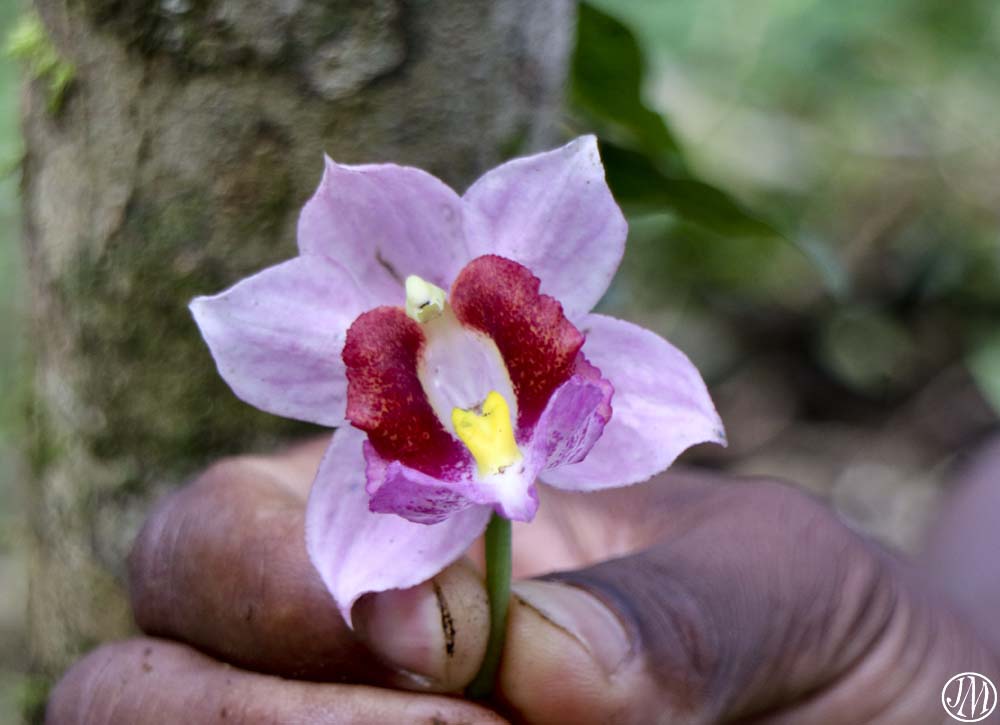 Although not yet the season for the orchids to bloom, we did spot one or two showing their true colours.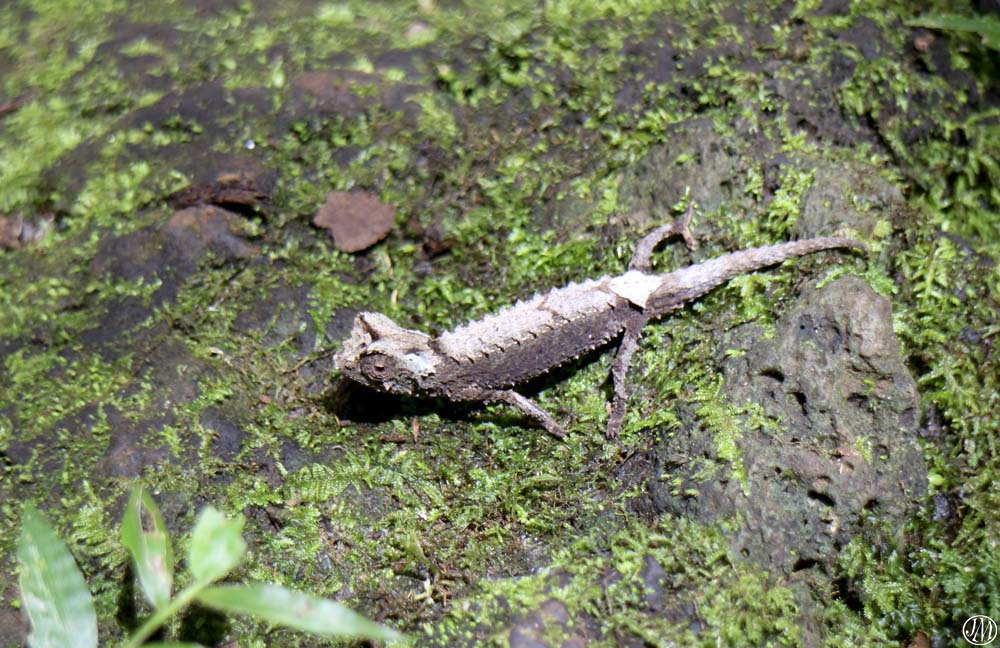 Another little chameleon, this one I think is called a dragon chameleon, but if you know otherwise, send me a message.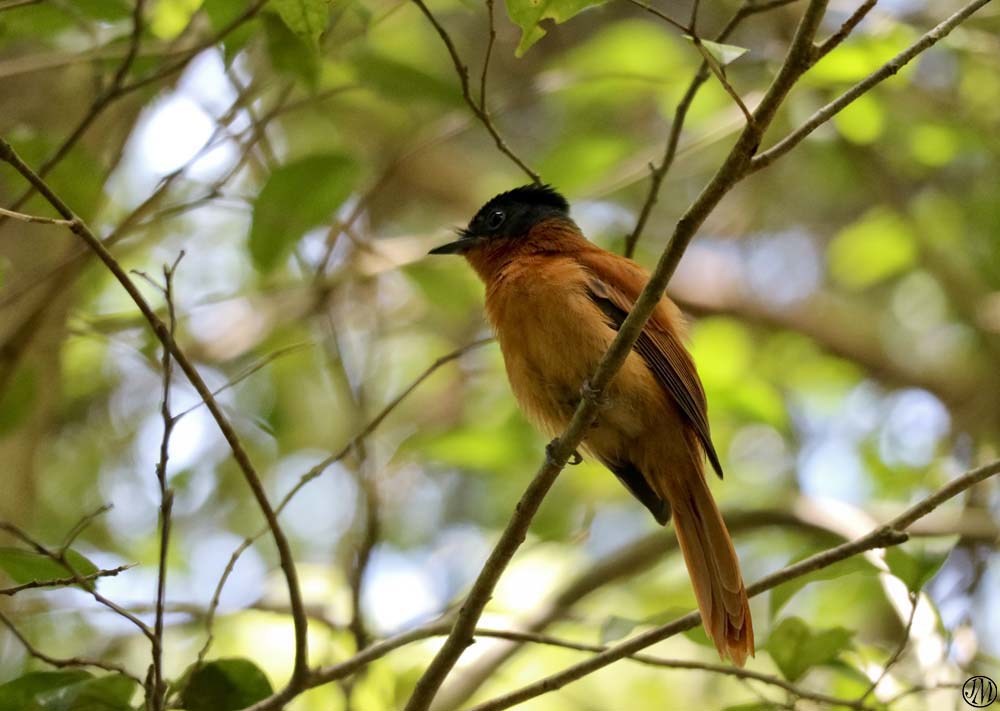 And above us, there were a number of birds flitting from tree to tree but very hard to photograph. For the life of me, I can't remember the name of this bird but think it might be a paradise bee-catcher – help Angelin, I need your advice.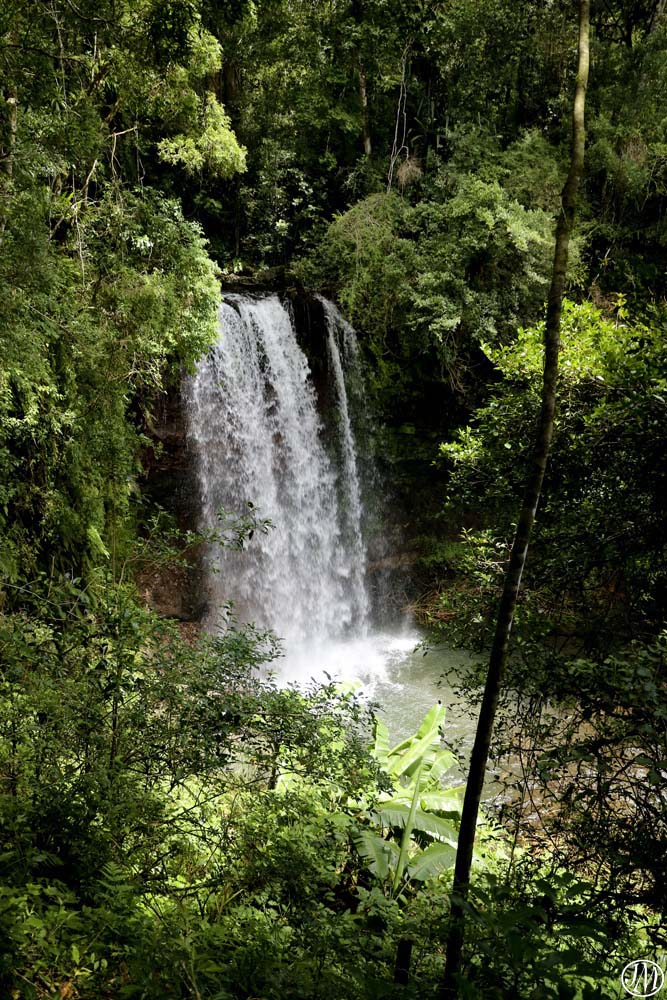 We stopped for a picnic lunch near this lovely waterfall which is considered sacred by the locals, with evidence of
offerings being made – coins and flowers on the bank of the little lake below.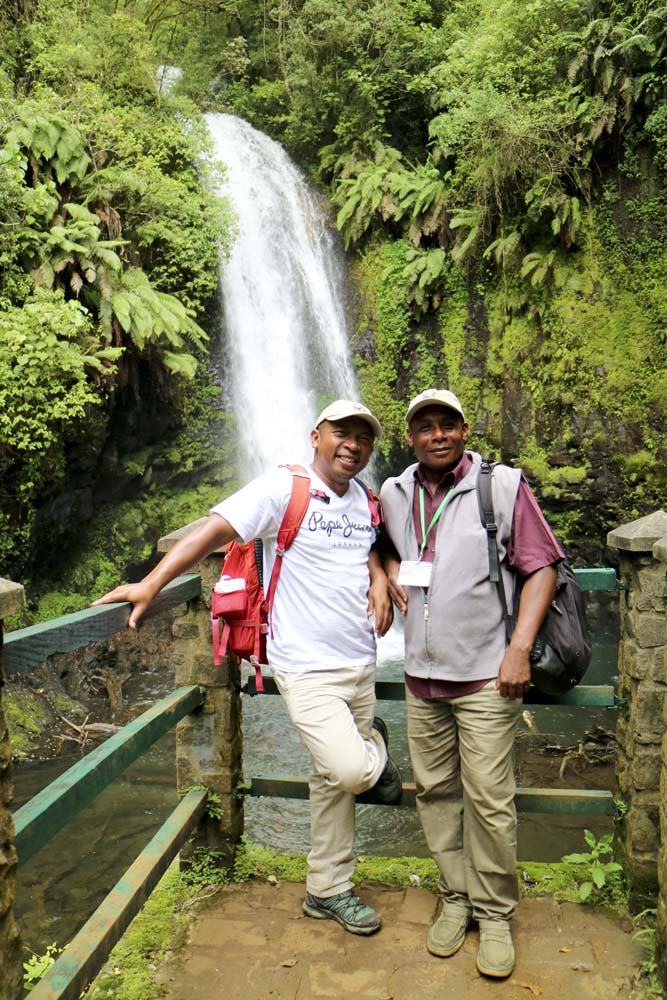 Our main guide Vy and local guide, sharp-eyed Angelin pose by the waterfall.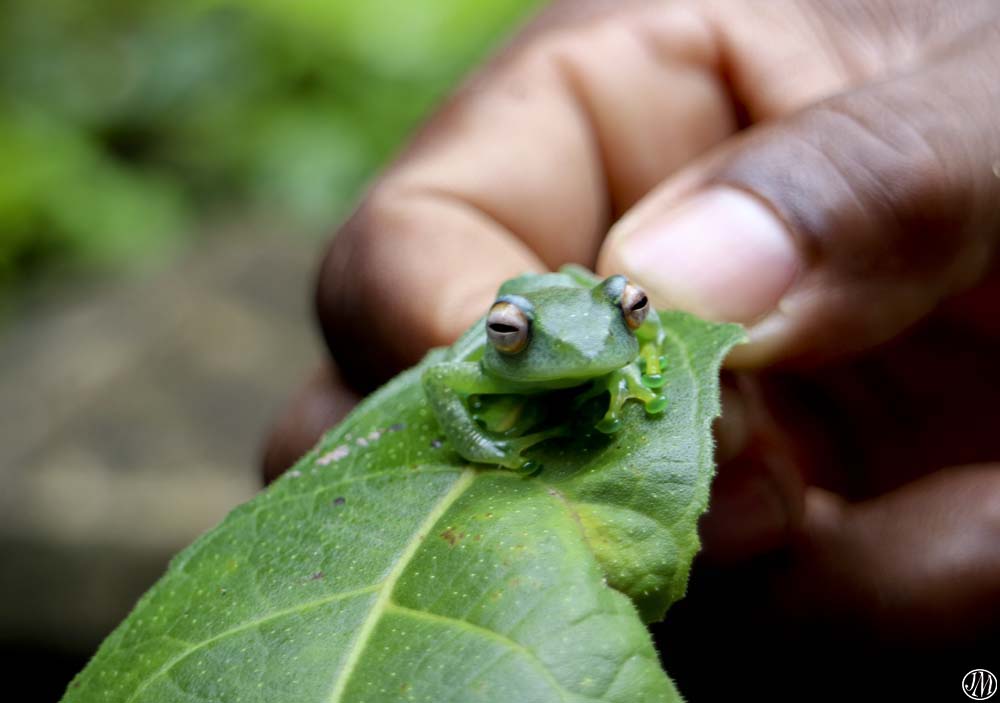 Angelin found a  little frog near the waterfall to show us …
… and then he returned him to his leaf.  Note the turquoise suction pads on his feet.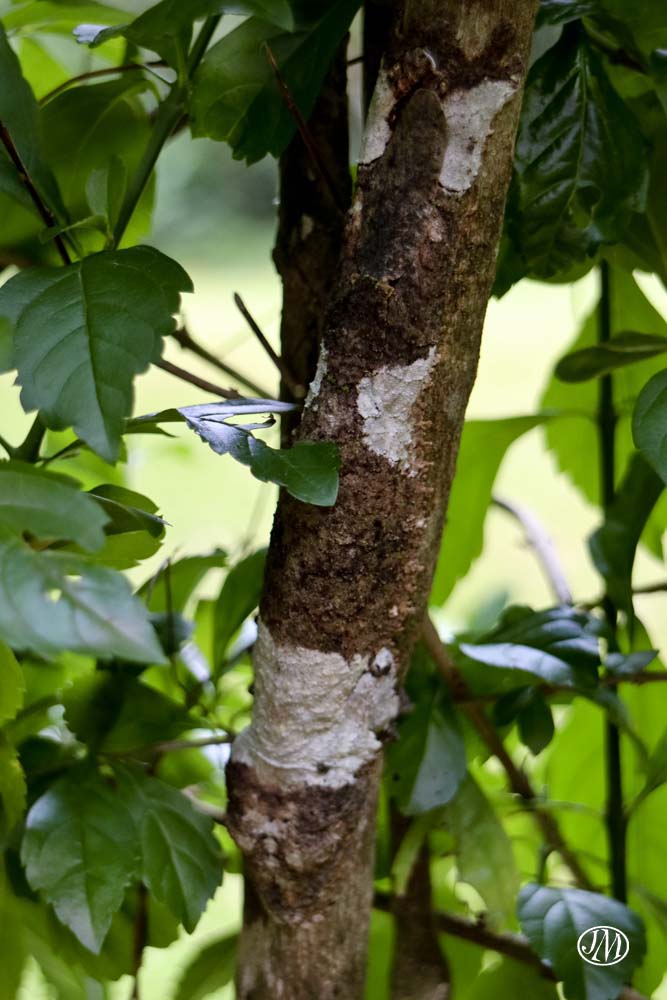 Another superbly hidden creature of the rainforest. Can you see it?  In reality, it took me several minutes to see what it was.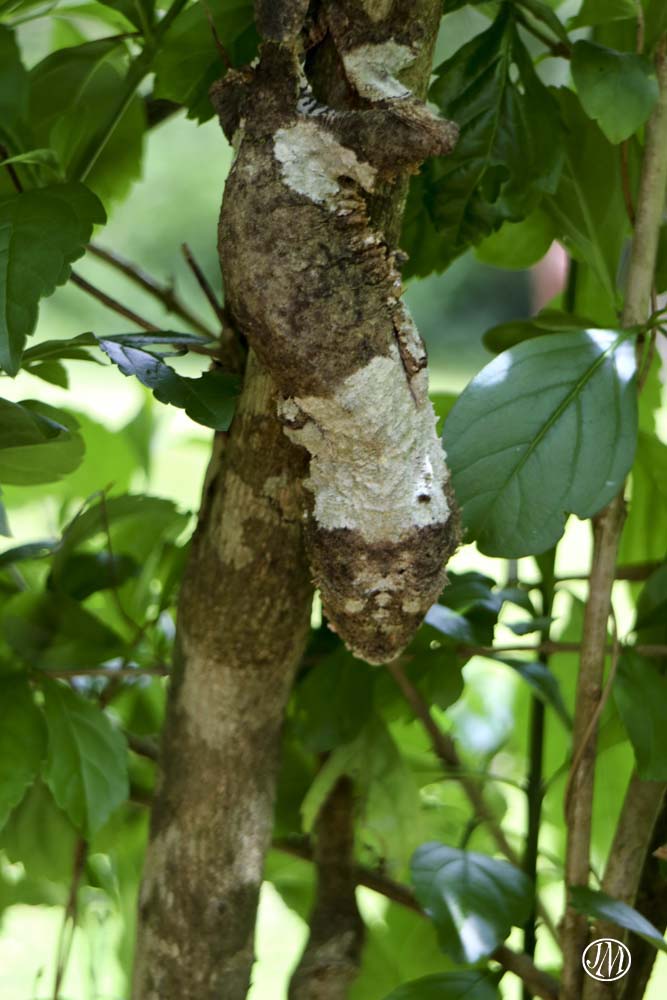 It moved its head, and then it became clearer – it is a moss leaf-tailed gecko.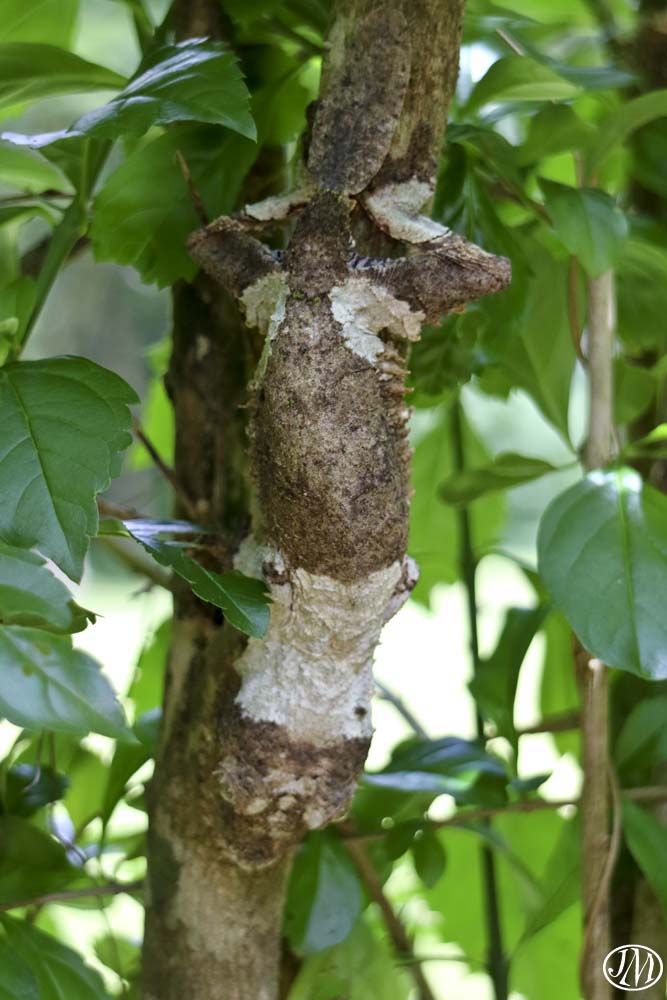 And with its legs flexed, it becomes even clearer. I marvelled at how easily Angelin could spot these things.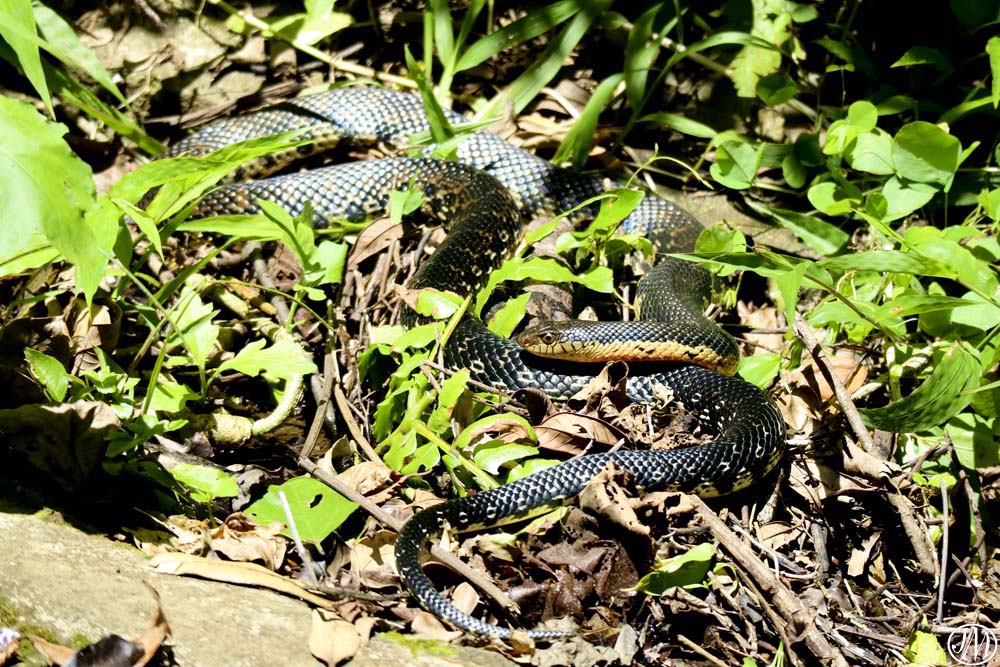 A bit off the path but also blending into the undergrowth, there was a rather larger reptile – a boa snake. I took a quick photo and moved on, not being very fond of these but at the same time admiring their beauty.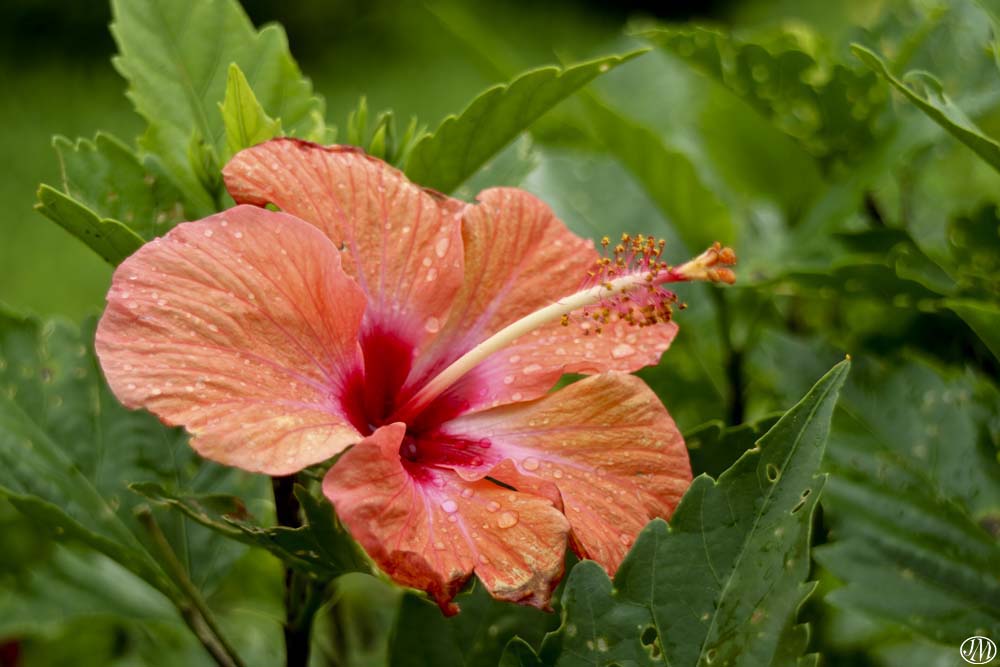 A little more attractive to my eye, a red hibiscus blooming by the roadside, drops of rain clinging to the petals.
On the way back to Diego Suarez we made a couple of stops and the view back down to the huge bay – Antsiranana Bay – on which the city is situated was magnificent.  This bay is evidently the second largest bay in the world after Rio de Janeiro's  Guanabara Bay. In days of old, this sheltered bay with just one entrance from the sea was a thriving port for pirates.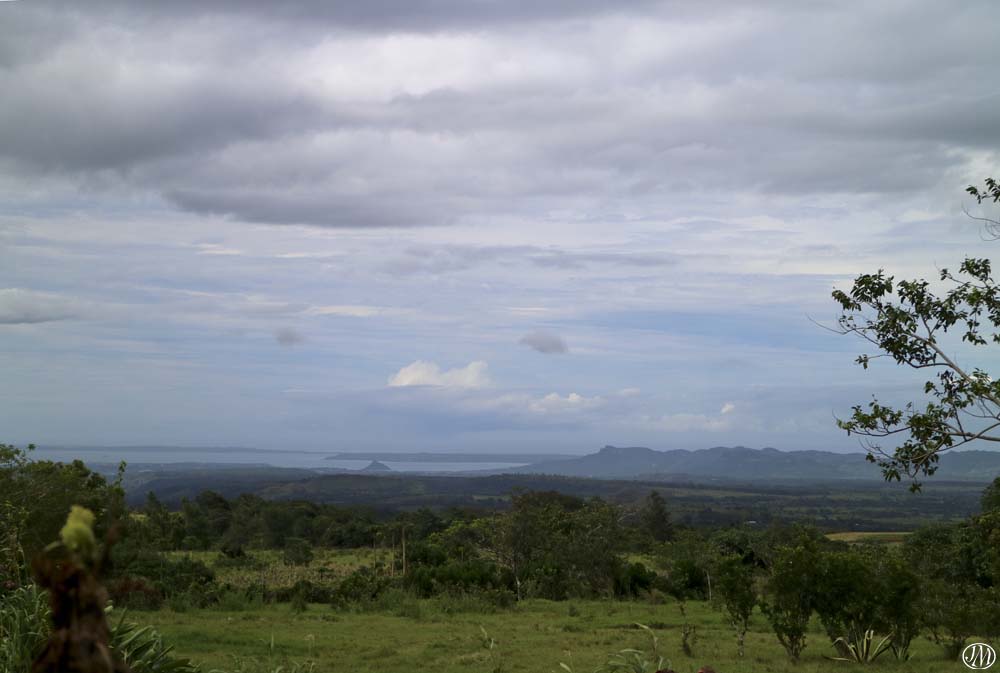 The view looking across the lowlands to Antsiranana Bay, more rugged mountains to the right.  
It was while we were taking in the view that I found a wonderful specimen of the Panther Chameleon, and followed his progress from leaf to leaf. Humour me, while I show you several of the photos. Don't you just love him?  And that eye!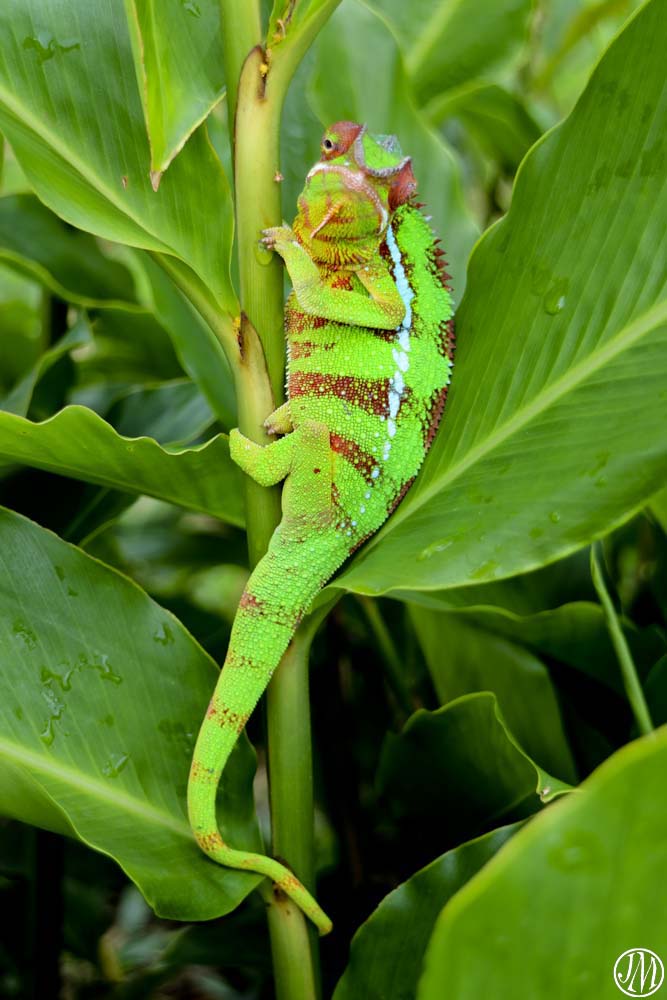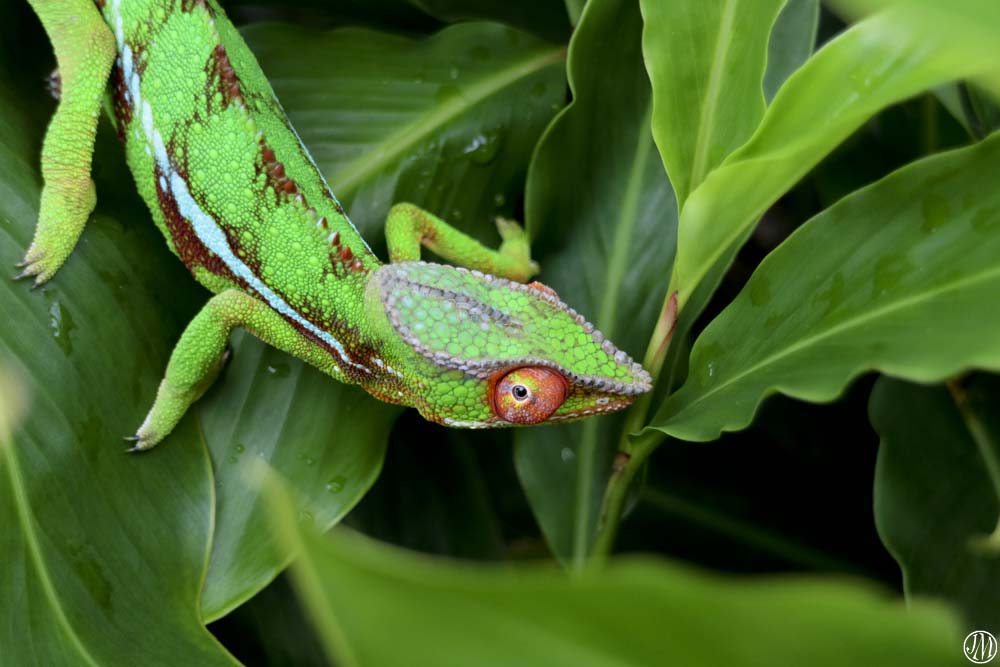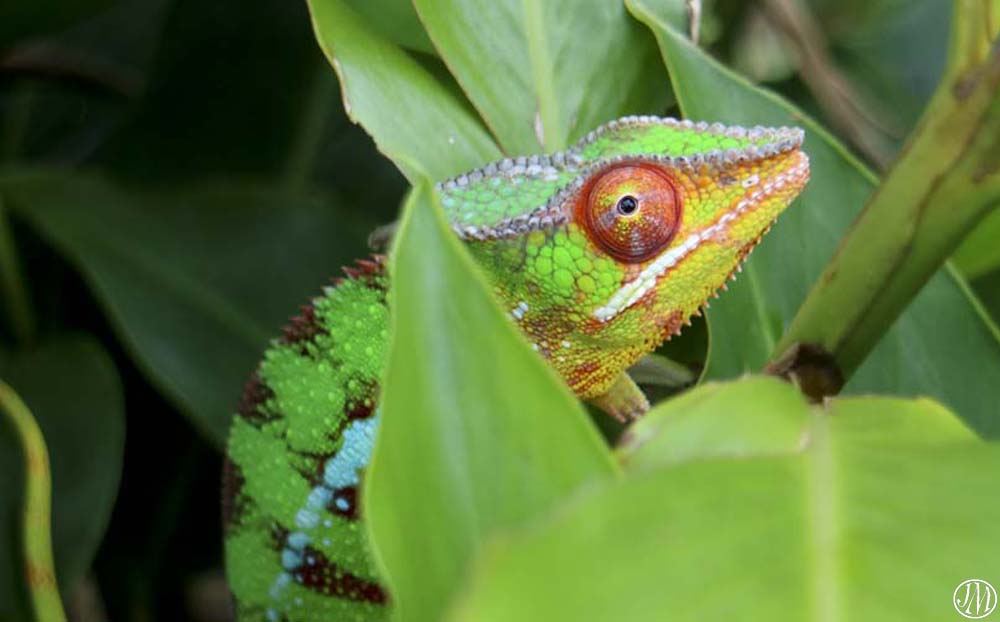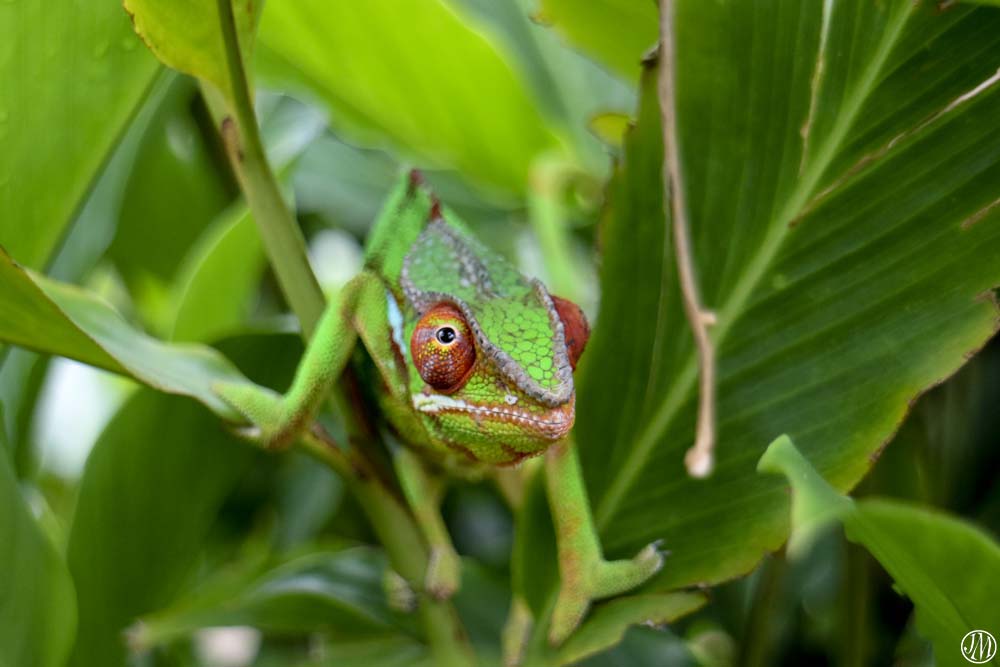 On our drive back down to the city, we came upon this little group of children who waved their greetings and I asked our driver to stop so I could climb down and talk to them and catch a photo.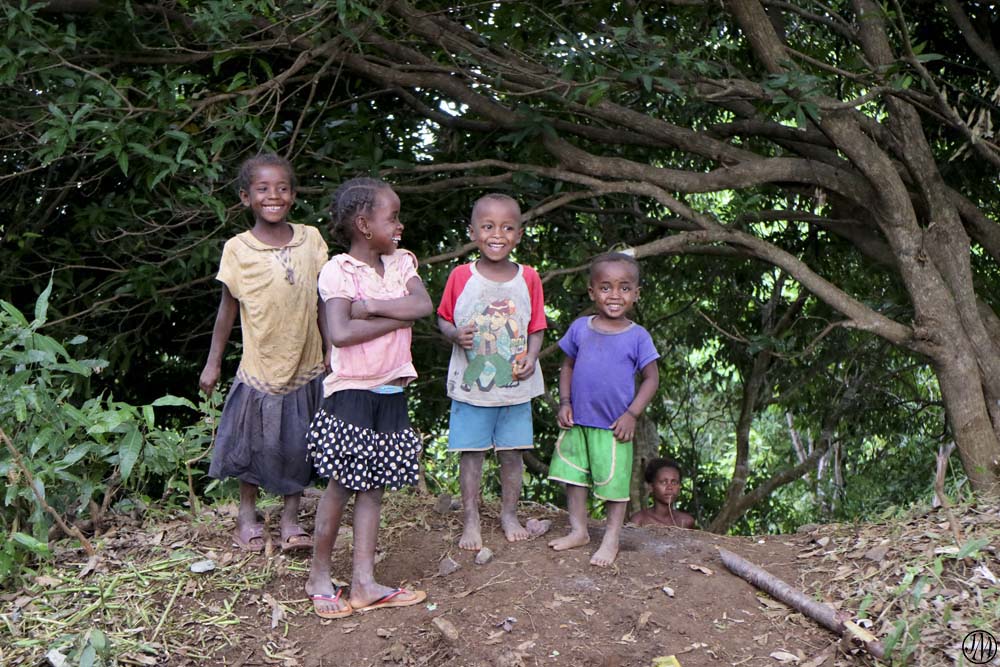 They thought it great fun, although the older sibling behind was a little more reserved.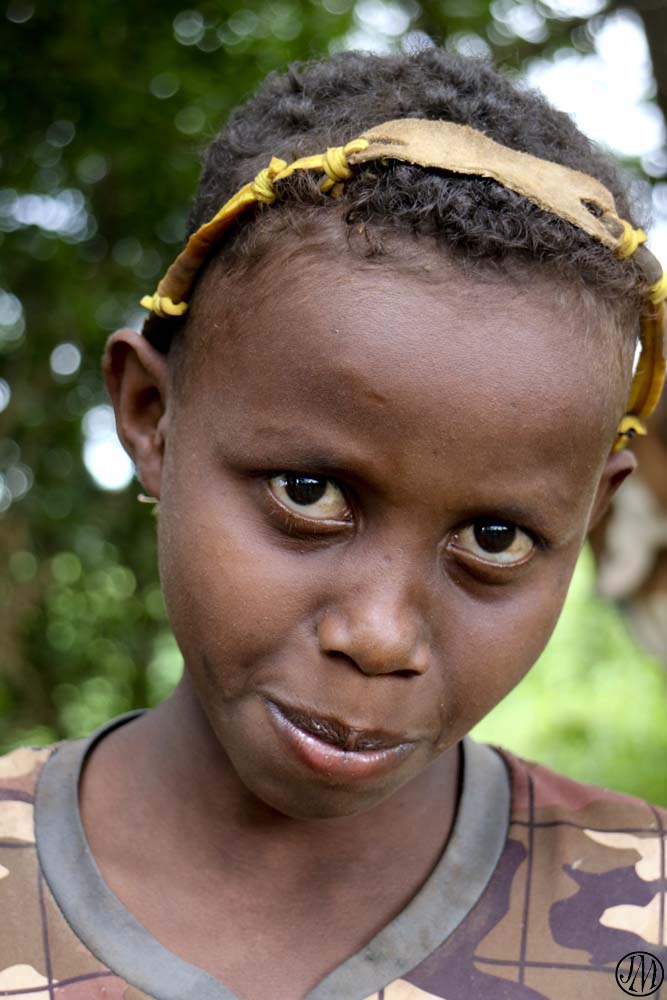 As if on cue, another boy arrived to be photographed, his catapult handily slung around his head.
And then he brought his calf to show me and posed proudly beside it. What a great shot to end a lovely day.
After our stay in the north, we returned for an overnight stop in the capital Antananarivo, and the next morning flew to Port Dauphin in the far south of the country. From there we took another fairly amazing road trip to Berenty Private Reserve which will be the story for my next blog – coming in the next days – keep an eye out for it.
Until then, thank you for following my stories,