Dear friends,
There is no doubt that the Thai kitchen is one of the world's most recognized and appreciated cuisines. Over the years living here in Chiang May, I have sent many visitors to cooking classes although have neglected to do one myself.
However, this has been rectified as last weekend I had the opportunity to take a cooking class with Chef Art, Thai Iron Chef 2018, which was offered by the Four Seasons Resort, Chiang Mai at their famous Rim Tai Cooking School.  I was joined by my friends Dominique, Nat and Pierre to benefit from this really interesting learning experience, and what a fun day we had.
First off we headed over to the resort's vegetable and herb garden and after donning rubber boots and straw hats, we were suitably clad to see, touch and taste the fruits, vegetables and herbs grown there.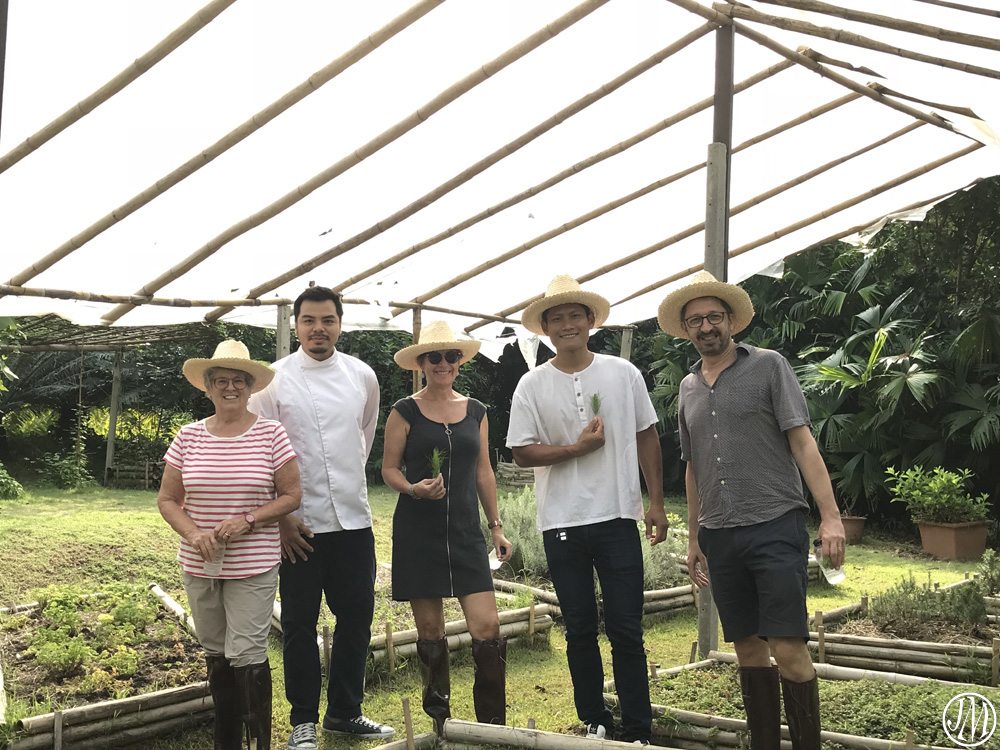 Our group with Iron Chef Art by the herb garden.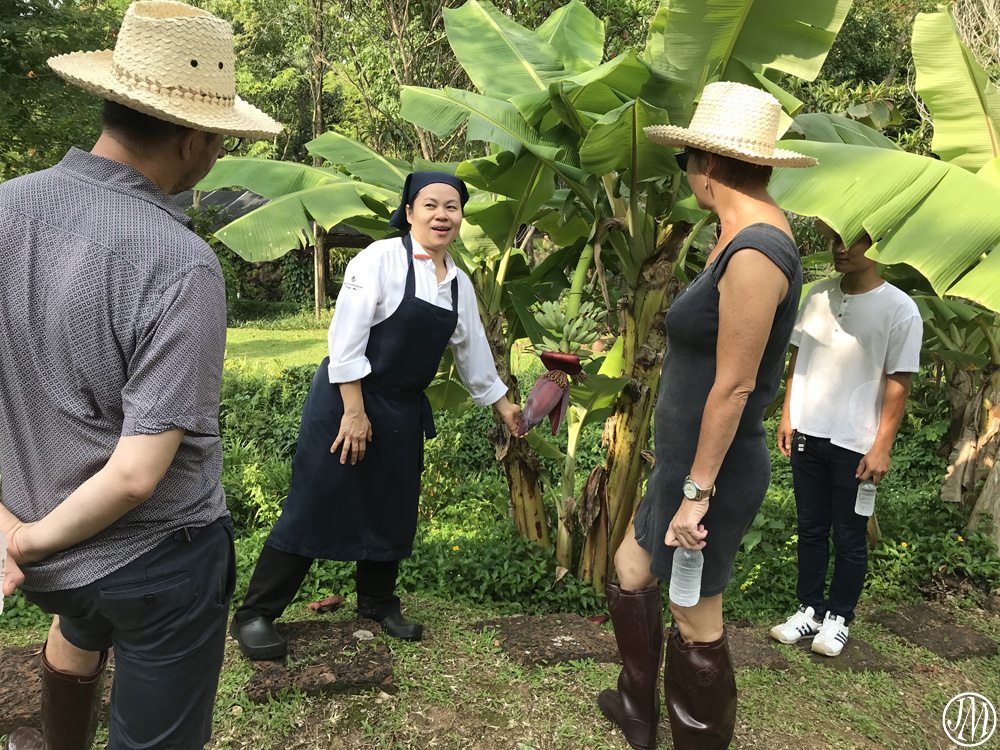 Chef Nan shows us one of the magnificent banana flower blossoms.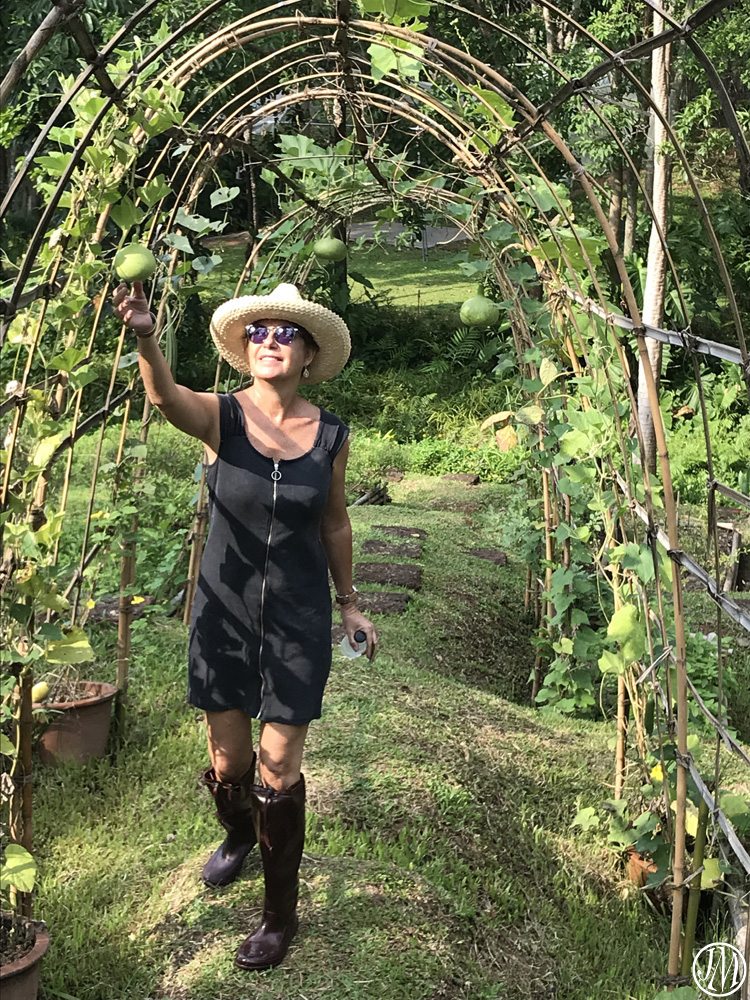 Dominique checks some of the ripening gourds.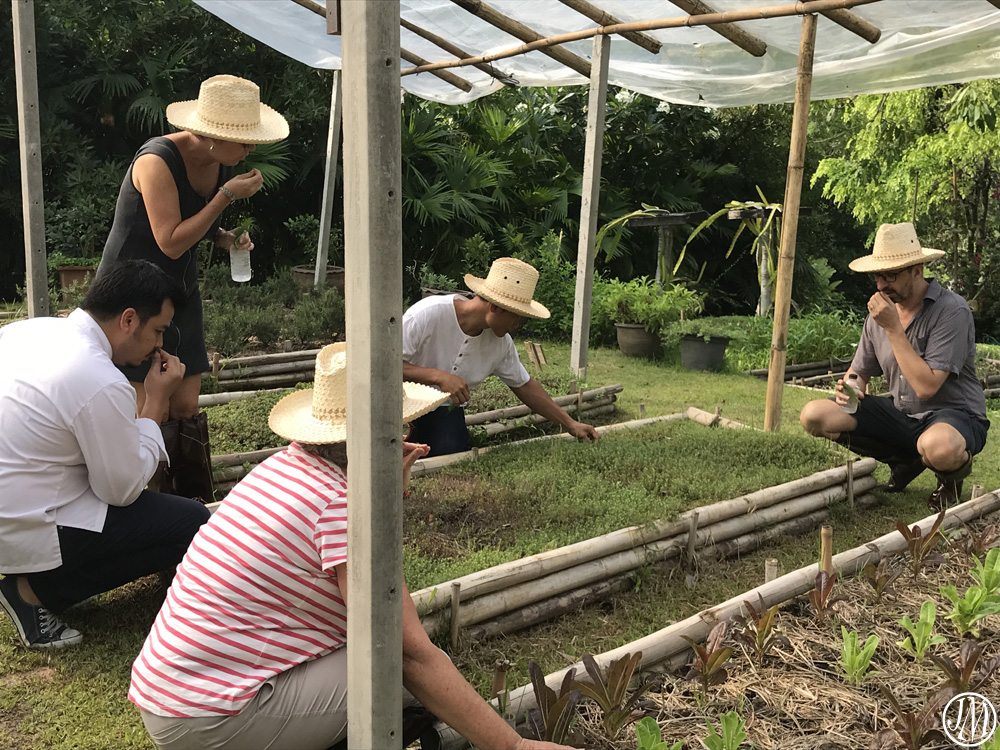 Smelling some of the herbs we are going to cook with.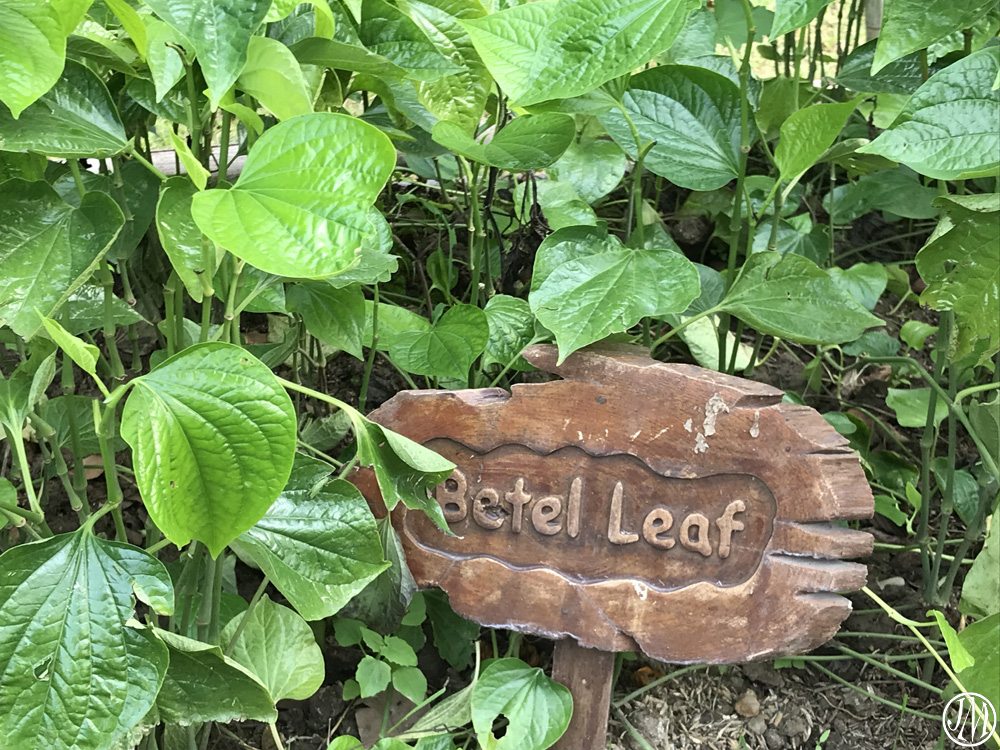 First tasting was one of my favorite Thai Snacks – Miang Kham – deliciousness wrapped in betel leaves.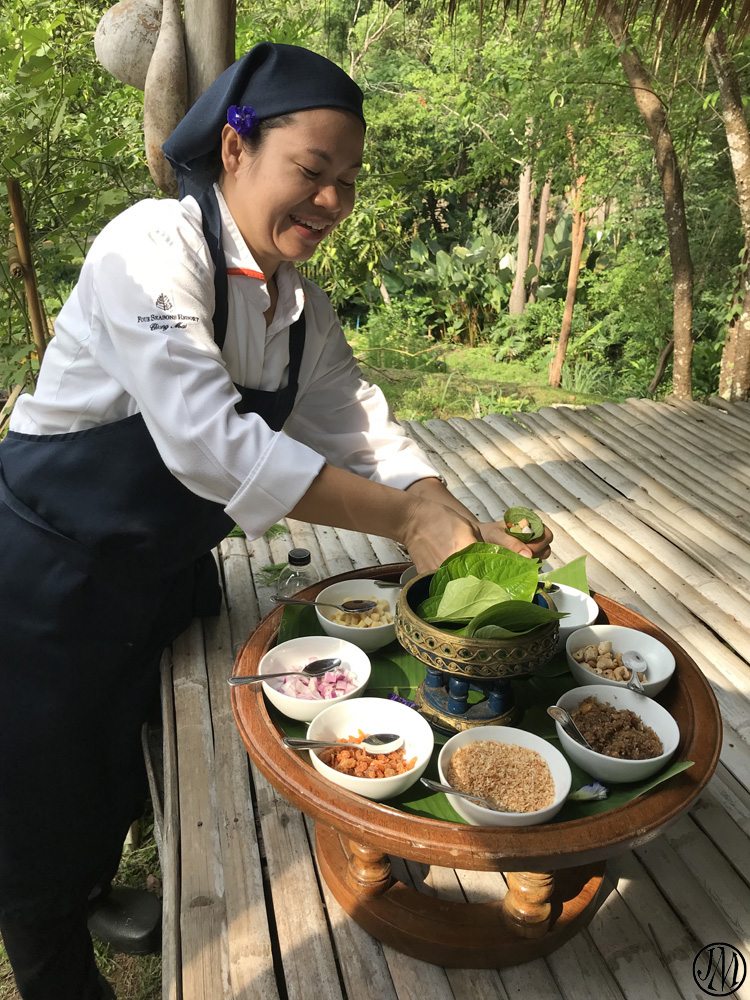 Everything had been prepared for us. Chef Nan shows us how to fold the leaf and add the ingredients.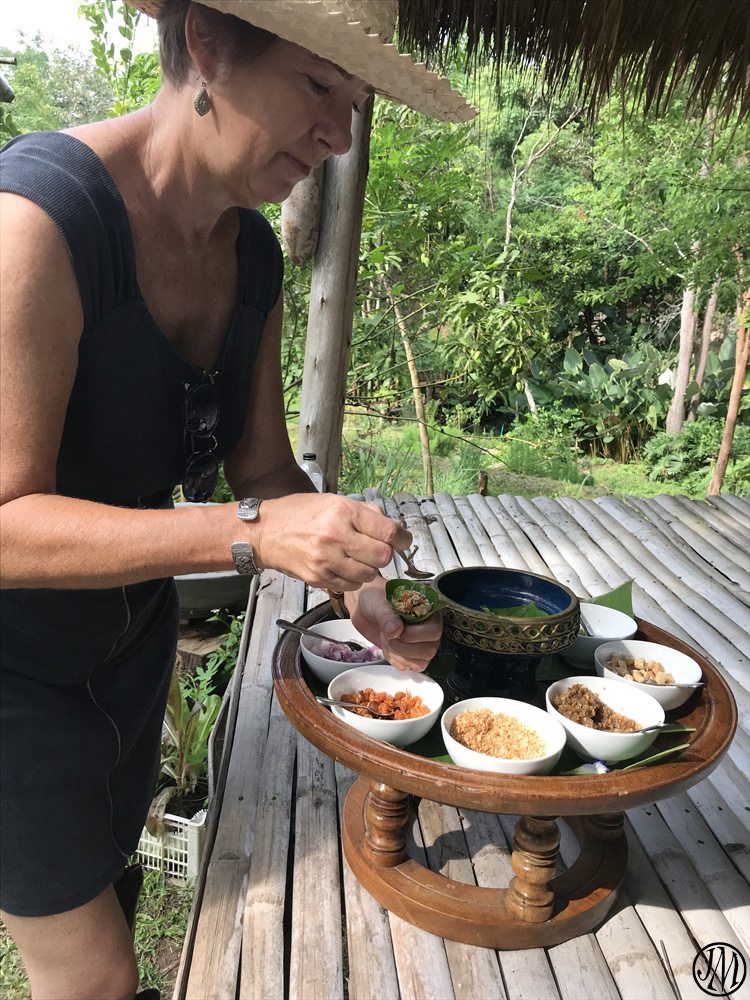 Cup the leaf in one hand and add the spice mixture, coconut, dried shrimp, ginger, lemon, chili, onion
and peanuts, then pop the whole thing in your mouth – yummy!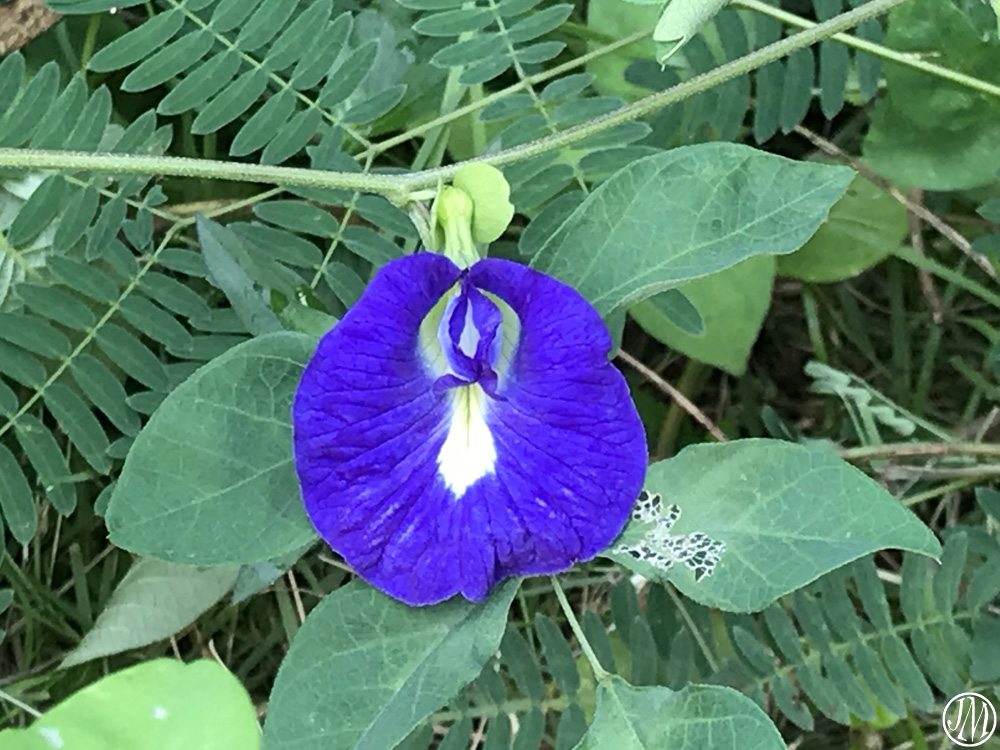 Next we tried the butterfly pea drink, made from lemongrass, lime and this flower, a variety of sweet pea
used to flavour and colour many dishes.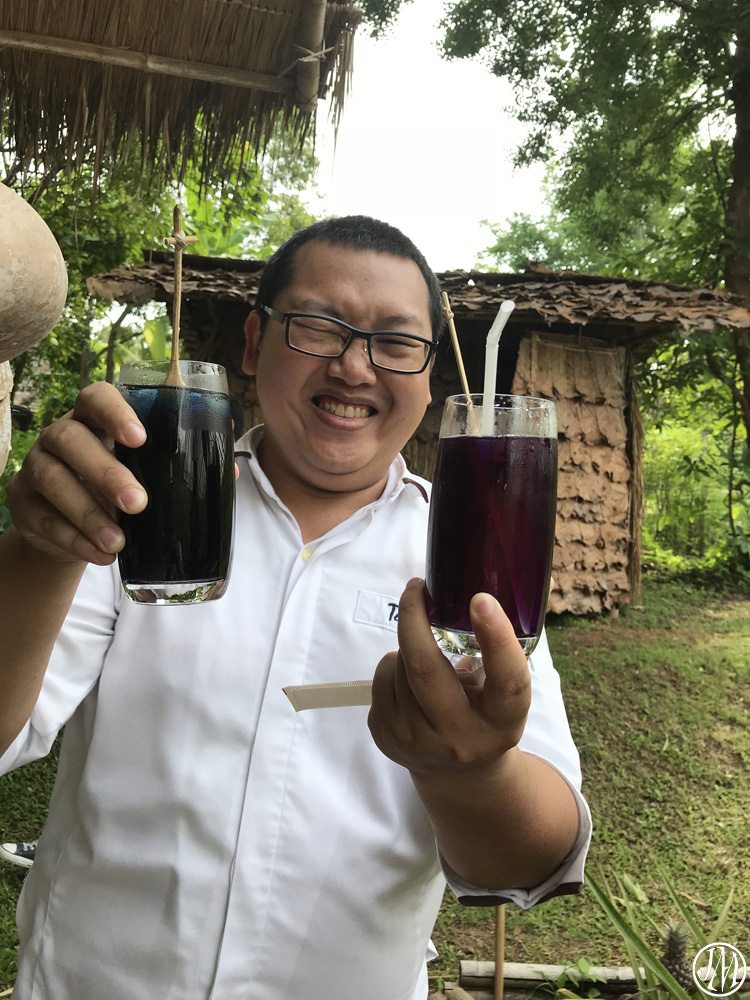 Chef Tor explains the making of the special tea, and has us compare the original colour on the right and the lovely indigo it becomes once a slice or lemon is added.  It's cool and sweet, perhaps a little too sweet.
After our stint in the garden, we returned to the main part of the hotel for a magnificent breakfast at the resort's Khao restaurant with a selection to die for. Of course we had to stop off to say hello to the resort's famous buffalos, spick and span in the early morning ready for photo ops with the guests.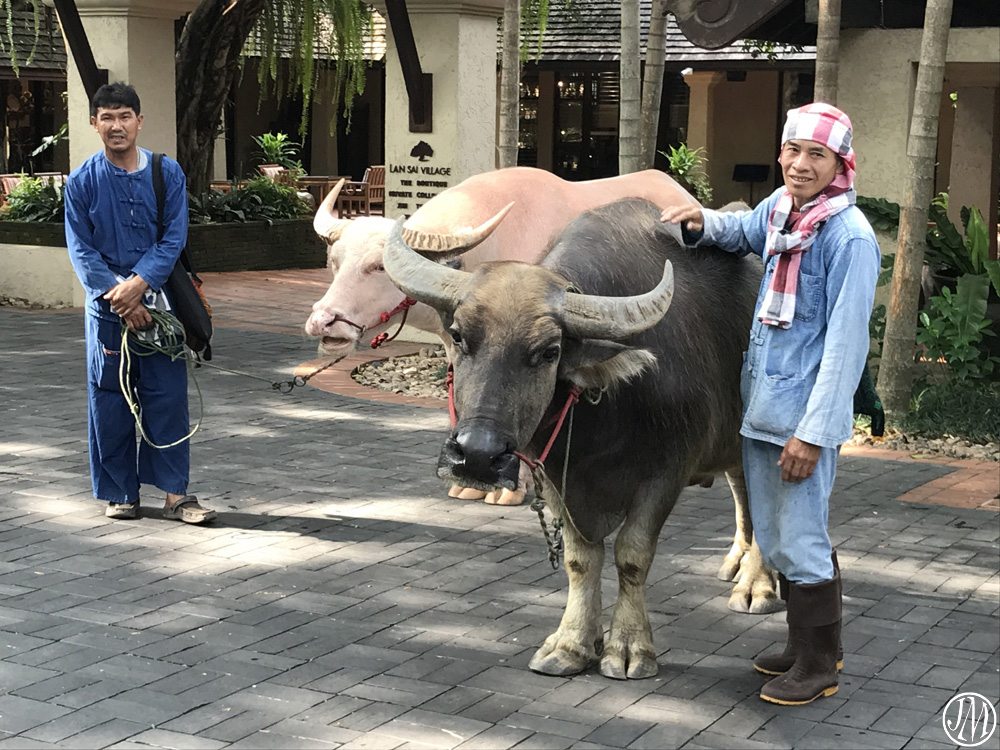 Then, it was time to get down to the real business of the day, and watch and learn as Chef Art walks us through three dishes, which are his creations what he calls Thai fusion, with interesting twists on traditional dishes.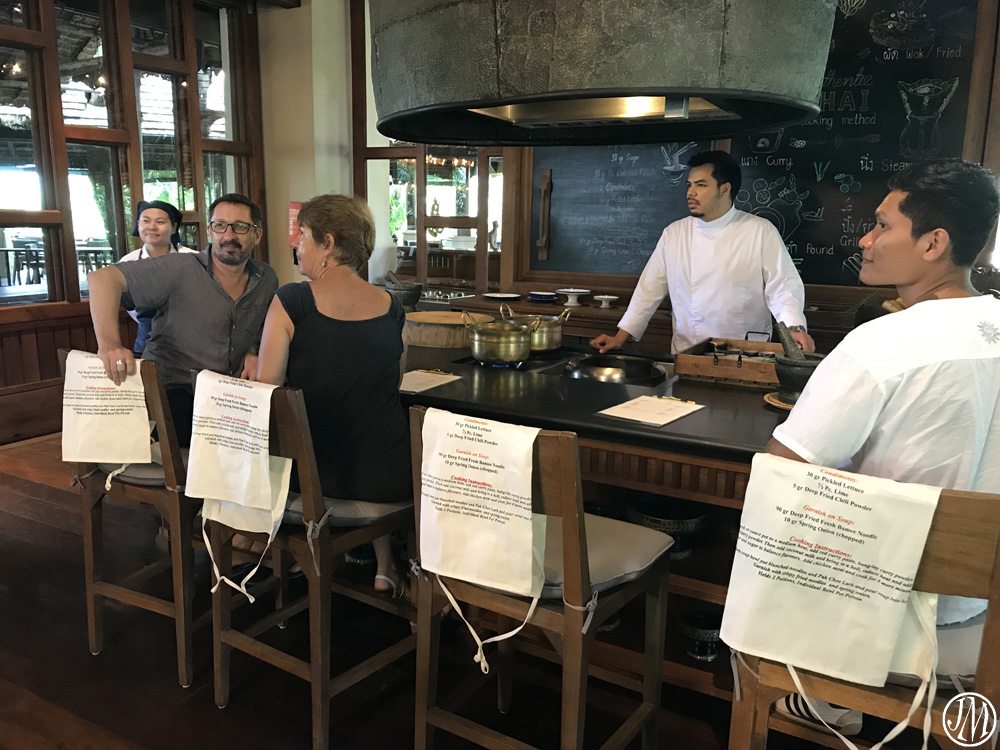 Ready for the first demonstration – Sakana-Yaki – Cat Fish Balls, and the aprons are waiting for us.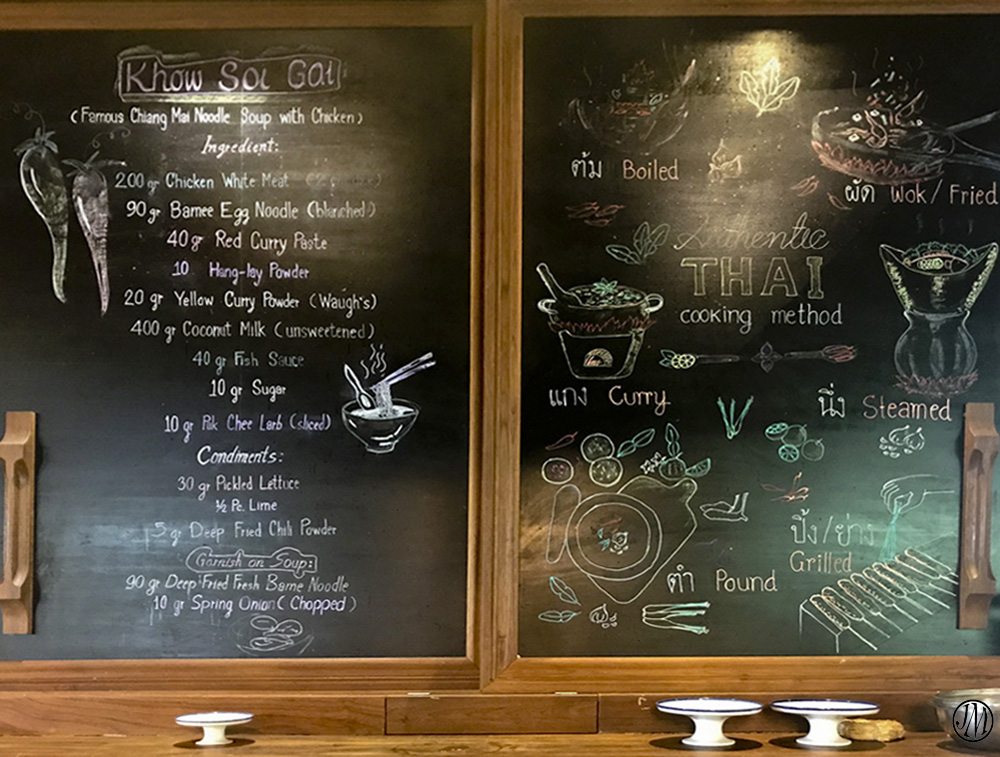 Beautifully illustrated additional information on the blackboard behind.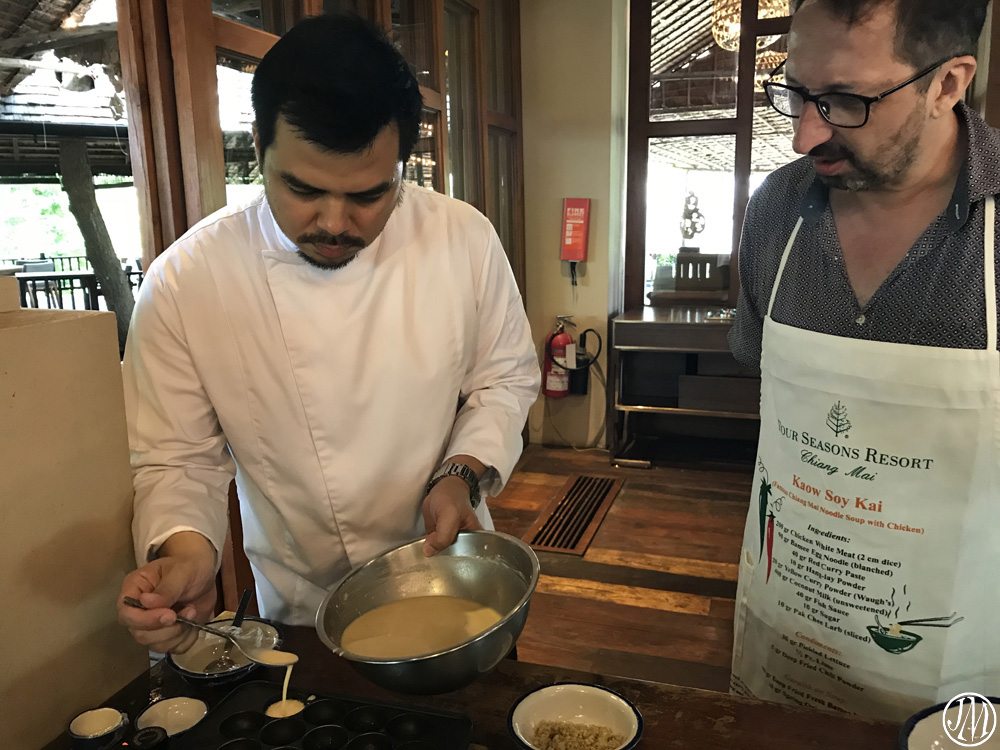 After making the batter, he showed us how to form the balls and fill them with minced catfish, a little at a time.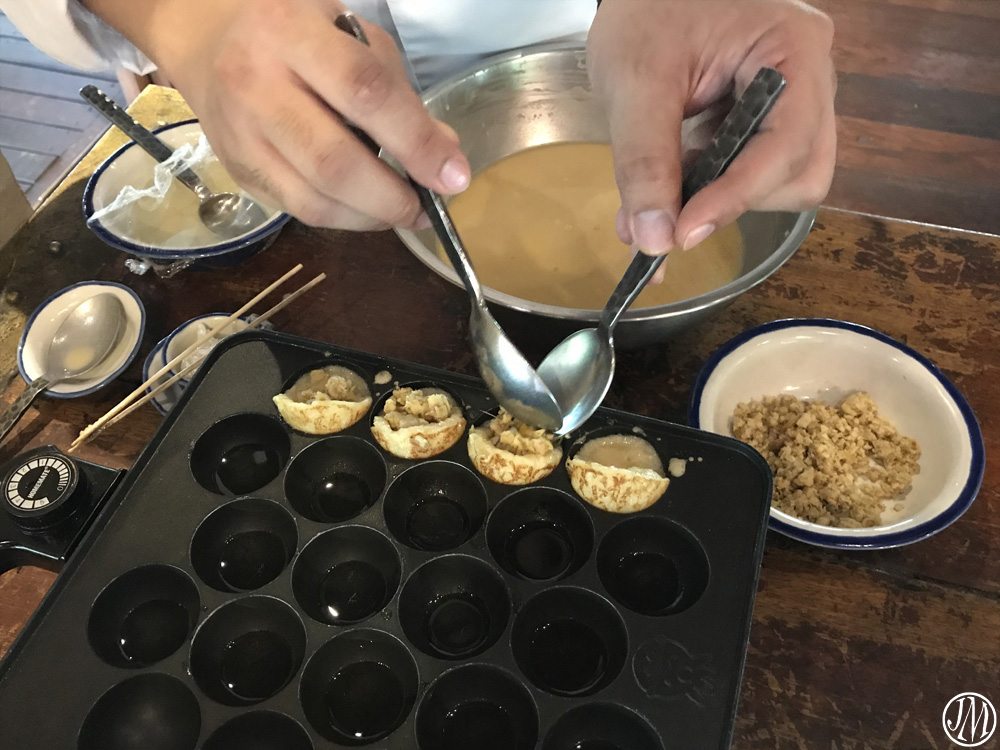 Already turned once and more filling added.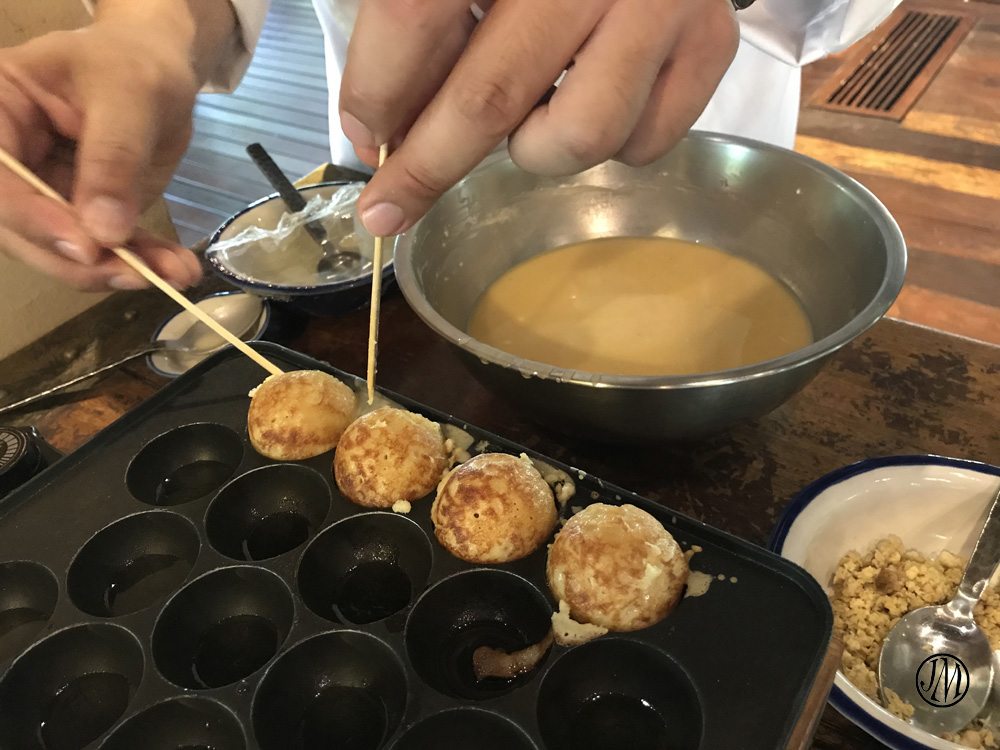 Turning them gently with the skewers to get them evenly round and browned.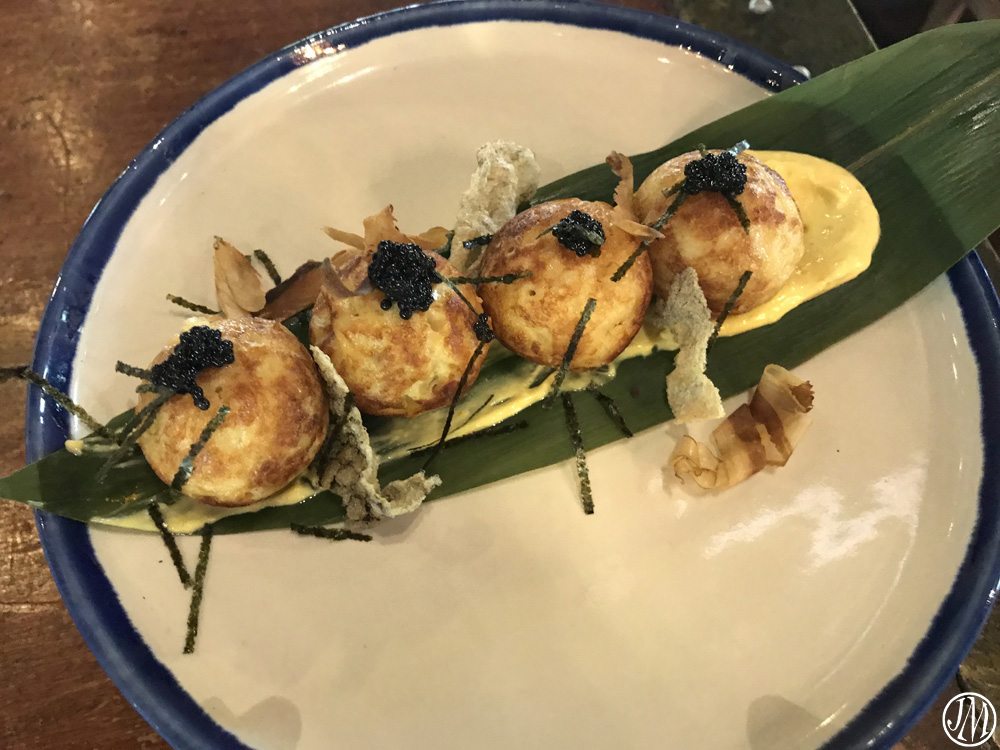 Chef Art's plating of the Sakana-Yaki – Cat Fish Ball garnished with crispy skin and Doi Inthanom Sturgeon Caviar.
Then it was our turn to try ….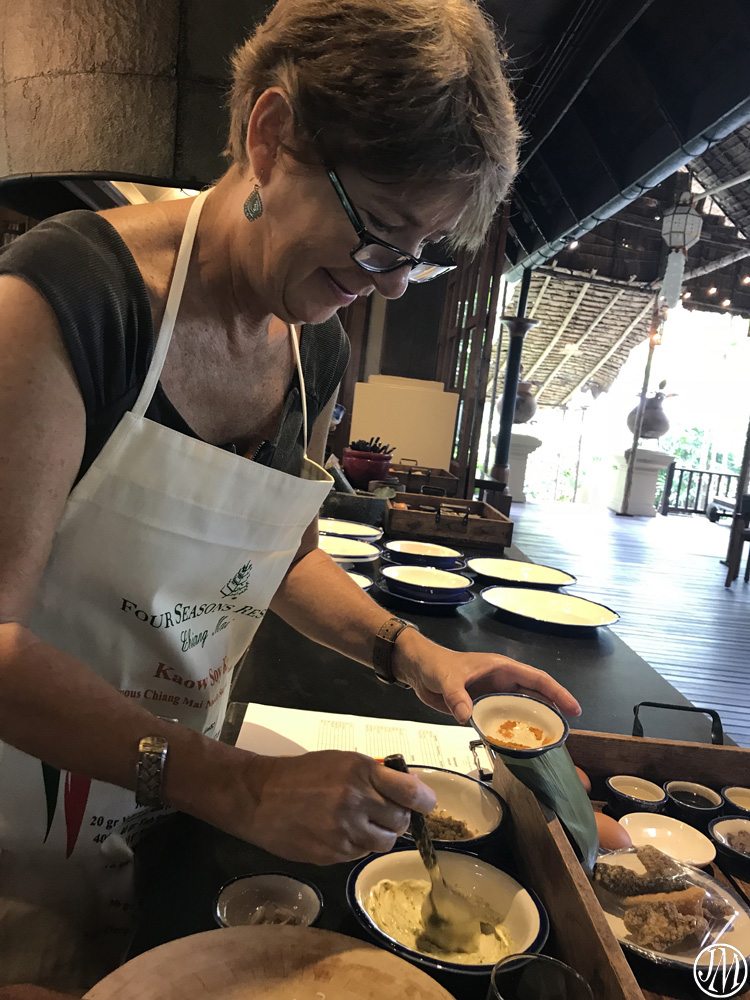 Dominque making the aioli with turmeric as the accompaniment to the Yaki.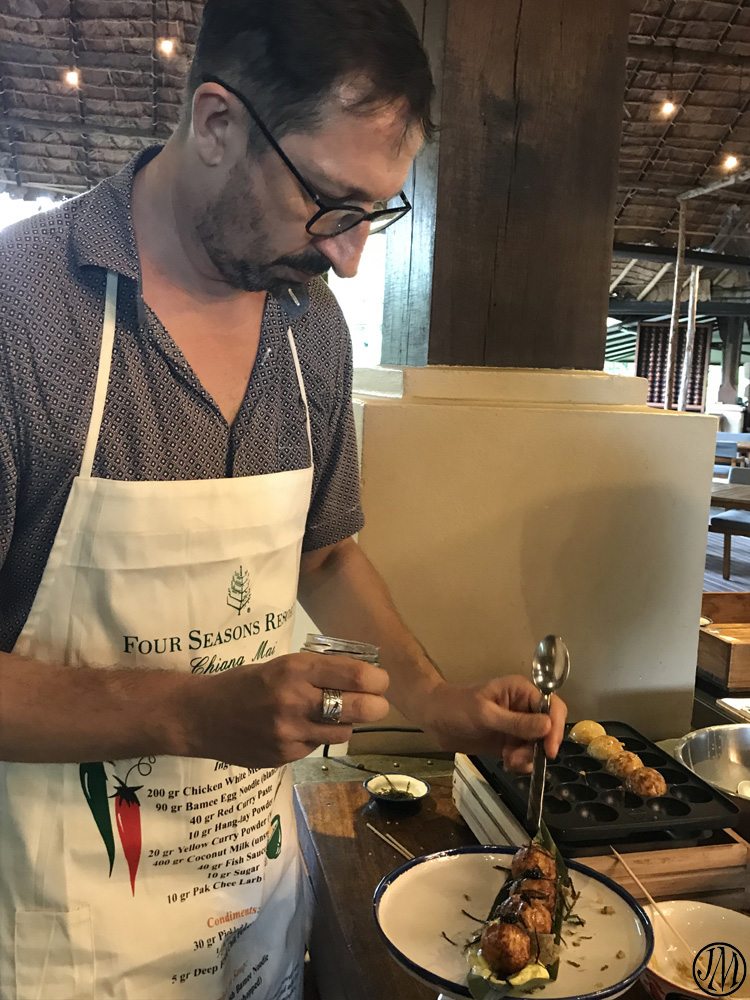 Pierre garnishing his plate, with total concentration.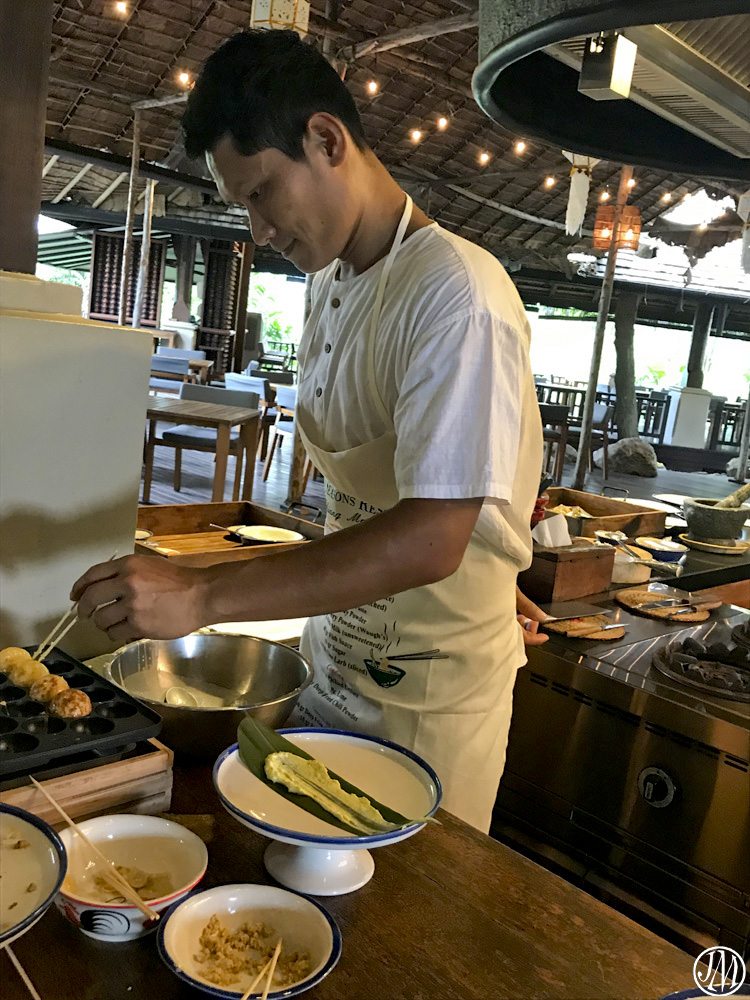 Nat a little behind but preparing to transfer his Yaki and plate up as the true artist he is.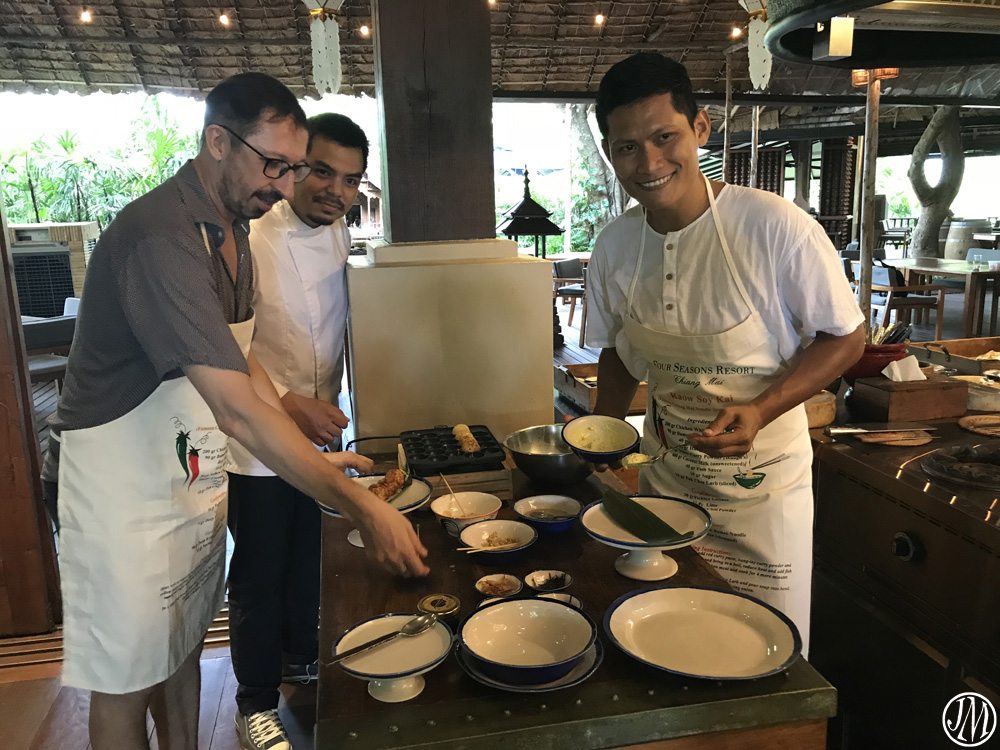 Pierre (L) and Nat working on their Sakana Yaki overseen by Chef Art.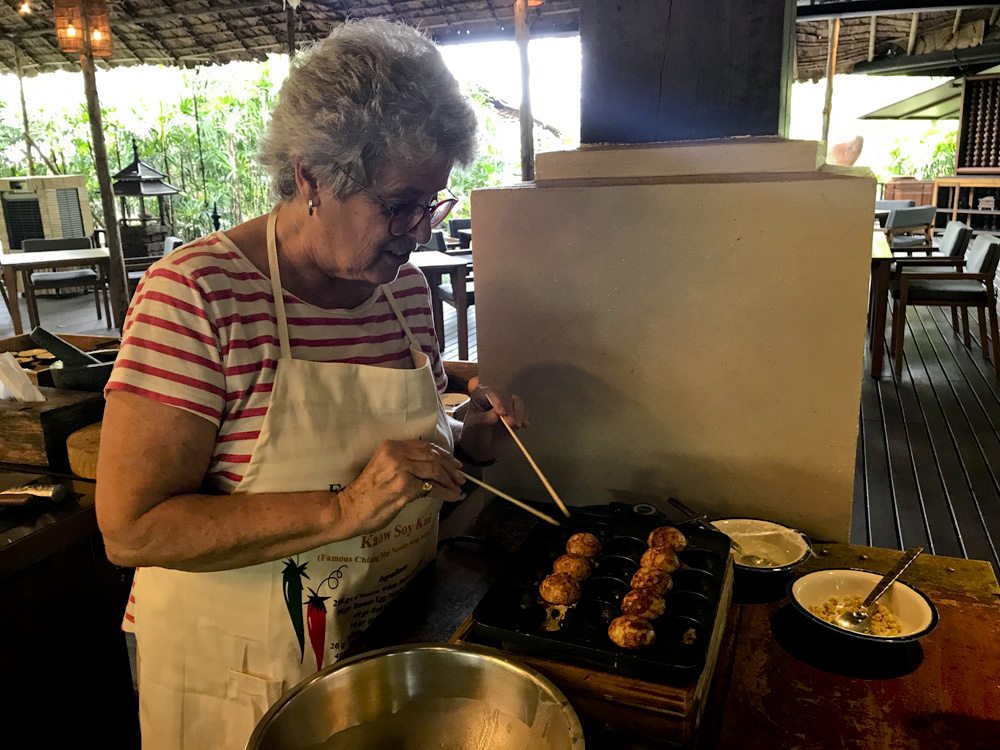 I chose to do only three, as compared to the more ambitious five that Dominique was working on, but they looked good.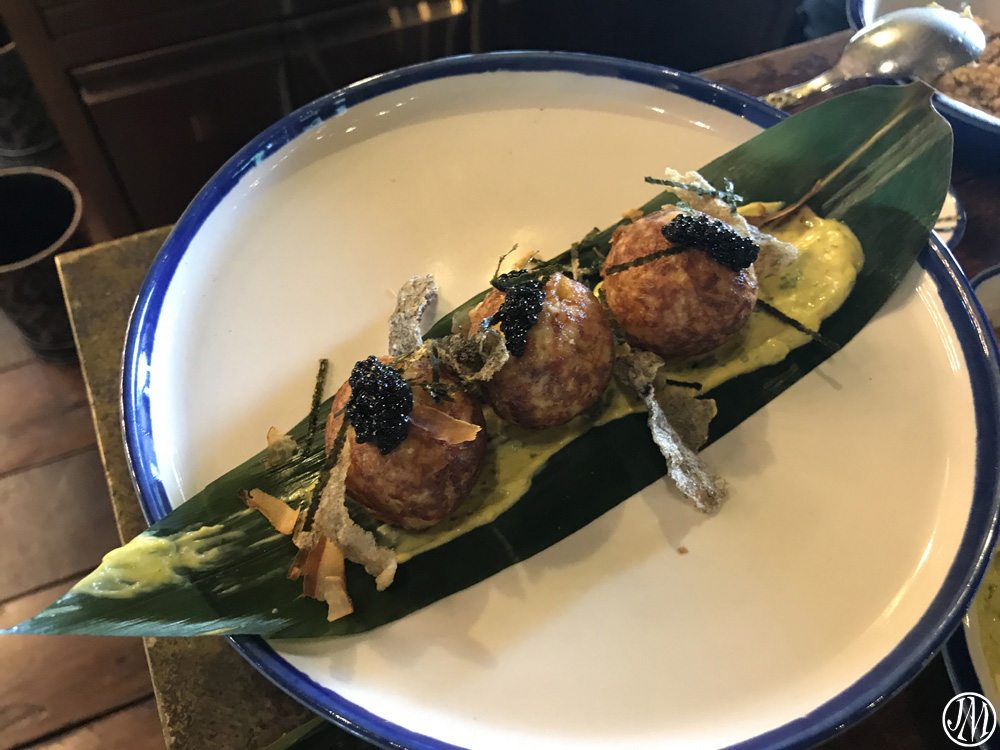 And look at that, my Sakana-Yaki.  I was pretty pleased with my self at putting up this dish I must say.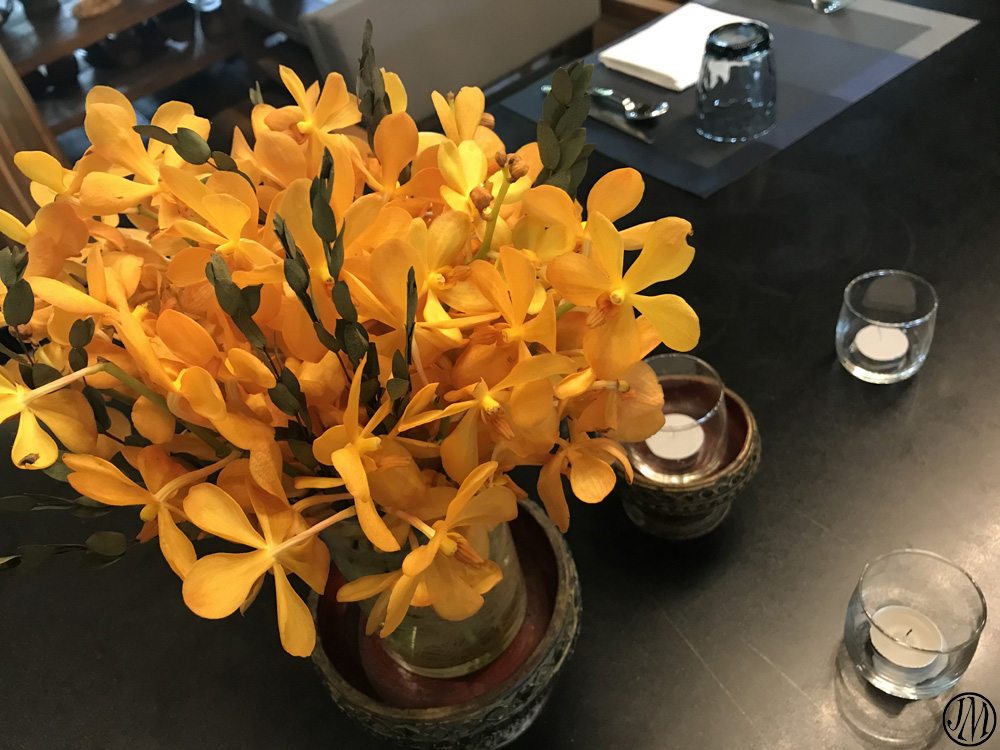 Everywhere around the kitchen there were fresh flowers like these golden orchids, and the table was set for us
for when we had finished cooking and could try all the dishes.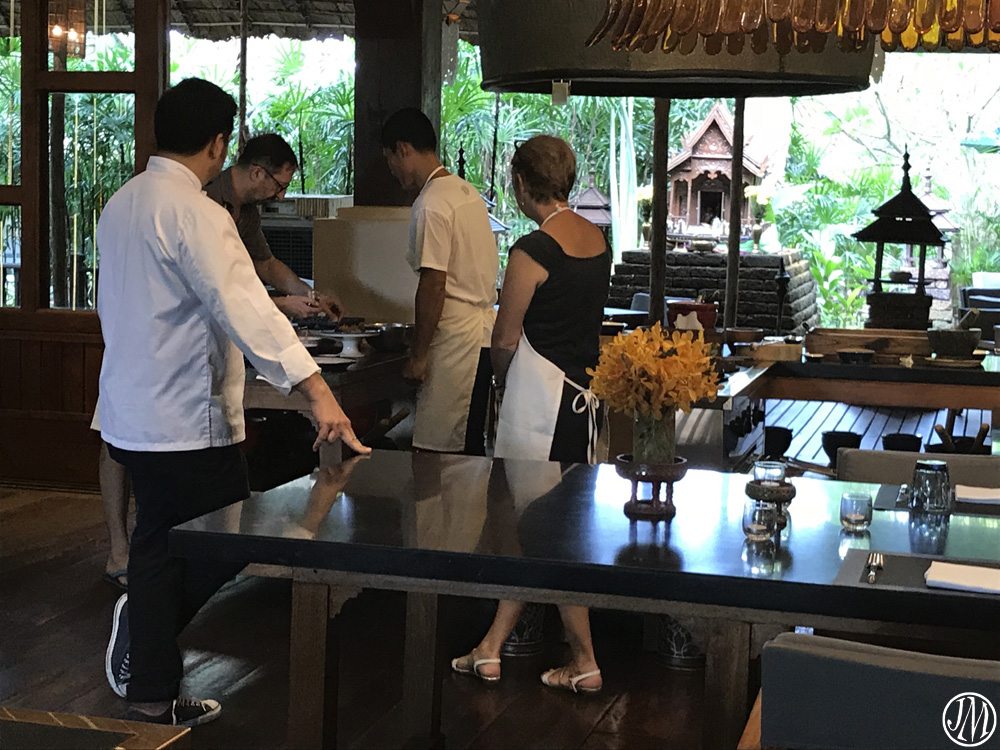 Dominique and Chef Art look on while Nat and Pierre put the final touches – there was of course
a little competition between us, but we had to wait a little to see whose creations tasted the best.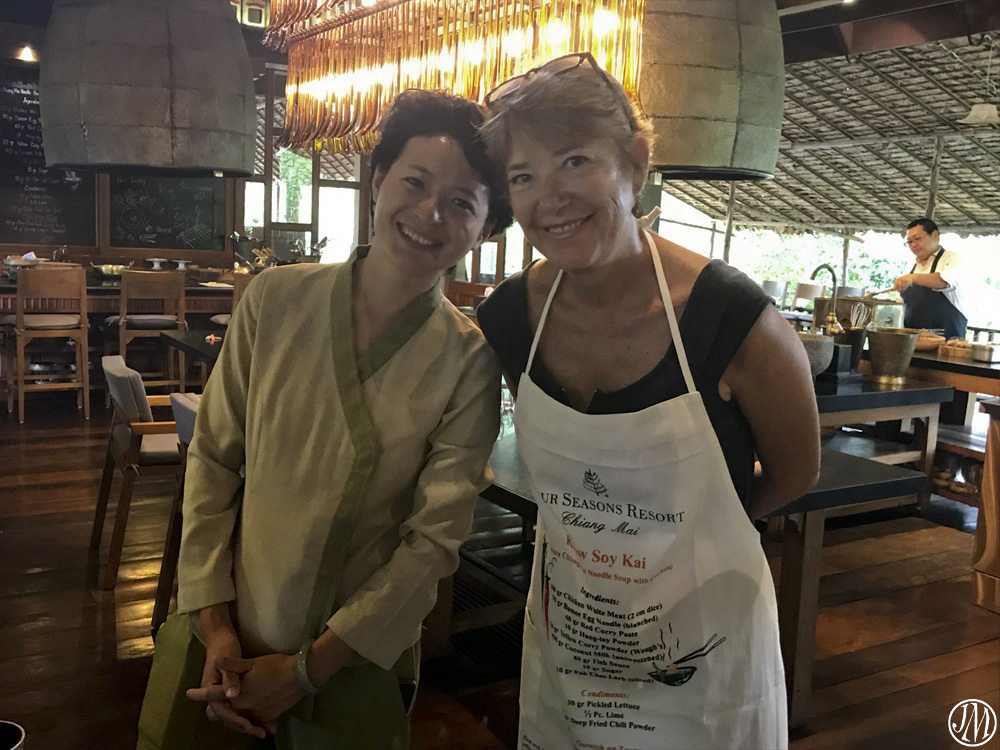 The Restaurant Manager, the lovely Lucy Cao popped in during the morning to check on us and see if we were doing ok.
Ready and waiting for instructions on our next course.
And this is it –  Goong Nam Ngiew – Giant River Prawn dressed in
Lanna Red Curry with Cotton Flower Infused Broth.
Dominique wielding the pestle and mortar to prepare the spices and paste for the dish, Chef Nan watching on.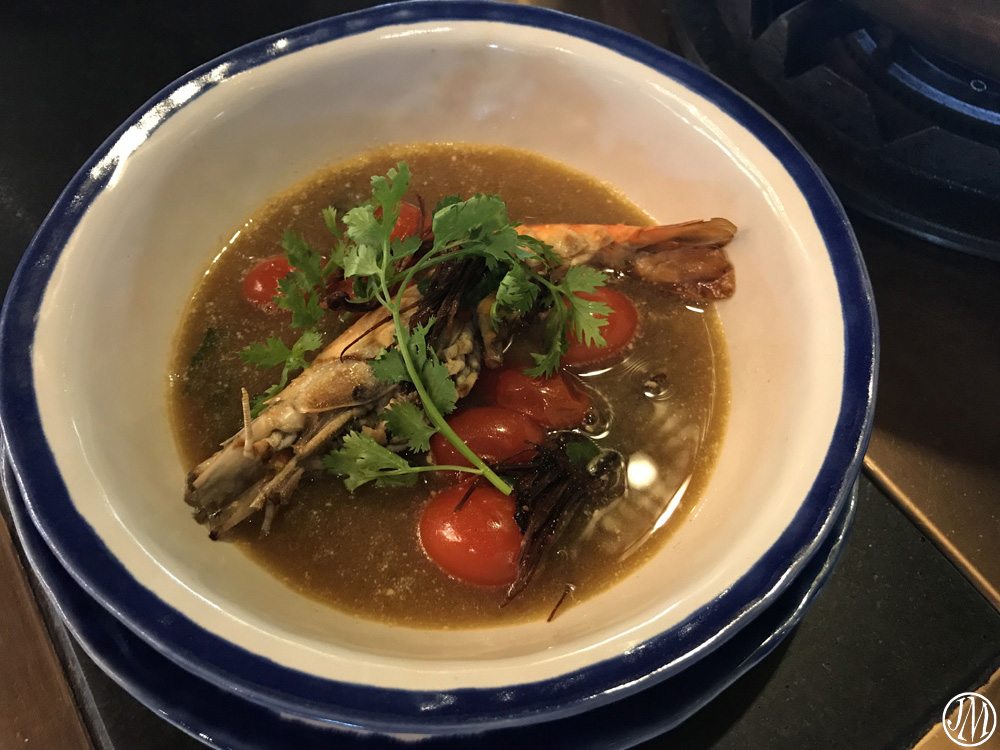 My plated dish, loving the green garnish setting of the colours of the broth, prawn and tomatoes. 
For the last dish, Chef Art's modern 'Not your average Khao Soi Gai' – a rice waffle with organic chapon chicken, foie gras flake, pickled pak wan and curried espuma –  we were a little pushed for time, so after each of us preparing our batter for the waffles, chef Art helped us cook the waffles and Chef Nan cooked up the chicken which we had marinated and sliced.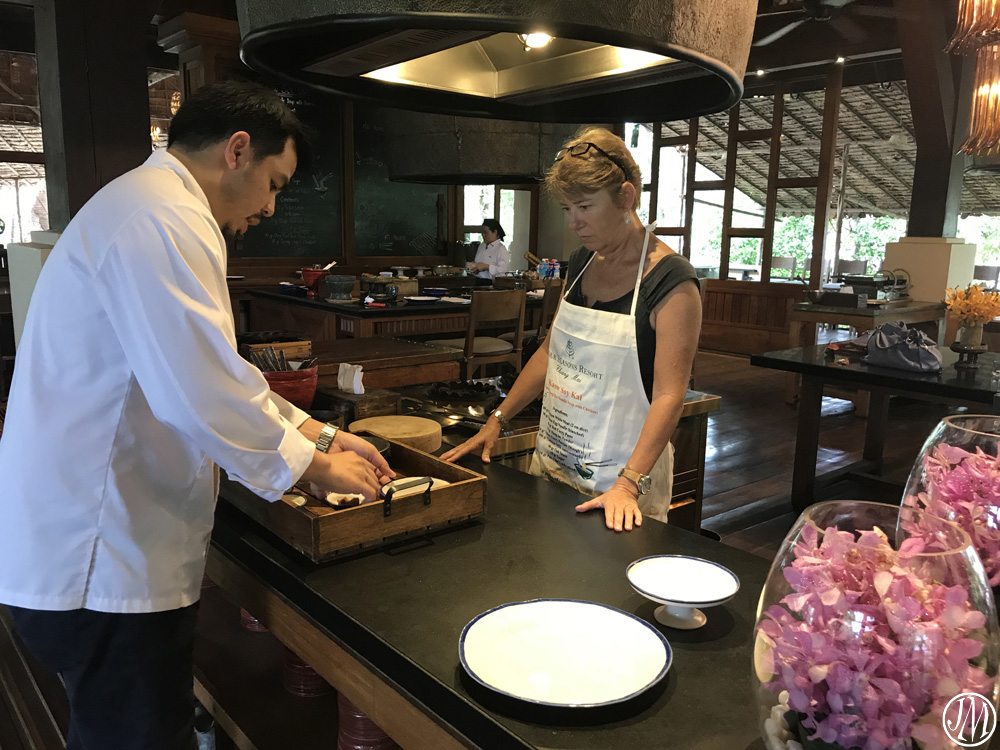 Chef Art explaining all the ingredients for this dish to Dominique.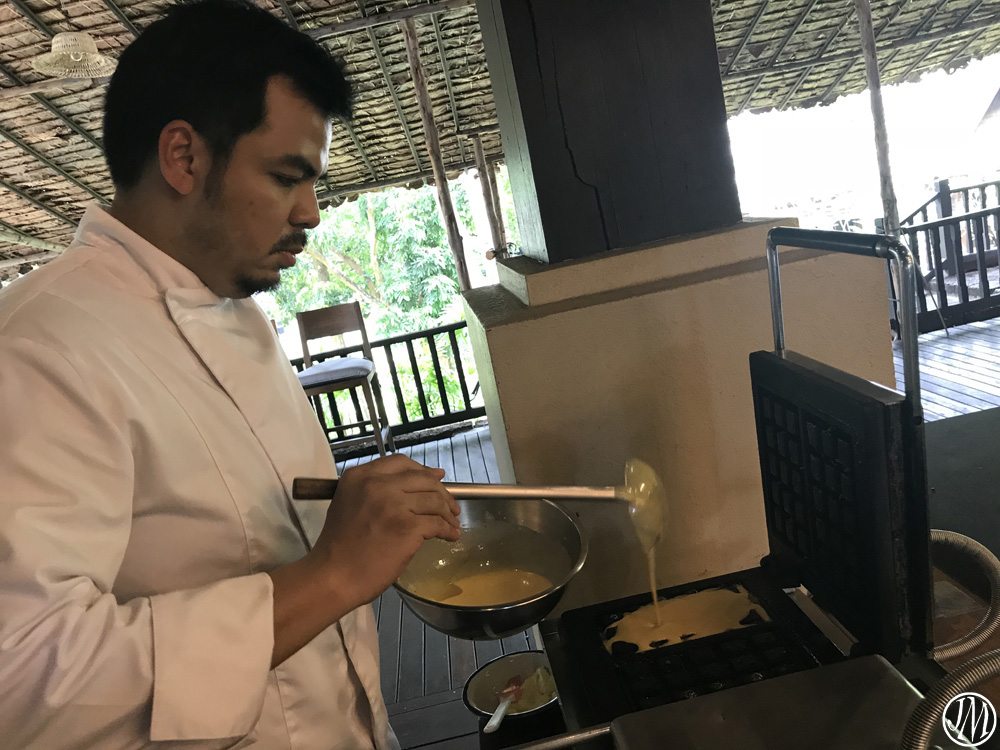 Batter into the waffle iron with plenty of butter.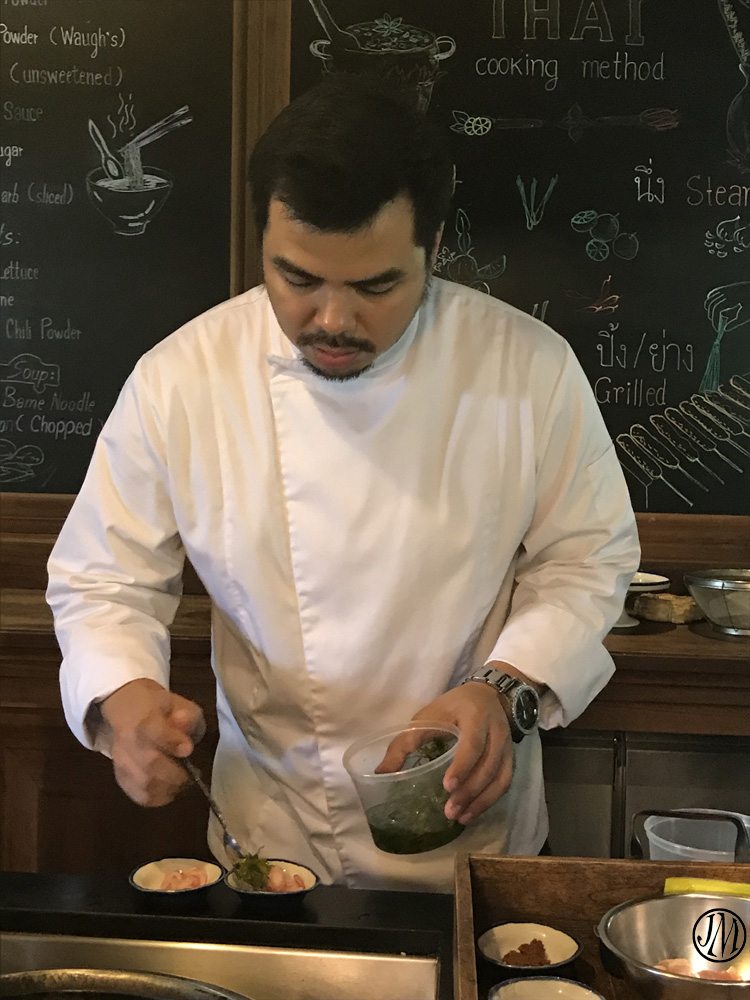 Preparing the bowls of pickles to add spice to the taste.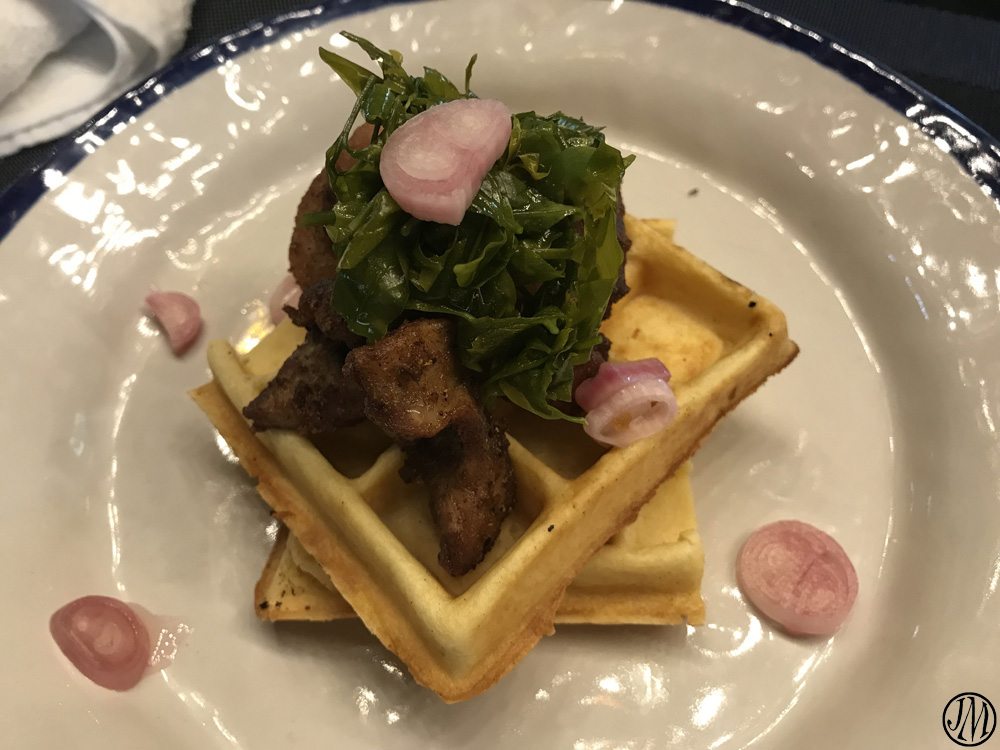 My 'Not your ordinary Khao Soi' beautifully plated for me by Chef Art. Could I have done this so professionally? I think not.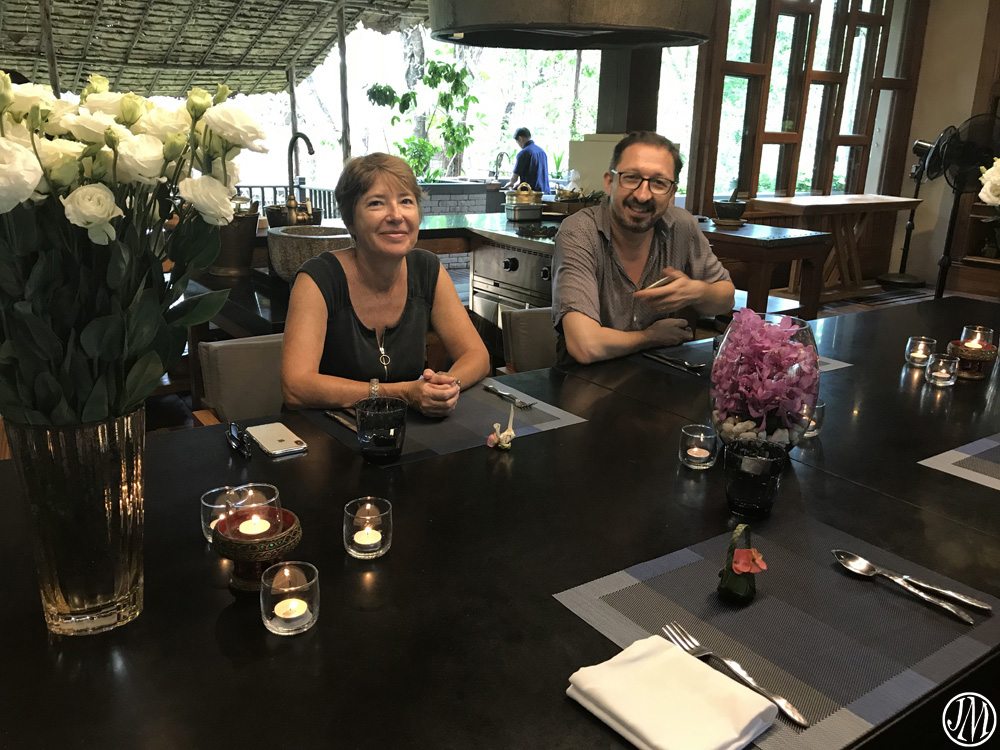 And then all that was left to do, was to try all our dishes which had been kept warm for us in the kitchen – what a treat!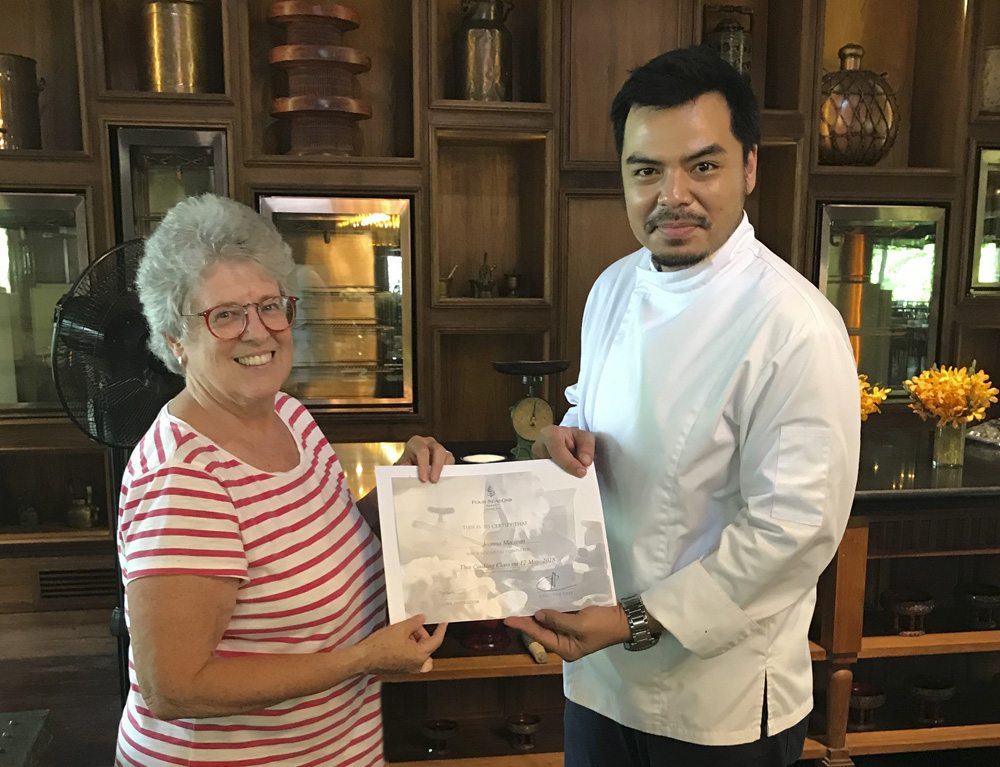 Last but not least, we were awarded certificates – not of excellence but of participation – looking pleased with myself.
A big thank you to Chef Art and his assistants for the day, Nan and Tor, to Four Seasons Resort, and to Lucy for the wonderful invitation to join the cooking class.
For anyone visiting Chiang Mai, it is certainly a special treat to participate in one of the cooking schools around the city and I can now personally recommend the Four Seasons.
Hope you enjoyed this blog about my experiences, now just to see if my cooking improves … don't hold your breath.
All good wishes,