Dear friends,
A recap on where we have got to on our Antarctic adventure – the last blog was about Red Rock Ridge and Stonington Island which was the furthest south we venture into waters at 68 degrees south. We then travelled north for two more stops – Horseshoe Island and Bourgeois Fjord, marked 4 & 5 on the map.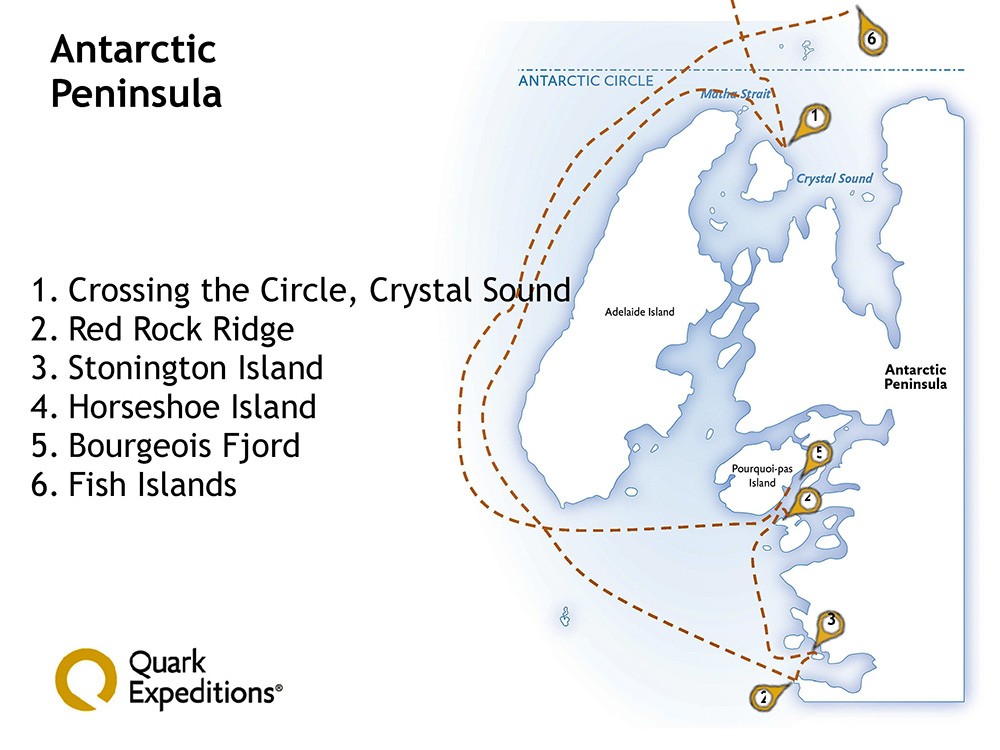 Yep, the adventure continued and there are a couple more exciting days still to document.  Today I can tell you about the paddling excursion at Horseshoe Island and the zodiac cruise around the amazing tilting iceberg at the entry to the Bourgeois Fjord close to Pourquoi-pas Island. The island is mountainous, 27 km long and from 8 to 18 km wide, lying between Bigourdan Fjord and Bourgeois Fjord off the west coast of Graham Land.
It was discovered by the French Antarctic Expedition under Jean-Baptiste Charcot, 1908-10, but charted more accurately by the British Graham Land Expedition 1934-37, who named it for Charcot's expedition ship, the Pourquoi-Pas (the Why-Not), and what a great name for an expedition ship.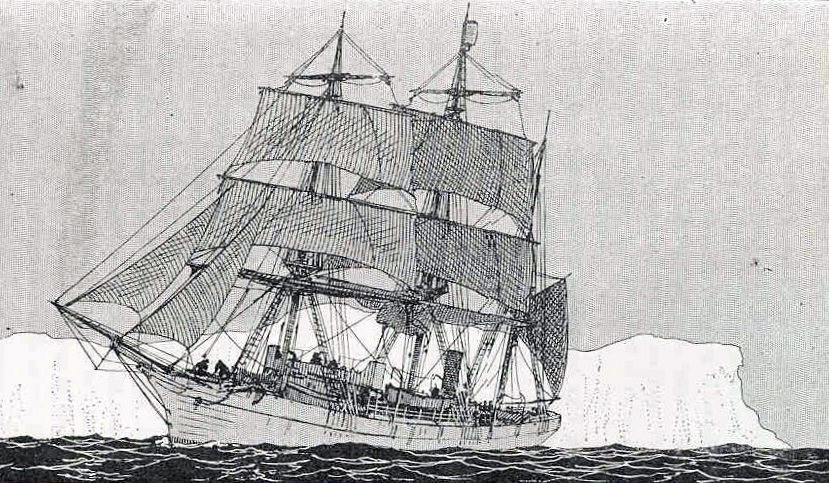 A 1908 sketch of Charcot's ship the Pourquoi-Pas, and I'm trying to imagine the conditions for the crew
on that ship compared with our luxury travel and warm clothes.
As some of you may know, kayaking is my very favourite activity, but we were not fortunate enough to have booked in time on this expedition to be part of the kayaking team who went out most days, always first off the ship and zipping off in their bright coloured dry suits in their slim sea kayaks.  However, we did get offered the chance to go out on the 'sit-on' double kayaks and our turn came when we reached Horseshoe  Island.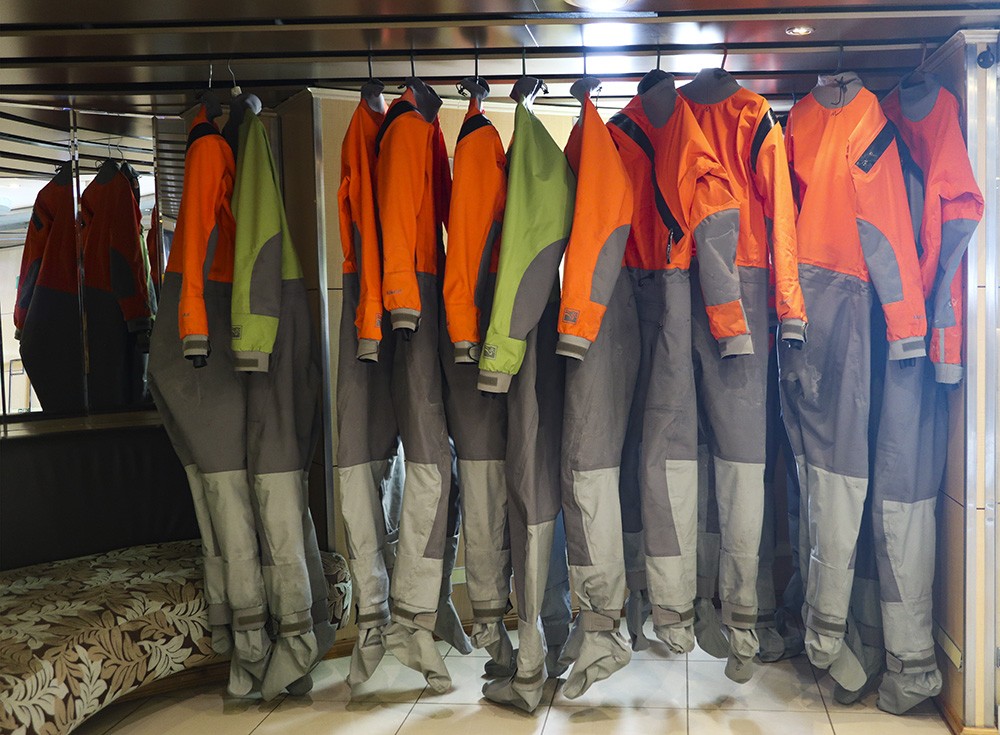 Drysuits ready for the new teams of kayakers and paddle boarders.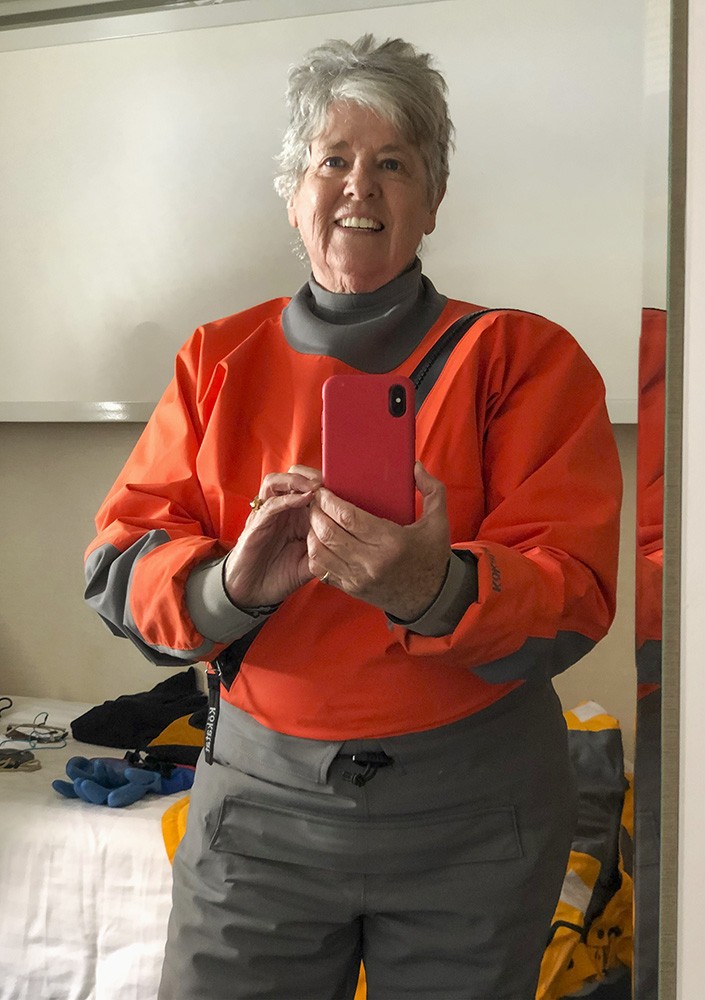 Trying mine on in the cabin.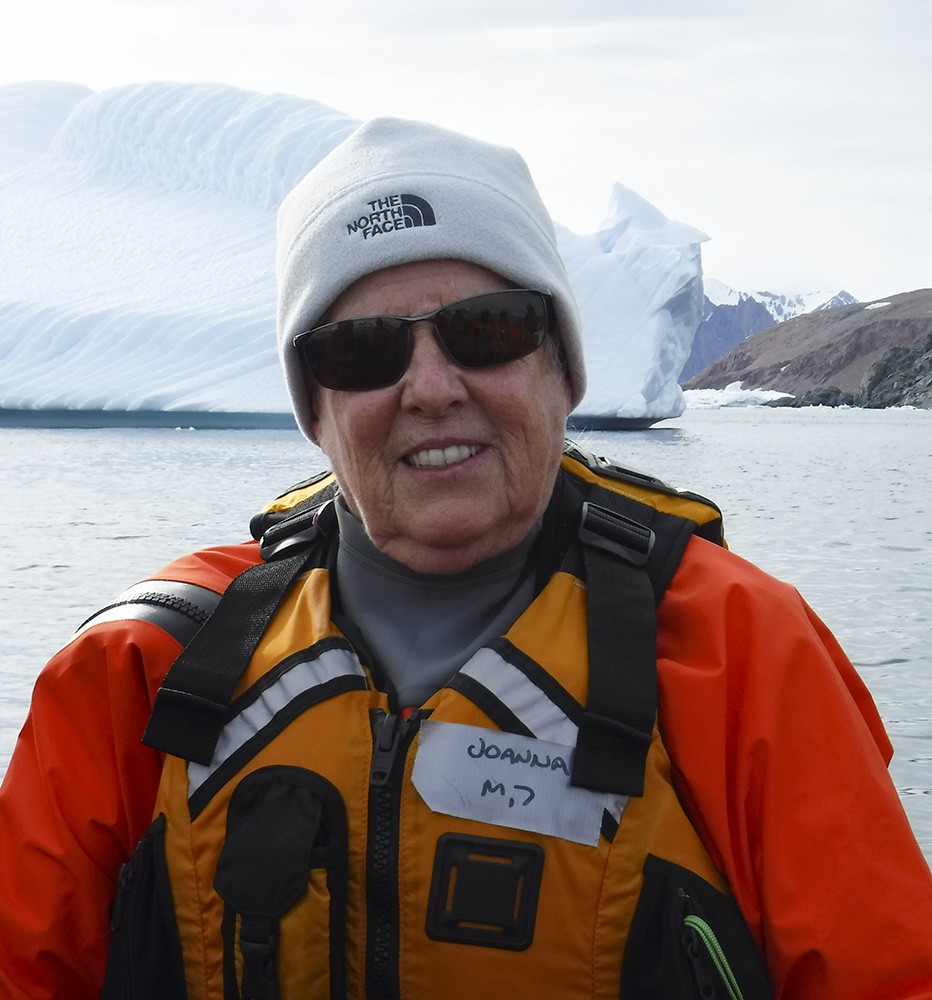 Ready to go, life jacket over the top, hat and glasses in place, but the tight high collar didn't exactly flatter the neckline!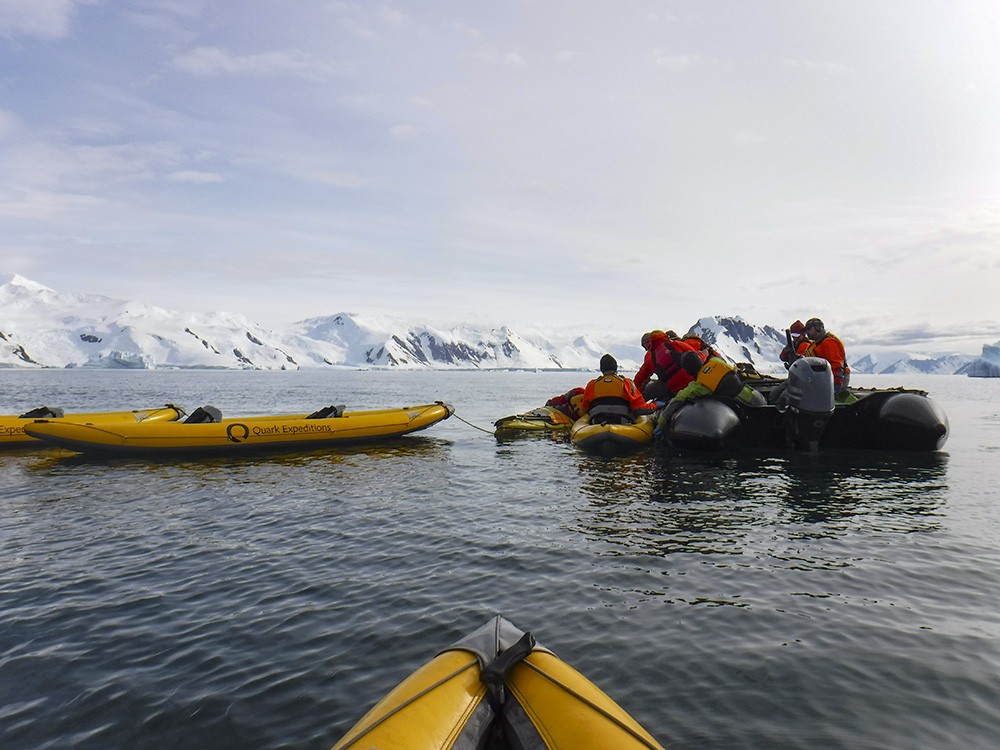 Already on our kayak, gently swaying and waiting for the others to board theirs.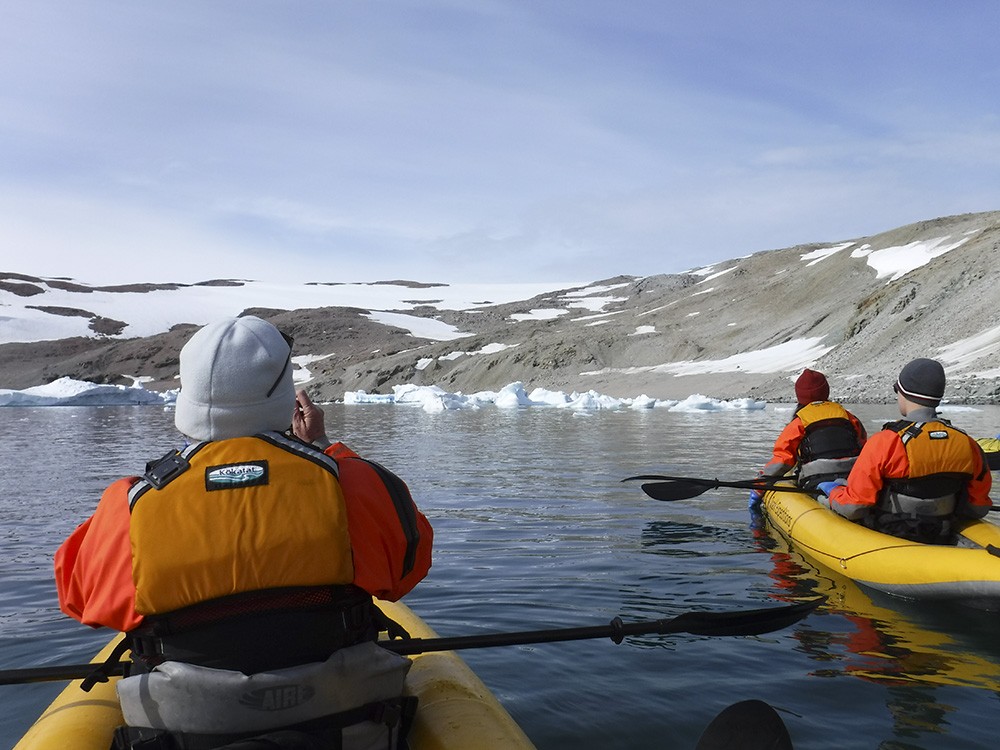 On the left in front position on our kayak, camera at the ready.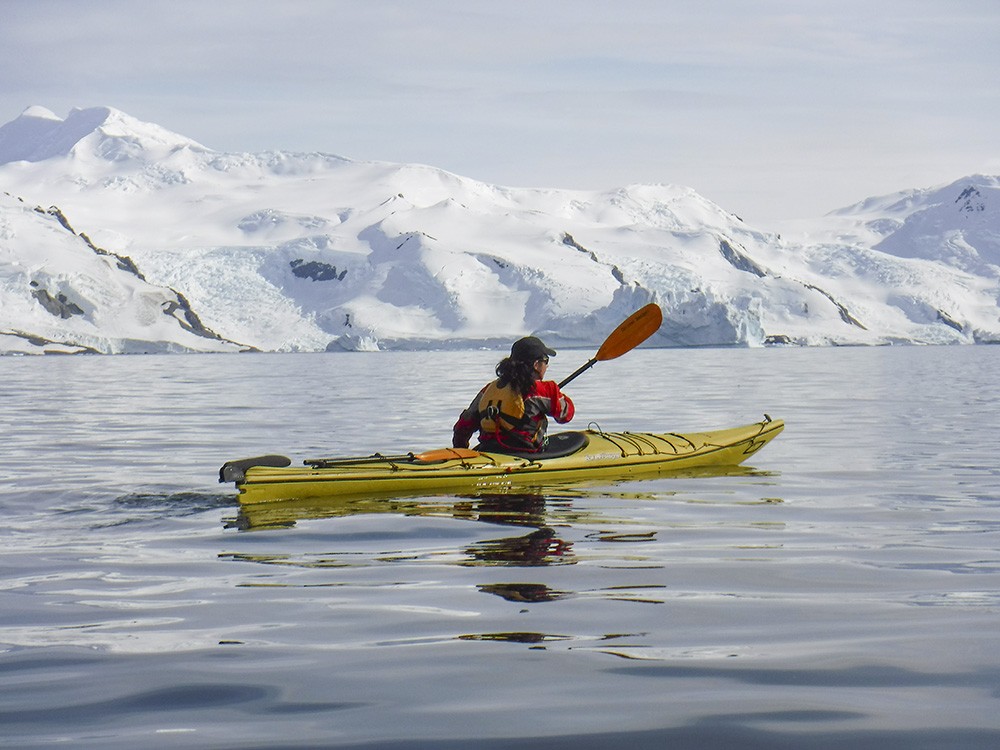 Jess, our guide for the morning leads us off on our excursion.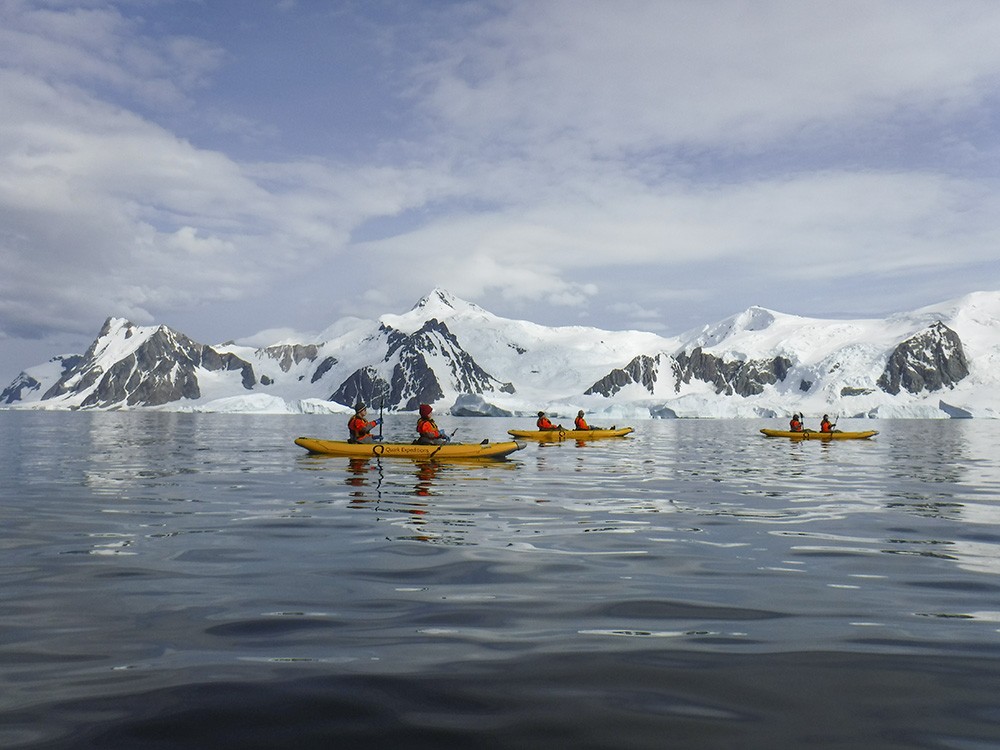 Our group spread out across the bay, it was so beautiful and calm, we gazed as much as we paddled.
And sometimes a seal gazed back at us, not perturbed, just curious.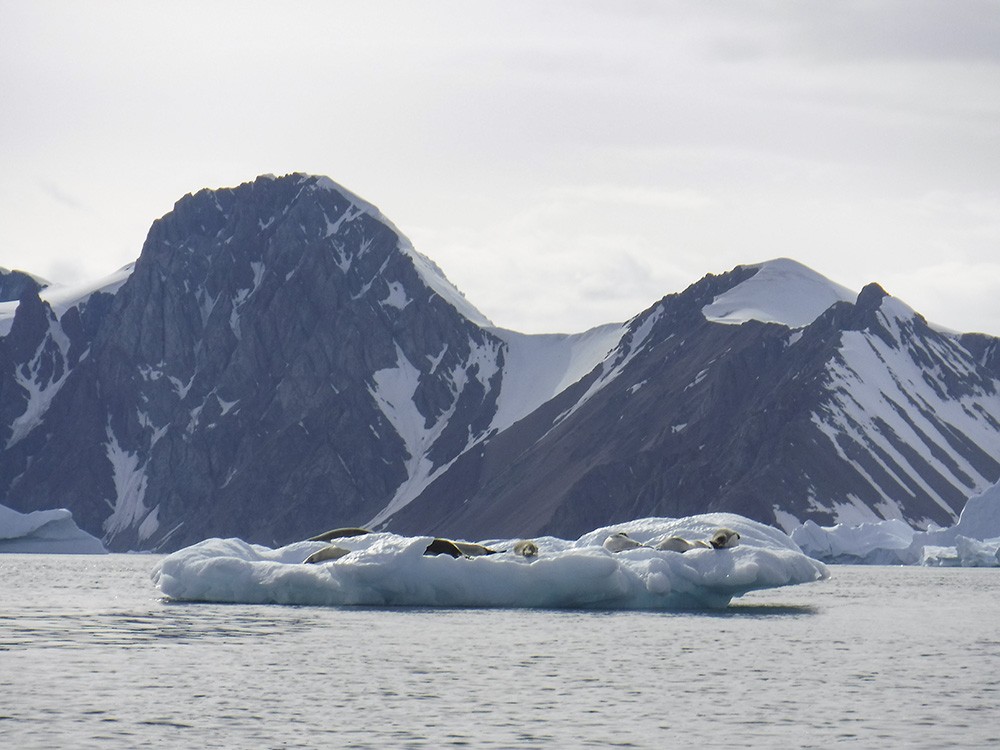 There were more than a few seals lounging about on this small berg.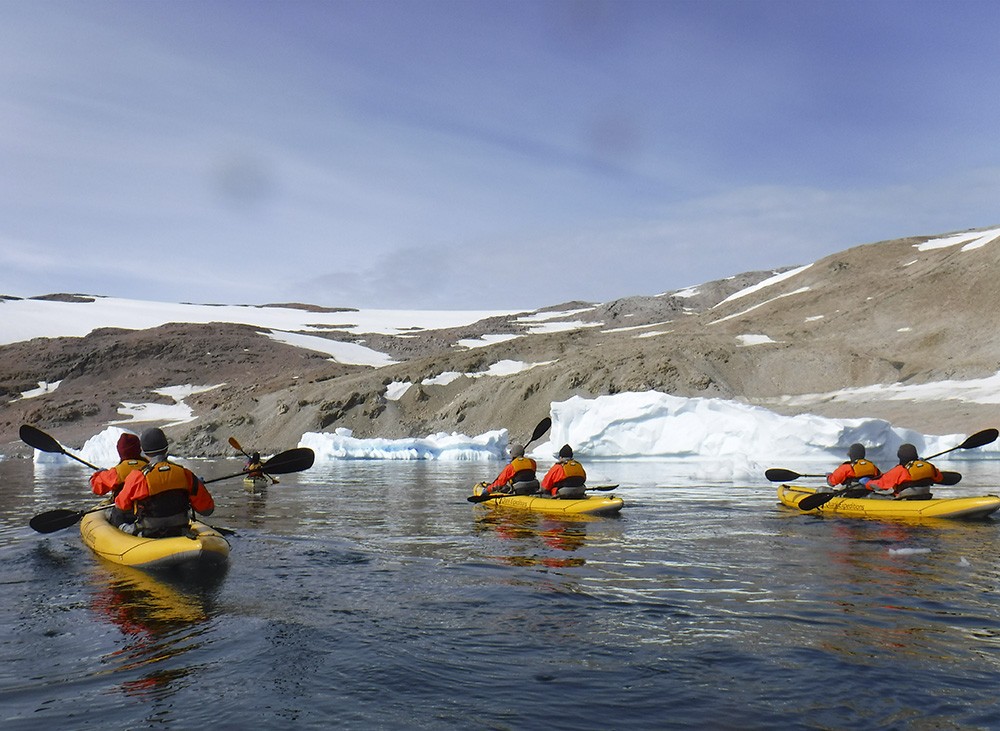 Less snow this side of the bay, but picking up some speed and checking out the icebergs.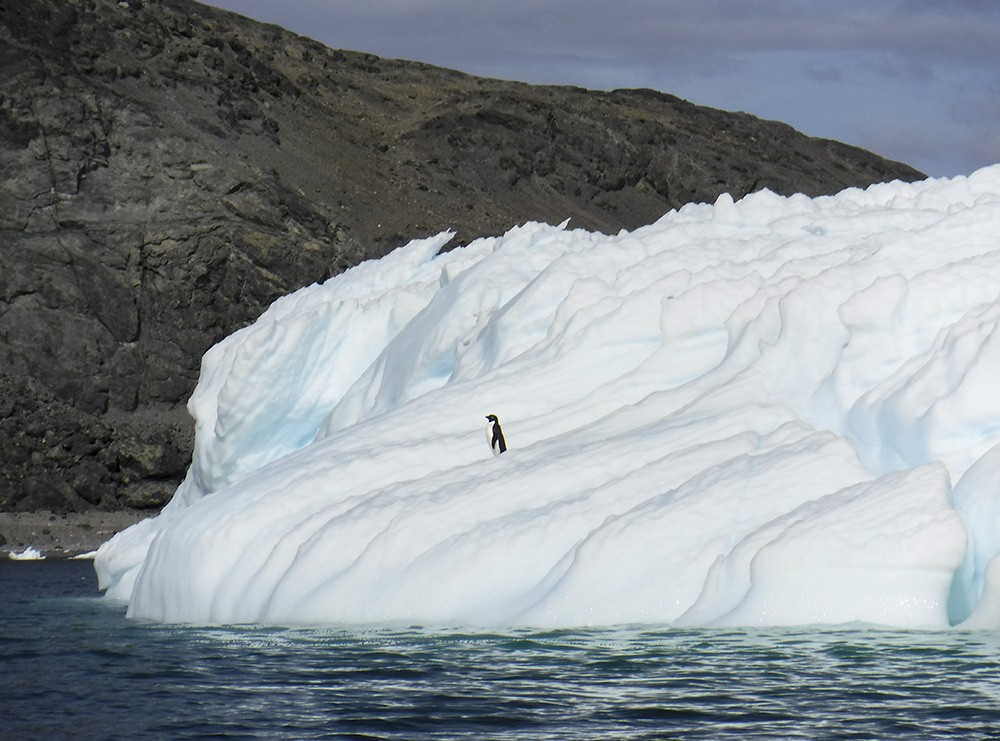 A little Adelie surveys the scene from its position on this iceberg.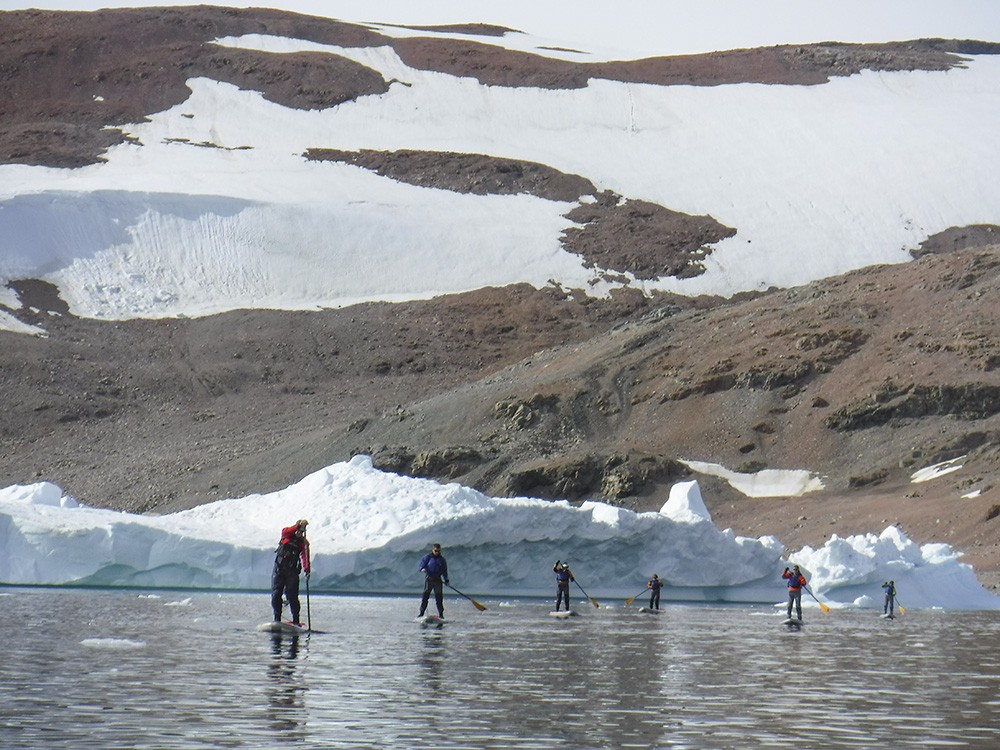 Coming towards us from behind that iceberg were the paddle-boarders looking pretty confident as they passed us.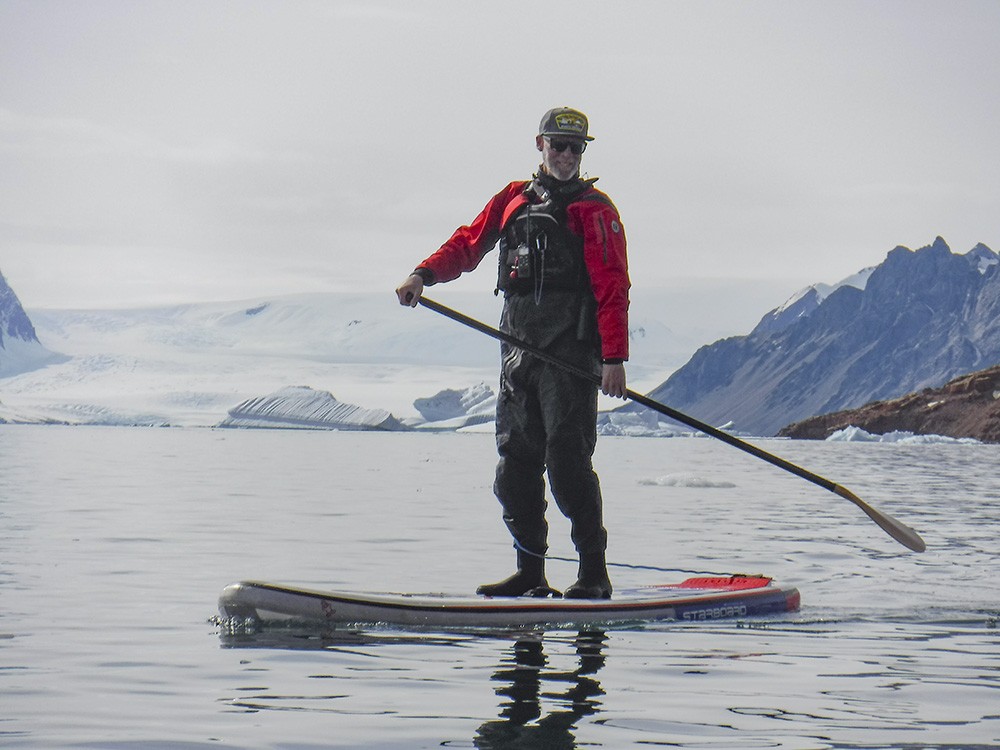 Artie, the paddleboard guide leads the way.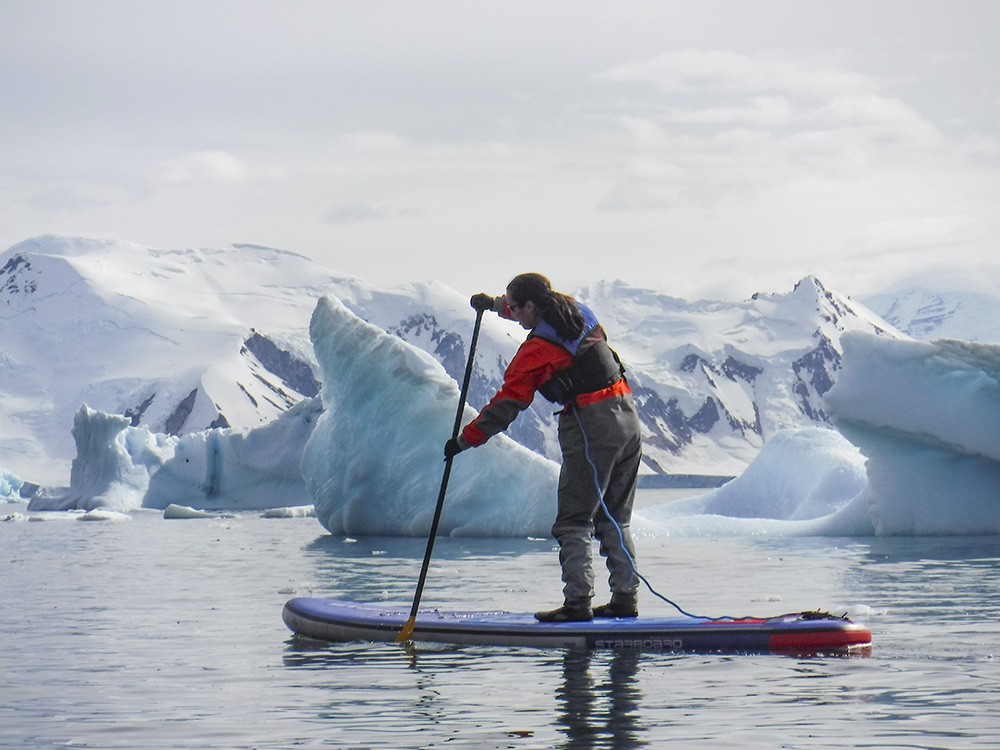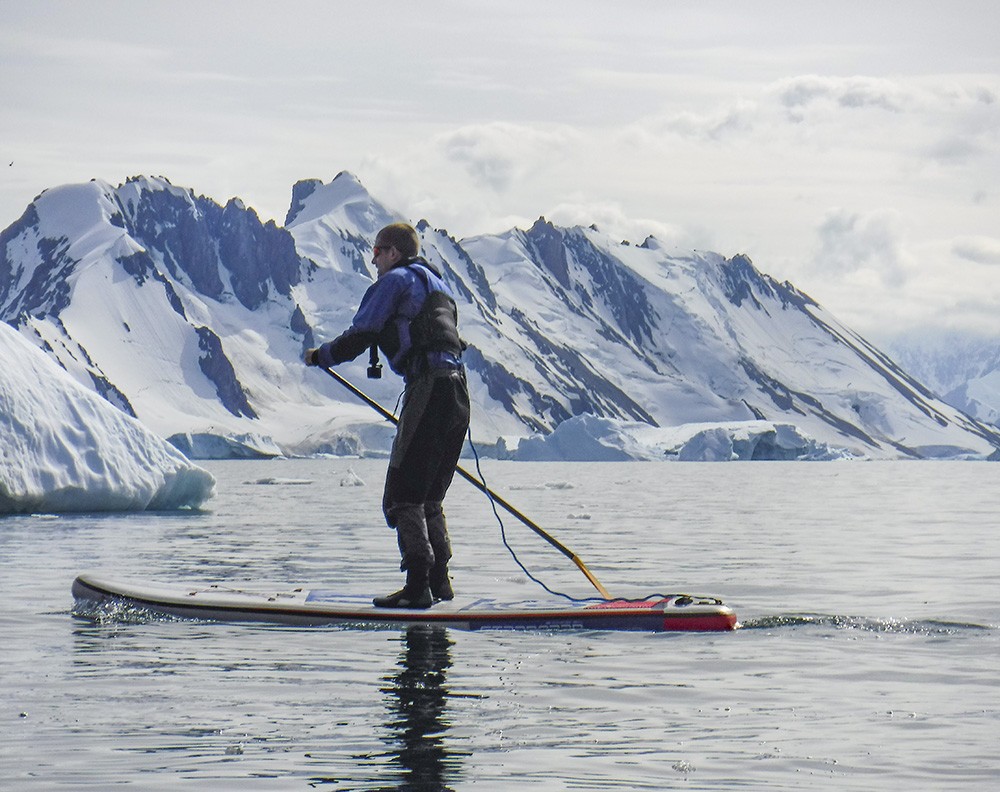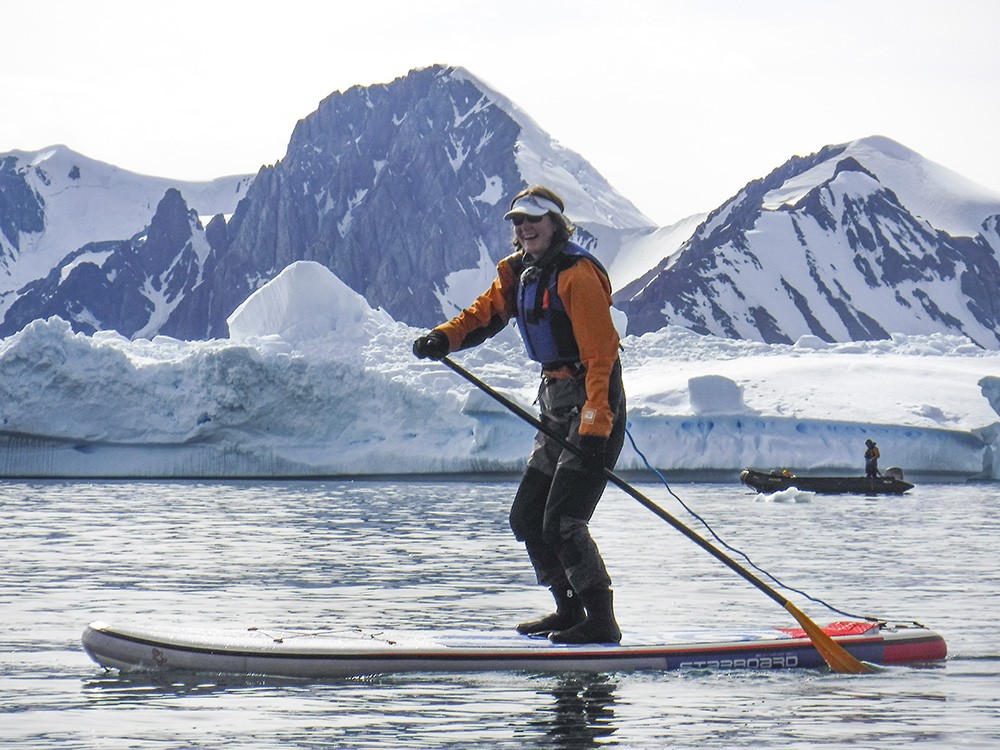 Others follow, clearly enjoying their morning.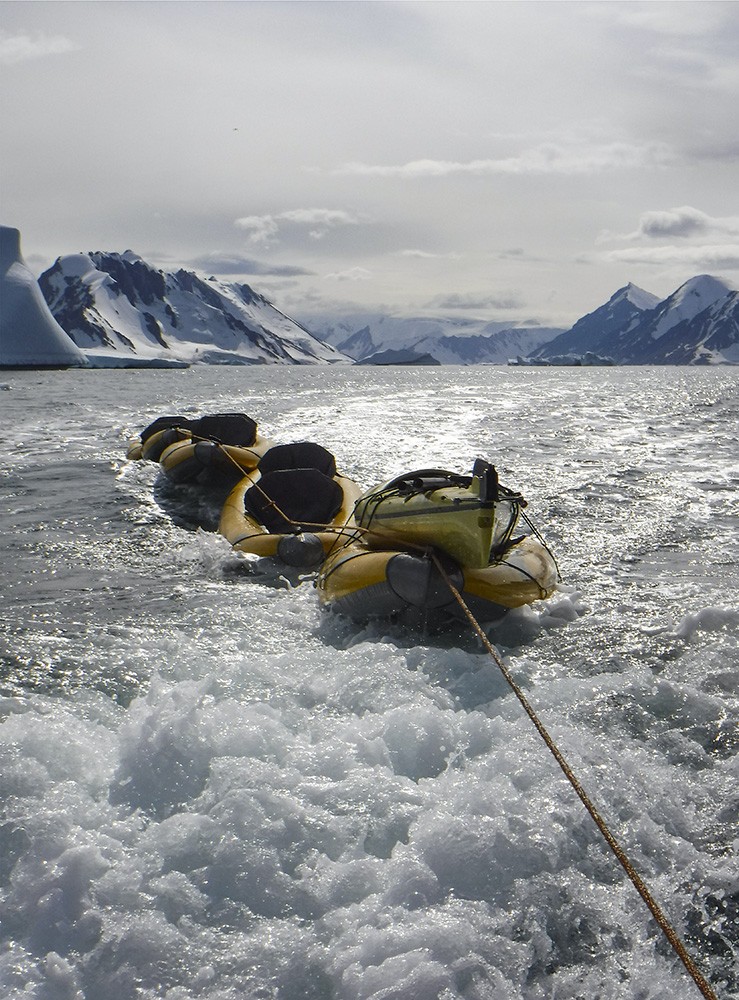 It was a great paddle but really passed too quickly for me.  Then, with our kayaks tied behind,
we climbed back on the zodiac and headed towards Horseshoe Island.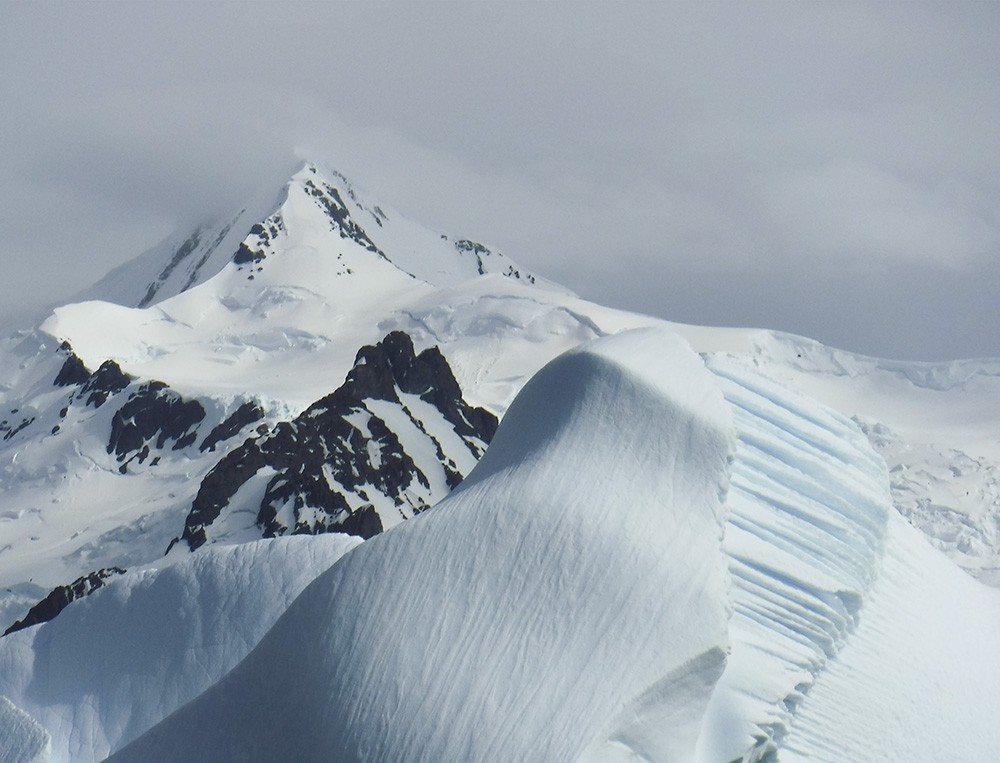 Passing another interestingly sculpted iceberg with a mountain behind.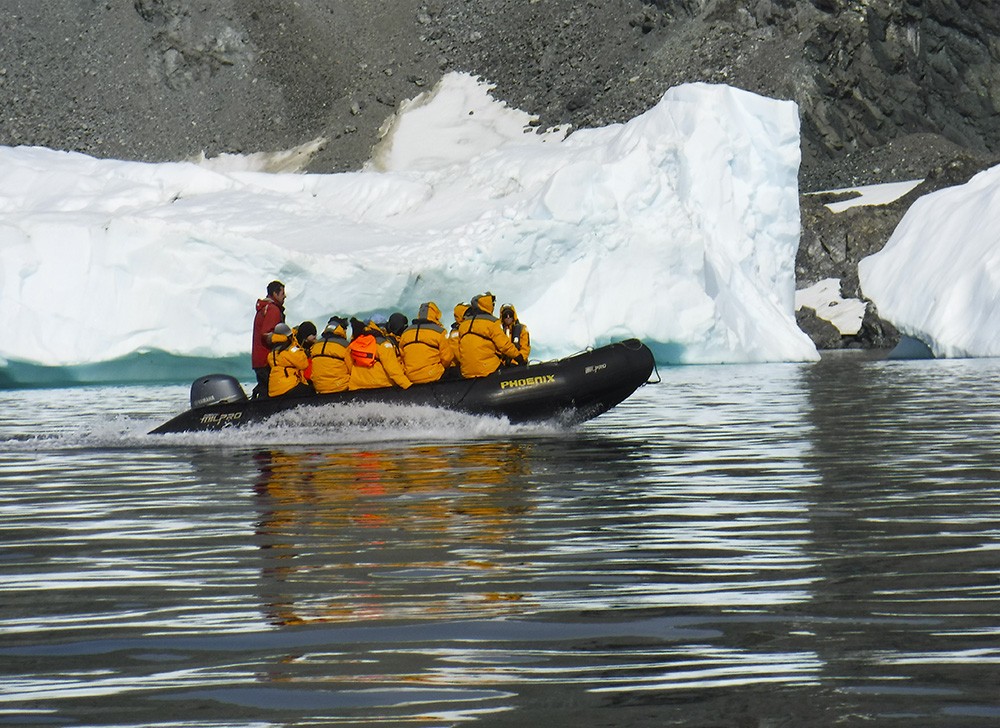 Another team cutting through the still waters towards Horseshoe Island.
Horseshoe Island lies in Marguerite bay and was home to the British Antarctic Survey's Base Y, an inactive but relatively unaltered and completely equipped research station which operated between 1955-60 and again for a brief period in 1969. The site has been designated a Historic Monument and was cleaned up by BAS staff in 1995.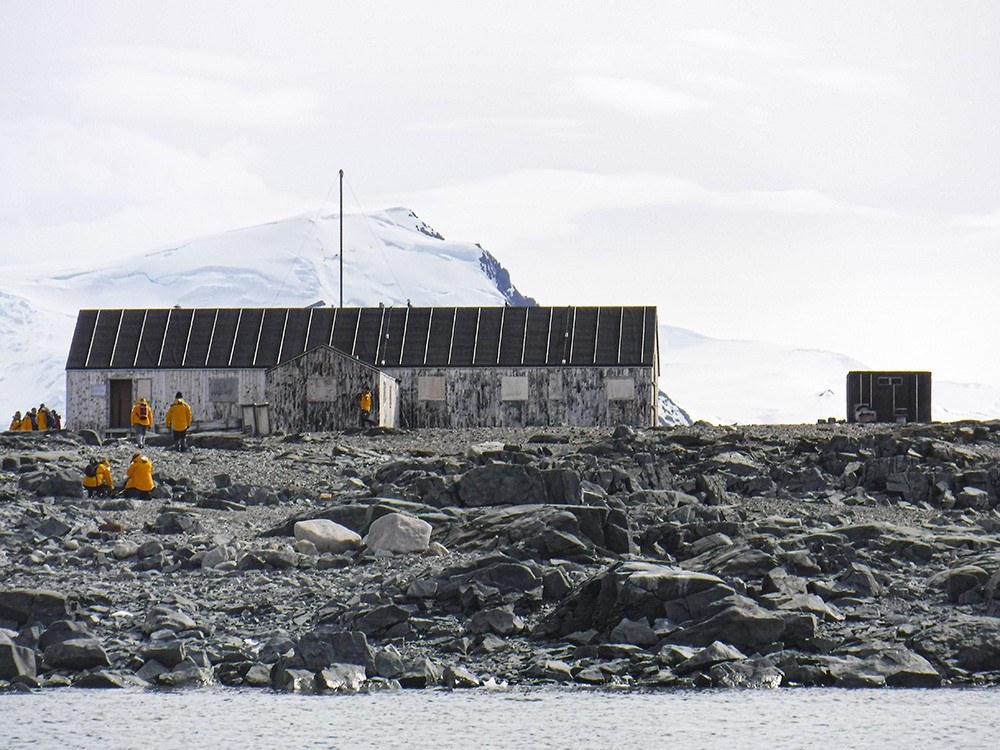 Station Y, or Horseshoe Base sits at the north-western end of the island which is 12 km long and 6 km wide.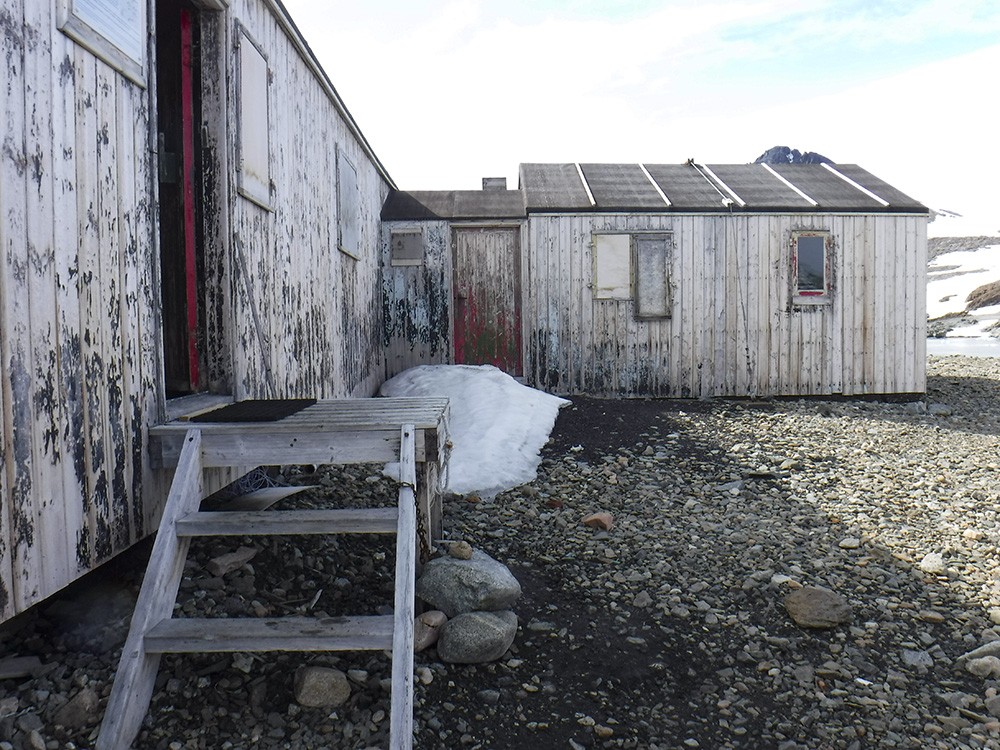 Like the other preserved BAS stations, we were able to go inside and look around by the light of a torch.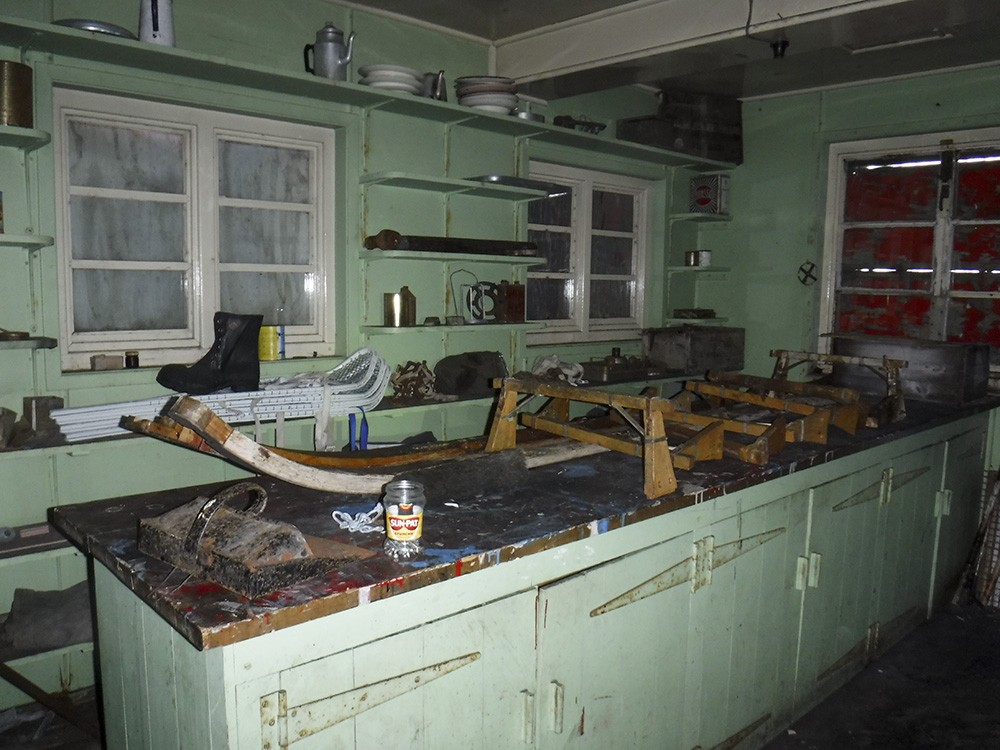 Equipment room stocked with snowshoes, boots, a sledge, and various utensils.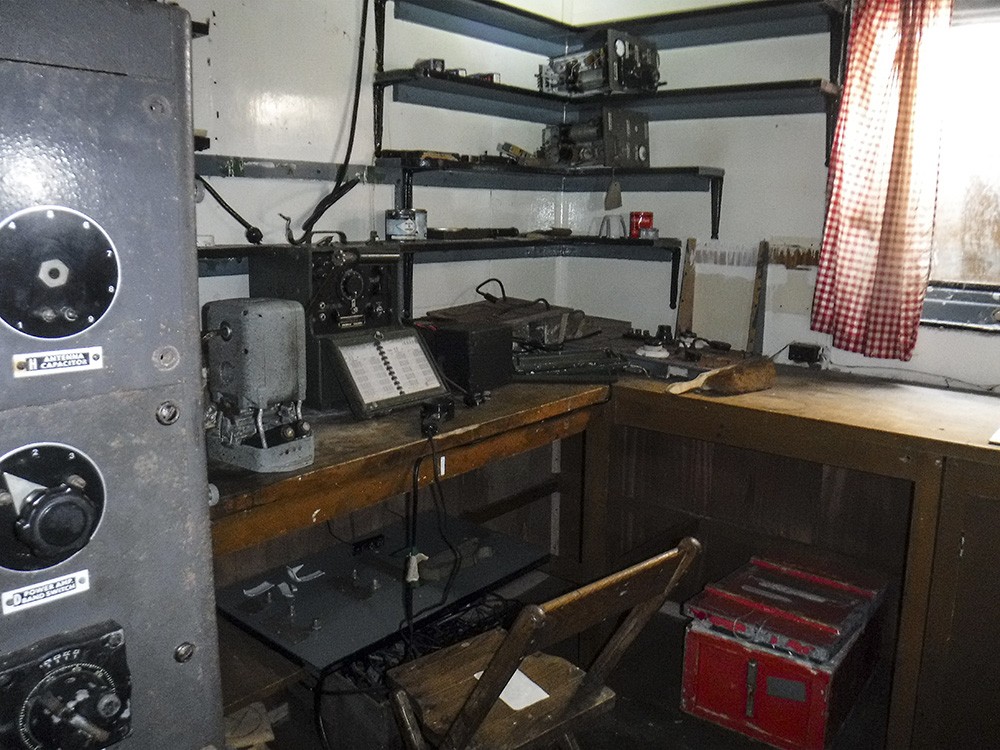 The radio communications room, still in working order, I wonder?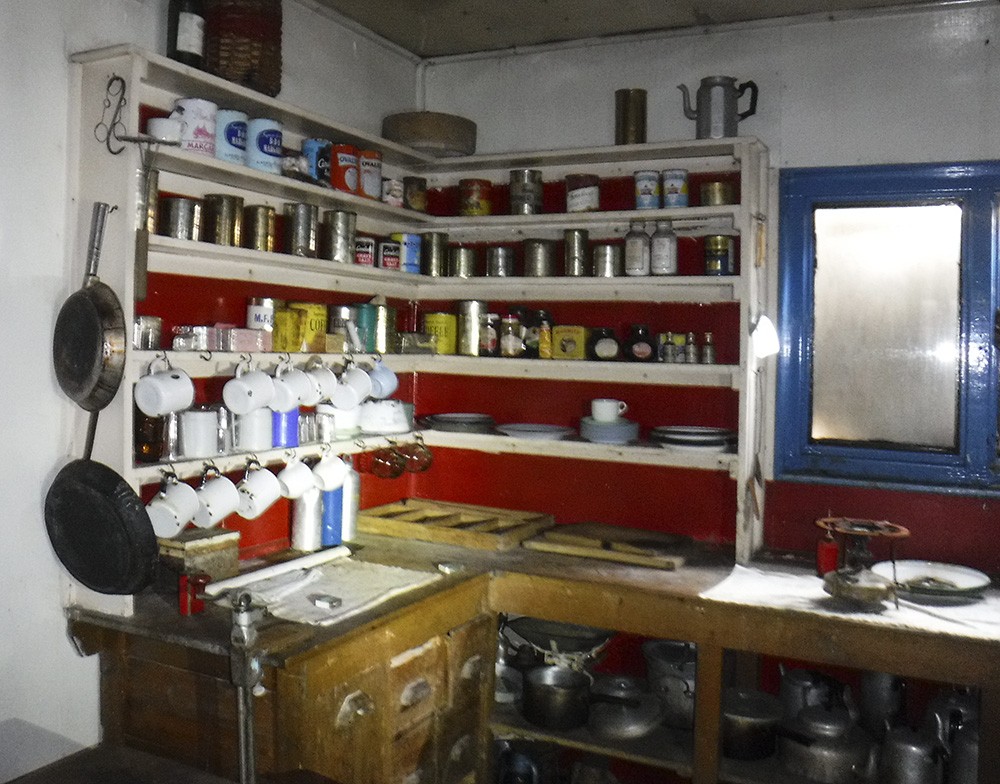 A well-equipped kitchen, with staple food supplies.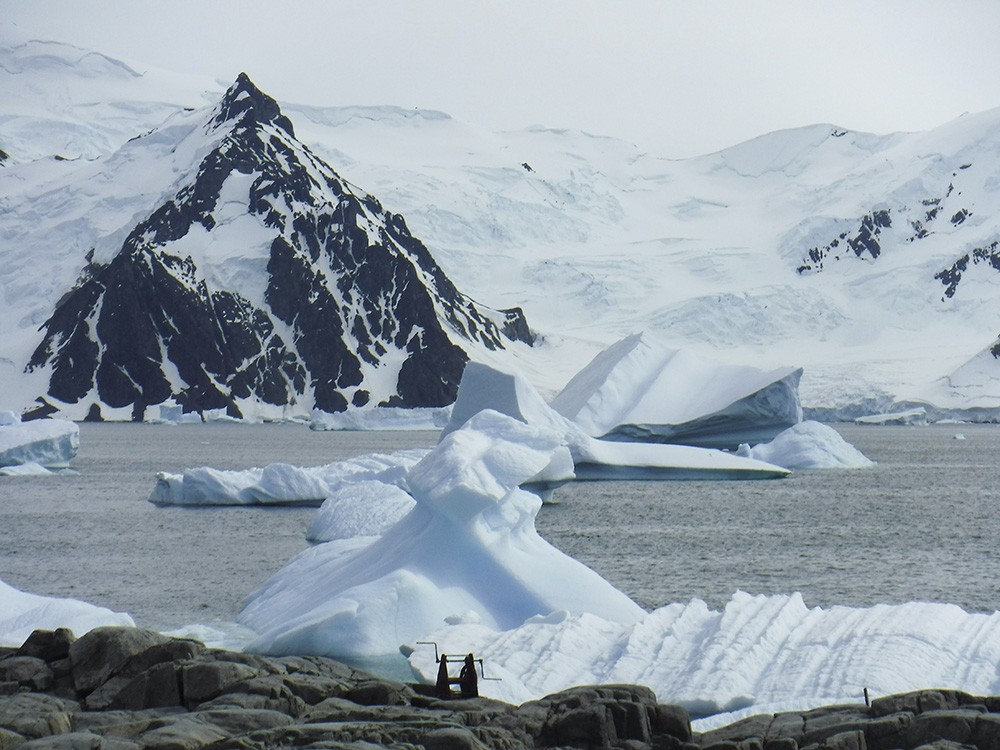 An old winch silhouetted against the ice down by the shoreline caught my eye.
Evidently fieldwork conducted at this station focussed on surveying the surrounding area, geology and meteorology, and although my eyes were drawn to the magnificent views, I took some time to look down also, and this is what I found: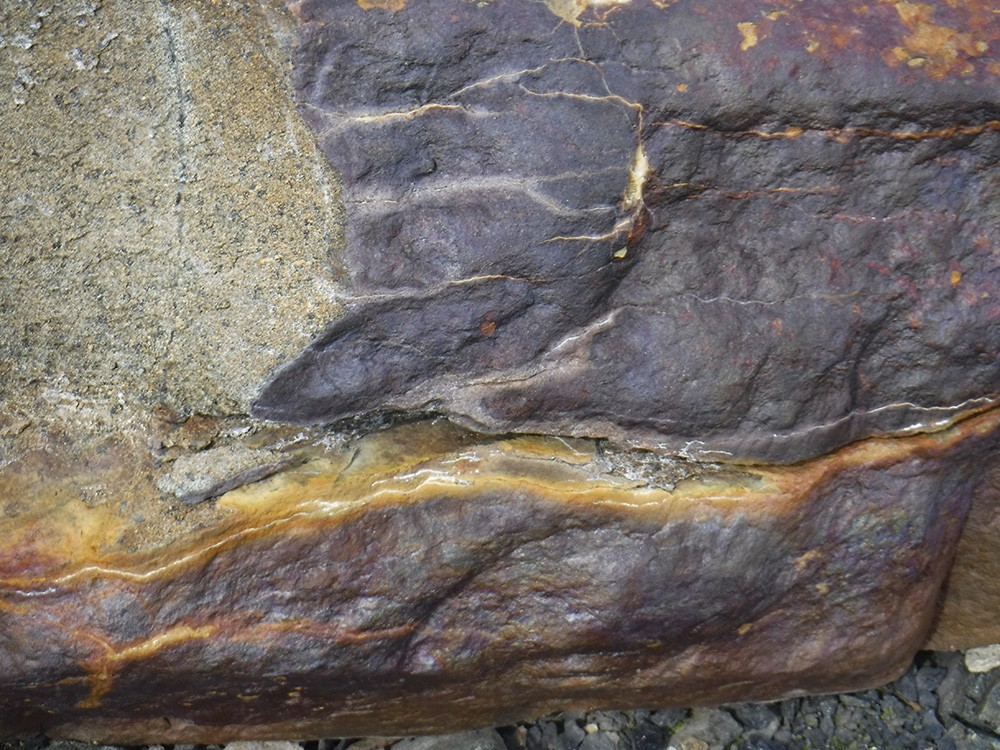 Bright lines or orange and red (iron?) through some of the rocks,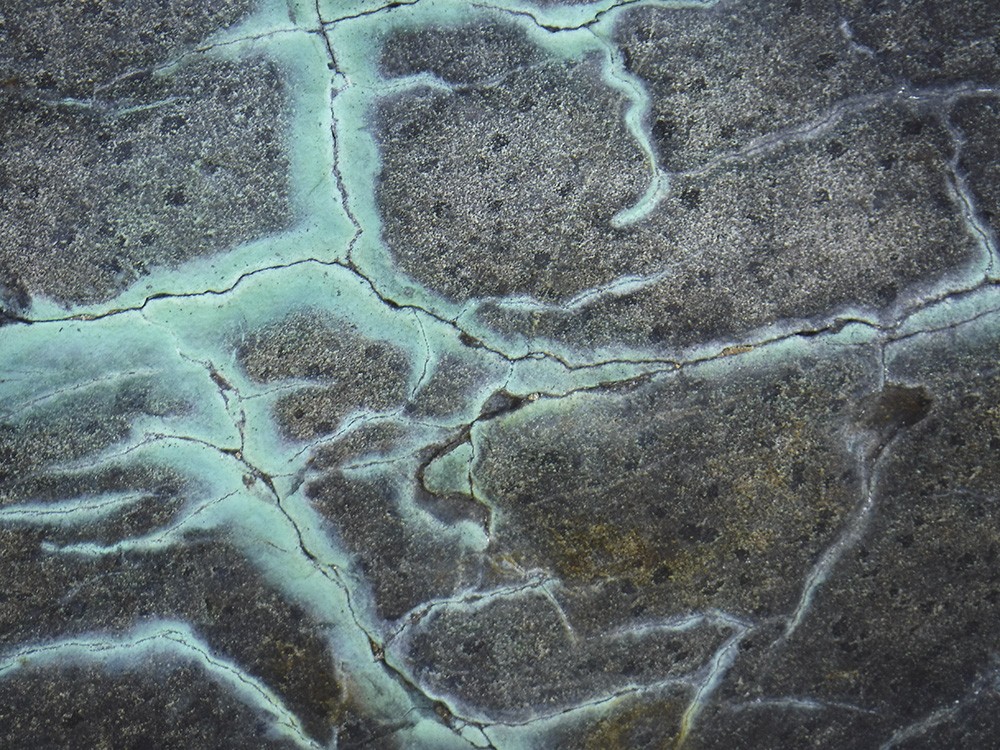 an almost luminous green (copper?) through others, 
and stones of varying composition and colour crunched together.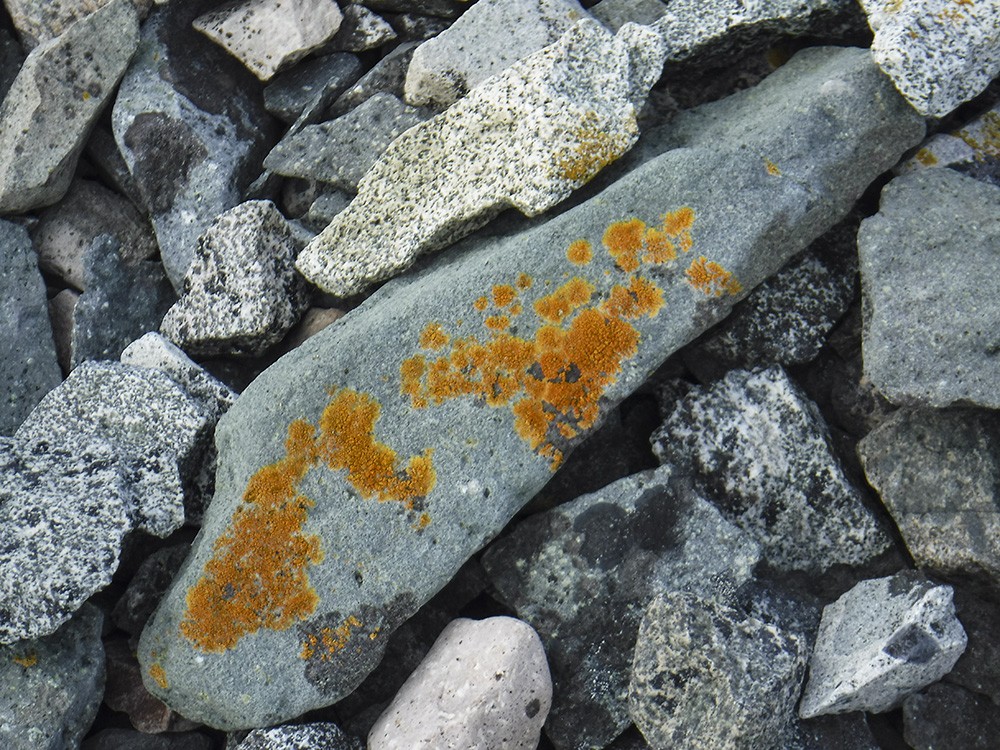 Golden lichen on some of the rocks,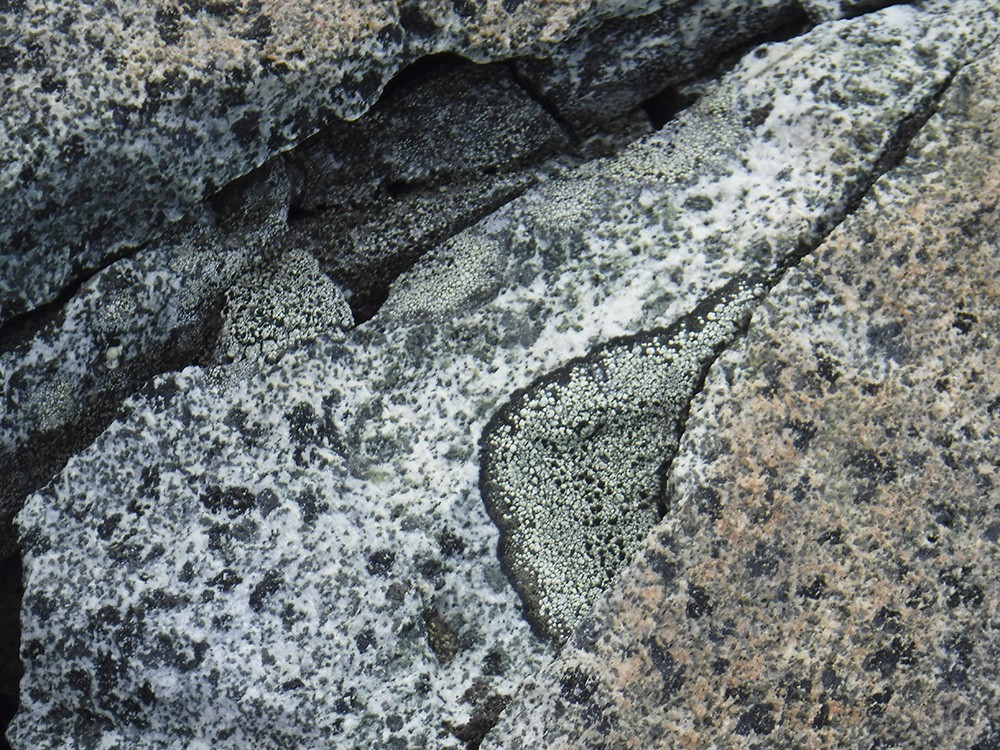 grey-green on others. 
A rusted metal hook between these rocks has leached its colour on to the surrounding stones.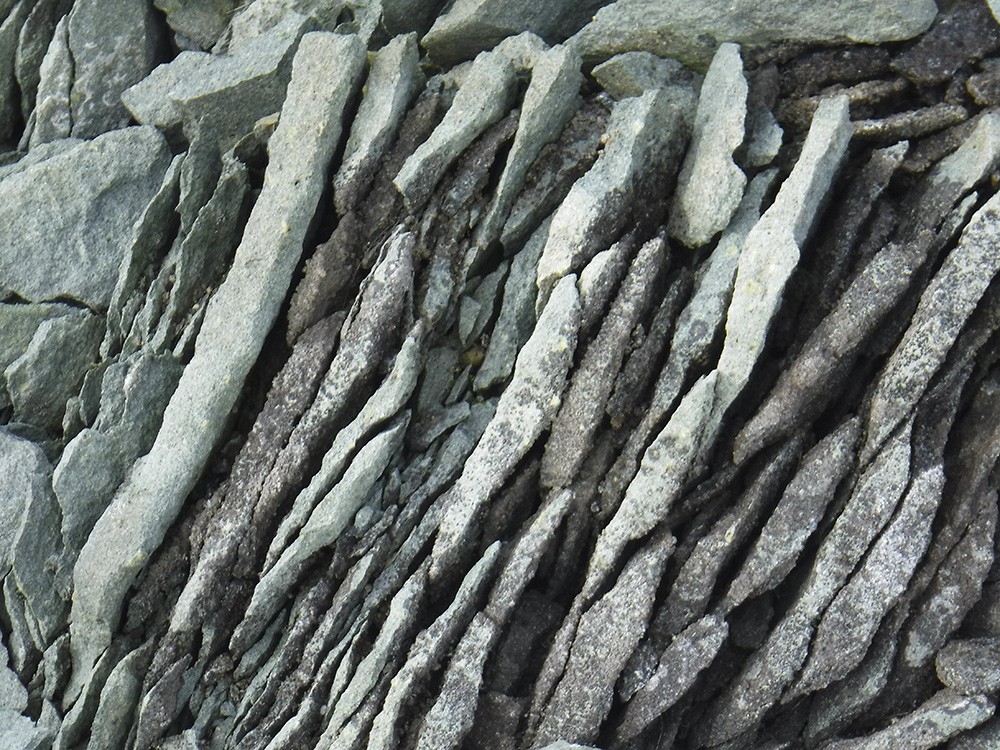 And these vertical layers of split rock attest to the power of water and ice percolating through the rock strata.  
Clearly, I am not a geologist, but if anyone cares to give me more information on these amazingly coloured and striated rocks I would be happy to learn from their knowledge.
Back on board after our morning excursion, and enjoying another delicious lunch, we travelled a short distance towards Laubeuf Fjord, which is a sound running 40 km long in a north-south direction and averaging 16 km wide. It was discovered by the French Antarctic Expedition of 1908-10 under their leader Charcot and was named after Maxime Laubeuf, a French engineer who had supervised the building of the 'Pourquoi-Pas'.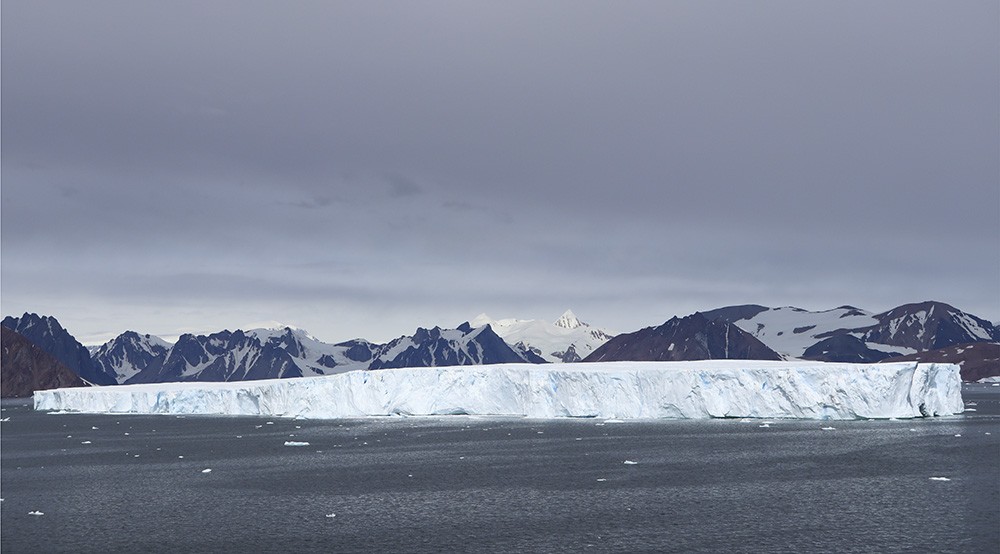 One of the huge tabular icebergs that could be found at the mouth of the fjord.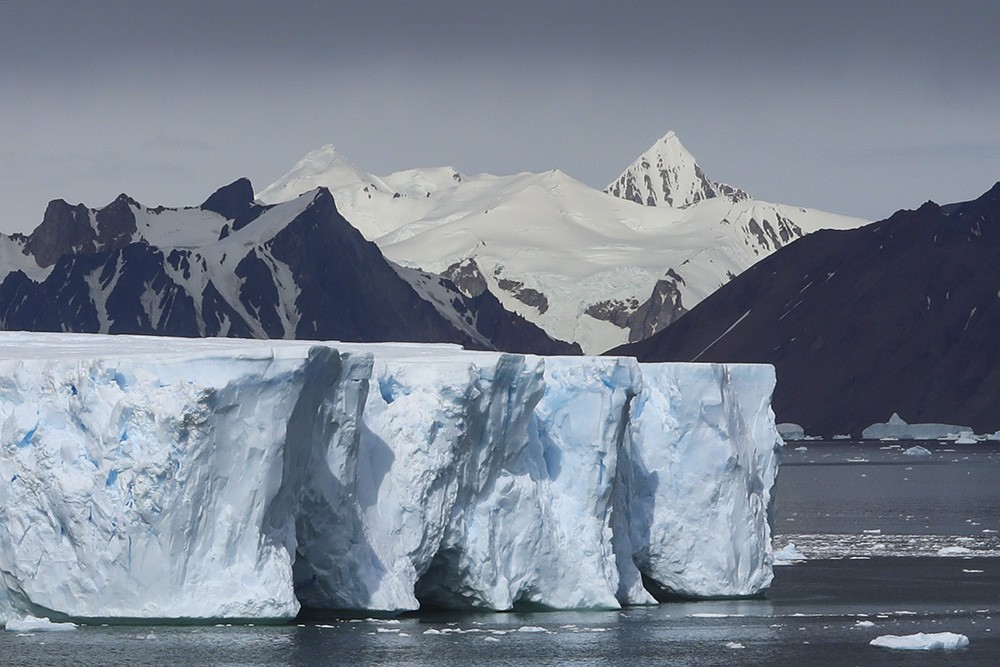 A close up of a part of the iceberg with the mountains of Graham Land beyond.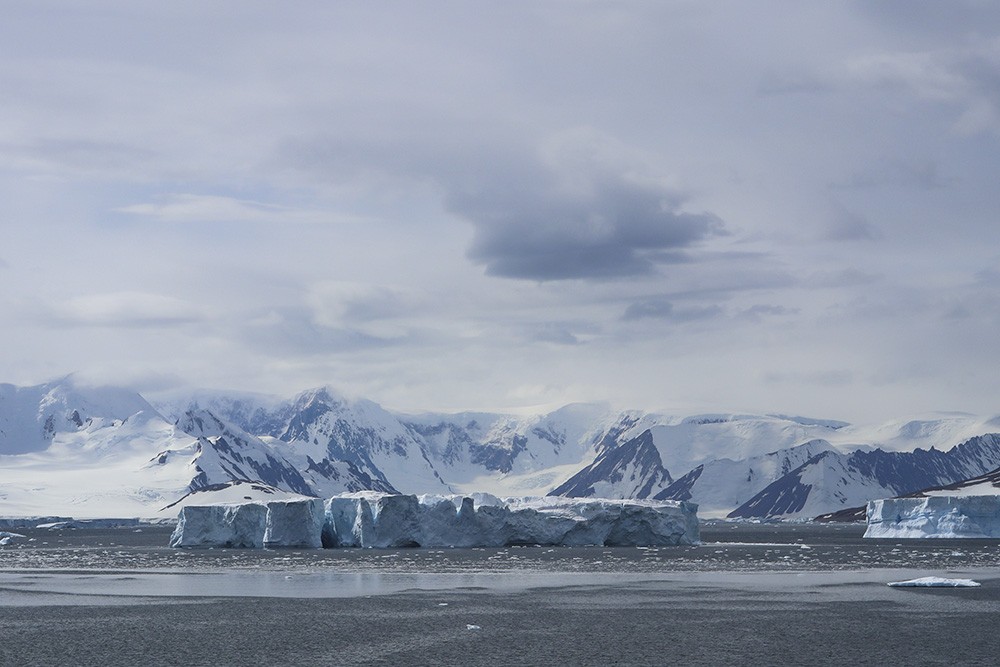 It had been the plan to go into the fjord, however, the sea lane was crowded with icebergs
and so our ship stayed outside and we cruised through some of the icebergs by zodiac.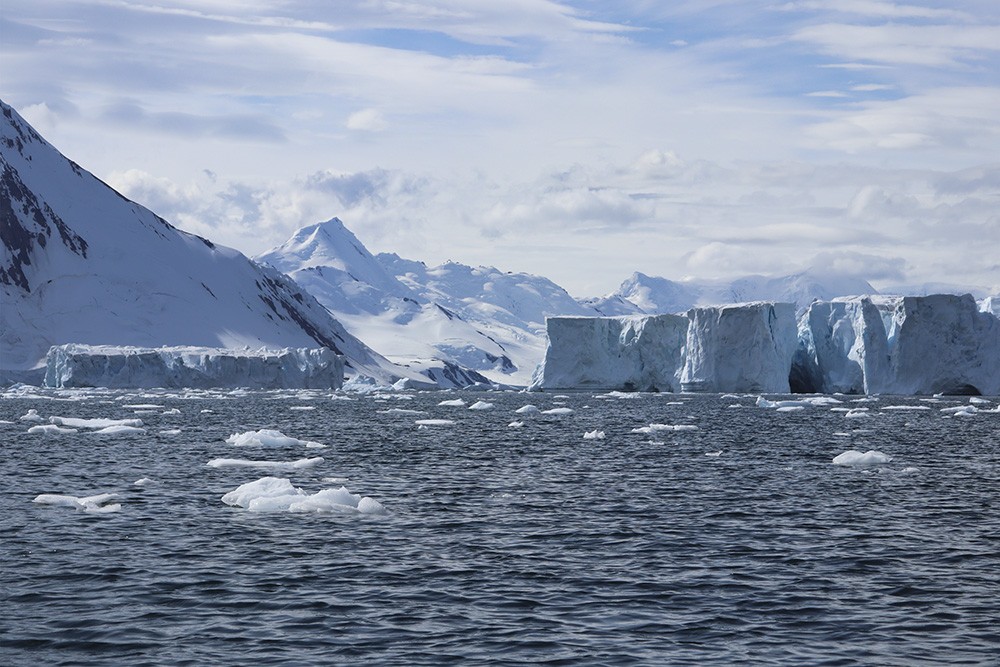 The beauty of blue, grey, black and white as we set off in our zodiac for an hour's cruise in the mouth of the fjord.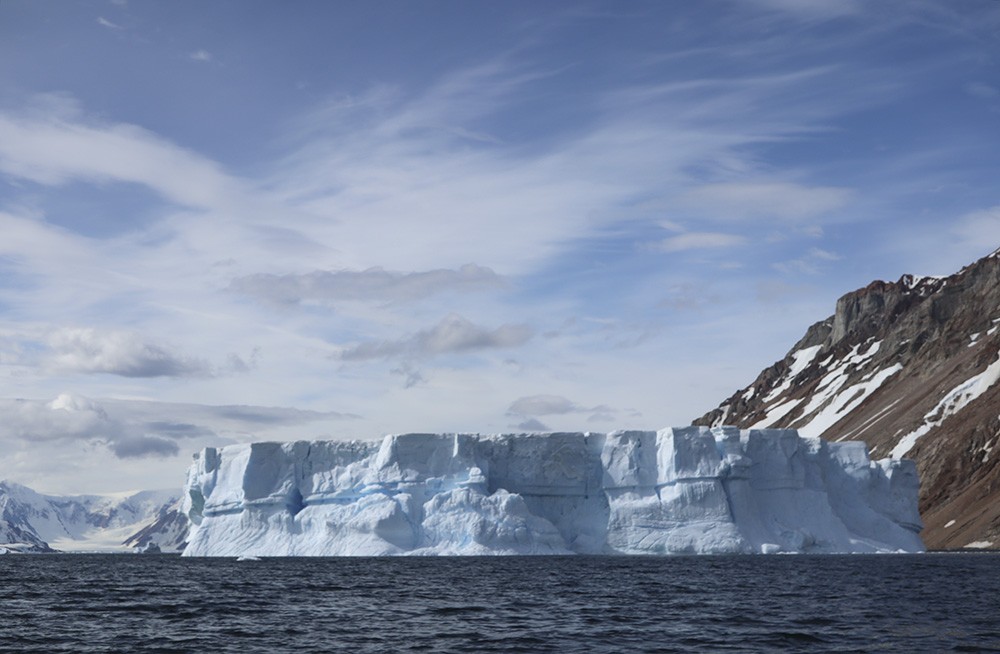 Another huge tabular iceberg floating in the fjord, but as we ran alongside, we saw that it was tipping …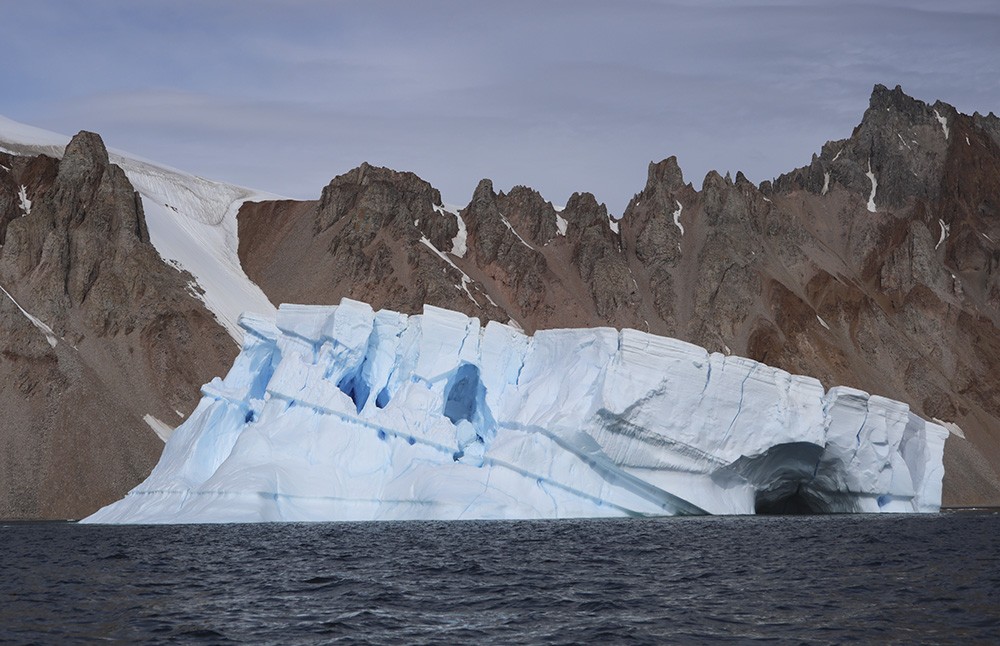 … considerably. It slowly but surely dipped some 20 metres down on the right …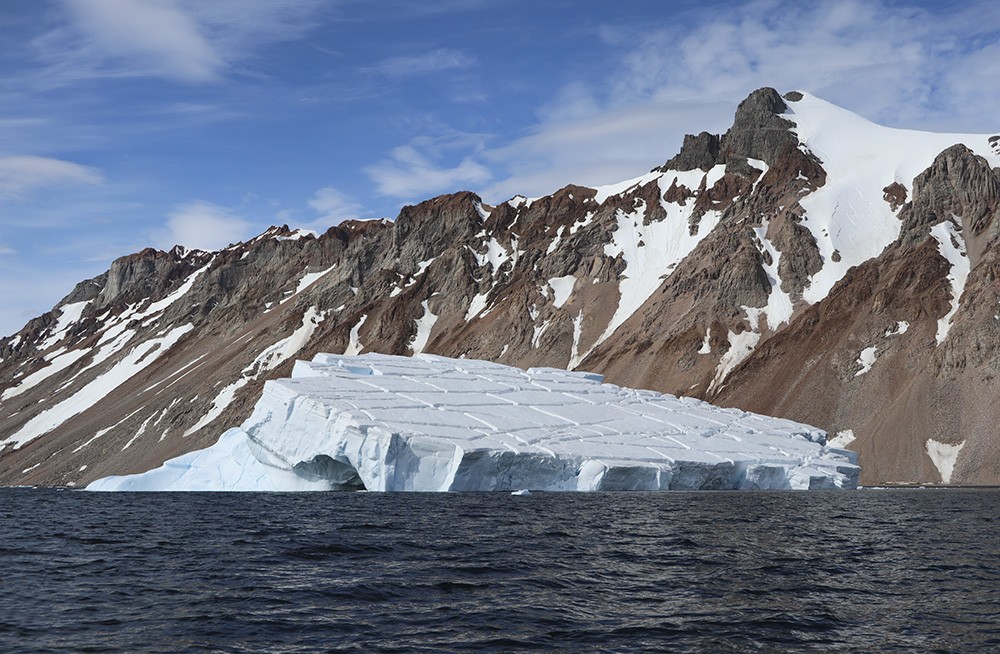 … then even further until you could see the whole top of the berg.  If you consider that only about 12% of an iceberg is above the waterline, it indicates just how deep the fjord is.  What had started the rocking, we wondered, underwater currents or being hit by another berg?  We watched for maybe 10 minutes and in that time it had tilted down and back about 5 times. Incredible.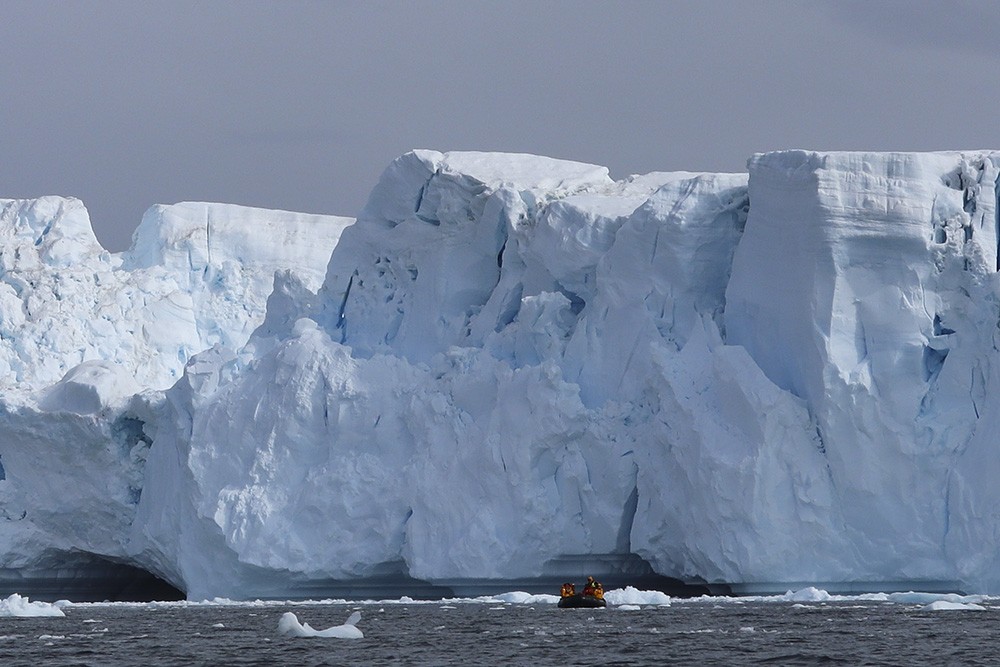 Another of the tabular bergs with a zodiac giving an idea of its height.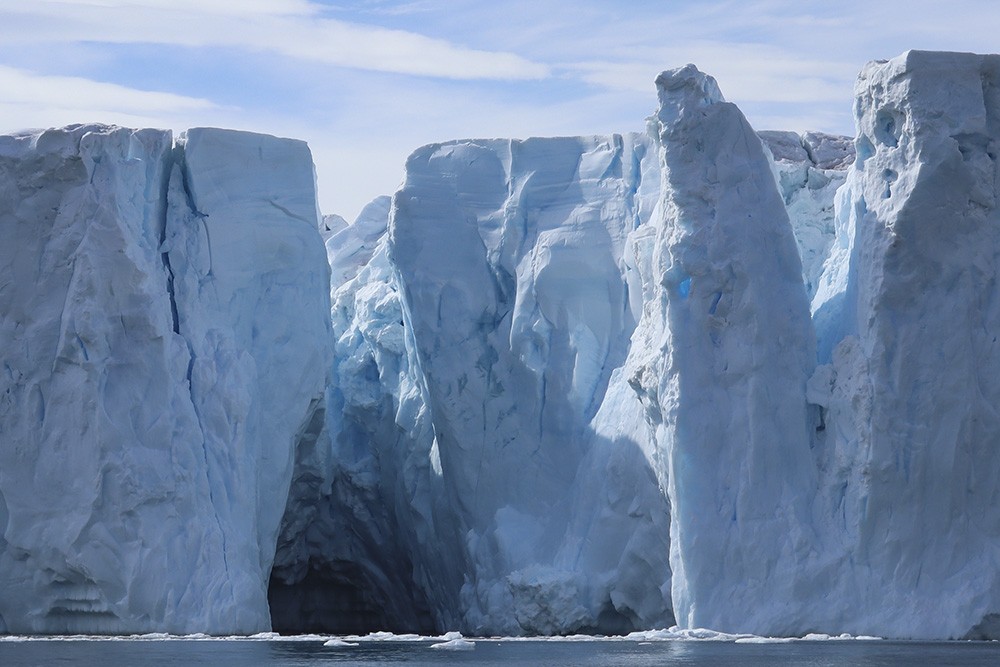 Towering ice stacks and caves with a beautiful deep blue shining through.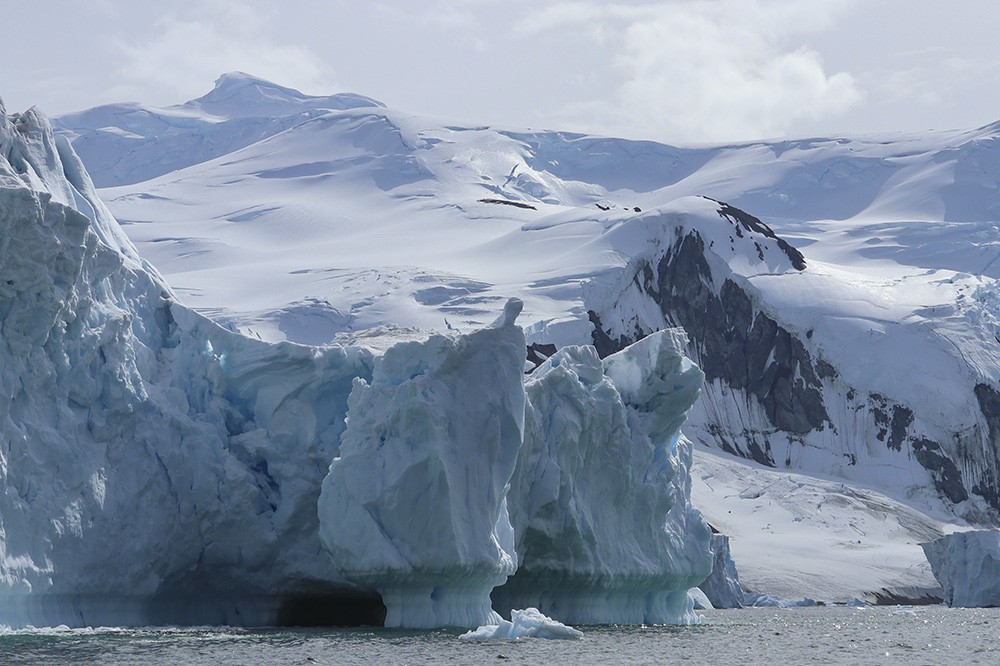 Many of the icebergs had caves and undercutting from wave action.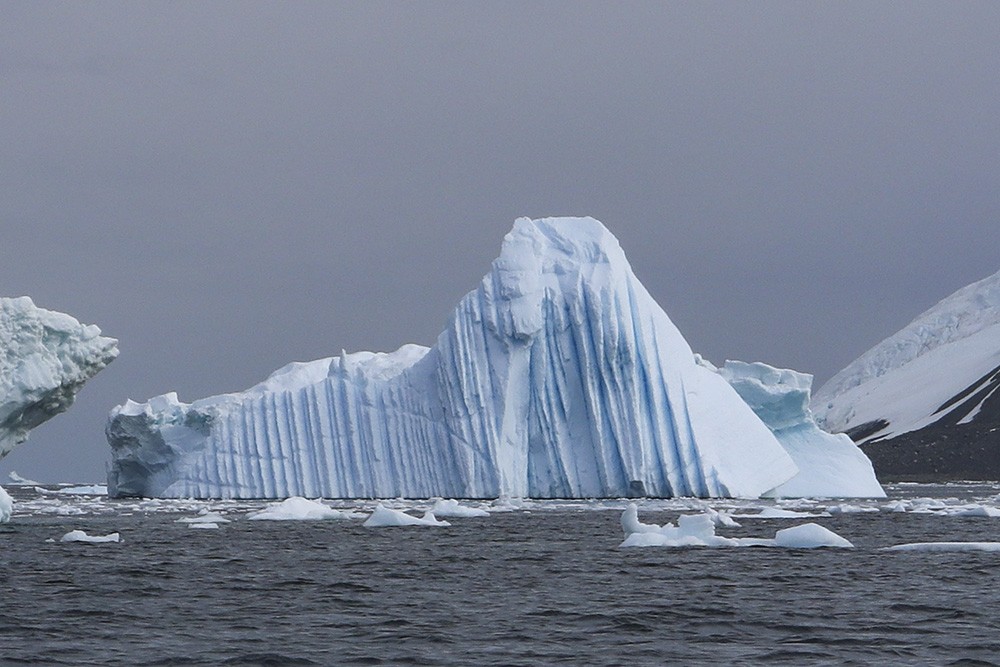 This one with its vertical striation was just magical.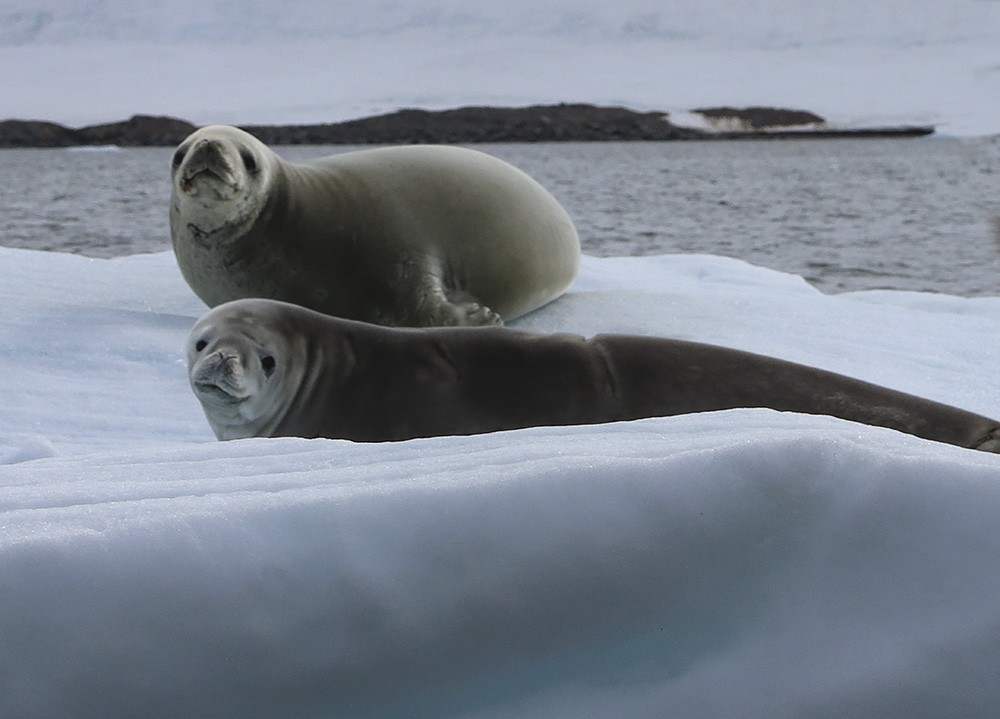 Two seals look at us with some curiosity as we float nearby.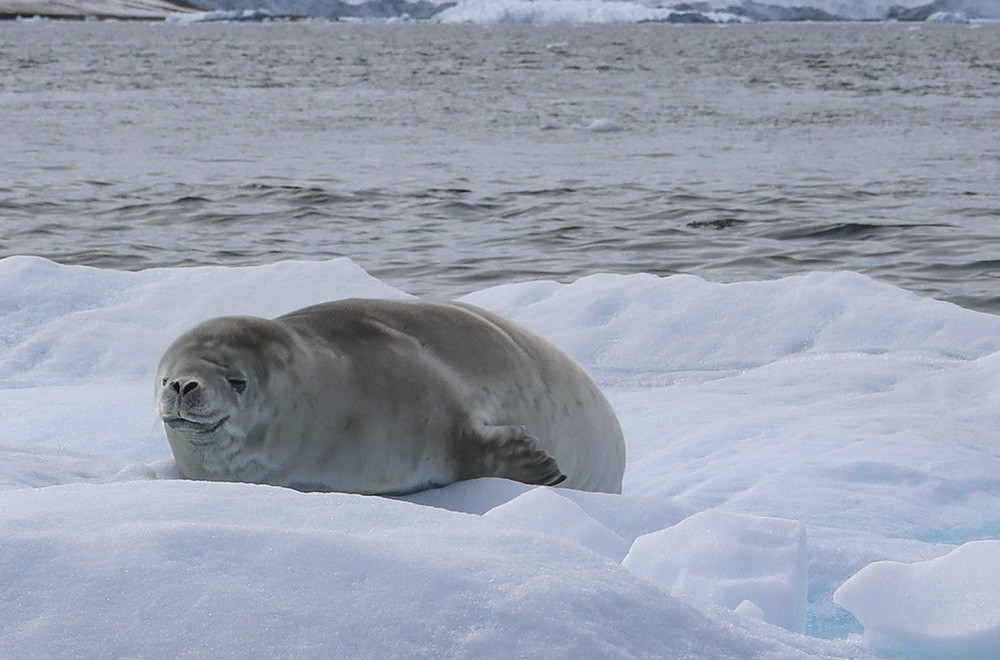 Another one relaxes on its bed of ice.

Our ship dwarfed by the mountains and icebergs, anchored at the mouth of the Laubeuf Fjord.
Back on the ship after our zodiac cruise, an announcement was made, 'This evening we are doing the polar plunge, so would those interested please make your way to the mudroom.  Excitement, and not a little trepidation.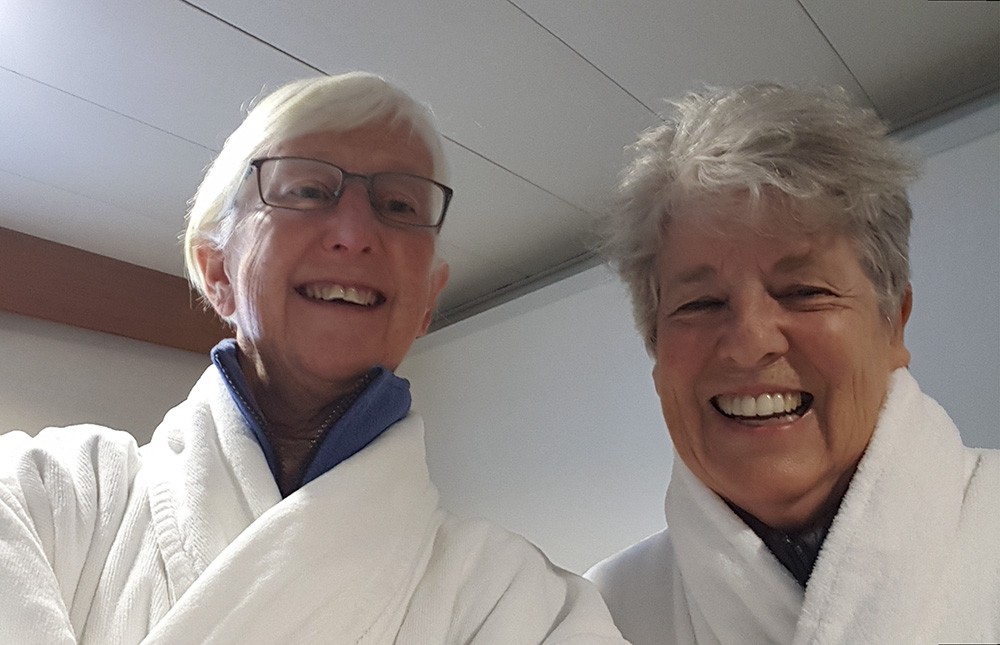 We are ready with swimsuits, (also thermal longjohns for me), and a warm jacket with dressing gowns over the top.
That evening 99 of the 199 passengers on board decided to take the plunge. The doctor was on hand, the crew were careful roping each jumper and the photographers were in position. We were quite far down the long line waiting to jump, and cheered on those returning wet and smiling, but rather anxious ourselves.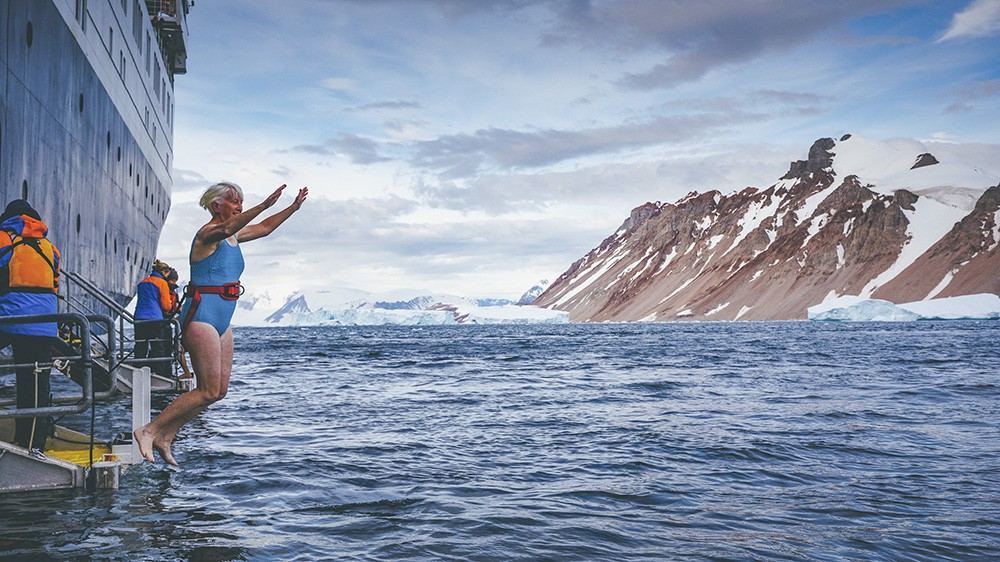 Then it was Sarah's turn. She made a great leap and I was impressed.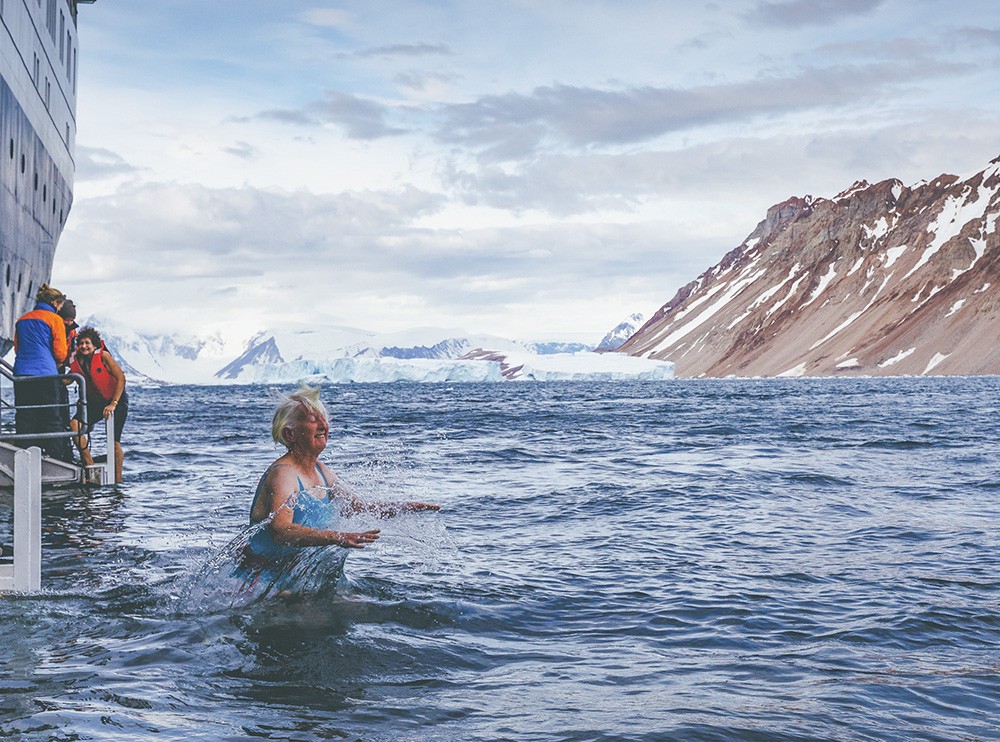 A little less relaxed as she hits the water.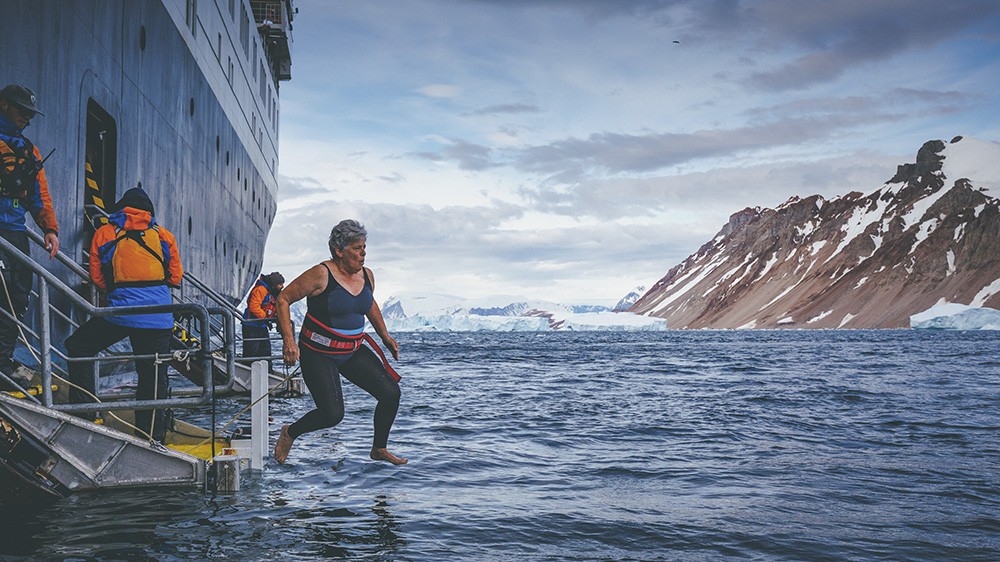 Then it was my turn, taking a deep breath and stepping off. No fanciful jumps for me. Just pure determination.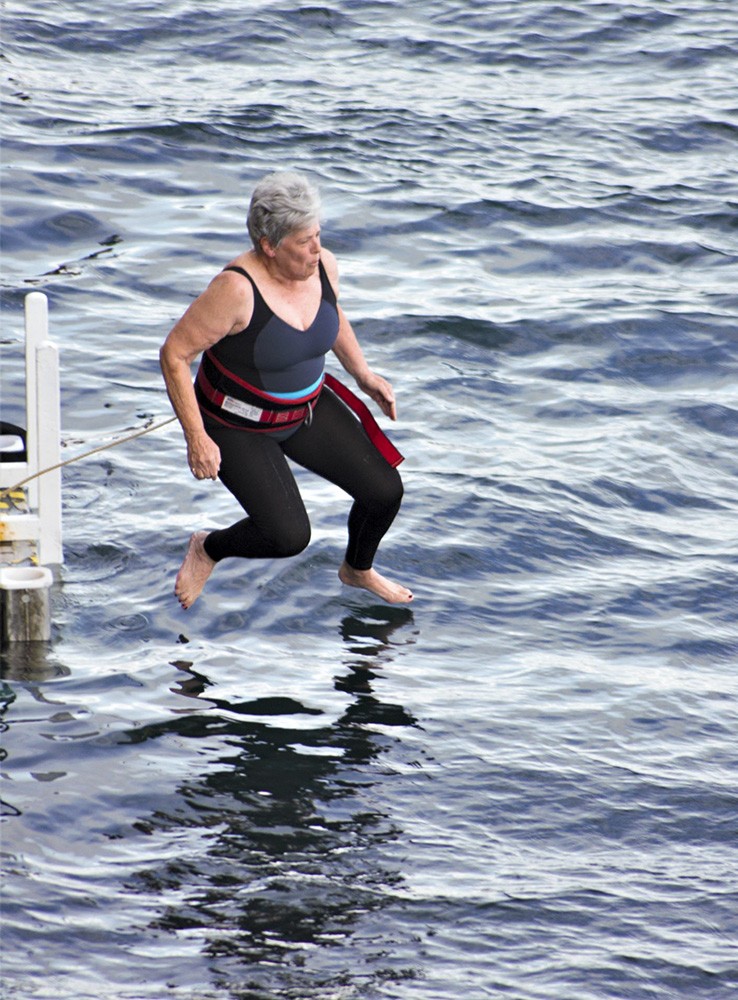 That face captured from above as well, and nice reflection.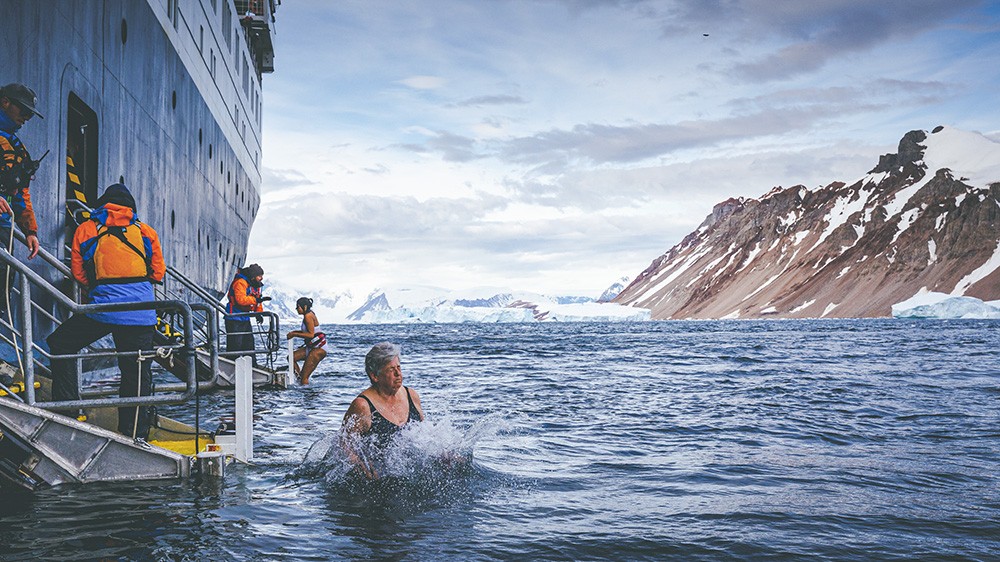 The face says it all!  Sooo cold!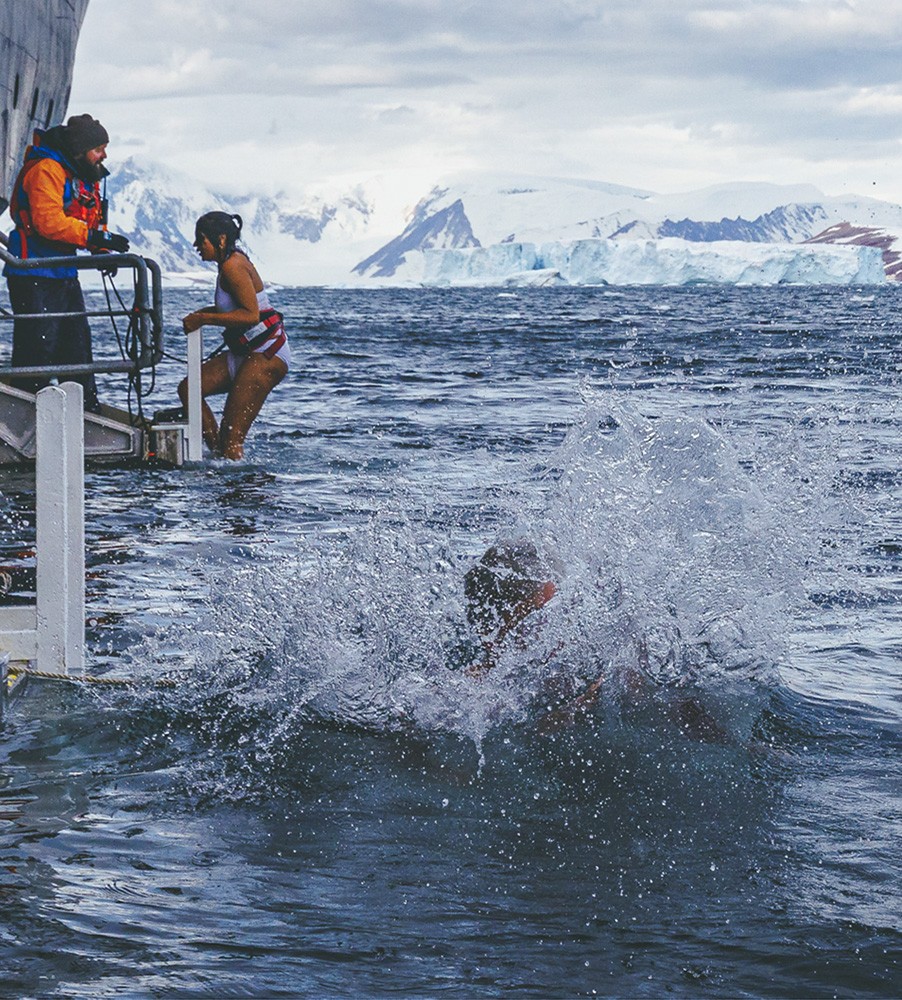 Evidence of the full Polar Plunge. Difficult to catch your breath right away, but just a few strokes to the ladder
and into the sleeves of the dressing gown, a shot of vodka to throw back, and …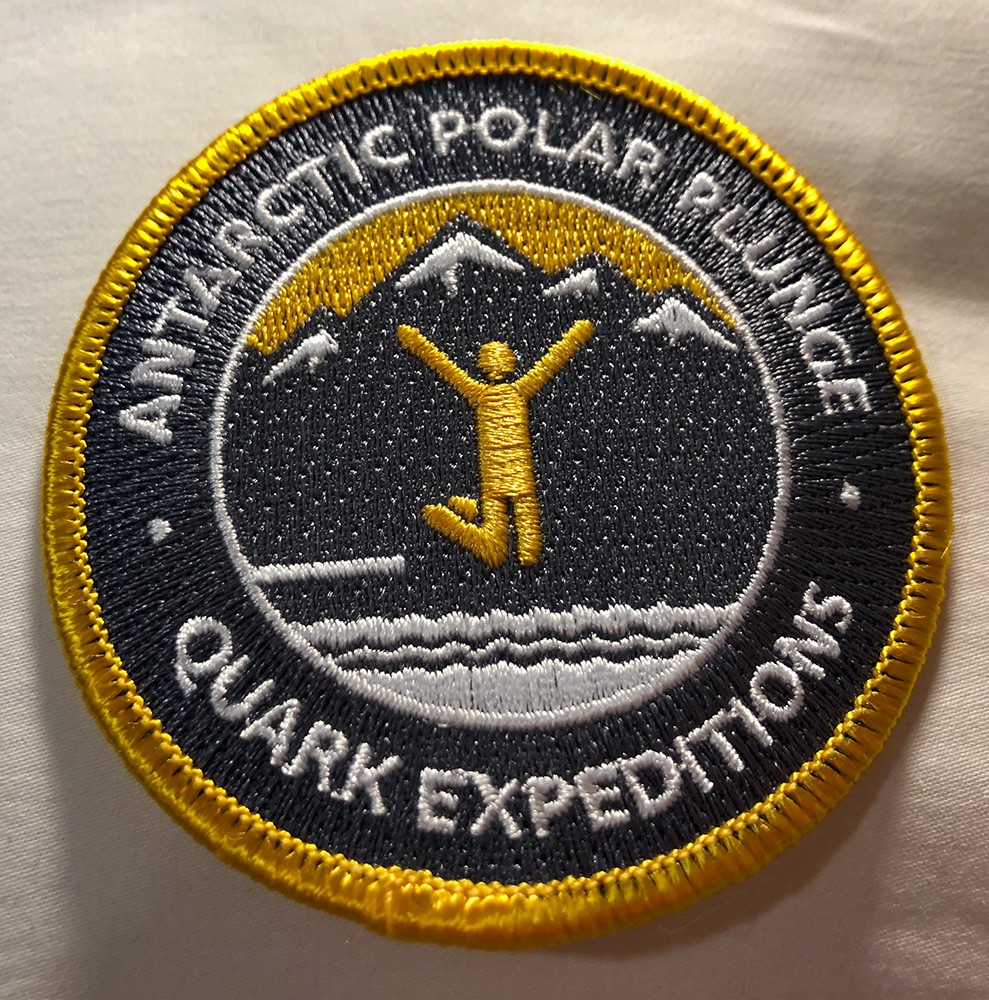 … my badge to show for it. To show what exactly – my craziness, my bravery or ?
To so proud of myself that I did it!
Then it was back up to the cabin for a warm shower and a laugh together about the experience we had just shared, and really ready and I would even say deserving of a nice dinner and a glass of red before the daily debrief.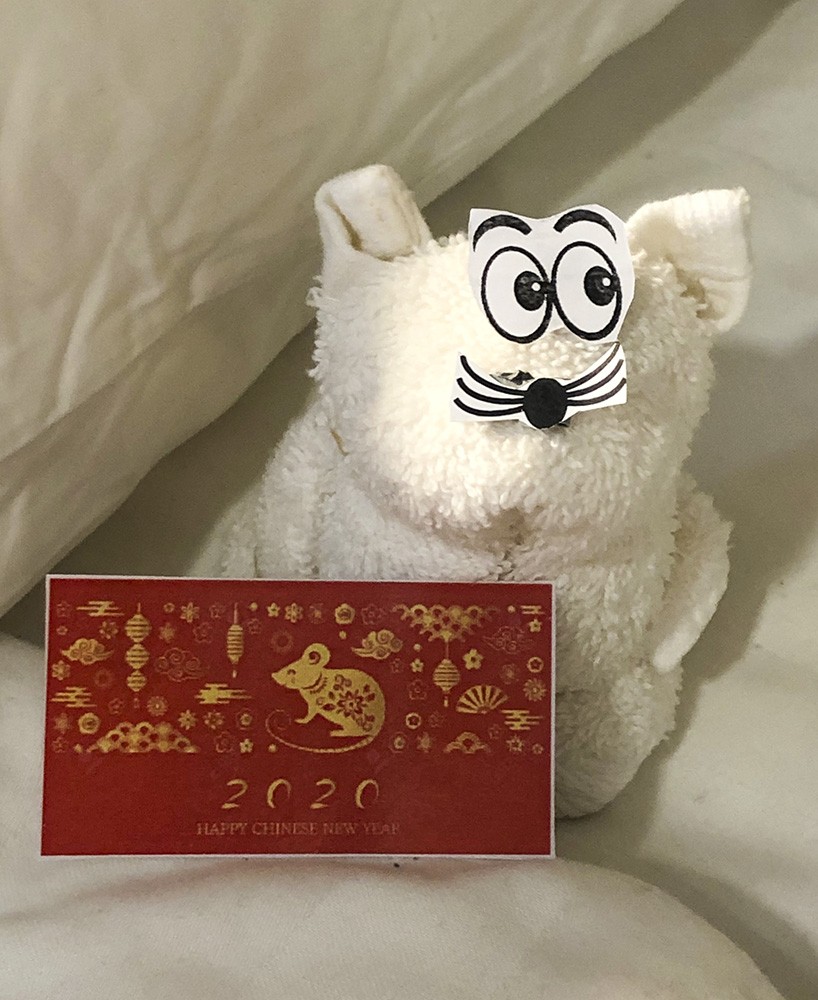 In the cabin, the towel design of the day was this little rat, signifying the beginning of the Year of the Rat
in the Chinese Lunar Calendar. And I am a Rat, so my year begins. What else does it hold in store for me?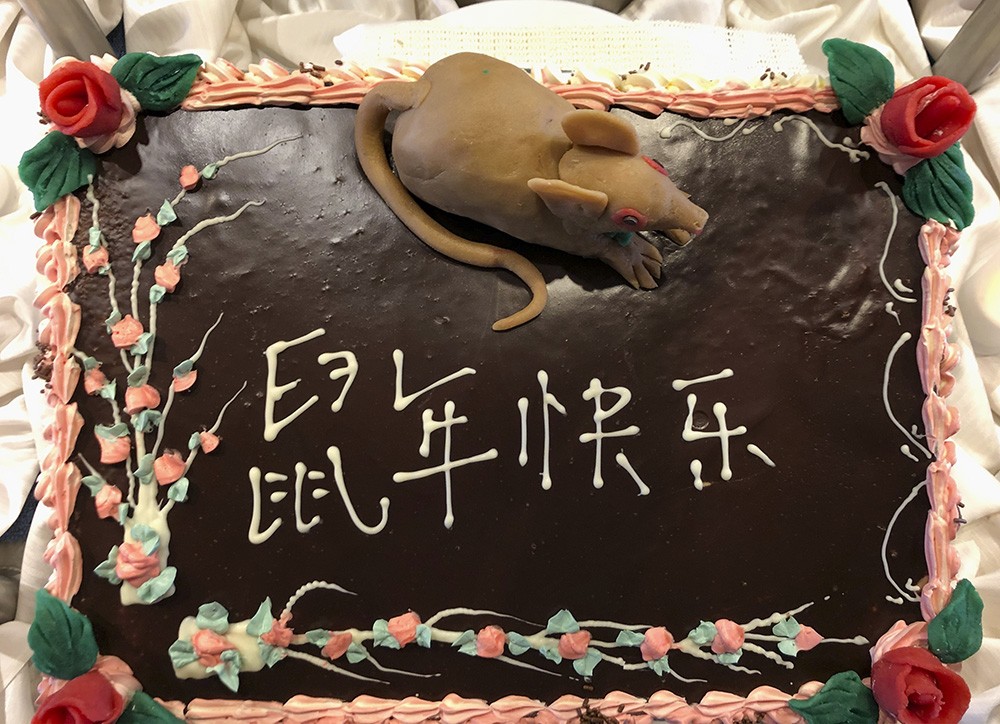 At dinner that evening, the chef also acknowledged Chinese New Year with this delicious and appropriately decorated cake. 
So that was another fabulous day – paddling and plunging and a rocking iceberg.  More stories and photos to come – of the travel north off the western coast of Adelaide Island with the seas considerably rougher, and zodiac touring in the Fish Islands.
I hope you are enjoying these blogs and thank you to those of you who have been leaving comments.
So, until next time,