Dear friends,
Following quickly on from the last post, this one is mainly scenery of the west coast from Franz Josef up to Westport, from where we headed eastwards towards the city of Nelson.  The latter part of the day over the hills and through the Buller Gorge we hit some rain, so no photos from that part of the trip.  But the top end of the West Coast was magnificent ….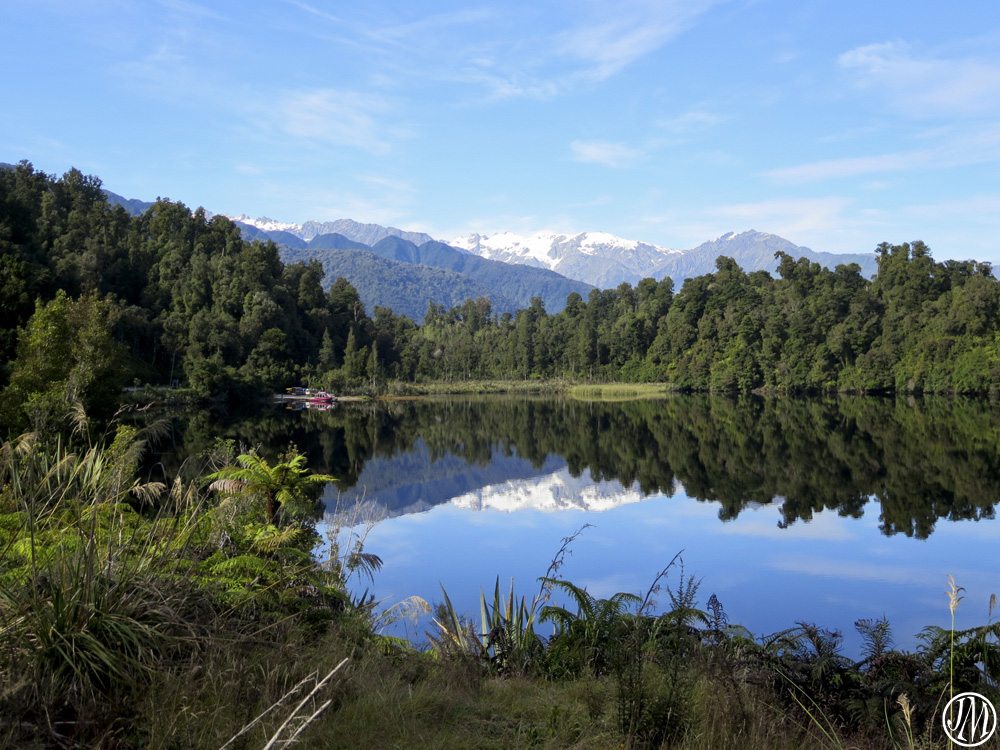 A wonderful West Coast reflection in a small lake just north of Franz Josef.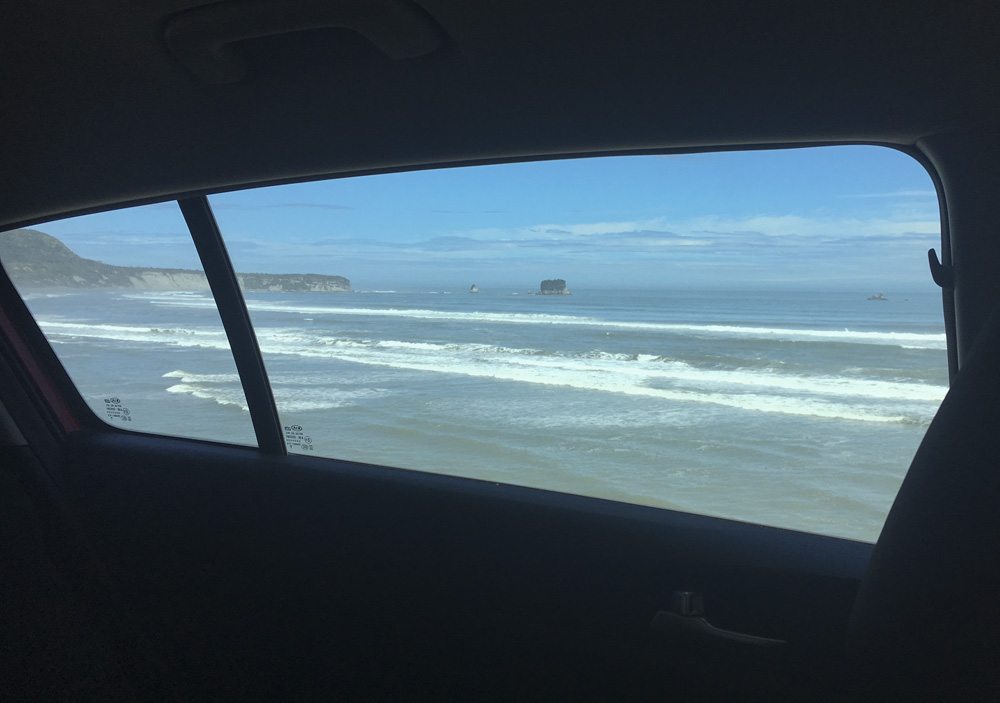 The road continued up along the coast, and the views were spectacular. John just shot this photo from the driver's seat.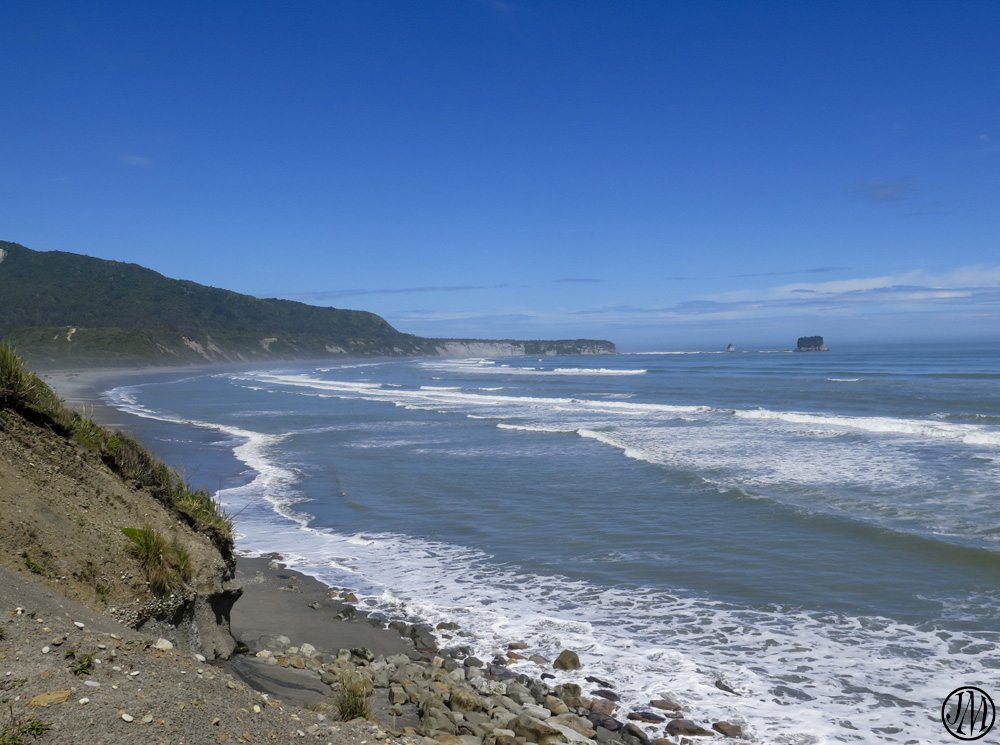 Same view from outside the car. Not a soul in sight.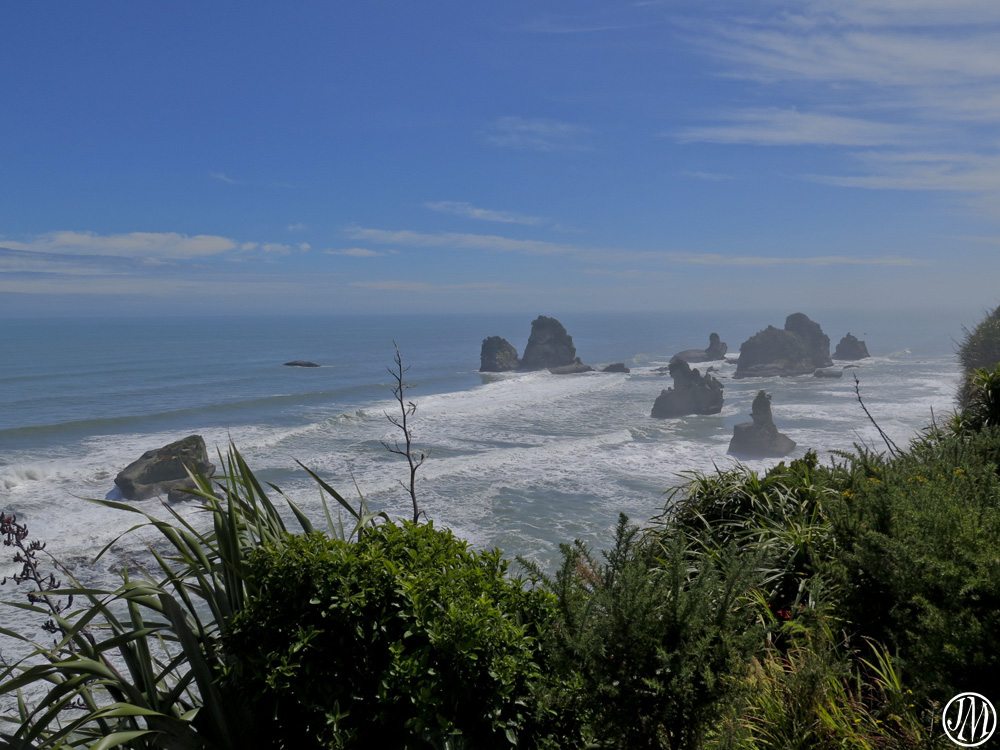 An impressive group of offshore rocks through the flax flowers.  Sea mist clouding the view a little.
Looking back to the coastline and the road on which we had just travelled.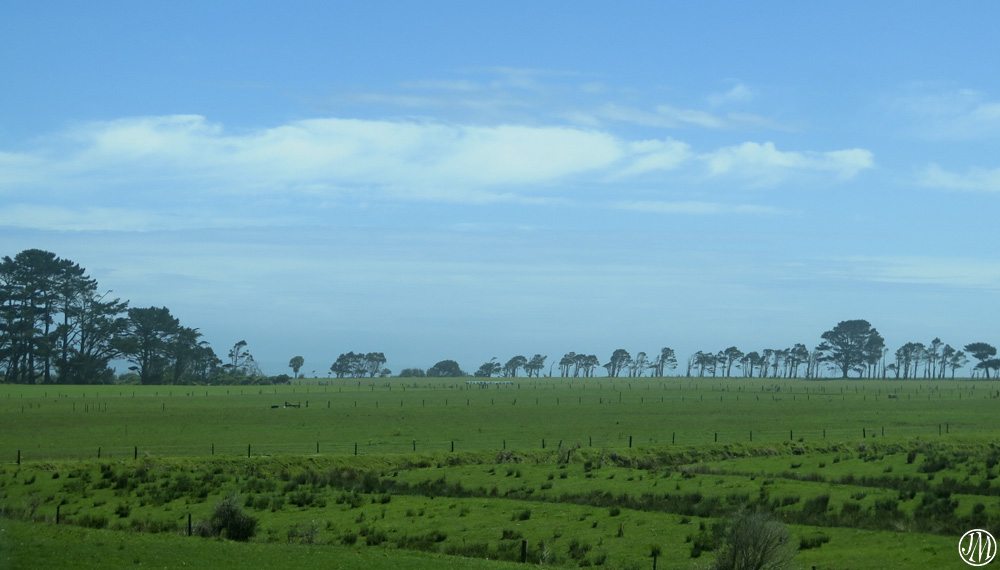 At times the road snaked away from the coast and we passed grasslands and lines of trees, all slightly leaning,
bent by the prevailing winds.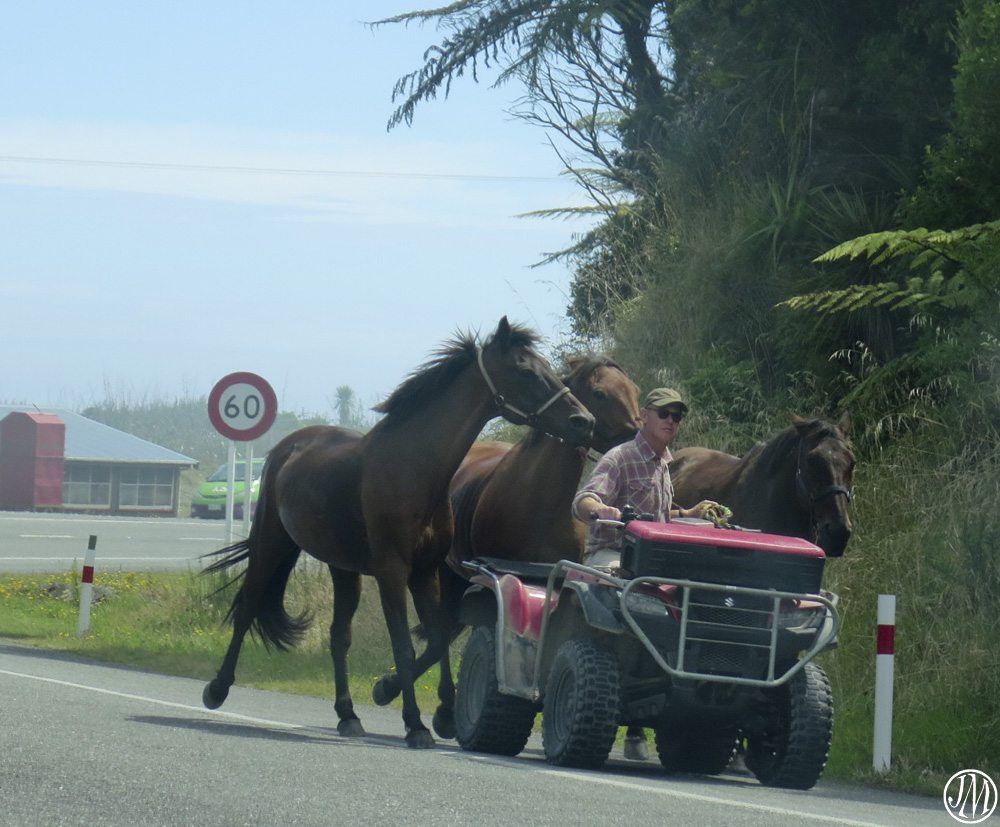 One way to exercise your horses – hope they kept within the speed limit. 
One of the most visited spots on the coastline, just south of Westport, are the Punakaiki Rocks.  A well-designed walkway along the coast has many vantage points from which to view the power of the waves pounding across and through the rocks.
The layers of rock giving them the 'pancake' name.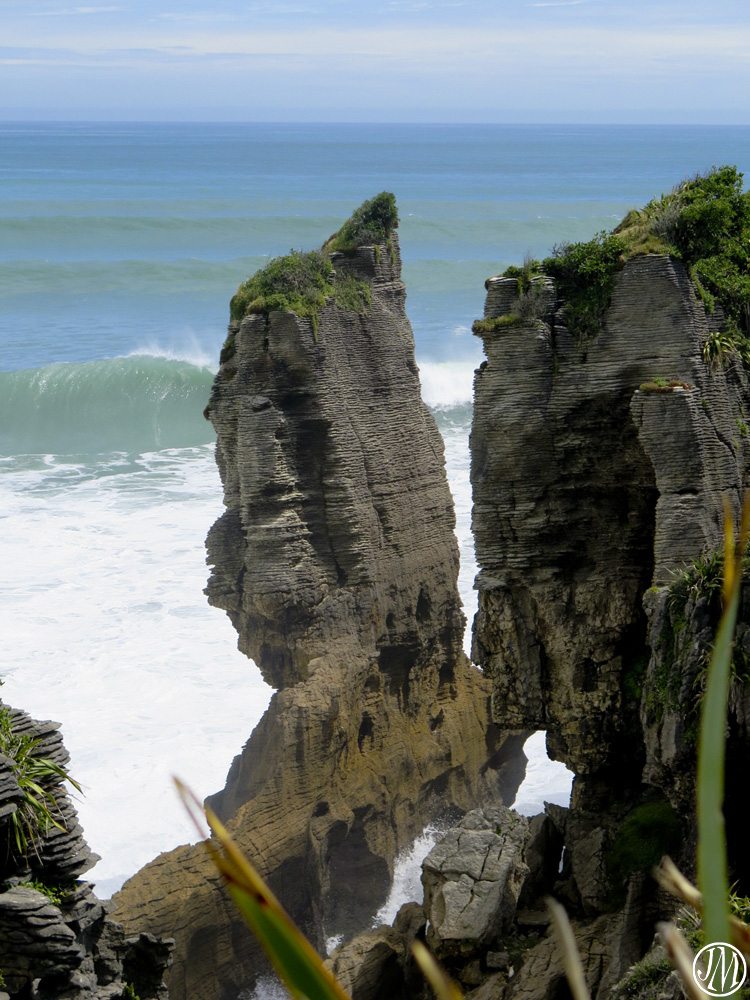 So many nooks and crannies weathered over years to let the sea in.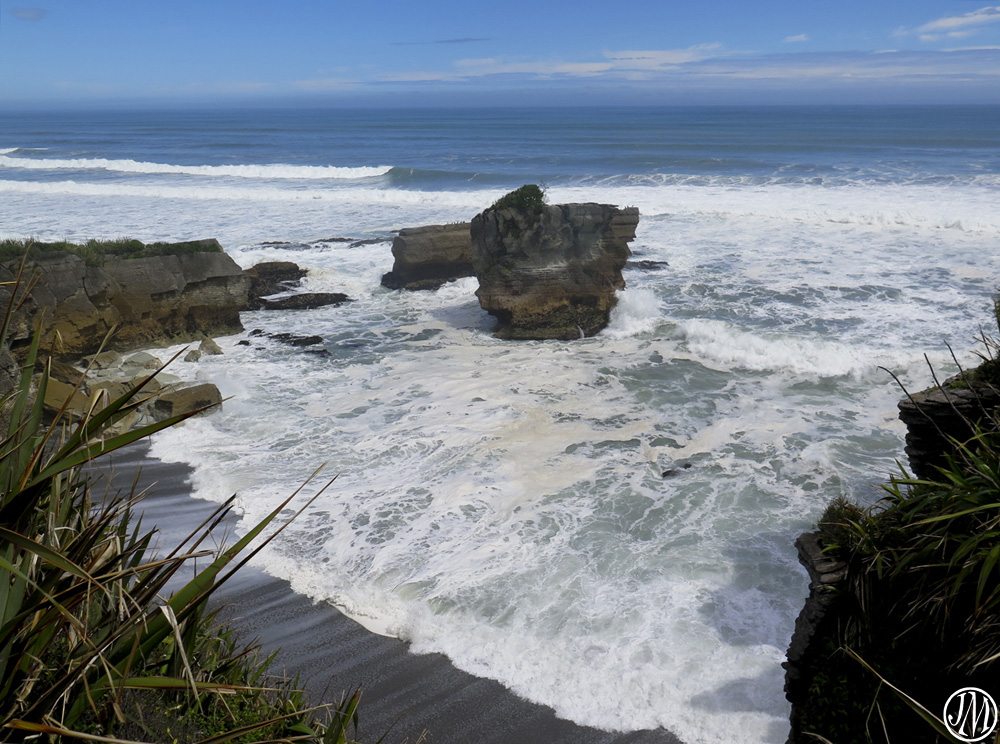 The waves roaring in from the Tasman Sea onto the black rocks and the black sand beaches.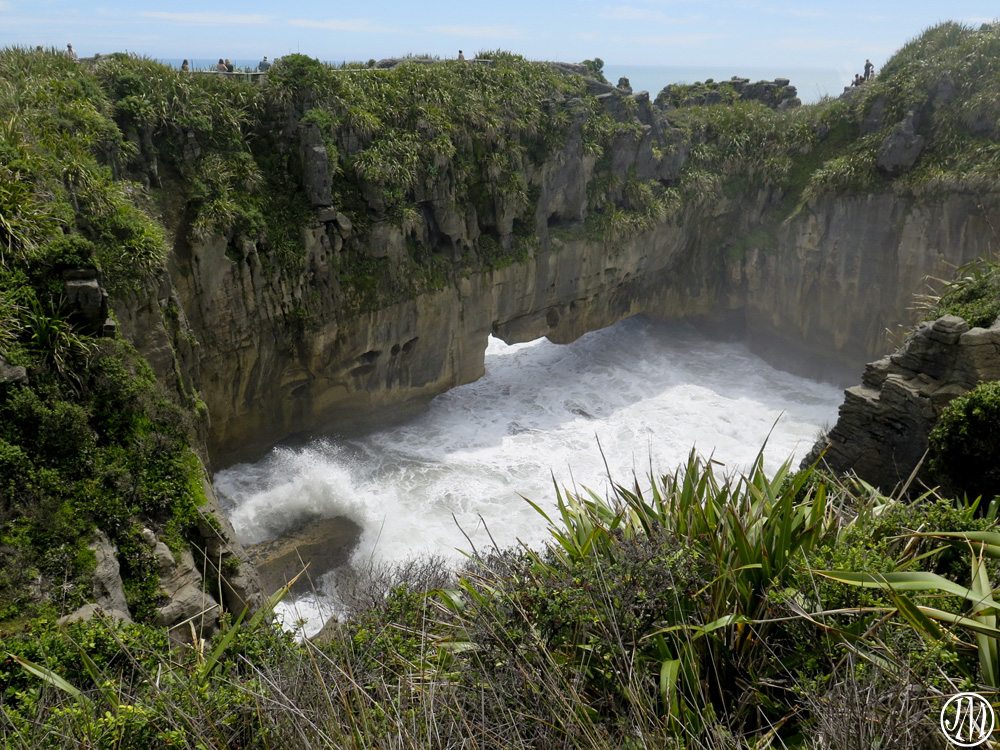 Waves surging in through a narrow fissure and rebounding off the sides of the sunken cavern.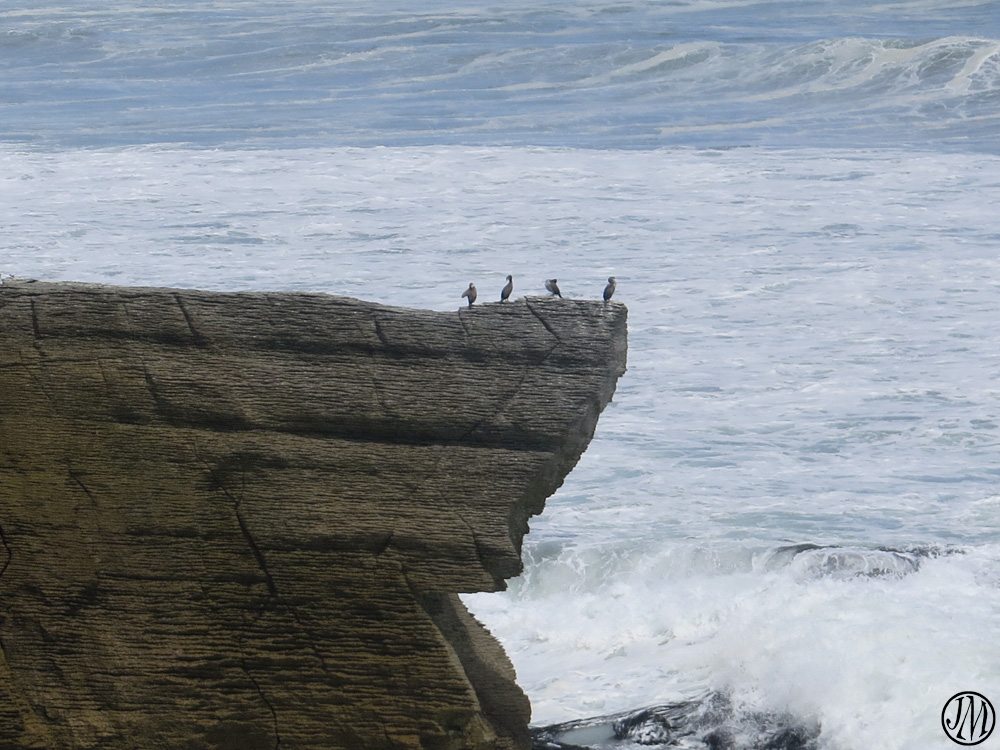 A line of birds enjoying the wind and spray.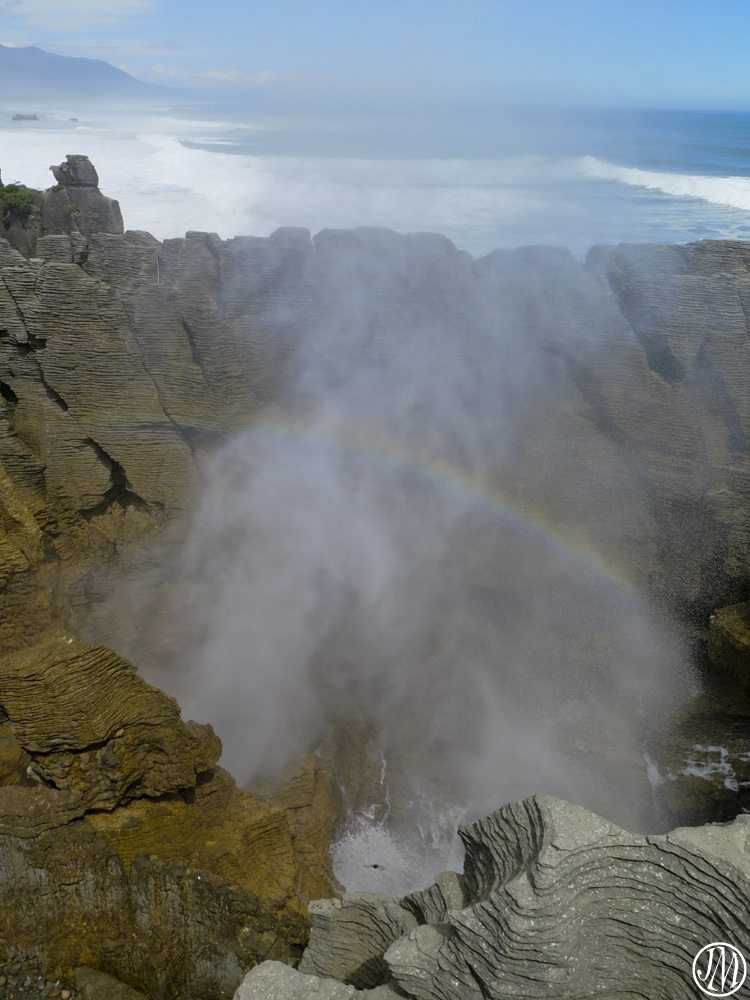 A rainbow shows its colours in the spray shooting up through a blowhole.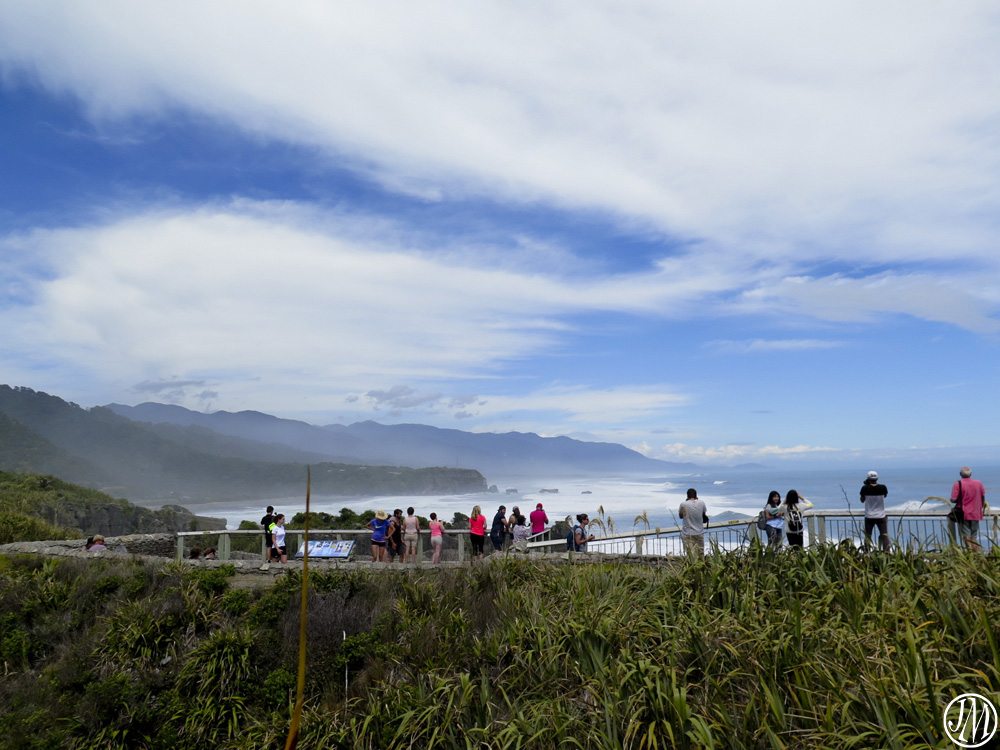 Lovely viewpoints all along the walkway.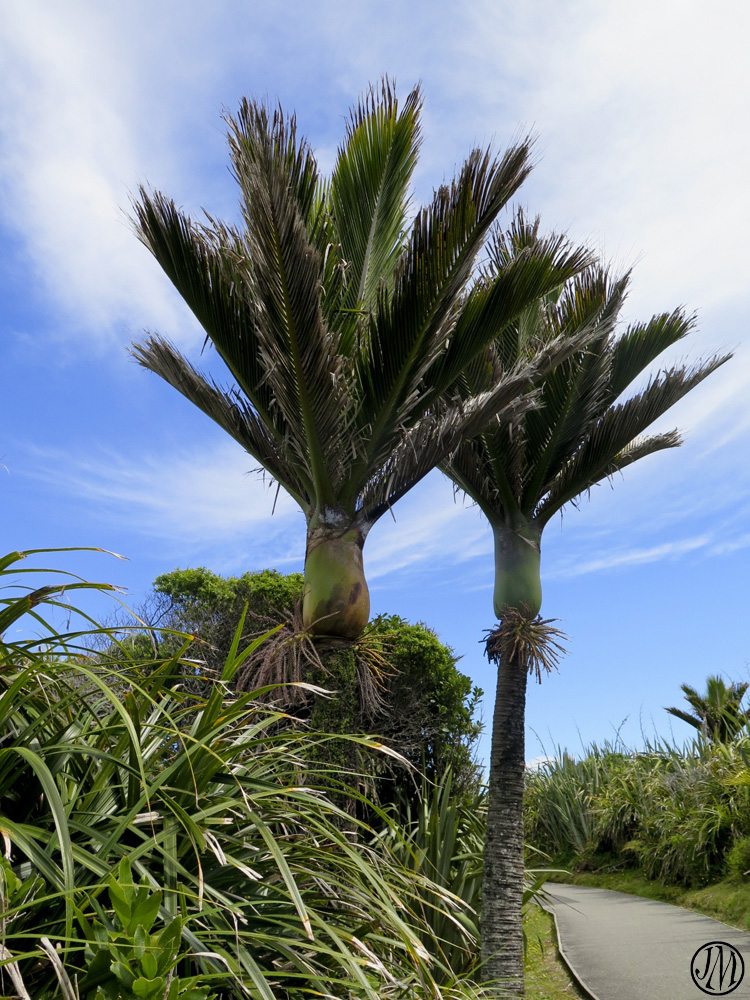 Nikau palms standing guard along the path.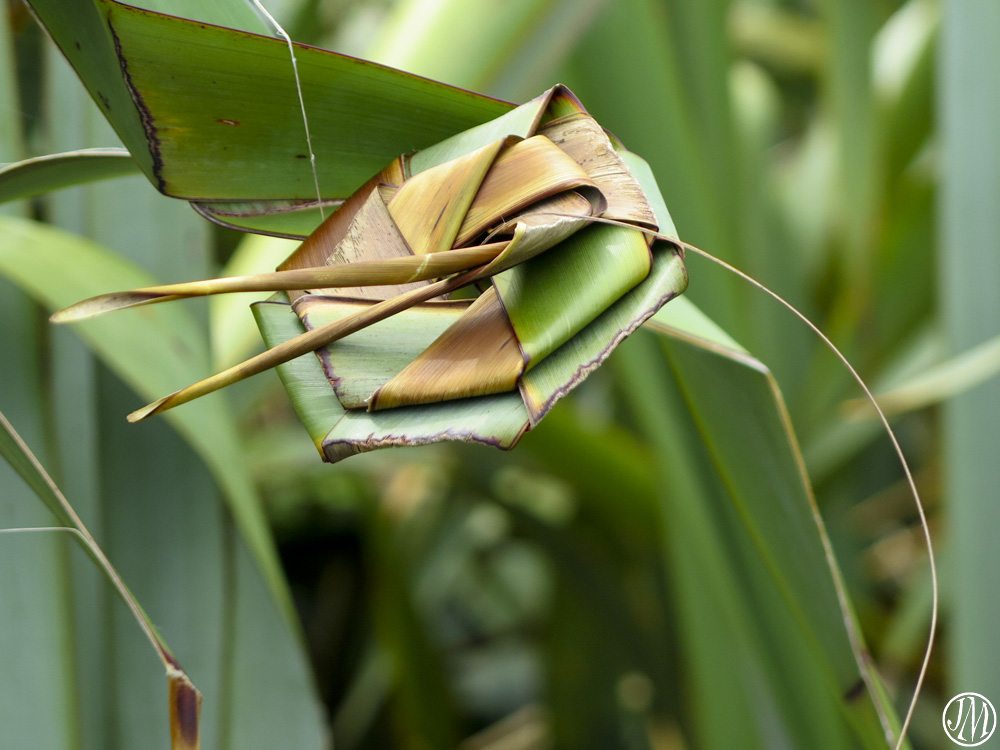 Small leaf weaving or sculptures in the flax leaves could also be found at regular intervals along the path.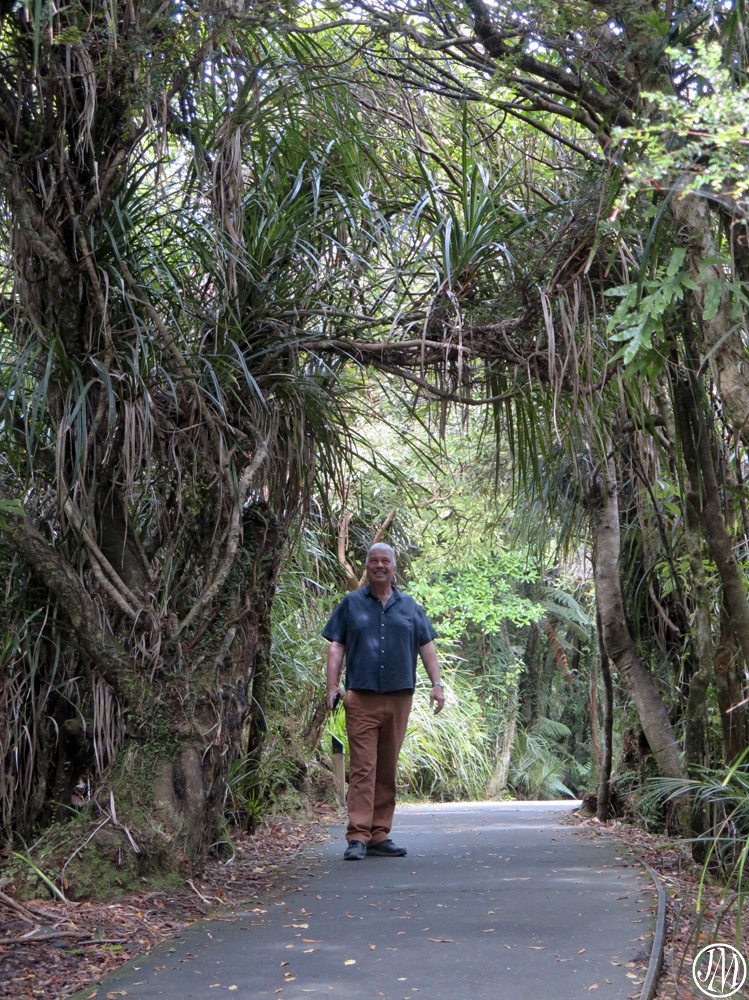 John ambling through a leafy tunnel along the walkway.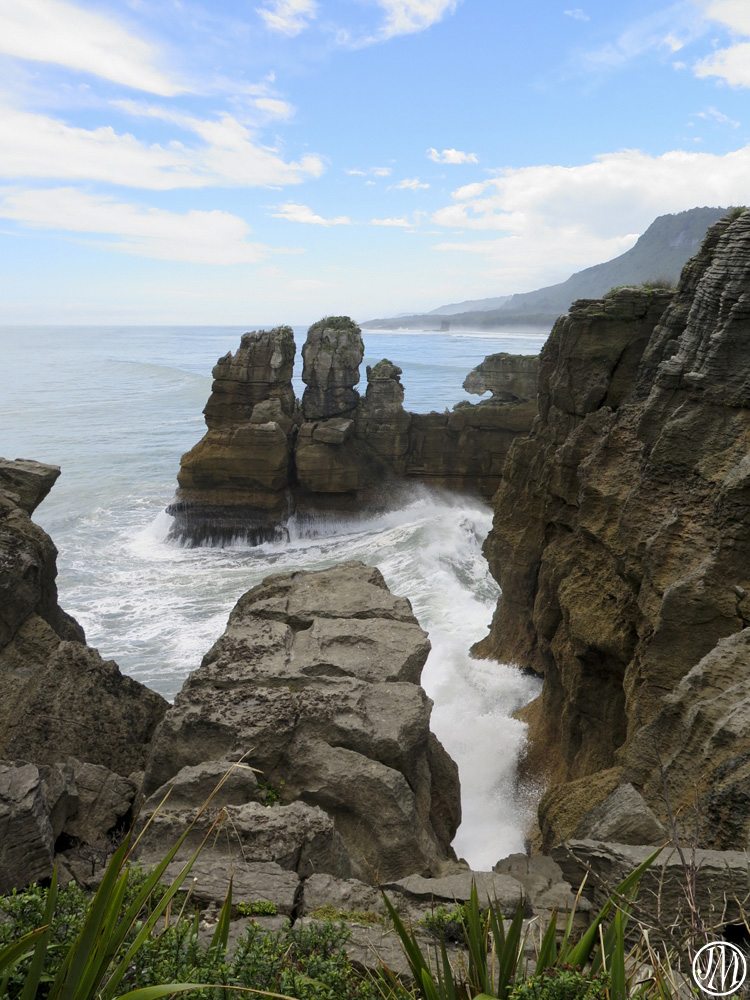 Rock formations looking a lot like portraits of giants looking out to sea.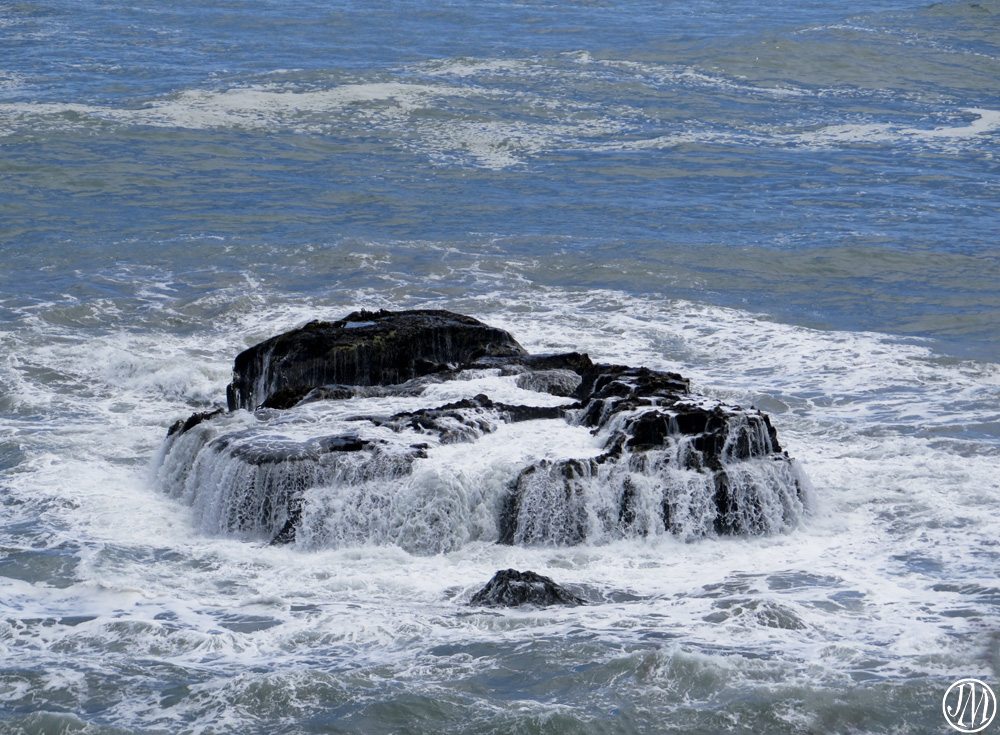 An almost submerged island, under a mantel of waves and foam.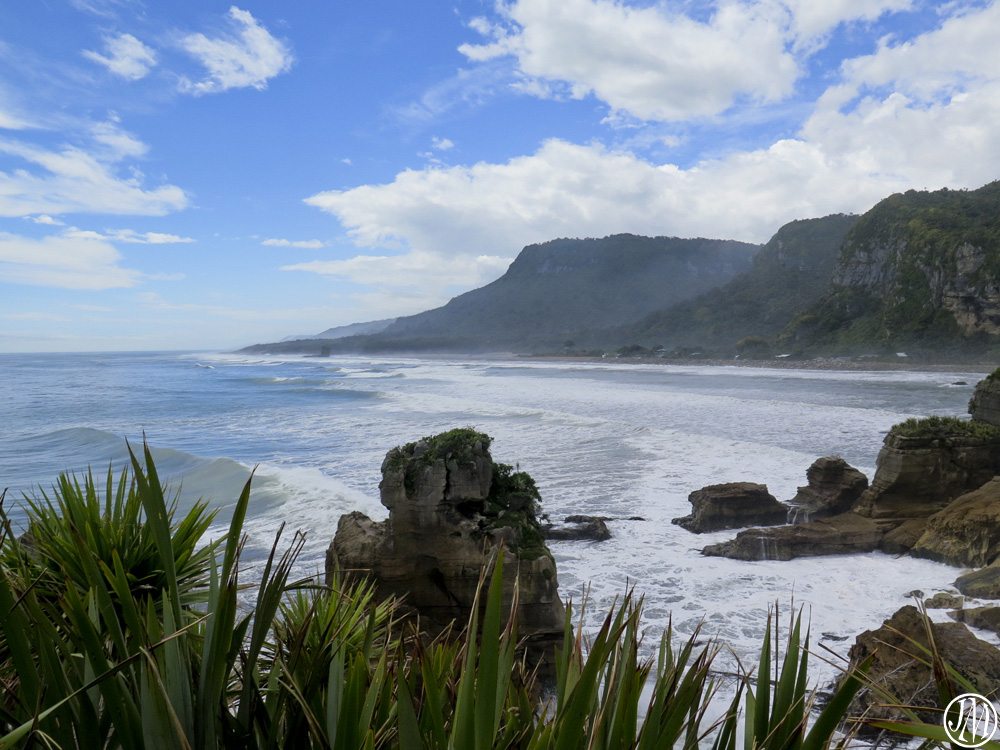 Looking northwards up the West Coast from the Punakaiki Rocks.
From the West Coast we drove across to Nelson and so the next posting will be about our three-day visit there.
Until very soon,