Dear friends,
I thought this would be my final blog, but realized that there is just to much to show from our last few wonderful days in Madagascar. After flying back from the south and our visits to Fort Dauphin and Berenty Private Reserve, we had an overnight stay in Antananarivo, and then set off again, this time to the east.  We were traveling in a minibus rather than 4-wheel drives which augered well for the state of the road which turned out to be quite well maintained as it leads to the country's largest port, Tamatave. There were a lot of trucks on the road which was understandable but the landscape was beautiful, rolling farmlands and small villages and lots to look at along the way.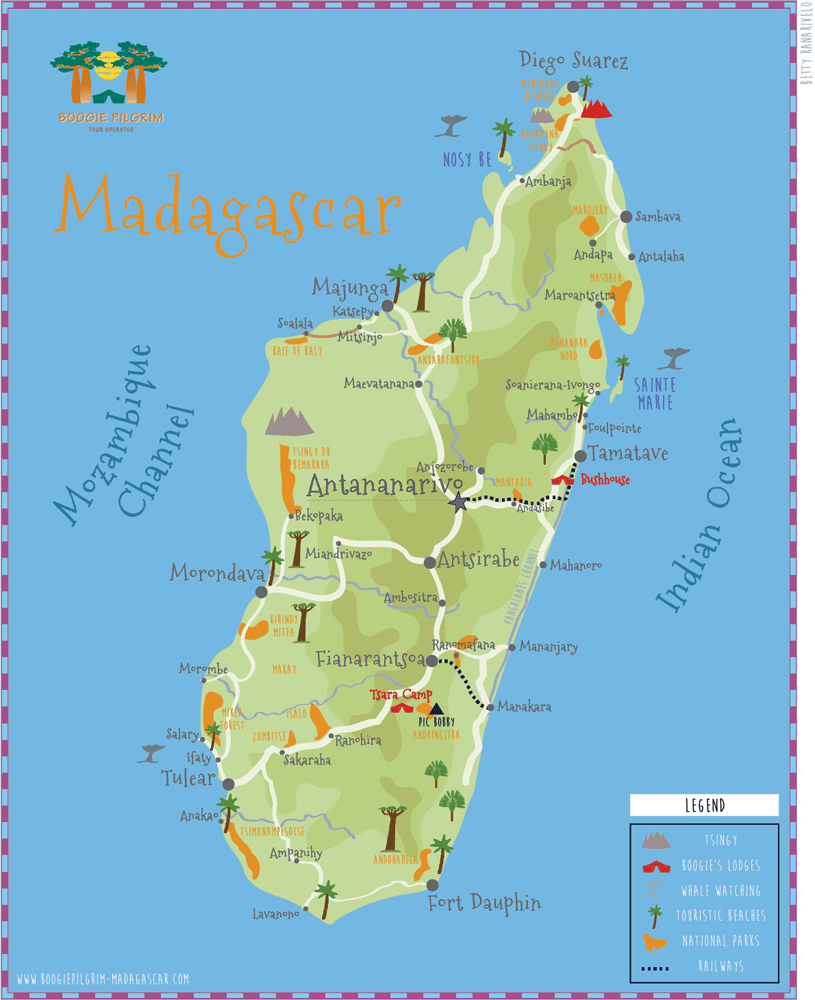 Check our route to the east from Tana to Andasibe National Park as our destination for this part of the trip.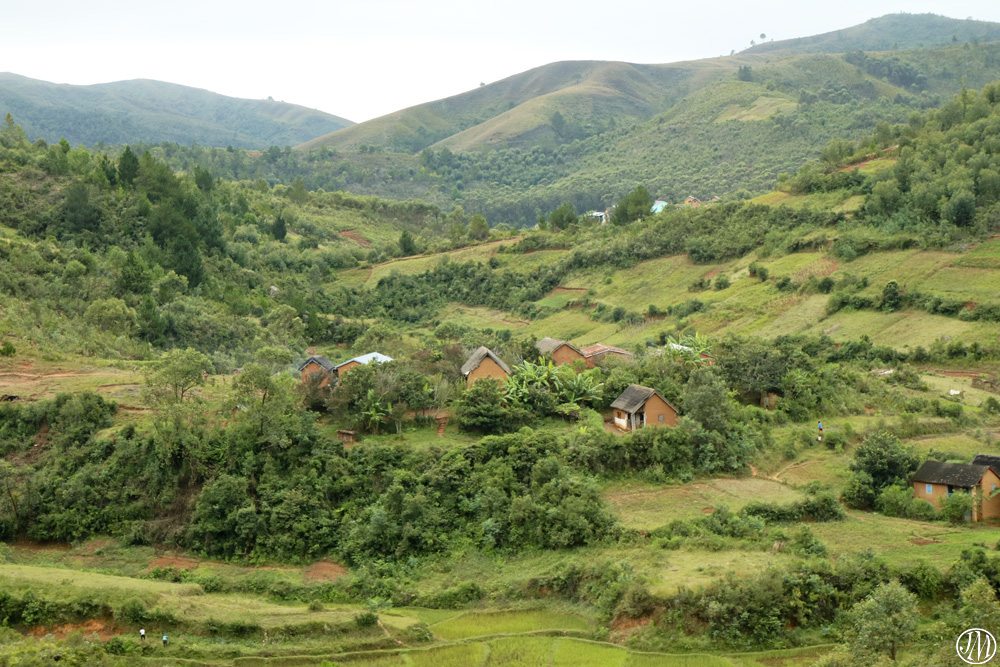 In the highlands, small hamlets amid hedged green fields, indeed looking a little like Hobbiton of Middle Earth.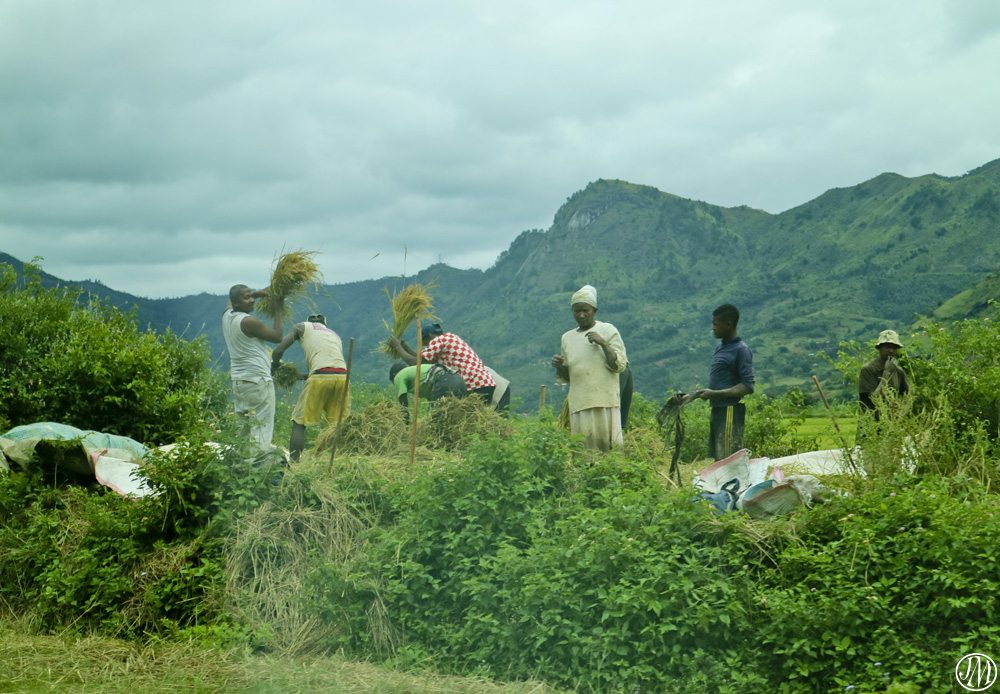 Threshing alongside the road, the harvest well underway.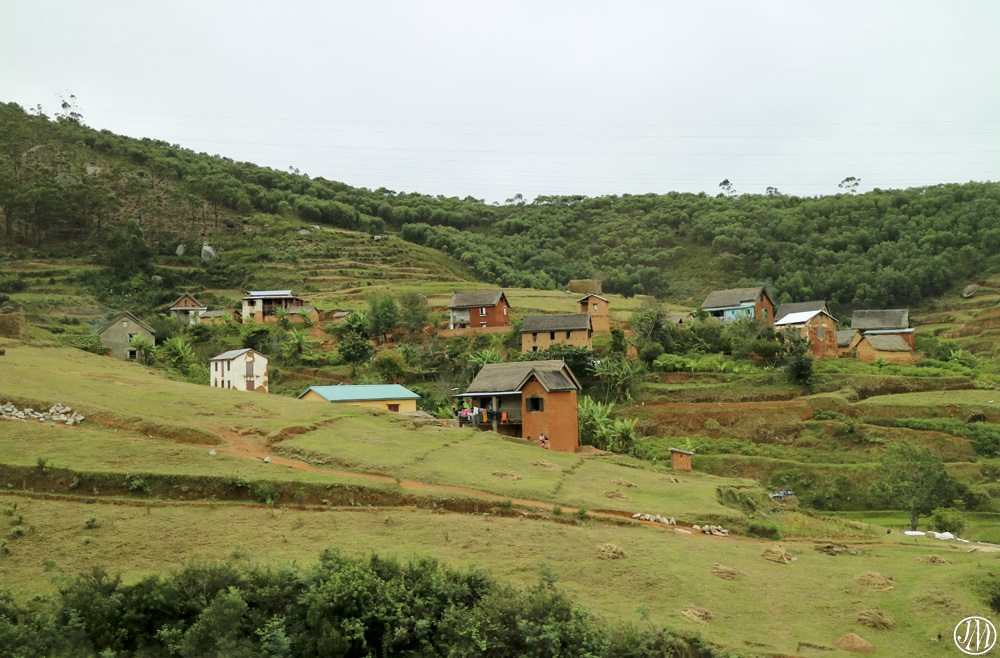 A tidy small village with terraces rising behind and crops already harvested.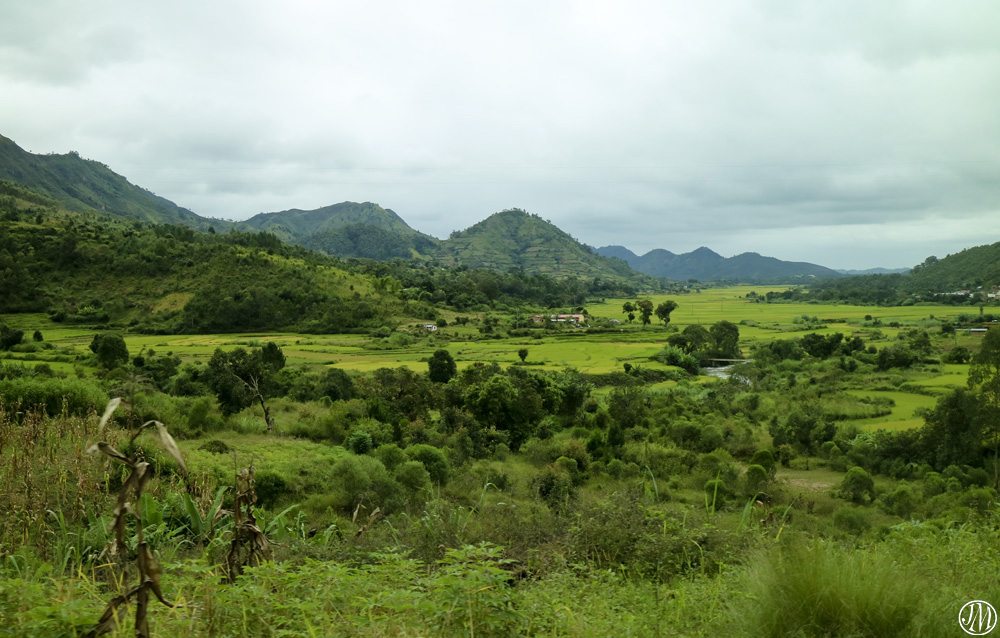 Looking eastwards over a long green valley, and off to our right we had our first stop of the day …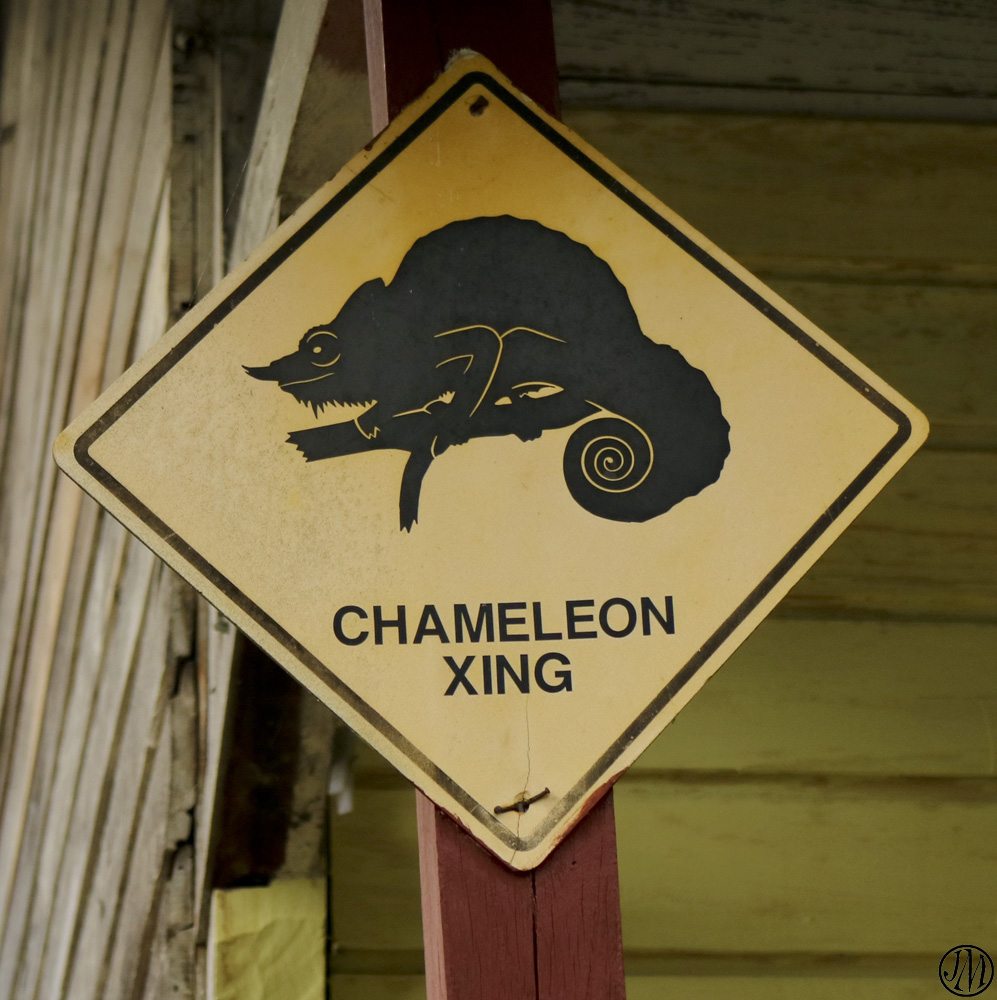 … at La Mandraka Nature Farm where we were introduced to some more of the country's splendid reptiles.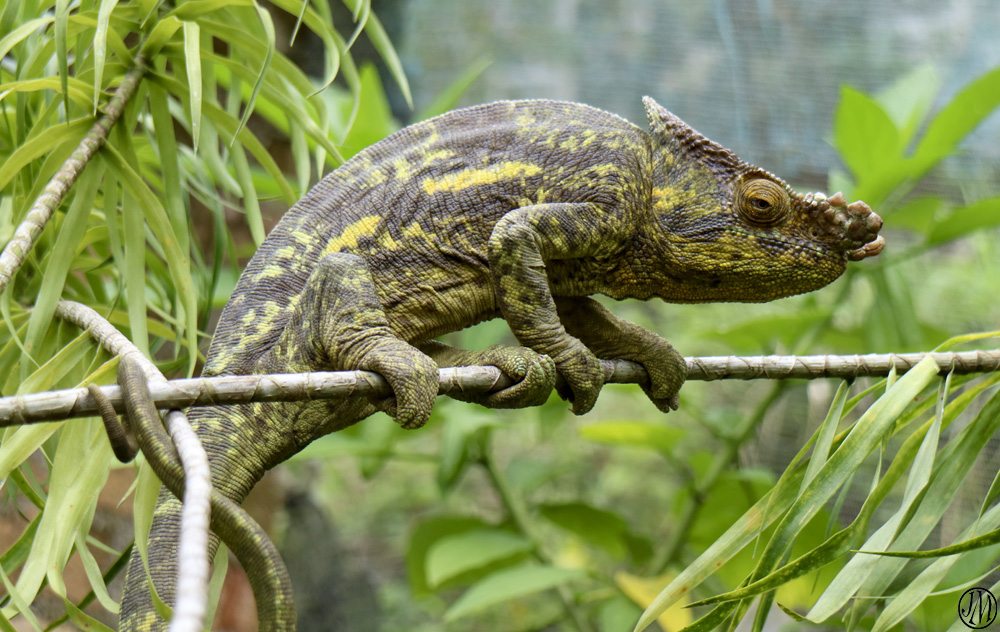 Most impressive of course are the many species of chameleons, most of which I cannot name, with their
many colours and superb protruding and swiveling eyes.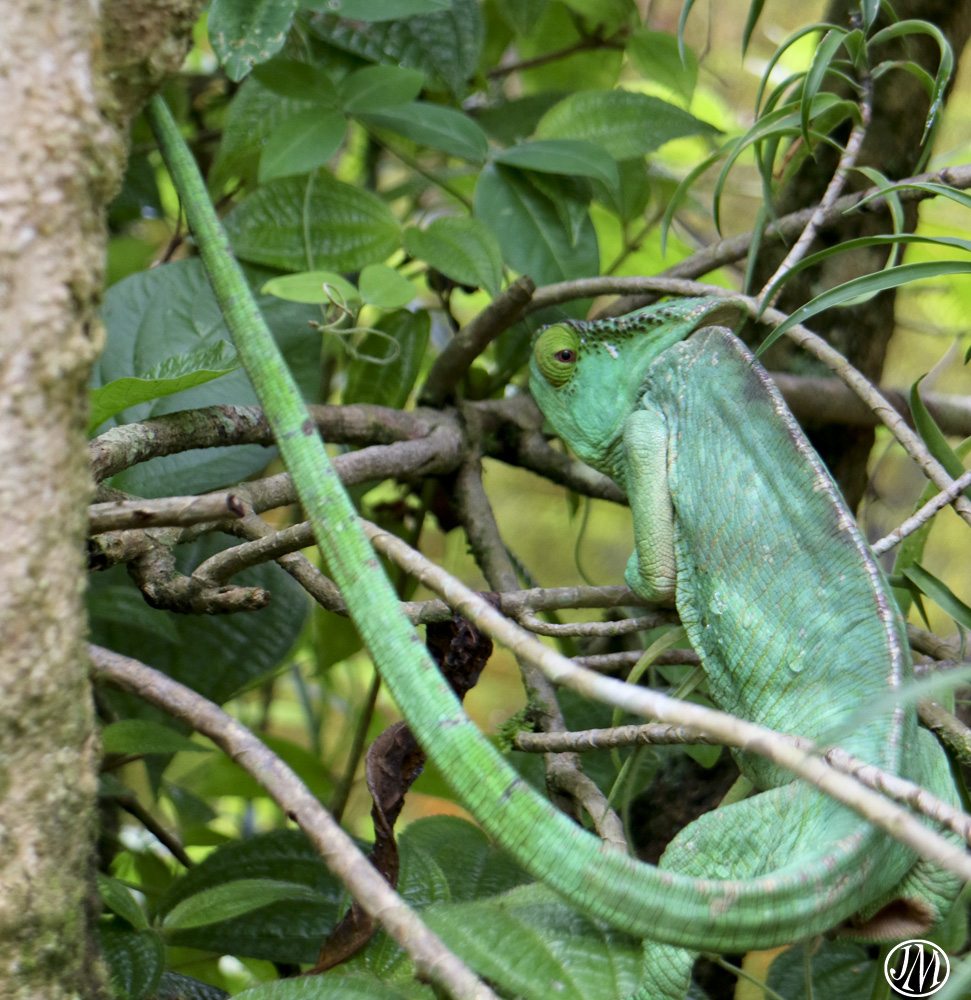 One brown eye peers back at me from this pale green specimen.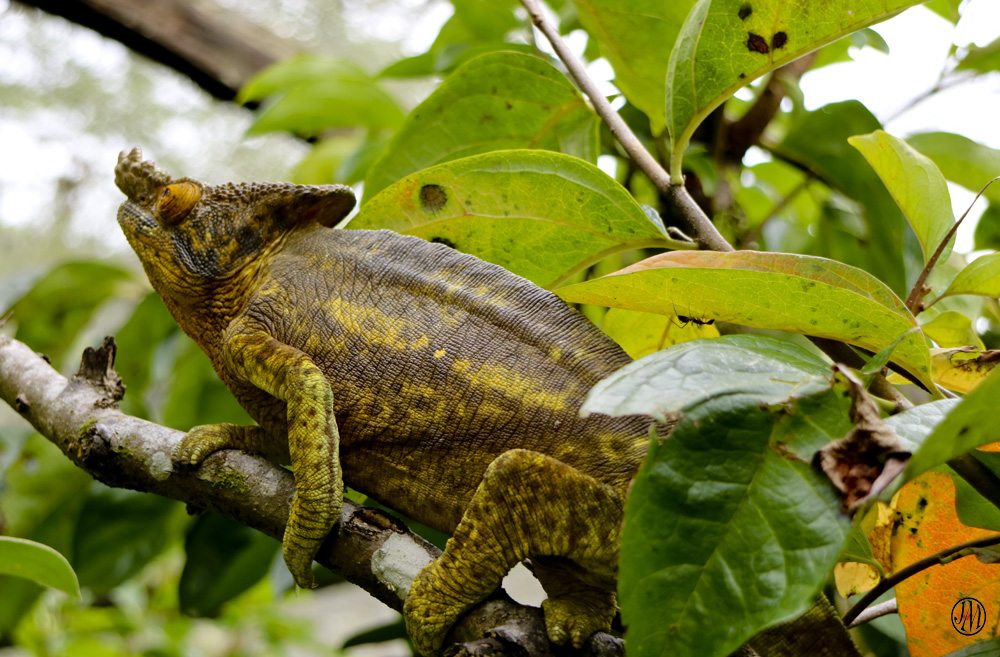 This one merges in with the green and orange leaves and has a spectacular nose on him.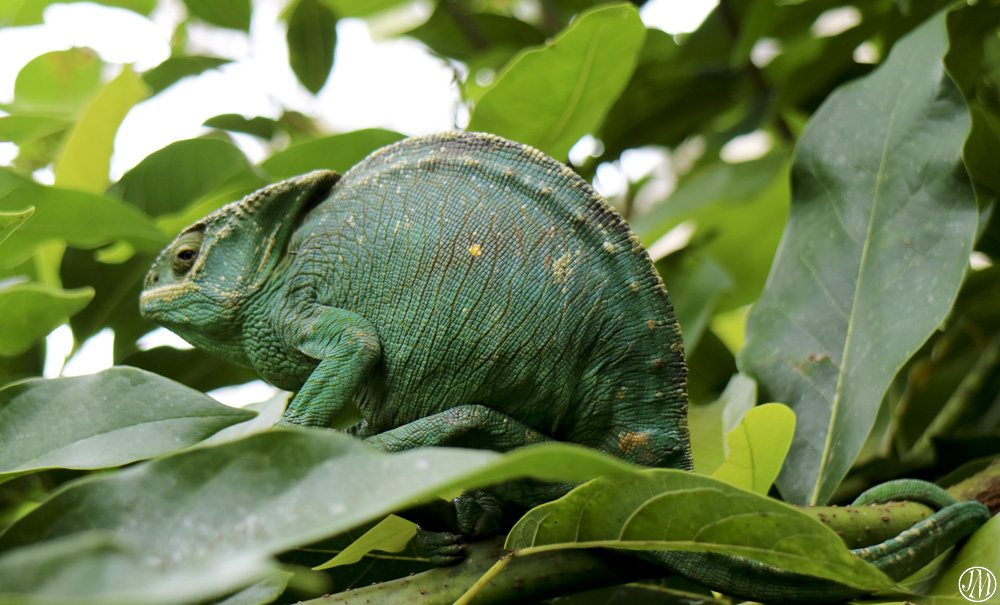 This one looks a little more like his ancestors, the dinosaurs, and looks like he's been in a few fights too.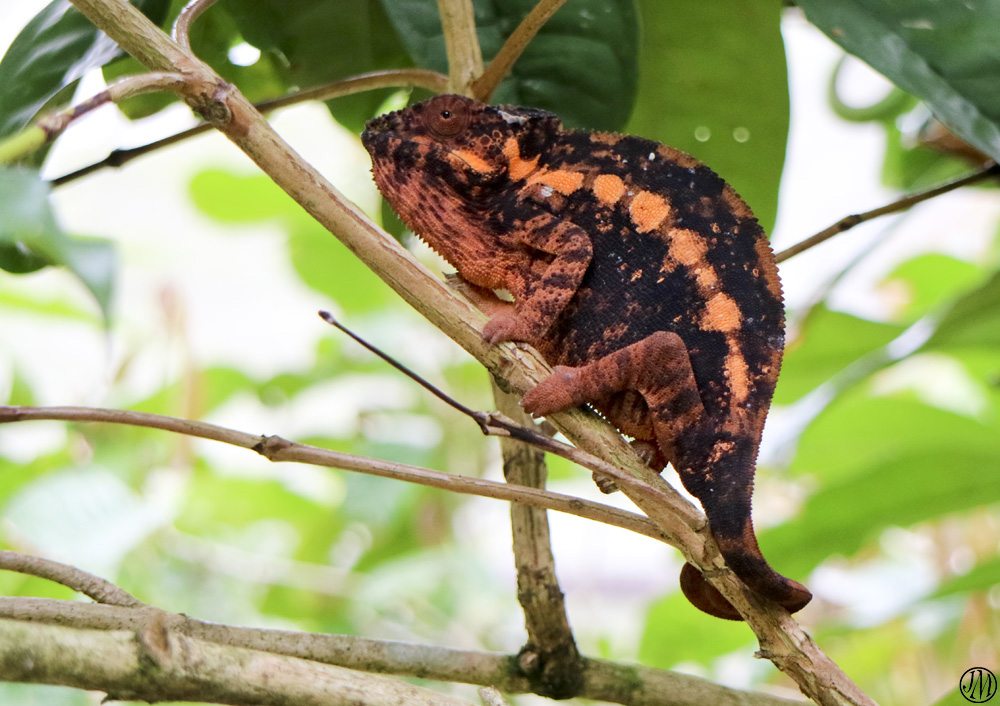 An unusual black and red-toned beauty hunkers down on his small branch. Will he change colour to match?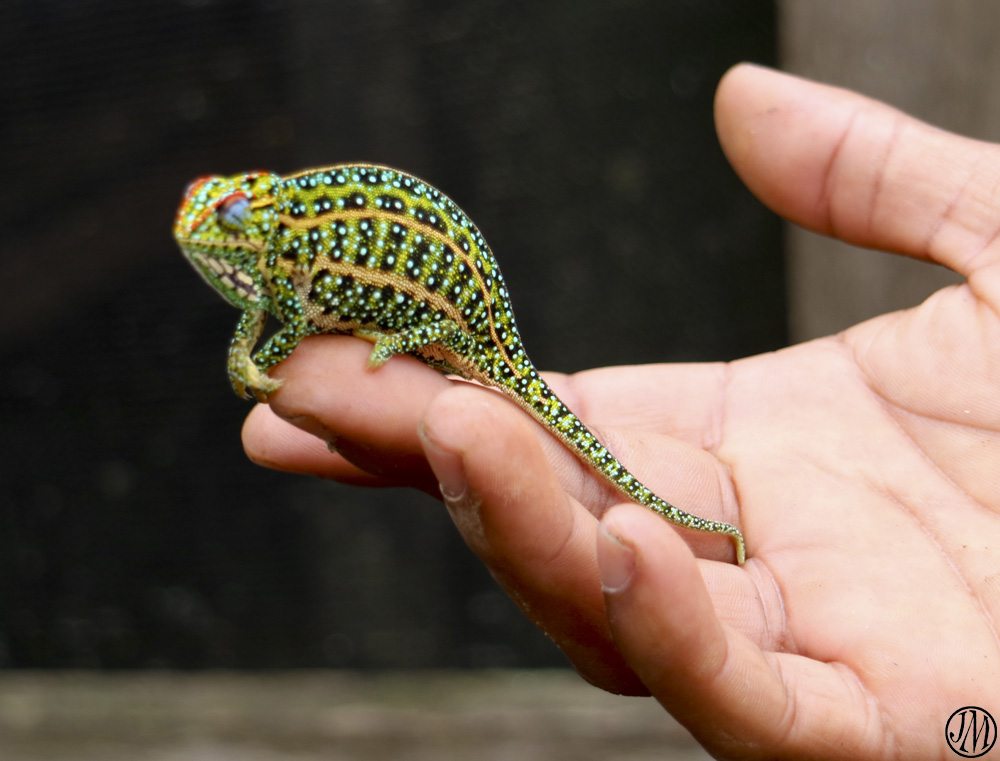 A tiny, but beautifully patterned chameleon sits on the hand of one of the staff.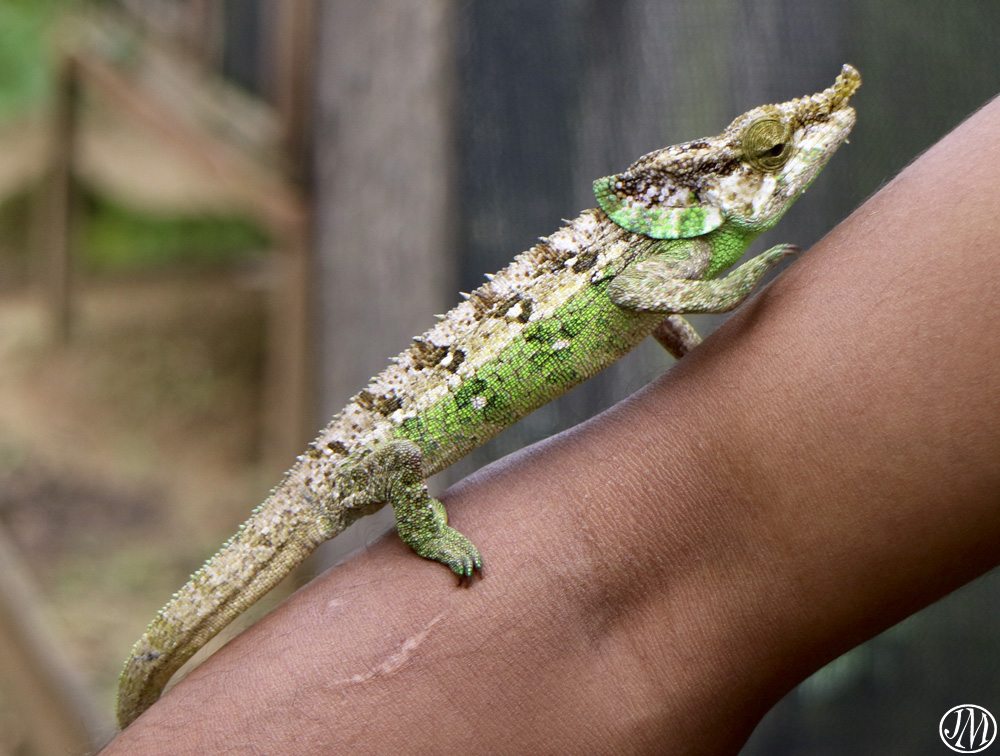 Another, this one an elephant-eared chameleon with bright green touches crawls up his arm …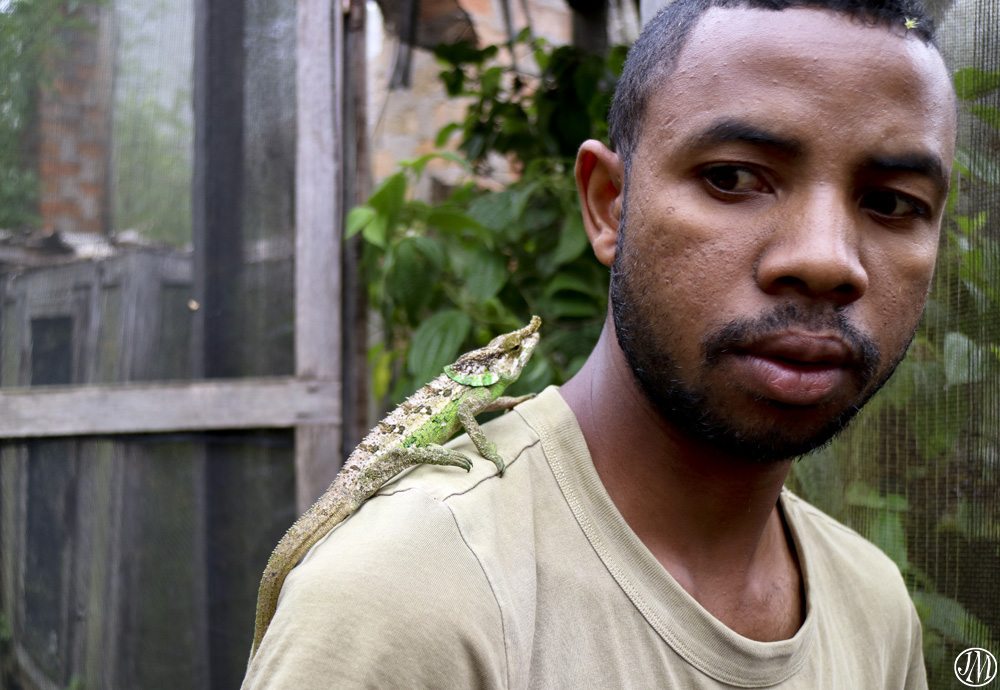 … and onto his shoulder.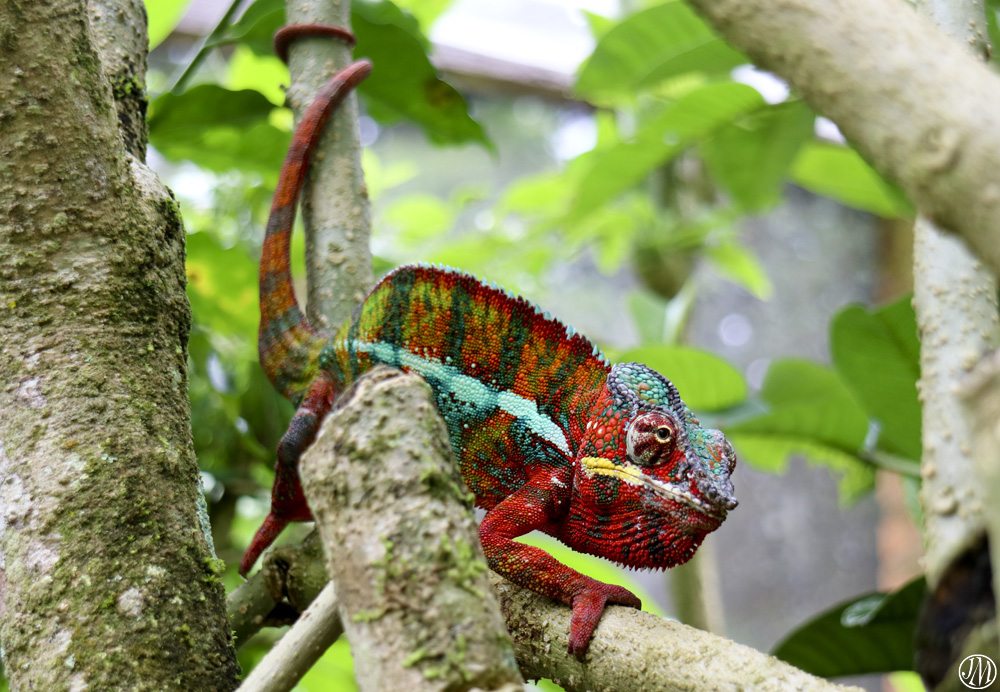 This wonderfully coloured panther chameleon walks steadily towards me …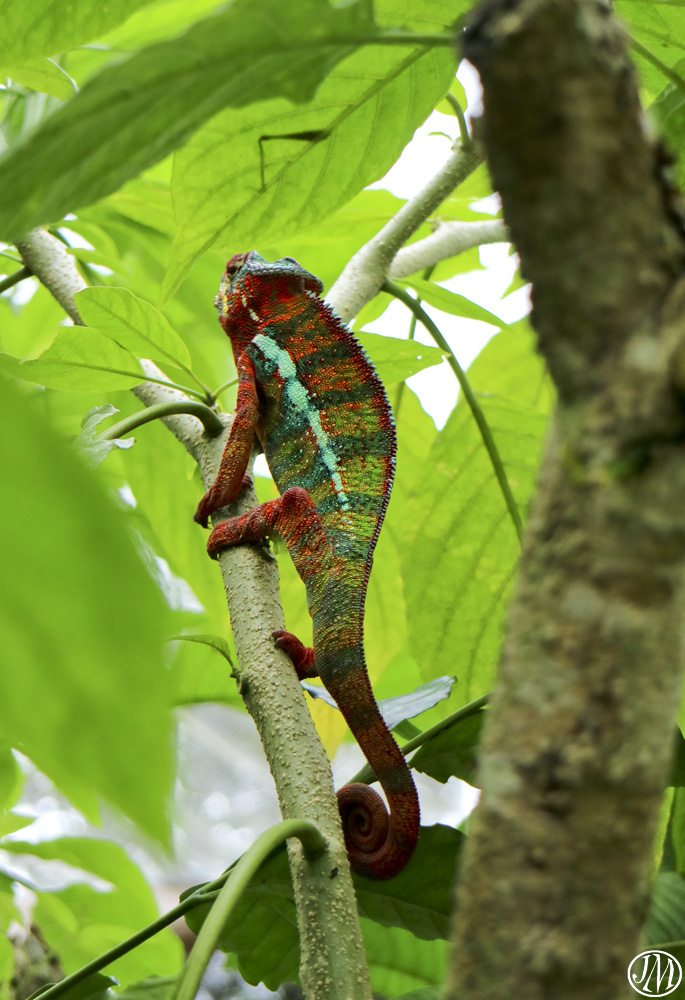 … then turns and heads up a branch, the colours changing, becoming greener, as I watch.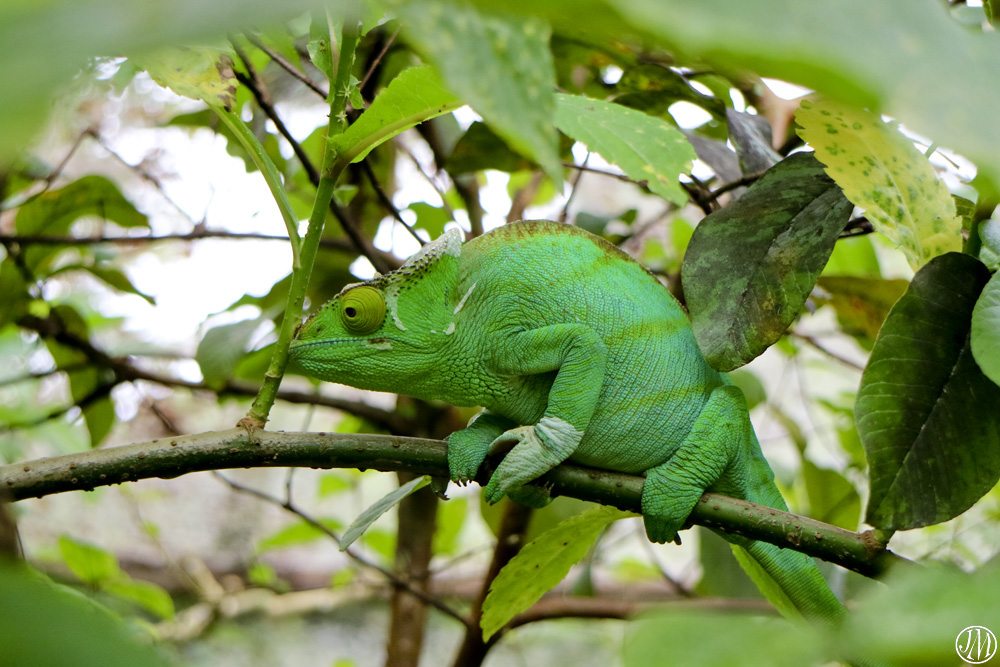 Another bright green one with white touches on ears and front feet …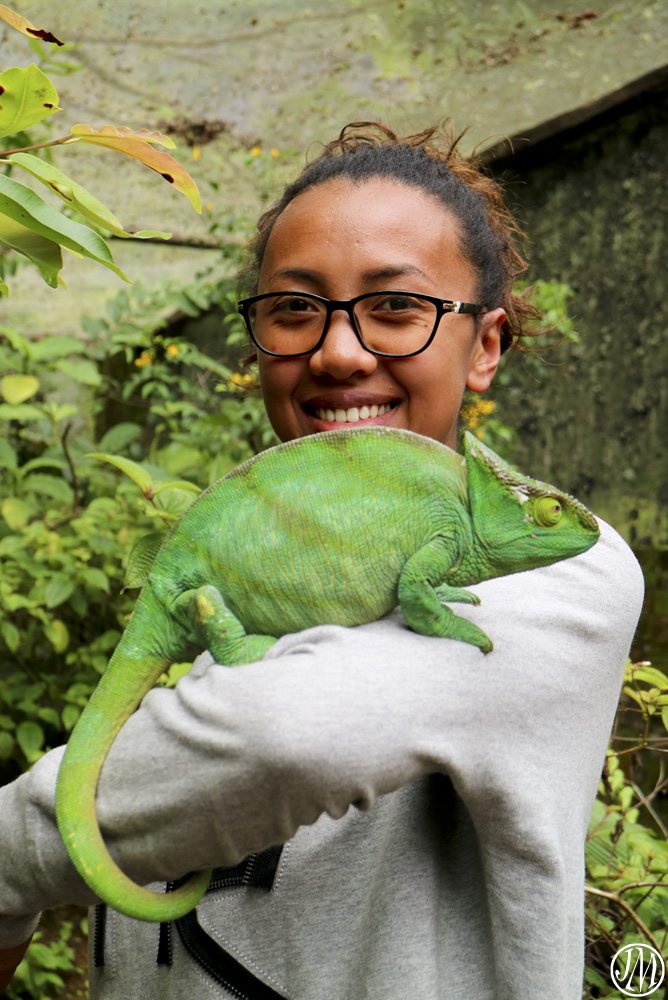 … and another which Aichah, one of our guides, bravely allows to sit on her arm, showing just how big some can grow.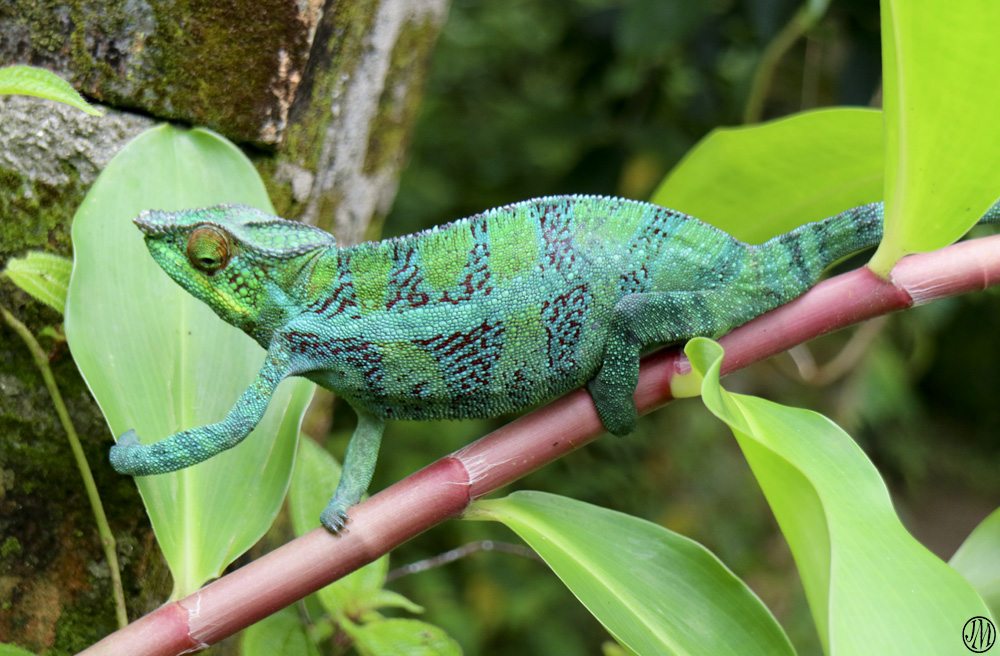 But my favorite was this blue-green one, looking almost as though he has been sitting on a plaid blanket or a kilt even.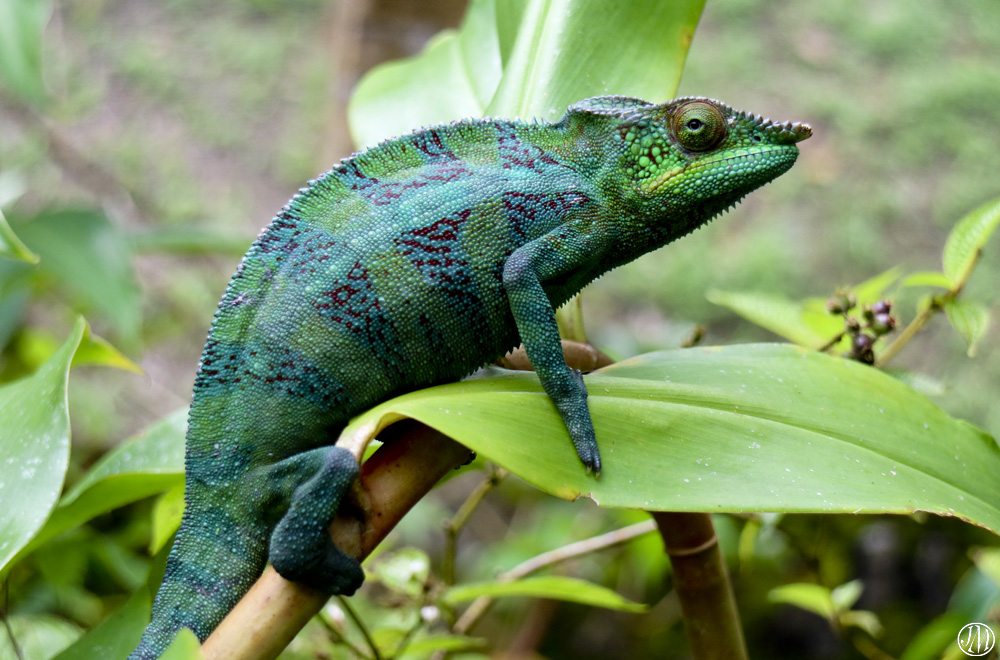 And from another angle to show off his rather delicately pointed nose.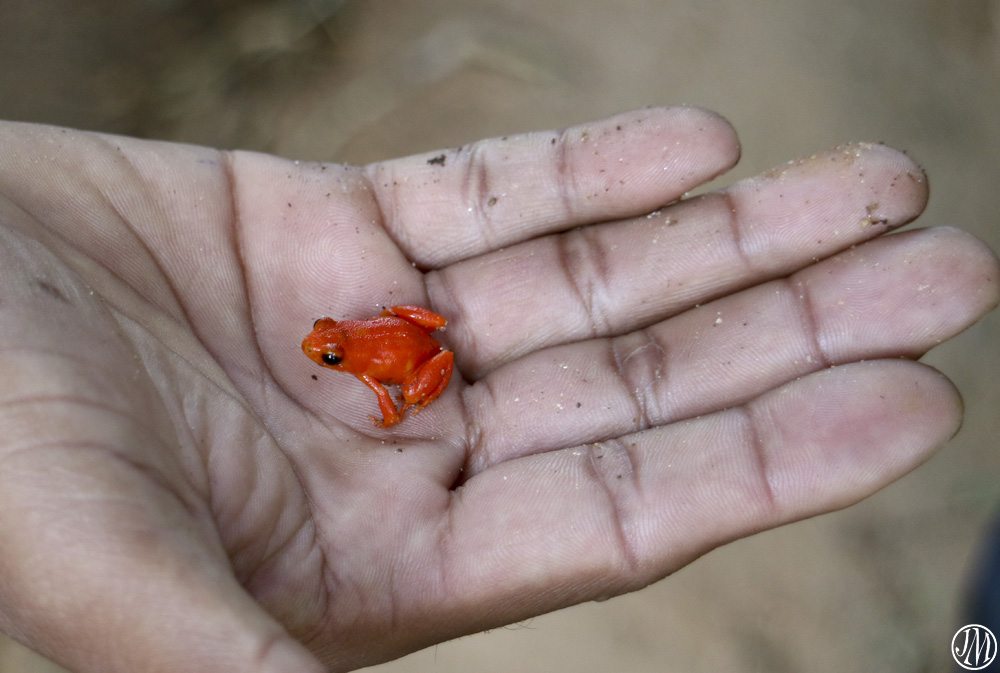 There were also frogs and lizards that we not always so obliging about staying still for photos, like this tiny red frog.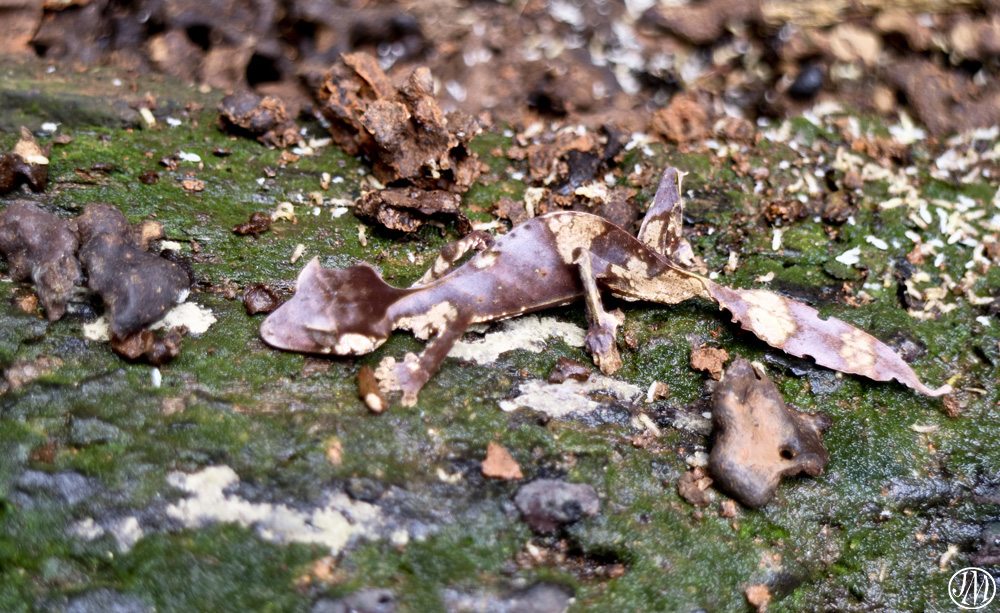 An amazingly camouflaged leaf-tailed geckos – can you see him, every part looking like a decaying leaf?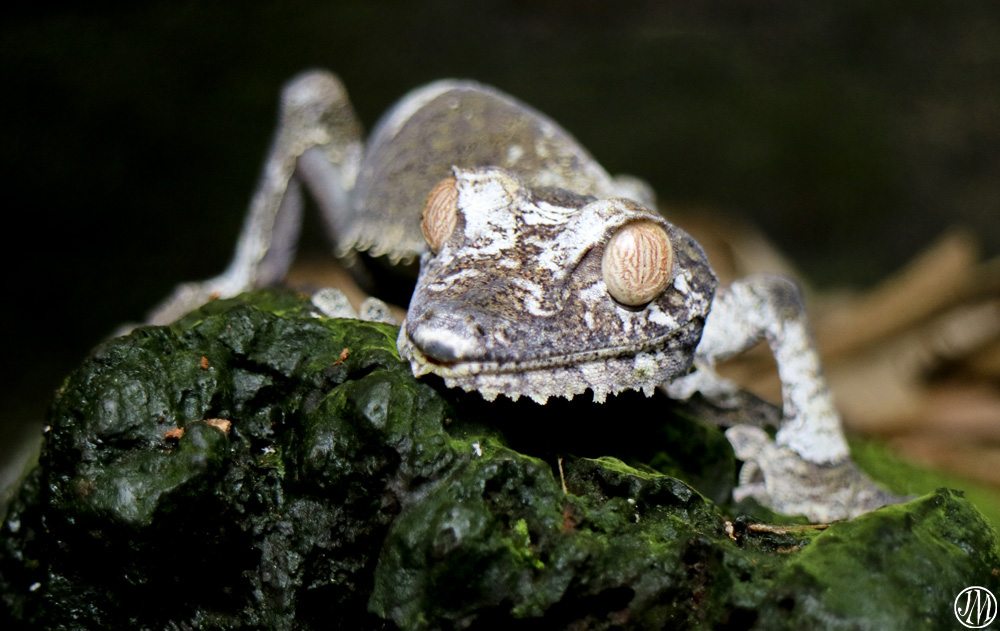 And a small gecko with the most interesting red-veined eyes looking at me.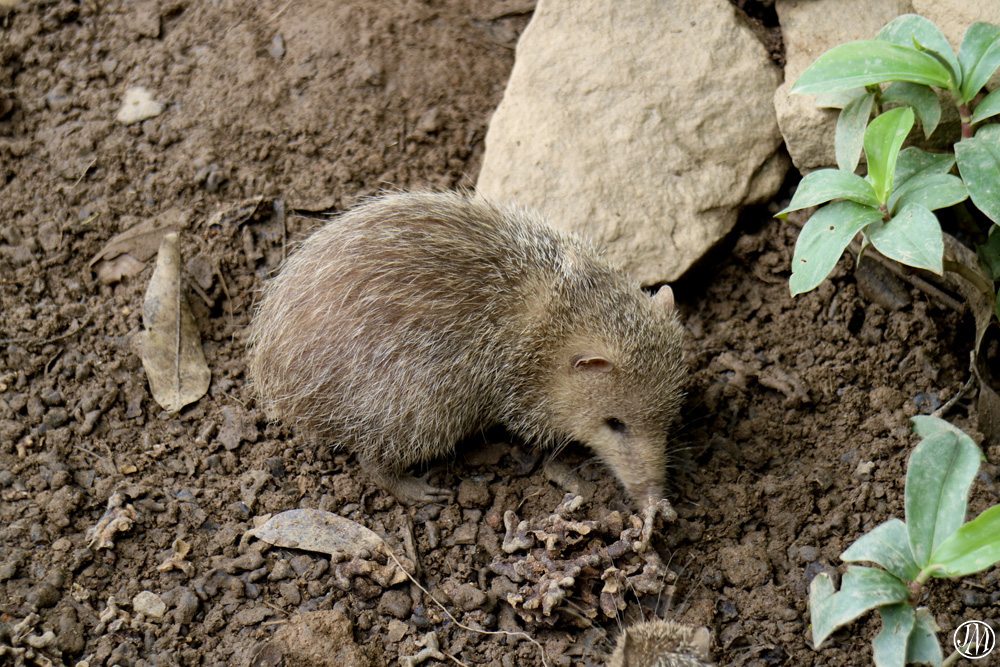 Not a chameleon, or even a reptile, there was also a pen of tenrec, a small mammal looking a lot like a hedgehog, or a shrew and some 30 different species are found on Madagascar and surrounding islands and a few on mainland Africa.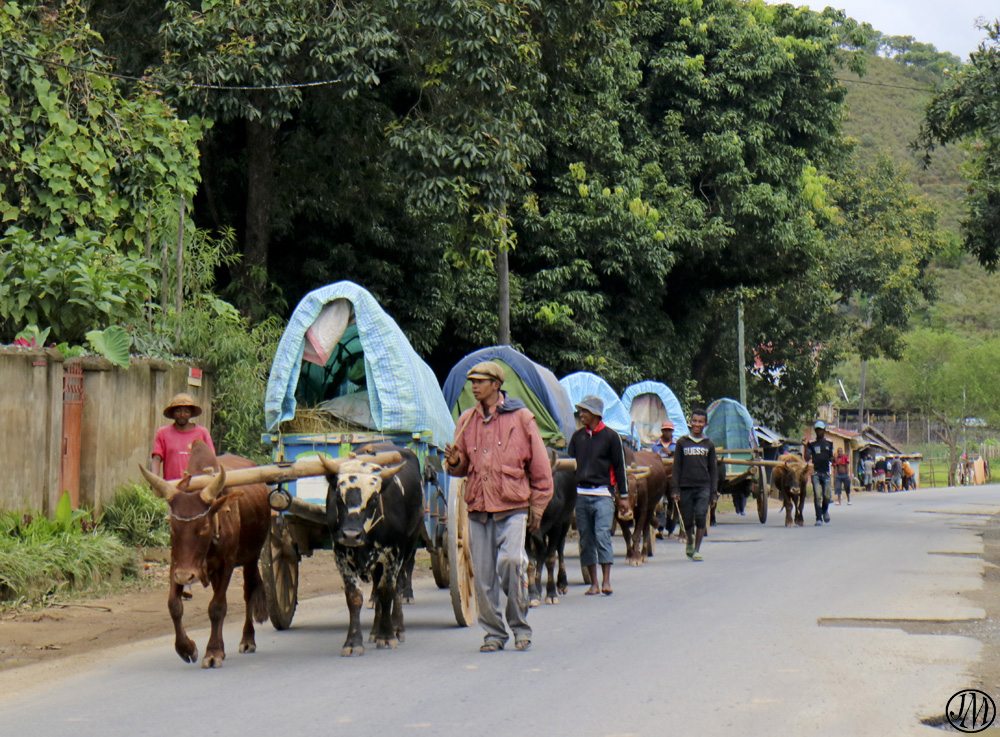 After the visit to the reptile farm we continued on through small towns and passed this small zebu cart train.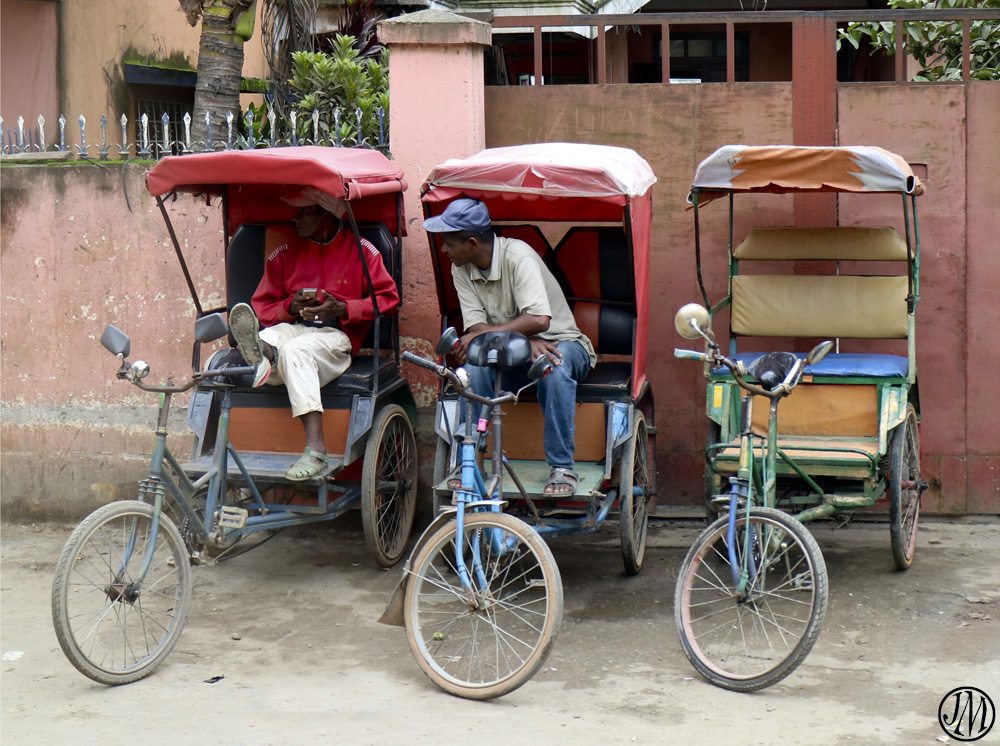 And some bicycle rickshaws waiting for customers in a bigger town.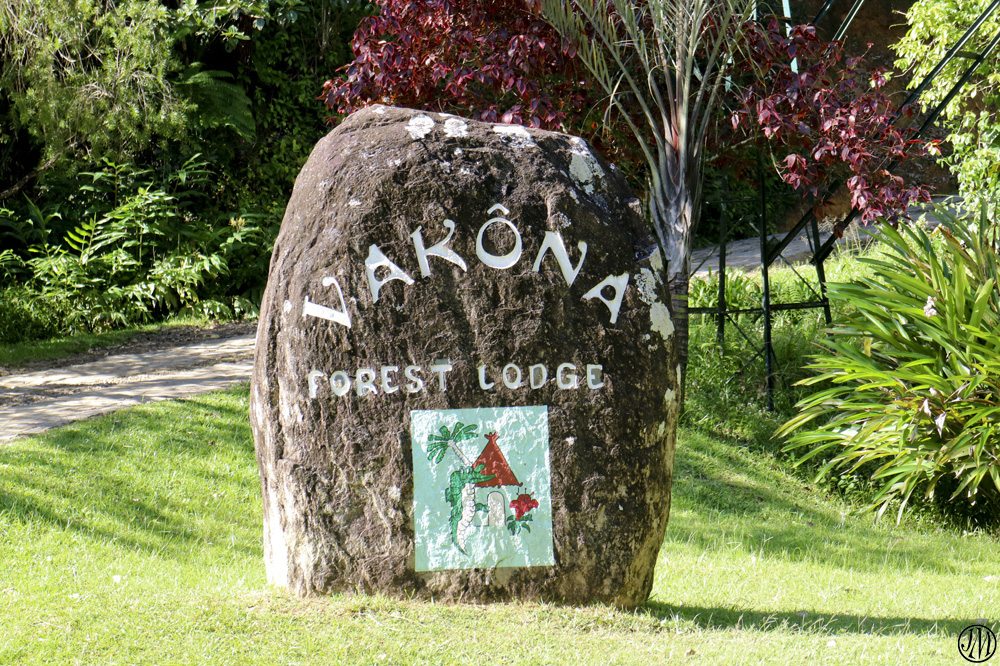 Our lodging for two nights was at Vakona Lodge close to the Andasibe national Park (Perinet).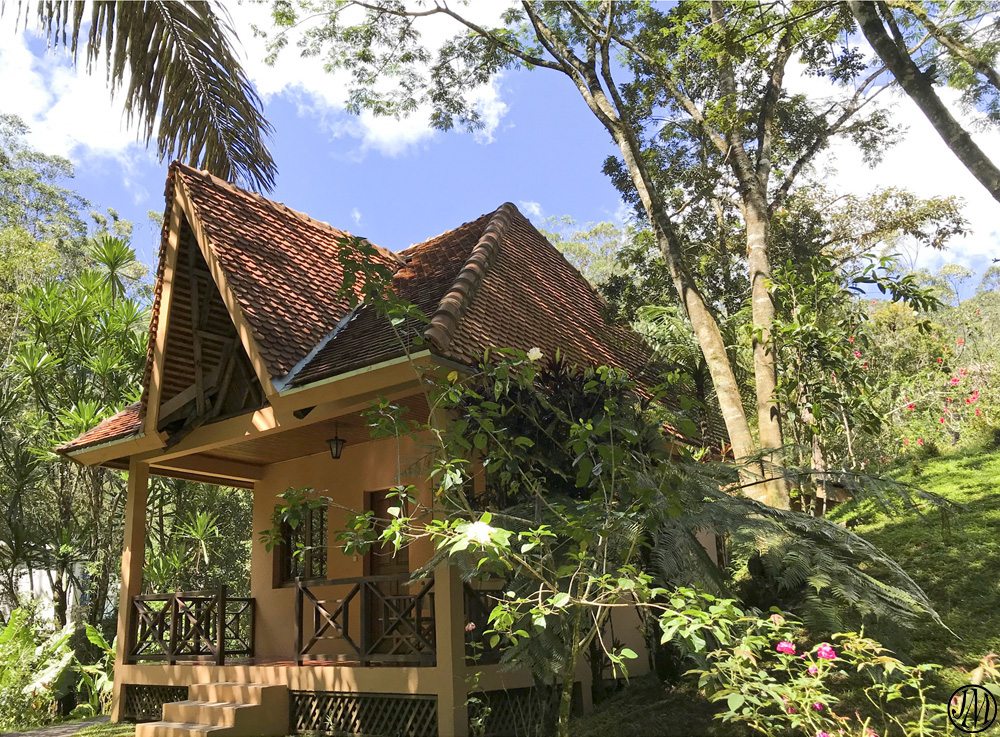 My comfortable little chalet for the two nights.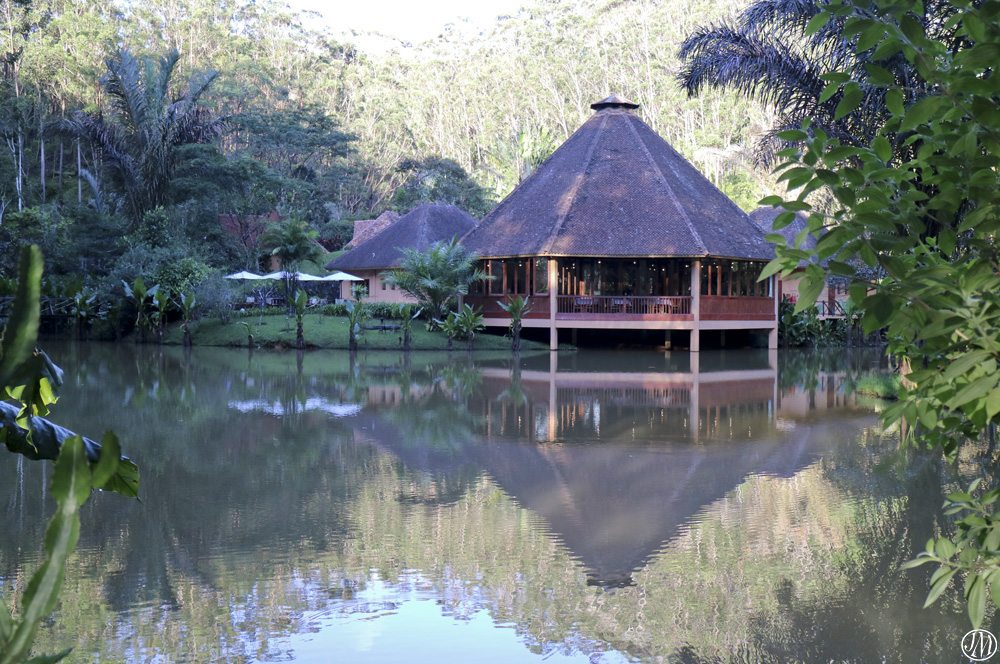 The dining room overlooking the lake.
In the late afternoon we did a short walk through a winding forest path, tree ferns and creepers hanging overhead.  We did see some lemurs high in the trees, but none of my photos are good enough to show here – better one's coming in the next blog.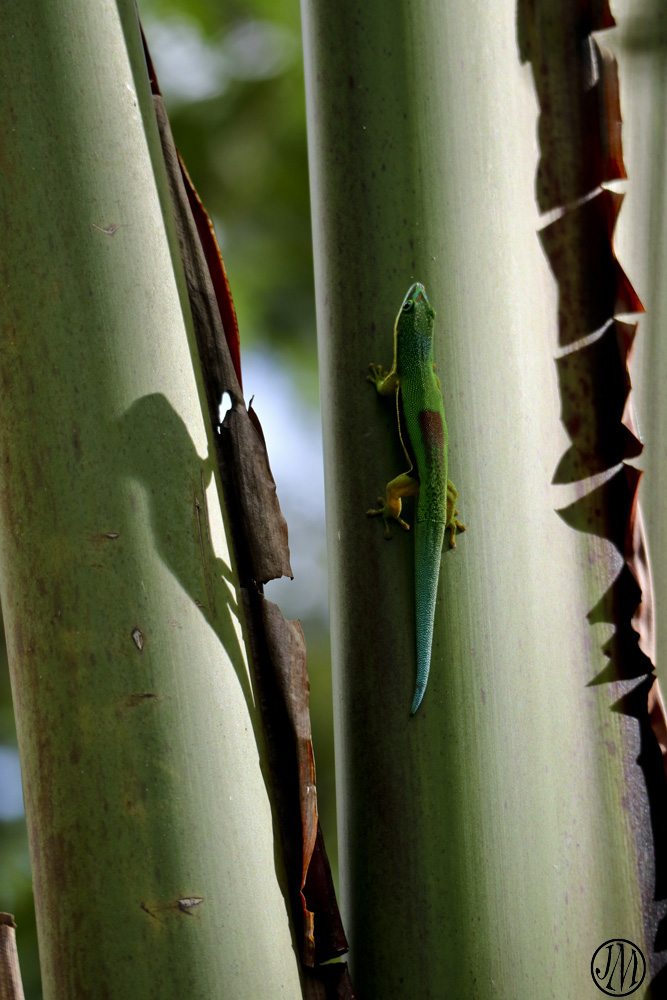 But we did see some small insects and lizards and birds.  Loved the late afternoon shadow of this green lizard.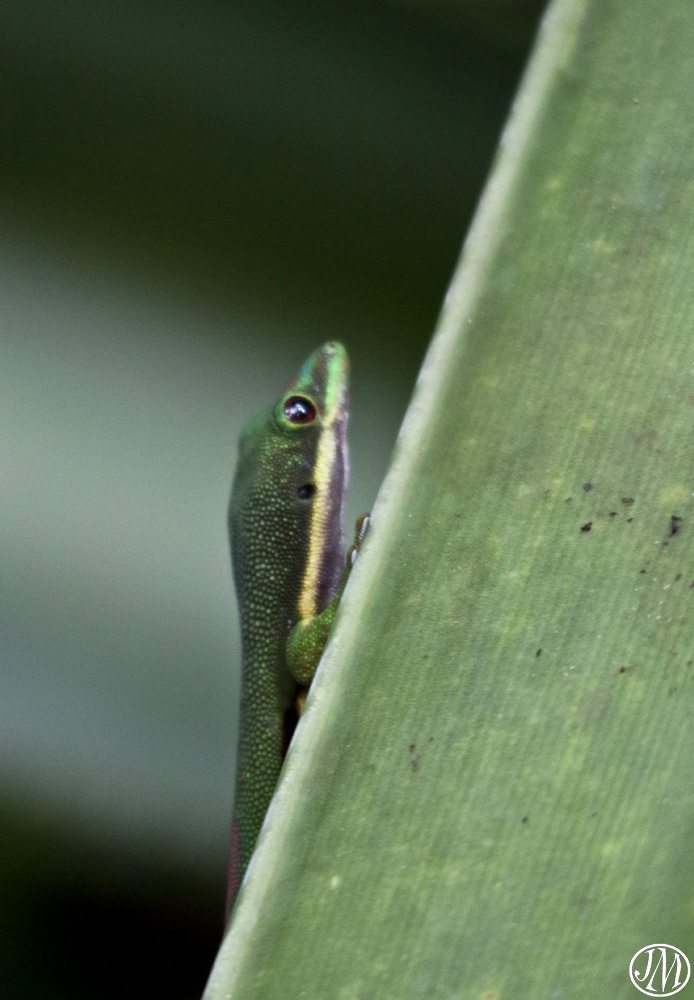 Another bright-eyed lizard peeps from behind a bamboo frond.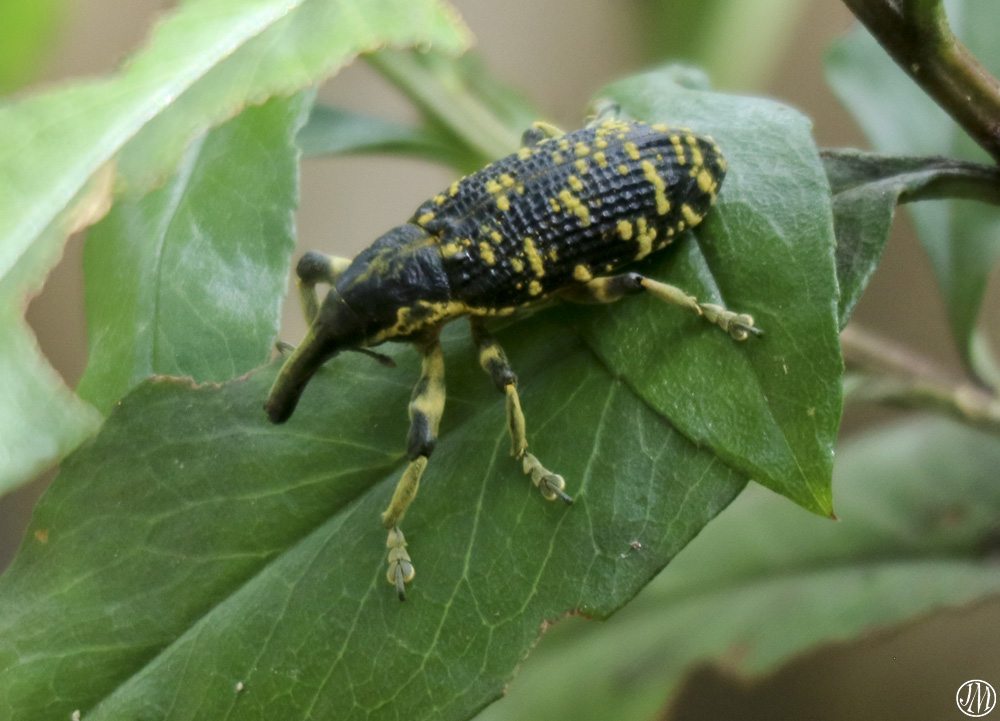 This beetle caught my eye with its mosaic-like skin, long nose and pointed feet.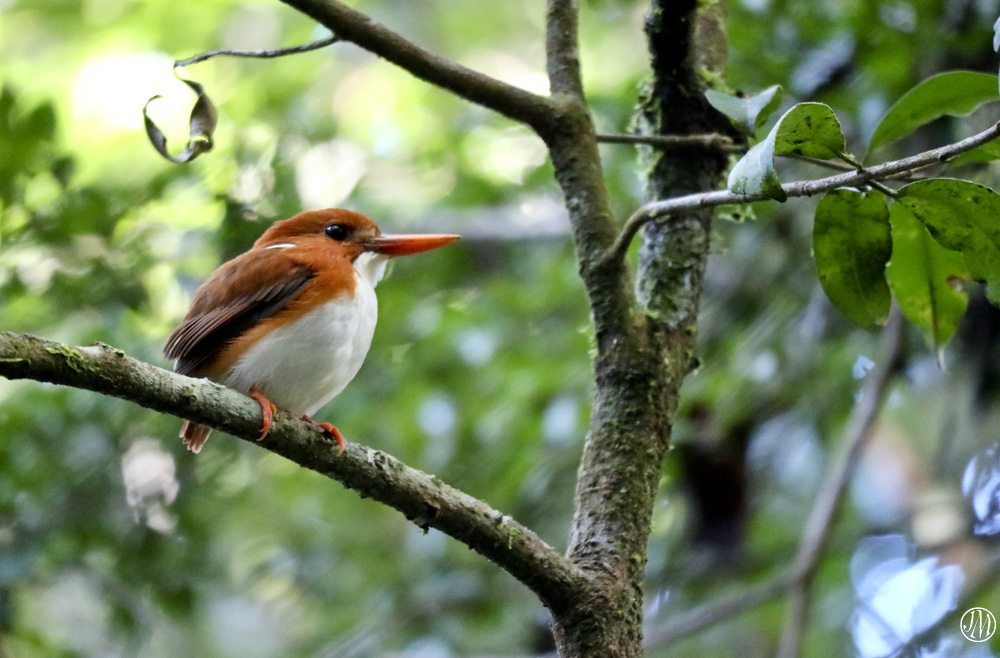 This sweet little bird is a Madagascar pygmy kingfisher.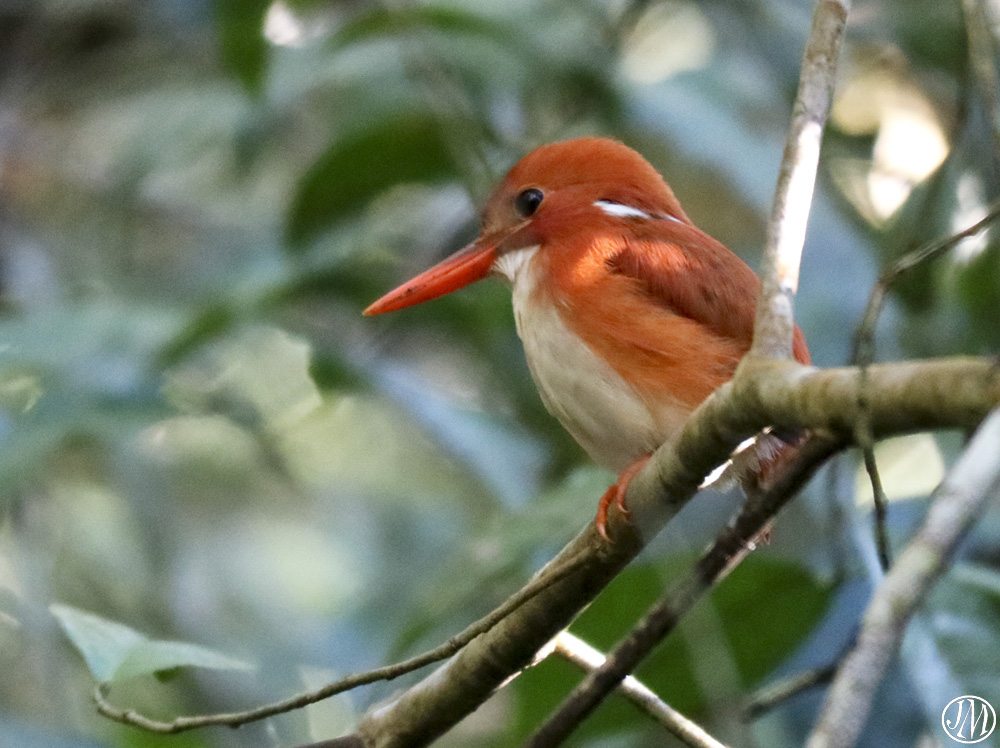 Another pose of this rosy kingfisher which I took after scrambling up a bank and through many bushes – I think worth it!
And so ended another fascinating day in Madagascar.  Just one last photo – a close up of a perfect hibiscus which was blooming outside my room, before I close.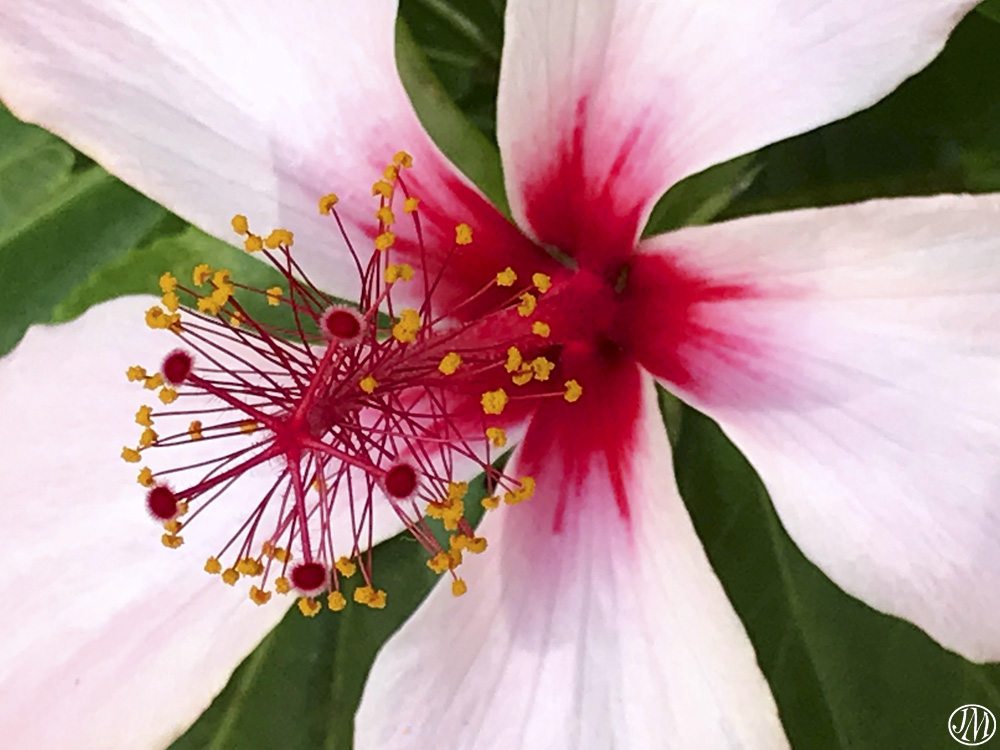 The next and final blog from my Madagascar trip will feature several different species of lemur including the biggest of them all, the magical Indri Indri, whose calls can be heard over a 2 kilometer range.
Until then, all the best my friends,