Dear friends,
Our last morning in Berenty, we were up early and out just as dawn broke for what was called a Bird Walk. It is the best time of the day to see birds but of course, we were on the lookout for other creatures as well. It was cool and quiet in the forest and even had we seen nothing of interest, it would have been a pleasant morning. But we did see wildlife …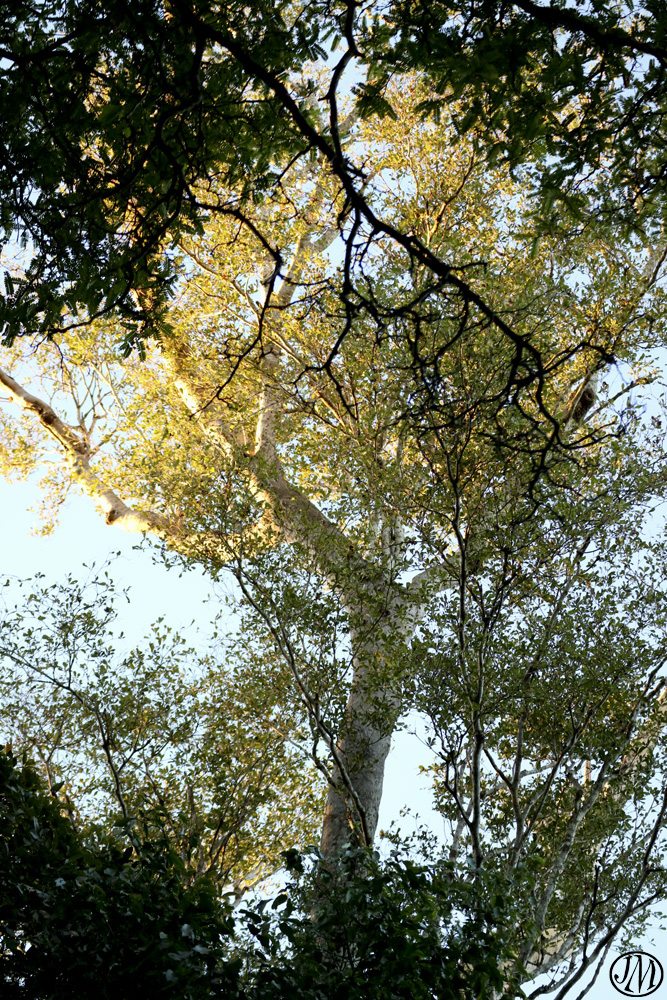 Sun hitting the tops of the trees as we began our walk.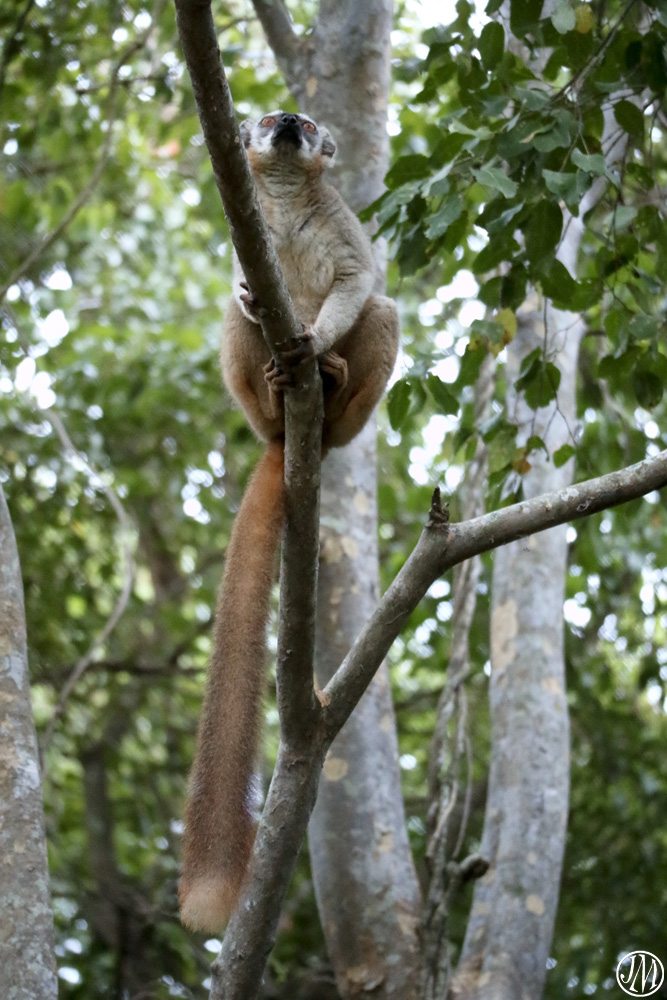 What did we see first? You guessed correctly a lemur.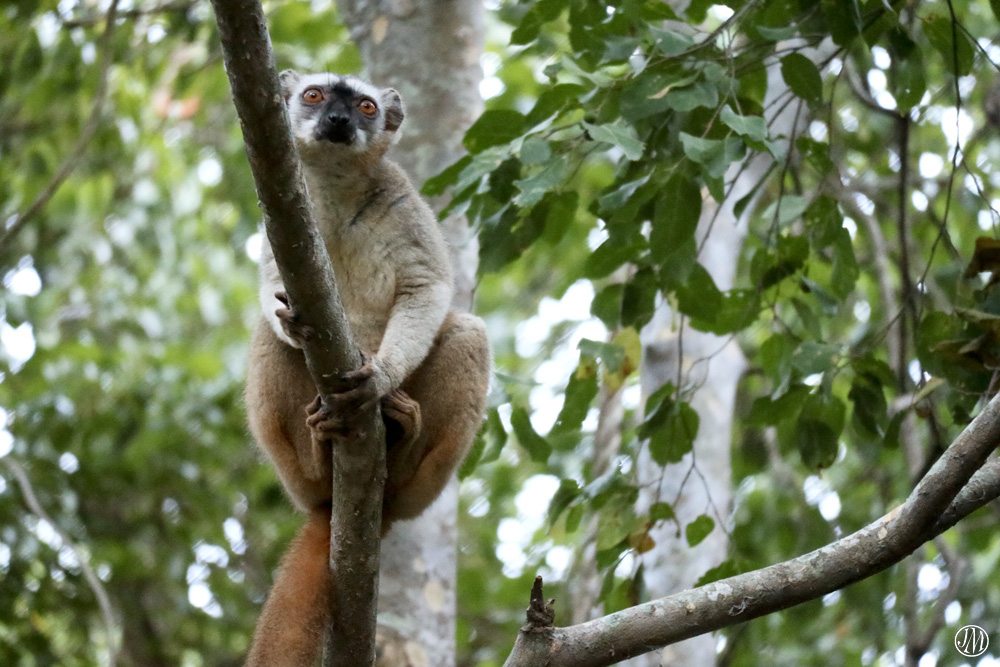 A closer shot – posing for me!
Then our guide spotted an owl well hidden in a tree.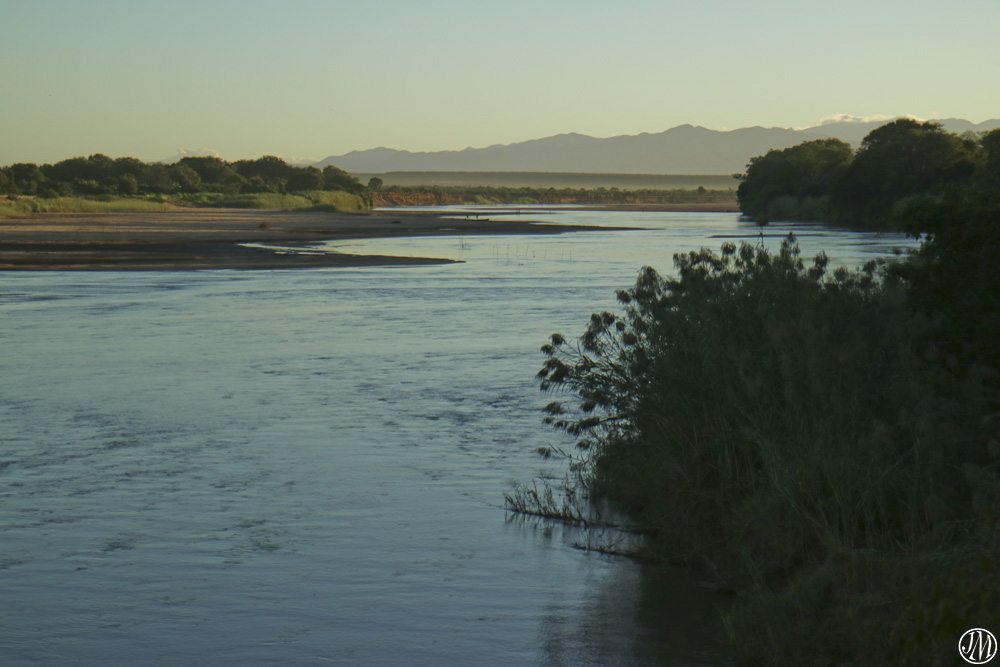 Our walk took us down to river winding its way through the reserve and on through the country.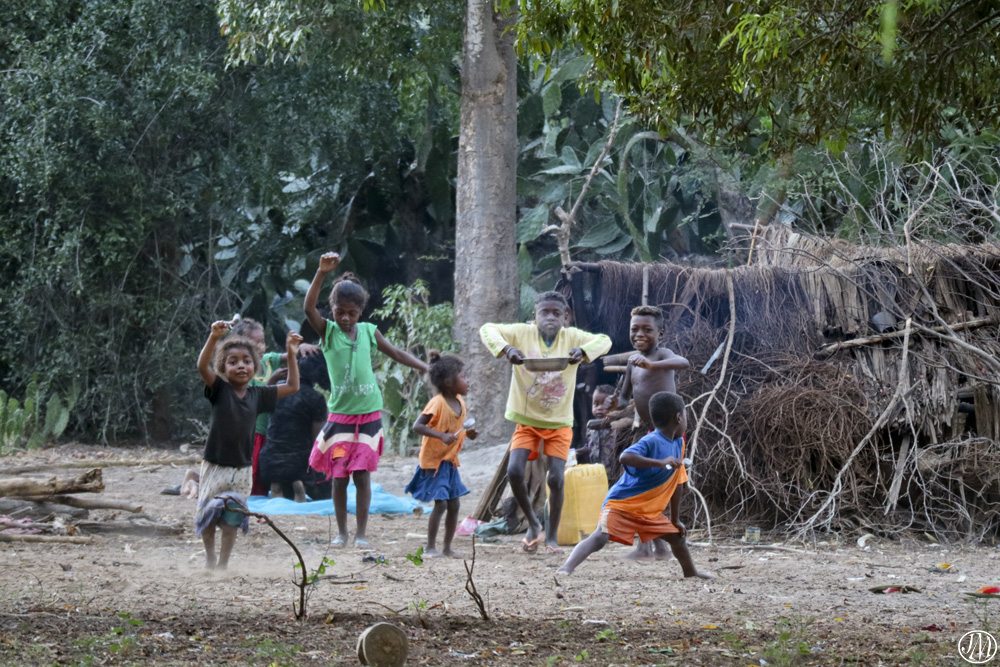 The kids of a small settlement by the river were excited to see our little group and rushed over to greet us.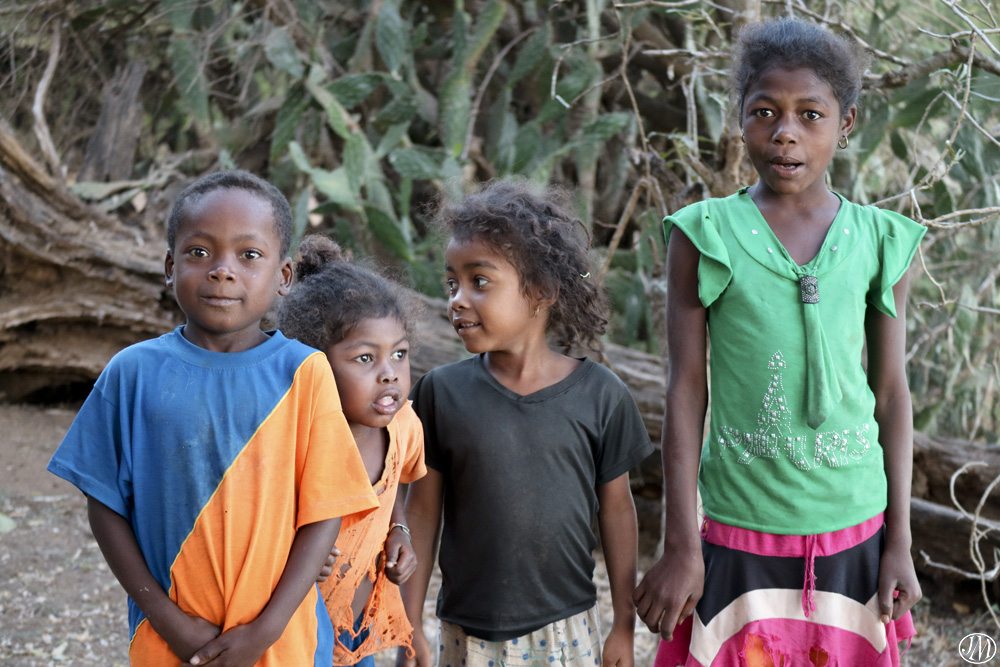 They became a little shyer when they reached us.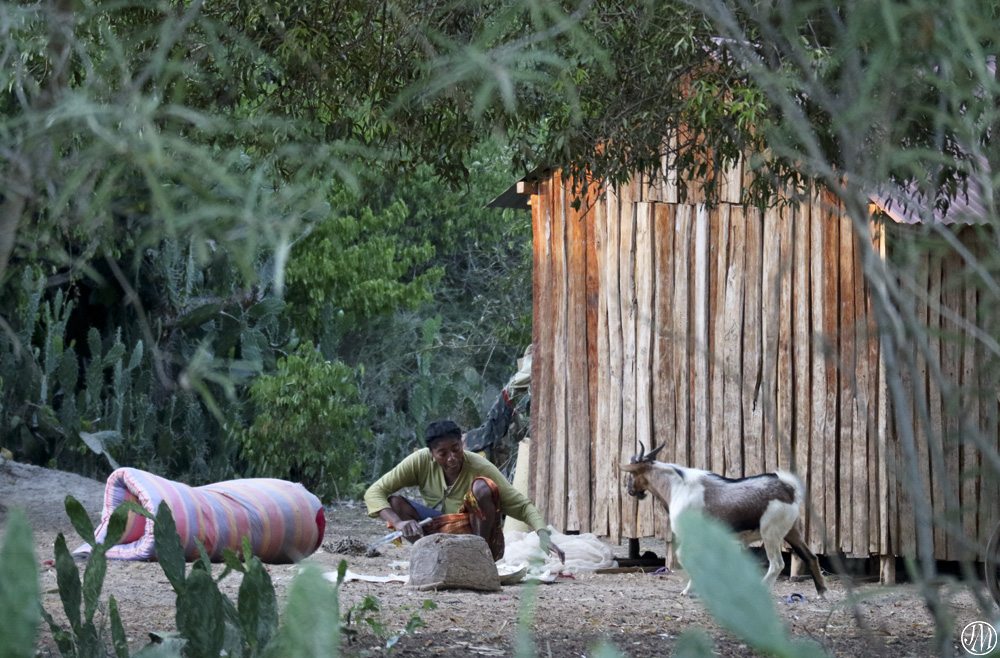 One of the women of the settlement does her morning chores and feeds the goat.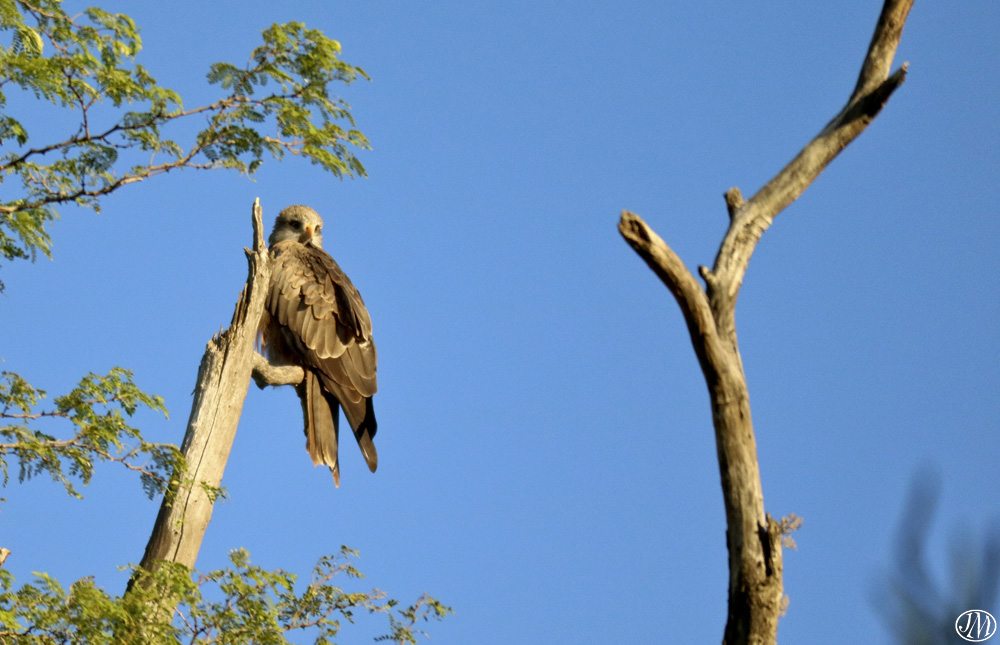 Walking again we spy this magnificent yellow beaked bird of prey.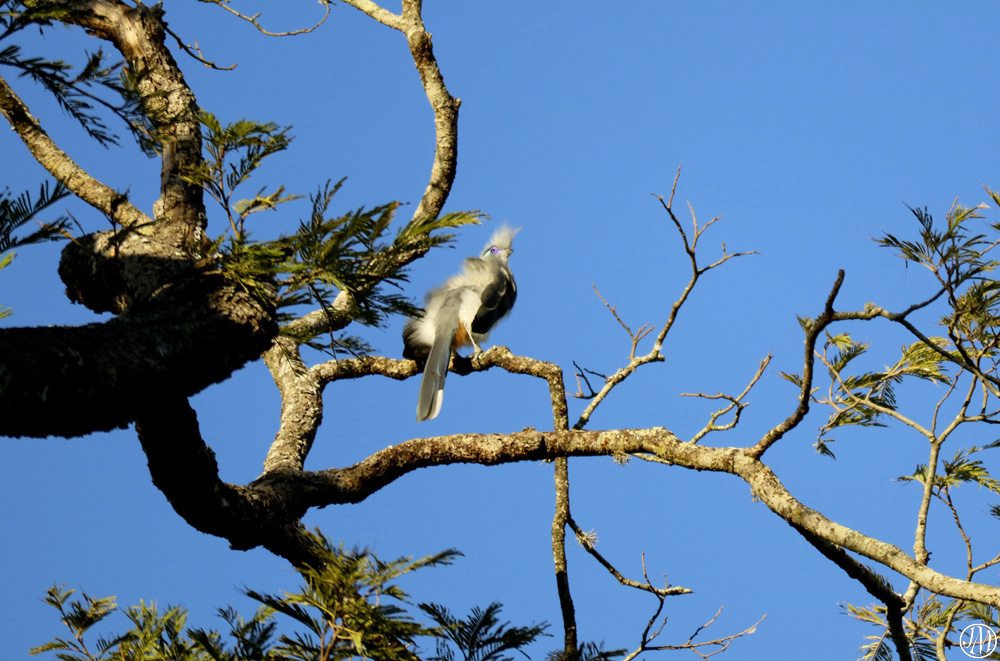 And this unique one – a Madagascar Crested Coua – can you see the blue patch behind its eye?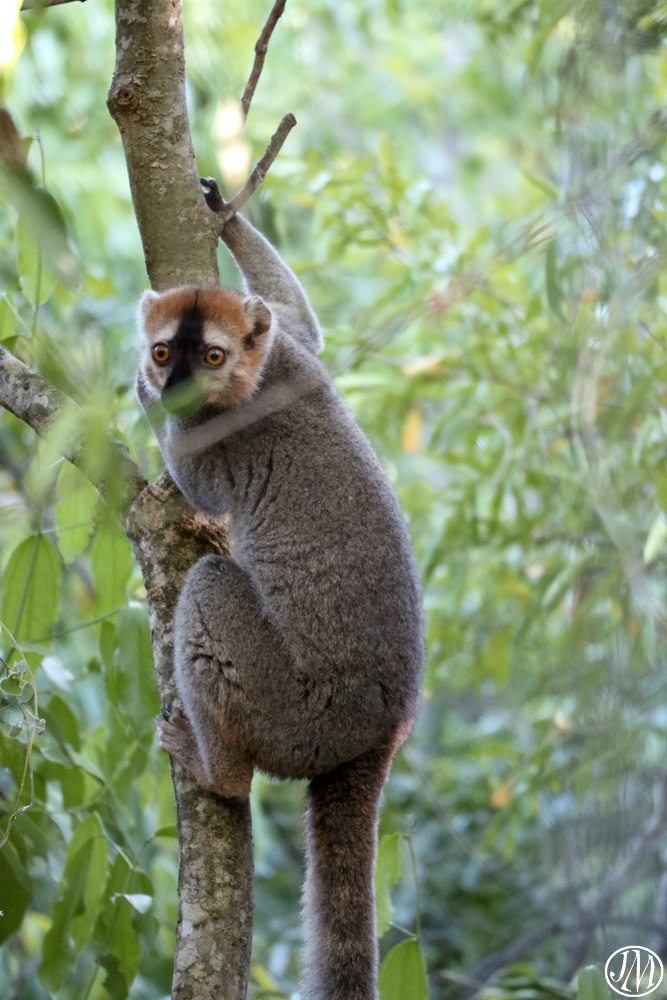 Another lemur …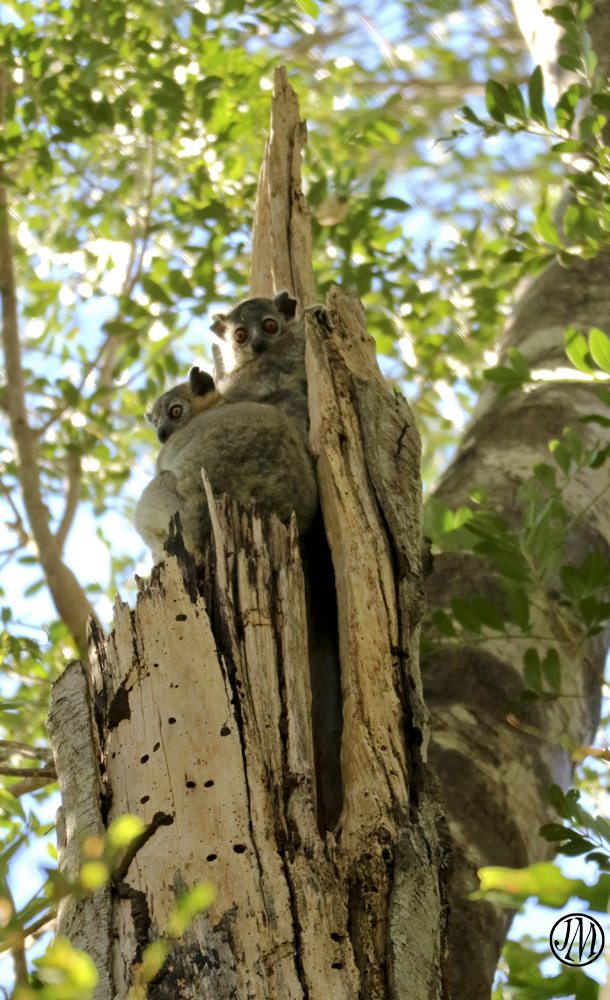 … and two more little ones on this split remnant of a tree trunk.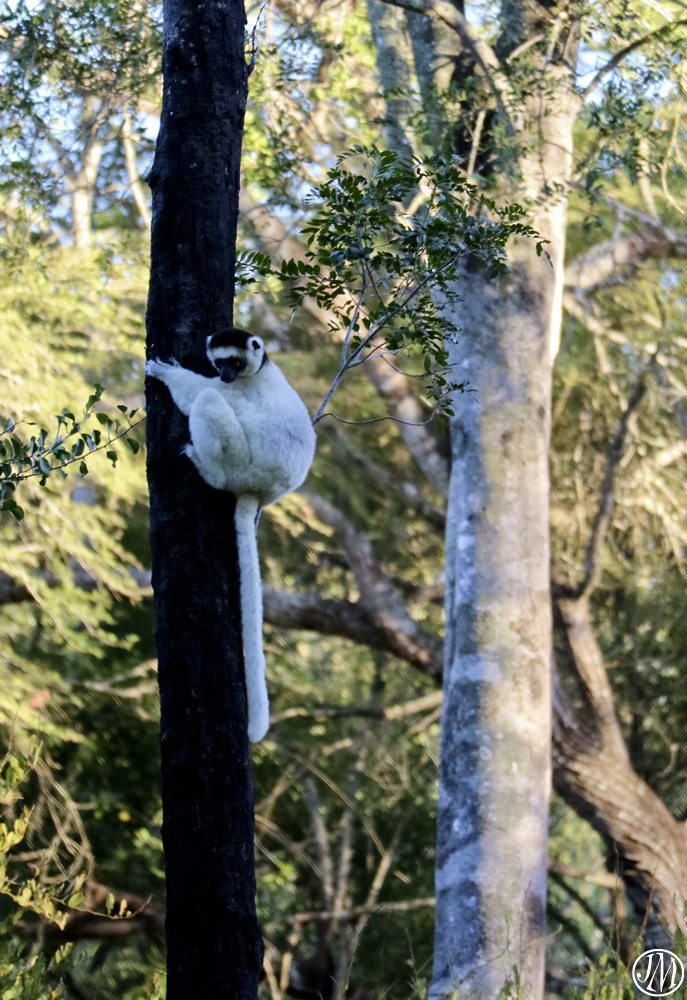 I loved this sifaka, its black and white echoing the colours of the trees, and its tail directly in line with the trunk.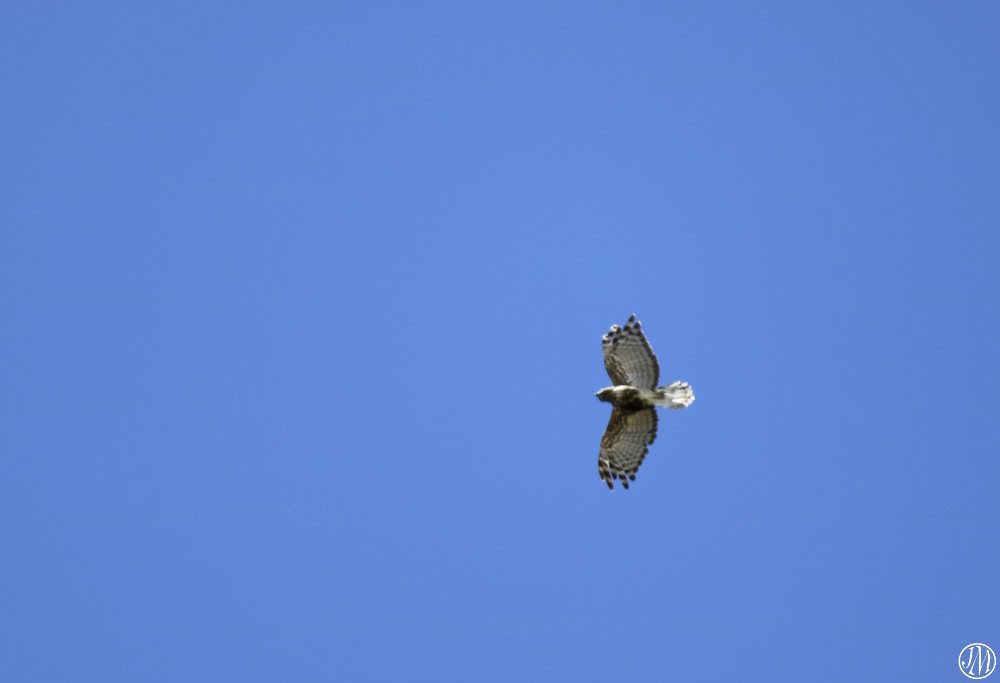 High above us, so elegant against the blue morning sky, a falcon (I think that's what is – not great on the birds!)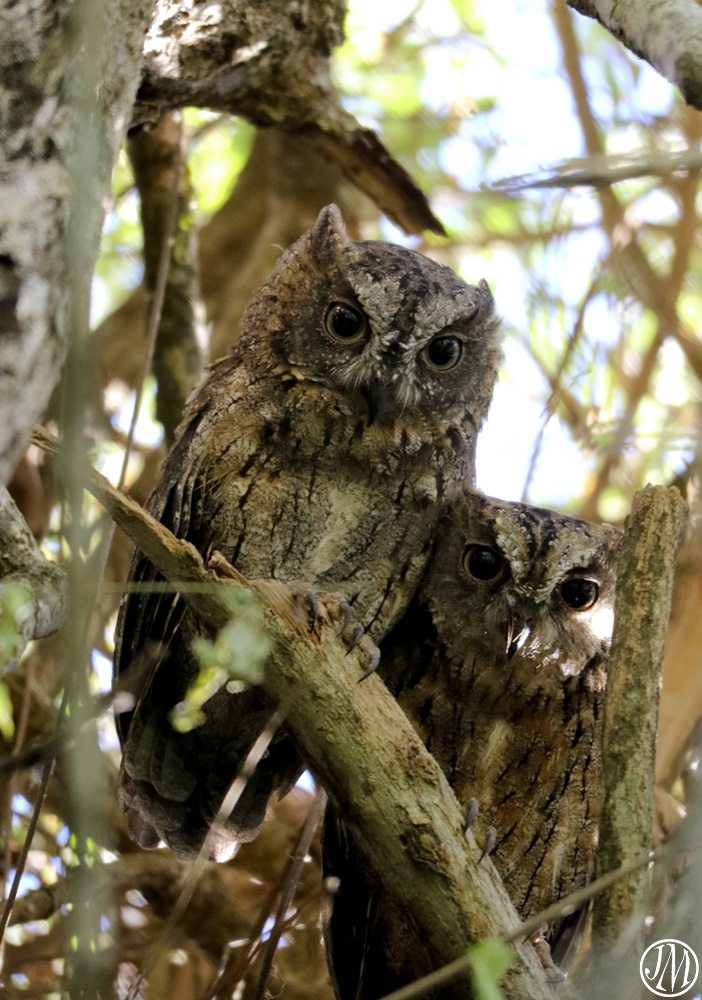 And my favourite for the morning, these two owls eyeing us from their roost in the trees.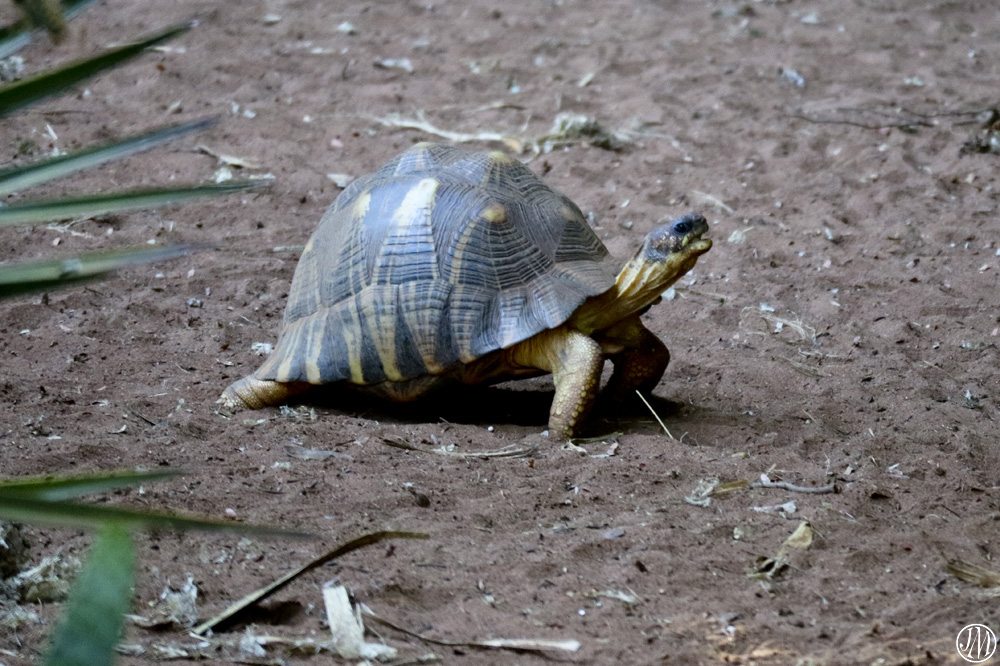 On our way back to the main part of the camp, we passed a nursery for tortoises, this one 'speeding' across its pen.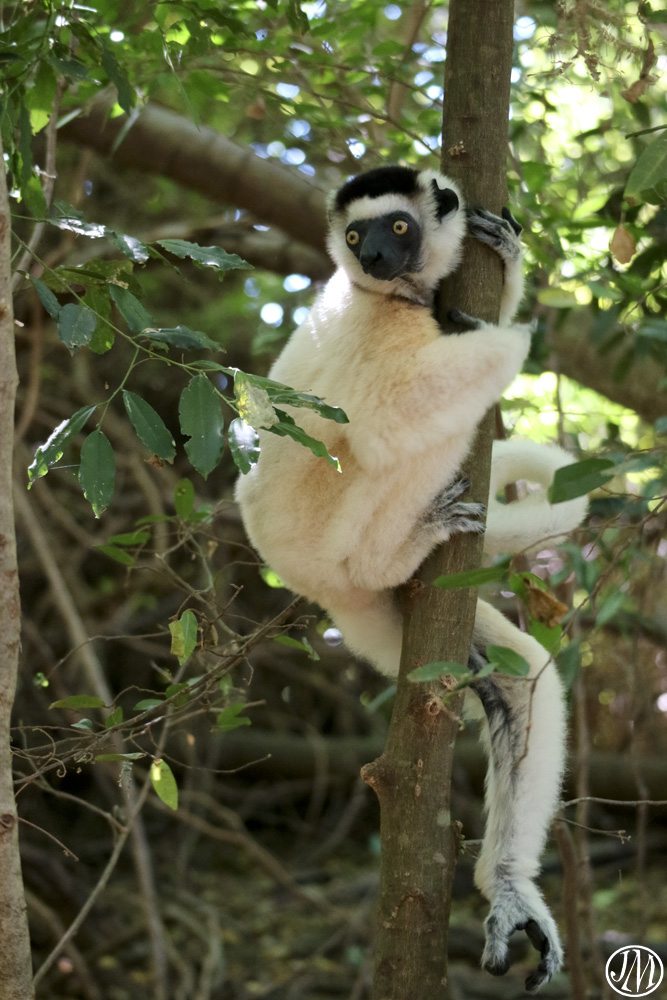 Into the trees again and this sifaka casually dangling one leg and open foot from his perch.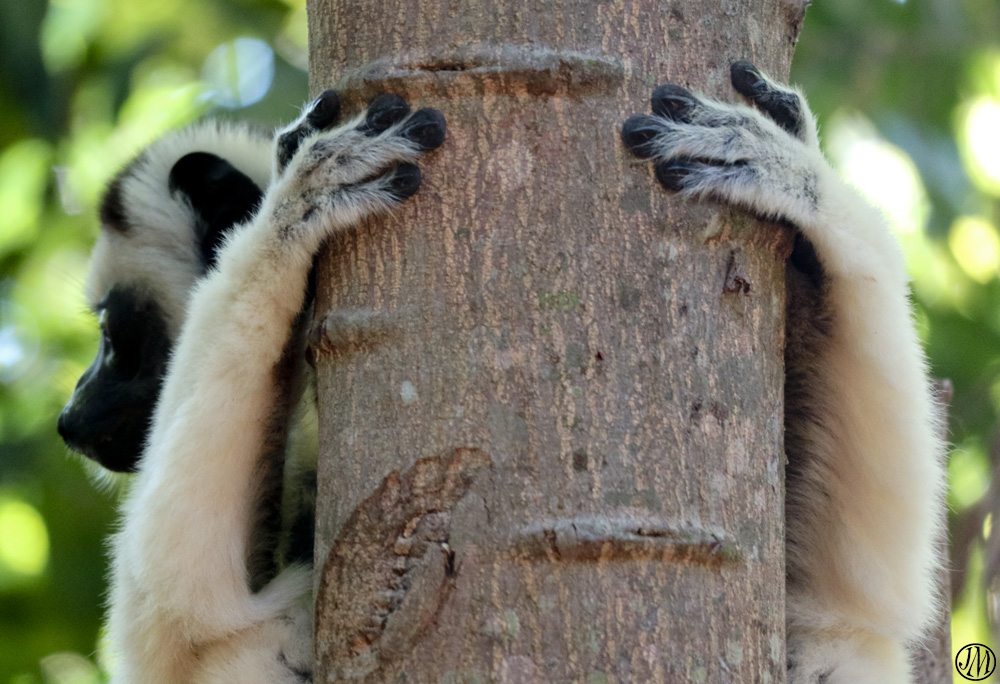 Another peers down from a tree, unwittingly giving us a wonderful close-up view of its hands,
the fingers with wide gripping pads and sharp peaked nails.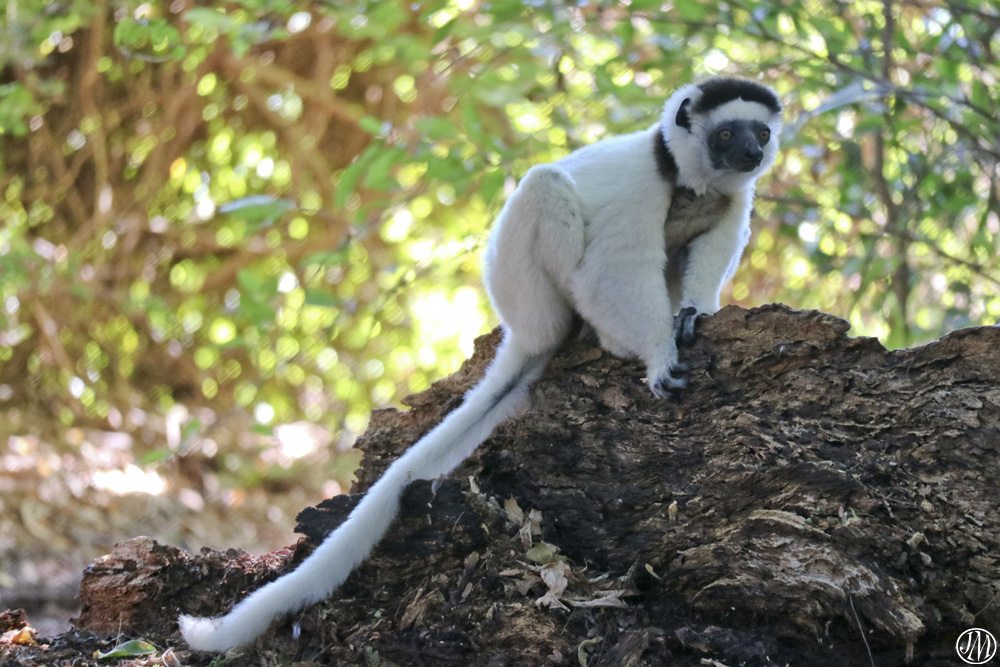 This one was waiting to follow others of his group across the path.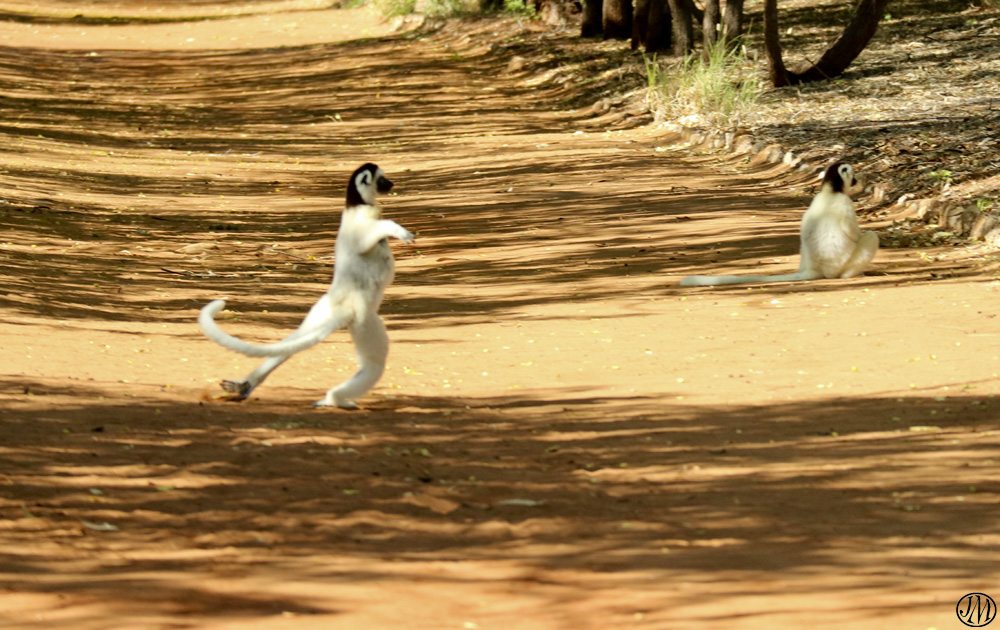 Dancing lightly across the path …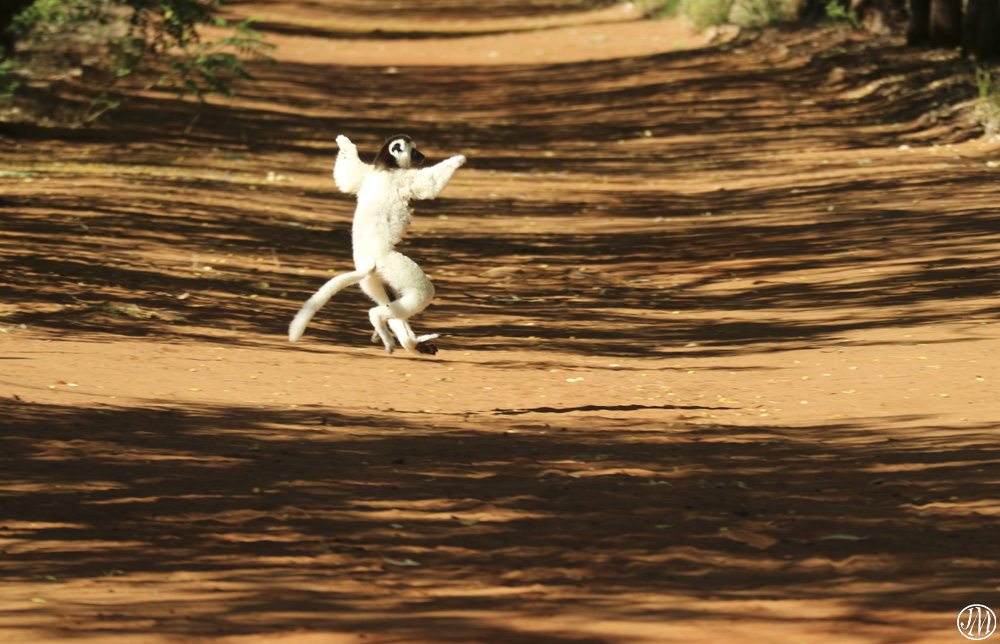 And another takes his turn, so gracefully.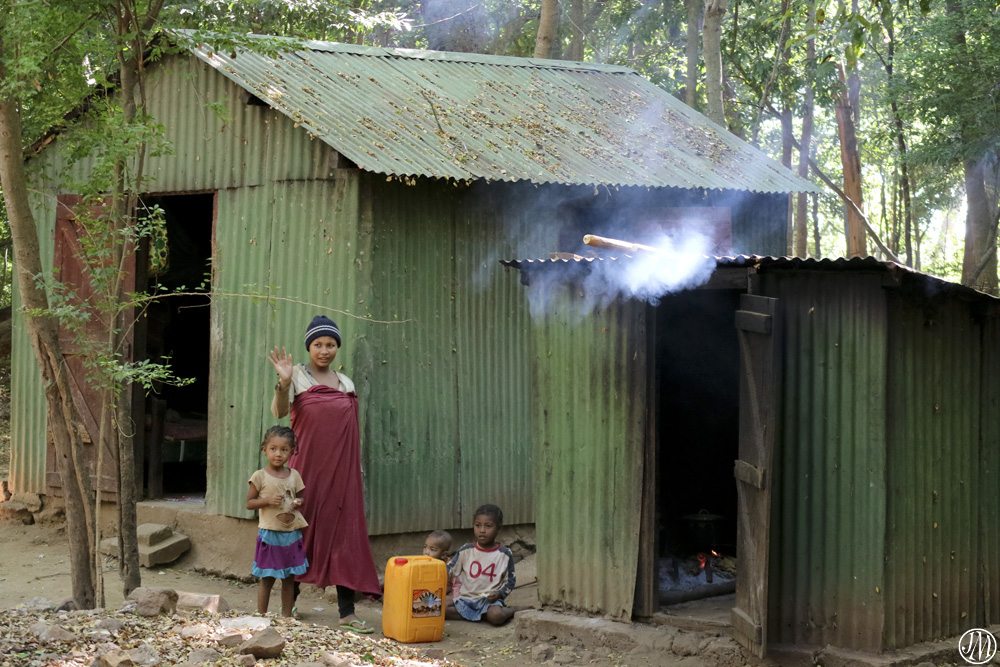 At another turn of the pathway, we came upon the home of one of the reserve workers, his wife and three kids waving to us.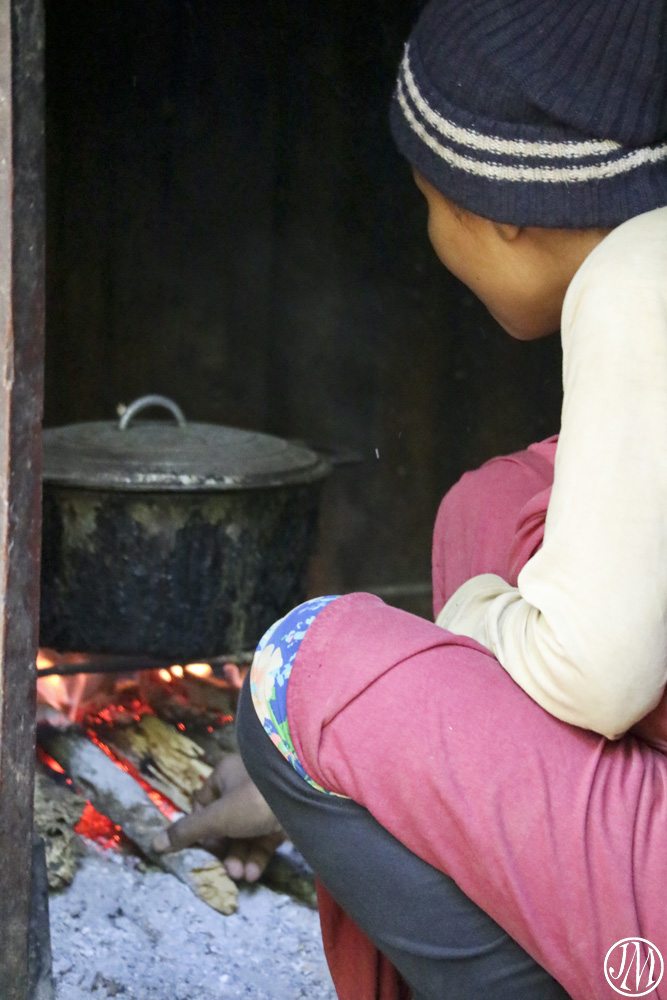 Putting more wood on the fire under the breakfast pot.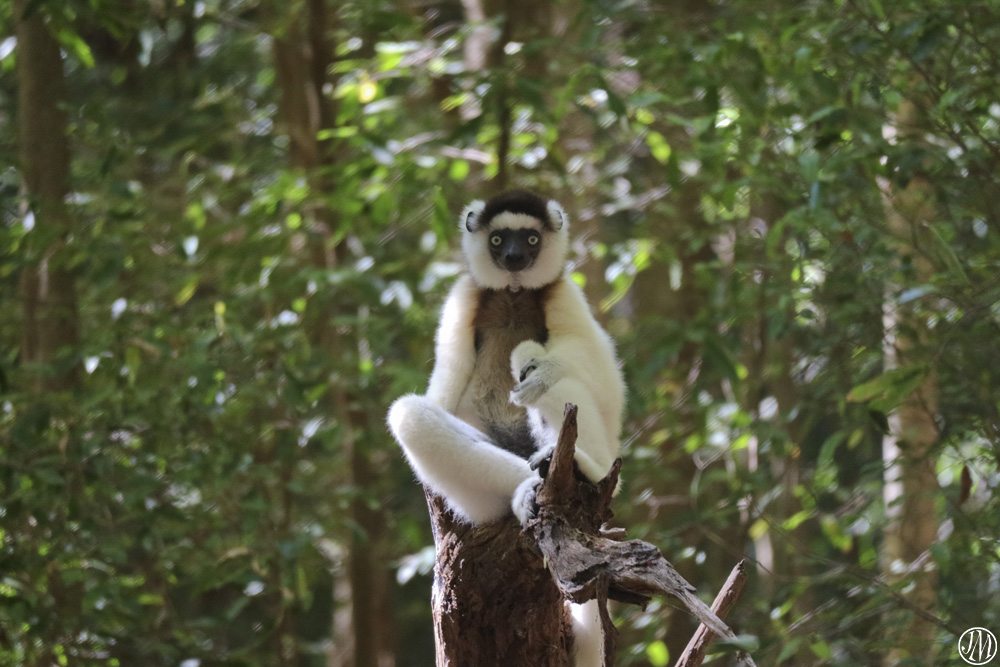 One last photo of a sifaka …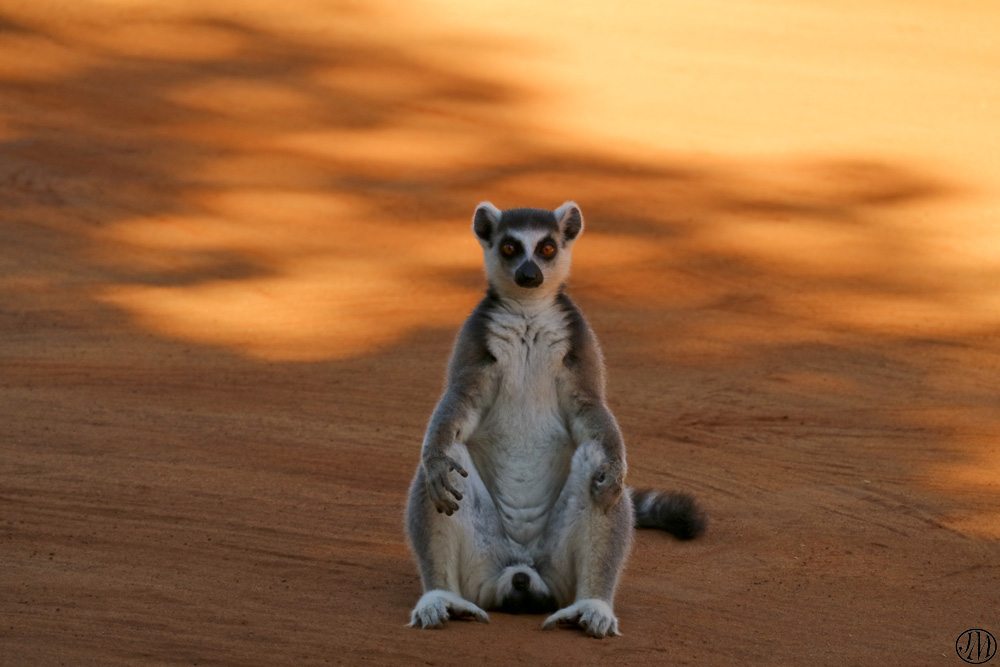 … and one of a ring-tailed lemur before we said good-bye to Berenty Private Reserve after our lovely stay there.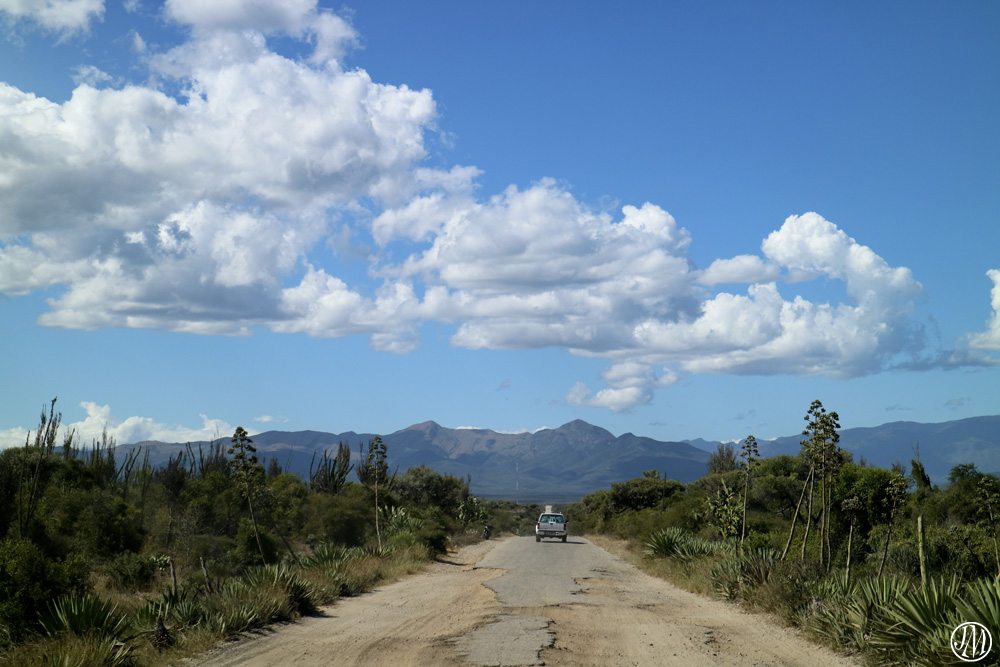 Then we were on that 1958 French-made road again – this is a good stretch – for our four-hour drive back to Port Dauphin.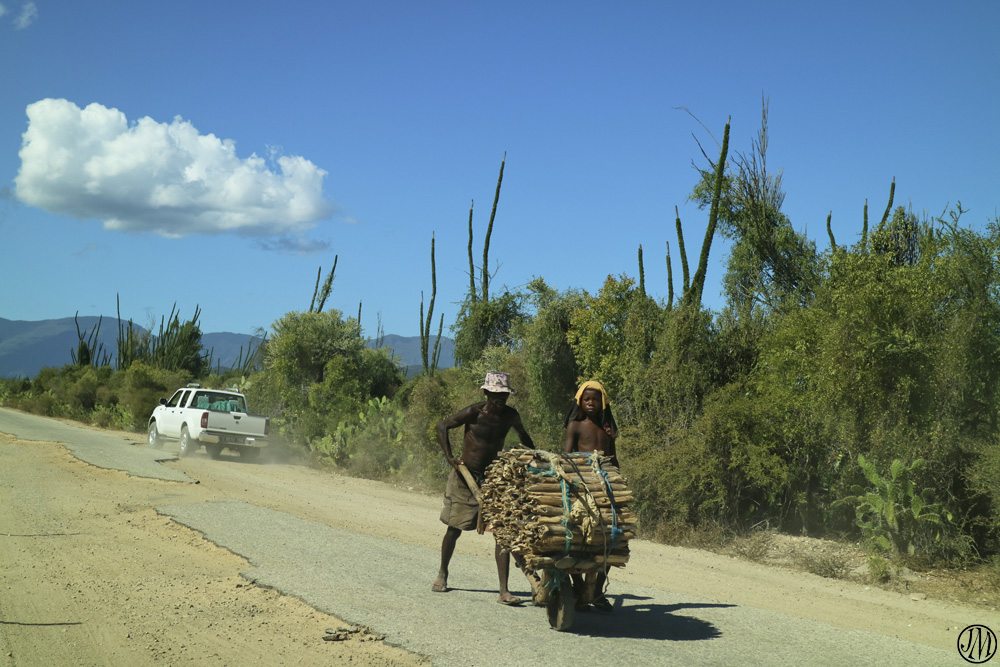 A father and son, bringing a load of firework cut from the spiny forest, back to their village.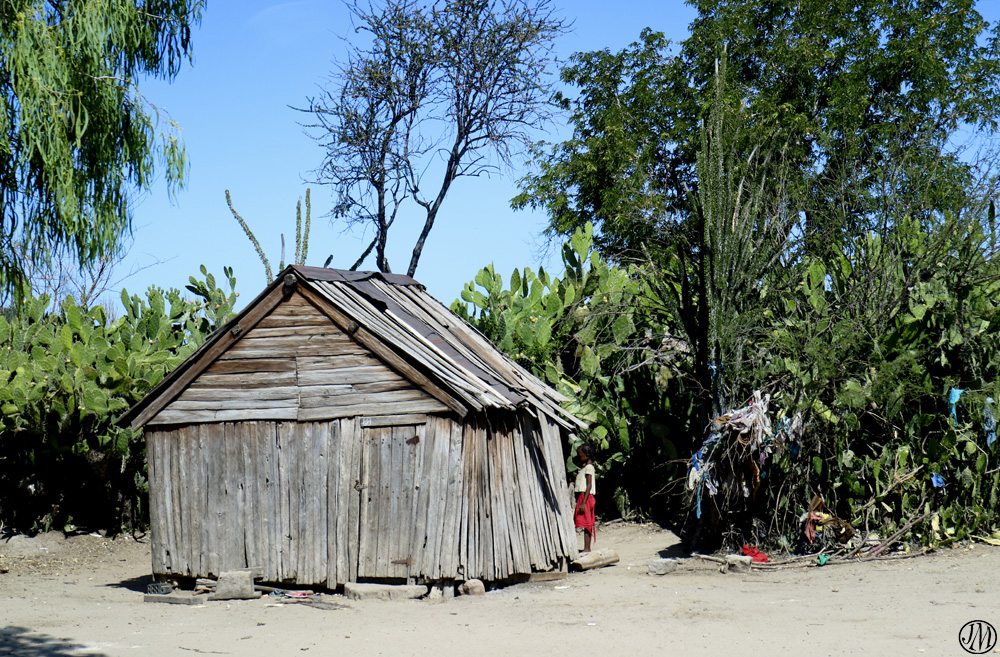 A small house also constructed using wood culled from the spiny forest.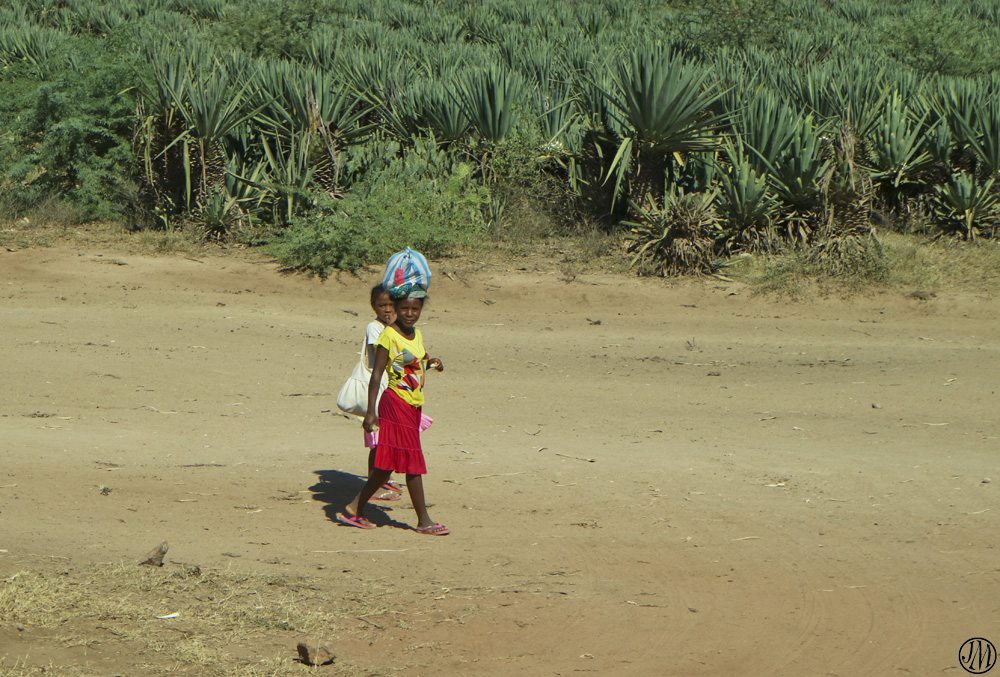 A couple of young girls alongside the road coming back from a nearby town.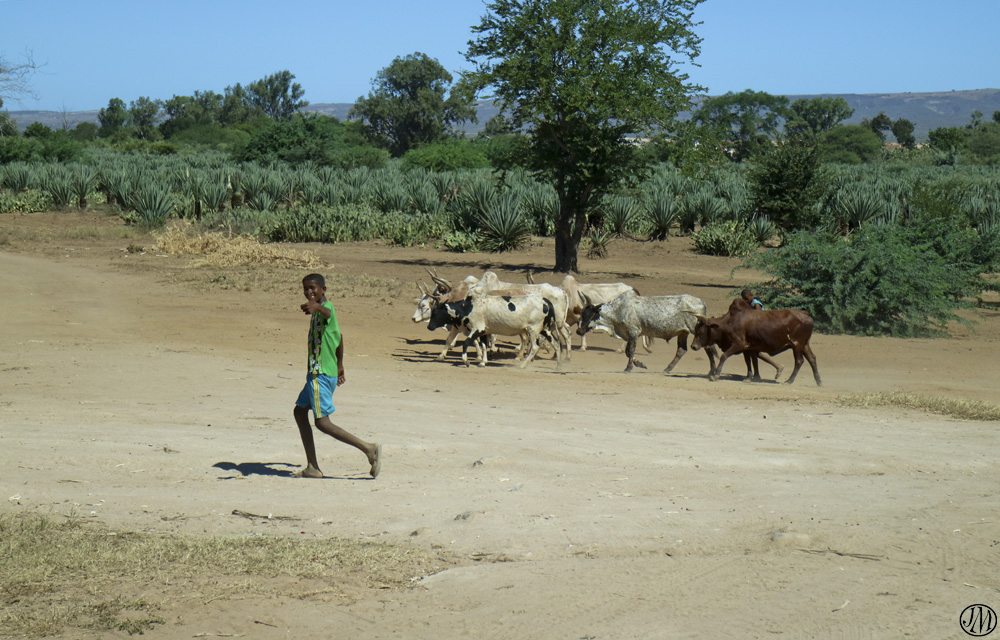 A cowherd walking his zebu cattle down to the river.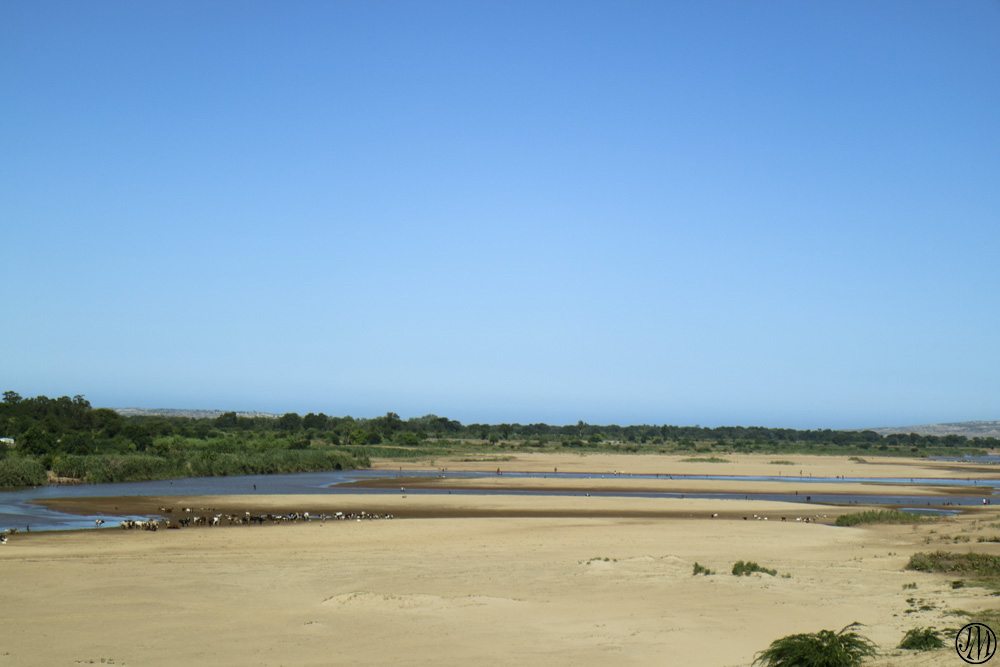 Looking down an almost dry river bed where people bring their cattle to drink and swim.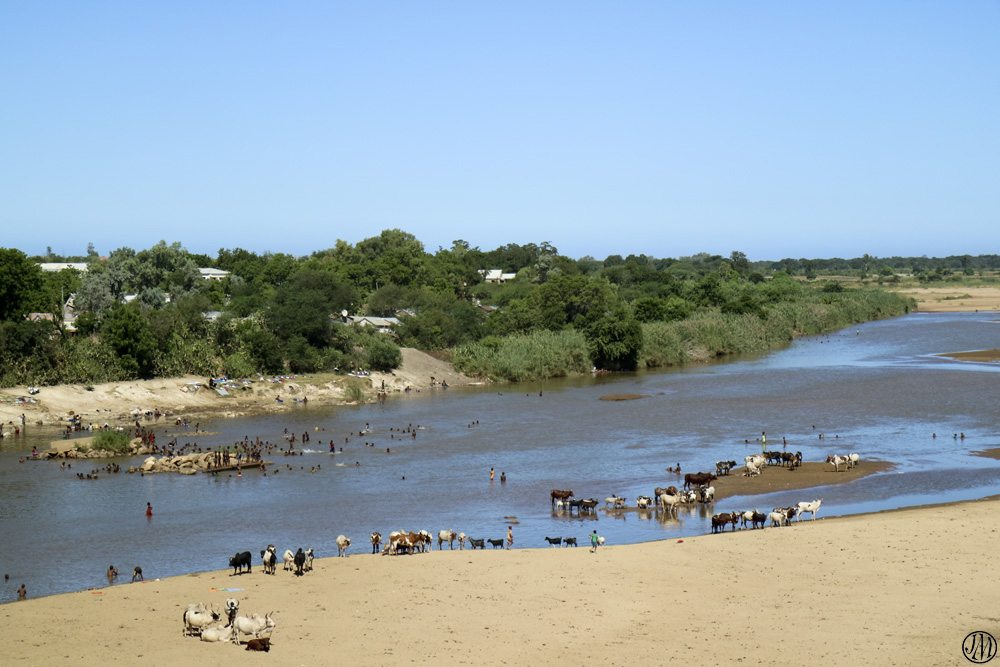 From the other bank, close to the town, there are women washing laundry and others playing about in the water.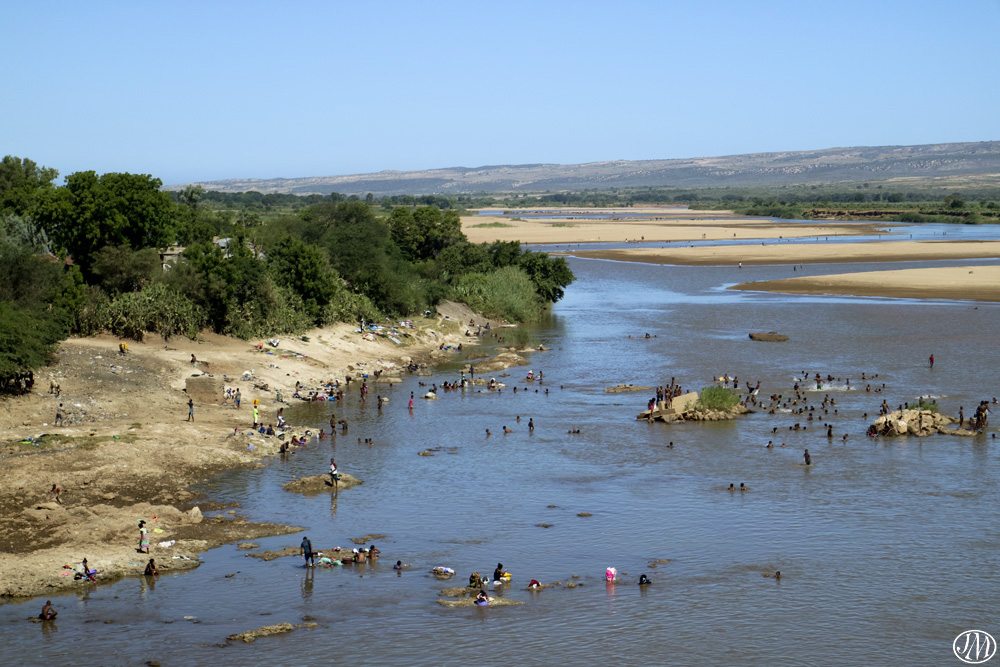 Another view, taken from the bridge, showing the hive of activity in the water and on the riverbank.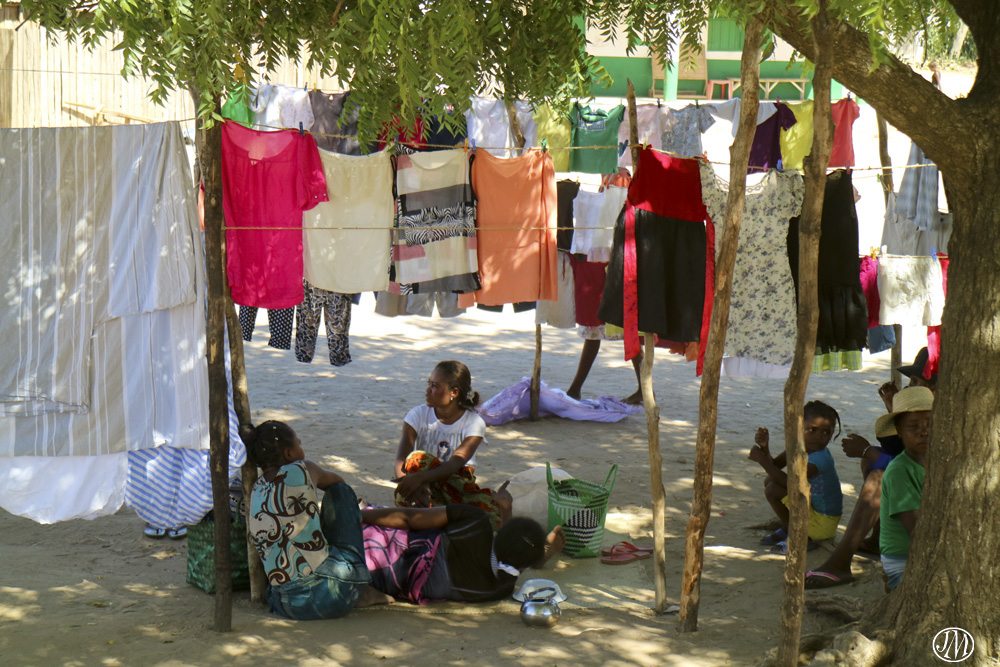 As we passed through the town, I caught this little market scene, with clothes hanging up to attract attention and buyers.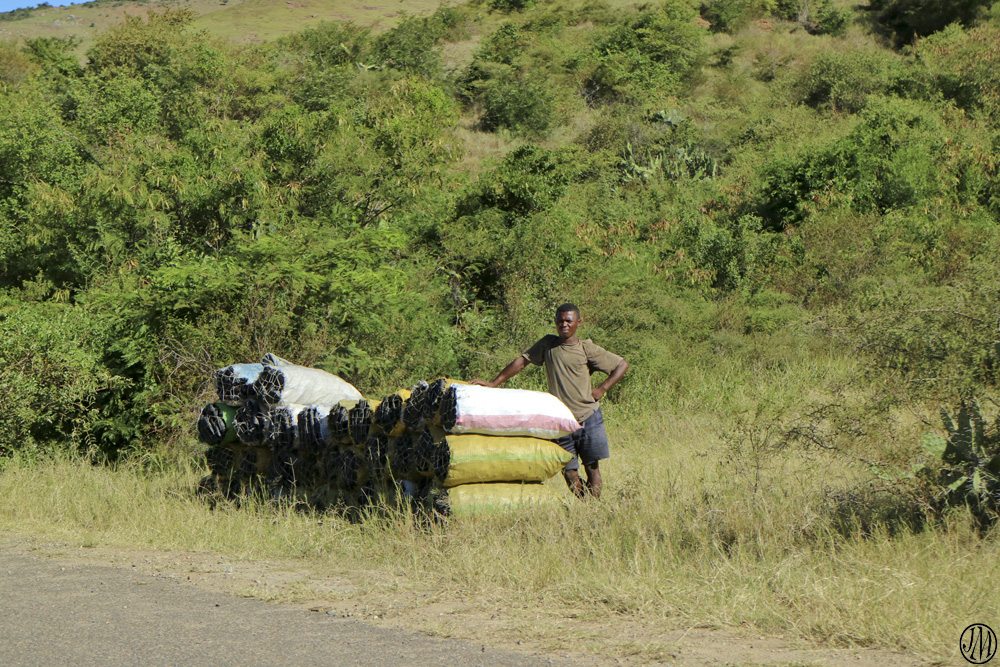 Farther along the road, a man selling bags of charcoal.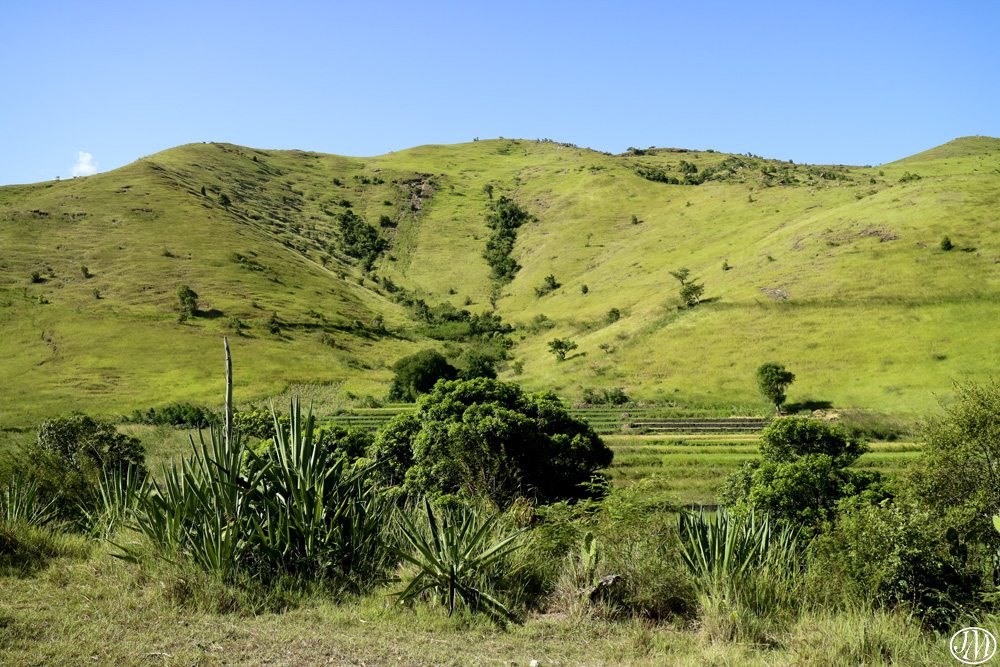 Back down into the greener lowlands with rolling hills and rice paddies.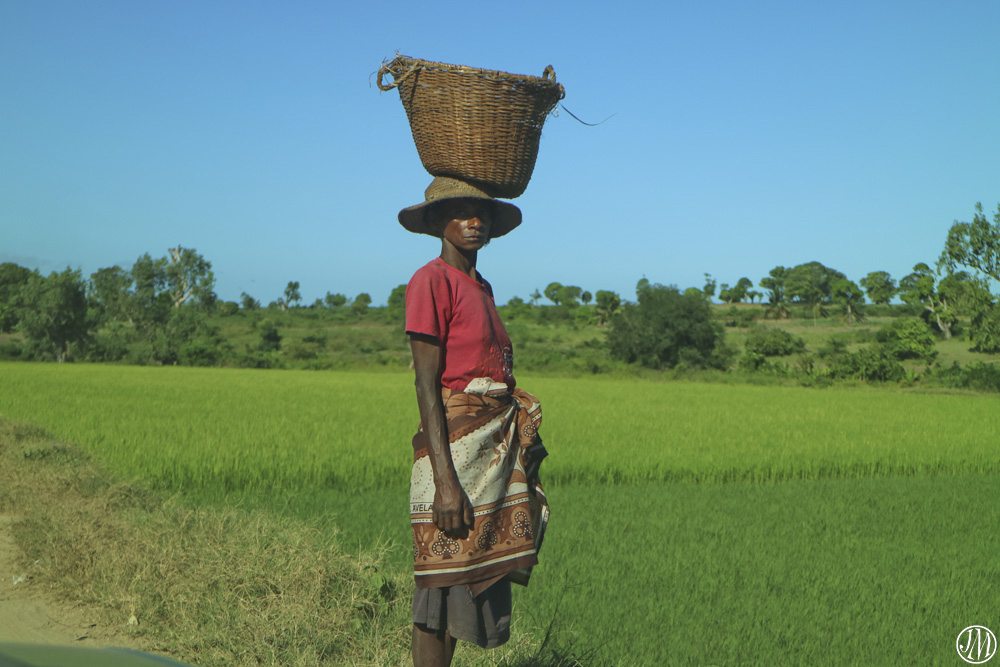 A woman carrying her wares on her heads waits and watches as we drive past, her red blouse bright against the fields.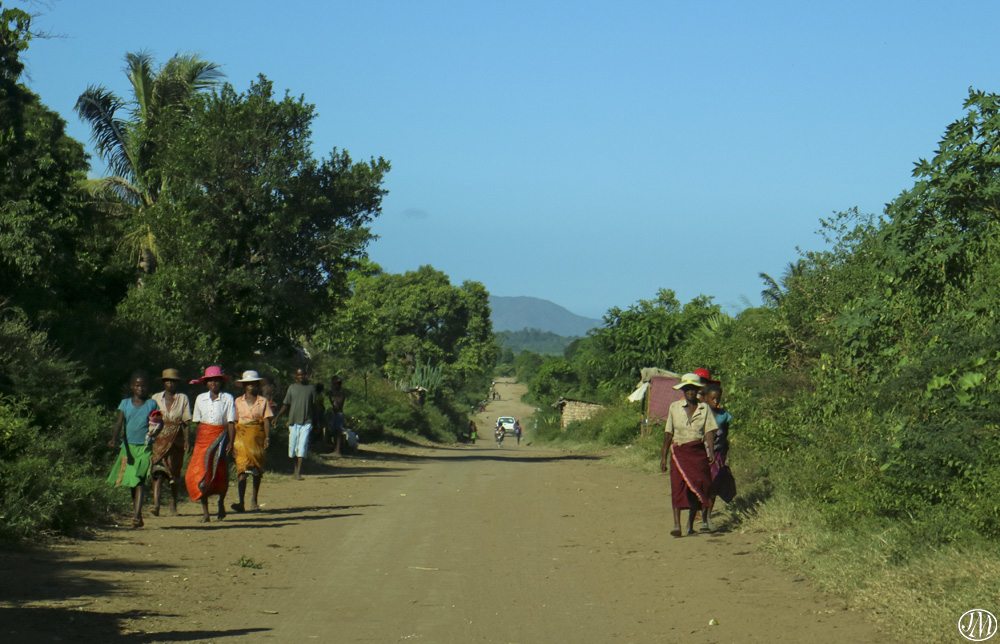 Other women show off their bright Sunday hats, most likely worn for a church meeting, as they return, to their villages.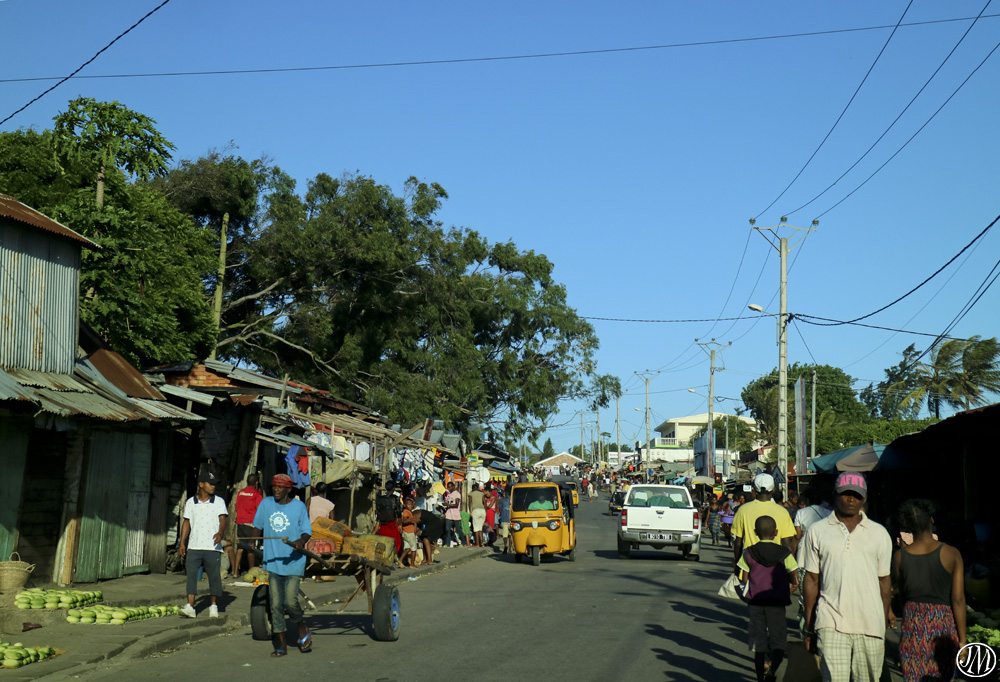 And then, before we knew it, we were back in Port Dauphin, where we spent that night before flying back to the capital. 
My next story will feature the capital city, Antananarivo and the surrounding area,  and I can almost 100% promise you that there will be not a lemur in sight … or will there be?
Until then, all good wishes from another day in Madagascar.